Search The Beachwood Reporter
Subscribe to the Newsletter
So my son turned two this weekend and, as some of you reading this may know, around this time kids start to pick up on things. Okay, they pick up on things all the time - but they start to really vocalize things right around two.
Okay, I really don't have anything to compare my little guy to because I've not been around a lot of 2-year-olds - but I'm guessing my kid is about average - so kids around this age really start to vocalize things.
And my little guy sees anything with red and blue and says "Cubbies."
It's ridiculously adorable.
I mean, like even a White Sox fan would kind of give the kid kind of a smirky smile if he saw him say "Cubbies."
He pronounces it "cubeeez."
So he gets the fact that the Cubbies are our team.
And as we sit down to watch games now I try to explain to him everything that is going on.
They say you are supposed to talk to your little guys just like they were a regular-sized people - at least I think that is what they say.
So as I sit down on the couch to watch the Cubbies with Mitchell (he has his little baseball and glove on - which is just such a great Dad moment), I start to explain to him what is going on with the Cubs.
But it's hard to do because it gets complicated.
I have to tell him things like:
* "This pitcher used to get very angry at everyone. Now he's not that angry but it doesn't seem to help him."
* "This pitcher is pitching a lot better than anyone expected him to pitch so far, but it's a long season and he eats way too much candy so he will probably not keep this up."
* "You will probably be taller than the guy playing second base by next year. And even though being small doesn't mean you are bad at baseball, it just turns out that this guy is just not that good at baseball and is also small."
* "It's important that you learn how to catch the ball if you want to be a good baseball player, except it is possible to be very bad at catching the ball and still be able to be a real baseball player."
* "You used to be in momma's belly, which kind of looked like how that old guy that tells all the Cubs what to do looks like."
I mean, being a parent is hard enough, but trying to raise a Cub fan is even tougher.
-
Week in Review: The Cubs won two of three from a very flawed Brewer team and lost two of three to a tremendously flawed Astros team. It's good to know that these teams are beatable. It would just be nice if the Cubs would actually consistently beat them.
Week in Preview: The Cubs hit the road for four against the Mets and three against the Brewers. Again, these teams are very beatable. But then, these teams are saying the same thing about the Cubs.
The Second Basemen Report: Lil' Fontenot got four starts this week and Jeff Baker got the other two. It's hard to have a problem with the second basemen right now. They are both batting over .313 and have done a pretty okay job. Maybe one of them can pitch the 8th inning. Just like Jim Hendry drew it up.
In former second basemen news, Mark DeRosa has his average up to .222 for the first-place Giants and Ronny Cedeno is batting .317 for the second-place Pirates. They are (right now) both on better teams than the Cubs and they are both missed.
The Zam Bomb: "Not as" Big Z remains Apologetic as well as not very good. Maybe instead of slimmer and nicer he should have gotten fatter and angrier.

-
Lost in Translation: Carlo-ie Silva-san muchu fatso butt ok is Japanese for already given you more than Milton Bradley did all last year.
Endorsement No-Brainer: Carlos Silva for food. Because it seems to be working so far.
Sweet and Sour Lou: 42% sweet. 58% sour. Lou stands pat this week because he doesn't always know the score. And just like your real crazy drunk uncle, when Lou is making chili he doesn't know how much paprika to add exactly. He just adds what he thinks is right and hopes for the best. And if you don't like it, there's another meal coming up soon enough.
Ameritrade Stock Pick of the Week: Shares of bricks are down this week. Too much bad press about the dangers of bricks has driven their price down. Especially when they are formed into a wall, very very dangerous.
Over/Under: Number of hits Tyler Colvin needs to hit this week to achieve "better than he actually is" cult status: +/- 2.5.
Beachwood Sabermetrics: A complex algorithm performed by the The Cub Factor staff using all historical data made available by Major League Baseball has determined if you can't consistently beat the Astros, you got problems.
A&I Labs: Instead of hopping, Alfonso Soriano should . . .?
The Cub Factor: Unlike Alfonso Soriano, you can catch 'em all!
The White Sox Report: Now with a weekly Cubs Snub.
Fantasy Fix: Whither Peavy?
The Mount Lou Alert System: Stays at Yellow this week. Although what was once thought of as fire in the belly of Mount Lou might only be a gas pocket, North Side seismologists aren't giving up on their initial thought that Mount Lou may be still active.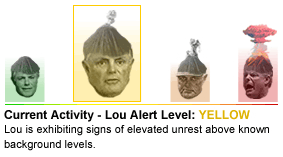 -
More from Beachwood Sports »