Joyce Meyer
Who: Joyce Meyer.
Organization: Joyce Meyer Ministries.
Financial statement:"Joyce Meyer Ministries, Inc. is governed by an independent Board of Directors, the majority of whom are not staff members or relatives of the Meyer family." Italics mine.
Book: Look Great, Feel Great, out March 1, 2006.
Website Quote: "There is no place in your future for your past. Find out how to escape from the memory of life's disappointments and let the Lord raise the roof on your dreams."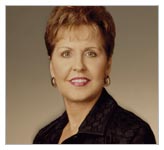 Fire and Brimstone: Not too much, but she does speak of casting out evil.

Style: Tries to take an aw-shucks approach, but prowls the stage with self-assurance and superiority.

TV Quote: "God already knows everything you're gonna say, everything you're gonna do." So God is familiar with Meyer's sermons ahead of time.

Politics: Website includes "Legislative Alerts and Updates," including "Update: Congress Looks to Deceive American People" and "Give Free Speech Back To Your Pastor." But doesn't God already know what Congress will say and do?

Prayer Requests?: Yes.

Merchandise: Includes a "Relax - Let God Be God" coffee mug ($10) and a Joyce Meyer Ministries pen ($5).

Auditor's Report: "We have examined the assertion of management of Joyce Meyer Ministries, Inc., that during the year 2004, compensation approved by the Board of Directors and paid to Joyce Meyer consisted of salaries, including fringe benefits, of $250,000; the benefit of living in a ministry-provided parsonage and contributions to retirement plans. We also examined the assertion that during 2004, gross profits received by the Ministry from the sale of Joyce Meyer's books and honorariums received by the Ministry for Joyce Meyer's speaking engagements exceeded her total compensation stated above." Not to mention compensation for Joyce's husband, Dave, who is CEO of the World Outreach Division, among other duties.

Evaluation: Worth watching in small chunks if only to wonder about Meyer's inner life.

Rating: 6

- Steve Rhodes





Posted on February 25, 2006