The Magic Bullet
It's got the ease of microwave food, but lets you pretend you're a real cook.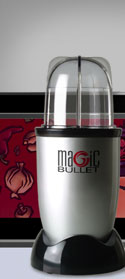 What It Is: A 17-piece system of plastic doo-dads that all hook into the same upside-down food processor. It blends, chops, and even grinds coffee.
Description: If this infomercial is any indication, it's like being locked in a regally stocked kitchen with a cookbook, a crack rock, and magical powers. Actually, that cookbook comes with the product and those magical powers mostly involve chopping and/or blending stuff really fast.
Quote: "The Magic Bullet takes up no more space on your countertop than a regular coffee cup!" or "[It's] the personal, versatile countertop magician!"
Shills: An unnamed yuppie couple going apeshit for the benefit of six friends, demonstrating just how many personalized breakfasts, snacks, lunches, and desserts they can deliver in one short morning. As confident as they seem, I'm betting the host couple is trying desperately to make up for something. Perhaps trying too hard to sell them other shit on previous occasions. Still, it's no ordinary cook-a-thon: it's a Bullet Bash!
Shill dynamic: The husband is definitely the culinary ringleader here. Not that the wife isn't just as zealous, but her only slightly Americanized British Hubby has that extra huckster's edge, mixing the jolly pleas of an older Paul McCartney with the loathsome confidence of David Brent, complete with the sly "yeah?" slipped in every time he's made a point.
Set and costumes: A modernized kitchen with a generous marble bar - because you can't have a Bullet Bash without forcing lots of people to watch you cook more while they eat. It's like Bennihana for cheap jerks. Except for a couple of shaggy friends (like a hung-over fellow in a used-car-salesman sport coat), the dress is a bit bright, but otherwise normal yups-at-leisure wear.
Politics: Isolationist. The Magic Bullet comes with a set of color-coded mugs and small mixing cups that double as blending vessels. All of your guests can have their own smoothies, without fear of getting bits of other people's smoothies, because their smoothies were made right in their mugs. And most of the cups used to make sauces are just the right size for personal servings - no more, no less. Forget about enhancing conversation through shared flavor experiences - all eyes on the Bullet!
Cost: $99.99
Dubious Backstory: From manufacturer Homeland Housewares, LLC: "By taking the time to figure out everything that is 'good' about the currently available housewares products on the market and then focusing on ways to improve them, we can offer you products that are of good quality, of good value and that live up to our ultimate mission: To make your life easier, at home. Each and every day."
Gimmick: The host couple use their Magic Bullet system to mix up omelets, smoothies, and muffin mixes--and even mix up a crowd-pleasing salsa. Once their guests get curious, the demonstration becomes even more deliberate, and they begin using their Bullet to chop up garlic, onions, jalapenos, chicken salad, alfredo sauce and pesto sauce and are never once shown cleaning the operating ingredients. Then on to a "delicious, fluffy" chocolate mousse. "It tastes delicious," says Hubby, but I don't see him touching it. That's because it probably tastes like garlic. The Bullet comes with two blades, but both husband and wife are cooking like psychopaths. Let's hope they're not that cavalier when they fix up some Boulevard Bellinis before moving on to the chicken and rice baby food.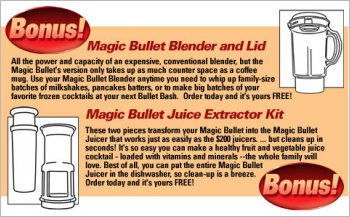 Bonus Gimmick: Just when you think you're going to miss your old blender, they spring it on you that the Magic Bullet comes with a traditional blender cup. Which also turns into a juicer.

Extra Bonus Gimmick: The chicken salad is made "in less time than it takes to toast the bread!" - it's a "six-second lunch," the man of the house proclaims.

Gimmick Lacking: There's nothing heroic about the Magic Bullet; the harshest treatment it endures is getting microwaved. Sure, Hubby's a blowhard, but it's difficult to argue with his practicality--and he knows it. Don't like the Magic Bullet? Well, fuck you, because Hubby just made a beautiful pesto pasta and he barely lifted a finger to do it. Now shut up and eat.

Evaluation: Sure, you can make this all in just minutes, but who the hell needs to, outside the restaurant industry and/or "my dinner party can beat the hell out of your dinner party" set? Clearly, it's just a way for lazy people to be even lazier and prepare their meals without the added hassle of plugging in a few more appliances or looking up recipes. Which really just means it's microwave food with the illusion of culinary effort. Plus, you can take in all the hypnotic tedium of this infomercial with the willfully brutal mangle-ups and parodies available on YouTube.

Rating: 3

- Scott Gordon

Visit the Infomercial Reviews catalog.




Posted on October 3, 2006