Here Lies Rock 'N' Roll
Rock has had seven "ages," according to BBC Television, which has launched what seems like a pretty darn comprehensive seven-week, seven-part documentary called, appropriately, The Seven Ages of Rock, which works out to one age per week. That's a lot to cover. Here's how they break down the history of rock 'n' roll.

1. "The Birth of Rock," Blues-based Rock 1963-1970
2. "White Light, White Heat," Art Rock 1966-1980
3. "Blank Generation," Punk, 1973-1980
4. "Never Say Die," Heavy Metal, 1970-1991
5, "We Are the Champions," Stadium Rock, 1965-1993
6. "Left of the Dial," Alternative Rock, 1980-1994
7. "What the World Is Waiting For," Indie, 1980-2007
Now, because we're Americans who don't support our television networks with tax dollars (only with advertising dollars given to private owners who then slip some of the cash to politicians who in turn make sure all competition is destroyed), we here in the United States aren't allowed to watch any clips of the shows on the BBC website. So I can't tell you that judging by the samples, the Ages shows are, say, promising, or, say, pompous, or perhaps pure shite. All I can go by are the written descriptions. And those are great.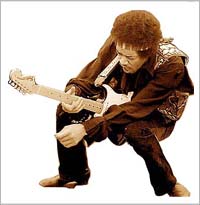 The first show, "The Birth of Rock," focuses on Jimi Hendrix as the centerpiece for the era, both because of how Rhythm & Blues influenced him on the front end, and for the influence he exerted in the years following his 1970 death, which in the eyes of the film, marked the end of rock's first era. The show's liner notes were written by assistant producer Tony Higgins, who talked about the challenge and rather awesome responsibility of distilling the 1960s into a form that made at least some sense:

"Salvation lay in the device we'd adopted for much of the series - using a central figure to take us through the story, a figure who could demonstrate the developments and transformations in that period of astonishing artistic creativity and social change.

"There was only one candidate really: Jimi Hendrix. He encapsulates the first age of rock more than any single figure; a summation of all that had gone before him and a projection of all that was to come. He was the roots bluesman who used new technology, perfectly bridging the past to the future to create a dazzling psychedelic present.

"It's essential to remember that his career in the spotlight lasted only four years and three studio albums; dead at 27, an artist whose potential was so massive, it's hard not to reflect on his unrealised projects without a profound sense of loss."

Higgins says one of the film's highlights is a "candid" interview with Cream drummer Ginger Baker, who speaks casually of the drug-filled circumstances surrounding Hendrix's death from a sleeping pill overdose as well as his own simultaneous close call with the Reaper:

"One story he told was of the night Hendrix died. Ginger had come into possession of a bottle of pure cocaine hydrochloride from a friend who worked at Charing Cross hospital. Keen to share his windfall, Ginger called Hendrix but could not get hold of him. Ginger proceeded to get stuck in, OD'd and came round to a doctor telling him that Hendrix was dead. 'The extraordinary thing is,' said Ginger, very matter of factly, 'if he'd had the coke he wouldn't have died because he wouldn't have gone to sleep.'

"He finished with a darkly comic round up: 'I seem to manage to stay alive by some miracle because I was supposed to have died you see. I was in the Playboy Dead Band in 1972 along with Jimi and Janis Joplin and Greg Allman. I was the drummer in the Dead Band.'"

The playlist for the show looks pretty representative, including such Hendrix tunes as "Purple Haze," "Voodoo Chile," "Hey Joe," "Killing Floor," and his Woodstock "Star Spangled Banner"; Dylan's "Like a Rolling Stone"; the Beatles' "Lucy in the Sky With Diamonds"; Cream's "Crossroads"; the Stones' "Little Red Rooster" and "Satisfaction," and 18 others.

The program doesn't really give much truck to Elvis or Chuck Berry: It starts the history of rock in 1963 with the then-thriving London blues club scene (maybe that's because it's the BBC). That's where Eric Clapton, the Who and the Rolling Stones all got their mega-doses of Big Bill Broonzy, Willie Dixon and Howlin' Wolf. The next big moment was 1965, when Dylan went electric and it became hip to sling an electric guitar. Then the Stones' "Satisfaction" came out and Hendrix was soon discovered. The rest, as they say, is history.

This kind of thing goes on and on, stretched over six more "ages" all the way from Lou Reed to the Arctic Monkeys. The director of the art rock episode, Francis Whatley, has an amusing piece about interviewing the notoriously difficult Reed, a guy who once said rock journalists were morons and idiots who weren't fit to guard his sewer. I can relate to the stuttering fear that overtakes you when you're supposed to interview someone you worship and they're being impatient. You do feel a bit like Chris Farley interviewing Paul McCartney. But Whatley was thrilled that he got something he could use from "Laughing Lou."

Other highlights gleaned from the Seven Ages website: Glen Matlock of the Sex Pistols says he was influenced by ABBA; Ian Gillan and Lars Ulrich get plastered with each other; Stewart Copeland compares himself to an Aztec sun god; and the conclusion that Oasis will be probably be "the last" British rock phenomenon. Whenever anybody says in a rock context that so-and-so will be "the last" whatever because they were so friggin' great, all that means is wait a couple years. But I guess that's some of the buzz surrounding this BBC series: Part of its unspoken premise seems to be that rock is dead and this is its obituary.

Perhaps. But to envision an England without rock 'n' roll is to picture a satisfied England, a happy England where there's nothing to protest. And that will never happen.

*

Comments? Talk to Don. You must include a real name to be considered for publication.

*

COMMENTS:

1. From Robert Pruter:

I did not see the BBC documentary on rock, but I suspect like a lot of people they make the distinction between rock 'n' roll and rock. I make that distinction as well. Rock 'n' roll was the music I grew up with, and it was a teenage working class functional music, for entertainment, necking, and dancing. After high school, those who went to college (meaning the middle class and post teenagers) listened to folk and jazz.

Rock music emerged about the time of the British invasion as music of the middle class. As a result folk music became folk-rock and the fan base shifted from fast disappearing folk music to rock music. Rock music was not merely a functional music, but an art music, that supposedly reflected the thoughts of its creators. What developed in the fandom was the notion of validation. Validation is an important element in the creation of taste in popular music. Most people develop their self-image and measure their self-esteem by their own tastes, and they often look to their peers in developing their tastes. If a music is deemed incorrect among their circle, it cannot be acceptable to them. In the realm of rock appreciation, the element of validation looms as large as the element of critical judgment. Thus, rock 'n' roll, the music of doowop groups and rockabilly artists, was a declasse music that simply was not acceptable to the new middle class fans of rock. Even the name changed. You can go to all the media during the latter part of the 1960s, and "rock" was the preferred term. Only later, sometime in the 1970s, did the term "rock 'n' roll" come back. But in this case it merely replaced the term "rock."

WXRT is a perfect example of a station devoted to middle-class rock music. The playlist had always assumed that their music began circa 1964.





Posted on May 21, 2007