Russ Dalbey's Winning in the Cash Flow Business
Real-estate secrets around the pool. Yeah, just one pool.
What It Is: A book-and-CD set about making money in real estate "without a lot of hard work or financial risk."
Cost: $39.95.
Quote: "Now is the time to discover an easier and more financially secure way of life . . . an opportunity for true financial freedom for the rest of your life, working only a few hours a month. And friends, that's incredible!"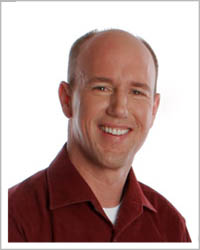 Shills: Creator Russ Dalbey, "award-winning" reporter Kirsten Gum, and actor Gary Collins.

Set and Costumes: Swimming pool deck in the back of a large house, surrounded with palm trees and nice potted plants; blue button-up shirt and pleated khakis

Gimmick: Testimonial after testimonial from successful individuals and couples. They seem to have been shot against the nice pool backdrop mentioned above, yet each shot is framed such that you might think you're visiting them in different homes, presumably their own.

Secondary Gimmick: Smiling actors pacing through their theoretical future beachfront properties and dream kitchens.

Soundtrack: Inspirational-sounding grocery-store music.

Reassurance: Russ happily tells us you don't need talent, that even he had no job skills whatsoever before getting started.

Field Trip!: The spot follows Russ and some of his top students on a "weekend getaway in beautiful Southern California." Around the pool, of course.

"For Dumbasses" Moment: In explaining what a cash-flow note is, the spot cuts away to an animated diagram in which money passes, by way of a magical arrow, between a handily labeled Kirsten and Ross.

Bonus Blog Points: Russ's "What ever happened to ethics?" post on dalbeyblog.com.

Evaluation: Wait, would I have to share the pool with the rest of these people? Though that goes unanswered, Dalbey wisely presents himself as a classy alternative to John Beck.

Rating: 5

- Scott Gordon




Posted on April 9, 2007