Up and Down the Dial
It may be the Year of The Superspiracy and New Comedies, Old Jokes, but that's it's also time to check in with the likes of the Gilmores in Stars Hollow, the Teletubbies, and Lou Dobbs, each of whom may go off the rails for different reasons this fall. A few more capsules from the Beachwood Fall TV Preview Desk.

Fall TV:

Up and Down the Dial


1. Gilmore Girls
The CW, Tuesdays at 7 p.m.

Commentary: Whew! Now that the husband-and-wife writing team of Amy Sherman and Daniel Palladino are gone, maybe the show will get a breath of fresh air. No one writes an episode like Amy and Dan, but last season seemed like equal parts heartbreaking and stale. Good news for Stars Hollow!

Plot Predictions: Even thought the conclusion of Season Six left lovers Luke and Lorelai to a summer-long sobfest, I have high hopes for Season Seven. Who knows, maybe Lorelai was just sleeping over at Christopher's naked on the couch as friends! As if that ever happens. In any case, Luke and Lorelai are never more than two episodes and a heartfelt conversation-width apart. Right?

- Amy Giovannetti

2. Heroes
NBC, Mondays at 8 p.m.

Commentary: I know little about this new show, but three things about the trailer have my interest:

* The cute boy who plays Jess in Gilmore Girls, I assume his name isn't actually Jess, will be in it. I think he can fly. Awesome.

* I like the part when the bespectacled and sweaty Asian man concentrates really hard and moves time backwards by one tiny second. I don't even know him yet, and am convinced that he's great. Plus, I love that cool clock.

* It's pretty kickass when the cheerleader says to her mom, "I walked through fire and I didn't get burnt" in response to mom asking, "How was your day?"

Plot Predictions: The show will never be as good as the trailer.

- Amy Giovannetti

3. The O.C.
Fox, Thursdays at 8 p.m.

Commentary: I sooooo thought it was going to be an overdose. I mean, Marissa has an episode-by-episode tendency to put herself into bad situations, get depressed about it, and then make things worse. It seemed more than likely that eventually she'd die by her own dumb hand. But her car crash death leaves us with more questions than answers. For instance, over how many episodes will the details of the funeral stretch out?

Plot Predictions: I'm not very interested in Julie Cooper's strategy for coping with loss. But most importantly, what is this going to do to Seth and Summer? The two already have a shitload to deal with, like long distance and the start of college and Seth's newfound bum status, and I definitely don't want Marissa's death to interfere with their touching and witty banter. College!

- Amy Giovannetti

4. America's Next Top Model
The CW, Wednesday at 7 p.m.

Commentary: If you like Project Runway, Queer Eye for the Straight Guy, Survival: (Anywhere), Fear Factor, Extreme Makeover, and The "L" Word, think of all the time you can save by dumping those shows and just watching America's Next Top Model!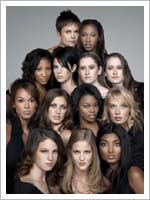 You've got your fashions, gay photo-shoot director, and drag-queen runway coach. You've got your danger from posing in bikinis on a NYC rooftop in December and swinging from the rafters in tight harnesses that restrict breathing. There's the squirm factor of such fashion accessories as tarantulas, giant cockroaches, snakes, and pigeons. Then there are the long-haired, naturally beautiful girls who are made "fierce" with platinum spikes and droopy mohawks, and one sweet girl with misaligned teeth who was made over into a swollen-faced zombie after 18 hours of dental surgery. We get to see a bi-curious girl maul a cute lesbian contestant, and lesbian photo shoots coyly hidden just below the TV camera's horizon.
At the center of it all is the increasingly "plus-sized" and over-painted Tyra Banks, the mastermind of the show. Tyra is the on-camera den mother whose off-camera reputation for being a bitch seems highly plausible after all traces of the first winner, Adrianne Curry (now Mrs. Christopher "Peter Brady" Knight) of Joliet, vanished after Curry slammed the show for making false promises.
Now in its seventh "cycle," ANTM has morphed from the little runway that could into a casting call for Cover Girl Cosmetics. This has taken the show from looking for an edgy high-fashion model to searching for a personable girl next door. I expect the risqùe shoots - but hopefully not the psycho and tranny-look contestants - to tone down as the show moves from the trashy UPN to the CW, a new network combining UPN and the WB that I expect to favor the WB's tame teen/family fare.
Plot Predictions: The Cycle 7 models have been revealed, and I've done my assessment. Expect half-Sri Lankan judge Nigel Barker to drool over buxom Indian beauty Anchal, who hasn't got a prayer because technically she's Asian. Brooke has that Cover Girl look, but she's blonde, so that's that. I'd put money on AJ, the punk Sandra Bullock, or the soulful-eyed Christian. I also expect that Cover Girl will continue to reject the winners by choosing actresses to be Cover Girl models.
- Marilyn Ferdinand
5. Thomas & Friends
WTTW/Channel 11, Mondays and Tuesdays at 11 a.m.
Commentary: The star of the show is Thomas the Tank Engine, an animated steam engine from the imaginary Island of Sodor. This brilliant children's show teaches kids important life lessons, including the most important lesson of all: technology and progress are bad.
On the Island of Sodor, the menacing diesels are trying to force out the friendly steam engines. Who will win? (Spoiler alert!) The steam engines do. Along the way, children learn important technical details about a technology that hasn't existed for a century, while learning to distrust evil progress. The quality of the animation is even old-school: none of the mouths on the steam engines move when they speak. By comparison, Rudolph the Red-Nosed Reindeer looks like the work of Pixar.
Plot Predictions: Thomas will be cheeky, Alec Baldwin (one of the narrators) will embarrass himself with the worst British accent since Kevin Costner in Robin Hood, and at least ten new merchandising opportunities . . . er, I mean characters will be introduced.
- Rick Kaempfer
6. Lou Dobbs Tonight
CNN, Daily at 5 p.m.
Commentary: Lou Dobbs is the most entertaining demagogue in America today, excepting, perhaps, Al Sharpton. He's right about the evils of outsourcing and how the middle class is getting the shaft, wrong about his tough stance against immigrants, and in-between on everything else. He manages the rare feat of adequately balancing his dual roles as Journalist and Pundit, tackling tough issues, sharply analyzing the news, and giving the bad guys hell in sizzling interviews. He has no patience for fools on his news roundtables. It's just what you thought couldn't be - scintillating public affairs television!
Plot Predictions: I tune in as often as I can because you never know if this will be the day Lou's head explodes. The midterm elections could break Lou, so the fall season looks promising. If he survives, he will come back even stronger. I suspect then that the Lou Dobbs for President rumors will spark up, though more likely he'll be cast as Howard Beale in a remake of Network. He may face an ignominous end, though, when it's discovered that he's hired illegal immigrants as stagehands and hasn't paid Social Security taxes for his Mexican gardener.
- Steve Rhodes
7. Studio 60 on the Sunset Strip
NBC, Mondays at 9 p.m.
Commentary: By Aaron Sorkin. What else do you need to know?
Plot Predictions: Will likely be popping some pizza rolls in the oven about eight minutes before Heroes ends. Mmmm . . . well-written dialogue with pepperoni.
- Amy Giovannetti
8. The Situation Room
CNN, Daily at 3 & 6 p.m.
Commentary: Like other news junkies, I find myself in The Situation Room a couple times a week. When someone calls and asks what I'm doing, I say, "I'm in The Situation Room." They might say, "Oh, how do things look?" I'll say, "Dire." Or, "We're still assessing the situation." Or, "I'll let you know after William Bennett tells more lies to the American people to advance his hypocritical, 19th century moralistic agenda and Donna Brazile gets done explaining how the Democrats will blow it this time." They'll say, "I predict 'Dire.' I'm going to Brownshirt alert and moving the nuclear armageddon clock one minute closer to midnight." What other slickly-packaged news roundup outside of The Daily Show is this much fun?
Plot Predictions: As the midterm elections near, The Situation Room will get close to dangerously overheating and hazmat crews will be called out to stand by in case Wolf Blitzer spontaneously combusts. Jack Cafferty, of the show's Cafferty File, will slowly morph into Krusty the Clown while reporting results of the show's latest viewer polls. Bennett, the frequent Republican pundit called upon to spin the Administration line which otherwise has no way to reach the public, will keel over one day from a seizure sparked by the set's 83 oversized video screens. Six hundred thousand dollars in slot tokens will fall out of his pockets. In memoriam, the White House will actually start having its own situation room meetings in The William Bennett Situation Room - on Fox.
- Steve Rhodes
9. Teletubbies
WTTW/Channel 11, weekdays at 11:30 a.m.
Commentary: In Teletubbie-Land, four brightly colored television-receptor-people (Teletubbies) live in a spaceship-shaped home. This luxurious 5,000-square-foot space-age pad is located in a grassy field of wild flowers and live bunnies, and appears to come with a lawn service and live-in help (a vacuum cleaner-shaped sucking device named Nu-Nu.)
The four Teletubbies, Tinky Winky (purple), Dipsy (green), La-La (yellow), and Po (red), receive messages sent by children on the televisions built into their stomachs. These videos feature exciting scenes of children cutting out pictures and waving. The Teletubbies themselves have an impressive vocabulary consisting of the following words: "uh oh," "no," "Nu-Nu," "look" and "bunnies." All of these words can produce a giggle at any time from the little baby that lives in the sun and watches over them.
One last tip for parents tuning in: don't bother writing the producers of this show to find out "what they were on" when they created it. They won't tell. Do as I do: continue experimenting with whatever you can get your hands on until you encounter the correct hallucinogen.
Plot Predictions: La-La will dance his (or her) little heart out, Tinky Winky - the deep-voiced, purse-carrying triangle-headed one - will offer a limp-wristed wave to the baby in the sun, and the silly Nu-Nu will forget to suck up a spill. Uh-oh!
- Rick Kaempfer
10. Chicago Tonight
WTTW/Channel 11, Daily at 7:00 p.m.
Commentary: Carol Marin is the best thing to happen to this show in years. She could moderate a panel on emo and actual glean some insights. Correspondents Rich Samuels and Elizabeth Brackett are head-and-shoulders above their commercial television peers, and Phil Ponce is solid, if not always as aggressive in calling out the spinmeisters as one might wish. He's also much funnier in person than on the show, and would be better served letting his witty freak flag fly than trying to be the kind of all-purpose host former show emcee Bob Sirott was brought in to be. This is still the best public affairs television in the city, and a lot of people root for it to be even better.
Plot Predictions: In the face of eroding ratings, desperate station executives will parter with RedEye editors to revamp the show. Commentator Mancow Muller will be forced out after it's discovered he hasn't paid Social Security taxes for his Mexican gardener - and that's he's really 54. Neil Steinberg will replace Ponce but be forced out after three days for offending blacks, Muslims, Latinos, women, Chicago public school students, librarians, union workers, pilots, store clerks, teachers, everyone on his Metra line, himself and his family. Bob Sirott will come back to do One More Thing One Last Time commentaries after his See, The Thing Is . . . commentaries bomb on Channel 5. In a budget move, the station will rerun old episodes of Chicago Tonight: The Week In Review every Friday and nobody will notice the difference.
- Steve Rhodes
11. Lost
ABC, Wednesdays at 8 p.m.
Commentary: Are you serious? I'm still waiting for Season Two to come out on DVD. You'd think they could release it in time for someone like me to have a Lost marathon with lots of Lost-themed food and beverage (salt water, fruit) and a Lost costume contest (artfully dirty or ripped clothing, sand) so that I could be all caught up in time for the season premiere. Wait, can I still do that? I need to re-check those dates . . .
Plot Predictions: The Season Two DVD will be out before Season Three ends - but just barely.
- Amy Giovannetti
12. Cartoon Alley
TCM, Saturdays at 10:30 a.m.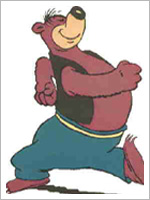 One day, one of my film instructors asked our class, "What do you think of when you think of Warner Brothers?" Instead of the correct answer, "gritty urban and crime dramas," I replied, "cartoons."

If you're like me, or you just want to find out what inspired the creators of Family Guy and The Simpsons, Turner Classic Movies' Cartoon Alley is for you. Host Ben Mankiewicz, (yes, of the Herman and Joseph L. Mankiewiczes) is the congenial host of this half-hour tribute to classic cartoons that provides a fabulous, commercial-free alternative to children's programming on the majors.

You'll never be able to enjoy these gems of short animation the way they were meant to be seen-preceding a feature film at a movie theatre (except on the occasional Saturday night at the LaSalle Theatre in Portage Park). So make do with the next best thing. Revel in the insanity of Tex Avery, Chuck Jones, and Fritz Freleng. Sit and watch with your kids and then drive yourself crazy looking for a Barney Bear or Sniffles the Mouse lunch box for them (or yourself) on eBay. Enjoy British cartoons and much more. See animation done the old-fashioned way-painted on cels by the thousands. Take that CGI!

- Marilyn Ferdinand

13. Washington Journal
C-SPAN, Daily at 6 a.m.

Commentary: C-SPAN's famously non-partisan guest and call-in show in a no-frills Washington studio.

Plot Predictions: Instead of separate Republican and Democratic phone lines for viewers to call in on, the show will go to Republicans Against Bush and Democrats Against Bush call-in lines.

- Steve Rhodes




Posted on September 4, 2006