Peter Popoff
Who: Rev. Peter Popoff.
Where: Upland, California.
Organization: Peter Popoff Ministries.
Brief History: Peter Popoff preached his first sermon at age nine and conducted his first crusade at age 14.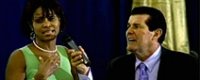 Throughout the 1980s, Popoff dazzled spectators by accurately stating personal information about his "powerful miracle circus" audience members. He would call out their names, addresses, and physical ailments, claiming the knowledge came from God-given revelations.
According to James Randi, a professional magician and pseudoscience investigator, God's will oscillates at the frequency of 39.17 Mhz. It was at this frequency that Randi and a team of researchers sponsored by the Committee for the Scientific Examination of Religion (CSER), intercepted the voice of Popoff's wife, Elizabeth.
Via wireless earpiece, she fed Popoff information she had gathered before the show from prayer-request cards and conversations with those who came to be healed.
Randi busted Popoff by playing these intercepted recordings live on The Tonight Show Starring Johnny Carson. Later that year, Popoff filed for bankruptcy.
Now Playing: Though he has ceased calling out audience members, Popoff is still on the air, Sunday at 9 p.m. on WJYS (Channel 62). Now Popoff is "giving away" Miracle Spring Water with a mandate from God to make us all "healthy and wealthy," as long as you follow the directions.
But don't fret. For those rare illnesses that still require his holy touch, Popoff has a heavenly anointing of assault and battery. When not promoting his miracle spring water, he keeps busy by slapping old women and shaking them until their heads nearly pop off. He screams, and sweats, and then usually leaves his victims groaning on the floor, all in the name of a loving God.
Salvation Inflation: With one simple call, Popoff and his bored-looking wife will send you free Miracle Spring Water with a promise of prosperity. What they don't tell you is that when you receive the water, you are instructed to send $17 dollars (the "1" is for one God, and "7" for the number relative to God's perfection) or else God won't bless you.
They also promise to send a free book, but instead you'll receive is a letter asking for $19.00, or $38 if you want a double blessing.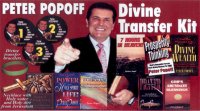 Miracle Money:Purchase The Divine Transfer Kit and watch your bank account grow for no worldly reason. "It's not coming from your job," he says between tearful testimonies of thousand-dollar bank flubs. "It's supernatural."

The kit comes with an awful lot of reading. Is The Divine Transfer Book Club far away? Kit contents include the following Peter Popoff books:

- 7 Hours In Heaven
- Prosperity Thinking
- God Has Promised You Divine Wealth
- Guaranteed Answered Prayer
- Angels
- Dreams
- God's Promises (Devotional)
- God's Abundant Blessings
- Releasing The Power Of The Holy Spirit In Your Life
- HOOKED! Breaking Satan's Bondage

As well as:

- A Divine Transfer Wallet with Engraved Prayer by Rev. Popoff
- The Powerful Teachings 3-CD set, "For My Very Important Platinum Members"
- A Divine Transfer Bracelet
- "Beautiful Cross Necklace Personally Brought Back From Israel By Rev. Popoff Filled with Holy Land Soil and Water."

Divine Transfer Kit Quote: "A $390 value for only $89.99!" Wealth is being transferred already.

Not So Miracle Money: Peter Popoff Ministries raised $16,220,066 in revenue in 2004. More than $548,000 went into Peter Popoff's pockets..

TV Quote: "Just as God used Moses to lead the Israelites out of Egypt and into the Promisedland, so too has He given me a mandate to lead you into health and wealth."

Who Would Jesus Kill? During the program I saw, a woman shared her testimony about being in serious financial debt. She ordered the Miracle Spring Water and within minutes of using it, received a phone call informing her that her grandmother had just unexpectedly died and left her with a $100,000 inheritance. "Praise Jesus, It's a miracle!" Popoff exclaimed.

Yes, praise Jesus for killing your grandma.

Lesson: If money is the root of all evil, then Popoff's miracle spring water came from the devil's sprinkler system.

Hallelujahs: 1.8

- Steve Yaccino




Posted on July 27, 2006