Optionetics
What It Is: A system of investing.
Description: A system of investing that makes money, as opposed to losing money. Apparently, the name "Optionetics" is the marriage of "options" and "pathetic."
Shills: George Fontanills, whose qualifications include appearances in stock footage for CNN and CNBC. Grace Carter quarterbacks the Optionetics effort from behind an anchor desk complete with fake stock ticker running in the background. If you watch carefully, you'll see the ticker runs from the same point during each Grace Carter appearance.
Set and costume: Carter appears svelte in business attire. Fontanills has exercised too many "put" options at the buffet.
Patriot Act: The background imagery during Carter's hard-hitting "interview" with Fontanills includes the United States Treasury building and an American flag. Not included: Footage of Alexander Hamilton rolling over in his grave.
Quote: "Make money no matter if the market is going up, going down, or going sideways."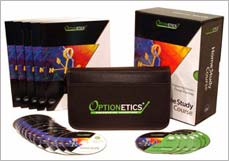 Gimmick: A series of people pump their fists while at their computers, as others testify about their best trades. Is it from a night at Resorts Chicago East? No! It's Optionetics!

Bonus Gimmick: Pilot compares trading options to flying a plane. Each requires practice, professional instruction, and a proven system.

Extra Bonus Gimmick: Financially-strapped OB/GYN bemoans cost of malpractice insurance and extols Optionetics for helping him make ends meet.

Cost: All you have to do is attend a free two-hour seminar coming to your area (Schaumburg, Lisle, Alsip, or Skokie). Laser light show possibly included.

Easy Payments? N/A

Evaluation: I was struck by the number of white people used in the testimonials. It seems that every white person (and one Asian) knows the power of options. Still, I watch infomercials for the wild promises of wealth and success. This one simply repeated the same talking points over and over in a matter-of-fact manner. In other words, it was like a George W. Bush press conference without the wild promises of wealth and success.

Rating: 2. If you enjoy listening to white people bragging about how much money they make, Optionetics is for you.

Condition of Viewer: Way too sober.

- Eric Emery




Posted on May 1, 2006