Jim Bakker
Who: Jim Bakker
Where: Branson, Missouri
Organization: Jim Bakker Ministries
Founded: Sometime after he got out of prison.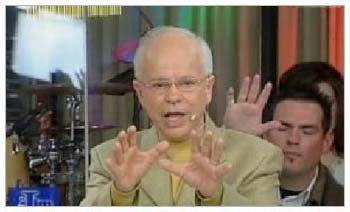 Brief History: Jim Bakker and his famously spunky makeup-laden wife Tammy Faye Bakker were among the most wealthy and powerful televangelists of the 1980s.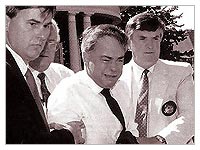 They founded the multi-million dollar Praise The Lord Network in Charlotte, N.C., and built Heritage USA, one of the most successful theme parks in the country in its day. Bakker was busted for fraud and conspiracy to commit fraud in 1987 and was sentenced to 45 years in federal prison. The prison term was later reduced and Bakker was released for good behavior in 1993.
Update: The New Jim Bakker Show runs weekdays at 4 a.m. on the Total Living Network. The show is broadcast in a cafe in front of "a real audience with real people."
Bakker Blog: Today's Revelation.
Book: I Was Wrong: The Untold Story of the Shocking Journey from PTL Power to Prison and Beyond.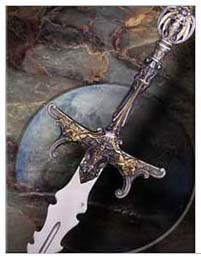 Weapons: Sword of the Apocalypse ($200). "It is crafted from the finest steel and contains beautiful imagery of the Four Horsemen of the Apocalypse as described in the Book of Revelation."

Bling: Jesus Pendant ($48); Jesus Pin ($48); Crystal Cross ($25).

TV Quote: "If you don't have money you better have a big God." What if you do have money?

Money: The times are so lean for Bakker these days that his new ministry isn't even listed with the online televangelist watchdog group Ministry Watch.

Fun Fact: Presidential candidate and conspiracy theorist Lyndon LaRouche was a cellmate with Bakker in federal prison.

Google: Search for "Jim Bakker Ministries" results in only 218 hits, the majority of which are links to his own Website.

Evaluation: For an hour-long show there was very little talk about Jesus, God or the Bible unless it related to donating a "Love Gift."

Lesson: People are who they are - even TV preachers.

Hallelujahs: 3.5

- Timothy Inklebarger




Posted on April 9, 2006