BetterTrades
What It Is: A teaching system for stock market success.
Quote: "Take $1.45 and divide it by $3.55 and tell me what your rate of return is. Folks, 47 percent. You dig that? Now, do inquiring minds want to know how to do it? Yes or yes?"
Bonus Quote: "The market owes us a living, and we're gonna make that living today."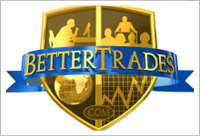 Cost: BT's expos - coming to your metro area! - are free; prices for other products and services vary.

Shills: Tom Jourden and Erica Shafer anchor. Founder Freddie Rick - Freddie Mac's shady cousin, perhaps? - also shows up to share his story and trot out his stable of experts, including Doug Sutton, responsible for the crackin' quotes above.

Set and Costumes: Tom and Erica sit at a fake news desk set-up; also, assorted living rooms and hotel conference rooms. The attire here is mostly unremarkable, except for Erica's screaming purple dress - did she buy that before or after she turned her market fortunes around?

Gimmick: The beginning of the spot includes shots of people sitting on deck chairs with the sunset behind them. But, beyond that, the spot is low on splashy visuals, allowing BetterTrades' legion of pasty white fellows to talk viewers into submission between equally banal testimonials. Later on, snippets of people playing tennis and otherwise enjoying life break things up a bit. Sort of.

Your Fellow Nouveau Riche: More pokey-faced chumpfucks than a Christopher Guest movie - and, possibly, John Beck's infomercial. Keep the fine china hidden until they go home, and for God's sake, marry the kids into old money.

Web Bonus: Online, we learn that Freddie has nicknamed himself "Mr. Gump" and fits "the Forrest Gump stereotype."

Evaluation: Lavish promises with "cheesy rip-off" stamped all over them - a standard approach, but pulled off competently enough. If anything, it's not sly enough, showing us far too many dubious-looking people on both ends of the deal. Step back a bit, Freddie - aren't you paying Tom and Erica to talk for you?

Rating: 2

- Scott Gordon

*

From the Little Giant Ladder to the Swivel Sweeper, check out the entire Infomercial Review catalog.







Posted on July 10, 2007