Bella Vista Village
What It Is: Northwest Arkansas' premier planned community.
Description: An overwhelming cornucopia of residential property, recreational lakes (eight of them, fully stocked with fish) and golf (126 holes).

Quote: "Imagine a place with six miles of incredible golf courses that wind through towering oaks."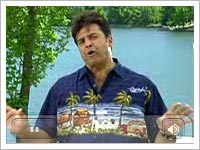 Shill: Erik Estrada, he of CHiPs and, more recently, Sealab 2021. Estrada is a spokesperson for National Recreational Properties, which apparently manufactures other such communities in other states, including Texas and California. Estrada's co-spokesperson (not appearing in this infomercial) is pre-Pat Sajak Wheel of Fortune host Chuck Woolery. Hey, Chuck! Generic burbclave name, three words!
Reinforcement Shills: Several residents, from the bloated 60-year-old golf bum to the pretty young housewife to the psychotic-looking gossipy termagant. Derision aside, these Bella Vista dwellers seem authentic.
Set and Costumes: For most of the commercial, Estrada wears a less-obnoxious-than-average Hawaiian shirt and stands on the shore of one of Bella Vista's lakes. Actually, it could be any lake in any National Recreational Properties subdivision.
Politics: Homesteader! Estrada emphasizes the glorious novelty of "owning property." Which begs the question: Who moves in just because of an infomercial? Are these people really up to our caliber?
Cost: Lots start at $24,900.
Gimmick: Putting the token dead-center. Except for two workers briefly shown shoveling dirt on the site of a new home, Estrada's the only non-white in this spot.
Bonus Gimmick: Playing up the business growth of nearby Bentonville, Arkansas, headquarters of Wal-Mart.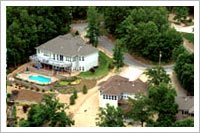 Extra Bonus Gimmick: Sprawling helicopter shots of Bentonville, which reveal winding roads, oceanic parking lots and broad, flat rooftops - it's an aerial big-box epic.

Climactic Erik Estrada Quote: "You belong here. Right here, with me."

Evaluation: The more Estrada cheers and grins, the more haggard and deranged he looks. But, much like his voice work as Sealab's Marco, this performance captures a perverse glee and an embrace of all things huge and tacky. Think of it as a live-action version of Sealab's spectacular "Bizarro!" episode. But why is this commercial running in the Chicago market at 2 a.m. on a Sunday? When are late-night viewers here supposed to up and move to Bella Vista? When they get tired of the never-ending freakshow that is urban life? Then again, Bella Vista, a "Census-designated place" (i.e., not an actual city) might be the right spread for those ready to retreat from municipal government. The producers get bonus points for capturing the delicate balance of modesty and megalomania that defines luxury suburbia.

Rating: 6.5

- Scott Gordon





Posted on July 18, 2006