The Air-O-Space Sofa Bed
What It Is: An air mattress that turns into a couch--and other stuff.
Such As: The five-in-one sofa bed also folds into some kind of beach chair and can be used as a "high-rise sleeper" for children.
Quote: "Get off the floor and suffer no more! The future of relaxation has finally arrived!"
Science: Every seam is electronically fused. It works because of Air-O-Space's "advances" in weightless load technology.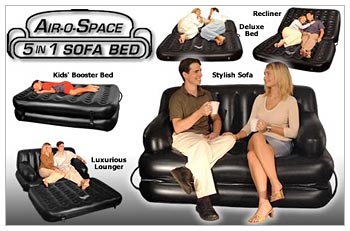 Cost: Double Size is $99; Queen Size is $128.85. Air pump and nozzles included. Claims to replace $5,000 worth of furniture. Slip covers also available for purchase.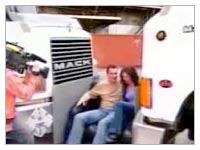 Gimmick: The show's host, Brandon, sits on the sofa bed while two Mack trucks from opposite sides try to squeeze the sofa--and therefore Brandon--to death. But they trucks are not strong enough to destroy the Air-O-Space. It does not burst, it does not budge. Brandon's co-host squeals with fear and delight.
Comment: This infomercial was a real letdown in that, like so many others, it showed the same footage over and over. I was slightly interested in the prospect of seeing Brandon get splattered, but I knew in my heart it wouldn't really happen.
Evaluation: Looks an awful lot like sitting in a blow-up swimming pool. There doesn't seem to be much difference between the "luxurious lounger" and the "relaxing recliner."
From the Company That Brought You: Youth Cocktail and New England Patriots Stackables.
Rating: 4

- Timothy Inklebarger




Posted on March 21, 2006





MUSIC - The Week In Chicago Rock.

TV - Jake Tapper's Medicare For All Fact-Check Fail.

POLITICS - Manafort & Rahm's TIF Game.

SPORTS - Why Kopech Now?

BOOKS - Trying To Prove God Exists.

PEOPLE PLACES & THINGS - Foxconn Flooding Alert.

---




Search The Beachwood Reporter




---

Subscribe To Our Newsletter

---

---

---

Beachwood Radio!

---

Ask Me Anything!