« March 2010 | Main | May 2010 »
April 30, 2010
The [Friday] Papers
"Weis has four cops who confronted Ardelean after he'd been drinking at a bar and miraculously didn't detect any alcohol or notice anything else," the Tribune says today. "He needs to call them in, one by one, and decide for himself what really happened. And then he needs to make his findings public."
Agreed. But Weis doesn't seem so inclined.
"On Wednesday, Weis reacted to the Ardelean ruling. 'I mean, courts rule,' he said. 'I may not agree with it, but it really doesn't matter what I think about it.'
"Yes, it does matter what you think, Superintendent Weis. More than that, it matters what you do. The issue isn't so much what happened in court. The issue is what happened on the street at Damen and Oakdale."
Previously:
* The Curious Case of Chicago Cop John Ardelean.
Walmart Whitewash
In its latest sop job to one of the nastiest retailers in the world, the Tribune repeated the frequent assertion that only the munificent Walmart was willing to build in Pullman Park.
"The project's backers weren't eager to take on the political headaches that come from aligning with Wal-Mart in Chicago," the Trib says. "They approached other retailers to anchor Pullman Park - Jewel, Dominick's, Costco, Target, Ikea. 'They all said no thanks,' [Daley guy David] Doig said."
Ald. Anthony Beale says the same thing, but Hunter Clauss reports in the Reader that "not everyone is buying his version of events - starting with the very retailers who supposedly spurned him."
Clauss took the extraordinary step - after all these years of debate - of actually asking other retailers if this was true. Guess what?
''[R]epresentatives for several of those retailers told me they were never approached by Beale, the site's developer, or anyone else about opening a new store in Pullman."
Jewel? Nope.
Target? Nope.
Ikea? Nope.
Costco? Nope.
Doig insisted to Clauss that he worked through a broker who provided him with reports of contacts with retailers other than Walmart. Then he refused to show Clauss the reports.
Beale accused the retailers of "playing games" with Clauss and insisted he worked with union leaders to find an alternative to Walmart. Union leaders say they worked with Beale on a different project, not Pullman Park.
The first mistake many reporters make is in presuming the premise presented to them is true; then they spend their time getting "reaction" and writing within the frame of that premise. But the premise is the first thing that should be questioned.
Our Todd
The Chicago Reporter comes along at just the right time with a campaign video it dug out of the archives of a long succession of Illinois pols and wonks predicting what a great Cook County president Todd Stroger would be.
It's true nearly every person on it looks incredibly grim while making their endorsement, but it's still gotta be embarrassing for folks like Larry Suffredin, Tom Dart and John Fritchey, who were the most immediately recognizable to me. (Not on this particular video: Barack Obama endorsing Stroger as "a good, progressive Democrat.")
That's Desiree!
"'Clearly, Washington had never seen anything like you before,' moderator Gloria Scoby, senior vice president of Crain Communications, told Rogers."
Clearly!
In all of Washington, D.C.'s history, no one like Desiree Rogers had breezed into town!
"That's for sure," Rogers said.
Oh, whatever town can hold her?!
Deja Bush
"The Obama administration is seeking to compel a writer to testify about his confidential sources for a 2006 book about the Central Intelligence Agency, a rare step that was authorized by Attorney General Eric H. Holder Jr.," the New York Times reports.
Brady's Bunch
"Republican governor candidate Sen. Bill Brady today said he will not revisit the issue of the way he released income-tax information to the public last week and defended his decision not to release copies of his tax returns," the Tribune reports.
"'I think we've often criticized governors for not living in Springfield, not being in the state capital,' Brady said, referring to complaints raised about disgraced former Gov. Rod Blagojevich's avoidance of Springfield. 'We picked a location - the state of Illinois' capital.'"
The Brady campaign also announced that from now on, all of its campaign e-mails and website postings must be viewed in Springfield too.
FOIA Rollback
"Another exemption to the state's new Freedom of Information Act is headed to the governor," AP reports.
"House Bill 5154, approved by a 45-9 vote in the Senate today, would prohibit the release of employee performance evaluations. The bill already cleared the House and now gets Gov. Pat Quinn's review."
Or, to put it another way:
"Less then five months after Gov. Pat Quinn signed what he called a major new law to open up government, lawmakers are moving to keep information about public employees secret," an Illinois Statehouse News report says.
"Melissa Hahn, president of the Illinois News Broadcasters Association . . . said performance evaluations can be used to protect favored workers or punish workers who toe the line. And Hahn said by keeping those evaluations secret, taxpayers will never know the difference.
"This is usually used as a way to root out corruption, and it's a way for journalists and the public to try to find some sort of evidence of that," Hahn said.
And:
"HB 5154 is not the first roll back of the new FOIA law. Lawmakers approved a similar carve-out for teachers and principals as part of a deal with teachers unions for the federal Race to the Top education funding program. Illinois never received any Race to the Top money, but lawmakers made the FOIA change anyway."
Hunger Strike
"I know anything off a Wendy's dollar menu is cheaper and tastier than a whole head of lettuce, and takes no prep time; I also know that's why so many of us have become lard-assed Type II diabetics," our very own Scott Buckner writes in What I Watched Last Night: Food, Inc.
Derby Tout
"This race borders on, or has already become, what they call inscrutable. There's no rhyme, reason, form, trends, tendencies or strengths to depend on," our man on the rail Thomas Chambers writes in TrackNotes. He builds a betting plan nonetheless.
Bleacher Bum B.S.
There are no bleacher bums anymore; let's get that straight.
-
The Beachwood Tip Line: A good bet.
Posted by Beachwood Reporter at 7:42 AM | Permalink
TrackNotes: Derby Tout
It would be impossible for anyone, from President Hope on down to Grand High Exalted Mystic Minion Ron Huberman, to start a "No Horseplayer Left Behind" initiative.
The teacher prays Dick and Jane remember the answers they were given. To get the "free" money. In the pari-mutuel world, there are no answers ahead of time and the results can't be cooked in the district office. Win, Place, Show. That's it. Plenty get left behind. That's just tough.
But as we sit here on the eve of the 136th Kentucky Derby, there's a certain calm, emanating from a resignation that no one on Earth has even the slightest idea who is going to win this race. This race borders on, or has already become, what they call inscrutable. There's no rhyme, reason, form, trends, tendencies or strengths to depend on.

If Make Music for Me shocks the world, we can say "look at Mine That Bird last year." If Lookin At Lucky wins, well, he was the favorite. Add the specter of a quagmire brought on by inches of rain, again, and the majority of these entries can jump up for the win.
Kentucky Oaks Friday might be a better day of racing, dry, with Blind Luck the favorite in what should be a competitive race. And a real highlight that has received very little attention is the return of Rachel Alexandra in the $400,000 La Troienne Stakes (Gr. II), where she'll meet her New Orleans Ladies conqueror Zardana. Catch the 12:26 post time at lunch. They say she's ready to go and if she runs Rachel-esque, watch for the Zenyatta showdown hubbub to heat up once again.
We'll also see this weekend old favorites like Friesan Fire, Macho Again, Battle of Hastings, Cool Coal Man, Court Vision, Diamondrella, General Quarters, Informed Decision, Musket Man. And hotshot Derby outsider, three-year-old Setsuko on the turf.
As always in America, where more always seems to translate as better, the Derby itself is again overpopulated, for many reasons. Todd Pletcher has four in the big race, and Bob Baffert, Nick Zito, John Sadler and Mike Maker all have two.
Horses drop out of the Derby every year, no big deal there. But with the withdrawal of Eskendereya over the weekend because of swelling in a leg, the complexion of the race was dramatically altered. Esky was clearly the best three-year-old coming into this race, seemingly capable of outrunning any tomfoolery he might have encountered. He was a combination of speed and distance all spring. His failure to run gives all the others a better chance.
Now, for the talent portion of the pageant, in post position order:
1. Lookin At Lucky
With Eskendereya dropping out, this one becomes the probable favorite. Trainer Bob Baffert has been touting this horse since early last season and the son of Smart Strike (super horse Curlin's sire) has matriculated well through the School of Hard Knocks.
He's been Grade 2 or Grade 1 placed since his debut maiden win, finishing in the money every time, winning 6. He comes off a horrible trip in the April 3 Santa Anita Derby in which Garrett Gomez, who keeps the mount, painted him into a corner on the backstretch that Lucky almost didn't get out of. He then put in a valiant effort to get up for show behind winner Sidney's Candy.
He's got a dirt win and his highest Beyer Speed Figure over Derby rivals Noble's Promise and Dublin in the Rebel Stakes at Oaklawn, and he made the Breeders' Cup Juvenile, of all races, a key race when he finished second there and went on to win his next two. The 1 post is not particularly good, as Baffert will agree.
"He's got to break well," said Baffert. "Plan A is to break well. Plan B is we're screwed."
Gomez will need a ton of luck and all the skills he possesses to pull this one off.
2. Ice Box
On a decided upswing coming into 2010, this son of Pulpit won in January and then ran into the Eskendereya buzzsaw, finishing fifth in the Fountain of Youth at Gulfstream in February.
But wait, there's more.
I liked the way he settled in the trailing position and then started picking them off on the backstretch and into the turn. It was a lot to do, but as Esky took off, Ice Box kept to his task.
Then, in one of the most exciting Derby preps of the season, Ice Box once again took up the trailer's position (proving he can take dirt in the face) in the Florida Derby and then made a mid-wide move on the turn for position coming into the stretch. He then frantically dashed up to meet Pleasant Prince at the wire. I thought I had the 25-1 'Prince, but Ice Box got up for the win in the closest photo I've seen this year. If the pace either destructs or is run moderately, this horse definitely has a good chance. 6-1? 15-1?
3. Noble's Promise
He's another hard knocker who was almost pulled from this race after being bruised and cut up in the April 10 Arkansas Derby.
A quality workout Monday morning convinced trainer Kenny McPeek to keep 'Promise in the race. He was bumped and squeezed and then unable to catch the front speed in Line of David and Super Saver, usually a tough task anyway at Oaklawn.
You would have liked to see him finish the job in the Rebel, but Lookin At Lucky just plain ran him down to win by a short head.
His two best speed figures have come on the dirt, but Lookin At Lucky has had his number and you really have to wonder if he wants 10 furlongs. He just hasn't beaten a top-quality foe. And at what price?
4. Super Saver
In the Kentucky Jockey Club last November, this first of four Todd Pletcher trainees shot to the lead, led until he was slightly headed coming into the stretch and then popped down to the rail and won by an easy five lengths. It was a patented Calvin Borel ride and Bo-Rail gets the mount Saturday.
I'm taking the position that he needed the Arkansas Derby, where he was barely edged by Line of David.
And there's no shame in hanging in the Tampa Derby and still finishing only a half length behind the winner.
He should be fresh and the works and Beyer progression are there. If he can let the front runners do their thing and then make the big move - Borel should help him there - he should come in at a decent price. He's a legitimate contender.
5. Line of David
This son of Lion Heart vaulted into the Derby conversation with a 10-point Beyer improvement and a neck win on the switch to dirt in the Arkansas Derby.
Over his last four races, he's improved 26 points on the Beyer ladder.
But how good a race was Arkansas?
He had his way on the lead in the backstretch in a race that wasn't particularly fast and had to hang on for dear life to get the win. It was a classic Oaklawn Park jaunt on the lead with atypical drama at the end.
If you believe Daily Racing Form clocker reports, 'David may have left his game in Arkansas as a Monday workout had him running on empty. With the Arkansas Derby his only stakes win of any kind, it might have been a fluke, for now. Looks like a bounce.
6. Stately Victor
This is the kind of horse I do not like seeing in the Derby.
With a mediocre record and just a maiden turf win to his name, he won the Blue Grass April 10 on Keeneland's synthetic to catapult himself into this race. He fired a 94 Beyer, 13 points his best, and is the son of Ghostzapper.
He hasn't beaten much of anything, including Derby rival Paddy O'Prado. He's got a huge surface question to answer. What do I do? Flip a coin? I'm gonna need a big price and some convincin'.
7. American Lion
Despite winning the pretty slow Illinois Derby on April 3 while on the front end and controlling the pace, American Lion is rising on a lot of Derby lists.
He made the successful switch to dirt at Hawthorne, a key. He ran his top Beyer of 98 here. If he's partial to dirt, he also had a 94 in the Robert B. Lewis on Santa Anita's synthetic in February. That's versatility. He was very determined to hold off Yawanna Twist at Hawthorne and should have enough Tiznow and Storm Cat in him to get the distance. He may very well clunk up to get a nice piece. Just depends on how much clunkin' he can do.
8. Dean's Kitten
Owner Ken (and Sarah) Ramsey readily admits to a bad case of Derby fever. The one time 'Kitten ran on dirt, he was more than 33 lengths behind Eskendereya. In an excellent post position, this turf-bred needlessly clogs up traffic.
9. Make Music for Me
With a late injury to Endorsement, this career synthetic/turf runner was the last one in the Derby door. His only win was in the ungraded $68,000 Pasadena but he's run in enough big races to accumulate the dough. More filler the Derby doesn't need.
10. Paddy O'Prado
I didn't like Barbaro on paper, but I kept hearing his name and how well he trained. The sheet on this potential wiseguy isn't great, but he is getting rave reviews for his workouts, including the comments he's taking to the Churchill dirt well.
He's yet another making the switch from turf and synthetic, and in his first race ever, he fared poorly on Churchill slop. He had to run in the April 10 Blue Grass to have a chance to get in the Derby. He was progressing very well on the turf going into the Blue Grass synthetic and didn't regress much on the Keeneland plastic. He'll need to, ostensibly, boost his Beyers to have a chance. And he's shown closing ability in just about all of his races, the last three at 9 furlongs.
You have to question his dirt ability, but this might be a case of peaking at the right time. At a decent price. I don't like him, but as Tony Gazzo once said, "I hear things."
11. Devil May Care
The filly. Why must they make my life so complicated?
The Good: She ran an attention-getting triple-digit Beyer in winning the Bonnie Miss March 20 at Gulfstream; she's bred to run all day and will get a 5-pound weight advantage and blinkers added; she's looked good training in the Churchill mud; she's got John Velazquez aboard.
The Bad: She's not a good gate horse, throwing a fit before the Silverbulletday two back; she took severe umbrage to the whip in the Bonnie Miss and shook her head in protest; she's lightly raced with four mediocre speed figures and I don't know if I trust the Gulfstream Beyer; she'll probably be way overbet.
How is she going to handle the screaming Churchill crowd?
Either Pletcher believes she can't beat Blind Luck in the Kentucky Oaks or that she may be better than the 19 boys in the Derby. Or both. I might take a 25-1 flyer, but I won't get it. She might be good enough for a piece. Who knows?
12. Conveyance
This Baffert trainee is pure speed and figures to try to go to the lead early. N
ot sure I like Baffert's happy-to-be-here stance with this horse: "All we have to do now is keep him happy and healthy," said Baffert. "From here on in, we're just going to train him with little gallops and stuff. Now we're just going to enjoy it."
I smell a rabbit for Lookin At Lucky.
Even if he lulls them to sleep from the front on an easy pace, it really doesn't appear he can get the 10-furlong distance. Just can't see him lasting. So help me, if they let this guy wire the field . . .
13. Jackson Bend
The Nick Zito trainee was a big buzz horse as he came into 2010 with a 5-1 record. He ran into an improving Winslow Homer in the Holy Bull and then persevered in two trouncings at the hands of Eskendereya. No shame there. He's never been worse than second, but distance is a question here too. His Beyer range in the low 90s, while consistent, needs a boost. He'll need a lot of luck Saturday, but could get a piece.
14. Mission Impazible
Devil May Care or Super Saver might well get all the buzz as Todd Pletcher's next best hopes after Eskendereya, but this one could have the goods.
His Louisiana Derby win is bashed as slow, but I liked the way Mission' kept his patience on the backstretch as Rajiv Maragh tucked him on the rail inside four other horses and basically went along for the ride. He made a fundamentally sound turn of foot into the stretch and after greenly tailgating looking for a place to go, got clear and reeled in A Little Warm for the win. I liked his gallop out, signalling he might be OK at 10 furlongs, but you have to wonder if he'll be fast enough to get into a winning position. But if the speed demons on the front destroy the race's rhythm . . .
15. Discreetly Mine
This son of Mineshaft (A.P. Indy) has plenty of pedigree to get the 10 furlongs, but in what should have been a big step up in the Louisiana Derby, he flattened out and finished fourth. His works have been unspectacular but solid, and his Beyers seem to have plateaued. Looks like a top ten finish, but not in the money.
16. Awesome Act
A lot of people like him (10-1 morning line), seemingly based on his pedigree of Awesome Again-Houdini's Honey. I don't see as much to like on paper, and I wonder how much he wants to win. They're banking on a big kick in the stretch, but he couldn't outfinish Jackson Bend in the Wood Memorial. Only if the race falls apart and he makes a big improvement at the same time.
17. Dublin
Not sure he even wants to race Saturday. In his last two workouts, he was bouncing off the outside fence and looking to bear way out of the turn. This horse has always taken a lot of action, only to disappoint. Linemaker Mike Battaglia must be smoking some of the Turfway PolyTrack, where he announces races, as he's made him 12-1 on the morning line. Post 17? Let's hope he doesn't take a right turn in front of Sidney's Candy. I'm tossing.
18. Backtalk
Another late entry because of defections. He made all his money as a 2-year-old and hasn't done a thing this year, except for a minor stakes win at Delta Downs. He was well bet in the Illinois Derby and failed miserably in a slow race. He's a sprinter, his Beyers blow and his one Churchill workout stunk. He should not be taking up space in this race.
19. Homeboykris
Where do I start? Nowhere. Toss. And don't screw up Sidney's Candy!
20. Sidney's Candy
The West Coast wonder was put squarely behind the eight ball Wednesday when he drew post 20, which moves him from one of the top favorites to nearly an automatic toss.
Trouble is, he may be the best horse in the race, one you must include.
Only two have won from that post, Clyde Van Dusen in 1929 and Big Brown in 2008, and Sid' is no Big Brown.
This son of Candy Ride has never had a horse in front of him in any race and that, coupled with a first-time dirt race, makes the game different from anything this surfer boy's ever seen. He'll have mud in his face for the first time.
On the other hand, his past performances make him one to beat and if he gets past 10-1 or better, you have to bite.
This is where you wish he had prepped on a dirt track at least once, like a few of the others.
And while I like Joe Talamo, this'll be the kid's first mount in one of the most difficult races in the world, not a five-horse field in a Hollywood Park overnight stakes.
The Wager Window
Lookin At Lucky, Ice Box, Super Saver, Paddy O'Prado, Mission Impazible, Sidney's Candy and American Lion will all figure in my wagers, with lots of boxing. I will reluctantly take a look at Awesome Act. I will probably have to take a flyer on Stately Victor, because I don't want him burning me. Same goes for Devil May Care, and Conveyance if he's 20-1 or better. On the tote board, I want to see three to five reasonable favorites and the rest with boxcar odds. We'll see.
One more thing: Go Rachel!
-
Thomas Chambers is the Beachwood's man on the rail. He brings you TrackNotes (nearly) every Friday. He welcomes your comments.
Posted by Beachwood Reporter at 6:31 AM | Permalink
What I Watched Last Night: Food, Inc.
Since forever, science and industry have been on a mission to develop some sort of life form capable of doing nothing but growing or shitting money. By the looks of Food, Inc., the Robert Kenner documentary released in 2009 and shown last Sunday night on PBS's POV, the American food industry has made astounding headway toward accomplishing that goal.
I've never been particularly concerned over who makes my food, how it's slaughtered and processed, or how it ends up at my grocery store. I've never exactly been picky about what goes into it, either; I love a good hot dog, a nice bologna sandwich, and I've rarely met a hamburger I didn't like. I like it that way. But Food, Inc. made me reconsider what constitutes good food made good and fast and cheap.
Yet therein lies the dilemma I've been dealing with for years since I'm not affluent and do my own food shopping. I know anything off a Wendy's dollar menu is cheaper and tastier than a whole head of lettuce, and takes no prep time; I also know that's why so many of us have become lard-assed Type II diabetics. Yet the same foods that are better for us (no pesticides, no growth hormones, no genetic engineering, no feedlot raising, etc.) cost three to four times more than the regular stuff. To me, $10 for a gallon of milk and $6 for a pound of ground beef isn't exactly a consumer-friendly way to cultivate mass appeal.
As it turns out, that's because food that could be better for us is far more expensive because it isn't government-subsidized like the regular stuff, and most everything abusive and wrong continues largely because the country is full of people just like me shrugging, "Ah well, whatcha gonna do?"
Food, Inc. is one of the most engaging documentaries I've seen in a long time, so I barely noticed the thing is 93 minutes long. That's why it wasn't a chore for me to learn that America's food supply is run by a small handful of corporations with more money than God. Worse, that supply runs on standards of self-policing and inspection that can border on "until a shitload of people die from it all at once, we're all good." It's no wonder people go vegetarian - even though that's no guarantee leafy greens won't kill you, either.
But people are indeed getting sick and dying from commercial food contamination. So a chunk of the film is devoted to Barbara Kowalcyk, whose young son Kevin died from a hamburger infected with E. coli O157h7, and her campaign to pass "Kevin's Law" restoring the U.S. Department of Agriculture's power to shut down plants that produce meat contaminated by salmonella and E. coli O157h7. Otherwise known as the Meat and Poultry Pathogen Reduction and Enforcement Act of 2003, the measure died in congressional committee.
I wasn't totally surprised by the occasional footage of downer cows trying to walk on useless legs or being pushed around by a forklift, chickens being raised in cave-dark warehouses or hyper-fattened to the point where they can't walk anymore and die, or even the look into the open, digestion-in-progress stomach of a live cow.
What surprised me was why E. coli even exists in beef products in the first place. It's not simply because feedlot cattle spend their lives shoehorned together knee-deep in their own shit like bovine Lucy Ricardos squishing grapes to make the world's biggest cowpie. It's not like they're scrubbed clean before taking a bolt gun to the forehead and sent down the line either, so there's no sure way for cow shit not to be a contaminant. Duh.
Rather, it's because a good bit of that shit is crawling with E. coli that started surfacing in new strains when the industry turned cattle into corn eaters. (As it happens, corn is used one way or another to manufacture damn near everything on the planet. We're even teaching farm-raised fish to eat corn. Really.) Corn fermenting in cattle stomachs provides a great E. coli habitat; grass doesn't.
"Cows are not designed by evolution to eat corn," says Michael Pollan, author of In Defense of Food: An Eater's Manifesto. "They're designed by evolution to eat grass. And the only reason we feed them corn is because corn is really cheap and corn makes them fat quickly . . . If you take feedlot cattle off their corn diet, give them grass for five days, they will shed 80 percent of the E. coli in their gut."
Thoughtfully, the film reminds us that grass-fed cows in open fields don't stand around in their own mess 24/7. Yes, I'm aware that all the water devoted to irrigating all that grazeland is helping fuck up the planet. But so is all the water needed to irrigate vegetable cropland. Either die from thirst or die from E. coli; the world's an imperfect place.
More disturbing, though, is Food, Inc.'s look at the astounding financial and political reach and power of intimidation that meat and agribusiness corporations have, and how food has been transformed from something we once cared fundamentally about into just another industrial product created with roughly the same regard Samsung has toward TV sets. It's the money, stupid - and our corporations aren't stupid about how to make mountains of it, often at the expense of the people helping create those mountains.
One of these corporations that caught the attention of Food, Inc. was Smithfield, which runs the world's largest hog processing plant in Tar Heel, North Carolina. The plant blows through 32,000 hogs a day and has the benefit of a seemingly bottomless supply of disposable, low-skilled immigrants - many bused in from within a 100-mile radius - to do one of the most dangerous jobs in the country for the kind of wages George Pullman would envy. Meatpacker IBP even buses in workers directly from Mexico.
The industry also seems to be content to spend mountains of smart cash on lawyers in order to make mountains move. Say what you will about Monsanto Monsanto cornering 93 percent of the American soybean-seed market with its patented, herbicide-tolerant Round-Up Ready Soybeans (genetically engineered to resist Round-Up, the world's leading herbicide made by - surprise! - Monsanto).
But there's something a bit goon-squadish about having a team of 75 investigators out roaming the heartland to root out farmers who may be cleaning and saving their own seed to plant next year - a practice as old as farming itself - or may have genetically-modified seed on their conventional-seed land that might have blown in from a neighbor's field. There's even a Monsanto farmer blacklist.
"If you save your own seed, you're gonna get a call from somebody from Monsanto," says Troy Roush of the American Corn Growers Association, who had his own legal problems with Monsanto.
Indiana seed cleaner Moe Parr got one of those calls. It's rather disheartening to see the film follow Parr as Monsanto turns him into toast.
Food, Inc. is decidedly one-sided because the corporate interests - Smithfield, Perdue, Tyson, Monsanto - declined to be interviewed. The closest thing to a two-sided account I've found on my own related to this film is this ABC Nightline segment.
Still, Food, Inc. never gave me a sense that I was watching alarmist nutjob propaganda. Maybe in a way I was, but nobody struck me as unreasonable, and I never felt like the sky was falling or that I have to turn into some sort of deprived food Luddite tomorrow to save myself from Darth Vader and the Death Star.
It just reminded me that the ultimate power for change lies with the consumer, and I can start helping change things by consuming something different a little at a time.
-
Visit the What I Watched Last Night archives and see what else we've been watching.
-
Submissions and comments welcome.
Posted by Beachwood Reporter at 6:09 AM | Permalink
April 29, 2010
The [Thursday] Papers
John Kass sheds more light today on the curious case of Chicago cop John Ardelean.
"At 3 a.m. on Thanksgiving 2007, Ardelean's car collided with another vehicle at Damen and Oakdale avenues, in Ardelean's Belmont Police District. Killed were Michael Flores and his friend Erick Lagunas, 21," Kass writes.
"Before the crash, Ardelean had spent hours in a River North bar, the Martini Ranch. According to the bartender at the preliminary hearing, Ardelean drank two beers, a rum and coke and a shot of tequila. There were several other shots, but the bartender said they were plain shots of water."
It must have been Plain Shots of Water Night. Dare to drink one, get a second for free.
"The civil attorney for the family, Dan O'Connor, said Wednesday that a subpoena of phone records shows that Ardelean never called 911 after the crash.
"Instead, Ardelean's first calls were made to the cell phone of a police officer in his district, then to the bar with the water shots, O'Connor said."
Maybe Ardelean - in his grief - accidentally pressed 9 and 11 on his speed dial. And maybe 9 and 11 are "police officer in his district in case I'm ever in trouble" and "Martini Ranch."
"The bar's owner testified in the deposition that one of the first calls Ardelean made after the crash was to the Martini Ranch. The bar's bouncer called the owner, who then called Ardelean on his cell.
"'I just asked him if he was OK,' recalled James Ehrig in the March 25 deposition. 'He said he was OK. He sounded, you know, upset. I asked him if he needed anything. He said no.'"
Not even 911?
"If the driver weren't a cop, my guess is he would have been taken to the hospital and compelled to give a blood sample. The blood-alcohol content would have been measured, to determine just how strong those water shots were."
If officers at the scene truly didn't see any reason to suspect Ardelean had been drinking - It's 3 a.m., where you coming from, sir? The Martini Ranch? But you only did shots of water? - then they ought to be fired for incompetence.
After all, it was seven hours later when a watch commander noticed Ardelean's bloodshot eyes and smelled alcohol on his breath.
But then, the city's taxpayer-funded $500,000 "Silence Kills" campaign is meant for others, not themselves.
Even as two men lay dying . . .
Think folks are gonna cooperate now?
If Ardelean was a man of honor, he'd just tell the truth and accept the consequences. Instead, he's the one destined to live his life as a rat.
*
See those shots of water here, as well as news about a settlement with Ardelean's insurance company.
-
Who Is Judge Thomas Gainer Jr.?
Gainer one year ago.
*
From that case:
"Some legal experts are questioning a judge's invocation of the 'fighting words' doctrine to acquit three police officers charged with beating businessmen in a bar," Abdon Pallasch wrote in the Sun-Times.
"'Their use of 'fighting words' does not allow police officers or anyone else to beat them up. Police officers confronted by fighting words have a duty to control themselves,' said Indiana University Law Professor Patrick Baude, who argued a 'fighting words' case before the U.S. Supreme Court.
"Criminal Court Judge Thomas Gainer noted in his opinion Tuesday that the police officers claimed one of the businessmen called one of the officers a 'p - - - -' and another of the businessmen said the officer 'needs to have his ass kicked.'"
"The businessmen denied making those statements at the Jefferson Tap in 2006."
*
From a 2001 Memorandum In Support Of Petition To Reassign Petitioners' Cases To Judges Outside The Circuit Court Of Cook County brought by lawyers representing Jon Burge torture victims:
"Judge Thomas Gainer, who was a supervisor in the SAO's Appeals Division when a number of the torture cases were appealed, was subsequently a supervisor in the Post Conviction Unit when many of the death row defendants presented new evidence of torture, and was later involved in plea negotiations in several of the torture cases."
And:
"[Judge John] Morrissey had been an ASA during the early 1980's when many of the torture cases occurred and were tried. He was in the Felony Review Unit in June of 1983, only months before Felony Review attorney, and now Judge, Henry Simmons took Darrell Cannon's statement.
"Morrissey was also the trial judge in the Patterson and Caine case, which was tried just after the Wilson civil trials in 1989. Judge Morrissey refused Patterson's attempts to obtain discovery concerning the emerging proof of a pattern of torture at Area 2, to re-open his motion to suppress on those grounds, or to permit his lawyer to explore that area at trial.
"Similarly, at the Cannon re-trial in 1994, Morrissey barred Cannon from discovering OPS files which would have revealed that his and other similar allegations had been sustained, from re-opening his motion to suppress, and from presenting at trial any evidence beyond his own allegations of torture. Morrissey later denied, without hearing, Patterson's post-conviction petition which sought a new motion to suppress and trial on the basis of newly discovered evidence of police torture. He was reversed in both Patterson and Cannon, and later recused himself from both cases after it was revealed that he had called Patterson and Cannon's lawyers 'idiots' in an on-the-record colloquy in an unrelated case with then ASA and now Judge Thomas Gainer."
*
From the Tribune in February 1999:
"The formal vindication of former Death Row inmate Anthony Porter was delayed Friday after prosecutors divulged that an actor was used to try to pressure another man into confessing to the double murder for which Porter had been convicted.
"Assistant Cook County State's Atty. Thomas Gainer said a videotape of a fake eyewitness to the crime that was used by a private investigator demanded 'some investigation,' although Gainer said it did not reflect on Porter's innocence.
"Gainer declined to say whether the use of false statements - which do have some legal precedents - would make the admission of the alleged killer, Alstory Simon, inadmissible in court."
*
From the Tribune in October 1986:
"A federal judge has thrown out a rape conviction because a Cook County prosecutor, now a top aide to State's Atty. Richie Daley, 'perverted the jury's deliberations' through alleged trial misconduct.
"A previously unreported ruling should chagrin Daley, who last summer promoted Thomas Gainer to supervisor of the criminal appeals division. A legal newspaper ran a picture of the two men, providing a vivid symbol of how Gainer had worked his way up the ladder to a position of authority and responsibility."
*
As of this morning, 139 comments on Second City Cop that don't exactly inspire confidence in our police force.
*
"How the hell can Elizabeth Brackett do an entire Q&A segment this evening on Chicago Tonight about the pros and cons of surveillance cameras, without once mentioning yet another controversial ruling made by Judge Thomas Gainer concerning cops caught on video?" Beachwood reader David Wisniewski asks.
Beachwood Editorial Cartoonist!
Welcoming Sunil Adam to these pages.
Jakob Dylan + Neko Case
Equals much goodness.
The Clown Prince of Chicago Kiddie TV
Our three-part interview with Bill Jackson concludes with questions about his sideburns, his groupies, and his famous Chocolate Muzzi.
I Am A Security Guard
And I've made mistakes.
How To Further Desecrate Wrigley Field
Including the Harry Caray Detox Clubhouse. By our very own Drew Adamek.
Take That, Buehrle
A new play of the year.
Oh, Have You Heard?
Byrd is the word.
-
The Beachwood Tip Line: All about the bird.
Posted by Beachwood Reporter at 8:02 AM | Permalink
Kennan & Bull: Rahm's Ambitions
We're pleased to introduce today the Beachwood's official editorial cartoonist, Sunil Adam. Sunil has graciously agreed to let us repost his cartoons on our site, which means we now have the best editorial cartoonist in the city. Take that, Stantis and Higgins!
The complete collection of Sunil's Kennan & Bull can be found here. You can expect more Chicago-oriented works in the future.
Today, one of Sunil's latest, followed by some of our recent favorites.
-

-
-
-
*
Posted by Beachwood Reporter at 6:43 AM | Permalink
Live: Jakob Dylan + Neko Case
"With its roots-flecked focus and universal themes, Jakob Dylan's recent Women + Country houses a certain familiarity, and that feeling was enhanced by his Three Legs band at the comfortably full Park West on Monday," Althea Legaspi writes in the Tribune.
"Harmonies from Neko Case and Kelly Hogan honeyed Dylan's vocal leads during the show as they did on record. And it was Case's own band, some of who have released records with their own respective bands on Chicago's Bloodshot Records, who backed Dylan onstage. Windy City associations aside, it was the shared experience of hard times and waning love sentiment that further connected Dylan's rural soundscape to this urban setting."
A couple of clips.
1. There's got to be someone we can trust.
-

2. Evil is alive and well.
-
Dylan & Co. also played the Pabst Theater in Milwaukee on Wednesday night.
*
And here's Dylan and Neko Case from Glendale, Pennsylvania, just before their Chicago date.
-
Posted by Beachwood Reporter at 4:34 AM | Permalink
The Clown Prince of Chicago Kiddie TV: Part 3
Concluding our conversation with Bill Jackson.
- Part 1: The studio resembled the remains of a battlefield.
- Part 2: Twinkies and the FCC.
Beachwood: You drew huge crowds during your public appearances, and your backyard carnivals for muscular dystrophy made kids aware that there was such a disease before we knew what a Jerry Lewis telethon was. How did your involvement with muscular dystrophy begin, and where did it go over the years?
Jackson: Muscular Dystrophy representatives approached me shortly after Cartoon Town began climbing in the ratings. I was quite happy to support this worthy cause and promoted the Carnivals, even attended some. Later, when I no longer had a daily show and my weekly shows played at different times of the year, my affiliation with MD ended.
Beachwood: Because I just have to ask: What's your favorite B.J. groupie story?
Jackson: I don't have any stories, but I did receive a picture of an elderly lady in a bikini. The image is embedded in my memory.
Beachwood: What was the deal with the sideburns? And how long does it take to master the act of flipping a bowler hat off the end of your shoe onto your head?
Jackson: I originally sported the sideburns to fit the image of my role as mayor in a tiny, turn-of-the-century village. Long hair became the trend, so I just let 'em grow. Mastering the art of flipping one's hat from foot to head never happened. After a long series of futility, the bowler actually landed on my head and I never attempted the repeat of such a wonderment.
Beachwood: When I was a kid watching BJDD, I kept thinking you were some sort of carnival barker who became a village mayor and started dressing better. Your Wikipedia entry says your father worked in a traveling carnival. Was there any influence or connection - conscious or otherwise - between your father and your "mayor" persona?

Jackson: My father, mother, and I all were part of traveling carnivals. The first chapters of my book, The Only Kid on the Carnival, relates the influence the carnies and my father had on me. The carnival clown became a dear friend and I adored Gorilla Man, the wrestler. It was during my carnival years that I learned to how to create excitement and "make something out of nothing."
Beachwood: Come clean. What's the recipe for Chocolate Muzzi? [Writer's note: Chocolate Muzzi was a confection of legendary proportion on Jackson's shows. The recipe was incredibly tough to come by. It's easy to make and my own kids go wild over it.]
Jackson: Pressure, pressure, pressure.
INGREDIENTS:
One package chocolate chips
Two tablespoons peanut butter
One tablespoon butter
Two ounces shoestring potatoes
DIRECTIONS:
Melt chips, peanut butter, and butter in a pan. Pour mixture over shoestring potatoes. Drop by spoonful onto wax paper.
If you have any contacts at all, I expect to see this on Martha Stewart.
Beachwood: Where did the recipe come from?
Jackson: My thought was to give the kids something simple they could share doing with their mothers. Chocolate Muzzi came from a collection of simple-to-make recipes my wife had. I wanted Mother Plumtree to tout kitchen treats that kids and mothers could make together. Of the various recipes Mother Plumtree presented, Chocolate Muzzi was the super-yummy hit. Chocolate Muzzi got its name the way many things on my shows got their names: I just thought it sounded funny. Chocolate Muzzi was very successful.
Beachwood: So . . . how many "Fie on tailgaters" bumper stickers do you have left sitting in the garage right now? (To clarify, this is a tongue-in-cheek question.)
Jackson: Nod minny. Dey were preddy poblar ('cuze me. Godda ton in mah cheeg).
Beachwood: Have you shown any of your B.J. & Dirty Dragon Show episodes still surviving to any of today's kids, who we seem to believe are far more sophisticated than the kids of my generation? If so, what's their verdict?
Jackson: I haven't, but parents have told me that they've shown Gigglesnort to their kids and the reaction has been positive. I'm convinced, however, that viewers today, young and old, want everything faster. A wise adage for those creating programs is: there is what is written, what is shot, and what is edited. I am a big believer in editing and wish I'd had that luxury for my programs.
Beachwood: Gigglesnort is one thing and BJDD - which by some accounts is your favorite work - is another. Do episodes of BJDD exist outside the Museum of Broadcast Communications here in Chicago? If so, what are the chances they'll ever see the light of day again on DVD?
Jackson: I have collected what little exists of BJDD and include highlights of that material in my documentary, Remembering ... Cartoon Town and BJ & Dirty Dragon. I think the DVD will bring back fond memories to fans of those shows. There remains the possibility that I may be able to offer the complete serials, Blast off to Mars and Dirty Dragon Meets the Monsters at some future date.
Beachwood: All in all, what's the one thing you think of from your run on Chicago TV that makes you think, "Man, I had a pretty good life?"
Jackson: The incredible, from-the-heart love I have received from my now grown-up fans.
-
Bill Jackson's memoir, The Only Kid on the Carnival: An Extraordinary Childhood and DVDs related to Cartoon Town, B.J. & Dirty Dragon, and Gigglesnort Hotel can be ordered directly from Jackson's website.
-
Posted by Beachwood Reporter at 12:56 AM | Permalink
I Am A Security Guard: Mistakes, I've Made A Few
Shortly after I started my job, the Head Guard gave me an assignment. He showed me a picture of a young man with a goatee. The youngster had fought with him and an assistant manager before getting arrested for theft. The Head Guard banned the man from the store. He told me to call the police if the shoplifter returned.
Of course, someone who looked like him walked into the store on a Saturday night. I looked at him. He looked at me. I asked if he had been in the store before, hoping to provide a hint about the arrest. He asked if he looked like someone.
Because he sounded like a smart aleck, I told an assistant manager about the visitor and grabbed the picture from the main office. Meanwhile, a cop walked into the store. I gave the photograph to the officer. He compared the picture with the man and decided the two did not match. I had made a big mistake.
I apologized to the customer. Luckily for me, he did not complain to the corporate office. I had dodged a bullet.
That was just one of the mistakes I've made while doing my job.
In previous columns, I've written about people who are quirky, obnoxious or just plain ignorant. This time, I acknowledge that I've been the idiot on several occasions.
Another man made me nervous after he walked in the store during a Christmas season. The Nice Cashier told me the customer lurked in the toy section. I walked to the aisle and watched him. An assistant manager shook a finger at me and told me not to stalk customers. And the man eventually bought merchandise that night.
On a different evening, a couple walked in the store about 2:30 a.m. They grabbed a few pairs of sweatpants, and then walked around the aisles to look for more goods.
The couple reached the cash register without the clothes. I asked the man where they left them. When he didn't answer, I called the same assistant manager. The man claimed I accused him and his friend of theft, griped that he had spent $40, and demanded the clothes as compensation. The manager agreed and chewed me out for using poor judgment.
I felt awkward about costing the store merchandise.
One woman stood near a shelf of pantyhose. I glanced at her just when she slipped something inside the right pocket of her jacket. I approached her, and asked about the item. She reached back into her pocket and pulled out her cell phone.
Because the cosmetics department is a high-theft area, I'm especially concerned about preventing theft there. That anxiety caused me to overreach while dealing with a woman who spent about 20 minutes in the section. I watched her put a lipstick container in her purse. After she walked past the cash register, I told her about the act. She showed the item to me. She had brought a used container to help her remember her preferred brand.
Due to luck, the company has not fired me or transferred me to another store. It helps that many of the managers are patient and kind. The Head Guard provides tips and updates about thieves caught by the staff. Also, most of my blunders took place early in my time at the store. Since then, I've figured out which customers to watch and to report suspicious behavior to the manager on duty. In addition, I try to build goodwill with the staff by sweeping the floor, bringing carts from the parking lot and showing up early,
Somehow, one customer maintained goodwill despite a dumb mistake by me. That customer, who wore a short haircut, walked into the store with a backpack about 1 a.m. Since we occasionally require customers to leave bags at the front, I asked, "Sir, can you check your bag?" When the customer answered yes, I realized that I had made the request to a woman.
Despite my stupidity, she smiles at me when she stops by the store. It's a lot more than I deserve.
-
A very pseudononymous Jerome Haller earns rent money as a security guard for a large, publicly-held retail chain. He welcomes your comments.
-
See more tales of security guarding, pizzeria waitressing, barista-ing and office drudgering in the Life at Work collection.

Posted by Beachwood Reporter at 12:35 AM | Permalink
My Suggestions For Ways To Further Desecrate Wrigley Field
I don't really like the Cubs - 1984 turned me into a White Sox fan and an eternal baseball pessimist.
I'll admit it outright: I am not a Cubs fan because I like winning once in awhile. I don't buy into the lovable losers bullshit; being a baseball fan is too expensive and time-consuming to embrace constant mediocrity.
The Cubs are just too goddamned disappointing every year for me to invest any interest in them. One devastating childhood heartbreak is all a team gets out of me.
But there is one thing that I like about the Cubs: Wrigley Field. The only thing about the Cubs worth a damn to me is their ballpark. I love all great ballparks: Camden, Wrigley, the old Milwaukee County Stadium. The experience of going to a baseball game in a real park - the sun, the beer, the hot dogs, the history - is as American and traditional as it gets.
Wrigley is a baseball - and a Chicago - treasure and it therefore breaks my heart that it's going to be defiled and desecrated in such a crass, commercial way. I am talking, of course, about the proposed Toyota sign. If this act of commercial graffiti happens, it will be an unforgivable defacing of one of the only true baseball temples left.
I fear exploiting and weakening the tactile experience of going to a game more than I fear physical, cosmetic changes. Common places - ballparks, museums, plazas - collectively mean something, and when we change those places, we change our identity. Our experiences and memories become different; we lose something about ourselves every time we sell out our sacred places.
If our temples are simply marketing opportunities then what do we keep sacred? (Right, before we go on about baseball as a business, I am asking that we keep one or two places culturally pristine to preserve what is great about America.)
But fuck it, if the floodgates to commercial desecration are open why not go all the way? I mean, if you paint over Mona Lisa's smile, you might as well turn the rest of the portrait into a CoverGirl ad, right? If we can't enjoy simple pleasures without commercial intrusion then why bother anymore?
Here, then, are my suggestions for ways to further desecrate Wrigley by leaving no marketing stone unturned:
1. Forever Underfoot.
Spreading ashes is for sissies. If you really want to honor grandpa's lifelong dedication to the Cubs, spring for a grave plot in the "Ivy Way Dead Center Cemetery." Your loved ones will bask in the sunshine with all of the spit-out sunflowers seed memorials you could want. Only $450,000 per plot. Maintenance fees apply.
2. Drunk Tank.
The "Harry Caray Detox Clubhouse" lets fans talk out their problems with alcohol in a safe and understanding environment. Recovering alcoholics are given support, fellowship and diet soda to strengthen their commitment to sobriety. $7,500 for the first fifteen minutes, $3,000 every ten minutes after that.
3. Life's More Colorful.
A 25-foot glass and steel Alize bottle marks the spot where Babe Ruth "called his shot . . . of Alize" in the 1932 World Series. For every centerfield home run, fans are given a bottle of Alize Fufuberrytini and a DUI.
4. Trivial Pursuit.
If you can name a starting pitcher from the 1986 team, you have to pay the "Hasbro Games Get a Real Life" Surcharge*. Ushers are standing by to check your baseball bona fides and if you test positive for actual fandom, you will owe $1,200 in ticket overages. *This is to prevent the marketing audience's attention from being distracted by the game.
5. Post A Comment.
Each seat will now come with a video monitor and keyboard with a live, real-time YouTube stream of the game. Have all of your social networks at your fingertips, so you can blog, comment on or mash-up any of the live video feeds of the game, in progress, right in front of you. Facebook will suggest friends and ads for you based on your reaction to the game.
6. Press A & B to Continue.
The venerable scoreboard will now be "remotely" hand operated by an intern in the marketing department with a Wii controller. The intern will update scores, stats and his relationship status with the flick of his wrist on the Nintendo Games Highlights and Replay Screen.
7. Ice Capades.
In order to make the team more family friendly, the Cubs are now known as the "Ticketmaster Chicago Cubs on Ice." Carlos Zambrano is replaced as starting pitcher by Carlos the Zamboni. Ticketmaster adds a first-born child service charge to each ticket.
8. Night Games.
Ruin 74 years of baseball tradition by installing lights to the field and playing at night. Oh, wait.
9. Ball Games.
Naming rights to all baseballs used in games at Wrigley sold to Horseshoe Casino, which will have logo along with "Hit Me!" stamped on them.
10. Every Day is Pirate Day.
A gaudy Captain Morgan Club will be attached like a barnacle to the ballpark's facade along Addison. Oh, wait.
-
-
Other Lists By Drew Adamek:
* Today's Syllabus
* Shit My Dad Says
* Work Weirdos
* Things I Miss About Chicago
* 20 Albums I Wish I Had Never Bought
* Their Chicago
* Cities I've Slept In
* My Favorite 1980s Chicago Radio Memories
* Why Milwaukee Rules
* Why I'm Glad I Don't Live In D.C. Anymore
* The Beer Goggle Recordings
* A List Of Reader Comments To Drew's Lists
* Life's Little Victories
* The Worst Jobs I've Ever Had
* Jobs For The Zombie Apocalypse
* Lemme Get A Bite Of That
* Lists I'll Never Write
* Things I Miss About My Imprisoned Best Friend
* Things I Miss About Being Single
* Things I Love About Being Married
* Why Chuck D Should Have Been Our First Black President
* Picture This
Plus:
* Fan Note: Me & Metallica

Posted by Beachwood Reporter at 12:04 AM | Permalink
April 28, 2010
The [Wednesday] Papers
I'm not sayin', I'm just sayin' . . .
"Video footage from the Martini Ranch Bar showed the officer downing shots just minutes before the crash between [Chicago police officer John] Ardelean's SUV and a sedan carrying [Miguel] Flores and [Erick] Lagunas at the intersection of Damen and Wellington in Roscoe Village," the Sun-Times reports.
"But Ardelean's attorney, Tom Needham, challenged his arrest because two fellow officers and a sergeant from the Belmont district station where he works and a paramedic said he didn't appear intoxicated at the accident scene.
"Prosecutors implied that the officers turned a blind eye.
"Ardelean wasn't arrested or given a Breathalyzer test until seven hours after the crash, when the officers' supervisor, Lt. John Magruder, said he noticed Ardelean had bloodshot eyes, smelled of booze and 'was walking kind of funny with a limp or something.'''
He appeared intoxicated to his supervisor seven hours after the crash - which killed Flores and Lagunas - but somehow had not appeared intoxicated to fellow officers at the time of the accident.
Okay.
"There was too little time and too many witnesses for a police conspiracy to protect Ardelean to have 'gelled,'" Judge Thomas Gainer Jr. wrote in his ruling in throwing out key evidence in the case.
A "conspiracy" doesn't need time to gel when it's just the way things are done.
"Gainer also acquitted three Chicago cops accused of attacking a group of businessmen in the Jefferson Tap bar beating case last year."
I'm not sayin' . . .
"Prosecutors are reviewing the judge's ruling in the Ardelean case and will decide whether to continue by the next hearing on May 25, Assistant Cook County State's Attorney Jim Byrne said.
"But victims' relatives fear a conviction may now be impossible."
Chumps
"Reporters say the White House is thin-skinned, controlling, eager to go over their heads and stingy with even basic information," Politico reports. "All White Houses try to control the message. But this White House has pledged to be more open than its predecessors, and reporters feel it doesn't live up to that pledge in several key areas:
"* Day-to-day interaction with Obama is almost nonexistent, and he talks to the press corps far less often than Bill Clinton or even George W. Bush did. Clinton took questions nearly every weekday, on average. Obama barely does it once a week.
"* The ferocity of pushback is intense. A routine press query can draw a string of vitriolic e-mails. A negative story can draw a profane high-decibel phone call or worse. Some reporters feel like they've been frozen out after crossing the White House.
"*Except toward a few reporters, press secretary Robert Gibbs can be distant and difficult to reach - even though his job is to be one of the main conduits from president to press. 'It's an odd White House where it's easier to get the White House chief of staff on the phone than the White House press secretary,' one top reporter said.
"* And at the very moment many reporters feel shut out, one paper - The New York Times - enjoys a favoritism from Obama and his staff that makes competitors fume, with gift-wrapped scoops and loads of presidential face time."
If you don't respect yourself, no one else will. The highest levels of the Obama campaign laughed their heads off at how easy it was to manipulate the media to its favor. Now that they're in the White House, they're not going to change - and that doesn't mean being open and transparent, because that's not what was going on during the campaign, though many press fools thought it was.
"And this attitude, many believe, starts with the man at the top. Obama rarely lets a chance go by to make a critical or sarcastic comment about the press, its superficiality or its short-term mentality. He also hasn't done a full-blown news conference for 10 months."
Hypocrisy run amok. If Obama seems overexposed, it's because he spends so much time in baseball broadcast booths and filling out NCAA brackets on ESPN. That's media access of a sort, but not a journalistic sort.
"If you cover City Hall, you talk to the mayor. If you cover the Yankees, you'll hang around Derek Jeter's locker. The White House is no different, and aides past routinely filled that need by letting the press pool toss the president a couple of questions every so often, usually at one of the various events that fill his calendar every day.
"Not Obama. He has severely cut back the informal exchanges with the press pool, marking a new low in presidential access.
"The numbers speak for themselves: during his first year in office, President Bill Clinton did 252 such Q&A sessions - an average of one every weekday. Bush did 147. Obama did 46, according to Towson University Professor Martha Kumar.
"'Too many of the president's meetings are 'no coverage' for my taste,' said ABC's Ann Compton. 'That is a stark reduction in access for us.'"
And that doesn't even count the time he ditched the press entirely. That might not seem like a big deal but if something had happened, who would have been there to report it? Some things go along with being the president, and being a living historical figure is one of them.
"One of the most irritating practices of the Obama White House is when aides ignore inquiries or explicitly refuse to cooperate with an unwelcome story - only to come out with both guns blazing when it takes a skeptical view of their motives or success."
This is a classic we see practiced here often - by Michael Madigan most recently, who couldn't find time to answer the Tribune's questions during 11 months of reporting on his conflicts of interest but quickly released an 11-page response in the aftermath of the Trib's story.
"You will give them ample opportunity on a story. They will then say, 'We don't have anything for you on this.' Then, when you write an analytical graf that could be interpreted as implying a political motive by the White House, or something that makes them look like anything but geniuses, you will get a flurry of off the record angry e-mails after you publish," one national reporter said."
Hey, it's the Chicago Way. What's depressing is that the media is just catching on now.
Alexi Vs. Everyday People
How the banking scion is just like us - sort of.
Poker Dreams & Gambling Machines
The Midland Authors Awards show once again that non-fiction's distinct advantage over fiction is that this stuff really happened!
Big Z: Fantasy Value?
And the best second baseman you've never heard of. In Fantasy Fix.
The Clown Prince of Chicago Kiddie TV: Part 2!
"Kiddie TV as you remember it from your childhood indeed did disappear, and the reason ultimately leads to the industry being a business, which means that the best way for a station manager to stay a station manager is to fill the coffers," Bill Jackson told our very own Scott Buckner.
"Providing you can maintain ratings, cutting costs builds profits. If a station's bottom line is the bottom line as opposed to creating quality programs, you eliminate the cost of producing your own shows and buy syndicated off-network reruns that long ago paid their creators' fortunes. The toughest competition I ever faced was when WGN threw reruns of Batman and The Flintstones against me. Today, most stations create a few 'keep the hounds at bay' community service programs, but otherwise limit their production to bare bones standbys, meaning News, Weather, and Sports."
-
The Beachwood Tip Line: Kiddie friendly.
Posted by Beachwood Reporter at 9:36 AM | Permalink
Fantasy Fix: 2B and Big Z
If someone told you that a second baseman was tied for the National League lead in home runs, you would have to guess it was Chase Utley (or Ryne Sandberg if you happened to not know what year it was).
But the 2B who has swatted seven homers already this season and was tied for the NL lead through Monday was none other than the Arizona Diamondbacks' Kelly Johnson.
Fantasy Fix was so down on Johnson in the pre-season, I said to avoid him in your draft.
Don't look at me like I'm crazy - there was good reason I slammed him.
In 2008 with the Atlanta Braves, Johnson looked like a budding fantasy star at a position traditionally lacking such. He amassed 12 HRs, 69 RBIs, 11 SBs, a .287 average, 39 doubles and six triples that year.
Furthermore, when 2B Dustin Pedroia won the American League MVP in 2008 and Utley got serious consideration in the NL, prospect-minded fantasy team owners had their eyes on Johnson as the next great 2B discovery heading into 2009.
But a .224 average, 8 HRs and 29 RBIs in 106 games last year left most people feeling burned, so it was no surprise not to see him drafted in many leagues in 2010.
Now Johnson has one less homer in April than he had all of last year. Can you trust that power, plus a .302 average, to continue?
I'd still say Johnson will be nowhere near the league lead in anything at the end of 2010, but I've already been wrong about him once. If you need a 2B - and the position remains pretty shallow, so many teams do have that need - then by all means snap him up and enjoy the ride.
*
It's Week 4 in the fantasy baseball world, and for my money, Robinson Cano is the new Dustin Pedroia.
*
Fantasy Find of the Week: Fausto Carmona, SP, Cleveland.
He went from being a 19-game winner in 2007 to the depths of the minors last year, but he has been great in his first few starts this year. He pitched 7.1 inning with four strikeouts and no walks for a win last week, and though that doesn't sound too glamorous, the improved Indians will get him wins and his ERA will come in handy in leagues with across-the-board stats. Just 33% owned in Yahoo! leagues.
Fantasy Stud of the Week: Ryan Braun, OF, Milwaukee.
It usually takes him half a season to remember he can run, but 4 SBs last week on top of 2 HRs and 8 RBIs made for a plentiful week for the top-ranked fantasy outfielder.
Fantasy Dud of the Week: Ryan Howard, 1B, Philadelphia.
Guys always seem to fold like a house of cards the week they are awarded a big contract. Howard, just christened a $125 million man, came up with almost nothing in the last week - no HRs, 2 RBIs.
Fantasy Match-up of the Week: Justin Upton, OF, Arizona.
He's slowly waking up from an early slump, and hitters' parks like Coors Field in Colorado and Wrigley Field later this week will help.
Expert Wire
* Roto Arcade says Buster Posey, the catcher thought by some to be the next Matt Wieters, might be appearing in the majors shortly. Seems like a strange move, since both Bengie Molina and Eli Whiteside have been playing well behind the plate for the Giants.
* Bleacher Report lists Grady Sizemore as a buy-low candidate and Kelly Johnson as a sell-high prospect. Sizemore has been terrible this year and, as we noted, Johnson has been amazing, but I agree that they will be headed in opposite directions soon.
* Closing Time puts the spotlight on catcher Miguel Olivo, whose home runs usually are his chief fantasy contribution - and he couldn't be on a better team to have a career year in that department.
* SB Nation asks if SP Brad Penny is for real after winning his first three games and posting 0.94 ERA. Penny probably will be the latest middle-of-the-road pitcher to be coached to a career year in St. Louis. Believe the hype.
* Bleacher Report is almost alone in suggesting that Carlos Zambrano retains some fantasy value after moving to the bullpen. True, if your league counts holds, he'll get you some points, but if he becomes a bigger fantasy factor again this season, it'll be because he's waived his no-trade clause and is headed elsewhere.
-
Dan O'Shea's Fantasy Fix appears in this space every Wednesday. Comments welcome. You can also read his about his split sports fan personality at SwingsBothWays, which isn't about what it sounds like it's about.

Posted by Beachwood Reporter at 8:51 AM | Permalink
Awards: Poker Dreams & Gambler King Machines
I'm not opposed to fiction - I get it, it's a world of imagination that can teach us "larger truths" - but the world of non-fiction is endlessly more fascinating because it's actually true! Give or take whatever arguments we can have over interpretation, framing, theory, etc.
Just take a look at the winners announced today by The Society of Midland Authors in the non-fiction and biography categories of the society's annual awards for Midwest authors, as well as the finalists: from the violent history of poker to eccentric evolutionists to the "Gambler King of Clark Street" to the civil war general who later worked as a Great Lakes engineer, the stories of our lives are far more mind-blowing - and meaningful - than anything fiction writers can dream up. Fiction writing is a craft - an art form - no doubt. But I'm still trying to get over the tales told by books like these.

ADULT NONFICTION
WINNER: James McManus, Cowboys Full: The Story of Poker, Farrar, Straus and Giroux. (Author lives in Kenilworth, Illinois.)
Review excerpt, New York Times:
"This time around, instead of the poker-related murder trial that frames his earlier book, and his personal adventure, McManus undertakes the story of the game itself, as his subtitle promises. 'Poker' apparently derives from German pochen, meaning to beat or beat up or pulverize. Aggression is at the heart of the game, which has a rich history of violence. Every duffer knows that two pairs, aces and eights, is called 'The Dead Man's Hand' because those were the cards Wild Bill Hickok was holding when shot from behind by an assassin named Crooked Nose Jack McCall."
FINALISTS:
* Sean B. Carroll, Remarkable Creatures: Epic Adventures in the Search for the Origins of Species, Mariner. (Author lives in Madison, Wisconsin.)
Review excerpt, San Francisco Chronicle:
"Although "Epic Adventures in the Search for the Origins of Species" might not roll trippingly off the tongue as a subtitle for Sean B. Carroll's Remarkable Creatures, it's a remarkably apt distillation of the book's appeal.
"In Carroll's own words, his goals in writing the book were 'to bring to life the pursuit and the pleasure of scientific discovery, at the same time capturing the significance of each advance for evolutionary science.'
"That Carroll succeeds in both of his aims is a credit to his storytelling skills, as well as to his choice to focus his attention on the tales of scientists whose lives seem to comprise one part Jurassic Park, one part Sherlock Holmes and two parts Nutty Professor - in other words, eccentrics, geniuses and seekers after truth."
Bonus Link: Carroll's "Remarkable Creatures" columns in the New York Times.
* Lawrence Rothfield, The Rape of Mesopotamia: Behind the Looting of the Iraq Museum, University of Chicago Press. (Author lives in Chicago.)
Review excerpt, Times Higher Education:
"Why, then, did the Americans fail so miserably to protect Iraqi cultural heritage? Rothfield's answer is that the US policy, or lack of policy, towards Iraqi cultural heritage was the result of a complex set of causal effects. On the one hand, there was an existing milieu in the Pentagon in which cultural affairs were understood not to be on the military's table. On the other hand, the actual events of 8-16 April 2003, when the brunt of the looting took place, were directly caused by a series of behind-the-scenes 'actions or inactions of a motley crew of agents and agencies,' as Rothfield observes. It is precisely this aspect of the disaster that The Rape of Mesopotamia primarily deals with; three out of eight chapters are devoted to the goings-on behind the scenes in the months immediately preceding the invasion. 'It is important to recognize,' Rothfield says, pointing out the main thesis of the book, 'that the disaster that has befallen Iraq's cultural heritage is the result not of merely personal ineptitude, indifference and ignorance but of a pervasive policy failure.'"
* Leonard Zeskind, Blood & Politics: The History of the White Nationalist Movement from the Margins to the Mainstream, Farrar, Straus and Giroux. (Author lives in Kansas City, Missouri.)
Interview excerpt, Religion Dispatches:
"Fifteen years in the making, Leonard Zeskind's new book Blood and Politics: The History of the White Nationalist Movement from the Margins to the Mainstream (Farrar Straus & Giroux) is more than a history of the white supremacist movement. While the movement's Christian roots, anti-Semitism and racist beliefs have been dissected over the years, the core religious beliefs of a number of white nationalist movement leaders has received far less attention."

BIOGRAPHY
WINNER: Richard C. Lindberg, The Gambler King of Clark Street: Michael C. McDonald and the Rise of Chicago's Democratic Machine, Southern Illinois University Press. (Author lives in Chicago.)
Event excerpt, Chicago Reader:
"[P]atient readers will be rewarded with a colorful glimpse of 19th-century Chicago that reveals quite a bit about why the city is still infected with graft and corruption."
FINALISTS:
* James Ballowe, A Man of Salt and Trees: The Life of Joy Morton, Northern Illinois University Press. (Author lives in Ottawa, Illinois.)
Review excerpt, Illinois Times:
"The 19th century witnessed America's transformation from a rural, agrarian economy and culture into a restless, 20th century industrial giant and imperial power. Large 19th and early 20th century firms were publicly identified with the men who founded them or guided their early growth - Ford and his auto, Edison and his light bulb, Carnegie and Rockefeller in steel and oil. Every manufactured product, from hairpins to train rails, was ripe for mass production. Even grain, the staff of life, became the basis for immense milling and cereal fortunes like Pillsbury and Post. Salt, among the lowliest, but most important foods, used in cooking, preserving and flavoring, was the basis for one of these great 19th century fortunes, still associated with its founder's name - Morton."
* Paul Taylor, Orlando M. Poe: Civil War General and Great Lakes Engineer, Kent State University Press. (Author lives in Troy, Michigan.)
Review excerpt, Michigan in Letters:
"Orlando Poe (1832-1895) grew up ten miles outside of the town of Canton, Ohio, on a farm located on the Tuscarawas River. His German ancestors had immigrated to the United States a century earlier. As a boy Poe dreamed of becoming a soldier, a dream he later realized. Educated at West Point, where he graduated sixth in his class in 1856, he chose a career with the corps of topographical engineers, and in that capacity he served as one of the most effective Union officers in the Civil War.
"When war broke out he was assigned to the staff of George McClellan, an association that later worked to his political disadvantage. McClellan's enemies in Congress looked unfavorably on officers, like Poe, whose loyalty McClellan commanded. Poe's importance to the Union cause was only slowly acknowledged during the war, and even today few recognize the name of Brevet Brigadier General Orlando M. Poe.
"His ingenious defenses in the Battle of Knoxville won both the battle and the attention of William T. Sherman who made Poe his chief engineer and trusted advisor. Sherman placed Poe in charge of the destruction of Atlanta after the capture of that city.
"After the war, in the 1870s, the army appointed Poe chief engineer of the Upper Lakes Lighthouse District. In 1886 Poe laid out plans for a new, expanded lock at Sault Ste. Marie, Michigan, but he died before the lock, named after him, was completed in 1896."
* Jane S. Smith, The Garden of Invention: Luther Burbank and the Business of Breeding Plants, Penguin Press. (Author lives in Chicago.)
Review excerpt, Chicago Tribune:
"As a child, Luther Burbank possessed what might be called a few spectral quirks - the fact that he weighed his food before he ate it, say, or preferred, for his bath, an ice-water plunge. 'Morose' was the word Luther's brother used to describe his 7-year-old sibling. 'Morbid' came to his mother's mind. Neither is a word typically lacquered upon a child, as Jane S. Smith points out in her lush but hardly sentimental Burbank biography, The Garden of Invention. But Burbank was hardly your typical guy.
"He was a genius, by the estimation of many, 'an evoluter of new plants,' by his own. He changed the shape of potatoes and married an apricot and plum. He gave rise to the Shasta daisy and the Royal walnut, gave tours of his Santa Rosa, Calif., gardens to no less than Henry Ford, Thomas Edison, Helen Keller and Jack London, and because he was one of the very busiest men on Earth - others said so, he concurred - he began, in 1907, to charge a fee to those ordinary citizens who hoped to stand, for a moment, in his considerable shadow."
-
And in the society's other categories . . .
-
ADULT FICTION
WINNER: Kent Meyers, Twisted Tree, Houghton Mifflin Harcourt. (Author lives in Spearfish, South Dakota.)
"A small rural community like Twisted Tree relies on its citizens. When someone goes missing, shock waves course through the lives of its roofers, ranchers, patrolmen, caregivers and pastors. Even the town poacher registers the loss. And losses this significant can stir up people's own stories.
"Meyers creates a stunning narrative of these stories, 16 in all, quilting together an intricate patchwork from confessions, remembrances and secrets. Each chapter, a completely self-­contained account, deepens our understanding of other community members while touching upon the mysterious circumstances of Hayjay's disappearance. What's most wonderful is Meyers's casting. There's not one flat, uninteresting character in the bunch."
FINALISTS:
* Richard Powers, Generosity: An Enhancement, Farrar, Straus and Giroux. (Author lives in Urbana, Illinois.)
* Achy Obejas, Ruins, Akashic Books. (Author lives in Chicago.)

CHILDREN'S FICTION
WINNER: Saundra Mitchell, Shadowed Summer, Delacorte Books for Young Readers. (Author lives in Indianapolis.)
Interview excerpt, Cynsations:
"I've been a phone psychic, a car salesperson, a denture-deliverer and a layout waxer. Now that I'm an author and screenwriter, I'm happy that I've finally found my calling."
FINALIST: Gloria Whelan, Waiting for the Owl's Call, Sleeping Bear Press. (Author lives in Grosse Pointe Woods, Michigan.)

CHILDREN'S NONFICTION
WINNER: Christine Taylor-Butler, Sacred Mountain: Everest, Lee & Low. (Author lives in Kansas City, Missouri.)
Interview excerpt, The Brown Book Shelf:
"But with Sacred Mountain, Taylor-Butler brings us a story too seldom heard. With clarity and grace, she explores the mountain's ecology, history and the lives of the Sherpa - people who call the mountain home. They are courageous guides who make incredible sacrifices for their families. They are parents and children. They are trailblazers and keepers of the mountain, a sacred place."
FINALIST: Candace Fleming, The Great and Only Barnum: The Tremendous, Stupendous Life of Showman P. T. Barnum, Schwartz & Wade. (Author lives in Oak Park, Illinois.)

POETRY
WINNER: Jim Harrison, In Search of Small Gods, Copper Canyon Press. (Author is a native of Grayling, Michigan. Currently lives in Livingston, Montana,)
FINALIST: Marc J. Sheehan, Vengeful Hymns, Ashland Poetry Press. (Author lives in Grand Haven, Michigan.)
-

JAMES FRIEND MEMORIAL AWARD FOR LITERARY AND DRAMATIC CRITICISM WINNER: Tom Williams (originator of chicagocritic.com).
-
Awards Info:
"The Society of Midland Authors awards banquet will be Tuesday, May 11, in the Camelot Room of the InterContinental Hotel, 505 N. Michigan Ave., Chicago. Cocktails begin at 6 p.m., followed by dinner at 7 p.m. Tickets are $75. To order tickets, fill out the form at the Society's website, www.midlandauthors.com. For further information on attending the dinner, call SMA President Robert Loerzel at 773-572-2402.
"This year's master of ceremonies is Steve Edwards, acting program director of WBEZ Chicago Public Radio. Free copies of many of the winning books and finalists will be at each table for guests to take home at the end of the night."
-
Posted by Beachwood Reporter at 7:09 AM | Permalink
The Clown Prince of Chicago Kiddie TV: Part 2
Our conversation with Bill Jackson continues. See Part 1 here.
Beachwood: During the mid-1970s, the federal government started pushing the requirement that all children's programming be "educationally-themed." How did that change your show?
Jackson: Kaiser Broadcasting purchased WFLD-TV in the mid-seventies and had no intention of continuing any type of kid show, let alone one with the production values of Cartoon Town and B.J. & Dirty Dragon. So, for the second time (but not the last) after coming to Chicago, I was given a termination slip (fired). Pressure from the FCC and Peggy Charren's Action for Children's Television (ACT) requiring stations to offer educational/worthwhile children's programming signaled the end of local kid shows as we knew them. Imaginative entertainment had been my goal, but I had always laced worthwhile values into my programs, and especially pushed the concept of creativity. However, the overall look of Cartoon Town and B.J. & Dirty Dragon was taken as merely entertainment (no offense taken), which rendered me unemployable. Pondering my future while sitting in the sun on my tiny Arlington Heights patio, I slowly formed the format for The Gigglesnort Hotel. WLS-TV, looking to satisfy both the FCC and Peggy, agreed to the production values I requested and what its promotion department touted as the most successful kid show in the station's history was born.
Beachwood: If it was possible to say that there was a time when B.J. & Dirty Dragon jumped the shark, my vote would be when it turned into Gigglesnort Hotel. No disrespect intended, but what in the world was someone thinking?
Jackson: That someone twas I. See the answer to your question about "educationally-themed" shows. B.J. & Dirty Dragon didn't become Gigglesnort - B.J. & Dirty Dragon ended, as did the era of entertainment kid shows. I feel good about Gigglesnort - educational/worthwhile shows can be dry as dirt. I made the series as entertaining as I could and still qualify for the new edict. Gigglesnort won the industry award as the best locally produced kid show in the nation. I'm happy to add, so had Cartoon Town in its day.
Beachwood: How would you describe your relationship with the powers that be at WFLD at first, and where was that relationship when you left?
Jackson: My relationship with management for all the time the station was owned by Field Enterprises, which also owned the Chicago Sun-Times, was excellent. When Kaiser Broadcasting took over the station, I was escorted to the door in a cordial, but not quite transparent, manner.
Beachwood: At what particular moment did you decide it was time to walk away from it all for good?
Jackson: I pursued doing something with the puppets into the early eighties, but to no avail. The exact "walk away" moment came when I encountered the program director for KTTV-TV, Los Angeles, as I was walking out the door of a restaurant. He had encouraged me to pitch a show he would show his manager, but it turned out his manager was the same manager installed at WFLD-TV by Kaiser Broadcasting. Acting as if the rejection hadn't occurred, the program director smiled and asked, "How are the puppets?"
I replied, "I don't do that anymore." And I didn't.
Beachwood: Kaiser Broadcasting seems to have been a malevolent, dark cloud over your professional life. I'm sure you must have reflected upon it over the years, so what do you imagine your future might have been had Field Enterprises never sold out to Kaiser Broadcasting?
Jackson: More than once my original director of Cartoon Town, Dave Dillman, has mused about what might have happened if WFLD-TV had been purchased by Metromedia, a huge conglomerate of radio and television stations that prior to Kaiser had shown an interest in the station. Metromedia had the ability to produce shows on a network scale. Hmmmmm.
Beachwood: You seem to have adjusted well to life after TV. Did that happen by plan or by accident?
Jackson: By God's plan. He blessed me with a marvelous career in children's television. I had nothing to complain about.
Beachwood: It's 1969. If we could listen in on a conversation over a few beers between you, Frazier Thomas, Bob Bell, Ned Locke and Ray Rayner, what sort of conversation do you think we'd hear?
Jackson: Dagnabbit, that never happened, but I would've enjoyed it. No doubt there would have been some grousing about the gathering dark clouds threatening pure entertainment shows, but after the second round had been ordered, we would've regaled each other with the hilarious bloopers and mishaps we'd had on live television.
In the old days, hosts did commercials, and I would've told about the hand-picked, highly hyped, cowboy-attired Little Johnny who stood ready to assist me on the live Twinkie commercial. His job was just to go "Yum! Yum!" when I broke open the goodie to show its creamy inside. When the glorious moment arrived, Little Johnny took one look at the goop foaming from inside and threw up on my foot. I hopped around like I'd stepped in pigeon poop. I don't think we sold many Twinkies that day.
Beachwood: You also spent many an afternoon on Chicago TV helping sell boatloads of cookies for your sponsor, Maurice Lenell. Did that intrusion of on-air commercial sponsorships ever annoy you? Or was it just something TV hosts accepted as a basic, inescapable fact of TV life?
Jackson: I didn't mind at all doing commercials if they were for worthwhile products and certainly Maurice Lenell was that. Cliff Braun, the program director, allowed me to select what commercials I would do, an extremely unusual permission for a station to grant. No copy was ever provided for the Maurice Lenell spots; all were presented extemporaneously and the sponsor was delighted.
Beachwood: You spoke of the "gathering dark clouds," which you suggested were on the horizon when you were first hired at WBBM-TV three years before WFLD first hired you for Cartoon Town in 1968, and Peggy Charren and ACT even surfaced. Knowing that, exactly what was it about BJDD (other than perhaps fewer "Bucky and Pepito" cartoons) that needed more "educational/worthwhile" value in order to toe that line and survive?
Jackson: The "gathering dark clouds" loomed for children's programming as it had existed before Newton Minow's chairmanship of the Federal Communications Commission. When I came to WBBM-TV, the FCC already was pressuring local television stations to offer more educational television to children or face possible rejection of license renewal. Actually, I have this threat to thank for my getting to come to Chicago at all. The FCC particularly focused on network Owned-and-Operated Stations of which CBS's WBBM-TV was one. To answer this demand, the station decided to create a new show, which it placed under the supervision of its Community Affairs Department. An educational consultant was hired to suggest educational topics and related material. I succeeded in getting the station to allow me to bring humor into the features and eventually won the approval of the producer and the consultant to create my own segments.
I'm not aware of any such FCC pressure being put on WFLD-TV, probably because it was a small, struggling Ultra High Frequency station, which, when I came aboard, was a signal unavailable on a large percentage of Chicago television sets.
Beachwood: In a nutshell, what was the basic "educational" difference between Gigglesnort and BJDD?
Jackson: Gigglesnort fell more under the "worthwhile programming" mandate rather than "educational." BJDD, intended wholly as entertainment, contained worthwhile threads woven into my brand of fun. For all I know WFLD-TV may have included some of my features within its Community Service report to the FCC. On Gigglesnort each program had a "social value" theme, was titled as such, and tried to make its point as entertainingly as I could make it. Let me emphasize that stations no longer were producing their own entertainment shows and had shifted to syndicated programming. WLS-TV hired me to provide a kid show meeting the FCC demands, allowed me to create all aspects of the show, and provided extensive production support for three years, after which a new station manager from New York arrived and pulled the plug.
Beachwood: Bozo's Circus - which probably had the least "educational" content among B.J. and Dirty Dragon, Ray Rayner and Friends and Garfield Goose - somehow survived basically intact until it was canceled in 2001. How so?

Jackson: It is much to the credit of WGN's management that the show continued as long as it did. WGN took legitimate pride in its version of the franchised Bozo and made it one of the best kid shows in America. The show served as a valued image for the station and to this day it produces specials commemorating the memory of that golden era.
Beachwood: In the grand scheme of things, is there any single person or entity to blame for the disappearance of kiddie TV?
Jackson: Kiddie TV as you remember it from your childhood indeed did disappear, and the reason ultimately leads to the industry being a business, which means that the best way for a station manager to stay a station manager is to fill the coffers. Providing you can maintain ratings, cutting costs builds profits. If a station's bottom line is the bottom line as opposed to creating quality programs, you eliminate the cost of producing your own shows and buy syndicated off-network reruns that long ago paid their creators' fortunes. The toughest competition I ever faced was when WGN threw reruns of Batman and The Flintstones against me. Today, most stations create a few "keep the hounds at bay" community service programs, but otherwise limit their production to bare bones standbys, meaning News, Weather, and Sports.
Beachwood: Still, it wasn't just locally-produced Chicago kiddie TV that died. It became extinct in Rockford and Peoria, and in markets both massive and tiny from coast to coast. I find it hard to fathom that one woman [Peggy Charren's Action for Children's Television] was responsible for the evaporation of an entire industry which was - as you stated in your interview with Jason Rimkus during the 2005 Silver Circle Awards - "going gangbusters." So on the whole, did it occur virtually overnight, was it just a slow death-by-leeching that ended once enough people stopped giving a shit about producing programming like yours, or was it something(s) else?

Jackson: There has been a nationwide, slow, unstoppable erosion of local studio production that continues today. Kid shows were the first to go, studio-audience talk shows soon followed, even simply produced cooking shows were axed. Stations have been bought up by big companies and the bottom line has become a station manager's bottom line if he or she is to retain the position. Today's studio production almost totally is automated. Dehumanized. No camera operators, minimal lighting and sound, fewer stagehands, fewer engineers, and practically no one but a lone "director" operating a remote control board that switches the cameras to about three basic shots. Profits dictate and the ledger's bottom line has taken the heart out of locally produced programs.
Beachwood: You've said that the kind of children's TV we knew through the 1970s will never be seen again. Why not? Pee-Wee's Playhouse was very successful nationally during the 1980s, even after the government educational requirements were in place. And couldn't the best things about local children's TV translate to other media forms where there's less government influence, such as Internet broadcasting?
Jackson: You're right. One should never say never. Some adventurous soul with money in his pocket could tap into an Internet market. I would hope it would be an imaginative show, several cuts above Uncle Baggypants hosting cartoons.
Beachwood: If the president of the United States appointed you Children's Programming czar today, what would be the first thing you'd do? And what could children's programming look like when you were done?
Jackson: Children' Programming Czar? Makes my head spin. Do I get to attend cabinet meetings?
Well, I wouldn't "dictate" anything. However, I would spearhead a search for the most refreshing, imaginative writers, directors, and performers you could find. I would seek private funding for the production of three separate series, seven shows each. As yawn-stifling boring as they are, I would attend business meetings and court advertisers to cover the cost of production. And then I would ask PBS to air the results and let today's children decide if all this effort had been worthwhile.
-
Part 3: Sideburns and carnivals.
-
-
1. From Gary Borg:
I wasn't a very sophisticated kid but (as I recall from the late '50s and early '60s) I could readily distinguish between a local host or hosts putting their heart into a live TV performance and something canned, with snappy network-grade production values. Guess which I preferred at the time and have exquisitely fond memories of today? No matter how well-intentioned, content-neutral, high-minded and talent-rich, there's something about mass-produced educational television that smacks of phoniness, or indoctrination. Not that any indoctrination is necessarily intended. It just has that air. Which is why, I suppose, when Sesame Street in its early years was charming the pants off many adults, I was left cold. Now I very much regret that my daughter will never have the unique delight of becoming acquainted with the likes of Bill Jackson.
Posted by Beachwood Reporter at 4:54 AM | Permalink
Alexi vs. Everyday People
"The ad opens with black and white images of the candidate's late father Alexis Giannoulias, as the Illinois treasurer compares his family's financial troubles with those of everyday people."
*
Giannoulias: Failed bank threatens political career.
Everyday people: Failed banks threaten lives.
*
Giannoulias: Cried over having to sell bank.
Everyday people: Crying over having to sell blood.
*
Giannoulias: Democrat.
Everyday people: Homeless Democrats.

*
Giannoulias: Loans to famous felons.
Everyday people: Juice loans from neighborhood felons.
*
Giannoulias: Running for U.S. Senate.
Everyday people: Running from creditors.
*
Giannoulias: Wants to be a U.S. senator.
Everyday people: Want to drown a U.S. senator.
*
Giannoulias: Runs the state treasury.
Everyday people: Wishing kids discover buried treasure in the backyard.
*
Giannoulias: Official for bankrupt state.
Everyday people: Officially declaring bankruptcy.
*
Giannoulias: Falls back on family's fortune.
Everyday people: Now spend days watching Wheel of Fortune.
*
Giannoulias: Plays basketball with the president.
Everyday people: Can't afford a new basketball.
*
Giannoulias: Works for the government.
Everyday people: Fucked by the government.
-
-
1. From Noelle Jezek:
I'm pretty sure that Giannoulias is a sociopath. He's all weepy for the demise of his father's legacy, Broadway Bank, but then he makes every effort to distance himself from the poor business practices that led to the Feds taking it over. His investments screwed the Bright Start folks but then proudly touts the fact that they only lost 50% of their investment. He's a danger to the people of Illinois. Too bad the suit company he championed doesn't have more employees to vote for him in November.
Posted by Beachwood Reporter at 1:35 AM | Permalink
April 27, 2010
Roger Ebert's Sex Pistols Saga
"One by one, each alone, we see the FOUR SEX PISTOLS walking along these mean London streets," Roger Ebert wrote in his just-released never-made 1977 screenplay for the Sex Pistols.
In CLOSEUPS, each one turns while still walking and addresses THE CAMERA.

STEVE JONES
We don't make music - we make noise.

PAUL COOK
We're so pretty vacant and we don't care.

SID VICIOUS
We like noise - it's our choice.

JOHNNY ROTTEN
We want to destroy the passer-by.

STEVE JONES
Passion ends in fashion.

PAUL COOK
We're the blank generation.

SID VICIOUS
We don't make rock and roll - we make chaos.

JOHNNY ROTTEN
Got a problem, and the problem is you. What you gonna do?

During these closeups, the beat of the TITLE SONG has been insistently ESTABLISHING itself beneath the dialogue. Now the VOCAL begins as we:

CUT TO:

TITLES

MUSIC:
The SEX PISTOLS singing "ANARCHY IN THE U.K."
Before the madness began, Ebert had never heard of the Sex Pistols.
From Ebert's account:
"I need you out here," Russ Meyer told me on the phone in 1977. It was 6 a.m. He could not conceive that I might still be asleep. "Have you ever heard of the Sex Pistols?"

"No," I said.

"They're a rock band from England. They got a lot of publicity for saying 'fuck' on TV. Now they have some money and want me to direct their movie."

"The Sex Pistols?" I said.

"Their manager is a guy named Malcolm McLaren. He called me from London. He said their singers were big fans of 'Beyond the Valley of the Dolls.' They go to see it every weekend they're in London. It's playing at the Electric Cinema on Portobello Road."
"Titled Who Killed Bambi? and planned as an incendiary punk answer to A Hard Day's Night, shooting on the 1978 movie was halted less than a week after it started when financing fell through, leaving film buffs and rock historians alike wondering what might have been," Scott Harris writes for Moviefone.
Frankly, it sounds like it would have been a disaster.
"I can't discuss what I wrote, why I wrote it, or what I should or shouldn't have written," Ebert writes. "Frankly, I have no idea."
-
Posted by Beachwood Reporter at 8:04 AM | Permalink
Meet Chicago's Google Geeks
Happier with their jobs than you are.
1. Ask Fitz and Ben.
-
2. Ping pong geeks.
-
3. The Google El.
-
4. And we've shown this before, but we'll bring it back again.
-
Posted by Beachwood Reporter at 7:05 AM | Permalink
Hawks HiLites
Bring on the Canucks.
1. How the Hawks won.
-
2. How the Canucks got here.
-
3. The goal of the Predators' series.
-
3. Elsewhere in the playoffs.
-
Comments welcome.
Posted by Beachwood Reporter at 6:41 AM | Permalink
The [Tuesday] Papers
1. Roger Ebert and the Sex Pistols: Who knew?
2. Hawks HiLites: Vancouver is next.
3. The Clown Prince of Chicago Kiddie TV: Part One.
4. Meet Chicago's Google Geeks: Happier than you are.
5. Big Z Is Pissed: Nobody could have seen it coming.
6. "Mayor Richard M. Daley wants to take his beloved security cameras on the road," Crain's reports.
"The Chicago Police Department is leading a push to install nearly 200 cameras along interstate highways between Chicago and Mexico to take pictures of license plates and run them through a computer to identify suspected drug traffickers, gun runners and money launderers."
Get your clicks on the new Route 66.
"The city is touting the system, at less than $10 million, as a cost-effective way to catch criminals and even find missing children, according to a proposal for federal stimulus funding last year."
Do it for the children!
"The effort to line up funding is being led by Frank Kruesi, City Hall's point man on Capitol Hill."
Frank Kruesi = Red Flag.
"Mr. Kruesi says Mr. Daley broached the idea last year with Secretary of Homeland Security Janet Napolitano - a session scheduled for 30 minutes that stretched to an hour-and-a-half - and Attorney General Eric Holder in separate meetings to discuss the flow of drugs, money and guns between Chicago and Mexico."
Next: Parking meters at truck stops along the way.
7. "Speaking of this week's rally, I'm not sure that Neil Steinberg fully understands who was at the event," Rich Miller writes for his Capitol Fax Blog. "He claims they were all 'state workers.' Not true, unless you think teachers are state employees. Also, there were tons of employees of not-for-profit groups and companies at the event . . .
"Still, I would have felt better had those been private-sector Illinoisans begging for more taxes. But that would be unlikely, given those most affected by government cuts - the poor, the sick, children - aren't about to bus themselves to Springfield and wave signs.
"There were plenty of poor people at that rally. All he had to do was read the coverage."
8. "After sitting idle over the winter, work has resumed on the $67 million renovation of the CTA Red Line station at Grand Avenue and State Street," Steven Dalhman reports for his Marina City Online.
9. "Until he reached the White House, Barack Obama repeatedly insisted that the United States apply more pressure on Sudan so as to avoid a humanitarian catastrophe in Darfur and elsewhere," Nicholas Kristoff writes in his New York Times Op-Ed column.
"Yet, as president, Mr. Obama and his aides have caved, leaving Sudan gloating at American weakness. Western monitors, Sudanese journalists and local civil society groups have all found this month's Sudanese elections to be deeply flawed - yet Mr. Obama's special envoy for Sudan, Maj. Gen. Scott Gration, pre-emptively defended the elections, saying they would be 'as free and as fair as possible.' The White House showed only a hint more backbone with a hurried reference this week to 'an essential step' with 'serious irregularities.'"
10. Kaption Kontest!
Co-sponsored by our pals at Chicagoist. This photo is from the Department of Procurement on the city's new $1.8 million website. Go to this link at Chicagoist to make your entry. Prizes may be available!
-
The Beachwood Tip Line: Always on guard.
Posted by Beachwood Reporter at 6:28 AM | Permalink
The Clown Prince of Chicago Kiddie TV: Part 1
Built out of little more than the simple "Hey, someone's got a barn so let's put on a show" idea that drove quite a few films of the World War II era, locally-produced kiddie TV of the 1950s and 1960s created magic on the cheap out of clowns, cloth hand puppets, big hunks of clay, and animation considered even then to be ancient or just plain awful. Almost every TV market large and small had their own kiddie TV shows, created and staged at any number of local stations, with their own unique and memorable hosts.
Those hosts were talented, creative station employees who often ended up as a matter of course working as supporting players on other programs at their stations - and by some accounts weren't paid as handsomely as we might think. Still, they became icons, keeping us company before school, after school, and when we were stuck at home on sick days and snow days. They became inseparable fabrics of our kid lives, created right here in Chicago.
Bill Jackson was one of those people, one who saw first-hand the heyday and then the slow, painful erosion of local TV production. A native of Missouri born to parents steeped in traveling-carnival life, Jackson helped put Chicago's WFLD-TV on the map with Cartoon Town with Bill Jackson, later renamed The B.J. and Dirty Dragon Show. The background of Chicago kiddie TV and Jackson's role in it is too extensive to go into here, so you can start here. He would go on to create and syndicate the Emmy-winning Gigglesnort Hotel at WLS-TV, but by the time that show was canceled in 1978 after three seasons, original locally-produced kiddie TV was all but dead in Chicago.
Today, Jackson may be the last surviving, instantly-recognizable Chicago kiddie-TV icon. Ray Rayner, Bob "Bozo" Bell, Ned "Ringmaster Ned" Locke, Frazier "Garfield Goose" Thomas have been dead for years. Hosts of other popular Chicago-produced shows ("Miss Beverly" Marston-Braun of Romper Room, Debra Wuerfel of Treetop House, Charles "Tiny Tov" Gerber of The Magic Door) and a supporting player or two may still be around, but their names are not quickly recognizable unless you associate them with their shows.
The following interview took place via a two-part e-mail exchange and will be presented here in three parts. The initial and follow-up questions and their answers appear as they were asked and answered; their order has been rearranged in some cases to provide continuity and context.
Beachwood: Your Wikipedia entry says you live quietly in California. How accurate is that?
Jackson: Quite accurate. My environment is peaceful and I do not rant, shout, yodel, or froth at the mouth (well, there was last Saturday night, but what the hey?).
Beachwood: Children's TV host: Job or an adventure?
Jackson: Always an adventure. The challenge to be entertaining every day compares to performing a high-wire act. Skip lightly across the wire and the audience cheers. Trip and fall off the wire and the ringmaster yells, "Next!"
Beachwood: Other than Joey D'Auria (Bob Bell's successor as Bozo in 1984) and maybe Marshall Brodien (Bozo's Wizzo the Wizzard), you're the last major, recognizable icon from Chicago children's TV (as I remember it between roughly 1962 and 1978) who's still alive. How scary is *that*?
Jackson: Scary, no, but sobering, yes. When I came to Chicago I had just turned 30, which made me probably about 10 to 15 years younger than the established pros in town. I do not have to ask for whom the bell tolls next.
Beachwood: TV clowns were big during the 1950s and early 1960s, and you broke into Chicago kiddie TV as a clown as well. What's the upside and downside to being a TV clown?
Jackson: Well, for me the upside was that taking the role got me to Chicago. WBBM-TV's management selected me to host the station's token offering to the FCC's demand for educational and/or worthwhile children's programming. The downside was twofold: Programmers are more apt to be guided by the success of others rather than an imaginative new show. Bozo's success convinced management that a clown show would be the most popular and so required me to wear a red wig and baggy pants even though my prior success had been being myself, which in looks meant sometimes being mistaken for Dickie Smothers.
I gave baggy pants my best shot, but the second downside was that this very early morning show was programmed to start five minutes past the half hour and ended five minutes before the hour. Since most potential viewers select their shows straight up on the hour or half-hour, and my lead-in was The Farm Report. I was the best kept secret in broadcasting. The station manager felt bad about letting me go and allowed me to shoot a pilot before my departure, a truly generous gift since the use of a TV studio, facilities, and crew costs a fortune. The pilot, done as myself, plus enthusiastic lobbying by June Borkowski, my Clown Alley producer, led to my being hired by WFLD-TV.
Beachwood: Back in the day, when it first powered up, WFLD-TV brought you in to go up against Garfield Goose and Friends. That was a tough act to go up against. What kind of expectations did you have - and more so, what expectations did the station management have - for your show to be considered successful enough against Garfield to continue?
Jackson: For the answer to what kind of expectations I had, see the answer to question two. I greatly admired Frazier Thomas' presence and Roy Brown's puppetry, but I had no intention of copying their styles. I immediately pushed for all the production capability the station could provide, and Cliff Braun, who, unlike most other program directors, actually had studio experience, backed my approach in a roll of the dice that paid off for both the station and me.
Beachwood: The owners of WFLD-TV were allegedly notorious for being cheap. How did you manage to work around that in terms of creating new material, sets, and characters? And if you don't mind answering this one, how much could a local TV icon pull in during those days?
Jackson: The crew was flat-out dedicated, very proud of the shows, and pleased with the production pulled off despite time restraints and almost non-existent budgets.
Here's an example: We were shooting a scene for one of the serials. I think it was "Dirty Dragon Meets the Monsters." Now, we shot live on tape, meaning no turning back, no corrections, you lived with what you got. The segment was a doozie. Multiple sets. Roll tape! The director hit the shots right on the money. The audio engineer feverishly controlled microphone volume, brought in mood music, and nailed a multitude of sound effects precisely on cue. Camera operators swiveled, dollied, trucked, framed, focused, and always, always kept the puppeteers heads out of the shots. And the puppeteers. The puppeteers, myself included, became a frenzy of bodies rushing from set to set, hitting marks, grabbing up a puppet, lip-synching the dialogue, tossing down that character and rushing for the next. When the scene ended, the studio resembled the remains of a battle field; a haze of smoke lingering over the sets; puppets strewn like dead bodies, their operators sitting in a panting daze; camera operators drooped against their machines; the audio operator face down over his console, and the director silent and staring wide-eyed at the screen. Bobby Walker, a Kentucky-born stagehand, rose from the desolation and called, "Well, Mayor, whadduyah think?" In my understated, Missouri way I replied, "That was pretty good." Walker rushed to the middle of the studio and yelled, "You hear that? B.J. thinks that was pretty good! That means it was BY GOD SENSATIONAL!" And the crew was.
Salaries? Children's television paid according to how much fun you had. The more fun you had, the less you were paid. I had a ball.
Beachwood: As far as salary, I was thinking more along the lines of an actual dollar figure. General ballpark. After all, a guy from Missouri in his 30s with a family to support can't just eat fun, and I can't imagine you making the same $2.50 an hour as the supermarket bagger down the street.
Jackson: I didn't just eat fun, but I prefer not to talk money. I have no idea of my peers' salaries, but my impression was that the salaries of Chicago kid show hosts fell far below that of newscasters, weathermen, and talk show hosts, and that definitely was the case for me.
-
Part 2: Twinkies and the FCC.
Part 3: Sideburns and carnivals.
-
Posted by Beachwood Reporter at 12:20 AM | Permalink
April 26, 2010
The [Monday] Papers
It's hard to see the latest call for the National Guard to quell violence on Chicago's streets as anything but grandstanding.
State Reps. LaShawn Ford and John Fritchey (soon to be a member of the Cook County board unless it turns out he's a pawnbroker with a hinky past) called a press conference on Sunday to maximize their media hit today, but they don't appear to have talked to the governor, the mayor or the police chief about their "plan."

Jody Weis, for one, wants no part of it, and just the thought of militarizing poor neighborhoods comprised disproportionately of people of color makes me shudder.
Beyond that, it's not the stuff that Governor Gumby is made of and King Richard II has ridiculed the idea in the past. (If for nothing else, the mayor couldn't stomach the bad PR of headlines like this one.)
Calling in the National Guard is one of those ill-considered notions that seems to come around every year or two, like privatizing the parking meters a downtown casino or putting your Opening Day starter in the bullpen or enacting a national sales tax.
It attacks a problem with a seeming quick-fix solution without ever getting near the cause.
Pension Outrage of the Day
It must be nice to be Vito Scavo.
Not Based On A True Story
We should all know by now that correlation is not causation, but it makes for pleasing tales some folks really want to believe. Today's example? The Tribune editorial page channeling the Illinois Film Office's propaganda. Missing in the script? The experts who see it differently.
*
See if you can spot the missing link in the Trib's chain of logic:
"About 40 states offer tax rebates or credits for film and television projects. Illinois' is not the biggest. Michigan offers a whopping 42 percent credit. New York City offers 35 percent.
"Wisely, Illinois lawmakers have not tried to outdo those competitors. Illinois' incentive is smaller and it's limited to in-state spending."
Um, if tax credits were the key determinant, wouldn't you go where you got a better deal?
*
True, the Trib argues that Illinois's tax credit is "easy to access" compared to that in some other states, whatever that means (paperwork?), but, um, if tax credits were the key determinant, wouldn't yo go where you got a better deal?
And don't major Hollywood studios employ scads of people whose jobs are to do things like "access" tax credits?
Tax Return Politics
Dissembling, spin, evasion, hypocritical outrage. Repeat.
An Uncle's Story
"Ultimately, drawing does more than provide a means to pass the time," our own Jerome Haller writes in his tough and touching new installment of I Am A Security Guard. "It gives me a survival tool. Unlike my uncle, I can't give it up."
Hawk Tawk
"The one thing I didn't understand about the aftermath of Marian Hossa's late, major boarding penalty was why he didn't also receive a game misconduct," our very own Jim Coffman writes in SportsMonday. "It seemed as though Nashville had an understandable beef when Hossa wasn't kicked out of the game and the fact that Hossa later knocked in the game-winner had to pour salt on that wound."
The Socko Sox
"It's nice to see the Sox returning to their roots," our very own Andrew Reilly writes in The White Sox Report. "After so much bluster about 'grinding' and 'Ozzieball' and 'not being a total disgrace,' they've finally acknowledged what we all have been saying for so long: the Sox are not a well-rounded, fundamentally sound team, but one that will live and die with its in-house power company. And why should they be anything else?"
In The Cub Factor
"Is Uncle Lou's mad scientist act working again?"
Ricketts Report
"To many, increasing advertisements at Wrigley Field feel like a violation of trust," our very own Joel Boehm writes at Agony & Ivy. "Wrigley Field has come to mean much more to people than even a baseball stadium, symbolizing something mythical and nostalgic and grand."
-
The Beachwood Tip Line: Mythical, nostalgic and grand.

Posted by Beachwood Reporter at 8:16 AM | Permalink
Tax Return Politics
You can judge for yourself whether it's an outrage that the Republican candidate for governor Bill Brady hasn't paid any federal income taxes in three years, but the bigger outrage in this corner is the way the tax return game is played.
First, there's the dissembling. Brady initially refused to release his returns, saying his business interests would be jeopardized. Then Brady gave in to the political pressure and decided that, you know, his business interests could survive a peek at the numbers.
Once released it became clear Brady had made a political decision, not a business decision.
Then came the spin.

The extremely wealthy Brady tried to argue that the business losses that afforded him a tax bill of $0 was a tale of a struggling lil' ol' small businessman who feels your pain.
The state Republican Party then joined in and distributed a press release from the Brady campaign that opened with this:
"Making available his complete tax returns since 2004, Bill Brady today said the numbers tell a story of success and loss that affected the family business's employees more than anyone else, a story repeated throughout Illinois."
This is the same state Republican Party hammering Alexi Giannoulias daily for the failure of a lil' ol' family bank, a story repeated throughout Illinois.
The Brady campaign then slipped into audacious evasion mode:
"In making the returns available, Brady said he supports the public's right to have confidence that elected officials have no potential conflicts of interest."
As long as the public - or the media, rather, have photographic memories.
"[R]eporters in Illinois will have only three hours to review the documents - and only if they're at his Springfield campaign office. That's the only way Brady has said he will make them available," Adrian Uribarri reported for the Chicago Current.
"Asked whether he was doing enough to ensure adequate public scrutiny and transparency, he repeatedly replied, 'You'll have access to it. Next question.'"
Then came the hypocritical outrage from the Pat Quinn campaign:
"Today, after significant pressure, Senator Brady agreed to share several years of his past tax returns with the press. But there were conditions: instead of making copies available to the taxpayers of the state, select members of the media were invited to 'view' his returns only for a limited period of time. This sounds more like a glimpse of Haley's Comet or of a solar eclipse than the full disclosure the public deserves."
As Rich Miller wrote on his Capital Fax blog, though, "Quinn did the same thing last year, however. Reporters had to make a reservation to review the guv's tax returns and couldn't make copies."
There's only one reason why politicians don't allow reporters to make copies of documents: so they can't study them for their veracity and for follow-up stories.
"I don't know what he's thinking, to be honest," Quinn said in his faux aw-shucks way. "If you want to be governor and you don't want to disclose your income tax return, I think you're really letting the people down."
But Miller reminds us in a link to this 2009 AP story that Quinn has been equally as squirrelly in the past:
"Getting a peek at Gov. Pat Quinn's taxes isn't as easy as you might think.
"Quinn didn't make copies of them available today when he released the returns, instead requiring people to make appointments to see them at his Chicago or Springfield offices.
"Other politicians, including President Barack Obama, e-mailed copies of their returns.
"Quinn spokesman Bob Reed said in an e-mail that Quinn prefers viewers take notes from his original documents."
Gee, why would Quinn prefer that?
At least Brady truly seems to believe that his tax returns are none of anybody's business, saying that "It's an invasion [of privacy]." It's too bad he was willing to compromise that conviction due to political pressure. Quinn just pretends that's transparent.
See also:
* Brady's Tax Returns Shown For Limited Time Only
* Brady Give Reporters 3 Hours To View Taxes
* Brady Plays Peek-A-Boo With Tax Return
-
And finally, to the substance of Brady's returns:
* Six Views On Brady's Taxes
-
Posted by Beachwood Reporter at 7:27 AM | Permalink
24 Hours With BET
Not very inspiring.
2 a.m.: BET Inspiration
5 a.m.: Morning Inspiration
7 a.m.: The Wendy Williams Show
8 a.m.: The Mo'Nique Show
9 a.m.: The Jamie Foxx
9:30 a.m.: The Jamie Foxx Show
10 a.m.: To Be Announced
10:30 a.m.: The Game
11 a.m.: Everybody Hates Chris
11:30 a.m.: Everybody Hates Chris
Noon: To Be Announced
2:30 p.m.: Tina & Toya
3 p.m: The Game
3:30 p.m: The Game
4 p.m.: Everybody Hates Chris
4:30 p.m.: Everybody Hates Chris
5 p.m.: 106th & Park: Top 10
7 p.m.: Sprung
9:30 p.m.: To Be Announced
10 p.m.: To Be Announced
11 p.m.: The Wendy Williams Show
Midnight: Sprung
2:30 a.m.: Pay It Off
-
-
Previously:
* 24 Hours With QVC
* 24 Hours With Tru TV
* 24 Hours With Current TV
* 24 Hours With The Military Channel
* 24 Hours With The Hallmark Channel
* 24 Hours With TVGN
* 24 Hours With Retroplex
* 24 Hours With Penthouse TV
* 24 Hours With The DIY Network
Posted by Beachwood Reporter at 2:12 AM | Permalink
SportsMonday
Where to start breaking down that ludicrous Saturday afternoon hockey game? I'll tell you where I was going to start until the clock struck 0:13.6 . . . i.e. until Patrick Kane notched that miraculous game-tying tally (I can't find anyone who can remember another game that the Hawks tied in the final 15 seconds while killing a penalty with their net empty). I was ready to flog Dave Bolland . . . ceaselessly.

Analyst Pierre McGuire (who often plays bad cop to Eddie Olczyk's good cop on the very good NBC playoff broadcasts), made it clear the second-line center blew defensive coverage on Nashville's third and fourth goals (while McGuire was holding defenders accountable, Olczyk sang the praises of the Nashville playmakers). Both times Bolland skated toward players who were already covered and away from the guy who was clearly his responsibility and both times that guy then made a goal happen.

And worst of all, even though the TV guys gave him a pass, Bolland had plenty of culpability for the Predators' second goal as well. Kane was the big goat on that one after his ill-advised blind pass between his legs triggered a Nashville 2-on-1. But there was more to it than that.

Joel Quenneville has been going with Bolland at the left point of the Hawk power play for awhile now (and any time you want to cut that out and put Brent Seabrook back out there with Duncan Keith in those situations would be fine with us, coach).

And while I suppose it might be part of the Hawks' scheme to have Bolland cheating in toward the net with the puck along the sideboards near the other point, it didn't seem like there was any good reason for him to be so far in that Keith was the only guy back as the two Predator power-play killers broke out with the puck. Kane made a terrible pass but if Bolland is going to play the point, he better be back in good defensive position in those sorts of situations.

The Hawks had a big shot advantage but it didn't seem like Nashville tying things up and then taking the lead was fluky. The Preds' goals all resulted from little bits of perfect execution highlighted by tic-tac-toe passing. Nashville didn't have a ton of scoring chances but when they had a chance, they took advantage.

When the Hawks put point shots on net, they took a 3-1 lead. When those shots started missing the mark, the offense stalled.

* * *

The one thing I didn't understand about the aftermath of Marian Hossa's late, major boarding penalty was why he didn't also receive a game misconduct.

I'm reasonably sure that for awhile there, if a ref felt a penalty like high-sticking or slashing was serious enough to warrant a five-minute sanction, the game misconduct was sure to follow.

It seemed as though Nashville had an understandable beef when Hossa wasn't kicked out of the game and the fact that Hossa later knocked in the game-winner had to pour salt on that wound.

Then again, maybe the Preds should have taken advantage of almost four minutes of power play to start the overtime. Once they blew that (making them 0-for-22 with the man advantage in the series), any complaints about Hossa still being in the game seemed beside the point.

Bears Draft
Hey Bears, I'll drink the Kool-Aid and have faith that Major Wright will be the guy to stabilize the safety position after three seasons of borderline chaos interspersed with complete chaos back there.

And I love the fact that Northwestern defensive end Corey Wootton fell to the fourth round and could end up being a foundational player for the defense going forward. But there is still one glaring hole on this team and that is in the interior of the offensive line.

Don't pretend this team is prepared to contend with the likes of Viking defensive tackles Pat and Kevin Williams or even Lions rookie Ndamukong Suh without some sort of infusion of strength and nastiness at guard.

If you really want to convince me you have completely committed to winning this year, go sign soon-to-be free agent Alan Faneca to play guard.

Faneca, who is a perennial Pro Bowler, will soon be released by the New York Jets because they don't believe his play still warrants his almost $8 million salary.

His play fell off a bit last season - despite his receiving All-Pro honors again - but Faneca is still a beast at guard and signing him would be a big coup.

Hard to be too optimistic about a signing with the conservative Bears, but the opportunity is there.

Lou and Z
I was amazed Lou Piniella asked Carlos Zambrano to go to the bullpen and I was amazed Zambrano said yes.

Whether he is a reliever or a starter, the guy is an overpaid prima donna and naturally there are plenty of folks who can't stand him.

But all of the negative speculation about the move, especially the cockamamie theory that the Cubs did it to try to piss him off so he would waive his no-trade clause, well, that stuff is just stupid (I tried to come up with a fancier negative word but "stupid" will have to do - and is actually quite appropriate).

The Cubs had an abundance of starting pitching and they needed someone to serve as Carlos Marmol's primary set-up guy. Given how well they started the season, it didn't make any sense for fourth and fifth starters Tom Gorzelanny or Carlos Silva to make the move.

The North Siders already had an over-abundance of lefties in the pen and therefore the new edition had to be a righty.

And there was no way the Cubs were going to disrupt what starting righties Ryan Dempster (just about unhittable in his last two outings) and Randy Wells (quality starts every time out) have been doing.

So it made sense to turn to Zambrano if for some reason you could project that he wouldn't totally act out in response.

And Zambrano worked it out. He realized the Cubs had a crying need and he accepted a demotion for the good of the team.

Maybe this one gesture toward "team" rather than "I" will signal an all-new Zambrano.

And this will finally help him figure out how to best harness his immense potential.

Not bloody likely but perhaps slightly more likely after a so-far smooth move to the pen.

Bulls Giving Way
The baseball teams both got their acts together over the weekend (sweeps over Seattle and Milwaukee) and not a moment too soon. We were hoping the Bulls might hang around for awhile if for no other reason than to distract us from the Cubs' and White Sox's slow starts for that much longer. But after the Bulls gave up 125 points at home against Cleveland on Sunday, their season will be done in another couple days. But if the Cubs keep hitting and the White Sox start, no one will care about the Bulls until free agency opens.

-

Jim Coffman rounds up the sports weekend every Monday in this space. He welcomes your comments.

Posted by Beachwood Reporter at 1:28 AM | Permalink
The White Sox Report
It's nice to see the Sox returning to their roots. After so much bluster about "grinding" and "Ozzieball" and "not being a total disgrace," they've finally acknowledged what we all have been saying for so long: the Sox are not a well-rounded, fundamentally sound team, but one that will live and die with its in-house power company. And why should they be anything else?
Why move a runner over when you've got an early contender for Comeback Player of the Year launching late-inning anti-aircraft weapons?
Why make routine plays at third when Alex Rios might have a trick up his sleeve?
Why close out an inning when Paul Konerko has more home runs than anyone?
And lo, when they embrace that, look what happens: they win. Yes, they look ridiculous and half of their wins for the season are now totally transparent but that's worlds better than looking like, say, the Royals, who only own the basement thanks to a miserable defender so pivotal in bringing the Sox out of the darkness so long ago.
So they can win with home runs, and they've embraced this just in time, as none of the next few series are likely to act as clinics in old-school, play-it-the-right-way baseball any time soon. They seemed so hopeless, and yet they've found hope; they looked doomed to lose forever, and yet they enter the week on a fantastic little winning streak. These good times probably won't last but, by surprising us all by merely existing in the first place, maybe they don't have to.
Week in Review: Major. A 4-2 showing for series against the Rays and Mariners marks the Sox' best week since who-cares-when.
Week in Preview: Longballtastic. Three at the missile range in Arlington followed by three in the Bronx hit factory.
Hawkeroo's Can-O-Corn Watch: "And really, that's all it's about, is taking that good offense and turning it into good defense. And this second baseman they have for Texas, or our own Andruw Jones, he's one of the best players I've ever seen at doing that, he can go 2-for-4, 3-for-4, and have an absolutely wonderful day in the field too, maybe turn a nice double play, because as long as his bat knows where his glove is, he's gonna play just fine. But it's when you take away the glove's bat, it doesn't know what to do, and that's what makes guys like Ian Kinsler, Michael Young, that's why the Texas Rangers are always such a good ballclub."
Gordon Beckham Hall of Fame Update: The ever-useful Baseball Reference gives Gordon Beckham a Hall of Fame Standards rating of 11, with actual Hall of Famers scoring at least 50, thus proving without a doubt Gordon Beckham will accomplish in five seasons as much as Ty Cobb did in 24.
Alumni News You Can Use: Former Sox mystery man and current Yankee RHP Javier Vazquez on his April of 20 innings pitched and 20 earned runs allowed: "it's kind of embarrassing the way I'm throwing the ball."
The "H" in "DH" Stands For: Homecoming, of sorts, as Andruw Jones seeks revenge against the same Texas Rangers team that didn't have enough confidence in his .214 average last season to offer him a new contract over the winter.
The Q Factor: When asked about how he planned to spend the day off before starting the series against the Rangers, Carlos Quentin stared sullenly into the distance, pondering his recent struggles on the diamond and thinking of the promise he made that one fateful afternoon so many years ago. "Wandering," he finally answered. "Wandering in a sea of fog and perpetual confusion." Thoughts composed and emotions once again in check, Quentin walked on in silence, by himself but never alone.
The Guillen Meter: With his team riding a nice mini-wave of momentum despite eschewing real baseball in favor of home run heroics, the Guillen meter reads six for "walk-off bombs are the new sacrifice bunt."
Endorsement No-Brainer: Paul Konerko's 1.2:1 R:BB ratio for The Ventures' contribution to surf-rock instrumental history: Walk, Don't Run.
Cubs Snub: The White Sox Report wishes to congratulate Cub reliever Carlos Zambrano on his new job, for which he will earn more every two recorded outs than Randy Wells will earn all season. If that's not money well spent, nothing is.
The White Sox Report: Read 'em all.
The Cub Factor: It's funny because it's true.
-
The White Sox Report welcomes your comments.
-
Andrew Reilly is the managing editor of The 35th Street Review and a contributor to many fine publications.
Posted by Beachwood Reporter at 1:18 AM | Permalink
The Cub Factor
Editor's Note: Cub Factor columnist Marty Gangler slipped in the hot tub and is limited to towel drills this week, so I'm filling in.
The big news this week was Carlos Zambrano's move to the bullpen. The Cub Factor has learned that Lou Piniella is considering other dramatic changes. Such as:

* Alfonso Soriano to the American League.
* John Grabow to Kerry Wood's old hot tub.
* Aramis Ramirez to the team shrink.
* Marlon Byrd to the cloning factory.
* Jim Hendry to Siberia.
* Tom Ricketts to the bank with a withdrawal slip.
* Bob Brenly to the dart store.
* Lou Piniella to early retirement.
Week in Review: The Cubs lost three of four to the Mets and their season looked like it was in disarray before even getting to May before going into Milwaukee and sweeping a three-game set with the Brewers by a combined score of 25-4, even though this team still seems to lack both a leadoff hitter and someone to bat clean-up. Is Uncle Lou's mad scientist act working again?
Week in Preview: The Cubs come home for three against Jim Riggleman's improved Nats and four against the Diamondbacks.
The Second Basemen Report: Midweek e-mail from Marty: "Which mediocre second baseman should I play today? The answer is: Both of them!"
And that's pretty much how it went. Jeff Baker got four starts at second and one at third this week, while Mike Fontenot got three starts at second and one at shortstop. All the while, the team's real second baseman, Ryan Theriot, continued to see time at short while former second baseman Alfonso Soriano continued to show why he should only be a designated hitter.
In former second basemen news, Mickey Morandini is coaching the Valpo Vikings; third baseman Mark DeRosa played both left field and second base in the same game for the Giants this week; and nobody's heard from Bobby Hill in awhile. They all are missed.
The Zam Bomb: After his debut relief appearance, Big Z stiffed the media. Oh, he's ready to blow alright.

-
Lost in Translation: Kosuke Fool-io is Japanese for what was I thinking signing a contract with this franchise?
Endorsement No-Brainer: Carlos Zambrano for Nike: Did you learn anything?
Sweet and Sour Lou: 49% sweet, 51% sour. Lou was at wit's end before he got to Milwaukee and remembered how good life could be. Because just like your real crazy drunk uncle, Lou likes to dip into the suds every once in awhile and nobody's gonna tell him he can't take another brewery tour if he damn well pleases. You want to put him the grave already? Fine. But he's taking his damn beer with him.
Ameritrade Stock Pick of the Week: Klonopin is rated a must-buy as shares of the panic disorder drug are expected to soar in the Midwest.
Over/Under: The number of games this week featuring Soriano and Zambrano on the field at the same time: +/- 1. If it's the eighth inning and Zambrano is called upon, Soriano has most likely already been removed for a defensive replacement.
Beachwood Sabermetrics: A complex algorithm performed by the The Cub Factor staff using all historical data made available by Major League Baseball has determined that Jim Hendry's rosters defy mathematical analysis as well as the laws of physics.
A & I Labs: To break out of his slump, Aramis Ramirez should . . .?
The Cub Factor: Unlike Soriano, you can catch 'em all!
The White Sox Report: Now with a weekly Cubs Snub.
Fantasy Fix: Is Matt Garza this year's Zack Greinke?
The Mount Lou Alert System: After moving to Orange and flirting with Red this week, Mount Lou has receded back to Yellow. Erratic tectonic activity along an East Coast fault line was cooled by underground Midwestern springs carrying frosty malted beverages. North Side seismologists, however, are reluctant to sound the all-clear until more data is in.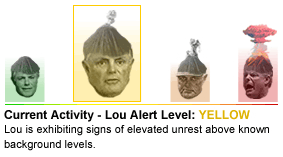 -
Posted by Beachwood Reporter at 12:36 AM | Permalink
I Am A Security Guard: Why I Draw
Around the middle of the shift, when the flow of customers slows to a trickle, I prepare for one of my favorite rituals. I sweep the floor and read newspapers and magazines. Then, I break out a notebook and pencil and draw.
Using basic shapes and different shades, I try to create a picture that reflects one of my interests. One night, it may be a pilgrim dropping his burden and finding hope while gazing toward the sky. Or a guitarist jamming for fans. Or a pitcher firing a strike. Or a golfer pumping a fist while watching a putt roll toward the hole. I've even completed a self-portrait, which included my uniform.
The pastime provides a few obvious benefits. First, it helps me relieve the stress that comes with watching the store's goods and dealing with the general public. Second, I gain some sense of accomplishment. Third, I kill at least 30 minutes with each work.
Yet, there is a deeper reason why I sketch. The memory of an uncle spurs me to create.
That uncle, my father's second-oldest brother, showed much artistic potential during his youth. His pencil sketch of a male classmate, completed in the early 1950s, showcases his skill. The firm mouth, sharp eyes, and wavy hair made the work seem alive. The piece earned a frame and a prime spot in my grandparents' living room. Eventually, my uncle started to paint as well.
He had the talent to pursue art as a profession. Instead, he worked at the post office. While supporting a family, he continued to dabble in drawing and painting.
Sometime in the late 1960s, my uncle's world shattered. My aunt had an affair with a Chicago police officer. My uncle learned about it and confronted her. During the ensuing shouting match in their apartment, he committed a low-class act: he hit her.
My aunt called her boyfriend, who drove to the apartment with two other cops. The officers beat my uncle and tossed him in jail. Afterward, the two lovers drove by my grandparents' house with my uncle's clothes and art supplies. As rain fell, they dumped the goods on the front yard.
My father brought a carton of cigarettes to the jail. During the visit, my uncle bowed his head and said, "I still love her."
That disgusted my father. He said he needed to whisper something and asked my uncle to move closer to the bars. My uncle complied. My father snatched the cigarettes and left. From that moment, my father regarded him as a weakling and a fool.
After the beatdown, my uncle changed into a different man. He and my aunt separated, but he never found another partner. He didn't draw or paint again. Instead, he drank. Eventually, he lost his job and his health deteriorated. The last time I saw him, he had morphed into an emaciated shell with bloodshot eyes, an unshaven face and unkempt hair. Shortly afterward, he died at a relatively young 59.
One incident made my uncle a tragic figure instead of a revered elder. Over the years, I've tried to avoid his example. He's one of the reasons why I pursued my dream career after college and have continued to seek a new passion.
Sometimes my frustration builds. The overwhelming majority of resumes I send do not generate replies. And when I get lucky and complete a job interview, I don't get a response from the recruiter. All the effort to dress in business attire, research a company and travel to an interview goes down the drain. In the meantime, I watch the store's lipstick and contend with rude customers while knowing I can handle challenging tasks.
Drawing has helped me ease the tension. The work, while not as good as my uncle's, reminds me that I can develop new skills. I keep my mind fresh and engaged. I forget about my anguish and focus on the positive.
Ultimately, drawing does more than provide a means to pass the time. It gives me a survival tool. Unlike my uncle, I can't give it up.
-
A very pseudononymous Jerome Haller earns rent money as a security guard for a large, publicly-held retail chain. He welcomes your comments.
-
See more tales of security guarding, pizzeria waitressing, barista-ing and office drudgering in the Life at Work collection.

Posted by Beachwood Reporter at 12:28 AM | Permalink
April 24, 2010
The Weekend Desk Report
Oh, what the hell? We'll go ahead and run for governor too. Just as soon as we finish filing this report.
Market Update
The Dow, NASDAQ and S&P all finished another strong week, surging to new 2010 highs. And yet, despite this apparent wealth, none of the exchanges will owe a cent of taxes this year.
Rod of Love
The world of celebrity reality television was thrown into chaos this week as veteran camera whore Bret Michaels was hospitalized with a severe headache and apparent brain hemorrhage. Witnesses say the issues began shortly after Michaels received his subpoena to testify at the trial of Rod Blagojevich. "It's like his mind just exploded," a source close to the rocker was quoted as saying.
Sign of the Tim
Despite all of the skepticism and brouhaha over attempts to compel prominent Democrats to testify, the Blagojevich defense team did catch one break this week: there's no way their tactics will look more misguided than this.
Going to Extremes
After learning of Thursday night's draft chaos, Blagojevich defense attorneys were said to be mulling a subpoena of Denver head coach Josh McDaniels. Analysts said the move might sway the potential jurors most likely to believe in a vast left-wing government conspiracy, among whom McDaniels just might have a higher approval rating than the president.
Fantasy Napoleonic League
While much of the nation's attention is focused on our home-grown little big man, there have been interesting developments elsewhere in the overcompensation league. Outside contender Robert Mugabe of Zimbabwe has joined forces with last season's rookie sensation Mahmoud Ahmadinejad of Iran. Together, the two form a coalition that some analysts say is already scarier - and slightly taller - than reigning champion Kim Jong-il of North Korea. For our money, though, we're keeping an eye on the dark miniature pony
Rock and Roland
Finally, outgoing Illinois junior senator Roland Burris was left to rue what might have been this week. "If only I'd been a bit more patient," the senator mused, "I wouldn't have had to buy my seat; I could've just waited for a hostile takeover and then assumed its assets."
-
From The Beachwood AP Weekend Video Desk:
-
The Weekend Desk Tip Line: Something to believe in.

Posted by Beachwood Reporter at 9:20 AM | Permalink
April 23, 2010
The [Friday] Papers
"Rod Blagojevich finally made good on a promise: He put President Barack Obama right in the middle of Blagojevich's own political corruption case," John Kass writes today.
Indeed.
But as you might guess, the defense strategy is a bit convoluted. Or at least it may not be what it seems.
As Kass writes, the point isn't to impugn the character of Obama but to impeach the expected testimony of Tony Rezko.
If the President of the United States testifies that Rezko is a dirty, low-down liar, the theory goes, then the veracity of any statements by Rezko implicating Blagojevich in wrongdoing is destroyed.
But that doesn't mean Blagojevich hasn't now put Obama into a trick bag, because he has.
"It is the charges swirling around the Senate pick that have led the defense team to attempt to draw Obama into the case," the Tribune reports. "In December 2008, shortly after Blagojevich's arrest but prior to the presidential inauguration, Obama said he had 'never spoken to the governor on this subject. I'm confident that no representatives of mine would have any part of any deals related to this seat.'
"But Blagojevich's defense team contends that Obama's public statements contradict those of other potential prosecution witnesses, including Valerie Jarrett, a White House official who briefly was considered the favored Senate replacement for her longtime friend Obama.
"The filing cites FBI interviews with labor officials, including one who said he spoke to Obama on the eve of his Nov. 4, 2008, election and said the soon-to-be-president believed that Jarrett 'would be a good senator for the people of Illinois.' The union official said he told Obama he would convey that message to Blagojevich."
Obama doesn't appear to have a legal problem, but he sure could have a political one. The chain of events outlined in the Blagojevich court filing - allegations by one side in the proceeding, to be sure, but also sourced to other witnesses - don't appear to align with the president's public statements or the White House's own internal investigation. See Obama's Senate Seat Saga.
"The filing alleges that the day after the election, a supporter of Obama suggested to Jarrett she reach out to then-Illinois first lady Patti Blagojevich about the Senate vacancy, according to an interview Jarrett had with the FBI shortly after the former governor's arrest," the Trib reports.
"The Obama supporter, who is not identified in the filing, allegedly mentioned 'fundraising' help for Blagojevich in exchange for naming Jarrett to the Senate vacancy during a phone call to Blagojevich's home that was secretly recorded by government agents the day before the election."
But as Kass writes:
"It's no secret that some in journalism get offended when anyone dares mention that the president was involved in Chicago politics."
Reporters covering Obama are kings of the caveats.
For example:
"Since Blagojevich's arrest in December 2008, Obama has insisted that he and top aides were never part of any deals for the Senate seat and were unaware that Blagojevich may have been scheming to use his appointment power to enrich himself," the Trib report says.
"There is nothing in the filing to indicate otherwise."
What?
Isn't that what a big part of the filing is all about?
"But the cherry-picked nature of how the defense document was assembled and the suggestive nature of the allegations invited immediate claims from Obama critics that the filing raised doubts about the president's veracity," the Trib continues. In a straight news story.
Is the nature of the defense filing "cherry-picked"? As opposed to the prosecutors' filings? As opposed to, say, news reports?
And are these claims merely of a "suggestive nature . . . invit[ing] claims from Obama critics"?
Considering the source - Team Blago - these claims could be piffle. But they should raise doubts about the president's veracity from presidential foes and friends alike.
After all, it would hardly be the first time the president's veracity was, um, questioned - or provably impeached - and still defended by the home team. See The [Rezko] Papers.
Another example from the Trib:
"One week before Blagojevich's arrest, Obama and the Illinois governor attended a national meeting of governors in Philadelphia. The filing notes that the two spoke there and that two top aides to Blagojevich later discussed that conversation in a wiretapped phone call. But there's no indication in the filing that the Senate vacancy was discussed by Obama and Blagojevich when they met."
I'm not sure that's true.
From the filing:
"President-elect Obama also spoke to Governor Blagojevich on December 1, 2008 in Philadelphia. On Harris Cell Phone Call # 139, John Harris and Governor's legal counsel discuss a conversation Blagojevich had with President-elect Obama. The government claims a conspiracy existed from October 22, 2008 continuing through December 9, 2008. That conversation is relevant to the defense of the government's theory of an ongoing conspiracy. Only Rod Blagojevich and President Obama can testify to the contents of that conversation."
That seems like an "indication" to me that the defense is threatening to demand that Obama reveal what was discussed that day.
The Sun-Times didn't even bother to tease the story on its front page, much less give it front-page billing, in effect hiding its choice morsel:
"The filing alleges continued input by Obama's staff in the Senate seat choice, even after Jarrett dropped out of contention," the paper reports.
"It is the first indication that Obama personally called an official with SEIU, which had donated $1.8 million to Blagojevich.
"Two sources with knowledge of the investigation say Obama called Balanoff on Nov. 3, 2008, to give Balanoff the green light to continue talking to Blagojevich about Jarrett's possible appointment. The man who would be elected president the next day first left Balanoff, whose union also supported Obama, an innocuous message asking him to return the call.
"When Balanoff and Obama later spoke, Obama - in addition to discussing the election and campaigning - relayed to Balanoff that he would not publicly come out in favor of any one candidate for his replacement, sources said."
In fact, his public statements would contradict his private actions.
"However, after Blagojevich's arrest, Obama released a report detailing his and his staff's contacts with the former governor," the Sun-Times notes. "In it, the report stated: 'The president-elect expressed his preference that Valerie Jarrett work with him in the White House. He also stated that he would neither stand in her way if she wanted to pursue the Senate seat nor actively seek to have her or any other particular candidate appointed to the vacancy.'"
Really?
From the filing:
"President-elect Obama was also involved in other senate candidate choices. On December 8, 2008, John Harris' secretary's call log noted President's Chief of Staff called at 10:47 am and wrote 'needs to talk to you asap' (Harris 302, February 20, 2009). President's Chief of Staff told the FBI that he had a conversation discussing the Senate seat with Obama on December 7, 2008 in Obama's car. President's Chief of Staff told the FBI 'Obama expressed concern about Senate Candidate D being appointed as Senator [President's Chief of Staff] suggested they might need an expanded list to possibly include names of African Americans that came out of the business world. [President's Chief of Staff] thought he suggested Senate Candidate E who was the head of the Urban League and with President's Chief of Staff's suggestion.' (President's Chief of Staff, 302, 12-20-08)."
Come to think of it, maybe calling Obama to wreck the credibility of Rezko's testimony isn't such a good idea; Obama might not have much credibility left by the time this thing is over either.
Charles The Cat
And his strange journey.
Busta Rhymes
His original moniker, plus fun facts about A-ha, Pearl Jam, Neil Young, Stevie Wonder, rave and house. In Trivial Pursuit.
Body Bags and Baseball
In BookNotes.
Hawks Report
Win one, lose one.
Agony & Ivy
On The Profit Motive.
-
The Beachwood Tip LIne: Without caveats.
Posted by Beachwood Reporter at 8:17 AM | Permalink
BookNotes: Body Bags and Baseball
1. "After my partner showed up and informed me I would be driving the wagon in downtown rush-hour traffic, he directed me to a cafe for his coffee, obviously in no hurry to reach our assignment," Chicago cop Martin Prieb writes in The Wagon. The brief narrative on the computer explained that a woman was dead, and removal meant we must take her to the morgue. The narrative stated she was in her fifties. That was it. My partner did not speak about the task ahead, though I could not stop thinking about it. The service entrance to the address of our assignment, a high-rise building on Michigan Avenue, was below in the labyrinth of alleys and parking lots off Lower Wacker Drive."
2. "We have completed the final edits of the book and now we are setting up appearances and interviews to get the word out!" writes former Cub Doug Glanville. "Keep your eyes peeled for The Game from Where I Stand - published by Times Books!"
*
See also: "It's Everything It's Cracked Up To Be."
3. "The history and impact of Marina City is examined in a new book coming soon to a bookstore near you," Steven Dahlman writes at Marina City Online. "Bertrand Goldberg's Marina City promises to reveal the story of how the architect built his vision in concrete."
4. The Society of Midland Authors will hold their annual awards dinner on May 11 at the InterContinental Hotel in the Camelot Room.
WBEZ's Steve Edwards will act as emcee.
-
Posted by Beachwood Reporter at 6:56 AM | Permalink
Hawks Win One, Lose One
"The Chicago Blackhawks didn't play the prettiest of games but they were still able to tie their best-of-seven quarterfinal series with the Nashville Predators at two games with a 3-0 victory," Jesse Rogers writes at ESPN Chicago.
"The signature moments came in the second period when the Hawks clearly got outplayed, yet won the period, 2-0. Antti Niemi earned his second shutout of the series, arguably playing his best game while facing 33 shots. Three of those came on a 5-on-3 sequence in the first period with the Hawks clinging to a 1-0 lead."
1. The highlights.
-
2. The Hawks weren't so lucky in the NHL 2K10 playoffs.
-
Posted by Beachwood Reporter at 6:18 AM | Permalink
The Curious Case Of Charles The Cat
1. The AP story.
-
2. One man's reply.
-
3. Clyde The Cat (and Muffy the Dog).
-
Top Charles The Cat YouTube Comments:
KladionicaCity: Why are they called "Animal Care" if they just kill animals?
maridia: Way to seek out your beloved pet. It's got a chip for f*ck sake.
jimbrown257: The most it can be is 2nd most awesome cat. Actually, 3rd; that iPad cat was pretty cool. No, 4th because of the one that scared the bear away.
-
Posted by Beachwood Reporter at 5:56 AM | Permalink
April 22, 2010
The [Thursday] Papers
This isn't the most important story in the news today, but it's so poorly executed that it could serve as a good lesson for the kids out there.
"A $119,184-a-year deputy commissioner charged with providing shelter and emergency services for Chicago's homeless has resigned after getting into an accident in a city car while allegedly driving drunk," Fran Spielman reports in the Sun-Times in a story promoted on its front page.

Spielman goes on to note that "[James] Lobianco's charge came three days before the 26-year-old son of Illinois Senate President John Cullerton (D-Chicago) was charged with a DUI in a state-issued vehicle."
In other words, a coincidence occurred!
Spielman also recalls an incident involving former Streets and Sans commission Al Sanchez in which "It is unclear whether anyone involved in the crash was drinking."
And that is relevant how?
If Spielman - and/or her editors - felt the need to pad out the story, they could have just done a better job reporting on what they had.
For example, Spielman writes that "Anne Sheahan, spokeswoman for the city's Department of Family and Support Services, said Lobianco 'offered his resignation' last Friday and it was 'accepted' Monday."
Why?
Doesn't the city have an employee assistance program?
Was there a pattern here? Previous incidents or other workplace problems?
Spielman also quotes Sheahan saying:
"Employees [on-call] 24/7 have the opportunity to participate, with $200 deducted from their paycheck that goes for maintenance and insurance. The co-pay entitles them to utilize a car for both personal and work purposes."
Spielman has always been a quote-abuser. You don't quote facts. You don't quote someone saying "The show will begin at 9." You verify facts and publish them; quotes are for unique expressions.
Better Spielman would have asked for a copy of the policy Sheahan is talking about. Who knows, maybe there's a story there!
And if a reporter truly wanted to make a connection to Cullerton and other incidents, why, that sounds like a story for Sunday about either the use of government vehicles or about how government units handle DUIs among employees.
If any of this means that a story wouldn't have been ready to go for today, well, I don't think the public would have been ill-served by having to wait a few days.
TARP Carp
Sun-Times headline (on an AP story): "GM repays $8.1 million in government loans - 5 years ahead of schedule."
The Sun-Times snippet leaves out a lot. For example:
"The Obama administration crowed about the 'turnaround' at GM and fellow bailout recipient Chrysler LLC, saying the government's unpopular rescue of Detroit's automakers is paying off."
Why is that important? Because it's bullshit.
"Well, it's good news they're paying back the loan," TARP inspector general Neil Barofsky told Fox News yesterday. (Alert: Just because something is on Fox News doesn't make it untrue; Barofksy was appointed by George W. Bush but is reportedly a Democrat). "The one thing a lot of people overlook with this is where they got the money to pay the loan. It isn't from earnings. They didn't earn an extra four-and-a-half billion dollars, it's another pool of TARP money."
Second, the AP story notes near the end that "taxpayers are still expected to lose about $36 billion on the bailouts of automakers," which kind of puts a different spin on things.
Isn't one of the first rules of newspapering to not mislead readers?
*
With this kind of news coverage, you have to wonder why GM spends (taxpayer?) money buying full-page ads like the one in the Tribune today stating "We've repaid our government loan. In full. With interest. Five years ahead of the original schedule."
But even if GM's claim was true, it would raise another question:
"I am saying if it was so onerous a year ago that they needed all this money, with no hope of surviving [if] they didn't get all this money, and a year or so later they're giving back the money, maybe all of us didn't need to give them money," Barofsky said.
And The Band Played On . . .
"It's outrageous that in these tough economic times that we would allow anybody - CTA, RTA, the rest of them - to come and try to take this one . . . itty bitty little thing away from our dear, poor, struggling senior citizens at a time of economic crisis," said Sen. Rickey Hendon (D-Chicago).
Watch Command
"Currently CJP is in a battle with the Chicago Police Department over whether or not the community members should know how many officers are assigned to each district and to each watch. The Chicago Police Department argues that if they release this number criminals will try to raid a district station to free their comrades. I argue that the Chicago Police Department spends over $1.2 billion on payroll expenses; thus, citizens deserve to know how they are spending public resources. The Public Access Counselor's office within the Illinois Attorney General's Office will make the final decision."
Facebook Feed
"The only pool that has been 'tainted' in all this seems to be the Blagojevich gene pool," Ryan Salzwedel writes in a thread.
Big Z to Big B
Read all about Carlos Zambrano's move to the bullpen and sly takes on the rest of the news emanating from the depths of Cubland at Agony & Ivy.
The Week in Political Video
Evading, eliding and conspiring.
The [Michael McCaskey] Papers
The most arrogant person you'll ever meet - and maybe the most incompetent.
The Fretgood Revolution
Chicago amps that make you feel alright.
National Socialism Alert!
America, you've been warned.
Or is it the rising tide of fascism we should fear?
And now I see the evil behind trying to eliminate Saturday mail service; it's just the start!
On the other hand, we've seen creeping corpo- socialistic- fascism here in Chicago, so don't think it can't happen here.
-
The Beachwood Tip Line: Bulwark of democracy.

Posted by Beachwood Reporter at 7:55 AM | Permalink
The Week in Political Video
1. "According to a Fox Chicago News source, former lieutenant governor candidate Scott Lee Cohen and House Speaker Mike Madigan had a private meeting Saturday morning on the South West Side."
-
2. "As the segment lengthened and she failed to get a straight answer about how the state's financial situation could be resolved, [Elizabeth] Brackett's exasperation grew," Progress Illinois notes. '"How does the state exist financially?' she finally exclaimed. 'This is such a crisis. We've been talking about this on Chicago Tonight for as long as you guys have been talking about it. And I don't see any progress.'"
-
3. "As the mayor of Champaign, home to our state's flagship university, you owe your constituents and the students of the University of Illinois better than this. In these difficult times, we need someone who is willing to step up and lead, not someone who continues to spout debunked conspiracy theories like a neighborhood gossip,"
-
Comments welcome.
Posted by Beachwood Reporter at 6:11 AM | Permalink
The [Michael McCaskey] Papers
What do you call Michael McCaskey's retirement or 100 Lawyers at the Bottom of the Ocean? A good start!
If only.
"It looks as though Bears fans will have the McCaskey clan to kick around for another generation or two," the Sun-Times reports.
"That's the upshot of the Bears' surprise announcement Wednesday that chairman of the board Michael McCaskey is retiring from that position after the 2010 season and handing off the job to younger brother George, who currently serves as the team's director of ticket operations."
Who is George McCaskey?
A Kingston resident who's been the team's ticket director since 1991, according to the DeKalb Daily Chronicle.
"George McCaskey served as the assistant state's attorney in Lee County and DeKalb County before joining the Bears in 1991," the Tribune reports.
What impact will this have on the Bears?
"Angelo Hints At More Changes," the Tribune reports.
"Don't Expect Much Change," the Tribune reports.
How awkward is Michael McCaskey?
But Jones says the McCaskeys are the gold standard.
Yes, but gold ain't what it used to be.
"What a disaster," a fellow owner once told Yahoo's Michael Silver.
Added Silver: "McCaskey, the nominal head of the league's Super Bowl committee, takes that role very seriously: Before the most recent vote he reminded his fellow owners how important it was to be polite during the presentations, earning eye rolls throughout the room."
But isn't McCaskey some sort of management expert?
Yes, he once wrote The Executive Challenge: Managing Change and Ambiguity. You can get a used copy on Amazon for 13 cents.
Well that's a bit of a cheap shot, isn't it?
Not really.
"Ditka's tenure was marked by frequent clashes with Michael, who grudgingly gave Ditka an extension in 1984 but ultimately rid the organization of Ditka after a 5-11 record in 1992 following disappointing playoff losses the previous two years," former Tribune Bears beat writer John Mullin reports for Comcast SportsNet.
"McCaskey left on a family vacation after the season, however, and let the decision and Ditka hang for the better part of two weeks. When he returned, Ditka was fired."
I guess that's the managing change part. But the managing ambiguity is even better.
"The Michael regime was then rocked and effectively brought down in January 1999 by failed negotiations around the attempted hiring of Dave McGinnis as head coach to succeed Dave Wannstedt, who was McCaskey's hire to succeed Mike Ditka in 1993," Mullin writes.
"Contrary to some reports, the McGinnis debacle was not brought on by a press release prematurely announcing McGinnis' hiring.
"McGinnis was angered by the presumption behind the release primarily because no contract or salary was in place. But talks went forward and in fact succeeded in arriving at a four-year contract with escalating salaries.
"The entire business came to a crashing close, however, when McCaskey asked for a buyout option after two years. When McGinnis argued that it would then be effectively just a two-year contract, and that McGinnis could not ask assistants (including Mike Martz as offensive coordinator) to move their families to Chicago with that slight security, McCaskey lost McGinnis forever when he asked, 'But do they [the assistants] have to know?'"
Virgina McCaskey was forced to replace her own son as team president.
Or, as Chicago magazine put it in 1999: "[U]nder his leadership, the team stumbled so badly that his mom had to fire him."
Chicago magazine said that?
And more.
"Behind his back, sports reporters have referred to him as Montgomery Burns, the miserly and merciless cartoon boss on The Simpsons," Jonathan Eig wrote for the magazine, which hasn't yet thought to put their piece online.
"Former employees and city officials have described him as arrogant and aloof, the kind of guy who uses big words to make others feel inferior."
And yet it was McCaskey who was never up to snuff, despite his delusions seemingly borne of grand insecurity.
"[M]any observers have blamed McCaskey for the long descending spiral," Eig wrote. "For one thing, though it might have been the right thing to do, he fired Ditka, the most popular coach in the team's history. He also dismissed Jerry Vainisi, the general manager who helped assemble that championship squad. McCaskey never did hire another GM. Maybe he wanted to save some money, but it seems more likely he thought he could do the job better himself."
McCaskey's incompetence is legendary, though. After years of bumbling through negotiations for a new stadium, Richard M. Daley finally refused to meet with McCaskey anymore.
You get the feeling McCaskey has always wanted to be something he isn't; a grand builder, a wise executive, a general manager worthy of his family's lineage, a respected intellectual - he wanted to play quarterback at Yale but rode the bench as an extra wide receiver instead.
Or maybe he's just oblivious.
"Even as the (1985) team charged toward the Super Bowl, some players and staff began to resent the team president's cold, businesslike approach, his tightness with cash, and his seemingly massive ego," Eig wrote.
"'There's only so much money to go around' - that was an expression he used quite frequently,' recalls Jim Dooley, who played for the Bears in the fifties, and coached them in the sixties and the eighties. 'First the Christmas bonuses were eliminated, then the mascot was eliminated, and then the Honey Bears [cheerleaders] were eliminated . . .
"Jim McMahon was among the first to publicly predict that McCaskey's approach would ruin the Bears. 'Michael McCaskey doesn't have any qualifications to operate the Bears, except his name,' the quarterback wrote in his 1986 autobiography. 'He went from Yale to Harvard to running his own consulting firm to running the Bears. He took over as president and chief executive officer in November of 1983, and before he got his feet wet, he was jumping around our locker room, in January of 1986, with a Super Bowl trophy. He must think he's the reason we won . . . Most of us just laugh to keep from strangling him.'"
Gee, I'm starting to sort of feel sorry for the guy!
Don't.
"He's the most arrogant person you'll ever meet in your life," a former member of the Bears administration told Eig. "He thinks he's smarter than everybody. He has a great command of the English language, and instead of talking to you he talks above you. He has absolutely no people skills."
And now he no longer needs them.
-
Posted by Beachwood Reporter at 12:55 AM | Permalink
The Chicago Amps That Make You Feel Alright
The Fretgood Revolution tube amp.
1. OD 6.
-
2. Tweed.
-
3. Clean.
-
Posted by Beachwood Reporter at 12:37 AM | Permalink
Experts Warn America About Socialism On National Broadcast This Sunday
With President Obama and leaders in Washington pushing the country toward socialism, experts on the April 25 Coral Ridge Hour television broadcast discuss the roots of the ideology and the destructive and deadly path it has cut through history. For listings and to preview, visit www.coralridge.org.

"[I]n spite of all the socialistic failures of the 20th century, we are still toying with a socialistic idea that we're somehow going to find a political utopia and paradise via socialism," says David Noebel, founder and director of Summit Ministries.

The nationally televised program surveys the principles of socialism as laid out by Karl Marx and Frederick Engels in their 1848 publication The Communist Manifesto.
"The Communist Manifesto is an evil document," says David Horowitz, an author and former communist, on the program. It "is an incitement to war . . . civil war."

The pathway to a workers' paradise, according to Marx and Engels, is a heavy, progressive or graduated income tax, centralized credit through a national bank, a state-controlled media, state-owned factories, the eventual abolition of private property, and more.

But "paradise" comes with a price.
"Every time the state increases its power, we lose our freedom," warns Chuck Colson, an author and cultural commentator, on the broadcast. "We are watching [the state] systematically strip away our liberties one by one."

Tragically, many socialist regimes have carried the idea of central control and collective ownership even further.

"The death toll of the whole 20th century is basically [premised on] a socialistic experiment," Noebel said. "Nazism was socialistic, fascism was socialistic, communism was socialistic, and those three alone are where the death toll just went into the tens of millions."
The Black Book of Communism, an authoritative historical accounting of the profound human cost of communism, reports that some 100 million people died under Lenin, Stalin, Mao, Pol Pot, et al., in the 20th century.

"The collapse of the Berlin Wall should have been the end of socialism," says Dr. Jerry Newcombe, host and senior producer of The Coral Ridge Hour. "But unbelievably, liberals in our own government, however well intentioned they may be, have enacted a federal takeover of health care and have big plans for an all-controlling, all-consuming federal government. This deadly course can and must be reversed.

"The destruction that socialism brings can be avoided in America, but we must wake up and stand up now."

This Sunday's Coral Ridge Hour focus on socialism comes as Coral Ridge Ministries prepares a major two-part documentary to air May 16 and 23 on The Coral Ridge Hour, in conjunction with the release of a new book, Ten Truths About Socialism. For details on the book and the upcoming documentary, Socialism: A Clear and Present Danger, a Biblical Response, please visit socialism-aclearandpresentdanger.com.

* * *
INTERVIEW REQUESTS: To request an interview with Dr. Jerry Newcombe, Senior Producer and Host of The Coral Ridge Hour, please contact Andrew Scott at a.scott@crministries.org or (954) 334-5332.

-
Coral Ridge Ministries is a Christian media outreach founded by the late Dr. D. James Kennedy. Its programming reaches a national television, radio, and Internet audience at www.coralridge.org.
-
Posted by Beachwood Reporter at 12:00 AM | Permalink
April 21, 2010
The [Wednesday] Papers
Let's see, what's in the news today . . .
"Quinn's Latest Plan for State's Lousy Finances: iTax. Gov proposes sales tax on every downloaded song, movie."
How 'bout this instead: a tax on every story downloaded about a horrible idea from our governor? The QTax.
That idea would work for Rod Blagojevich too - we could tax every television appearance he makes. Yesterday he called the media to his home for a 5:03 p.m. performance of Celebrity Suspect and lashed out at U.S. Attorney Patrick Fitzgerald, calling him a coward.
"I'll be in court tomorrow, I hope you're man enough to be there tomorrow, too," Blago said.
Then he hightailed it out of there without taking questions from the media. Talk about cowardice. I mean, the one question that you could hear on the video being shouted to the governor as he ran back inside was "What about your language on the tapes?"
The government's proffer offers new details on Patti Blagojevich's alleged phony real estate commissions and Rod's alleged scheming to sell a U.S. Senate seat and a reporter wants an explanation for why our ex-governor swears - just like we do?
And as I tweeted yesterday, Fitzy did have a response: "I've got this evidence, and it's frickin' golden."
Meanwhile, the nation's political nimrods are buzzing about Rahm Emanuel's recent declaration that he wants to be our mayor someday. I put the chances of that happening at one in hundred in today's Political Odds: Checking alleys for tipped over garbage bins and deploying Graffiti Blasters crews all over the city not his idea of a good time. (I put the chances of David Axelrod running for mayor at five in a hundred but the chances of Blago running for mayor at 50/50, depending on whether he can play all the tapes.)
Curiously, I didn't see Ron Huberman's name on the Sun-Times's useless compilation of potential mayoral candidates that wasted a reporter's time and energy. (Oh my lord, there's a photo gallery too.)
Daley has reportedly spoken privately about Huberman as a potential successor, but Ron is busy right now trying to change the media's focus on the CPS clout list and its ridiculous budget hijinks to all the good he is doing for the children. For example, Huberman's media team sold a feel-good story of questionable news value yesterday and both the Tribune and Sun-Times bought it.
"As soon as Arthesia Cartlidge learned how to do her own taxes, she offered to be her mother's accountant," the Tribune reports today.
"Although the 18-year-old learned how to fill and file the tax form in her high school's personal finance class, her mom laughed but turned her down, preferring to stick with the professionals.
"'I wanted to make sure [her accountants] were doing it right,' said Cartlidge, a Dunbar Career Academy senior.
"Learning how to prepare taxes, open checking accounts and invest in bonds and stocks are just some of the lessons taught in Dunbar's financial literacy class. The course began in February and is taught in 11 other Chicago public high schools as a pilot program and aims to teach students about everyday personal finance issues."
Cartlidge must have been the star student - or one of the few willing to act as a CPS prop.
"Dunbar senior Arthesia Cartlidge, 18, said she has opened a checking account since she started the class and even felt confident enough that she offered to double-check her mom's tax returns," the Sun-Times reports.
Both papers also bit on police chief Jody Weis's vow to take back the city's streets this summer in one-source stories. The online Trib version went like this: "Chicago cops unveil plan for controlling summer violence."
What, they've developed a weather machine?
But it's a field day for press release journalism. For example, did you know that "Chick-fil-A is painting the town red - and white"? It's true!
According to the Sun-Times, the Chick-fil-A folks invented the chicken sandwich. And they're "marching through metro Chicago. Forty strong."
The real news was buried in the middle of the story, but the paper didn't recognize it when it saw it.
"Food is a driver, but the chain also has won admiration for religious tie-ins. The company includes religious-themed toys in its kids meals, promotes religious programs and does no business on Sunday."
What?
Somehow I doubt the religious-themed toys include dreidels or the Muslim equivalent. Alternate lead: "A religious fast-food chain that claims it invented the chicken sandwich is bringing it's toy crosses and Jesus dolls to Chicago in the hopes that it can convert the masses with tasty tenders and a side of waffle fries."
Just remember the media hype about El Pollo Loco coming to our fair burg - and then how quietly the news passed when all that crazy chicken stuff failed to materialize.
You know what would make me happier than a new chicken chain? Painting all our trees blue.
That would be very Flaming Lips.
Which leads me to the best thing in the papers today - a quote from Jim DeRogatis:
"If I have a failing, it's that I have this chronic belief that rock 'n' roll is not just mere entertainment."
And neither is journalism.
Record Store Day in Chicago
We've got highlights.
New Beachwood Come-Ons
Picture This.
The Beachwood Tip Line: Both rock and roll.
Posted by Beachwood Reporter at 8:03 AM | Permalink
Fantasy Fix: Is Garza Grienke?
Who will be this year's Zack Greinke?
Who among all the young, supposedly talented head-cases out there will suddenly shake his inconsistencies to have a Cy Young-worthy season?
Could it be Matt Garza?
The 26-year-old Tampa Bay starter has been not quite living up to his billing since his days in Minnesota. Despite supposedly killer stuff, his best year so far was 2008, when he had a strong finish to carry him to an 11-9 record with three complete games and two shutouts. His record regressed to 8-12 last year, but 189 strikeouts in just over 200 innings seemed like a positive sign.
This April, he's looking like an elite pitcher pulling everything together at the same time, with a 3-0 record, a 0.75 ERA and 19 strikeouts in 24 innings. Plus, the Rays' offense looks like it's back to 2008 form, and assuming Garza can keep it together, a season better than Greinke's 2009 isn't too hard to imagine.
And Greinke?
Unfortunately, right now, he looks more like his old self, a little shaky and winless.
It's Week 3 of the fantasy baseball season, and still not time to pick up Jeff Samardzija.
Fantasy Find of the Week: Jose Guillen, OF, Kansas City. Three home runs and five RBIs last week suggested a former 20 HR, 90 RBI threat returning to form. Just 62% owned in Yahoo! leagues.
Fantasy Stud of the Week: Shin Soo Choo, OF, Cleveland. Those who believed in his top 50 pre-season billing are being rewarded handsomely. Last week, he was on fire, unfortunately against the White Sox, to the tune of 2 HRs, 10 RBIS and a .500 batting average.
Fantasy Dud of the Week: Grady Sizemore, OF, Cleveland. Choo's outfield mate was expected to have something of a comeback season as a multi-category threat, but it hasn't started yet. Last week's .176 average, 0 HRs, 0 RBIs and 0 SBs is pretty emblematic of the story for him so far.
Fantasy Match-up of the Week: Chris Coghlan, OF, Florida. The 2008 National League Rookie of the Year has been hobbled by injury and hitting poorly, but I like his chances to break out with a week's worth of games in two hitter-friendly parks in Houston and Colorado.
-
Expert Wire
* ESPN has must-see TV for fantasy baseball enthusiasts: The network's nifty 30 for 30 series this week features "Silly Little Game," a documentary on the history of fantasy baseball and the hobby's original Rotisserie league. The premiere was set for Tuesday night, so will have already aired by the time you read this, but it will air several times on different branches of ESPN's family tree of channels over the next nine days or so.
* There's apparently another Fantasy Fix in Alabama and this guy likes Chris Coghlan, too! What are the chances?
* Yahoo! MLB Skinny has some notes on farm-fresh Ike Davis, who hit well against the Cubs the other night (though what does that prove?) Davis reportedly has power and contact skills in abundance and should be playing regularly after the Mets dumped Mike Jacobs.
* Bleacher Report says to keep a waiver wire watch on Texas pitcher Matt Harrison. Remember when Rangers pitchers were strictly for batting practice? Now, the ones that aren't getting drafted in fantasy leagues are hot waiver wire items.
* And finally, from ESPN, look who's just come off the DL: Fat Elvis. (That would be Lance Berkman).
-
Dan O'Shea's Fantasy Fix appears in this space every Wednesday. He welcomes your comments. You can also read his about his split sports fan personality at SwingsBothWays, which isn't about what it sounds like it's about.

Posted by Beachwood Reporter at 1:34 AM | Permalink
Record Store Day in Chicago
"This is the one day that all of the independently owned record stores come together with artists to celebrate the art of music. Special vinyl and CD releases and various promotional products are made exclusively for the day and hundreds of artists in the United States and in various countries across the globe make special appearances and performances. Festivities include performances, cook-outs, body painting, meet & greets with artists, parades, djs spinning records and on and on. Metallica officially kicked off Record Store Day at Rasputin Music in San Francisco on April 19, 2008 and Record Store Day is now celebrated the third Saturday every April."
A few selections from participating Chicago bands and record stores from Saturday.
-
1. Sweet Cobra @ Reckless (Downtown).
-
2. Josh Berman @ Jazz Record Mart.
-
3. Maximum Wage @ Death or Glory.
-
4. Apteka @ Record Breakers.
-
Posted by Beachwood Reporter at 12:35 AM | Permalink
Picture This
MEMORANDUM
To: Beachwood Steve
From: List Guy Drew
Date: 4/21/10
Re: Sexual Innuendo Photo Essays Beachwood Reporter Should Run
Steve,
I've been doing the market research you requested on how newspaper websites have managed to maintain such cutting-edge audience retention policies over the last couple of years. I got to say it was a tough assignment, what with all the fancy gizmos and high-concept thinking that the mainstream media has used to keep their finger on the online pulse of America.
The newspapers are using all sorts of ingenious tricks: news you can use, problem-solvers for shit that really isn't that big of a deal, jumping on the bandwagon of popular social networking models about five years after they are relevant (see Sun-Times Friendster profile). I don't know how we are going to compete with the Internet visionaries running the MSM.
However, I did find one thing we can steal. I like to call it the blue-ball photo essay. Here's what we do: we find a really sexually suggestive headline for a completely banal and innocent set of boring photos and lure desperate suckers into clicking through 15 pages of ad-laden cockteasing. For example, I saw this on the Tribune the other day: "Movies With Women Hooking Up." I thought I would get some steamy girl-on-girl action but instead I got publicity photos of fully dressed women lazily sulking at each other. What a bummer.
I don't understand why these work; in the face of so much actual and free porn out there, mildly suggestive and barely titillating headlines must only appeal to the elderly men and children under 10 that don't know how to use the Internet.
But they do work; even I, your hard-hearted researcher can't resist the siren's promise of "The Secret History of the Bra." I hear myself saying, "Don't do it man, you are only wasting your time. There isn't going to be anything exciting here." But I can't stop from clicking through anyways. And I always end up pissed off that I wasted 45 seconds of my precious life looking at such silliness.
Here, then, are my suggestions for blatant, sexually suggestive photo essays that are totally innocent and bland that the Beachwood should run:
1. Fingerbanging - America's Hottest Pianists

2. Screwing - Life on an Assembly Line
3. Handjobs - Artwork You Can Do By Hand
4. Balls Out - Golf's Best Caddies
5. Tight Racks - Learn to Play Pool From the Pros
6. Celebrity Wieners - America's Favorite Celebrities Eating Hot Dogs
7. Kissing Willie - Willie Nelson Throughout the Years
8. Hot Teens - A Week in a Youth Firefighting Training Camp
9. Slide It In - How to Repair Your Old VCR
10. Crazy Positions - Weird Jobs
11. Fucked - Newspapers in Ten Years
-
-
Other Lists By Drew Adamek:
* Today's Syllabus
* Shit My Dad Says
* Work Weirdos
* Things I Miss About Chicago
* 20 Albums I Wish I Had Never Bought
* Their Chicago
* Cities I've Slept In
* My Favorite 1980s Chicago Radio Memories
* Why Milwaukee Rules
* Why I'm Glad I Don't Live In D.C. Anymore
* The Beer Goggle Recordings
* A List Of Reader Comments To Drew's Lists
* Life's Little Victories
* The Worst Jobs I've Ever Had
* Jobs For The Zombie Apocalypse
* Lemme Get A Bite Of That
* Lists I'll Never Write
* Things I Miss About My Imprisoned Best Friend
* Things I Miss About Being Single
* Things I Love About Being Married
* Why Chuck D Should Have Been Our First Black President
Plus:
* Fan Note: Me & Metallica
Posted by Beachwood Reporter at 12:00 AM | Permalink
April 20, 2010
The [Tuesday] Papers
1. I dunno, does Rahm Emanuel really want to spend his time fighting with Chicago aldermen about street sweepers?
2. "Garritt Cullerton has been pulled over eight times on Illinois roads since July 2001 for citations that included following too closely, speeding 115 mph in a 65 mph zone and twice previously for driving under the influence of alcohol, according to court records," the Tribune reports. "In some of those cases, according to court records and interviews, he was driving his father's car displaying the official Senate license plate "6" that denotes John Cullerton's North Side legislative district.
"The legislator's son was not convicted in the previous DUI cases, in 2004 and 2008, but was fined for lesser traffic offenses in both instances."

*
Perhaps there is a bit of projection to this:
"The Senate leader has long been a transportation safety advocate and sponsored legislation requiring motorists convicted of drunken driving to blow into an ignition-locking device to prove their sobriety."
3. The Sun-Times tries to invoke outrage with a front-page tabloid headline screaming "Cop asks dying teen: Do you know who shot you? 'I know. But I ain't telling you . . . '"
The story is part of a media campaign of outrage over poor, relatively defenseless families and witnesses - as well as gangbangers - not "snitching" on their neighbors and peers. I'm not condoning the "no snitching" policy, but I think I understand it a lot better than the media and politicians who refuse to practice what they preach in their own lives and workplaces. Yes, we're not talking about murder here, but on the other hand how many cops - and others - know something about Jon Burge and still remain quiet?
And here it comes . . . who hired Angelo Torres?
I don't see a media drumbeat on those snitchy topics.
And when I see a Chicago police commander quoted saying "I have never seen anyone take it to the grave," well, I see a police commander who must have just gotten out of the academy.
*
Speaking of taking it to the grave, Rod Blagojevich lawyer Sam Adam Jr. claims that Chris Kelly killed himself "rather than come in [to court] and lie."
Stay classy, Sam.
*
But really?
"Police also revealed that Kelly left a note behind," CBS2 reported last October. "Authorities say it was of no evidentiary value. They would not reveal the contents of the note, saying they wanted to spare the feelings of Kelly's family."
If Adam has evidence to the contrary, I'm sure he'll be welcome to introduce it in court. Spurious claims not so much.
Adam would also have us believe that Kelly chose to die rather than implicate Rod Blagojevich, which is a stretch.
Finally, Kelly would have had another option: Just come in and tell the truth.
4. In my humble opinion, Mark P. Donahue, the president of the Chicago Fraternal Order of Police, hasn't always done his members - or the public - any favors with his zealous defenses of cops gone astray, but his letter to the Sun-Times today is persuasive.
And because the Sun-Times doesn't know how yet, I'll repost the first paragraph here with a link added to show how it would have been helpful to readers:
"Once again the people of the City of Chicago were subjected to the ranting of a mayor who by his nearly incoherent words expressed his total ignorance of the collective bargaining negotiations that occurred between his representatives and the Fraternal Order of Police. (City Gets 'Huge Win' in Cop Raises Ruling, April 17.)This mayor has once again driven a wedge between himself and organized labor with his flippant and erratic remarks."
5. Jim DeRogatis is leaving the Sun-Times for Columbia College and Vocalo. He will continue co-hosting Sound Opinions with Greg Kot.
6. Arne Duncan says that we have to "challenge parents to step up and take responsibility," NPR reports.
Duncan then continued his refusal to comment on the CPS clout list.
*
I think this item originally came to me from a similar comment by Alexander Russo, but I can't seem to find the source. So h/t to Alexander - or whoever - just in case. I just tried to sharpen up the punch line.
UPDATE 10:54 A.M.: I've been reminded that this actually came from the Facebook feed of Jeremy B. Thompson. Thanks, JBT!
8. Sportsmanship.
9. Elton John plays Hoffman Estates. We have highlights.
10. Yes, but what do four wins and nine losses really mean? In The White Sox Report.
-
The Beachwood Tip Line: Be a sport.

Posted by Beachwood Reporter at 7:54 AM | Permalink
Wage Theft
This is the executive summary of Unregulated Work in Chicago, April 2010.
This report exposes a world of work in which core employment and labor laws are failing significant numbers of workers. These protections - the right to be paid at least the minimum wage, the right to be paid for overtime hours, the right to take meal breaks, access to workers' compensation when injured, and the right to advocate for better working conditions - are being violated at alarming rates in the low-wage labor market.
The sheer breadth of the problem, spanning key industries in the economy, as well as its profound impact on workers and their communities, entailing significant economic hardship, demands urgent attention.
In 2008, along with our colleagues in Los Angeles and New York City, we conducted a landmark survey of 4,387 workers in low-wage industries, 1,140 of whom are employed in Chicago and suburban Cook County. We used an innovative, rigorous methodology that allowed us to reach vulnerable workers who are often missed in standard surveys, such as unauthorized immigrants and those paid in cash. Our goal was to obtain accurate and statistically representative estimates of the prevalence of workplace violations. All findings are adjusted to be representative of front-line workers (i.e. excluding managers, professional or technical workers) in low-wage industries - a population of about 310,205 workers employed in Cook County.
Finding 1: Workplace violations are severe and widespread in the low-wage labor market We found that employment and labor laws are regularly and systematically violated, impacting a significant part of the low-wage labor force in Chicago and suburban Cook County.
Minimum wage violations:
* Fully 26 percent of workers in our sample were paid less than the legally required minimum wage in the previous work week.
* Minimum wage violations were not trivial in magnitude: over 60 percent of workers were underpaid by more than $1 per hour.
Overtime violations:
* One-quarter of our respondents worked more than 40 hours during the previous week. Of those, 67 percent were not paid the legally required overtime rate by their employers.
* Like minimum wage violations, overtime violations were of substantial magnitude. The average worker with a violation had put in 8 hours of overtime in the previous week - hours
that were either underpaid or not paid at all.
"Off-the-clock" violations:
* Nearly one-quarter (23 percent) of the workers in our sample came in early and/or stayed late after their shift during the previous work week. Of these workers, 69 percent did not receive any pay at all for the work they performed outside of their regular shift.
Meal break violations:
* Three-quarters of our respondents worked enough consecutive hours to be legally entitled to at least one meal break during the previous week. Of these workers, 43 percent received no break at all, had their break shortened, were interrupted by their employer, or worked during the break - all of which constitute a violation of meal break law.
Pay stub violations and illegal deductions:
* In Illinois, workers are required to receive documentation of their earnings and deductions, regardless of whether they are paid in cash or by check. However, 45 percent of workers in our sample did not receive this mandatory documentation in the previous work week.
* Employers are generally not permitted to take deductions from a worker's pay for damage or loss, work-related tools or materials or transportation. But 44 percent of respondents who reported deductions from their pay in the previous work week were subjected to these types of illegal deductions.
Tipped job violations:
* Of the tipped workers in our sample, 15 percent were not paid the tipped worker minimum wage (which in Illinois is lower than the regular state minimum wage).
Illegal employer retaliation:
* We found that when workers complained about their working conditions or tried to organize a union, employers often responded by retaliating against them. Just as important, many workers never made complaints in the first place, often because they feared retaliation by their employer.
* Over one-quarter (26 percent) of workers in our sample reported that they had made a complaint to their employer or attempted to form a union in the last year. Of those, 35 percent experienced one or more forms of illegal retaliation from their employer or supervisor. For example, employers fired or suspended workers, threatened to call immigration authorities, or threatened to cut workers' hours or pay.
* Another 15 percent of workers reported that they did not make a complaint to their employer during the past 12 months, even though they had experienced a serious problem such as dangerous working conditions or not being paid the minimum wage. Over half were afraid of losing their job, 12 percent were afraid they would have their hours or wages cut, and 36 percent thought it would not make a difference.
Workers' compensation violations:
* We found that the workers' compensation system is not functioning for workers in the low-wage labor market.
* Of the workers in our sample who experienced a serious injury on the job, only 9 percent filed a workers' compensation claim.
* When workers told their employer about the injury, 20 percent experienced an illegal employer reaction - including firing the worker, calling immigration authorities, or instructing the worker not to file for workers' compensation.
* Nearly half of workers injured on the job had to pay their bills out-of-pocket (41 percent) or use their health insurance to cover the expenses (8 percent). Workers' compensation insurance paid (all or part) medical expenses for only 3 percent of the injured workers in our sample.
Finding 2: Job and employer characteristics are key to understanding workplace violations. Workplace violations are ultimately the result of decisions made by employers - whether to pay the minimum wage or overtime, whether to give workers meal breaks, and how to respond to complaints about working conditions. We found that workplace violation rates are strongly influenced by job and employer characteristics.
* Minimum wage violation rates varied significantly by industry. Violations were most common in private households and in personal and repair services, where more than 60 percent of workers were paid less than the minimum wage. Other high violation industries include, retail and drug stores, social assistance and education, and grocery stores.
* Minimum wage violation rates also varied by occupation. For example, child care workers, many of whom work in private households, had a violation rate of 75 percent. Sixty percent of personal services and repair workers also had a minimum wage violation. Other high-violation occupations include, building services and grounds workers; cashiers, retail salespersons and tellers and home health care workers.
* Workers who were paid a flat weekly rate or paid in cash had much higher violation rates than those paid a standard hourly rate or by company check.
* Workers at businesses with less than 100 employees were at greater risk of experiencing violations than those at larger businesses. But workers in big companies were not immune: nearly one in six had a minimum wage violation in the previous week, and of those who worked overtime, 52 percent were not paid time and a half.
Finding 3: All workers are at risk of workplace violations. Immigrants and people of color are disproportionately likely to be employed in low-wage industries, and therefore are at greater risk of workplace violations. But violations are not limited to immigrant workers or other vulnerable groups in the labor force - everyone is at risk, although to different degrees.
We found that a range of worker characteristics were correlated with higher minimum wage violation rates:
* Foreign-born workers were 1.5 times more likely than their U.S.-born counterparts to have a minimum wage violation.
* Among U.S.-born workers, there was a significant difference by race: the violation rate for African-American workers was triple that of their Latino counterparts and 27 times that of their white counterparts (who had by far the lowest violation rates in the sample).
* Higher levels of education and English proficiency (for immigrants) each offered some protection from minimum wage violations.
* Overtime, off-the-clock and meal break violations generally varied little by worker characteristics. On the whole, job and employer characteristics were more powerful predictors of the workplace violations considered in this study.
Finding 4: Wage theft. Wage theft not only depresses the already meager earnings of low-wage workers, but also adversely impacts their communities and the local economies of which they are a part.
* Workers: Nearly half (47 percent) of our sample experienced at least one pay-related violation in the previous work week. The average worker lost $50, out of average weekly earnings of $322. That translates into wage theft of 16 percent of earnings. Assuming a full-time, full-year work schedule, we estimate that these workers lost an average of $2,595 annually due to workplace violations, out of total earnings of $16,753.
* Communities: We estimate that in a given week, approximately 146,300 workers in Chicago and suburban Cook County have at least one pay-based violation. Extrapolating from this figure, front-line workers in low-wage industries lose more than $7.3 million per week as a result of employment and labor law violations.
Strengthening worker protections
Everyone has a stake in addressing the problem of workplace violations. When impacted workers and their families struggle in poverty and constant economic insecurity, the strength and resiliency of local communities suffers. When unscrupulous employers violate the law, responsible employers are forced into unfair competition, setting off a race to the bottom that threatens to bring down standards throughout the labor market. And when significant numbers of workers are underpaid, tax revenues are lost.
Policy reforms are needed at the federal level, but state and local governments have a significant role to play as well. The policy agenda to protect the rights of workers in Illinois should be driven by two core principles:
* Strengthen state and city enforcement of employment and labor laws: Illinois is well-placed to tackle the problem of workplace violations, given the state's commitment to enforcement and its energized community advocates. In recent years, state enforcement has been improved substantially through the use of proactive investigations and outreach to community groups, but recent budget cuts have strained resources and slowed progress. Illinois must recommit resources toward enforcement, institutionalize recent successes and enact new legislation to strengthen enforcement tools.
City and county governments must do their part by enforcing the labor standards that fall under their authority, while also dedicating resources to public education campaigns and to support enforcement efforts by community-based organizations, worker centers and legal services providers.
* Update legal standards for the 21st century labor market: Strong enforcement is important, but so are strong legal standards that recognize the changing organization of work in the United States. The strength of laws and the strength of their enforcement are deeply intertwined - weak employment and labor laws send the wrong signal, opening the door to low‐road business strategies to cut labor costs. Raising the minimum wage, closing loopholes that exclude workers from key protections and ensuring state and city resources are used to create living-wage jobs are all key improvements that would raise compliance in the workplace and improve the competitive position of employers who play by the rules
-
You can download a PDF of the whole report here.
-
Posted by Beachwood Reporter at 6:17 AM | Permalink
Live: Elton John in Hoffman Estates
Elton John played a greatest hits show last week to enthusiastic reviews. Here are some highlights (and some maddeningly brief snippets).
1A. Handing tickets out for God.
-
1B. Alternate snippet.
-
2. I've had it with your discipline.
-
3. Electric boots.
-
4. Not the man they think I am at home.
-
5. Dust out the demons inside.
-
6. My guitar couldn't hold you.
-
7. It's a little bit funny.
-
Posted by Beachwood Reporter at 5:40 AM | Permalink
The White Sox Report
Yes, but what do four wins and nine losses really mean?
Maybe this is the plan all along, to lull the rest of the American League into a false sense of confidence by throwing away inconsequential games, later winning just enough to make it into the postseason through the Wild Card, then torching their way to an 11-0 postseason built upon legendary pitching and hitting so timely, so productive, so perfect the team can turn it on and off at will.
Maybe they've simply been up against this year's inevitable champions, with Toronto poised to overthrow the evil dictatorship at work in the East and Minnesota and Cleveland set to stage a Central race for the ages.
Maybe they're just getting all the bad baseball out of the way now, so they can enter the 2010 playoffs riding six months of unprecedented momentum, six months spent alternately clawing their way to unbelievable triumphs and crushing the opposition with their hammer of superiority.
Or maybe they're actually worse than we imagined. Four and nine. There are two teams faring more poorly, and of those two, the Astros have at least won a series and the Orioles have the exact same road record as the Sox. On the other hand, the Sox are only 5.5 out of the Wild Card with 149 games left to play. That should not sound so insurmountable so early but with these White Sox, as we are quickly learning, nothing is truly impossible. Nothing, that is, except winning.
Week in Review: Bipolar. Split four in Toronto (yay!) then hand Cleveland a three-game sweep (boo!).
Week in Preview: Tough, apparently. Three at home versus the 10-3 Tampa Bay Rays, who have a better record than the Sox, followed by a visit from the 6-7 Seattle Mariners, who also have a better record than the Sox.
Hawkeroo's Can-O-Corn Watch: "Well, that's the thing about hitting: you never do it until you've done it. You have guys who everyone knows are always gonna hit, maybe your Grady Sizemores or Mickey Mantles, and you have guys who get just enough hits to stay ahead, like a Willie Mays or an Ichiro. But you put those two things together, that being able to hit without losing the ability to not hit and I tell you, you can give me a team like that any day of the week. That's a heck of a team you'd have right there."
Gordon Beckham Hall of Fame Update: Gordon Beckham currently sports a .240 batting average. You know how many times Sandy Koufax hit .240? None, that's how many.
Alumni News You Can Use: Former White Sox leadoff man and defensive liability Scott Podsednik leads the American League with a .457 average, as his 21 hits are as many as those of A.J. Pierzynski, Mark Teahen, Mark Kotsay, Omar Vizquel, and Jayson Nix. Combined. There are no words.
The "H" in "DH" Stands For: Huh? Andruw Jones continues his miracle comeback yet remains a bench player. Prediction: this will ultimately not matter.
The Q Factor: After a series of very late nights at TCQ Labs, researchers finally discovered Carlos Quentin's hitting woes actually began April 12, as he has not been hit by a pitch since that fateful Nick Blackburn slider. Realizing his unchallenged threshold of pain was causing his offensive skills to atrophy, Quentin left a voicemail for Tuesday Rays starter David Price, simply telling the young hurler "This ends now, whether you're ready or not." Price reportedly called several area costume shops and welders inquiring about how and where to acquire a suit of flame-resistant chain mail.
The Guillen Meter: In 1991, the first Blizzard of Ozz released a home video entitled Don't Blame Me; Saturday, the Sox skipper set the Guillen Meter to 7.77 for "Ozzy spelled with an 'i-e'" by instructing the public to do the opposite.
Endorsement No-Brainer: This past weekend of White Sox baseball for the last two Bulls playoffs games because sometimes, you just gotta go to Cleveland and lose.
Cubs Snub: These are sad times we live in when the Cubs are 5-8 and a Sox fan is in no position to laugh.
The White Sox Report: Read 'em all.
The Cub Factor: Funny because it's true.
-
The White Sox Report welcomes your comments.
-
Andrew Reilly is the fabulous managing editor of The 35th Street Review and a contributor to many fine publications.
Posted by Beachwood Reporter at 5:29 AM | Permalink
April 19, 2010
The [Monday] Papers
What are Chicago Public Schools officials so afraid of?
Don't they want to lead by example - you know, practice what we presume they want taught to the kids in their charge?
I guess not and I'll guess why: They're more beholden to their political minders than to the children they are responsible for.
Take the recent lesson CPS gave the Reader's Ben Joravsky's in English, math, political science, sociology and journalism.
Upset at Joravsky's recent claim that budget figures showing raises for top CPS officials meant that top CPS officials had gotten raises, Joravsky was invited to school headquarters for a briefing meant to show otherwise.
"[CPS spokesperson Monique] Bond met me on the ground floor and ushered me to a conference room on the fifth floor, where three officials were waiting: operations manager Jerome Goudelock, chief human capital officer Alicia Winckler, and CFO Diana Ferguson," Joravsky writes in his follow-up.
"They told me they thought I would benefit from what amounted to my own personal budget briefing. Of course, since this was a meeting to clear things up, they placed a condition on the conversation: I could write about what they said, but the only person I could quote directly was Bond."
Ah, a lesson in accountability. But at whose behest? Ron Huberman's? Richard Daley's?
And to put it simply: Why? Why won't CPS allow its chief financial officer to be quoted?
Or maybe the officials in the room that day simply didn't want to have their names attached to the ridiculous statements they were about to make.
"They didn't refute any of the facts I'd reported," Joravsky writes. "But they also indicated that the source I'd cited was misleading.
"Oh, I said - you mean the school district's official 2009-2010 budget?"
You know, Ben, with a smart mouth like that you're going to end up in detention - or even worse, like having to stay in the rest of this meeting.
"What they wanted me to know was that you can't depend on the budget to determine exactly how much the CEO or any other employee is making at any given time because it might have changed since the budget was put into place. And it might change again. Instead, they said, you have to look at the payroll for an up-to-date look at who's earning what.
"Great, I said - show me the payroll.
"To see that, Bond told me, I'd have to file a Freedom of Information Act request."
See how quickly CPS moved from a math lesson to an English lesson? You have to write an essay now explaining why you want to see a public document!
"I pointed out the irony: the budget, which is reliably inaccurate, is posted online for everyone to see; the payroll, which is supposedly accurate, is removed from public scrutiny."
Nice try, Ben, but we're not teaching irony until next year. We're still on misdirection.
Which leads us to political science.
"[Arne] Duncan wasn't making $204,000 when he left," Bond told Ben.
"But the budget says that's what the CEO was allocated for 2008-2009.
"Yes, she said, but between August 2008, when the board passed that budget, and January 2009, when Duncan left to become President Obama's secretary of education, the board gave him a raise.
"And when exactly was that?
"Goudelock looked it up on his laptop and wrote the answer on a piece of paper: on September 1, 2008, the board raised Duncan's salary from $202,475 to $212,502. Incidentally, that was less than a week after the school board passed the 2008-2009 budget that listed Duncan's salary at $204,000.
"So in the midst of the greatest economic meltdown since the Great Depression - when it was clear they would have to cope with declining property tax revenues - the board gave Arne Duncan a raise? Why?"
Ben, if you had completed your reading assignment, you'd know that public officials who give themselves raises a week after a budget is passed in order to avoid public scrutiny are showing just the kind of savvy that gets them promoted under our way of governing. Sheesh!
Or, as Bond said: "We weren't here. We can't comment."
Are you proud of yourself, Monique Bond? Do you feel like you are serving the public good? What goes through your mind when you deposit your paychecks from the taxpayers?
"We sat in silence, Goudelock, Winckler, and Ferguson looking at me, me looking at them. Bond responded to a text message on her cell phone."
Probably checking on her Chase points.
"My story had also pointed out that this year's budget increased the amount of money dozens of central office departments got to spend on things like magazine subscriptions, seminars, and travel expenses. So I asked them about that as well.
"'That was under a previous board president,' said Bond, referring to Michael Scott, who committed suicide last November. 'The new board president, Mary Richardson-Lowry, is making extensive cuts.'"
Sure, throw the dead guy under the bus.
"By then we'd been talking for an hour. This is what I'd learned: Salaries had gone up, but they weren't really raises. And office allowances had gone up, but the guy responsible for that was no longer around. Arne Duncan had made more than any budget said he'd made, and in fact no budget can ever be counted on to provide an accurate representation of what anyone makes. And if some pain-in-the-neck reporter really wants to know what's going on, he should file a FOIA request."
A+!
"I needed only one last thing: confirmation of everybody's full names and titles.
"Ferguson gave me her business card, which included a work number and e-mail address - but then worried aloud that I might try to e-mail her."
Oh, how nice - she prefers phone calls.
"She reiterated that if I wanted any further information I would need to request it through Bond."
Oh. Then why even print up business cards? How much did that cost us?!
"The other two didn't offer cards, instead writing their names, titles, and e-mail addresses on a sheet of paper."
And they ate it.
"I told Ferguson not to worry. I copied her name and title down on another piece of paper and handed her card back to her.
"We exchanged friendly smiles but she made no move to give me the card again. And with that my personal budget briefing was over."
Ben later got word that he'd been held back and wouldn't be graduating from the Chicago School of Spokespuppetry this year.
*
See also:
- What Ben Joravsky did shouldn't have been extraordinary, but in this town it was: He read the budget.
- Suddenly, CPS is showing Ben Joravsky the love - though not necessarily the facts.
Chuck D Should Have Been Our First Black President
He would have brought the noise and 911 would no longer be a joke.
Raising a Cub Fan
The strange things you have to explain to your 2-year-old.
Agony & Ivy
Now featuring Concession Review No. 1: High Plains Bison Cheeseburger and other delights.
All About Antti
He can beat the Predators, but can he lead the Hawks through the grind it takes to get to the Stanley Cup Finals? Our very own Jim Coffman weighs in.
Clear as Christ
It can be very exciting when I get the formula right.
-
The Beachwood Tip Line: Crystal.

Posted by Beachwood Reporter at 9:16 AM | Permalink
SportsMonday: All About Antti
I would exclaim "whew!" in response to the Hawks' series-tying 2-0 victory over Nashville on Sunday evening, but going into the game it didn't seem like many folks were even moderately worried. There is the ongoing concern about the goaltending, of course (specifically whether rookie Antti Niemi will hold up over the long, long haul of the Stanley Cup playoffs). But in the short term there was widespread confidence the Blackhawks would find a way to bounce back, and eventually prevail, against the pesky Predators.

Beachwood Baseball

The White Sox Report will appear on Tuesday.



And I know that because I engaged a respected polling firm whose operators spoke with hundreds of Hawk fans in the 48 hours between Games 1 and 2. Sure I did. Either that or I'm wallowing in the sort of generalization about the local sports scene that usually drives me nuts. I've got my finger on the pulse on this one though. I just know it. Then again, the margin for error is plus-minus 40 percent.

Again, I'm not saying folks aren't worried plenty about Niemi, even if Saturday's shutout was the first for the Blackhawks in the playoffs in 14 years. Ed Belfour was the last to do it for gosh sakes. That almost endless string of non-shutouts was almost as ridiculous as the Hawks going a dozen-and-a-half years without a division title - another streak that has finally come to an end this spring.

But the Hawks can beat the Predators with Niemi.

And it helps when he doesn't give up goals so soft that Downy is in touch about an endorsement deal.

That first goal that skipped past the Hawk netminder in the series opener on Friday? That was beyond brutal. And it was the sort of letdown that could be fatal at a crucial juncture against a better team further down the line.

Also, any time the Hawks want to start improving on their 1.5 goals/game average would be fine by us fans.

As for some Sunday specifics:

* "Reunited and it feels so good. Reunited and it's understood." Peaches and Herb's 1979 hit was about a love affair but clearly it also applies to defensemen Duncan Keith and Brent Seabrook. Keith and Seabrook worked well enough together to star for Canada in the Olympics a few months ago. They are certainly a good enough tandem to lead the Hawks where they need to go at this point. Actually the big question is whether the rest of the Hawk defensemen play well enough so that Seabrook and Keith don't have to approach 40 minutes in ice time any time soon.

* The teams of Dustin Byfuglien and Niklas Hjalmarsson and Jordan Henry and Brett Sopel were solid on Sunday. But this is another part of the team that makes a fan worry about the big picture. Byfuglien was downright bad in the first period Sunday. An ill-advised cross-ice pass was almost intercepted at the Hawk blue line a couple minutes into the game. If a pick had occurred, Nashville would have been in with a dangerous scoring opportunity seconds later. And a few minutes after that, Byfuglien did a pirouette with the puck before surprising no one by giving it away in his own end.

Fortunately things stabilized the rest of the way. Sopel in particular was inspirational with his willingness to sacrifice his body for shot blocks. He absorbed several blasts that we know will leave big-assed marks.

* Analyst Steve Konroyd was sharp and the importance of several of his early points of emphasis was borne out by later events. He spoke in the first period about how Nashville was winning the "board battles," and it was clear early in the second period, when the Predators played their best hockey of the evening, that prevailing in those little scraps for the puck was sparking the visitors' strong play. Later, when the Hawks desperately needed a little insurance, it was Patrick Sharp's turn to fight through opposing pressure to tip the puck ahead off the boards in perfect position for the onrushing Patrick Kane to scoop it up and begin an odd-man rush.

Kane's goal, after a slick little second assist on Dave Bolland's power play backhander in the second period, meant Kane was deserving of a spot among the game's three stars. Speaking of Bolland, Konroyd noted early that Hawks coach Joel Quenneville hadn't beaten around the bush when talking about his second-line center. He had said simply that Bolland had to play better if the Hawks were to have success. Sure enough, Bolland broke up the double shutout in the second period with a perfectly placed backhand goal after Kane had passed to Jonathan Toews, who slipped it over to Bolland.

* Duncan Keith's late tripping penalty and Patrick Sharp's even later infraction (he made one of the Predator defensemen very angry with him with some sort of little cheap shot) certainly weren't welcome sights. But Sharp being sent off was almost a blessing in disguise. It happened with just under three minutes remaining. The Predators then pulled their goalie to make it a 6-on-4 power play. Usually when teams have a man advantage because they emptied their net, the opposing team has to be careful about firing the puck out of its end if it wants to avoid icing. But the penalty eliminates icing. And sure enough, the Hawks successfully killed the final penalty by firing the puck down to the other end on several occasions.

Baseball Brief
I do know how to pick 'em I tell ya'. I wasn't sure about the Cubs going into this season but I was confident the Sox were headed in the right direction. Now the team I made my clear-cut favorite to win the AL Central is scuffling in ever worse ways, enduring the ignominy of a three-game sweep at the hands of an Indian team expected to battle with Kansas City for last in the AL Central. At the same time, the worst team in the National League was taking two of three from the Cubs at Wrigley. Given all that has occurred, I agree to abbreviate the portion of this column devoted to baseball. In fact, this is the last word.

-

Jim Coffman rounds up the sports weekend every Monday in this space. He welcomes your comments.

Posted by Beachwood Reporter at 8:07 AM | Permalink
The Cub Factor
So my son turned two this weekend and, as some of you reading this may know, around this time kids start to pick up on things. Okay, they pick up on things all the time - but they start to really vocalize things right around two.
Okay, I really don't have anything to compare my little guy to because I've not been around a lot of 2-year-olds - but I'm guessing my kid is about average - so kids around this age really start to vocalize things.
And my little guy sees anything with red and blue and says "Cubbies."
It's ridiculously adorable.
I mean, like even a White Sox fan would kind of give the kid kind of a smirky smile if he saw him say "Cubbies."
He pronounces it "cubeeez."
So he gets the fact that the Cubbies are our team.
And as we sit down to watch games now I try to explain to him everything that is going on.
They say you are supposed to talk to your little guys just like they were a regular-sized people - at least I think that is what they say.
So as I sit down on the couch to watch the Cubbies with Mitchell (he has his little baseball and glove on - which is just such a great Dad moment), I start to explain to him what is going on with the Cubs.
But it's hard to do because it gets complicated.
I have to tell him things like:
* "This pitcher used to get very angry at everyone. Now he's not that angry but it doesn't seem to help him."
* "This pitcher is pitching a lot better than anyone expected him to pitch so far, but it's a long season and he eats way too much candy so he will probably not keep this up."
* "You will probably be taller than the guy playing second base by next year. And even though being small doesn't mean you are bad at baseball, it just turns out that this guy is just not that good at baseball and is also small."
* "It's important that you learn how to catch the ball if you want to be a good baseball player, except it is possible to be very bad at catching the ball and still be able to be a real baseball player."
* "You used to be in momma's belly, which kind of looked like how that old guy that tells all the Cubs what to do looks like."
I mean, being a parent is hard enough, but trying to raise a Cub fan is even tougher.
-
Week in Review: The Cubs won two of three from a very flawed Brewer team and lost two of three to a tremendously flawed Astros team. It's good to know that these teams are beatable. It would just be nice if the Cubs would actually consistently beat them.
Week in Preview: The Cubs hit the road for four against the Mets and three against the Brewers. Again, these teams are very beatable. But then, these teams are saying the same thing about the Cubs.
The Second Basemen Report: Lil' Fontenot got four starts this week and Jeff Baker got the other two. It's hard to have a problem with the second basemen right now. They are both batting over .313 and have done a pretty okay job. Maybe one of them can pitch the 8th inning. Just like Jim Hendry drew it up.
In former second basemen news, Mark DeRosa has his average up to .222 for the first-place Giants and Ronny Cedeno is batting .317 for the second-place Pirates. They are (right now) both on better teams than the Cubs and they are both missed.
The Zam Bomb: "Not as" Big Z remains Apologetic as well as not very good. Maybe instead of slimmer and nicer he should have gotten fatter and angrier.

-
Lost in Translation: Carlo-ie Silva-san muchu fatso butt ok is Japanese for already given you more than Milton Bradley did all last year.
Endorsement No-Brainer: Carlos Silva for food. Because it seems to be working so far.
Sweet and Sour Lou: 42% sweet. 58% sour. Lou stands pat this week because he doesn't always know the score. And just like your real crazy drunk uncle, when Lou is making chili he doesn't know how much paprika to add exactly. He just adds what he thinks is right and hopes for the best. And if you don't like it, there's another meal coming up soon enough.
Ameritrade Stock Pick of the Week: Shares of bricks are down this week. Too much bad press about the dangers of bricks has driven their price down. Especially when they are formed into a wall, very very dangerous.
Over/Under: Number of hits Tyler Colvin needs to hit this week to achieve "better than he actually is" cult status: +/- 2.5.
Beachwood Sabermetrics: A complex algorithm performed by the The Cub Factor staff using all historical data made available by Major League Baseball has determined if you can't consistently beat the Astros, you got problems.
A&I Labs: Instead of hopping, Alfonso Soriano should . . .?
The Cub Factor: Unlike Alfonso Soriano, you can catch 'em all!
The White Sox Report: Now with a weekly Cubs Snub.
Fantasy Fix: Whither Peavy?
The Mount Lou Alert System: Stays at Yellow this week. Although what was once thought of as fire in the belly of Mount Lou might only be a gas pocket, North Side seismologists aren't giving up on their initial thought that Mount Lou may be still active.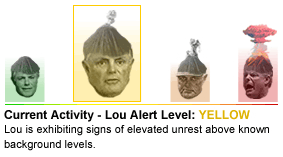 -
Posted by Beachwood Reporter at 7:35 AM | Permalink
Why Chuck D Should Have Been Our First Black President
I like Barack Obama but I don't think we elected the right man to be our first black president.
It was clear to me from the get-go that the "hopey-changey" stuff was really just top-notch spin. Anyone who knows anything about Chicago politics knows that if you are going to be a change agent, there is no better place to start than right here (Hi, Emil).
Don't get me wrong; I was truly touched when the Obama family stood on the stage in Grant Park in November 2008 and I realized that they were America's first family. I was amazed that America had gone, since my freshman year in high school, from arguments about the merits of a black quarterback to a black president. I was proud to be American; I was thrilled that a Chicagoan was president. Obama's election was a touchstone moment in American history.
But as incredible as the Obama election is in context, there seems to be something missing. Obama, in my mind, has proven himself to be a man of transient convictions and flexible promises. He is a great speaker, and I do like his measured, tempered approach. But I am disappointed because it feels like he lacks the true power of one's convictions and that he's wasted the certainty of his electoral mandate.
I wish the man we elected in 2008 would have more confidence in his convictions, be less likely to compromise, and be less like a Republican president. We face an uncertain world, and I want a president who is resolute, hard-core: a grown damn man. Like, say, Carl Ridenhour, otherwise known as Chuck D.
Here, then, is why Chuck D should have been our first black president:
1. Some Quiver When I Deliver.
"Welcome to the Terrordome" is the greatest stump speech ever written in the history of forever and always. What Chuck D conveys in this song is everything a president should be: strong, responsible, fearless, dope and righteous. Obama can have all the pillars and stadiums he wants; give me Chuck D, the Aragon Brawlroom and 1,000 hyped mofo's and we will take over the universe.
2. A Letter From the Government.
He opened, read it and it said they were suckers. The man can feel my pain.
3. Funky Drummer.
In Chuck D's administration, not only would the drummer get some, the drummer would get wicked.
4. Ask Harry Allen.
Unlike our current president, Chuck D told us not to believe the hype.
5. It's the Flavor, Life Saver.
Almost every president has an embarrassing sibling: Nixon had Donald, Carter had Billy, Clinton had Roger, the Bushes had, well, there was a drunken, underachieving, dullard member of the Bush family for sure. So Chuck D's sidekick, Flavor Flav fits right in, what with the motorcycle accidents, crack addictions and reality shows.
6. Chuck D White House Press Release.
RE: Healthcare Debate. The D administration releases the following statement in response to heated debate on the health care bill on the floor of the House: We would like to remind Rep. John Boehner to sit down and shut the fuck up while grown folks is talking.
7. Bring the Noise.
Can you imagine the State of the Union address that Chuck D would deliver? Goddamn.
8. Change We Can Believe In.
911 would no longer be a joke in a D administration.
9. Bridge to the 21st Century.
Chuck D and Anthrax reached an unthinkable detente between rap and heavy metal with their collaboration on "Bring the Noise." If Chuck D can spearhead the merging of two divergent and hostile factions like hip-hop and thrash, imagine what he could do with the Middle East peace process.
-
-
Other Lists By Drew Adamek:
* Today's Syllabus
* Shit My Dad Says
* Work Weirdos
* Things I Miss About Chicago
* 20 Albums I Wish I Had Never Bought
* Their Chicago
* Cities I've Slept In
* My Favorite 1980s Chicago Radio Memories
* Why Milwaukee Rules
* Why I'm Glad I Don't Live In D.C. Anymore
* The Beer Goggle Recordings
* A List Of Reader Comments To Drew's Lists
* Life's Little Victories
* The Worst Jobs I've Ever Had
* Jobs For The Zombie Apocalypse
* Lemme Get A Bite Of That
* Lists I'll Never Write
* Things I Miss About My Imprisoned Best Friend
* Things I Miss About Being Single
* Things I Love About Being Married
Plus:
* Fan Note: Me & Metallica
Posted by Beachwood Reporter at 4:33 AM | Permalink
Chicagoetry: Rain of Light Clear as Christ
Rain of Light Clear as Christ
I remain stuck in my labyrinth,
odd corners of Hell.
My feelings defy my aspirations.
I can breathe and I can sweat but I cannot
smile.
I've got three hundred dollars and I'm instinctively looking
toward the Caribbean.
Surely!
It can be very exciting when
I get the formula right.
I'm serious.
Formulae? Latin, anyone?
We had it in high school
as an "Elective." Good one!
Dear God: can you imagine
the sturm und drang?!
Three hundred dollars
when I'm not depressed!
SHIT! Liberation!
Like flunking out
of Latin,
odd corner
of Hell.
I speak out of turn.
I am showing my wounds.
The wind rooms.
I persist with my Caribbean formulae,
the twists and wounds, wait, winds of each and every day.
I get it. The wind rears, there is lust
in the room, in the wind.
That's me, again, of course.
Wind is void.
The wind roooms, it's onomatopoeia.
Surely: the wind vrooms and we project,
I get it.
There is rust in the loom, it's a scratching
sound. A warm sea is encumbered
by hiss.
I invest my money and make a killing.
Nobody knows nothing.
I am talking about a killing.
Those People?! Who cares what I wrought?!
Who cares who writhes?
This is strictly business.
Like a bullet of rain,
like a clear, crystal stain
(Christ-clear).
Everything I held dear.
-
J.J. Tindall is the Beachwood's poet-in-residence. He welcomes your comments. Chicagoetry is an exclusive Beachwood collection-in-progress.
-
More Tindall:
* Music: MySpace page
* Fiction: A Hole To China
* Critical biography at e-poets.net

Posted by Beachwood Reporter at 12:40 AM | Permalink
April 17, 2010
The Weekend Desk Report
We're still testing this edition, but now we're testing it with passengers.
Market Update
The recession is over, the labor market is picking up and bacon wrapped in fried chicken is totally good for you. And the best part is, by the time you figure out we're lying out our asses, we'll be friggin' rich.
Pocket Change
President Obama has moved to realize a confusingly-worded campaign promise to sort of change something by extending medical decision-making rights to same-sex couples. Not that these couples will be able to insure each other or anything.
Good to be King
In related news, President Obama did manage to clarify this week he is in favor of rescinding marriage rights for Larry King.
Continental Drift
Europeans this week found themselves crippled by the unstable and unpredictable nature of one of their sister nations. So in other words, duh.
Steel Stomachs
Finally this week, we didn't realize targeted vomiting was an option to express displeasure at Pennsylvania sporting events. Now that it's entered the public consciousness, however, we think we can guess on whom the fans might turn their stomachs next.
-
The Weekend Desk Tip Line: Sealed for your protection.
Posted by Beachwood Reporter at 8:37 AM | Permalink
April 16, 2010
The [Friday] Papers
1. Craigslist destroys another industry.
2. Pat Quinn: A man without a paddle.
3. The city's budget deficit comes to the equivalent of $180 per citizen, an outraged Business Insider reports.
Really? You mean if we all just wrote a check to the city for $180 we could be done with this sort of nonsense? I'm in.

4. Matt Farmer to Alexi G: Grab some pine.
5. Revelations about Vinny Del Negro's dustup with John Paxson may be the best thing that's happened to him as Bulls coach: Suddenly the city's sports commentariot has discovered that he actually did a helluva job this season.
*
Last season too, all things considered.
*
KC Johnson and John Paxson, on the other hand, not so much.
*
Relevant clip, via Tremendous Upside Potential: Joakim Noah's overtime minutes approved by management.
6. Oops, the Sun-Times accidentally published a Neil Steinberg column from 2008 today.
Either that or Steinberg has just discovered that Barack Obama's birth announcement was in his local Hawaiian newspaper. Next: Obama not a Muslim!
*
7. "Mayor Daley has insisted that Duncan - now U.S. education secretary - and his staff showed 'no favoritism' in vetting a list that gave some kids a second chance," the Sun-Times reports.
The fact that some kids got a second chance by getting placed on a secret list compiled by the superintendent's office and filled with politically sponsored names provided no extra advantage whatsoever! In fact, I don't even know why we kept a list!
8. Yes, by all means, play all the Blago tapes. The case will end in a mistrial in the summer of 2016 after jurors admit they can no longer remember if it was Rod or Patti who said they had something that was fucking golden.
9. For the life of him, Eric Zorn can't figure out what the Tea Partiers want.
Yup, it's a real head-scratcher.
10. "Signs of a Chicago spring: The mayor's tulips. Flocks of crows. The baseball drunks in Lakeview. And - today's topic - shorts.'
And Mary Schmich's annual signs of spring column. To be followed by her annual "spring is ending" column; her annual "summer is here" column; her annual "summer clothing" special; one additional column musing about summer, perhaps about summer songs or in verse; and then onto "summer is ending" followed by "fall is here."
-
COMMENT: From Beachwood reader Terry:
I was going to alert you after reading today's column, but you beat me to the punch. And it has the bonus of an apt quote from a "friend." Boy, her friends are good at summing up the gist of her column with simple quip. And a barista gets quoted too! With a complete first name!
I think this is her second spring one already.
I laughed a few weeks ago when Zorn was talking about how she accidentally sent in a year-old column and it almost got posted (I think it was even a weather one!). I wanted to post on his comment board, "How would anyone possibly tell that the column was a year old. They're all the same anyway." But he defends her like she's his sister.
11. Scott Cisek's move from Toni Preckwinkle campaign manager to political director of the Cook County Democratic Party - chairman Joe Berrios presiding - has caused quite a stir among political insiders and close observers.
*
This is just one way in which Facebook really does produce news. Reading the thread is better than reading a story about the thread - which isn't to say a follow-up questioning Cisek wouldn't be in order. It's as much to say that newspaper conventions about how to write these stories would dull it up as much as the fact that original source material can sometimes be superior to the framework of those conventions. For example, traditional stories about Blago's proffer totally failed to capture what you get from the excerpts here.
12. "David Remnick's got a new book about Barack Obama out, called The Bridge, which focuses in large part on Obama's life and career in Chicago," Alexander Russo writes at This Week in Education. "According to Remnick, it's not a pretty sight."
You'll have to read it for yourself, though, because there's apparently a local news blackout on new revelations.
*
Steinberg: "The book, by the way, is superb. Turns out there is indeed much more to say about Barack Obama."
Steinberg then proceeds to . . . not tell us just what that is, nor what Remnick had to say at his talk on Thursday at the Harold Washington Library.
Why?
"I slid by, not out of any interest in his new book about Barack Obama, but just to lay eyes upon the editor of the New Yorker."
13. I spoke briefly this week to Elie Seidman, the Skokie native behind Oyster Hotel Reviews. See a cool photo comparison and get the scoop on his site in Hotel Hells Revealed.
14. "It's a syndrome, Derby Fever, and the only pharmaceuticals for it are a single-minded horse, a fearless jockey and a massive dose of plain luck," our man on the rail Thomas Chambers writes.
15. My first car was a 1975 Camaro in North Star Green. (That was the official name of the color; by pure coincidence I also happened to work after school for the Minnesota North Stars.) I liked that car better than this one, but still:
-
The Beachwood Tip Line: Built for speed.
Posted by Beachwood Reporter at 6:51 AM | Permalink
Hotel Hells Revealed
Q. What's wrong with this picture?
A. Reality.
This is the work of Oyster Hotel Reviews, which celebrates its one-year anniversary this summer and is the brainchild of Skokie native Elie Seidman, who now lives in New York City. (Seidman's father is still a materials science professor at Northwestern.)
Oyster's undercover sleuths go under the covers at hotels around the country to ferret out the truth about some of our finer establishments; their photos comparing marketing materials to reality is my favorite part of the site.
I spoke briefly to Elie Seidman this week. Here's a transcript edited for clarity.
Beachwood: What gave you the idea for the site? Did you have a bad travel experience or something?
Seidman: Yes! I booked a hotel through Expedia in the fall of 2007 - in Seward, Alaska. It was at the end of a multiday trip. Had a great time but I drive up to the hotel and it was just a disaster. That was really the impetus for the site.
Think about it: Hotels are this product you can't see before you buy and you can't return once you get there.
And nobody is doing professional reviews; nobody is basically vetting this stuff. This boils the whole thing down to its essence.
Beachwood: Has any specific hotel or any particular chain responded?
Seidman: No, they ignore us.
Beachwood: Has any sued or threatened to sue?
Seidman: No.
Beachwood: Well, it's not like they would have anything actionable. But to flip it around, are the doing anything illegal, violating a Fair Trade Practices Act or something?
Seidman: No . . . they're basically just dressing it up. And it's about omissions - what are they removing from their photos. And our reviewers see things they haven't taken photos off. A tiny lobby. A tiny pool. Yeah, they have a jacuzzi but it fits only one person. And it's by the Dumpster.
Beachwood: Is there a particular chain that misrepresents itself more than most? Have you established any patterns?
Seidman: No. There's good hotels and great hotels and bad hotels. But even with the good hotels, there's nuance.
Beachwood: Is there a chain that always seems to live up to its billing?
Seidman: Kimpton does a pretty good job. A great job. The photos don't lie.
Beachwood: Who are your reviewers?
Seidman: We've hired, over time, people with some sort of reporting background. We train them to do photography, we have reviewing standards . . .
Beachwood: Are they full-time or on contract?
Seidman: We had staffers at one point; now it's freelance.
Beachwood: Have your reporters ever gotten grief over taking photos?
Seidman: Yes! In Las Vegas, at Green Valley Ranch. They had a reality series there, one of the guys died of an overdose. They're very finicky about their image now. They literally just shut us down. Big security guards came over to our reviewer and aggressively made sure she wasn't taking photos.
Beachwood: But your reviewers are undercover, so to speak, right? So they just got suspicious seeing someone taking photos?
Seidman: Yes. The Four Seasons in New York too, very sensitive. But it happens infrequently.
Beachwood: On your website you have a select focus on a few cities. Any plans to expand to Chicago?
Seidman: It's on the list, if only to appease my parents! There's a bunch of cities we want to do before the end of the year.
-
See also:
* The Washington Post's "Secret Hotel Reviewers Get The Lowdown For Travelers"
-
Posted by Beachwood Reporter at 12:52 AM | Permalink
TrackNotes: Derby Fever
It's not the oldest American race - that would be the Travers Stakes. And it's not the richest race - that would be the Breeders' Cup Classic.
But it's the diamond, the one race they all want to win, or even just run in. The Kentucky Derby is the one race a year that comes close to catching the attention of most sports fans.
Owners in their heart of hearts might know their horse can't win, then gaze upon the apparitions of a Mine That Bird, a Giacomo, a Charismatic. It's a syndrome, Derby Fever, and the only pharmaceuticals for it are a single-minded horse, a fearless jockey and a massive dose of plain luck.
The Derby itself is an absolute anomaly, at least in America, where 20 still-learning, often green three-year-olds are thrust into a storm of more than 100,000 screaming humans and 19 other equines bred to do the same thing - win.
The weekend will be a wagering adventure. You've got the Kentucky Oaks Day on Friday the 30th, the big Derby card on Saturday afternoon, and the Floyd Mayweather, Jr.-Shane Moseley fight wrapping it all up on Saturday night. Here in Chicago, throw in Dominic Pesoli's 8 Count Productions hosting the Showtime-televised The Next Generation of Supermiddleweights boxing at UIC Pavilion on Friday night, and you just about have yourself a dream couple of days.
Handicapping the Derby itself? Study the past performances, pick your favorite name, or find a cute angle. Any one of them can work. The Derby prep season is over, and while we probably don't have another Barbaro or Big Brown, a few have distinguished themselves. The rest offer great betting opportunities.
Just like most modern media on most stories today, the top five or so contenders will be chanted by the touts and mouths like a mantra, even though there will be 20 entries, based on standings in earnings in graded stakes races, and we all know anything can happen in a horse race.
The big guns include Eskendereya, who at this point figures to go off the big favorite; Lookin at Lucky, the Bob Baffert trainee who has done just about everything you could ask of him, with heart; Noble's Promise, if he stays in the hunt as he took a physical pounding in last week's Arkansas Derby; Sidney's Candy, the West Coast wonder who, handicap this, has never run on a real dirt track; and perhaps Mission Impazible, who will probably be wiseguyed down to contender status off his big closing win in the March 27 Louisiana Derby.
You're going to get a lot of wiseguys in this race. After the top two, just about all of them are.
They'll include Rule, whose pedigree of sire Roman Ruler (out of Fusaichi Pegasus, the 2000 Derby winner) and out of a Personal Flag mare looks like plenty; the Pulpit colt Ice Box, the winner of a thrilling Florida Derby; Endorsement, whose valid-or-not triple-digit Beyer Speed Figure in his Sunland Derby win (the same launching pad Mine That Bird used last year) will entice a lot of money; Indian Charlie colt Conveyance, another Baffert horse who has either flattened out or can't be dismissed with a 5-4-1-0 record, you be the judge; Awesome Act and Interactif, both looking not so hot on paper; and the viable Pleasant Prince and Jackson Bend, who both fail the what-have-you-done-for-me-lately test.
They probably won't all answer the bell, but ubertrainer Todd Pletcher has as many as seven horses in his Derby posse. Maybe attrition is his strategy this year, but the Hall of Famer's got a Ryne Sandberg-esque 0-for-24 line in the Run for the Roses. The hump gets bigger every year.
Candid New Yorker Nick Zito has early buzz horse Jackson Bend waiting, if the Derby doorman unhooks the velvet rope for him, and newer sensation Ice Box.
West Coast 21-percenter John Sadler saddles the one-two punch of Sidney's Candy and Line of David.
Perhaps Joe Talamo will actually get to ride this year after last year's favorite, I Want Revenge, was scratched on the morning of the race. Last year's superjock, Calvin Borel, looks like he'll be aboard Pletcher's Super Saver, who's certainly got a lot more cred coming into the 136th running than Bo-Rail's Mine That Bird did for the 135th.
* * *
You look to the Derby preps to learn something and last week we did. We learned that we don't know much.
Michael Maker-trained Stately Victor, doing his best Sinister Minister impression, rolled home by more than four in the Bluegrass Stakes on the Keeneland synthetic Saturday. At $40.10 on the dollar. Proceed at your own risk on May 1.
Down in beautiful Hot Springs, Arkansas, the day after Zenyatta toyed with some highly suspect co-conspirators in the Apple Blossom, Line of David outlasted the more-respected Super Saver and Dublin in the Arkansas Derby. At $17.30 on the dollar that I'm happy to say I hit. I liked his progression coming in, the jockey change to locally knowledgeable Jon Court and the Lion Heart lineage. And I do dig that this was his first race on real dirt, the same stuff they still have at Churchill Downs, don't you know?
Take Line of David, whose owners sport the melodic names of Ike and Dawn Thrash. Or Sidney's Candy, the Candy Ride colt named after the late Sidney Craig of Jenny Craig fame. Or Lookin at Lucky, whose owners were cocktailing with Bob Baffert when one of them, talking about the roll of the dice that is spotting quality horses, said "you're lookin' at lucky." Or even Eskendereya, whose name is defined as "a flirty Alexandrian (Egypt) dance." And American Lion has an, uh, American name, Tiznow for a sire, and a wire job in the April 3 Illinois Derby at beautiful Hawthorne Race Course.
And Jerry and Ann Moss are not here, so we thankfully won't be subjected to another Sting reference, although race fans still talk about Giacomo. You're never forgotten if you win the Kentucky Derby.
So, without a whit of chagrin, choose your handicapping M.O. Be careful not to ruin fine bourbon with sugar and mint. Ogle the Southern belles in their antebellum headwear. Seek out some prices. And hold all tickets until the race is official.
-
Thomas Chambers is the Beachwood's man on the rail. He brings you TrackNotes (nearly) every Friday. He welcomes your comments.
Posted by Beachwood Reporter at 12:35 AM | Permalink
April 15, 2010
Poetry Out Loud National Finals!
At the end of National Poetry Month, 53 students who emerge from a field of nearly 325,000 competitors nationwide will gather in Washington, DC, to vie for the title of Poetry Out Loud National Champion and $50,000 in awards.
On April 26 and 27, champions from every state, the District of Columbia, Puerto Rico, and the U.S. Virgin Islands will showcase their skills in poetry memorization and recitation at the Poetry Out Loud National Finals at the Lisner Auditorium in Washington, DC. The roster of judges for the National Finals will feature author Garrison Keillor, actress and activist Alfre Woodard, poets Valerie Martinez and Jane Shore, poet and critic Adam Kirsch, and the 2009 Poetry Out Loud National Champion, William Farley.
Poetry Out Loud is a partnership between the Poetry Foundation and the National Endowment for the Arts that encourages the study of great poetry by offering educational materials and a dynamic recitation competition to high schools across the country. Poetry Out Loud gives students an opportunity to master public speaking skills, build self-confidence, and learn about their literary heritage. Now in its fifth year of national competition, Poetry Out Loud has been embraced by thousands of students, teachers, schools, and communities as a dynamic way to discover classic and contemporary poetry, from Walt Whitman to Natasha Trethewey.
"Arts education is essential to raising America's next generation of creative thinkers," said NEA chairman Rocco Landesman. "The NEA is proud to provide leadership in arts education through high-quality national education programs like Poetry Out Loud."
"To learn a great poem by heart is to make a friend for life," said John Barr, president of the Poetry Foundation. "The national recitation program brings fresh energy to an ancient art form by returning it to the classrooms of America."
Poetry Out Loud Partnerships
The National Finals are the culmination of efforts by many partners. As national partners, the NEA and the Poetry Foundation have contributed support for administration of the program, educational materials, and awards for both the state and national finals. State arts agencies have implemented the program in high schools nationwide and organized state competitions, often in collaboration with local arts organizations. The Poetry Out Loud National Finals are administered by Mid Atlantic Arts Foundation.
Poetry Out Loud Educational Materials
The NEA and the Poetry Foundation provide free, standards-based curriculum materials for use by participating schools. These materials include print and online poetry anthologies containing more than 650 classic and contemporary poems, a teacher's guide, a DVD of the best performances from the National Finals, and a CD about the art of recitation featuring well-known actors and writers such as Anthony Hopkins, James Earl Jones, Alyssa Milano, and N. Scott Momaday. Schools that are not part of the official Poetry Out Loud competition are welcome to conduct their own contests using the online resources at here.
Contests and Awards
Poetry Out Loud uses a pyramid structure. Between September 2009 and February 2010, teachers at schools across the country introduced students to the poems and educational resources, later conducting classroom and school-wide competitions. State contests were held by mid-March; the 53 champions of those contests will compete at the National Finals. A record-breaking 322,741 students from more than 1,998 high schools have taken part in the 2009-2010 Poetry Out Loud program.
In total, Poetry Out Loud will award more than $100,000. Awards include $20,000 for the Poetry Out Loud National Champion, and $10,000 and $5,000 for the second- and third-place finalists, respectively. Each state champion receives $200 and an all-expenses-paid trip (with an adult chaperone) to Washington, DC, to compete at the National Finals. More than $42,000 will be given to participating schools for the purchase of poetry books.
National Finals at the Lisner Auditorium
The 53 champions will gather at the Poetry Out Loud semifinals on Monday, April 26, from 9 a.m. to 8 p.m. at the Lisner Auditorium, George Washington University, 730 21st Street NW, Washington, DC. Nine finalists will advance to the National Finals, also held at the Lisner, on Tuesday, April 27, from 7:00 to 9:00 p.m. Both events are free and open to the public; no tickets or reservations are required. For more information on the competitions, call 202.682.5001.
About Mid Atlantic Arts Foundation
Mid Atlantic Arts Foundation supports the richness and diversity of the region's arts resources and promotes wider access to the art and artists of the region, nation, and world. To learn more about MAAF and its programs and services, click here.
About the National Endowment for the Arts
The NEA is a public agency dedicated to supporting excellence in the arts - both new and established - bringing the arts to all Americans, and providing leadership in arts education. Established by Congress in 1965 as an independent agency of the federal government, the NEA is the largest annual national funder of the arts, bringing great art to all 50 states, including rural areas, inner cities, and military bases. For more information, please click here.
-
-
See also:
* Beachwood Celebrates National Poetry Month!
* The 2010 Ruth Lilly Poetry Prize Awarded To . . .
Posted by Beachwood Reporter at 10:22 AM | Permalink
The [Thursday] Papers
I have to say this hasn't been a good week for Chicago Tonight. Hey, we all have bad weeks. But transforming last night's sizzling topic lineup into a borefest was a true feat.
Take the panel on the latest revelations in the government's case against Rod Blagojevich - please!
Do we really need to see lawyers Mike Monico, Dean Polales and Ron Safer wheeled out again? And I generally find Polales and Safer insightful, but geez!
It was deja vu all over again as we were treated for the umpteenth time to a discussion about what a proffer is, how the document contains allegations yet unproven, what constitutes a conspiracy, what the defense may argue. I'm sorry, but I've seen this show - about every three months. How about discussing what's actually in the proffer?
The substance of a few new details weren't completely ignored, but they certainly weren't plumbed.
I've come to grow tired of the same-old, same-old on Chicago Tonight (and its sister program, Week in Review). I find myself tuning in out of duty, hoping to get lucky, or only if a topic noted in the show's daily e-mail alerts interests me. It doesn't have to be that way. Even a public affairs show can be compelling enough on a nightly basis to draw viewers regardless of topic and announced guests.
For example, here are few alternate approaches the show could have taken last night:
* Specifically outline the new revelations in the proffer. You may not need a panel for this and it's certainly better than having one panelist tell us there are a lot of new details and another tell us there's not much new. Just show us!
* Outline one particular scheme. The way the feds lay out Blagojevich's alleged scheme to barter Barack Obama's U.S. Senate seat is dizzying. That alone could have been explicated.
* No more lawyers on the set. And refresh the guest list, my god.
* Instead of saying something like "I know we're just getting started but we're out of time" or "I wish we had more time," create more time! Almost every panel seems rushed. I know it's TV, but if you think you have the kind of viewers who want to see a 10-minute discussion of Public Affair Topic A, they are probably the kind of viewers who would love to see 15, 20, or 30 minutes even more. Know who you are - and who your audience is.
* Stop trying to be a variety show. I'm a passionate music fan, but I don't turn to Chicago Tonight for performance.
Chicago Tonight still seems stuck between the 30-minute panel show it used to be and the nightly feature show it is trying to be - with those 30 minutes jammed into 12 at the top of every show with quick dispatch in order to get to . . . what?
Either be a (better) panel show or ditch the panel and be a local Chicago news report. Right now, the show seems to be trying to do too much - and as a consequence, does too little.
*
What I got out of the show:
Defense attorney Michael Monico thinks the government's evidence is "very vague and oblique" and that "every governor of every state has looked and sought to reward contributors."
Right.
Of course, Monico was Chris Kelly's attorney. Why bother booking him?
*
Former federal prosecutor Ron Safer thinks the government's case is "a slaughter."
*
I tend to agree with Safer. See why in The Blago Proffer.
*
And then there was Elizabeth Brackett's interview of David Remnick, the New Yorker editor on a book tour promoting his newly released Barack Obama tome, The Bridge. My instinct tells me Brackett didn't have a lot of time to prepare, though I have no facts to back that up. But what a wasted opportunity.
We already know that Obama grew up in Indonesia; we know he was the president of the Harvard Law Review; we know how he met Michelle. Why waste time rehashing the same old biographical reference points?
("We're running out of time already," Brackett said at one point. Sigh.)
The only substantive issue Brackett touched on was the role of race in the presidential campaign - along the lines of, was race a central issue? "How could it not be?" Remnick replied.
If Brackett wanted to focus on race, I would have been interested to know what Remnick learned about the back-and-forth allegations thrown between the Obama and Clinton campaigns about playing the race card. Did Obama really believe Bill Clinton was racist? Did the Obama campaign seed the racial charges against the Clintons? How could Obama appoint Hillary Clinton his Secretary of State if he thought she ran a racist campaign?
But the focus of the interview really should have been what Remnick learned about Obama's time in Chicago - specifically, his place in the political firmament. Maybe even how his record as a Chicago politician presaged his approach as president.
Instead, we got "Bottom line: Is Barack Obama the bridge? Is he the end of the bridge?"
That's what you want to ask?!
At the very least, how about "What did you learn in your reporting for this book that surprised you the most? What are the biggest revelations you found?"
Or, if Brackett had been reading Garry Wills and/or the Beachwood, "Is Barack Obama a phony?"
After all, Remnick seems to be saying just that.
Feel The Ford Fiesta Movement Buzzing!
They're back.
Whitey Morgan and the 78s
"We drove to Chicago, I think that was still in January, and we went to Delilah's. It was funny because both Rob and Whitey were drinking tequila and me and Nan got after the whiskey. We definitely tied it on."
-
The Beachwood Tip Line: Buzzing.
Posted by Beachwood Reporter at 4:31 AM | Permalink
The Blago Proffer
Federal prosecutors revealed new details on Wednesday in their case against Rod (and Rob) Blagojevich when a judge James Zagel denied a defense request to keep the government's Santiago proffer sealed.
Before I get to my favorite excerpts from the document itself, I'll post a few highlights from the punditry and news reports.
*
Sun-Times: "Patti Key To Feds' Case Against Former Gov."
From the report: "[The proffer] described a Blagojevich who almost obsessively discussed cutting a deal to personally benefit from appointing a U.S. senator to Barack Obama's vacant seat.
"'Now is the time for me to put my fucking children and my wife first, for a change,' Blagojevich allegedly said . . . Blagojevich questioned whether the president-elect could do 'something big' in the 'private sector' for Blagojevich in exchange for the Senate seat."

*
John Kass: "There's Always A Method To Blagojevich's Madness."
Line of the Day: "Dead Meat isn't giving up. In a statement released Wednesday, he was his feisty self.
"'There is nothing new,' said Dead Meat's statement, so you'll have to imagine Patti typing it for him."
Comment: My line was going to be along the lines of Blago lying again by saying there was nothing new in the document - weak stuff, I know. So Kass gets the W.
More Kass: "Yet Dead Meat and Patti know the Chicago Way, which mandates that you don't just give a Senate seat away without getting something first, something you can clutch in your hand, like a big chunk of bacon. In this town, to do otherwise would be crazy.
"Patti: 'I don't think you live your life hoping that somebody is gonna help you down the line.'
"Dead Meat: 'Yeah.'
"Patti (Lady Macbeth): 'That's a bunch of baloney.'
"When the Blagojevich trial opens in June - unfortunately right around the time of the 2010 World Cup, creating scheduling conflicts for a certain columnist - foreign journalists from New York and elsewhere will descend upon us, hunting the local flavor.
"They'll whip up quirky features on 'authentic' postcard Chicago, like the aldermen and deep-dish pizza and hot dogs and what about those Cubbies and so on.
"And none of them will wonder why bushels and bushels of Illinois politicians have been indicted and sent away, but not a Chicago mayor.
"The one thing they must believe with all their might is that Blagojevich is not crazy.
"He's just a Chicago politician who didn't want to live his life hoping for a later reward.
"As Lady Macbeth says, that's baloney."
Comment: But he is crazy.
*
Mark Brown: "Blago's Wife Lucky She's Not On Trial, Too."
Opening: "Do you remember how former Gov. Rod Blagojevich reacted when the news media first started questioning his wife Patti's business dealings, in particular how she had collected real estate broker commissions from the sale of properties involving his political pals?
"I sure do.
"'Sexist,' complained the governor. 'Neanderthal,' he roared.
"How dare anyone suggest that Patti Blagojevich's financial success was anything other than the result of her own accomplishments as an independent businesswoman.
"When he quickly tired of delivering this message himself, the governor sent forth his spokeswoman to forcefully play the sexism card for him, guilt-tripping any who would question what the first lady had done to earn her money.
"'Her real estate work has nothing to do with state government," the spokeswoman told the Sun-Times. 'She has every right to pursue her own professional success. The ongoing effort to suggest that her success is the result of her husband's position is flat wrong . . . and it's based on outdated and biased assumptions about women's abilities in business.'
"Actually, the questions were based on the admittedly biased but very up-to-date assumption that the governor was a crook and his wife not much better, and after reading through what federal prosecutors say they will prove at Blagojevich's trial, I'd have to say as usual that we in the news media didn't realize the half of it."
Comment: I'll do what Brown didn't: Name that spokesperson. It was Abby Ottenhoff. And I'll do another thing Brown didn't do: Link to the original story in which she said that: "Patti's $47K Rezko Deal."
There is value in your archives, newspaper people. Both journalistically and commercially - the story I linked to has ads surrounding it.
Instead, the Sun-Times links to outdated and irrelevant "Related Blog Posts" from other sources under Brown's column.
Also, the Sun-Times feels compelled to advise readers that "The views expressed in these [related] blog posts are those of the author and not of the Chicago Sun-Times."
Isn't the same thing true of Brown's column - and that of every other columnist?
*
And now, from the proffer itself.
The Plan
"From what Blagojevich said about appointments to boards and commissions, Monk understood that Blagojevich viewed those appointments as an opportunity to reward big fundraisers or Blagojevich's supporters. Blagojevich consistently wanted to know who recommended a particular candidate for a board or commission slot.
"When Kelly and Rezko made their recommendations for people to be on boards and commissions, Monk knew that they were often rewarding people who had made contributions to Blagojevich or who were going to do so.
"Rezko and Kelly demonstrated over time that they had more interest in certain boards than others and particularly that they were interested in the boards that controlled money, including the pension boards like the Teachers' Retirement System, the Illinois State Board of Investment, and the State University Retirement System."
Joe Cari
"In approximately late Summer 2003, Cari had a conversation with David Wilhelm, who had previously been involved in Blagojevich's campaign for governor. Wilhelm asked Cari to meet Kelly. Wilhelm told Cari that Kelly and Rezko were two key people who were close to Blagojevich.
"Wilhelm asked Cari to talk to Kelly about the mechanics of setting up a national fundraising operation for Blagojevich. Shortly after the conversation with Wilhelm, Cari met with Kelly and Wilhelm. Cari discussed with Kelly what it would take to build a national fund-raising operation for Blagojevich.
"Shortly after meeting with Kelly, Cari had dinner with Stuart Levine, who was a member of a state pension board and an associate of Kelly and Rezko. Cari first met Levine in 2002 when Cari was obtaining funds from Levine's state pension board for Healthpoint and had kept in touch with Levine after that point. Levine was following up on Cari's meeting with Kelly and was gathering additional fundraising information.
"Levine told Cari the information would be shared with Rezko.
"Levine also told Cari that Rezko was helping Blagojevich fill State of Illinois board slots and that Levine owed Rezko for Rezko having helped get Levine on certain state boards.
*
"Not long after meeting with Levine, Cari agreed to assist in a fundraiser being held for Rod Blagojevich in New York City.
"On the morning of the fundraiser in October 2003, Cari flew to New York City with Rod Blagojevich, Kelly, Levine, and others.
"During the plane ride, Cari had a conversation with Rod Blagojevich. Rod Blagojevich stated he had aspirations beyond being governor and that fundraising was the key to political success. Rod Blagojevich stated that Rezko and Kelly were Blagojevich's point people in coordinating fundraising and helping Blagojevich's supporters. Blagojevich informed Cari that Blagojevich could award contracts, legal work, and investment banking to help with Blagojevich's fundraising. The conversation ended with Blagojevich stating that he wanted the dialogue with Cari about fundraising to continue and that Rezko and Kelly would follow up with Cari.
"At the fundraiser that evening, Cari had a conversation with Levine. Among other things, Levine informed Cari that there was a plan in place that Rezko and Kelly, on behalf of Blagojevich, would help pick lawyers, consultants, and others to get state business and then request campaign contributions from those who received State work."
The Gang of Four
"Blagojevich, Rezko, Kelly, and Monk had conversations, individually and collectively, about how the four of them could make money from their control over the State of Illinois government.
"In those conversations, Blagojevich, Rezko, Kelly, and Monk discussed a number of specific ideas for making money, such as through operating businesses that would get state money in different ways or receiving fees from people who did business with the state.
"Blagojevich, Rezko, Kelly, and Monk did not expect to have to invest significant money in any of these deals; instead, they were simply looking to collect money from the deals in the form of a finder's fee or from revenue that might be generated from the deals.
"As a general matter, Rezko was the one who was trying to set up the money-making arrangements and Kelly and Rezko were the most knowledgeable about how the plans would work. Blagojevich and Monk would then use their power and authority in state government as needed to assist whatever plans Rezko and Kelly put in place.
"The conversations about making money from state action began before Blagojevich actually won the election in 2002.
"Kelly brought up the idea to Monk in 2002, when it seemed pretty certain that Blagojevich would win. In that conversation, Monk understood Kelly to suggest that Kelly, Monk, Blagojevich, and others could benefit if Blagojevich won the election. Kelly said that there was money to be made from Blagojevich being Governor and that the Republicans had been doing the same for a long time.
"There were occasions after Blagojevich became Governor that Blagojevich, Kelly, Monk, and Rezko all met to discuss their efforts to make money from state action. For example, the four men met in a conference room at the offices of one of Rezko's businesses in about mid to late 2003.
"During the meeting, Rezko led the discussion, standing at an easel or chalkboard and listed at least three or four different ideas or plans to make money being developed by Rezko that involved some kind of state action. At times, Kelly got up during the meeting and clarified or added to things that Rezko was saying. Blagojevich mostly listened during the meeting, but was engaged. As Rezko talked, he indicated how much money Blagojevich, Kelly, Rezko, and Monk could hope to make from the different ideas.
"The amounts that were associated with the different ideas were typically in the hundreds of thousands of dollars per deal, which would be evenly split four ways.
"At times, Blagojevich, Kelly, Rezko and Monk also talked individually about their efforts to make money in a variety of ways. Blagojevich, Kelly, Rezko, and Monk stopped talking about the ideas about making money directly from their control over the State at some point after they learned that Stuart Levine had been confronted by the FBI in the spring of 2004."
Operation Ali Ata
"After Rezko learned that he was being investigated, Rezko spoke with Ata on several occasions about not cooperating with the federal investigation. From those conversations, Ata understood that Rezko was trying to have the United States Attorney replaced, and that something negative would happen to those who cooperated with the investigation.
Roosevelt & Clark
"After Blagojevich, Kelly, Rezko, and Monk learned that Levine had been confronted by law enforcement agents in May 2004, their discussions about how to make money shifted. In particular, there were more discussions about how Blagojevich, Kelly, and Monk could benefit from a real estate development that Rezko was working on at Roosevelt and Clark in Chicago. Rezko talked about different ways that Blagojevich, Kelly, and Monk could benefit from the project, such as by having Blagojevich's wife work on marketing the project or by Monk working on the project after he left state government.
Realtor Patti
"Beginning in the Fall of 2003, Rezko had also arranged for Blagojevich's wife to receive money on various real estate transactions that she did not earn."
*
"Around August 27, 2003, Rezko told Individual B, the Chief Financial Officer for Rezmar, that Rezko wanted to get a check to Blagojevich's wife. Rezko asked Individual B how Rezmar might be able to associate the issuance of the check with one of Rezmar's projects. Rezko did not tell Individual B that Rezko had an agreement with Blagojevich's wife that required him to pay her or her company money.
"Based on Rezko's instructions to find a payment that looked legitimate, Individual B determined that a payment of $14,369.50 could be made to Blagojevich's wife's firm and made to look as if it were a 2½ percent commission on the sale of a housing unit that had recently closed in a development project that Rezko owned through another company.
"Individual B did not believe that either Blagojevich's wife or her company had done anything with respect to that sale, which had actually been handled by a sales agent who had an exclusive agreement to broker the sales of the units in the development project. Individual B went back to Rezko and told him that a unit in the development project had recently closed and a check could be issued to Blagojevich's Wife's Firm as a commission related to that transaction if Rezko desired. Rezko agreed. Individual B directed Rezmar staff to prepare a $14,369.50 check made payable to Blagojevich's Wife's Firm.
"After the check was prepared, Individual B gave the check to Rezko to sign and said that Rezko should sign the check. Rezko said that he would. Individual B did not sign the check because he questioned the appropriateness of the check, and he did not believe that Blagojevich's wife had done anything on this transaction. The$14,369.50 check was ultimately deposited into a bank account in the name of Blagojevich's Wife's Firm."
Patti's Work Ethic
"In around October 2003, Blagojevich's wife entered into a contract on behalf of her company with Rezmar in which Blagojevich's Wife's Firm agreed to perform unspecified real estate brokerage services to Rezmar in exchange for a monthly retainer of $12,000 plus the possibility of additional commissions depending on the amount of deals brokered.
"Beginning in October 2003, at Rezko's direction, Individual B prepared a series of $12,000 checks pursuant to that agreement, which Individual B delivered to Rezko or his assistant. Ultimately, Rezmar issued 8 separate $12,000 checks, totaling $96,000, to Blagojevich's Wife's Firm on approximately a monthly basis from October 2003 through May 2004. Those checks were deposited into a bank account held by Blagojevich's Wife's Firm.
"In about May of 2004, Rezko told Individual B that Rezmar would not be issuing any more of these monthly checks. Employees at Rezmar were not aware of services that Blagojevich's Wife's Firm provided to Rezmar that justified the payments made under the contract. For example, Individual B was not aware of any properties that Rezmar acquired based on Blagojevich's wife's efforts from October 2003 through May 2004, and understood that other Rezmar employees and officers were responsible for identifying real estate opportunities prior to and during this period of time.
"Michael Winter, who was a senior consultant at Rezmar, observed Blagojevich's wife in the Rezmar offices from time to time, although Blagojevich's wife often had a child with her and usually left soon after she arrived. At some point after the spring of 2003, Rezko asked Winter to involve Blagojevich's wife in business activities that Winter conducted on behalf of Rezmar. Winter knew that Blagojevich's wife was being paid by Rezmar.
"Rezko said to Winter words to the effect that "We are paying [Blagojevich's wife] this money, I would like you to get her involved in things that you are doing" which Winter understood was a reference to the money that Blagojevich's wife was making under her contract.
"While Winter made a few efforts to include Blagojevich's wife in his business affairs, to his knowledge, she was not able to make a significant contribution. On a few occasions, Rezko told Winter that Blagojevich's wife had referred a property to Rezmar to see if Rezmar was interested in buying and developing the site. To Winter's knowledge, the properties Blagojevich's wife identified were not suitable for Rezmar, and Rezmar did not purchase any of the properties that Blagojevich's wife referred.
"At one point, Winter told Rezko that he thought that Rezmar's hiring of Blagojevich's wife was not a good idea. Winter said that he thought that it was a bad idea to have someone on retainer for the type of work that it was contemplated that Blagojevich's wife would be doing for Rezmar.
"Monk also spoke with Blagojevich, his wife, and Rezko about Blagojevich's wife's contract with Rezmar. Blagojevich was concerned that there might be the perception that his wife was a ghost payroller if she did not go into Rezko's offices. Monk had conversations with Blagojevich and his wife about the need for her to actually go into the office to work on a regular basis.
"The problem with that approach, however, was that Blagojevich's wife was taking care of their infant daughter.
"Monk talked with Rezko about the issue of Blagojevich's wife going to the office. Rezko was willing to do whatever it took to get her money, whether it was from a monthly retainer or through hiring her to work on his development at Roosevelt and Clark.
"Rezko did not seem to care if she actually did anything to earn the money. Rezko was only concerned about ensuring that Blagojevich did not have to worry about his finances.
Operation Hire Patti
"After there was significant publicity in the media about the real estate business of Blagojevich's wife, Blagojevich tried to obtain a job for her by using his power as Governor.
"After John Harris became Blagojevich's Chief of Staff in 2006, Blagojevich talked to Harris and others within the Office of the Governor about getting Blagojevich's wife a job.
"Blagojevich wanted to hire his wife at the State of Illinois.
"Harris thought this was a terrible idea and told Blagojevich to talk to Individual F, a political consultant who worked with Blagojevich, about this, because Harris believed that Individual F would tell him it was a terrible idea. Individual F told Blagojevich that he couldn't hire his wife at the State.
"In approximately the beginning of 2008, Blagojevich would often threaten to put his wife on a paid state board, particularly the Pollution Control Board, if Harris and others within the Office of the Governor were not successful in finding her suitable employment. The Pollution Control Board was a high-paying state board, with an annual salary of over $100,000 per year.
"The position involved a considerable workload and weekly meetings, as well as specific qualifications which Blagojevich's wife did not meet. When Harris told Blagojevich that his wife did not meet the qualifications for the board, Blagojevich was unhappy and mentioned another board member whom he thought was unqualified and basically said that if this other unqualified person could sit on the board, then his wife should be able to as well.
"Harris told Blagojevich that he had not made that other appointment (it had happened before Blagojevich was Governor) and that even if that individual was not in fact qualified, it didn't offer an excuse to put Blagojevich's wife, who was definitely unqualified, on the board. Harris also explained to Blagojevich that the Pollution Control Board met regularly and involved considerable work, which Blagojevich said was not the type of paid position that he was looking to get his wife.
"In approximately mid-2008, Blagojevich wanted to get his wife a job with an entity that did business with the State of Illinois that could use her Series 7 license, which is a requirement in the United States for individuals to act with as a broker-dealer and communicate with retail investors.
"Harris told Blagojevich that Blagojevich's wife could not work with an entity that did business with the State of Illinois. Despite this, Blagojevich asked Harris for a list of the financial houses that did business with the State. Blagojevich also asked Harris if he knew anyone to whom Harris could introduce his wife in order to help her get a job using her Series 7 license. In response to this request, Harris set up a meeting for Blagojevich's wife with Individual G, who worked at a Financial Institution 1, to advise her on the industry in general. Individual G met with Blagojevich's wife but did not do anything further for her.
"Blagojevich's wife complained to Blagojevich about what Financial Institution 1 was doing/not doing with respect to her. Blagojevich told Harris that he was upset with what Financial Institution 1 was doing and said he did not want Financial Institution 1 to get any more business from 'us,' meaning the State of Illinois, because of Financial Institution 1's failure to help his wife."
Operation Extort A Congressman
"In late 2005, United States Congressman A was assisting the Academy of Urban School Leadership obtain a $2 million grant from the State of Illinois. AUSL, sometimes referred to as the Chicago Academy, runs various schools and helps train teachers to teach at other schools. The $2 million grant was to be used to refurbish athletics fields at an AUSL-sponsored high school.
"During the relevant time period, AUSL was in United States Congressman A's congressional district. Ultimately, in late 2005, United States Congressman A and AUSL succeeded in obtaining Blagojevich's agreement that the State of Illinois would provide the $2 million grant. A press conference announced the grant. Based on Blagojevich's agreement to fund the grant, AUSL began hiring contractors to do the construction work and, in Spring 2006, began the construction work.
"Although AUSL incurred significant expenses as part of the construction, the grant money was not forthcoming from the State of Illinois. By the Fall of 2006, contractors were threatening to stop work based on AUSL's failure to pay them and AUSL was desperately trying to obtain the grant money that Blagojevich had promised.
"After AUSL had begun construction, Deputy Governor B began to get phone calls from United States Congressman A and others working for United States Congressman A about the status of the funding for the grant. United States Congressman A and others informed Deputy Governor B that it was problematic that the grant had not been funded and that AUSL had started working on the project but did not have money to pay for the work.
"United States Congressman A wanted to know when the money would be released for the grant. Deputy Governor B agreed to look into the matter.
"Eventually, Deputy Governor B talked to the Governor's budget director about the grant and was told that the hold up was in the governor's office.
"After the construction started on the AUSL project, Deputy Governor B had a conversation with Blagojevich about the grant. Deputy Governor B told Blagojevich about his conversations with United States Congressman A and that United States Congressman A was upset about the funding not being released. Blagojevich then said words to the effect of, 'where is my fundraiser and tell [United States Congressman A] to have his brother have a fundraiser.'"
Operation Cubune
"At the suggestion of his wife, Blagojevich discussed with Deputy Governor A and ultimately directed Harris to threaten Individual J, who was both the owner of the Tribune and the Cubs, that the IFA would not be able to participate in the sale of Wrigley unless certain members of the Tribune's editorial board were fired.
"On the evening of November 3, 2008, Blagojevich talked to Deputy Governor A (Blagojevich Call #162). Blagojevich stated that he was concerned about possibly being impeached in the Spring and that the Chicago Tribune would be 'driving' the impeachment discussion.
"Deputy Governor A reported to Blagojevich the results of the research he had done personally into Tribune articles discussing impeachment of Blagojevich. Deputy Governor A discussed an editorial from the Chicago Tribune regarding the endorsement of Illinois House legislative leader and calling for a committee to consider impeaching.
"At one point during the phone call, Blagojevich told Deputy Governor A to tell Blagojevich's wife about what the articles said.
"Deputy Governor A gave Blagojevich's wife some of the information he had also told Blagojevich. In response to what the Tribune had written, Blagojevich's wife suggested holding up the Cubs deal, which Deputy Governor A understood to be the proposed Tribune deal at the IFA.
"Blagojevich then got back on the phone and directed Deputy Governor A to put together the articles in the Tribune that were on the topic of removing Blagojevich from office. Blagojevich said that he would have Harris go to Individual J and tell him (in certain terms) to fire the editorial board members or they won't be able to have the IFA involved in the Wrigley sale.
"On November 4, 2008 (Blagojevich Call #193), Blagojevich directed Harris to tell Tribune Company representatives that the Wrigley Field project would no longer move forward unless the Tribune fired people on the editorial board.
Obama's Senate Seat
"Blagojevich conspired to name Senate Candidate B to the Senate seat in exchange for a variety of benefits to himself or his family, including high-ranking and salaried jobs in federal government, well-paying jobs at private foundations, a well-paying leadership position with a labor organization known as Change to Win, corporate board positions, and a well-paying job that would be available to him after he left the governorship at a newly created not-for-profit organization funded with millions of dollars in contributions by persons associated with the President-elect."
*
"Blagojevich specifically asked those he believed to be representing Obama for the position of Secretary of Health and Human Services in exchange for naming Senate Candidate B to the Senate seat.
"Later, when it became clear that Blagojevich would not receive the Secretary of HHS position in exchange for naming Senate Candidate B, Blagojevich asked those he believed to be representing Obama for millions of dollars in funding for a not-for-profit organization, where Blagojevich could later obtain a well-paying job, in exchange for naming Senate Candidate B to the Senate seat.
"After Senate Candidate B removed her name from consideration for the Senate seat, Blagojevich's plans to obtain a personal benefit for the Senate seat were stifled by the fact that nobody appeared willing to pay Blagojevich for the Senate seat."
Operation Find Rod A Job
"Starting in approximately Summer 2008, Blagojevich talked to Harris about the fact that Blagojevich was concerned about Blagojevich's life after he was governor. Blagojevich expressed concern that he was not very employable."
As Donald Trump - and a nation - would learn.
-
Posted by Beachwood Reporter at 12:48 AM | Permalink
The Ford Fiesta Movement Is Back!
Can you feel the social media buzz?
First, a refresher.
And now, the latest:
*

From: Jesses@actionpartners.com
Subject: Ford Fiesta Movement Chapter 2
Date: April 14, 2010 11:47:56 AM CDT
To: Jesses@actionpartners.com
Hello,

I'm a community manager working on behalf of Ford and am reaching out to update you on the Ford Fiesta Movement as it relates to Chicago. As you may remember, we reached out to you a few months ago to let you know a little bit about the Fiesta Movement. In anticipation of the Ford Fiesta coming to the US this summer, Ford gave 20 teams of two a 2010 Ford Fiesta to drive and share their experience with their online and offline communities and two of these teams are actually from Chicago. The teams will be tasked with executing a mission and hosting a live event that takes them deep into the creative culture of the Chicago creative community. After reviewing your blog, I thought you (and your readers) would find this program intriguing as it showcases what Ford and the Fiesta Agents' are doing in Chicago.
*
Here we go again.
First, notice that this is a mass e-mail. Now, it seems to me that for the kind of money I'm guessing Ford is paying the Action Marketing Group for this campaign, you could at least make it look like these are personalized messages.
Second, obviously Jesse hasn't reviewed this blog - just like Ryan Park hadn't. (Ryan, apparently is off-task now.)
Third, don't do this: "The teams will be tasked with executing a mission and hosting a live event that takes them deep into the creative culture of the Chicago creative community."
*

Mission 1
The first mission for the program began on March 1st and just wrapped up last weekend. Each team created a mural of their city's 10 best-kept secrets, choosing their favorite locations or experiences that keeps their city's buzzing. Each team's creative was featured as a half-page color spread in insert paper here. And each team hosted a party at one of their favorite places in Chicago.
*
Wow, great idea! Those parties must have rocked! Just like the new Ford Fiesta! I'm gonna go buy one now . . . and asphyxiate myself in one.
*

Below is a link to the two local teams' murals they created as well as some photos or videos from their wrap-up parties.

Team Chi-Town:
- Team Website: http://www.fiestamovement2.com/chi/team-profile/team-chitown
- Team Mural and Event Details: http://www.fiestamovement2.com/chi/mission-detail/tag-ur-it
Team Chicago:
- Team Website: http://www.fiestamovement2.com/chi/team-profile/team-chicago
- Team Mural and Event Details: http://www.fiestamovement2.com/chi/mission-detail/windy-city-wall-mural
*
Um, you hope to dive deep into the Chicago creative community with Team Chi-Town and Team Chicago? And murals depicting the city's biggest secrets? Here's one: We here in Chicago hate the Ford Fiesta. Yup. Dates back to the Great Chicago Fire, when Mrs. O'Leary's cow tried to asphyxiate herself in one. Conflagration ensued.
*
I think you will find this content relevant and hopefully somewhat entertaining.
*
Nope!
*
Please feel free to shoot over any questions directly to me and I thank you for your time.
With Appreciation,
Jesse Scaglion
Action Marketing Group
3020 Carbon Place, Suite 300
Boulder, CO 80301
..............................
[T] 303.447.7341
[F] 303.447.7399
[M] 917.538.4601
[W] actionmarketing.com
*
Thanks, Jesse. Our readers may just do that.
-
-
1. From Bob Therieau:
Back when I was in marketing, I thought we were lazy, but not this lazy . . .
Each team's creative was featured as a half-page color spread in insert paper here.
Insert paper here? Really? And can we please kill the "creative" as noun virus? Please?

Posted by Beachwood Reporter at 12:30 AM | Permalink
Bloodshot Briefing: Whitey Morgan and the 78s
Who says time travel is hard?
If you're interested in classic country, just open up the record player and put the needle to Whitey Morgan and the 78s. Close your eyes and you are transported back to a time when Willie, Waylon and Merle ruled the airwaves and the honky tonks.
The fivesome from the Detroit area have one album out, Honky Tonks and Cheap Motels, and are finished with another. The big news came when the outlaw outfit signed with Bloodshot Records. The newest album most likely will be on shelves in the fall.
Whitey Morgan and the 78s aren't blazing any new trails with their sound. They just do classic country the way you're supposed to do it. Ain't nothing wrong with that. And after a dozen beers, this is a band best heard live.
I recently spoke to bass player and band spokesman Jeremy Mackinder to better to get know these guys and gals. And yes, there is a Whitey Morgan. His real name is Eric Allen.
Beachwood Music: I first heard about you when I talked to Kurt Marschke last summer. He said Whitey Morgan and the 78s are the Deadstring Brothers' brother band. How did the band hook up with Kurt, also a Detroit guy?
Mackinder: We decided we wanted to do a bigger kind of show, like put a package together. That was Whitey's idea. We needed to figure out how to build a scene. We were drawing well, but we needed another band.
We tracked down Kurt's number and told him what we were planning, and he got it right away. We spent that summer in 2007 listening to country records and playing as two-band headliners.
We all became brothers the minute we got together. No doubt was it the right thing to do.
Beachwood Music: I am assuming Kurt was instrumental in getting Whitey Morgan signed with Bloodshot Records. You had been on Small Stone, a Detroit-based label.
Mackinder: Yes. That has a lot to do with him. He certainly kept our name mentioned to Rob and Nan quite a bit. He was very huge with us ending up with Bloodshot.
Beachwood Music: Tell me more. There's got to be good stories. There always is with Rob and Nan.
Mackinder: We first met last year at SxSW. But there was no way we were going to go, "Hey, you guys should sign us." That's not who we are.
We toured with the Deadstrings and did a tour with Wayne Hancock. We wanted them to notice us, and they did. Kurt also constantly kept at them, and they finally came out and listened.
We played the Magic Bag in January. It's a place in Ferndale, near Detroit, and Rob and Nan came to see us. They loved the show. It was on from there.
Of course, we had to negotiate out of Small Stone. But we drove to Chicago, I think that was still in January, and we went to Delilah's. It was funny because both Rob and Whitey were drinking tequila and me and Nan got after the whiskey. We definitely tied it on.
We got up and talked in the a.m.
Beachwood Music: Who's in the band?
Mackinder: Me on bass. Whitey Morgan is lead singer, guitar. Ben's on
guitar. Mike Popovich plays drums, and Tamineh Gueramy is on fiddle.
Beachwood Music: How did the band get together? You all from the Detroit area?
Mackinder: Whitey is from Flint, while me, Ben and Mike are from Chelsea. Now it's a city. When we were growing up, it definitely was Hicksville. And Tamineh is from Midland. We all are from an hour of one another.
I met Whitey through an old guitarist. Me and Ben are best friends since 15 years old. Then, it was a slow evolution of having everyone come into the band. We went through a lot of players before we settled her and took off. Tamineh came in last October.
Beachwood Music: Does everybody still live in and around Detroit? I recently read where Kurt finally left the Detroit area to move to Nashville.
Mackinder: Everybody except for Tamineh. She lives in Austin. Except for her, we all are still within an hour drive. We don't rehearse, so it doesn't really matter.
Beachwood Music: Say what?
Mackinder: We played 200 shows last year. It's not rocket science. We are not re-inventing the wheel here. We are doing a classic form of music and just adding our touches. Mike Cooley from the Drive-By Truckers said it best: If you want to break up a band, rehearse.
Beachwood Music: I love DBT. I am from Georgia and went to college in Athens, where the Truckers got it going back in the mid-1990s. They recently rolled through the Midwest. Did you catch them?
Mackinder: I did. They were great. But there was this hip-hop show in the basement of Saint Andrews. Any time they stopped playing or took any kind of break in the music, you could feel the floor shaking. I have been going to Saint Andrews my whole life. I was pissed off, and I won't go again. I was not pleased with that, but the band was great.
Beachwood Music: Whitey Morgan does sound a lot like the Deadstring Brothers. By that I mean, both bands love the road and don't much care for the studio.
Mackinder: When we get home for a few days, we all leave each other. But then, we hit the road again. It's addicting. I'll talk to Whitey, and he's ready to go again. There's nothing I like better than this. Every day I'm not on stage, I've made a mistake. I love playing.
Beachwood Music: So a new album is done. I read where you recorded it in Levon Helms' studio in Woodstock. That's legendary.
Mackinder: We are pretty excited about the record. We have to turn it in to Bloodshot by the end of April. It's definitely classic country. That's what we do, and that's all I listen to in my house.
As for Levon, we all fell in love with his two records. Whitey wanted real bad to go out there and take the next step and advance the band by going to a pro studio.
Beachwood Music: What are some of your favorite Chicago venues?
Mackinder: Most of the times we came through Chicago was during the weekdays, in transit. We played the Horseshoe. We did Reggie's one tour and FitzGerald's on another.
I liked Reggie's a lot. They treated us real good. It was a Wednesday night, I think, in a snowstorm. I believe January 2009. Brutal snowstorm. Anyway, we came in and played, and they offered us a place to stay. We didn't take them up on it because we already had a place to stay. They definitely are supporters of our style of music.
Beachwood Music: When will you pass through Chicago again?
Mackinder: Not sure. I don't want to jinx it, but we might play at FitzGerald's this summer for their festival.
Beachwood Music: This is perfect. I've been listening to your album, and the song Honky Tonk Angel features the lyric, "Now, pick me a song on the jukebox." Yes, please, pick five for me.
Mackinder: "Colorado Cool-Aid" by Johnny Paycheck. "If Drinking Don't Kill Me" by George Jones. Anything by Drive-By Truckers, if it's available. If I had my choice, "Women Without Whiskey." Waylon Jennings' "Are You Sure Hank Done It This Way." I always like Merle Haggard's "Bottle Let Me Down."
-
And here they are:
-
Matt Harness brings you his Bloodshot Briefing (nearly) every Friday but this week Thursday. He welcomes your comments. He really does.

Posted by Beachwood Reporter at 12:00 AM | Permalink
April 14, 2010
The Lies and Rise of Barack Obama
If you don't want to take it from me or the Tribune, take it from David Remnick and Garry Wills: Barack Obama is full of it.
From "Behind Obama's Cool," Wills's review of Remnick's The Bridge: The Life and Times of Barack Obama:
"Obama is such a good storyteller that his biographer might well be intimidated by the thought of competing with his own version of his life. But Remnick, the editor of The New Yorker, has many important additions and corrections to make to our reading of Dreams From My Father."
It seems Obama got his own life story wrong - something that would become a familiar pattern.

As Greg Waldmann wrote at Open Letters Monthly:
"Many praise Dreams from My Father for its honesty (with which it seems to abound), and recommend it in part as a window into Obama's thoughts before he became involved in politics. It's an idea Obama has done nothing to discourage, but it's a myth.
"As Ryan Lizza pointed out recently in The New Yorker, 'Obama was writing Dreams at the moment that he was preparing for a life in politics, and he launched his book and his first political campaign simultaneously, in the summer of 1995."
The Los Angeles Times - among others - once noted that Dreams From My Father, the first of Obama's books, is not a historical account. In it, Obama uses literary techniques that are rarely found in political memoirs."
That's because of this acknowledgement, which makes it impossible to rely on:
"Dialogue in the memoir is an 'approximation of what was actually said or relayed to me,' Obama wrote in its introduction. For the sake of compression, he wrote, some characters are 'composites of people I've known, and some events appear out of precise chronology.'"
Journalists have relied on it anyway.
As Remnick shows, though, it's carefully codged.
"Obama makes his mother sound naive and rather simple in his book," Wills writes. "Remnick shows that she was a smart and sophisticated scholar, whose studies for her doctorate were aided by her friend Alice Dewey, the granddaughter of John Dewey."
*
"Though Obama becomes disillusioned by the end of the book with his hard-drinking and bitter father, Remnick shows that another of Barack Sr.'s sons has even darker tales to tell of him - how this African son, Mark, gave up his father's name out of memories of the way his mother screamed as her husband cruelly beat her."
*
"Remnick notes that Obama's pot smoking in high school was more a matter of belonging to a new crowd than of adolescent angst (as Obama paints it)."
This is no small point. Every step of the way, those who were around Obama consistently tell his story differently.
Former Obama co-worker Dan Armstrong wrote on his Analyze This blog:
"All of Barack's embellishment serves a larger narrative purpose: to retell the story of the Christ's temptation. The young, idealistic, would-be community organizer gets a nice suit, joins a consulting house, starts hanging out with investment bankers, and barely escapes moving into the big mansion with the white folks."
In the New York Times's "Obama's Account of New York Years Often Differs From What Others Say," Armstrong said:
"[I]n order to make it a good story, it required a bit of exaggeration."
The Tribune (charitably) put it this way:
"[S]everal of his oft-recited stories may not have happened in the way he has recounted them. Some seem to make Obama look better in the retelling, others appear to exaggerate his outward struggles over issues of race, or simply skim over some of the most painful, private moments of his life."
*
Back to Wills:
"Remnick begins The Bridge with a set piece on the 2007 commemorations of the Selma march. Obama had just begun his presidential campaign, and he went to Selma to claim its civil rights legacy as his own. At the time, Hillary Clinton led him in support among blacks by three to one. Even Lewis would be on her side, at first. The Clintons had a long and excellent record with African-Americans. Obama was 3 years old at the time of the Selma march, and he was living in Hawaii, far from the civil rights turmoil of the '60s.
"In his first race for Congress, against the former Black Panther Bobby Rush, Obama was branded 'not black enough.' He was not the descendant of American slaves. He had not participated in the civil rights struggle. He was not a militant activist. Nonetheless, Obama spoke at Brown Chapel in 2007, the launch site of the Selma march. Hillary Clinton was slow to make arrangements and had to settle for the less iconic First Baptist Church. She spoke well enough. Remnick is unfair to her, saying she dropped her g's and gave a northern Illinois version of Southspeak, 'channeling her inner Blanche DuBois.' In fact, Clinton is a natural mimic who 'does the voices' when she tells a story - I have heard her become a Southern judge and a black woman preacher when describing one of her law cases. This got her into trouble when she 'channeled' Tammy Wynette. Obama has the same gift. When he reads the audio version of Dreams From My Father. he speaks, in turn, like his Kenyan relatives, his Kansas relatives and the street kids he met in New York."
Indeed. Obama, after all, is the one who had to be taught how to speak more street and less Harvard - and shifts in and out of black church mode when politically convenient.
("[H]e learned how to speak more Chicago and less Harvard in subsequent campaigning" Abner Mikva told the New York Times.)
*
"The difference between the two ­speeches that day in Selma lay less in delivery than in Obama's way of making the events of his life story meld with those of his audience," Wills writes. "He was laying claim to the black struggle as his own. He said: 'My grandfather was a cook to the British in Kenya. Grew up in a small village and all his life, that's all he was - a cook and a houseboy. And that's what they called him, even when he was 60 years old. They called him a houseboy. They wouldn't call him by his last name. Call him by his first name. Sound familiar?' Actually, Remnick shows that Obama's grandfather was a respected village elder and property owner, who left his native town for Nairobi to cook for British colonials, and then traveled with British troops to Burma, bringing back their Western clothes and ways to his village.
"In Selma, Obama claimed that his father was the beneficiary of the civil rights movement because it made the American government bring Kenyans, including his father, to the United States: 'So the Kennedys decided we're going to do an airlift. We're going to go to Africa and start bringing young Africans over to this country.' Remnick proves that the airlift was an idea for the improvement of Kenya, conceived and implemented by the Kenyan leader Tom Mboya, who came to America and raised funds from private sources, including Sidney Poitier and Harry Belafonte. It was only after Obama's father had flown in the first airlift that John Kennedy contributed to the airlift, also from private (not government) funds."
*
See my real-time analysis of the Selma speeches here.
*
"Remnick rightly sees that memoir as a bildungsroman in the specifically black form of a 'slave narrative,' a story of the rise from dependency to mature self-possession," Wills writes. "In order to place himself in that tradition, Obama darkens the early part of the story and lightens the concluding sections. He trims the facts to fit the genre, just as he trimmed the events in his Selma speech to fit the black sermon format.
"Obama was not literally a slave in his youth, but he was in thrall to false images of his father, fostered by his mother's protective loyalty to her husband. Since Obama comes to a later recognition of his father's flaws, the story is crafted to show him shedding false idealism to become a pragmatic realist. The narrative protects him from claims that he is an ideologue or peddler of false hopes. The art with which the book is constructed to serve his deepest personal needs shows how ludicrous is the charge of Rush Limbaugh and others that he did not write it."
Yes, but by placing Obama's "art" against Limbaugh's ludicrosity you let Obama off the hook. Another way of looking at it: Obama lied.
*
"Remnick presents Obama as a perpetual outsider who wins acceptance in whatever new company he joins - in Hawaii, at Occidental College, then Columbia, then Harvard, in Chicago streets and churches, at the University of Chicago Law School, in the Illinois legislature, in the United States Senate.
"To do this, he had to allay the natural suspicions of any newcomer. Remnick sees how this was accomplished: 'Conciliation was his default mode, the dominant strain of his political personality.'
"In interview after interview, people's initial reaction to him is that he is always winning, always disarming - cool, intelligent and charming. A perfect example is the way he won election as the editor in chief of The Harvard Law Review.
"In a company of voting editors heatedly divided between left and right, he positioned himself in the center and won support from conservative editors along with liberals. Once in the editor's office, he banned a more militant black ally of his from the masthead to preserve peace on The Review.
"Later, when he taught at the University of Chicago Law School, he won the respect of conservative professors there, including Richard Posner - 'especially,' as Posner tells Remnick, 'after one of my clerks, who had worked with him at The Harvard Law Review, told me that he wasn't even all that liberal.'
"For all Obama's skills at ingratiation, Remnick grants that luck played a great role in his rise. He was never in a closely contested election until the presidential race of 2008, and the charges brought against him in that one were mainly trumped up - Remnick scrupulously sifts through the maximum use made of his minimal connections with Tony Rezko, Bill Ayers and Jeremiah Wright."
Here, Remnick stumbles and Wills bites. Obama was close to both Rezko and Wright. As has been noted here, Obama used to call Rezko his "political godfather." Not only that, but the Obamas socialized with the Rezkos and during Obama's U.S. Senate campaign he spoke to Rezko nearly every day. Wright was Obama's personal pastor, a confidante, the man who married him and Michelle, baptized their kids, and who served as the inspiration for the title of The Audacity of Hope.
*
"Obama's strategy everywhere before entering the White House was one of omnidirectional placation," Wills concludes. "It had always worked. Why should he abandon, at this point, a method of such proved effectiveness?
"Yet success at winning acceptance may not be what is called for in a leader moving through a time of peril. To disarm fears of change (the first African-­American presidency is, in itself, a big jolt of change), Obama has stressed continuity. Though he first became known as a critic of the war in Iraq, he has kept aspects or offshoots of Bush's war on terror - possible future 'renditions' (kidnappings on foreign soil), trials of suspected terrorists in military tribunals, no investigations of torture, an expanded Afghan commitment, though he promised to avoid 'a dumb war.'
"He appointed as his vice president and secretary of state people who voted for the Iraq war, and as secretary of defense and presiding generals people who conducted or defended that war.
"To cope with the financial crisis, he turned to Messrs. Geithner, Summers and Bernanke, who were involved in fomenting the crisis. To launch reform of medical care, he huddled with the American Medical Association, big pharmaceutical companies and insurance firms, and announced that his effort had their backing (the best position to be in for stabbing purposes, which they did month after month).
"All these things speak to Obama's concern with continuity and placation. But continuity easily turns into inertia, as we found when Obama wasted the first year of his term, the optimum time for getting things done. He may have drunk his own Kool-Aid - believing that his election could of itself usher in a post-racial, post-partisan, post-red-state and blue-state era. That is a change no one should ever have believed in. The price of winningness can be losing; and that, in this scary time, is enough to break the heart of hope."
-
-
For more separation of myth from reality, see the world's best analysis of Obamology in Obamathon.
-
1. Gary Borg writes:
After more than 30 years of a voting life, I've concluded that the last time anyone voted for a presidential candidate and was pleasantly surprised at the result must have been 1932. As for Obama, if it weren't for his self-regard, his suit would be empty.
2. Prescott Carlson writes:
I seem to recall a certain white guy who fudged the events in his memoir and he wound up having to get spanked by Oprah on her show and apologize. Maybe he should have hired David Axelrod instead.

Posted by Beachwood Reporter at 3:33 AM | Permalink
Fantasy Fix: Whither Peavy?
What can you count on after the first week of the baseball season, beside the certainty that a bunch of guys still hitting above .500?
You can count on at least a few superstars getting off to a slow start.
So it goes for Mark Texeira, Troy Tulowitski and Prince Fielder, who didn't have a single home run between them as of Monday, and starting pitchers like Jake Peavy and Ricky Nolasco, who have looked terrible in their first two starts.
Fear not - all of these guys are notorious slow starters, and it's only a matter of time before those hitters start looking like the MVP candidates they are supposed to be this season and those pitchers play up to their potential.
In particular, fantasy owners may have short patience for Peavy, who has moved from the National League to the so-called hitters' league and from spacious his old home at spacious Petco Park to his new home at boxy U.S. Cellular Field.
However, Peavy's best months tend to come later in the season, specifically in August, when he has 21 career wins, and September, when he has 18. His ERA also is generally lower in late summer, with a 2.61 ERA in August alone. His May outings tend to be good, too - 17 wins and a 2.81 ERA, but he does have a losing record over his career for June, at 11-14.
That means it could be a good time to buy low on Peavy from owners who have panicked after his first two starts and are looking to trade. His ERA may balloon under American League conditions (though he did have a 1.35 ERA in three starts for the White Sox late last season), but if you make a quiet trade now, you could get paid back with wins, strikeouts and possibly even complete games late in the season as your fantasy team makes a run at the playoffs.
-
Fantasy Find of the Week: Chris Young, OF, Arizona.
A couple years ago, he looked like a budding 30 HR/30 SB man, but woeful plate discipline left him with a saggy batting average last year, and not many people noticed that he finished strong in 2009. In 2010, he's started with 3HR and 11 RBIs in little more than a week. We'll see if the .292 BA stick. Only 60% owned in Yahoo!
Fantasy Stud of the Week: Nelson Cruz, OF, Texas.
Albert Pujols and Tim Lincecum were inarguably the studliest hitter and pitcher of Week 1, but I want to give Cruz some press. He had five HRs and 11 RBIs his first week, and eight of his 11 hits were for extra bases.
Fantasy Dud of the Week: Yovani Gallardo, SP, Milwaukee.
A lot of people projected him maturing into an elite pitcher this year, but he's started 0-2 with a 6.75 ERA. His saving grace is usually strikeouts, and he does have 10 in 12 innings, but we actually expected more than one per inning.
Fantasy Match-up of the Week: Jorge de la Rosa, SP, Colorado.
High expectations for him this year. He started strong, but we'll see if it's for real against the Mets on Thursday. I'm predicting a win, and at least one strikeout per inning.
-
Expert Wire
* Roto Arcade takes a closer look at a closer market turned upside down by a number of blown saves during the first week. So what else is new? Outside of the top few closers, relief pitcher performance is so hard to predict you might as well save closer for your last two picks or assume you will pick them off the waiver wire later. Don't mind me - I'm just upset I picked Mike Gonzalez instead of Jon Rauch.
* RotoExperts likes De La Rosa, too, along with Jorge Cantu and others, including Edgar Renteria - remember him?
* Bleacher Report has early waiver wire pick-ups, including a young Cincinnati Reds pitcher who is not Aroldis Chapman. SP Mike Leake looked great against the Cubs over the weekend, but remember, it was the Cubs, and Leake also walked a bunch of guys.
* Fantasy Windup puts the spotlight on our old friend Scott Podsednik, who had six steals through Tuesday for Kansas City. He leads the league and is still showing the hitting touch he had last year in Chicago. Can it last?
-
Dan O'Shea's Fantasy Fix appears in this space every Wednesday. Comments welcome. You can also read his about his split sports fan personality at SwingsBothWays, which isn't about what it sounds like it's about.

Posted by Beachwood Reporter at 3:13 AM | Permalink
What Makes Hawaiian Air So Good
"Hawaiian Airlines did the best job for fliers last year, closely followed by low-cost carrier AirTran, according to an annual study released Monday that rates the nation's 18 busiest airlines for the quality of their service," AP reports.
What makes Hawaiian Air so good?
1. Every flight is a limbo dance party.
2. Smiling Mai Tais.
3. Animatronic flight attendants.
4. Unbeatable inflight entertainment.
6. One passenger on each flight randomly chosen to be thrown into a volcano.
7. Brady Family lookalikes on every flight.
8. Unbeatable inflight medical care.
10. The passion orange guava nectar.
-
Posted by Beachwood Reporter at 12:14 AM | Permalink
The [Wednesday] Papers
Boy was that a terrible story about the vice mayor's budget on Chicago Tonight last night. Where is Rich Samuels when we need him?
First, the claim that Chicago Tonight had "found" out about the vice mayor's budget is bunk. Hugh Devlin broke the story on March 26 on Lorraine Swanson's Lake Effect News.
While new CT correspondent Ash-har Quraishi wasted time on the history of the position of vice mayor - which has no proscribed duties other than taking over if the mayor keels over - he missed the scandal at the heart of the story.
(Quaraishi will jointly report for the Chicago News Cooperative as well.)
As reported by Devlin:
"While the vice mayor himself is unpaid and the office has no ongoing duties or programs, the Chicago City Council routinely appropriates $100,000 a year to the office of vice mayor. The line item in the city's budget for the vice mayor's expense account, coded '9701,' is described as follows:
"Contingent and other expenses for corporate purposes not otherwise provided for. To be expended under the direction of the Vice Mayor.
"City records obtained by Lake Effect News revealed at least eight persons being paid out of the vice mayor's expense account that is being used entirely to pay individuals, and not for the purchase of office supplies or vendors' services."
And who are those eight persons?
"[Vice Mayor Berny] Stone's employees were the biggest beneficiaries of vice mayoral cash. Alan E. Crown received bi-monthly payments amounting to $73,991 in 2007, $70,943 in 2008, and $65,749 in 2009. Crown is also carried on the regular payroll of as a 'legislative aide' at a monthly salary of $6,184 or $74,208 annually."
Aha. Picture getting clearer.
But there's more. For example:
"Another beneficiary of the vice mayor's expense account was Mary Ann Roti-Walz, the daughter of former 1st ward alderman Fred Roti, who was convicted on charges of racketeering, extortion and bribery 1992.
"Roti-Walz received bi-monthly payments amounting to $53, 904 in 2006; $59,134 in 2007; $59,931 in 2008; and $57,648 in 2009. Roti-Walz is also carried on the regular payroll as a 'legislative aide" at a monthly salary of $5,224 or $62,688 annually.'"
Go read the whole thing to see the other aldermen implicated in weird disbursements out of the vice mayor's office.
Stone has been the vice mayor since 1998; he told Quaraishi he needs the two staffers he employs as vice mayor but Quaraishi never asked the simple question: Why? To do what?
Cook County Clerk and former alderman David Orr was the city's first vice mayor and, surprisingly, he said the position ought to have a budget and staff. Again, unasked: Why?
Again, the only duty of the vice mayor is to become mayor if the mayor dies. Do you need staff to help you wait around?
Quaraishi also reported with a straight face that Stone employs two legislative aides "to do research on behalf of the vice mayor's office."
Into what, how to wait around until the mayor dies?
Finally, Quaraishi reported that Stone once traveled on vice mayoral funds to China for a conference of vice mayors from all around the world.
Maybe different countries have different ways of waiting around for the mayor to die. Or maybe they wanted to learn each other's secrets for controlling a secret fund used to hire flunkies and relatives of aldermanic colleagues.
*
Disclaimer: I'm a potential business partner of Devlin's on some future projects should they come to fruition.
The Patrick Fitzgerald Show
"'Notwithstanding the recent airing of a national television show in which he repeatedly proclaimed his innocence, Rod Blagojevich now argues that he would be unfairly prejudiced by the publication of the actual evidence that will be heard at his trial,' prosecutors wrote in a filing Tuesday."
The Alexi G Show
"Giannoulias: I raised $1.2M."
And I'm sure as hell not putting it in my family's bank or Bright Start!
South Side Wages
"With unemployment stubbornly high and development stalled across the city, Chicago cannot afford to say no to jobs that average $11.77 an hour, plus benefits," the Sun-Times opines. "It's time to say yes to Wal-Mart."
And at $10.77? $9.77? Just trying to find the Sun-Times's floor.
*
Alternate line:
That's funny, Walmart workers think the Sun-Times staff should accept lower wages too; they'll be writing to the Chicago Newspaper Guild soon to let them know.
Oprah vs. Obama
The Sun-Times rushes to fact-check Kitty Kelley's tome on Oprah but we have to turn to David Remnick and Garry Wills to fact-check our hometown president.
The Chicago Board of See No Evil
"(T)he legislative inspector general would need 'advance approval' from the Chicago Board of Ethics," the Tribune reminds us above the print version of this editorial. "During its 23-year history, that little-known board hasn't found a single case of wrongdoing by aldermen."
Say It Ain't Gonna Be Joe
"Anyone who games the system instead of reforming it is suspect," Andy Shaw of the BGA writes today.
*
Disclaimer: I may have a working relationship with the BGA in the future.
Pax Attacks
"But as juicy as the narrative is, all that really matters is this: The top basketball executive for the Bulls physically attacked a subordinate," David Haugh writes.
Code of Dishonor
"The Sox caught a break in the top of the inning when A.J. Pierzynski, who is 3-for-48 in his last 16 games against the Blue Jays, limped toward first base after a Romero pitch skipped past his right foot," the Tribune's Mark Gonzales reports.
"Pierzynski was awarded first on a hit-by-pitch, although replays indicated the ball missed his foot."
Another way of putting it: Pierzynski cheated.
*
After making a show of hopping around on one foot as if the ball that never hit him really hurt, Hawk Harrelson proclaimed: "He's the best, I tell ya!"
What Makes Hawaiian Air So Good?
A Beachwood investigation.
Whither Jake Peavy?
Why Sox fans and fantasy owners shouldn't panic.
Poetry Prize
Clear lyric fury.
Printer's Ink
"Chris Goes was working at the Chicago printing company that's been in his family for five generations when he received a call from an old customer," the Tribune's Erika Slife writes.
"Really old. The last order was in 1931.
"The homeowners' association in Wisconsin was looking for a type of certificate that it had used for 80 years. A local printer had taken care of its business, but recently closed. In trying to figure out what to do, someone spotted the name Goes stamped in tiny print on the bottom corner of the certificate.
"A quick Google search turned up the Web site for Goes Lithographing Co.
"'They came in to reorder and asked if we still had the same one,' Goes said from his corner cubicle in the Washington Park building his great-grandfather opened in 1904. 'I said, Yeah, we have that. They could not believe it.'
"It was just another day at the office for one of Chicago's oldest family-owned businesses, which has been printing posters, calendars and certificates since the company was established in 1879. In the process, Chicago's history has been documented and distributed across the city and country."
-
The Beachwood Tip Line: Furious.

Posted by Beachwood Reporter at 12:11 AM | Permalink
April 13, 2010
The 2010 Ruth Lilly Poetry Prize Awarded To . . .
Eleanor Ross Taylor Awarded 2010 Ruth Lilly Poetry Prize Award recognizes lifetime accomplishment with $100,000 prize
The Poetry Foundation is pleased to announce that poet Eleanor Ross Taylor has won the 2010 Ruth Lilly Poetry Prize.
Presented annually to a living U.S. poet whose lifetime accomplishments warrant extraordinary recognition, the Ruth Lilly Poetry Prize is one of the most prestigious awards given to American poets. At $100,000, it is also one of the nation's largest literary prizes. The prize will be presented at the Pegasus Awards ceremony at the Arts Club of Chicago on Tuesday, May 18.
In making the announcement, Christian Wiman, editor of Poetry magazine, cited the strong reserve in Taylor's poems and praised their "sober and clear-eyed serenity" and authority:
"We live in a time when poetic styles seem to become more antic and frantic by the day, and Taylor's voice has been muted from the start. Muted, not quiet," said Wiman. "You can't read these poems without feeling the pent-up energy in them, the focused, even frustrated compression, and then the occasional clear lyric fury. And yet you can't read them without feeling, as well, a bracing sense of spiritual largesse and some great inner liberty."
A portfolio of 10 of Taylor's poems will be featured in the May issue of Poetry. In introducing the selection, Wiman writes:
"The winner of this year's Ruth Lilly Prize is Eleanor Ross Taylor. I suspect the name will be unfamiliar to a number of our readers, the work to even more. Until the excellent selected poems, Captive Voices, was published by LSU Press last year, virtually all of Taylor's work was out of print. Her slow production (six books in 50 years), dislike of poetry readings ('It seems to me that it's all for the person and not the poetry'), and unfashionable fidelity to narrative and clarity haven't helped matters. And yet, as is so often the case, what's been bad for the career has been good for the poems. With their intricately odd designs and careful, off-kilter music, their vital characters and volatile silences, the poems have a hard-won, homemade fatedness to them. You can feel their future."
The awards ceremony will also celebrate the life of the Poetry Foundation's late benefactor, Ruth Lilly, who died in December at age 94, with readings by Catherine Bowman, Ruth Lilly Professor of Poetry at Indiana University, and 2001 Ruth Lilly Poetry Fellow Ilya Kaminsky. In addition, Eleanor Ross Taylor's editors Jean Valentine and Dave Smith - also poets and friends of hers - will be featured as part of the event.
"Poetry has had no greater friend than Ruth Lilly," said Poetry Foundation president John Barr. "On this occasion, the 25th anniversary of the awarding of the prize bearing her name, we honor a life of extraordinary generosity and dedication to the art form."
Eleanor Ross Taylor has published six collections of poetry: Wilderness of Ladies (1960), Welcome Eumenides (1972), New and Selected Poems (1983), Days Going/Days Coming Back (1991), Late Leisure (1999), and Captive Voices: New and Selected Poems (2009).
A mother of four grown children and a grandmother, Taylor now resides in Charlottesville, Virginia. She has received the Poetry Society of America's Shelley Memorial Prize (1997-98), a fellowship from the American Academy of Arts and Letters (1998), the Library of Virginia's Literary Award for Poetry (2000), and the Aiken Taylor Award for Modern Poetry (2001). She was elected to the Fellowship of Southern Writers in 2009.
Previous recipients of the Ruth Lilly Poetry Prize are Adrienne Rich, Philip Levine, Anthony Hecht, Mona Van Duyn, Hayden Carruth, David Wagoner, John Ashbery, Charles Wright, Donald Hall, A.R. Ammons, Gerald Stern, William Matthews, W.S. Merwin, Maxine Kumin, Carl Dennis, Yusef Komunyakaa, Lisel Mueller, Linda Pastan, Kay Ryan, C.K. Williams, Richard Wilbur, Lucille Clifton, Gary Snyder, and Fanny Howe.
About the Pegasus Awards
The Poetry Foundation has established a family of prizes with an emphasis on new awards to under-recognized poets and types of poetry. Inaugurated in 2004, the Pegasus Awards are announced annually in the spring. The Poetry Foundation believes that targeted prizes can help redress underappreciated accomplishments, diversify the kinds of poetry being written, and widen the audience for the art form. With this in mind, it may create additional prizes in the years ahead.
About the Poetry Foundation
The Poetry Foundation, publisher of Poetry magazine and one of the largest literary organizations in the world, exists to discover and celebrate the best poetry and to place it before the largest possible audience. The Poetry Foundation seeks to be a leader in shaping a receptive climate for poetry by developing new audiences, creating new avenues for delivery, and encouraging new kinds of poetry through innovative literary prizes and programs. For more information, please visit www.poetryfoundation.org.
-
-
See also:
* Beachwood Celebrates National Poetry Month!

Posted by Beachwood Reporter at 10:36 AM | Permalink
The [Tuesday] Papers
1. "Tiny Virginia newspaper wins Pulitzer Prize."
For a series reported by a University of Chicago graduate and former Chicago Maroon-ie.
2. Mary Mitchell vs. Hermene Hartman.
3. "The sexual assault & murder of three year-old Riley Fox followed by the subsequent arrest and attempted prosecution of her father, Kevin Fox, for the her murder was tragic," Tracy Siska writes at Chicago Justice Project. "Last week the United States Court of Appeals of the Seventh Circuit handed down their decision in the appeal of Kevin & Melissa (Kevin's wife and Riley's mother) Fox's civil suit regarding the interrogation, arrest, and subsequent prosecution of Kevin.
"In reading this appeal you are instantly hit with the degree to which the officers involved had made a baseless decision to focus on Kevin either out of incompetence or political pressure. [This appeal does not include the role of the elected prosecutor, which you can read about here.]
"The officers clearly ignored some evidence and elevated other evidence that obviously had nothing to do with the crime they were investigating. Simply put, these officers had no probable cause to arrest Kevin and killed an FBI DNA test before it could be done to make sure that the results would not contradict the false confession they were able to coerce from Kevin.
"There are differing accounts from the press and this decision about who exactly stopped the FBI DNA test. Some press alleged it was stopped by the then Will County State's Attorney was Jeff Tomczak.
"I think only a complete review of the testimony and depositions in this case would clarify this detail."
*
See also "The Nightmare" from Chicago magazine, July 2006:
"Five months after three-year-old Riley Fox of Wilmington was brutally murdered, her father, Kevin, confessed following a long night with Will County detectives. He recanted almost immediately, but spent eight months in jail before DNA evidence led to his release. For the first time publicly, Kevin and his wife, Melissa, talk about their ordeal, an account of pain, mystery, and undying faith, wrapped around an enduring tragedy."
*
Also from "The Nightmare":
"Around Wilmington, rumors began to swirl that the Foxes were using money donated to a 'Riley fund' for extravagant vacations and luxury purchases. Melissa was seen getting a fancy haircut at the mall. She had traded in the Ford Escape for a new car. The couple had gone gambling in Las Vegas. They were vacationing in the Ozarks. Some questioned why a reward had never been offered. On October 11th, a report by Amy Jacobson, the tall blond reporter from Chicago's NBC 5, gave voice to the whispers. A 'source,' his face hidden behind a black blob, his voice disguised, repeated the rumors in Jacobson's 'exclusive' interview. (Today, Jacobson tells Chicago that she later 'felt awful' and regretted the report. But because so many people had called with similar observations about the Foxes' spending habits, the station decided it couldn't ignore the rumors.)"
*
"Jacobson eager to share opinions on radio."
(An "interview" conducted by e-mail, by the way.)
*
Back to "The Nightmare":
"The next day, an article and editorial in the local paper, The Free Press Advocate, excoriated Jacobson and NBC 5 and told the family's account: Melissa had traded in the car because she couldn't bear how it reminded her of trips around town with Riley. The Las Vegas trip was to attend a friend's wedding and had been planned and paid for months before Riley's death. The trip to the Ozarks had been for another friend's wedding. And the Fox family had indeed suggested a reward be offered, only to be told by police it was unnecessary.
"Nonetheless, the family members were deeply hurt by the TV report, as well as by the realization that people in town were gossiping about them. Chad Fox looked on the rumors as confirmation that Kevin - still not represented by a lawyer - was a suspect, perhaps the only suspect. In early October, Chad, a stockbroker, approached [attorney Kathleen] Zellner, who coincidentally worked across the hall from Chad in Naperville. She had been following the case in the media, and she urged Chad to get his brother to talk to her. Kevin again refused. 'He kept saying, The DNA will clear me,' Chad says. 'I felt helpless and frustrated.'"
4. The Official AmyJacobson.com.
5. Is CPS Inflating Attendance Records For Cash?
6. The Cubs Top 10 Home Openers.
7. Opening Day From Around America.
8. Coming Soon To The Oprah Winfrey Network: A sneak preview from The Beachwood Oprah Affairs Desk.
9. Juvey Bills Pending: Including sexting.
10. The Wonders of Weather: Santa Anas and Sea Breezes.
-
The Beachwood Tip Line: Action-packed.
Posted by Beachwood Reporter at 8:24 AM | Permalink
Opening Day
From around the nation.
1. Cubs.
-
2. White Sox.
-
3. Twins.
-
4. Boston.
-
5. Philadelphia.
-
6. Baltimore.
-
7. Detroit.
-
8. Seattle.
-
9. Milwaukee: Runner Talks About Sausage Relay Collision.
-
10. Washington, D.C.
-
Posted by Beachwood Reporter at 7:12 AM | Permalink
Coming Soon on The Oprah Winfrey Network
"Oprah Winfrey formally unveiled the centerpiece of her new television network Thursday: Oprah Winfrey," the New York Daily News reports.
"The queen of daytime will become a night owl in Oprah's Next Chapter, which will air an unspecified number of times a week at an unspecified time on the new Oprah Winfrey Network (OWN).
"Other programs will be a Shania Twain 'reality" show, a Mark Burnett competition show that will seek a new daytime TV host, a talk show hosted by Oprah's best friend, Gayle King, and a 'master class' that will feature prominent successful people like Condoleezza Rice, Jay-Z and will.i.am."
The Beachwood Oprah Affairs Desk has learned that these shows are also under consideration:
1. The Daily Weigh-In.
Followed by The Daily Weigh-In: The Aftershow in which Oprah either celebrates by eating a pint of Ben & Jerry's or eats a pint of Ben & Jerry's out of self-loathing.
2. Touched By An Angel Named Oprah.
A look at the people whose lives have been touched by Oprah, through Oprah's eyes.
3. Under Your Seat.
Oprah shows up unannounced at movie theaters, classrooms, offices and people's cars at stop signs and reveals that a gift they can take home has been placed under everyone's seat.
4. Dr. Phoz.
Dr. Phil and Dr. Oz will be forced to live in a house together and see what happens when things get real.
5. The Confidentiality Hour.
The screen will go black as every employee of Oprah re-signs their confidentiality agreement every day.
6. You Go, Girl!
Oprah takes to the streets with a hand-held camera and encourages girls she meets to "go."
7. I'm Scared Of Oprah.
Talk show hosts share their feelings of inadequacy and fear.
8. The Shoot.
An inside look at the monthly photo shoot for O magazine, starring Oprah Winfrey.
9. I'm Oprah.
Oprah sits down with just us girls and dishes about herself.
10. The Oprah Winfrey Network After-Network.
Everything on The Oprah Winfrey Network will be immediately reflected upon on the Oprah Winfrey Network After-Network.
-
-
1. From Beachwood reader Mark:
Buying "O".
Winfrey and her agents throw money at Cirque du Soleil until the troupe agrees to re-conceptualize its popular underwater Vegas show as a tribute to her.
*
It's A Wonderful Best Life
Participants are given a virtual peek into how great their lives could have been if only they had followed more of Oprah's advice.
*
Wheel of Oprah
Just like "Wheel of Fortune," but all monetary values on the wheel are replaced by self-empowering bromides. Contestants can exchange good karma points for items from the Harpo gift shop.
*
Oprah's Book-Burning Club
A spinoff of her wildly popular reading circle, this show features discussions of books that Oprah doesn't like, followed by their elaborate public destruction.
*
O Say - I Can See!
Having fully conquered the emotional and spiritual realms, Oprah sets out to prove her miraculous physical healing powers in this take on the classic fundamentalist tent revival. Guests whose afflictions are somehow not cured are given luxury goody bags instead.
Posted by Beachwood Reporter at 6:48 AM | Permalink
The Wonders of Weather
Weather. It effects our lives every day, often determining where we can go and what we can do.
From the transformation of water vapor into clouds to the swirling winds of a tornado, meteorological events are the result of intricate interactions between forces and factors. to grasp the mystery of these phenomena is to understand a remarkably complex system and - ultimately - to glimpse how all complex systems work.
Meteorology: An Introduction to the Wonders of Weather is a fascinating foray into an enthralling field of study. In 24 engaging lectures, explore the often surprising, always intriguing workings of the weather.
1. Nature Abhors Extremes
2. Temperature, Pressure, and Density
3. Atmosphere - Composition and Origin
4. Radiation and the Greenhouse Effect
5. Sphericity, Conduction and Convection
6. Sea Breezes and Santa Anas
7. An Introduction to Atmospheric Moisture
8. Bringing Air to Saturation
9. Clouds, Stability, and Buoyancy, Part 1
10. Clouds, Stability, and Buoyancy, Part 2
11. Whence and Whither the Wind, Part 1
12. Whence and Whither the Wind, Part 2
13. The Global Atmospheric Circulation
14. Fronts and Extratropical Cyclones
15. Middle Trophosphere - Troughs and Ridges
16. Wind Shear - Horizontal and Vertical
17. Mountain Influences on the Atmosphere
18. Thunderstorms, Squall Lines, and Radar
19. Supercells, Tornadoes, and Dry Lines
20. Ocean Influences on Weather and Climate
21. Tropical Cyclones
22. Light and Lightning
23. Prediction and Predictability
24. The Imperfect Forecast
-
-
Previously:
* Get a Grip on Calculus! Owls, rats, waves and guitars.
* How Your Brain Works. Pathways and motor systems.
Posted by Beachwood Reporter at 6:22 AM | Permalink
April 12, 2010
Juvey Bills Pending
Legislation to Encourage Early Treatment for Juveniles Among Several Juvenile Justice Bills Pending at Half-Way Point of General Assembly's Spring Session
The Illinois House has approved legislation aimed at encouraging early delivery of mental health treatment and other services to troubled juveniles.
House Bill 6129, now pending in the Senate, would protect arrested juveniles against incriminating themselves through any statements they make when discussing that crime in the course of a behavioral screening, assessment, evaluation, or treatment.
"It's no secret that many youth in our juvenile justice system suffer mental issues and other behavioral problems, but too often they aren't addressed until months after the initial arrest," said Betsy Clarke, president of the Juvenile Justice Initiative. "If they can be reached much earlier, there is a much better chance of changing behaviors and reducing the likelihood of repeated crimes. This legislation represents a small but important step in changing a system that now leaves too many youth afraid to talk openly and freely with the professionals who can connect the youth with the most appropriate treatment and services."
Rep. Will Burns, D-Chicago, is the sponsor of HB 6129, which passed the House by a vote of 93 to 17. Sen. William Delgado, D-Chicago, is the chief sponsor in the Senate. For a fact sheet with more details about the bill, go to www.jjustice.org.
When the General Assembly returns from its spring break on Tuesday, April 13, the Senate will begin to consider HB 6129 and other reform legislation. Here is a summary of other pending legislation impacting the juvenile justice system:
Juvenile Parole Reform
House Bill 5914: Provides that the Illinois Juvenile Justice Commission shall develop recommendations regarding due process protections for youth during release decision-making processes, including parole and parole revocation proceedings. The bill also clarifies that the Prisoner Review Board has options other than re-incarceration for juvenile parolees who may violate a condition of parole. Those options include releasing the youth to a group home or other residential facility and modifying the original conditions of parole. Rep. Annazette Collins, D-Chicago, is the sponsor in the House, which approved the bill by a vote of 81 to 32. Sen. Kwame Raoul, D-Chicago, is the chief sponsor in the Senate.
Department of Juvenile Justice
House Bill 5007: Creates the Department of Juvenile Justice Mortality Review Team Act to review deaths of youth in custody of the Department of Juvenile Justice. The bill, which was introduced following suicides of two youth held in DJJ facilities, provides for a review similar to those conducted following any death of a child in the care of the Department of Children and Family Services. Rep. Art Turner, D-Chicago, is the sponsor in the House, which approved the bill by a vote of 106 to 1, and Sen. Terry Link, D-Lake Bluff, is the sponsor in the Senate.
House Bill 5913: Removes the requirement that the Department of Juvenile Justice share administrative services with the Department of Corrections and encourages collaboration with "child-serving agencies." Until July 2006, DJJ was a division within the Department of Corrections. In recognition of the need to treat juvenile offenders in a different manner than adults, DJJ was created as a separate agency, but it has retained some ties to DOC, which provides support services such as statistical record-keeping and varied administrative work. The bill passed the House by a vote of 94 to 1. Rep. Collins was the sponsor in the House, and Sen. Mattie Hunter, D-Chicago, is the Senate sponsor. (Gov. Quinn's proposed budget includes a proposed merger of DJJ with DCFS.)
Raising the Juvenile Court Age
Senate Bill 3085: Provides that the Illinois Juvenile Justice Commission shall study the impact of, develop timelines, and propose a funding structure to accommodate the expansion of the jurisdiction of the Illinois Juvenile Court to include youth age 17 under the jurisdiction of the Juvenile Court Act of 1987. Provides that the Commission shall submit a report by December 31, 2011 to the General Assembly with recommendations on extending juvenile court jurisdiction to youth age 17 charged with felony offenses. Legislation passed last year when the state increased the age for misdemeanors included creation of a task force to conduct this study, but the recent revitalization of the Juvenile Justice Commission makes the commission an obvious choice to carry out the study and make recommendations. The bill passed the Senate by a vote of 54 to 1 and is pending in the House. Sen. Kwame Raoul, D-Chicago, sponsored the bill in the Senate, and Rep. Burns is the House sponsor.
Sexting
House Bill 4583 and Senate Bill 2513: Provide that a minor who distributes indecent visual depictions of another minor may be subject to a petition for adjudication and adjudged a minor in need of supervision. If found in need of supervision, the minor may be ordered to obtain counseling or other supportive services, or required to perform community service. Both bills passed by overwhelming majorities in the originating chamber and are now pending in the other chamber. The sponsors are Rep. Darlene J. Senger, R-Naperville, and Sen. Ira Silverstein, D-Chicago.
-
Posted by Beachwood Reporter at 7:10 PM | Permalink
The [Monday] Papers
We're still tweaking but we've gone live with the launch of our new Cubs site Agony & Ivy just in time for today's home opener. We'll be adding features throughout the week as we ramp things up over there; thanks to everyone who helped us fast-track this.
And a big shout-out to Joel Boehm, the founder of the original A&I. Joel went off to a career in law and bequeathed the site to us; we hope to do him proud.
*
Also in today's Beachwood Baseball package:
- Ofman: Soriano botched a routine fly ball even Venus de Milo would have caught.
- The Cub Factor: Sure, there are some lousy new faces where the old lousy faces were before, but it sure feels like the same team.
- The White Sox Report: Giving Cleveland and Kansas City hope.
Bad Optics
"Optical business gives to pols - and gets government contracts," the Sun-Times reports in conjunction with the Better Government Association.
My favorite part:
"Under the state grants, the Chicago Board of Education was required to audit Arce's contracts - but it never did. Now, after the Sun-Times inquired, all three years will be audited, schools spokeswoman Monique Bond says."
*
Also:
"Frankly, we are insulted by your insinuation,'' Arce says in an e-mail in response to questions from the Sun-Times.
So insulted we will only respond via e-mail instead of answering your questions in full to clear up any misconceptions you may have.
And:
"'I can find no record of Tropical being a client of Altheimer & Gray in 1999-2000, city records notwithstanding,' says Chico, responding to questions via e-mail."
The Sun-Times: Pioneering the art of the e-mail interview. Or How To Report A Story Without Actually Talking To Anyone. Now available as a telecourse or through an Internet college near you.
Hyperbole Alert
"Helen Shiller is the most controversial, intriguing and enigmatic figure in Chicago politics," Laura Washington writes today.
Really? She's not even close to being the most controversial, intriguing and enigmatic figure on the city council, much less the city.
Brain Waves
S. Kantrowitz of Highland Park asks Marilyn: Is it true we use only 10 percent of our brains?
Only when voting.
Assessing Warren
Having ripped James Warren on at least two occasions in this space recently, it's only fair that I point out the gem of a column he wrote on Sunday about the Cook County Assessor's race.
"Joe Berrios is two-legged evidence that the greatest outrages in politics tend to involve what's absolutely legal," Warren writes.
"It's partly why Mr. Berrios and Mr. Madigan are worthy of a Discovery Channel special: the first pair of Hispanic-Irish conjoined twins attached at the checkbook. Mr. Berrios lobbies Mr. Madigan on legislation, while Mr. Madigan appeals to Mr. Berrios for tax relief for clients - saving them many millions of dollars.
"The two men can make political donations to each other, just like litigants before the board can contribute to Mr. Berrios's campaigns and Springfield lobbyists can enrich Mr. Madigan. And the duo can plot in political tandem since Mr. Madigan runs the state Democratic Party while Mr. Berrios runs the county party apparatus."
*
The chairman of the Cook County Democratic Party is a lobbyist. What more do you need to know?
And he lobbies the chairman of the state Democratic Party!
Who appears before the chairman of the Cook County Democratic Party representing private clients seeking tax breaks!
Unbelievable. Except in Illinois.
That's Alexi!
Also from the New York Times on Sunday - via the Chicago News Cooperative (or vice versa):
"The campaign is also giving serious consideration to a speech Mr. Giannoulias could deliver about the bank, taking the cue from Barack Obama's Philadelphia speech two years ago in which Mr. Obama, then a presidential candidate, addressed the incendiary remarks on race by his former pastor, the Rev. Jeremiah A. Wright Jr."
Alexi is practicing choking up at just the right moments as we speak.
*
"My father's bank operated in a different era - a time when loans to mobsters weren't seen as politically liabilities . . . "
Clarification
The Maui Convention and Visitors Bureau helped pay for this article about how great Maui is.
What (Some) People Earn
Taylor Swift vs. Sonia Sotomayor.
-
The Beachwood Tip Line: Earnest.

Posted by Beachwood Reporter at 8:22 AM | Permalink
What (Some) People Earn
Parade magazine put out its annual salary survey on Sunday and, as usual, it was pretty fascinating. (Smart move putting Tiger Woods on the cover; he makes $110 million a year.)
We picked out what we thought were the most interesting salaries. For your consideration:
Name: Taylor Swift
Occupation: Country singer
Annual Salary: $17.2 million
Comment: Just think how much she'll make when she can sing in tune.
*
Name: Jay Leno
Occupation: Talk-show host
Annual Salary: $32 million
Comment: Just think how much he'd make if he was funny.
*
Name: John Stumpf
Occupation: CEO of Wells Fargo
Annual Salary: $18.7 million
Comment: Just think how much he'd have made if his bank's performance was even worse.
*
Name: Gloria Ward-Ravenell
Occupation: Food bank coordinator in Oxon Hill, Maryland
Annual Salary: $20,600.
Comment: Just think how much she'd make if she couldn't sing, tell jokes or run a bank.
*
Name: Sonia Sotomayor
Occupation: U.S. Supreme Court justice
Annual Salary: $208,100.
Comment: $191,900 less than the Major League Baseball minimum wage.
*
Name: David Currin
Occupation: Bus driver in Harvey, Illinois
Annual Salary: $67,000
Comment: Um, not to begrudge Mr. Currin, but how many streets are there in Harvey?
*
Name: Marty Mulder
Occupation: Motel owner in Watford City, North Dakota
Annual Salary: $440,000
Comment: Must be the only motel in Watford City - and it must be a doozy!
*
Name: Gary Giguere
Occupation: Circuit-court judge in Kalamazoo, Michigan
Annual Salary: $139,900
Comment: Making the Supreme Court wouldn't even double his salary.
*
Name: Dan Kohl
Occupation: Truck driver in Duluth, Minnesota
Annual Salary: $91,400
Comment: Um, not to begrudge Mr. Kohl, but how many streets are there in Duluth?
*
Name: Chase Nagle
Occupation: Police sergeant in Helena, Alabama
Annual Salary: $67,500
Comment: Um, not to begrudge Mr. Nagle, but how many criminals are there in Helena, Alabama?
*
Name: Elfreda Higgins
Occupation: State representative for Garden City, Idaho
Annual Salary: $16,100
Comment: That's not a misprint.
*
Name: Douglas Olsen
Occupation: Drugstore manager in Lake Mary, Florida
Annual Salary: $104,800
Comment: Um, not to begrudge Mr. Olsen, but how many Oxycontin addicts are there in Lake Mary?
*
Name: Sheila O'Malley
Occupation: Economic development director for Oakville, Connecticut
Annual Salary: $80,000
Comment: Um, not to begrudge Ms. O'Malley, but how much economic development is there in Oakville?
*
Name: Mark Sanford
Occupation: Governor of South Carolina
Annual Salary: $106,000
Comment: Not for long.
-
-
1. From Joan Edwards re: Marty Mulder, motel owner in Watford City, North Dakota:
Actually, the motel is not the only motel in town. But it is the nicest. I stayed there last summer and Marty was a most accommodating host. The motel has a pool as well as an in-house laundromat. Many oil rig crews stay there because it feels like a home away from home.

Posted by Beachwood Reporter at 7:12 AM | Permalink
SportsMonday
This is the delightful little portion of the year when four local major-league teams are in action and they all took to court, ice and field on Sunday.

The White Sox managed to rally and knock off the Twins (with a little help from a head's-up Mark Teahan leaving third base to go get a relay from Juan Pierre and then throwing out J.J. Hardy at home by a dozen feet for the final out of the game). But that just meant the first week of the South Side season went from "disaster" to "disturbingly bad."

Even with the loss, the Twins headed to Minnesota for their home opener with a 5-2 mark. The White Sox began by dropping four of six and the best part was they were all home games.

As for the Cubs, since Carlos Zambrano's latest flameout in a high-profile game (that'll be all for the Big Z and openers, won't it Lou?) - the one where he allowed eight runs in less than two innings in Atlanta on Opening Day - Cub pitchers have turned in five straight quality starts. The squad managed to win two off those games.

I dare say the Cubs led the league in quality starts wasted last year and they seem determined to protect that crown this time around.

On Saturday it was Tom Gorzelanny's turn to see a great effort go to waste. He did not allow an earned run in six-and-a-third innings of work, but it all went to waste because the Cubs could manage only one run despite receiving seven walks in the first six innings alone.

And how much longer can the manager play Alfonso "Mr. Futility" Soriano, who is off to another delightful start with bat and glove, virtually every day? His failure to catch a routine fly ball enabled the Reds to tie Sunday's game with the Cubs and forced Lou Piniella's bullpen hand earlier than he would have liked.

Analyst Bob Brenly sounds like he has just about seen enough. After criticizing Soriano's defense in the bottom of the seventh, he had this to say after Soriano struck out meekly to begin the top of the ninth:

"Another sight Cubs pitcher and players have become accustomed to seeing . . . any opposing pitcher who can put a breaking ball on the outer half (against Soriano) has a great chance" to strike him out.


Bulls Eye
The Bulls powered through one heck of a basketball game early Sunday evening. My guess is not too many folks saw it, what with the Masters winding down during the first hour and then dinner time intruding thereafter. But it was the most satisfying effort turned in by the local NBA franchise in a long time.

And yes, the Raptors, who now trail the Bulls by a game with two remaining in the race for the eighth and final playoff spot in the Eastern Conference, were without star forward Chris Bosch. But they were playing at home and they were doing so with determination (until the one, last great stretch of Bulls basketball led to a 25-point lead midway through the fourth quarter). It was a game both teams had to have and the visiting team took an early lead, added to it in the second quarter and made it double figures in the third. The Raptors managed a few mini-runs but the Bulls never allowed them to make a game of it. The final score was 104-88 and it wasn't that close.

Joakim Noah, who finally appears fully recovered from the foot injury that derailed his and the Bulls' season earlier this calendar year, spearheaded the effort on the defensive end and Derrick Rose did so on offense. Actually, Noah did great work at both ends, posting his best yet (set of) numbers in this his breakout season. He hauled down 19 rebounds, tossed in 18 points and even had seven assists.

Rose scored 26 and also finished with seven helpers. His highlights were the handful of high-speed drives ending in clever layups that have become almost routine this season. But he established himself early with a series of intermediate jump shots. Rose has improved in a variety of ways this season but perhaps the best upgrade has been his ability to consistently deliver from 18 to 22 feet. Maybe he'll stretch the range all the way out to the NBA arc next year but the mid-range jumper is a great tool for him. It is great to see this lost art (so many guys just want to heave it up for threes these days) revitalized.

The Bulls game capped off a potentially awesome Chicago sports day that didn't live up to its promise.

Hawk Tawk
On the ice, the home team outplayed the Red Wings for much of regulation with Detroit scoring in the second period despite managing all of three shots on goal. Another fortunate score gave the visitors a 2-1, third-period lead, but then Colin "Goal Machine" Fraser came through for the Hawks a few minutes later. Fraser has only seven goals this year but he has earned the moniker by scoring five of those tallies in the last five games.

Unfortunately, the Hawks seemed to run out of gas in overtime and Detroit pulled it out before a shootout was necessary. That left the locals one point behind San Jose in the final Western Conference standings. They will face seventh-seeded Nashville in the first round of the NHL playoffs starting Friday.

In the end though, the best thing for the Hawks may have been that they had something to fight for until the last day of the season. Just this past week we've had another example of a genius team deciding not to play hard until the end of a season.

After years of NFL teams clinching playoff positioning and then embarrassing themselves by not playing hard at the end of their regular seasons (and then often suffering letdowns in the playoffs because once a team has stopped giving its all it oftentimes can't turn it back on), the Cavaliers decided to follow suit.

Coach Mike Brown has had LeBron James sit out Cleveland's last three games because the team has already locked up home court advantage throughout the postseason. He damages the integrity of the game by doing this and he also damages his team's chances.

I'm sure the Blackhawks would have still played hard even if they had clinched everything earlier but still, it was great that there was no chance to ease up. And the team responded as well to the challenge as they have everything else this season. They won six in a row before coming up just shot Sunday.

Long and short playoff runs for the Hawks and Bulls will clearly be satisfying in their own right. But it is quickly becoming apparent we'll need them just to keep us from focusing everything on local baseball any time soon.

-

Jim Coffman rounds up the sports weekend every Monday in this space. He welcomes your comments.

Posted by Beachwood Reporter at 6:47 AM | Permalink
Sorry Sori
The lynch mob was ready.
Upon hosting my first 10th Inning post-game show on WGN Radio on Sunday, I had to consider where the diehards would be coming from.
The Cubs had lost to the Reds 3-1 and did so in galling fashion. Would they rip the bullpen which, once again, coughed up another game a starter had masterfully crafted?
Some callers did.
Would they take their shots at the middle of the lineup that gave a first-timer a reprieve, and more than once?
Some callers did.
But most of the agitated if not downright furious fans saved their wrath for the $136 million dollar man.
Fonzi got his, and then some.
And he deserved every angry word.
Alfonso Soriano could be one of the most aggravating athletes to witness playing a sport he seemingly belies.
He's not going to be much of a baseball player anymore unless he's employed in the American League, where most designated hitters aren't allowed to look at a mitt, let alone wear one.
Sorrowfully for the endless stream of sullen Cubs fans, Soriano plays a position meaning he must wear a glove.
Sunday was the kind of day famed O.J Simpson defense attorney Johnnie Cochrane might have said, "If the glove doesn't fit, you must quit."
Soriano botched a routine fly ball even Venus de Milo would have caught.
"At the last moment, I take my eyes off the ball and just think about the wall," he said. "One second, I took my eyes off the ball, and I dropped it. I've got to have a little stop, because I don't want to go into the wall. If you go full speed into the wall, it can be very dangerous."
This would be fine - if Soriano was navigating a hair turn at Daytona.
A caller suggested Soriano should have his eyes checked. I'm sure his vision was 20/20 when he signed his contract.
Earlier in the game, Soriano also dropped a fly ball in foul territory. He was so terrorized by the oncoming wall, he did what appeared to be a combination of his ridiculous hop with a scissors step before the ball his iron glove and fell out.
What do the Cubs do with him now? Lou Piniella has taken him out of two games for late-inning defense. Late innings for Soriano might be the first three, not the last three.
Piniella has a dilemma on his hands.
"When you're not scoring runs, you better put your best defense on the field," the skipper said. "You can't afford to give up runs when you're not scoring."
This might be a threat, not a promise. Remember how he resisted taking Soriano out of the leadoff role for such a long period of time?
"We'll see what happens," said Lou. "I'm going to go home and think about it. It's nice to be going home. And hopefully we'll start swinging the bats, putting some runs on the board and winning games with a little more frequency."
But this won't quiet the swelling underbelly that is Cubs fans clamoring for a change.
They want Tyler Colvin. Or Roosevelt Colvin. Anyone must be better than Soriano.
But what's Piniella to do with a guy earning $18 million this season? And in case you forgot, &18 million for the ensuing four seasons, all of which must seem like winter to a management team trying to win games with an outfielder who can't really play his position.
And did I mention he struck out twice on pitches that flirted with the dirt?
I'll be doing the 10th Inning again onMonday. I get the feeling Soriano's name will be mentioned more than once.
-
-
George Ofman is now with WGN radio after a 17-year run with The Score. He also blogs for ChicagoNow under the banner That's All She Wrote.
-
You can also follow George on Twitter @georgeofman and on Facebook.

Posted by Beachwood Reporter at 6:35 AM | Permalink
The Cub Factor
It feels like the 2009 season never ended.
The Cubs have picked up right where they left off.
Sure, there are some lousy new faces where the old lousy faces were before, but it sure feels like the same team.
It's kind of like when you are a kid and you finish 4th grade for the summer and you feel glad that it's over because well, fourth grade just sucked for you. And you tell yourself all summer that fifth grade is going to be different. In fifth grade I'm going to run faster than Bobby Sanders and Becky Richards is going to notice me and totally want to sit by me at lunch. But then you are three days into 5th grade and Bobby Sanders totally smoked you in gym class and Becky Richards shot you a "what the F are you doing" look when you just paused for a second near her table. And fifth grade is exactly like you remembered fourth grade being. So then you fake a stomachache, go to the school nurse's office and talk to her about how you are feeling. She tells you that it's only three days into the new year and things will get better - except you don't believe her because she told you the same thing at the beginning of last year and you feel exactly the same way as you always felt.
So yeah, it's technically been a week but it feels like forever.
Week in Review: The Cubs started off the 2010 campaign losing two of three to both the Braves and the Reds in fairly crap-tacular fashion. Cubs Fever, catch it! Then get a shot so you never catch it again.
Week in Preview: The Cubs start the home portion of the season with three against both the Brewers and Astros. It's true, they get to frustrate Cub fans in person, too.
The Second Basemen Report: Remember last season when the Cubs thought they really had something in Mike Fontenot so he became their starter at second base only to be exposed as more of a spot-start guy and not really legit? It's okay if you didn't remember that, because it's happening again this year. Lil' Fontenot got five starts and Jeff Baker got one. Just like Jim Hendry drew it up.
In former second basemen news, Mark DeRosa is off to a .214 start for the Giants. Ronnie Cedeno is off to a.375 start for the Pirates. They both are both missed.
The Zam Bomb: Big Z's belly is smaller but is the wick on the Zam Bomb longer? It's a little too early to tell; he begins apologetic.

-
Lost in Translation: Jimmie-o Hendri-san is f'n stinkee is Japanese for Really? This is the bullpen?
Endorsement No-brainer: Carlos Silva for whatever the opposite of Weight Watchers is.
Sweet and Sour Lou: 42% sweet. 58% sour. Lou begins the year already a bit pissed off due to a bad bullpen and Soriano. And just like your real crazy drunk uncle, Lou is counting the days until retirement from the brewery and planned on taking it easy until it was time to hang up his brewing shoes. But due to budget cuts he has to work even harder and that was not part of the plan.
Ameritrade Stock Pick of the Week: Shares of Old Style are up this week. It's not a very good beer but neither are the Cubs. And Cub fans will have to drown their sorrows in something, tradition is tradition.
Over/Under: Innings before the booing starts today: +/- 1.2
Beachwood Sabermetrics: A complex algorithm performed by the The Cub Factor staff using all historical data made available by Major League Baseball has determined that at some point playing time has to be determined on if you can help the team win and not how big your contract is.
The Cub Factor: Unlike Soriano, you can catch 'em all!
The White Sox Report: Now with a weekly Cubs Snub.
Fantasy Fix: Multi-Tool OFs: Prepare now for early waiver wire candidates.
The Mount Lou Alert System: Is at Yellow. Surprisingly, North Side seismologists have found a small fire burning deep in the large belly of Mount Lou. What was once considered completely dormant now may be showing signs of activity. The neighborhood should be mildly on alert.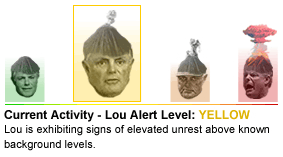 -
Posted by Beachwood Reporter at 6:12 AM | Permalink
The White Sox Report
Losing four of your first six games isn't really that big a deal, so long as a team isn't doing it:
A) in a park in which they should dominate.
B) against teams they really, really need to beat.
C) in a fashion that suggests the team's vulnerabilities are even greater than previously imagined, including an alarming number of strikeouts by the batters, an offense so hilariously one-sided it's launched seven home runs yet plated only 21 runners, not to mention the reliance on players performing amazing feats of glovework that, in all likelihood, will never be repeated ever, as long as any of them wear a White Sox uniform, and this nagging idea that yes, this season is going to be one long series of gems tossed by the starting staff ultimately squandered by a shaky bullpen and a lumber company that simply cannot deliver.
But it's only a week into the season, and there is much baseball to be played against teams worse than the two to have already come to town, and all is not lost until all has actually been lost. And meanwhile, somewhere in Cleveland and Kansas City, someone is pontificating for the Parkview Post and the Davey's Uptown Ramblers Club Digest that their team still has hope as well, so long as the team in Chicago keeps doing what it has been doing.
Week in Review: Preliminary. A 2-4 start is terrible, but two other teams in the division fared the same. Sadly, one of those was the Sox-shaming Cleveland Indians.
Week in Preview: Great Lakes-y. Four in Toronto (which usually spells death) and three in Cleveland (which usually spells at a sixth-grade level).
Hawkeroo's Can-O-Corn Watch: You know, something I've learned in my five decades in the game is that winning and losing has nothing to do with the number of games a team wins, but it has plenty to do with winning the game of winning. I've seen some teams win 100 games and finish in last place, and I've seen some teams that won 75 and went on to win the World Series. But you take a team like our Sox, I don't care if they lose four of six, eight of nine, 130 out of 162, they're still gonna go out there every day and play, and that's what separates our Sox from the teams that aren't still playing in October.
Gordon Beckham Hall of Fame Update: Gordon Beckham home runs through 109 games: 15. Babe Ruth home runs through 109 games: 7. Advantage: Beckham.
Alumni News You Can Use: Former Sox knuckleballer Charlie Haeger struck out a dozen Florida Marlins in only six innings Sunday.
The "H" in "DH" Stands For: Home run, as Mark Kotsay has thus far been responsible for 100% of White Sox DH bombs.
The Q Factor: With the shot to his elbow Sunday, Carlos Quentin leads all of baseball with three hit-by-pitches. After hitting Quentin, Twins pitcher Nick Blackburn called catcher Joe Mauer to the mound. "What's up?" Mauer asked. "Give my love to Minnesota," answered Blackburn. Late in the seventh inning, Blackburn was taken out of the game by manager Ron Gardenhire; Carlos Quentin smiled a mischievous grin, and Blackburn has not been seen or heard from since.
The Guillen Meter: His team off to a horrible start, the Guillen Meter reads 7 for "Yeah, well how the !@#$ is your team doing these days?"
Cubs Snub: Alfonso Soriano, who the Cubs will pay $18 million this year, bobbled a routine pop fly on Sunday's game allowing two Cincinnati Reds to score. Unbelievable.
The White Sox Report: Read 'em all.
The Cub Factor: It's funny because it's true.
-
The White Sox Report welcomes your comments.
-
Andrew Reilly is the managing editor of The 35th Street Review and a contributor to many fine publications.
Posted by Beachwood Reporter at 6:00 AM | Permalink
April 10, 2010
The Weekend Desk Report
We know you'll be obsessively monitoring the progress of Lee Westwood. We'll obsessively monitor everything else.
Market Watch
The role of technology in weakening the nation's labor markets will continue to be debated as more industries move to lower overhead. This week alone, unemployment rate amongst feisty internet satirists soared after a major breakthrough allowed the jokes to write themselves.

Credit Checked
A group of notable universities this week declared an end to student loans. After all, why incur the debt of a four-year education when you can apparently learn from stuff you haven't actually done?
Credit Denied
Of course, it's also entirely possible not to learn a damn thing from stuff you pretty much did do. So who really knows where this is heading?
Left Behind No More?
Prospects for a solution to the CTA's rancorous and long-standing labor dispute improved this week as, suddenly, the union's demands looked a lot more reasonable.
Turning Green
Finally this week, it only took a quarter of the calendar days in April for Governor Quinn to declare it Earth Month in Illinois. However, analysts warn that, pending public reaction, the governor may wait until mid-May to retroactively declare April Venus Month after all.
-
The Weekend Desk Tipline: Obsessive.

Posted by Natasha Julius at 6:41 AM | Permalink
April 9, 2010
The [Friday] Papers
Ben Joravsky appeared on Chicago Tonight last night with Diana Ferguson, the chief financial officer of Chicago Public Schools, to discuss Joravsky's Reader article about CPS CEO Ron Huberman and other higher-ups taking pay raises while screaming bloody budget murder. Phil Ponce moderated. Let's take a look. Excerpts edited for clarity.
Ferguson: It's really important to set the record straight. Ron Huberman has not received a salary increase since he walked in the door. The only change has been a decrease, through furloughs, unpaid days . . . the only change will be a decrease of approximately six percent.

Joravsky: It's a fine point which I've now heard many times in the last 24 hours as Diane and I have become best friends. The reality is that in August 2008, the Chicago Board of Education approved $204,000 for their chief executive, who was Arne Duncan at the time. When Ron Huberman took office in January 2009, he was immediately given a salary of $230,000. It's not technically a raise for Ron Huberman, just a raise over the previous CEO.
*
Ferguson: Certain budgeted positions do show a change in individual salaries . . . We welcome their scrutiny and input . . . a small number of individuals were budgeted for an increase.
Ponce: Why?
Ferguson: The breadth and complexity of Chicago Public Schools merits the salaries that are being offered to the professionals who need to come in and lead the district. It's important not to focus on an individual's salary. The point here is that even in aggregate the total sum of those increases pale in comparison to the $6 billion operating deficit we're facing.
*
Ferguson: Since Ron Huberman has come in, there is not a single non-union person who has received a merit increase.
Joravsky: I don't buy that. I think these are fine distinctions that go over most people's heads. The facts of the matter are that the Chicago Board of Education allocated more money to these positions over the past year. And there is a difference between how much they get paid and what they are budgeted to be paid; in some cases, more. Duncan was getting more money than he was budgeted to receive - an additional $8,000.
Ferguson: Several people are being paid less than budgeted salaries.
Joravsky: There's a great deal of confusion and misinformation; the budget states one thing, the payroll states something else.
*
Ferguson: We invited Ben in for an hour.
Joravsky: There was a lot of love in that room. It was the first time I've ever been invited to the Board of Education. There was a remarkable difference [in cooperation] from before the article was written to after the article was written.
*
So, to recap and comment:
A) Ron Huberman was awarded an annual salary $26,000 higher than Arne Duncan was getting.
B) Because it's a complicated job and generous salaries are needed to lure just the right candidates to the job.
C) Huberman wasn't lured to the job; he was sent there by his paymaster, Richard M. Daley.
D) That argument is always employed to justify the salaries executive set for themselves, but never for front-line workers. For example, one might argue that higher salaries would lure better teachers.
E) Individual salaries are a drop in the bucket compared to the huge problem confronting us. True, but this is an argument employed to justify those who set budgets protecting their take. Single line items always pale compared to the big picture; a million-dollar earmarks is nothing compared to the whole of the federal budget. But it's a start. And who gets that million dollars? Each line item that management slashes is also tiny when set against the whole. And finally, management protecting their own undermines public - and employee - confidence in the integrity of the system and those guiding it.
F) Joravsky suggested that CPS put not only its budget online but its payroll so the public could see how money is actually spent. Yes. Budgets are highly fungible. Payrolls document money actually spent.
G) Why is CPS so secretive? Ferguson didn't have an hour to sit down with Joravsky before it became a PR imperative?
H) Would Huberman actually quit if his salary was reduced to Duncan's level? And in tough times like this, shouldn't he make less than Duncan? Management doesn't appear to have sacrificed at all; taking furlough days doesn't impress me.
*
"However much taking out all that pent up wrath on the working men and women of the CPS may satisfy the blood lust of teacher-bashing ideologues and politicians, beating the schools with the Huberman Hammer isn't going to make them any better," driftglass writes. Click through for the Photoshop magic, if nothing else.
Deja Chicago
"One month after O'Hare Airport's ousted security chief called O'Hare the 'least secure airport in the country,' City Hall has chosen a 28-year veteran Chicago firefighter to take his place," the Sun-Times reports.
"Richard Edgeworth, director of training for the Chicago Fire Department, replaces career police officer Jim Maurer, who was forced out last fall.
"Edgeworth will be paid $161,000-a-year, a nine percent increase from his current salary and 23 percent more than Maurer was paid. "
Daley's diet not going so well. Maybe the city needs to hire a personal trainer with budgeting skills. Is that Tae Bo guy still around?
The Daley Show
"Mayor Daley's nephew refused to explain today why he tried to help the daughters of a Bridgeport neighbor win backdoor admission to an elite Chicago public high school," the Sun-Times reports.
*
"According to the city's list of registered lobbyists, Thompson's clients currently include: 24/7 Outdoor, Centrum Properties, the John Buck Co., McHugh Construction, MB Financial Bank, Alexian Brothers and LaQuinta Hotels."
Assignment Desk
John Kass to Salerno's!
Forrest Gump
So, not only did Forrest Claypool not contribute money to Ray Figueroa nor speak out on his behalf (see the item Claypool of Mud), he didn't even pull a ballot in the primary, according to a trusted source who checked the records. That's right, reformer Claypool didn't vote in February, though he's asking you to vote (for him) next fall. Nice.
Obama's Ambassadors
Meet the new boss . . .
Things He Loves About Being Married
Three hots and a cot, having a date on national holidays, and having a wife who is hot. In Drew Adamek's latest list.
Facebook Feed
Matt Farmer thinks Tiger Woods would have a better chance this week if the old white guys in green coats had renamed their event the Masters and Johnson Tournament.
-
The Beachwood Tip Line: Masterful.
Posted by Beachwood Reporter at 6:52 AM | Permalink
Obama's Ambassadors
"Not everyone applauded when President Barack Obama's appointment of political fundraiser Louis Susman brought Chicago-style deal-making to the Court of St. James," the Tribune's Greg Burns wrote this week.
No kidding.
Even the staid CBS News played it this way: "Obama Picks Crony As U.K. Ambassador."
This was just what Obama promised not to do during his campaign, but when he backtracked during the transition we should have seen it coming.
In February, Carol Felsenthal penned a revealing profile of Susman for Chicago magazine.
Let's take a look.
"The retired Chicago businessman Louis Susman recently became the U.S. ambassador to the United Kingdom, an appointment widely regarded as the prize for his ferocious fundraising on behalf of the Obama campaign. Derided by the British press as the 'vacuum cleaner,' Susman is only the most prominent example of a continuing - and questionable - American tradition."
*
"The tradition dates to President Andrew Jackson, but didn't Obama promise change? 'I think that President Obama, as all presidents, choose who they think is the most qualified and deserving person to become an ambassador,' Susman told me last October. 'The qualifications are the first order of business, and I think, if it's relevant, the second order of business would be if they're deserving.'"
A) So George W. Bush also chose the most qualified persons as ambassadors?
B) And by "qualifications" Susman means you contributed to the president's campaign and by "deserving" he means you contributed a lot.
*
Oh lord, look at that photo!
*
"When asked if he had a conversation with Obama about the possibility of an ambassadorship, he snaps, 'Of course not, it's against the law.' (A 1980 law states: 'Contributions to political campaigns should not be a factor in the appointment of an individual as a chief of mission.' The law's weak wording seems, over the years, to have negated its impact.)
"Susman leaves the impression that he never gave a moment's thought to what he might gain should Obama win. Several friends tell another story. 'I had known for a long time of his interest in getting an ambassadorship,' says William Singer, a Chicago lawyer, who calls Susman 'one of my closest friends' and adds that London was Susman's first choice.
"'When it turned out that he raised as much as he did, he began to think, Wow, I bet I can get an ambassadorship if this guy's elected,' says Barbara Eagleton, who has known Susman since he worked on the 1968 U.S. Senate race of her late husband, Tom, in Missouri. 'I think [the Susmans] thought that they were going to get a nice [ambassadorship], but I don't think they dreamed of getting London.'"
*
"Like it or not, though, Susman became Exhibit A in the debate over the virtues of naming political appointees (approximately 30 percent of appointments in recent years) as opposed to foreign-service professionals to ambassadorships. To many in Britain and to members of the diplomatic corps, London was a test case of Obama's campaign criticism of turning donors into ambassadors."
*
"Both the American Foreign Service Association and the American Academy of Diplomacy had lobbied the candidates during the 2008 campaign to limit political appointments to about 10 percent of the 185 total ambassadorships. Based on Obama's early appointments, Ronald Neumann predicted that Obama 'is ticking to be worse in numbers [than George W. Bush].' In fact, they're about even. At presstime, 29.7 percent of Obama's appointments had been political, compared with Bush's eventual total of approximately 30 percent.
"'Why is [President Obama] letting the political appointments office downstairs in the basement of the West Wing hand out these prizes to a bunch of people who have no qualifications whatsoever to do these jobs?' asks Seitz. 'As far as they are concerned it's payoff time. . . . Do they think this approach to foreign policy . . . is good for this country?'"
*
"'I've never made any comment ever, any place, anywhere about Tony Blair,' Susman huffed when I asked him about [a Financial Times] interview. "I don't think you saw that right. Never, ever.' (Here's the link to the Financial Times article.)"
*
"After Salomon Brothers became part of Citigroup in 1998, Susman worked his way up to the position of vice chairman of Citigroup's corporate and investment banking. Two of the deals Susman worked on here would not win him the 'Mr. Chicago' title. In 1990, Susman negotiated the sale of Marshall Field's to his client, Dayton Hudson, for $1.04 billion. In 1995, his client LG, a Korean company, took over another local institution, Zenith Electronics."
One might say he prepared for an ambassadorship by sending jobs overseas.
*
Q: If Susman hadn't given Obama a penny, would he be an ambassador today? If the answer is Yes, he was truly qualified and deserving. If the answer is No, then why go through the charade of pretending otherwise? And we all know the answer is No.
*
"Margie 'can't stand any sort of mess,' says Eagleton. The new ambassador's wife quickly decided that the private quarters were not up to snuff and 'redecorated everything in like three weeks.' Margie's taste, adds Eagleton, is 'very minimalist. . . . Everything is monochromatic.' (Louis Susman's spokesman would not comment on whether Susman personally paid for the redecoration.)"
I take that as a No.
Didn't you take enough money out of our pockets when you worked at Citigroup, Lou?
*
"In our phone interview in October, I asked Susman to describe a typical workday, and he proceeded to drop some impressive names. 'You're constantly involved in all of the strategic objectives of the United States. I have met with General Petraeus, I've met with [the Middle East Envoy] George Mitchell, I've met with Chairman Bernanke, I've met with Treasury Secretary Geithner. I just finished a meeting with General Stanley McChrystal. I've met with the prime minister, I've met with his secretary of state and his chancellor. I've met with the opposition party leader, David Cameron, and his chief shadow foreign secretary. . . . So it's a major job with major issues.'"
Q: Why is an investment banker and campaign contributor meeting with folks like this? Stick to tour groups, Lou.
*
See also: Key Obama Campaign Backers Who Were Appointed Ambassadors
*
And from the Wall Street Journal's Donors Find a Home in Obama's Ambasssador Corps:
"The U.S. Embassy in Tokyo has seen its share of luminaries in the ambassador's suite. Former Vice President Walter Mondale, former Senate Majority Leaders Mike Mansfield and Howard Baker and former House Speaker Tom Foley are among those who have brokered relations with a complex and critical ally in a region bristling with military and trade tensions.
"President Barack Obama's pick for the post is from a different mold: John Roos, a San Francisco Bay area lawyer, was the president's chief Silicon Valley fundraiser and contributions 'bundler.' He has no diplomatic experience.
"Mr. Obama's choice of Mr. Roos, along with other political boosters - from former investment banker Louis B. Susman, known as the 'vacuum cleaner' for his fundraising prowess, to Pittsburgh Steelers owner Dan Rooney - has raised eyebrows among some who thought the president would extend his mantra of change to the diplomatic corps.
"'We're not only insulting nations [that] we're appointing these bundlers to, we're risking U.S. diplomatic efforts in these key countries,' said Craig Holman, a government-affairs lobbyist at watchdog group Public Citizen.
"This tension can be traced back to Mr. Obama's claim during last year's campaign that President George W. Bush engaged in an 'extraordinary politicization of foreign policy.' Mr. Obama said he instead would ensure that hires are based on merit, rather than party or ideology."
*
"Mr. Obama's ambassadorial nominees include Kentucky Internet executive Matthew Barzun, an Obama fundraiser, for Sweden; Colorado businessman Vinai Thummalapally, the president's roommate at Occidental College, for Belize; and Howard W. Gutman, who pulled together a half million dollars in Obama contributions, for Belgium.
"The Court of St. James's in London would get Mr. Susman, the former investment banker, who bundled at least $100,000 from donors for Mr. Obama's presidential run and $300,000 for his inauguration celebration, according to Public Citizen. Mr. Rooney, tapped for Ireland, threw his weight behind Mr. Obama ahead of the Pennsylvania primary. And Charles H. Rivkin, who if confirmed will be heading for Paris, is chief executive of entertainment company W!LDBRAIN Inc. and former president of Jim Henson Co., creator of the Muppets."
*
"The Swiss media aired some concerns about the choice of car-dealership magnate Don Beyer for the Geneva posting. The hope was for someone seasoned in financial issues, given White House pressure on Switzerland to make its banking system more transparent, according to Mr. Holman of Public Citizen.
"Many in Japan, meanwhile, were surprised and even disappointed at the choice of Mr. Roos - in part because it had been rumored in local media that the choice was to be Joseph Nye, a Harvard University professor of international relations and former assistant secretary of defense. Some commentators suggested the Roos nomination showed Mr. Obama's lack of interest in relations with Japan."
It's not personal, Japan. It's just business - as usual.
-
Posted by Beachwood Reporter at 12:50 AM | Permalink
Things I Love About Being Married
A man dies and goes to heaven.
When he gets to the pearly gates, he sees two lines. One line is marked for "Men Henpecked by Their Wives" and the other is marked "Men Not Henpecked by Their Wives."
The line of henpecked men stretches as far as the eye can see. Thousands - no millions - of badgered husbands stand in line waiting to meet St. Peter.
But the newly deceased man notices that the non-henpecked line only has one, lonely figure standing in it. The non-henpecked man's shoulders droop with resignation; he stares balefully at the ground and winces at every sudden noise. He shuffles his feet and plays nervously with the bottom on his ill-fitting sweater.
This lone man fascinates the new man in heaven, so he approaches. "How is it that you are the only man not bullied by your wife? Why, you're the very picture of henpecked; weak, wimpy and sniveling. Even I feel like picking on you. Tell me, why you, of all people, would be the only man standing in the non-henpecked line?"
The lonely man looks up with weak and watery eyes.
"This is where my wife told me to stand."
Here, then, are the things I love about being married.
1. Arbor Day.
Having a date on national holidays rules. No more suspicious stares from homophobic Grandma when I show up stag to yet another Christmas. Nobody calls the police anymore when I wander around the neighborhood in Spiderman Underoos on Halloween with my wife at my side. And I love no longer being volunteered to pick up holiday shifts, "because he ain't got nobody anyways."
2. Creepshow.
I'm no longer the creepiest creeper in the coffee shop because my manic and bitter desperation is gone. I can read the paper and write shitty poetry without the resentful lust of my wild-eyed staring bugging out the cute girls. Now, I live in a town with a women's college, so it's not like I don't notice the undergrads around the neighborhood. It's just that security no longer escorts me out because I won't stop staring at some poor girl while writing the word fuck on my arm with an Exacto knife. (Incidentally, I met my wife while she was a barista at my favorite coffee shop, though there were no razors involved.)
3. Form 45W29A.
If it's not between my elbows and my ass I can't find it. I once spent 17 years looking for my birth certificate. My important legal papers get filed on the passenger-side floorboard of my car. Meanwhile, my wife filed our taxes in two states, managing to keep the paperwork straight for four jobs, a new marriage, grad student status, student loan interest payments and six months of 1099 freelancing. She had 27 clearly marked documents and she knew what to do with them. Her organization was so incomprehensibly complex, fluid and beautiful to me that I felt like I was watching a virgin birth.
4. Felix da Housecat.
If there is an Odd Couple Theorem to describe the most opposite things in the universe, then you might be able to capture where my wife and I meet musically. I like thrash metal, early-90s rap, the Rolling Stones and Chicago Blues. My wife listens to Eastern European pop, house and Justin Timberlake. Road trips are long silent stretches between NPR stations. But once in a blue moon, we discover an album or an artist we both like. It is a magical moment when we can both say, "Hey, this ain't bad." The happiest time in my life was the Some Girls stretch my wife went through.
5. Fourth Down.
Being married has made watching football sweeter. I never really cared much for football until we cohabitated. But being camped out with a beer and some nachos on a Sunday afternoon while being reminded that I should be doing something else - anything else - multiplies the pleasure quotient. Bears, Schmears, all I know is that I am not organizing whole grains in the pantry.
6. Commiserating with My Married Buddies.
It was so hard to sympathize with the marital problems of my homeys while I was seething with a lonely rage. "Dude, that sucks your wife wants you to pick up your socks. I HAVEN'T HAD SEX IN THREE YEARS YOU ASSHOLE. So yeah, maybe you should pick up your socks." My married cousins all think that I am way less of an uptight asshole now that I am married.
7. Three Hots and a Cot.
As a single man, I ate out of tuna cans at midnight, had ketchup sandwiches for breakfast and thought giardeniera was an essential mineral. Don't get me wrong, I ate and I ate well - that third chin didn't come from eating light - but I didn't eat off of plates if I could help it. My wife has civilized me; she's taught me how to properly season my food, eat at a regular hour and what shirtsleeves are (and are not) for.
8. Happy Birthday.
I don't have to plan my own birthday parties anymore. Once, I threw myself a huge bash that only Timmy and Steve showed up to. We sat in Welles Park, ate slices off paper plates and went home. My wife makes a big production out of making my cake every year and it makes me feel like I am 10 again.
9. Chicken Soup.
The worst part of being single for me was getting sick. There was no lonelier trip than going to Walgreens, stricken with the flu, to get myself soup and medicine. Being sick and not having the help I needed always made me realize just how fucking alone I was. When my wife serves me soup and tea in bed, I feel so nurtured that those lonely years just melt away.
10. Bust a Move.
I don't have to do any of that awkward dating shit anymore; no dancing, no talks about "boundaries," no hiding my strange dental obsessions. I don't have to pretend to like things I hate. I don't have to go out when I want to stay in. I don't have to be what I mistakenly thought a boyfriend should be. I can just be my sloppy, toothbrush-hating, cartoon-watching, dick joke self and be comfortable in my own skin. (Wow, re-reading this, I can't believe she actually married me).
11. My wife is hot. That's all there is to it.
-
-
Other Lists By Drew Adamek:
* Today's Syllabus
* Shit My Dad Says
* Work Weirdos
* Things I Miss About Chicago
* 20 Albums I Wish I Had Never Bought
* Their Chicago
* Cities I've Slept In
* My Favorite 1980s Chicago Radio Memories
* Why Milwaukee Rules
* Why I'm Glad I Don't Live In D.C. Anymore
* The Beer Goggle Recordings
* A List Of Reader Comments To Drew's Lists
* Life's Little Victories
* The Worst Jobs I've Ever Had
* Jobs For The Zombie Apocalypse
* Lemme Get A Bite Of That
* Lists I'll Never Write
* Things I Miss About My Imprisoned Best Friend
* Things I Miss About Being Single
Plus:
* Fan Note: Me & Metallica
Posted by Beachwood Reporter at 12:23 AM | Permalink
April 8, 2010
Chicago Anarchist Film Festival
May 2010: Chicago Anarchist Film Festival Crosses Boundaries for 10th Anniversary with Six Nights of Events at Two locations. Twice as big and more to think about!
For those not counting, 2010 is the 10th Anniversary of the Chicago Anarchist Film Festival (CAFF). As we have for ten years, CAFF invites anarchists, anti-authoritarians, the anarcho-friendly and the anarcho-curious to experience radical cinema from around the world with features, shorts, documentaries, animation, and found footage. (Visit chicagoanarchistfilmfest.com for schedule)
As a niche fest, the Chicago Anarchist Film Festival stands out for putting its politics upfront . . . In style and substance, the Chicago Anarchist Film Festival stands for 'propaganda by the deed.' Instead of bellyaching about bad press, CAFF counters the mainstream culture by screening do-it-yourself art. - Bill Stamets, Sun-Times, May 2 2008
Anarchist films cross boundaries, take risks, and subvert passivity. With this year's theme, Crossing Boundaries, CAFF seeks to project voices that transcend borders and cultures - voices that normally do not get heard. That said, viewers will also find humor, silliness and fun in the offerings.
In keeping with the Crossing Boundaries theme, we are also aiming to be more than film! With several More Than Film presentations/workshops, the curatorial team is re-imagining the film fest as more than "seats facing a screen" - we also seek to engage the audience in dialogue with filmmakers and activists.
In honor of our decade of existence, we will also be featuring Circle-A-Archives selections from throughout the festival's history that showcase not only our favorites, but also important moments in politics and culture.
Celebrate with us, as the 10th Annual Chicago Anarchist Film Festival commemorates its decennial anniversary of insurrectionary cinema with six nights of films and much more! This year's festival is twice as big with more to think about! Happy Birthday, CAFF!
*
Our lineup is at two locations: NNWAC (Near Northwest Arts Council)/St. Paul's Cultural Center, 2215 W. North Avenue (Wicker Park) on Wed May 5, Fri & Sat May 7 & 8, and No Exit Cafe (Rogers Park) 6970 N. Glenwood on Fri-Sun, May 14-16.
A sliding scale donation of $5-10 per festival day requested with no one turned away for lack of funds.
For more information e-mail CAFF@riseup.net or visit www.chicagoanarchistfilmfest.com.
*
EVENT SUMMARY
What: Chicago Anarchist Film Festival 10th Anniversary
When and Where: 6 nights at 2 locations - For full schedule visit www.chicagoanarchistfilmfest.com (schedule subject to change)
* Wed May 5, Fri & Sat May 7 & 8
7-10pm each night (Film Screenings)
NNWAC (Near Northwest Arts Council)/St Paul's Cultural Center
2215 W North Avenue, Chicago
and
* Fri-Sun, May 14-16
5-10pm each night (5-6:30pm: More Than Film presentations; 7-10pm: Film Screenings)
No Exit Cafe
6970 N. Glenwood, Chicago
How Much: A sliding scale donation of $5-10 per festival day requested with no one turned away for lack of funds.
-
Posted by Beachwood Reporter at 8:03 AM | Permalink
The [Thursday] Papers
I finally got a chance last night to read Ben Joravsky's week-old (sorry!) cover story in the Reader about CPS CEO Ron Huberman and other top personnel taking raises even as they put the screws to teachers, classrooms and schools - in other words, kids - while proclaiming The End Is Near due to horrific budget problems.
Well, one thing you can say about Huberman is that he's running the schools as a business.
In the private sector, CEOs and their executives - as well as managers on down the line - get rewarded handsomely for firing people to "right-size" their budgets.
But aside from the obvious outrage, two things really struck me about Joravsky's piece:
1. How utterly uncooperative CPS is with the media. Perhaps the folks over there believe the schools are theirs.
2. How, when all is said and done, we don't really know how much Huberman is making.
"When it comes to budgets, test scores, dropout rates - anything, really - you can't take the central office's word at face value," Joravsky writes. "The truth is a work in progress. If it serves their purpose they'll tell it one way. And if it doesn't, they'll tell it another."
Take communications director Monique Bond.
"Bond is budgeted to make $130,000, up from $111,000 a year ago - that's a 17 percent raise," Joravsky reports. "Prior to following Huberman to CPS a little over a year ago, she was the spokeswoman for the city's police department and before that the aviation department. Last December Reader media columnist Michael Miner reported on her reputation among journalists for making it hard to get information about the schools and wondered whether that's what she'd been hired to do. I for one can attest that she does a pretty good job of blowing off my calls and e-mails."
More than once, Bond told Joravsky she would get back to him with answers to his questions and failed to do so.
Of course, that's partly a consequence of having a communications director as a go-between in the first place. Ben Joravsky is a great reporter and he doesn't need me advising him, but I wonder if he tried calling the CFO or some other budget official instead of going through Bond; it's always a good idea to go right to the source. If they tell you that you have to go through the press office, it's always a good idea to ask why (sometimes it yields highly useful quotes, too) and to suggest it would be a waste of time to merely pass questions through a third-party.
But I digress.
Bond isn't the only one doing well in bad times.
"The director of intergovernmental affairs, Eduardo Garza, got his pay boosted from $109,000 to $113,000," Joravsky reports. "Garza was once a southwest-side independent and in 2006 ran a strong race against state senator Martin Sandoval, an ally of powerful 14th Ward alderman Ed Burke. Burke was so impressed that he found a place for Garza on his City Hall staff. Garza moved over to CPS in 2008 and has been working his way up the food chain ever since.
"The Board of Ed also took care of its own. Last year it had 20 employees; this year it has one more, an 'acting director' of the board who makes $146,000. Other high-paying board jobs include deputy chief of staff ($155,000) and secretary to the board ($111,000), both making more this year than last. The salary for the chief of staff to the board - a position held by David Pickens until March 26, when he resigned - was bumped to $163,000 from $155,000. That's the same David Pickens who recently said that when he was an aide to Huberman's predecessor, Arne Duncan, he kept a so-called clout list of supplicants who'd begged administrators to get their kids into one of the high-performing schools. The admissions policies at these schools are now the subject of a federal investigation.
"Employees in Huberman's office were also rewarded. Besides Huberman himself, the office has two other employees making more than $100,000 a year: a "manager" whose salary went from $98,500 to $103,400 and a 'senior professional' whose pay was trimmed a few hundred bucks and now stands at about $102,000.
"And Huberman himself? His budgeted salary jumped from about $204,000 to $230,000 - a hike of $26,000, or 12.7 percent."
But as Joravsky shows - go read the whole thing to trace the trail - other sources contain different figures for Huberman's salary (the State Board of Education has him at $237,000).
This is not just an education story, of course. It's also about the media, by my way of thinking. Daily reporters tend to not do their homework. What Joravsky did shouldn't be seen as extraordinary, though it is in this town. It should really be considered routine - the baseline of reporting.
Writes Joravsky:
"Last week Mayor Daley weighed in, admonishing teachers to enter the 'real world' and forgo their 4 percent raises. 'Government has to diet,' Daley told reporters on March 22. 'You have to be able to cut back and start sharing the loss that people have.'
"Wow - that sounds like decisive leadership. But having spent the better part of the last week poring over the 350-page Chicago Public Schools budget, I can tell you there's little evidence that the central office has gone on a diet.
"How can CPS dole out raises while claiming to be cutting back? Let this be a lesson about the difference between a press release, disseminated far and wide for mass consumption, and a governing budget, buried on a Web site and read only by insiders and a few really motivated geeks."
Yes, let this be a lesson. Joravsky read the budget. I wonder how many other reporters in town have done so. That should be the starting point, not the ending point.
*
So much of the media is so credulous. Do they ever learn?
"He modernized Chicago's emergency-response center, served as Mayor Daley's chief of staff, and led (albeit briefly) the CTA - all before his 38th birthday," Chicago magazine proclaimed in a profile last August. "Now Ron Huberman, the Israeli-born gay ex-cop, has brought his intensity and his technocratic management style to the city's public schools. Failure is not an option."
Really? Failure is not an option? In Chicago? At CPS? Failure happens every day.
The piece goes on to credit Huberman with "chang[ing] the accountability system for city government, and rescu[ing] public transit from the brink of bankruptcy."
Um . . . okay. Did I fall asleep and wake up in a different city than everyone else?
The obligatory critical paragraph comes late in the story, which quickly reverts to reverence:
"Despite promises to slash the budget, Huberman watched silently as the seven school board members doubled their receipt-free expense allowances to $24,000 per person per year, with $36,000 for Scott, the board president. And Huberman approved at least two no-bid consulting contracts - including one of up to $150,000 for Barbara McDonald, his former boss at the police department, who has followed him to several agencies. McDonald's indistinct role is to 'provide advice and consultation' to Huberman on communication and outreach, according to the approval agreement submitted to the board. 'She'll add so much value, she's going to more than pay for contract costs,' Huberman says."
What seems to be missing is: Why? Why did you watch silently as school board members doubled their expense allowances? Why, run did you offer a no-bid contract to your pal? And what value exactly does she add? Just tell us.
The piece is also yet another paean to Richard M. Daley's management skills - you know, the skills that landed his patronage chief in jail because city hiring was rigged, among a cascade of scandals during Mr. Manager's reign.
Huberman, in fact, became Daley's chief of staff in the aftermath of the Hired Truck scandal, ostensibly with the mandate to, you know, clean things up. Who hired Angelo Torres, Ron? Apparently unasked and certainly unanswered.
"At times, Huberman's emphasis on riders irked overseers."
He cared about riders too much!
Finally:
"Though Huberman had barely spent time in the private sector, he developed a reputation as a brutal, corporate-style executive."
Reporters love this in everyone's workplace but their own. Being a brutal, corporate-style executive is always sure to gain you points in a profile.
"None of the critics or victims of Huberman's sometimes-brusque style would speak on the record for fear of angering a powerful man who has the mayor's ear."
Managing by fear is a sign of weakness, even incompetence. But it stifles critics who might otherwise stifle a glowing profile.
Chicago would have done its readers a much bigger favor if it had done what Joravsky did: Read the budget.

Claypool Piffle
On Chicago Tonight on Tuesday, Forrest Claypool said that Democratic nominee Joe Berrios had "snuck in" to his spot on the slate. Huh? It's not like Berrios put his name on the ballot in the middle of the night.
Somewhat by way of explanation, Claypool said the early primary date was installed by party bosses like Berrios to discourage voter turnout. Ahem. The primary date was moved up expressly to game the Democratic presidential primary in Barack Obama's favor by giving him a big-state victory in the early going. That's not a secret - that was the public rationale, and if Machine hacks gained in the process, so be it.
*
"He's been called a reformer and campaigns as such," John Kass writes today. "But then Claypool also was chief of staff for Mayor Richard Daley when so many kinky deals went down, when the Hired Trucks ran free and the wrought-iron fence was installed. And Claypool has never been called on it."
So Huberman was brought in to clean up Claypool's messes?
Convention Wisdom
Finally, a little perspective on the struggles at McCormick Place: Things are tough all over.
Neighborhood Ninnies
"President Obama has new neighbors," the Sun-Times reports.
"The first family's pals next door, Bill and Jacky Grimshaw, today closed on a $1.4 million deal for their 6,000-square feet 1906 colonial mansion with an unfettered view of the Obama's Kenwood estate."
Here's the good part:
"The Grimshaws had attempted to cash in on the 'Obama factor' by not listing an asking price when the house went on the market in September. They hoped to starting a 'nutty bidding war' for the mansion and coach house near 51st and Greenwood."
Classy. And bright - nothing like trying to attract fame-seekers and nutty bidders to the home next to the president's.
"We marketed the house worldwide and talked to people all over the world about it hoping a non-traditional buyer would emerge and pay a premium," said Matt Garrison, the Grimshaws' real estate agent. "But it was sold to an ordinary Chicago home buyer who was in our backyard the whole time."
Should have made reality show out of it, Matt. One couple who would have made perfect contestants are also in our backyard.
And Grimshaws: You are Today's Worst People in Chicago.
-
The Beachwood Tip Line: Sell in.
Posted by Beachwood Reporter at 2:51 AM | Permalink
Casting Call: America's Worst Cooks
1. The press release.
Dear Steve,
I am on the casting team for the hilarious yet heartwarming show Worst Cooks In America on Food Network. The show is a culinary boot camp of sorts, with top chefs teaching hopeless home cooks how to succeed in the kitchen.

We are actually in our second season and our casting team is headed to Chicago to find people who have a hard time in the kitchen and really need help! We are going to be hosting a casting event in Chicago on Saturday, April 17th, and are so excited to meet the contestants from the Windy City.

We would love to pitch a small feature - a little more than a listing but shorter than an article - which would include both information on our casting event and information about the actual casting process, what we look for in a contestant, etc.

I've answered some major questions below:
Why do people nominate themselves for a reality show to learn to cook? This is the opportunity of a lifetime to train with famous Food Network chefs for a culinary boot camp to learn to cook like a professional. If you have a desire to learn, you may as well learn from the best!

What are the different ways in which people can be bad cooks? We are looking for the types who are always asked to "just bring the napkins" to the potluck dinner, the ones who consider scrambling an egg overwhelming, people who over-season, under-season, over-cook, under-cook or just plain never set foot in the kitchen.

What is the real reason it's so important to some people to learn to cook? We are looking for people who have heartfelt reasons as to why they want and need to learn to cook. The reasons are endless but some of the popular reasons people need to learn to cook are:

For their families: Those who want their children to eat healthier; specifically, less frozen food and take-out.

For their spouse: Someone who wants to take the pressure off their husband or wife, who has been doing the cooking their entire marriage.

For their family-to-be: Newlyweds or parents-to-be want who want to break the cycle of take out and fast food when they start their own families.

For themselves: There comes a time when people realize they need to take control of what they eat because no one is going to do it for them.

Why have people never learned to cook? Some people's parents never cooked themselves so they never learned themselves. On the flip side, some people's parents cooked wonderful food their whole lives so they never had to learn. We also live a society where frozen meals and take-out have made it so easy to survive without ever sitting down to a home cooked meal.

With the popularity of cooking shows, food magazines and food in general it's surprising how many people still don't have this basic life skill and we are trying to reach those people!

Our casting director, Jennifer Sullivan, who has cast other popular food related shows like The Next Food Network Star and the new Food Network show 24 Hour Restaurant Battle is available anytime to speak further.
As for the casting event, people can either nominate themselves or nominate someone they know.
The details of our event are as follows:
CHICAGO OPEN AUDITION:
Date: Saturday, April 17
Time: 9am - 3pm
Location: The Affinia Chicago, 166 East Superior Street
To apply people can email us at worstcookschicago@gmail.com with their contact information.

I have attached our flyer and some pictures from the show and if you need further information, please feel free to e-mail me or check out our website at www.worstcookscasting.com. Also, I can put you in touch with our casting director if you would like to talk more!

Thanks in advance! I look forward to hearing from you.
Best,

Sarah McKitterick
Casting Assistant
Worst Cooks in America Season 2
2. The flyer.
Are you a hopeless home cook? Or is someone you know totally incompetent in the kitchen?
Food Network is looking for the most disastrous home cooks in Chicago to participate in a very different culinary competition show!
This is the opportunity of a lifetime - to work with the best chefs in the country and learn to cook like a professional. Seeking people with a genuine inability to cook, but a need and desire to improve!
NOMINATE YOURSELF
* Has your wife told you it was probably better if you ordered take out?
* At the big potluck dinner, are you always asked to "just bring the napkins?"
NOMINATE SOMEONE YOU KNOW
* Is someone you know constantly offering you food that you have to turn down?
* If you know a dad/mom who can't scramble an egg, a colleague who can't convince anyone to try their culinary creations, or a guy friend who tries but can't seem to get it together in the kitchen, this is your chance to get them the help you BOTH need!
OPEN CALL CHICAGO
The Affinia Chicago
166 East Superior St, Chicago IL, 60611
Saturday, April 17th
9 a.m. - 3 p.m.
*Please bring a dish that represents your cooking
HERE'S HOW TO APPLY: WE ARE CONDUCTING CASTING PHONE INTERVIEWS THIS WEEK, SO PLEASE APPLY ASAP!!!
* Email us at worstcookschicago@gmail.com
* Tell us why you (or the person you are nominating) is the most disastrous cook in the country
* Include name, age, hometown, occupation, contact phone number, and a recent photo of the hopeless cook
Additional information & application available at worstcookscasting.com
3. The photos.
-
Posted by Beachwood Reporter at 2:15 AM | Permalink
The [Dobmeyer] Papers
The University of Illinois at Chicago Library will celebrate the opening of the Doug Dobmeyer Papers at a reception today from 3 p.m. to 5 p.m. in the Richard J. Daley Library Special Collections department.
*

UIC LIBRARY RECEIVES DOUG DOBMEYER PAPERS
Social activist Doug Dobmeyer, a long-time Chicago advocate for the homeless, has donated his professional papers to the University of Illinois at Chicago Library.

As a communications consultant, Dobmeyer works with nonprofit organizations on persistent social issues, particularly housing and emergency social services.

The Doug Dobmeyer Papers comprise 106 cases of papers documenting organizations for which Dobmeyer served as founder, director, board member or consultant between 1978 and 2008. The papers include administrative records, correspondence, reports, publicity and fundraising materials and media coverage.
Ann Weller, head of special collections at the UIC Library, said historians, policy makers and community activists will find the collection a source of unique primary research materials.

"These documents tell the stories of small organizations that have significantly affected public policy," Weller said. "Information about such organizations often is ephemeral. Their contributions to political and social history can easily be lost if collections such as Dobmeyer's are not preserved."

Dobmeyer published the newsletter Poverty Issues: Dateline Illinois from 1996 to 2001, wrote a political column for Streetwise from 1998 to 2001, and published Today's Issues, an online journal covering political and social issues. His 1996 book, Competing Successfully for Media Coverage, advises community groups on public relations strategy.

"I hope that researchers, media, students and the general public will use these papers to learn from the past and plan better for the future," Dobmeyer said. "I am most grateful to UIC's library for the opportunity to house these papers. These papers will add to the historical fabric of the city."

The collection includes materials from:
* Center for Street People
* Chicago Coalition for the Homeless
* Chicago Community Trust Fellowship
* Chicago Department of Housing
* Chicago Low-Income Housing Trust Fund
* Lakefront SRO Corporation (now Lakefront Supportive Housing)
* Public Welfare Coalition
* Residents for Emergency Shelter
* Task Force to Oppose Gambling in Chicago
* Voice of the People in Uptown

Materials in the collection are listed here under the Doug Dobmeyer Papers.
To make an appointment to view materials in the Special Collections department, use the "Ask a Librarian" service.
-
Posted by Beachwood Reporter at 12:17 AM | Permalink
April 7, 2010
The [Wednesday] Papers
"It is 4 o'clock on a Wednesday, and the wide halls of Lafayette Elementary echo with competing melodies from cellos, violas and violins engaged in orchestra practice," writes Catalyst's Dominique Baser.
"Lafayette's sprawling campus is home to one of the largest elementary school orchestras in the city, but its students only fill a third of the building. That's about to change, when 300 students from the Chicago High School for the Arts move in and begin sharing the campus in September.
"The School Board has approved the move of ChiArts, a Renaissance 2010 school and the city's only public high school for the arts. In fall 2009, the school opened at a temporary location on the South Side, but officials say Lafayette, in East Humboldt Park, will be its permanent home.
"Staff members from both of the schools say they are excited about the merger. But some activists in the surrounding neighborhood are not. Their complaint is familiar among grassroots groups that question the impact of the district's Renaissance 2010 plan: Another new school moves in, but is not designed to serve neighborhood children first."
Daley's Watching
"Chicago's new emergency management chief, Jose Santiago, is starting a major push to convince the private sector to connect its exterior surveillance cameras to Chicago's 911 emergency center," Progress Illinois notes.
"According to the chief, there are still parts of the city 'where we can't see.'"
A) My basement
B) Storage locker 42B at Grand and Ashland
C) Carlos Zambrano's limbic region
D) The mayor's anteroom
*
"Chicago already boasts the most extensive and sophisticated video surveillance system in the U.S., according to Michael Chertoff, the former Homeland Security secretary."
Total control is almost complete.
*
In other news, Kim Jong-il announced he will undertake an historic fact-finding mission to Chicago this summer.
*
In other news, the City of Chicago is expected to announce this week that they have finalized a Sister City agreement with Pyongyang.
Claypool of Mud
"Explaining his change of heart in running for countywide office, Claypool said Berrios would pose such 'a clear threat to homeowners and senior citizens throughout the county' if he wins that Claypool felt compelled to run against him," the Tribune reports.
As opposed to the threat that a Todd Stroger, Dorothy Brown or Terry O'Brien Cook County presidency posed?
*
"He didn't run in the Democratic primary for assessor because he thought former judge Raymond Figueroa would win, he said," the Sun-Times reports.
Claypool thought the longshot reform candidate would beat the Michael Madigan-backed chairman of the Cook County Democratic Party?
*
"Claypool [said] that he supported Ray Figueroa in the assessor's race against Berrios," the Daily Herald reports.
Really?
I checked the records with the Illinois State Board of Elections this morning and found that Figueroa reported just nine individual contributions totalling $7,450. Figueroa's wife, Aracelis, accounted for $2,500 of that.
Additionally, Citizens for Maldonado contributed $10,000 to Figueroa and loaned Figueroa another $10,000.
*
Well, maybe Claypool didn't mean he supported Figueroa financially. Maybe he just spoke out for him.
If he did, though, it was never reported by the Tribune, Sun-Times or SouthtownStar, according to the ProQuest newspaper database.
*
Claypool said he was "blowing the whistle on the insider culture" by running against Berrios.
Or, rather, Claypool, the two-time chief of staff to Mayor Richard M. Daley, said he was "blowing the whistle on the insider culture" - except when it comes the city's Biggest Insider.
That's when his whistle gets caught in his throat.
*
Last June, CBS2Chicago reported that Claypool had told a colleague he wouldn't run for Cook County board president because the job was "not a good fit for me."
Instead, he was reportedly "eyeing" a job in the the health care sector.
Just three months ago, he was sticking to his story.
"Well I certainly expected to be running again and I planned to run again," Claypool told the BGA's Patrick Rehkamp. "But a friend of mine felt like we had developed some ideas and a business model for integrated services and answers about nationalized health care reform, so I had to make a decision between the two and it was the hardest decision of my life."
Rehkamp reported that "Claypool and the friend have already started a health care company called Rise Health, which is aimed at streamlining efficiency for primary care physicians so they'll have more time to see patients because they're spending less time pushing paper."
Rise Health still lists Claypool as the company's president.
-
Also running for Assessor:
* Republican: Sharon Strobeck-Eckersall
* Green: Robert Grota
Sneedthing
Convicted felon Betty Loren-Maltese continues her rehabilitation campaign with the help of media handmaiden Michael Sneed and Sneed's complaint editors, billing today's "interview" as an "exclusive" even though Loren-Maltese has been feeding Sneed feel-good tidbits for months. The Sun-Times even pimps its piece on its front page.
Why not just give Loren-Maltese her own column and cut out the middle(wo)man? She probably comes cheaper than Sneed, who didn't appear to do anything but let her tape recorder run and transfer her pal's sob story to print. Almost every paragraph is Loren-Maltese speaking.
Curiously, Sneed glosses right over the crimes that sent her friend to the federal pen.
Here's a reminder: Loren-Maltese served a nearly seven years in prison for bilking the town over which she presided - Cicero - of $12 million. (And she's still on the town's health insurance plan!)
You can see the indictment here.
*
Sneed's "interview" isn't entirely worthless, though, in that it exposes one truly incredible claim and another truly incredible piece of media work.
First, this:
"Maltese wants to find 'a juror I'm told called my office looking for me right after I was found guilty to let me know something improper . . . irregularities . . . had happened in the jury room. It was a message never relayed to me, and I hope he reads this and still has the courage to talk to me.'
"The phone call by a man claiming to be a Maltese trial juror was verified by a former assistant for Maltese, who was present during our interview - but asked not to be identified.
"'He gave me his name and phone number and claimed he wanted to tell Betty about jury irregularities,' the former assistant said.
"'I couldn't reach Betty, so I contacted [a third party] to relay the message. It was only since she returned to Chicago that I found out she never got the message. I didn't keep the contact information and have long since forgotten its contents. But I think I remember his first name.'"
So a juror reached out to this "assistant" with information that could potentially free her and, for some, reason, he "couldn't reach" her and then assumed she got the message from some third party, even though nothing came of it. And then he threw away the juror's name and contact info - and forgot the allegation of impropriety!
Is that even remotely believable?
And the names of jurors aren't confidential - though I suppose they could have been in this case because of Betty's alleged mob links. But wouldn't you contact the judge?
*
Finally:
"Meanwhile, Maltese is getting ready to address the DePaul University investigative journalism class taught by Fox-TV contributor Anne Kavanaugh on May 3. It's a safe bet Maltese is hoping the students do research to help clear her name."
How many ethical lines does this cross?
For a refresher on Kavanagh's role in this unholy trinity, see:
* Anne Kavanagh aids and abets.
* Sneedling? There's an app for that.
* Blurred Lines: BLM's double agents are back.
-
The Beachwood Tip Line: Cross that fine line.

Posted by Beachwood Reporter at 8:21 AM | Permalink
Meeting Up Now
The newest Chicago meetups.
*
Playing with Energy
*
What the hell is there to do in CREST HILL
*
Friends of Bill Morton
*
Pseudo-Art Appreciation

*
The Volo Social Music Exchange for Autism Asperger's ADD
*
Chicago Professional, Personal and Pleasurable Connections
*
Chicago R User Group (Chicago RUG) Data and Statistics
*
Newly Separated Get Back Out Into the World
*
Active Trails Easy Pace Hiking
*
The Wandering Nomads
*
CHICAGOLAND COUGARS
*
The College Closet - 4Women :)
*
Naperville/Aurora - Young Adult Board Game Enthusiasts
*
Building Relationships, Building Business in New Lenox area
*
Dating for Men over 40 (MEN only, please)
*
The Witchies
*
Intrax Language Exchange - Chicago
*
BLOCK PARTNER DOMINOES CHICAGO
*
Virginia Tech Alumni
*
Chicagoland Hoopers
*
North Chicago Suburbs - The scoop on mediation & litigation
-
We've been tracking Chicago meetups since December 2007. In some ways one might argue that the nature of meetups says something about society at some particular moment. We'll let you decide for yourselves.
-
* August 8, 2007: Ex-Southerner? Expat Aussie? Expert in cash flow and living in Lincoln Park? In 15 Meetups.
* August 24, 2007: The Calabrese And Friends Bensenville Basement Meetup. Meetup Match Game.
* December 5, 2007: Millionaires and insomniacs now have the support groups they always needed. In Meeting Up Now.
* February 6, 2008: Wiffleball in Chicago Heights. Beadwork in Schaumburg. Meeting Up Now.
* August 6, 2008: Karaoke in Romeoville. Flag football in Naperville. In Meeting Up Now.
* September 10, 2008: Cleveland Browns fans in Naperville. Boycotting Wal-Mart in Vernon Hills. A secret poker club in Elgin. In Meeting Up Now.
* October 1, 2008: Indiana John Birchers and Naperville Knitters. In Meeting Up Now.
* November 19, 2008: Kinky Figure Drawers and Gospel Greats of Comedy. Meeting Up Now.
* January 14, 2009: Des Plaines day traders and displaced Texans. In Meeting Up Now.
* April 30, 2009: Old Bakers Square People and The Chicago Starseeds. In Meeting Up Now.
* July 1, 2009: Paddlers 4 Jesus. Baby Blanket Bingo. In Meeting Up Now.
* August 5, 2009: Russian moms, psychics and salsa. In Meeting Up Now.
* October 28, 2009: Let's lighten up, Lake County! In Meeting Up Now.
* December 17, 2009: Jury panels and paranormals. In Meeting Up Now.
* January 21, 2010: Robot City and Suburban Hip Moms. In Meeting Up Now.
* March 31, 2010: Chicago Super Happy Fun Time! and Guerrilla Gardening. In Meeting Up Now.
-
Posted by Beachwood Reporter at 7:15 AM | Permalink
White Sox Academy: Bare Hand Isolation
Fifth in an occasional series.
-
Next: Clock Drill.
-
Previously:
* Hands at Launch.
* Lower Body Mechanics.
* Infield Receiving Drill.
* One Knee Backhands.
Posted by Beachwood Reporter at 7:07 AM | Permalink
April 6, 2010
Beachwood Celebrates National Poetry Month!
1. Poetry Foundation Celebrates National Poetry Month.
Programming includes Poetry magazine, poetry films, iPhone app, multimedia poetry tours, recitation contest, readings, online educational resources, and more.
CHICAGO - The Poetry Foundation is pleased to announce an exciting array of literary events and programs in celebration of National Poetry Month, April 2010.

Poetry
For its April issue, Poetry has dispensed with the usual prose section in order to make room for extensive Q&As with the poets. Designed to enable readers to have a deeper experience with the poems in the issue, and also to give some insight into the questions that editors ask when considering submissions, the Q&As are probing, surprising, sometimes testy, and often funny.
Poets featured in the issue include Rae Armantrout, Todd Boss, H.L. Hix, Cathy Park Hong, Devin Johnston, Adam Kirsch, Randall Mann, Spencer Reece Donald Revell, and Robyn Schiff.
The Q&As are also available online at here.
Poetry Everywhere
Thirty-two new films debut as part of Poetry Everywhere, a poetry film series produced in association with WGBH Boston and David Grubin Productions.
Featuring poets such as Seamus Heaney, Toi Derricotte, Kevin Young, and Marilyn Chin reading their work, the films air intermittently on public television.
They are also available online here.
The just-released 2010 season of Poetry Everywhere introduces an accompanying iPhone application, available for free in the iTunes App Store, that offers selected videos from the project.

Multimedia Chicago and DC Poetry Tours
Featuring poems thematically related to each city and its unique neighborhoods and cultural landmarks, and showcasing the voices of a range of poets past and present - including Elizabeth Alexander, Thomas Sayers Ellis, and Robert Lowell in DC, and Gwendolyn Brooks, Carl Sandburg, and Stuart Dybek in Chicago - the Chicago and DC Poetry Tours include archival and contemporary recordings of poets and scholars as well as music, art, and photography.
The Washington Post described the DC Poetry Tour as "a poetry-themed Acoustiguide, where the streets are your museum and where each picture is accompanied by a poem," and noted the project's focus on an "all too often hidden cultural history."
Both tours can be experienced virtually at or downloaded for mp3 players here, free of charge.
Readings
The Poetry Foundation will host several poetry readings in Chicago throughout National Poetry Month. Presented in association with the Art Institute of Chicago, Derek Walcott reads on April 1 in Fullerton Hall. On April 13, Indigo Moor, Roger Bonair-Agard, and Kelly Norman Ellis will read at the Jazz Showcase. Cornelius Eady will read at the Cindy Pritzker Auditorium of the Harold Washington Library Center on April 24. All readings are free and open to the public, with seating on a first-come, first-served basis.

Poetry Out Loud: National Recitation Contest
At the end of the month, 53 high school students will walk onstage to face their peers, armed only with poems they have memorized and made their own. One will walk away with the title of Poetry Out Loud National Champion and a $20,000 award.
Poetry Out Loud is a partnership initiative of the Poetry Foundation and the National Endowment for the Arts that encourages the study of great poetry by offering educational materials and a dynamic recitation competition to high schools across the country.
The National Finals take place on April 26-27 in Washington, DC. More information is available here.
Harriet Monroe Poetry Institute
The Poetry Foundation recently released the first project of the Harriet Monroe Poetry Institute (HMPI), "Poetry and New Media: A Users' Guide."
Intended for use by poets and others in the poetry community as a tool to help them rethink their relationship to copyright and fair use and thus to develop permissions practices that allow the greatest possible access to poems while still protecting the rights of creators, the report also includes recommendations intended to help the poetry community use new media for poetry education.
The full report is available for free download here.
Poetry Learning Lab
Teachers and students are invited to explore the Poetry Learning Lab, the Poetry Foundation's recently launched media-rich online poetry experience.
Developed with a team of teachers, librarians, and poets to provide an immersive educational experience with poetry, the Lab provides readers of all levels with the opportunity to practice close reading and listening skills and to think broadly and analytically about poetry and poetics.
Resources available as part of the project include annotations, reading guides, audio and video recordings, discussion questions, writing ideas, teaching tips, and podcasts.
Designed for anyone who wants to learn more about poetry, the Poetry Learning Lab is available here.
Blog
The Poetry Foundation's blog, Harriet, will host more than 30 poets, including Brian Turner, Kwame Dawes, Rachel Zucker, and Wanda Coleman, for a month-long conversation about poetry, poetics, and the poetry blogosphere. www.poetryfoundation.org/harriet
About the Poetry Foundation
The Poetry Foundation, publisher of Poetry magazine and one of the largest literary organizations in the world, exists to discover and celebrate the best poetry and to place it before the largest possible audience. The Poetry Foundation seeks to be a leader in shaping a receptive climate for poetry by developing new audiences, creating new avenues for delivery, and encouraging new kinds of poetry through innovative literary prizes and programs. For more information, please visit us here. Follow the Poetry Foundation and Poetry on Facebook and on Twitter.
* National Poetry Month was inspired by the success of Black History Month, held each February, and Women's History Month, held in March.
* The first National Poetry Month was held in 1996.
* For National Poetry Month in 2001, the Academy invited people to "vote" for poets they most wanted to have a postage stamp. More than 10,000 people cast ballots, with Langston Hughes receiving the most votes. The vote tally was sent to the United States Postal Service, which issued a Langston Hughes stamp in January 2002.
* National Poetry Month has also sparked some debate among writers, most notably from poets such as Charles Bernstein and Richard Howard. Critics suggest that National Poetry Month trivializes the art form and floods the market with books in a matter of just a few weeks, overwhelming readers.
3. Chicagoetry: Rhymes for the Times.
-
New Addition!
4. The 3rd Annual "Paws for Poetry" Contest Challenges Kids to Write Sonnets to Spaniels, Prose for Persian Cats.
Colorado Springs, CO - April marks the 14th anniversary of National Poetry Month. To help celebrate, budding Emily Dickinsons and Edgar Allan Poes are encouraged to participate in the 3rd annual "Paws for Poetry" Contest (PawsforPoetry.org).
To enter, children ages five to 12 are to write a poem to, and provide a photo of, their favorite animal friend. The contest is cosponsored by kids' virtual field trip Web site Meet Me at the Corner and Flashlight Press.
Original poems of any length may be submitted in one of two categories: Group One (ages 5-9) and Group Two (ages 10-12). One grand prize winner in each category will receive a prize package worth $50. Two runners-up in each category will receive a $25 gift package. Children's author, poet, and Iraqi war veteran Thad Krasnesky, writer of the upcoming That Cat Can't Stay (Flashlight Press, 2010) is the contest judge.
In addition to the prize packages, winning poems and pet photos will be highlighted in an upcoming Meet Me at the Corner video podcast. The podcast will be videotaped at New York's Anjellicle Cat Rescue Center. Local students will present the winning poems.
All submissions should be mailed to "Paws for Poetry" Contest, c/o Meet Me at the Corner, 20 West Del Norte, Colorado Springs, CO, 80908. The contest deadline is April 15, 2010.
-
Posted by Beachwood Reporter at 2:06 AM | Permalink
Cook County Tax Tips
County docs offer stress-relieving tips to help taxpayers as they crunch numbers before April 15
CHICAGO - In the two weeks leading up to April 15 - Tax Day - thousands of Cook County residents will be thumbing through W2s and stressing out about whether or not they will receive a refund, or if they will have to pay Uncle Sam. To help navigate people through the long nights of filing, Cook County Health and Hospitals System (CCHHS) doctors are offering a few stress relief tips of their own.
Tax Season doesn't have to be a stressful time of year, but CCHHS doctors recommend learning how to deal with it and suggest taking proactive measures to alleviate it. Some suggestions include:
1. Hit the gym.
Doing yoga, biking outside, jumping rope and pumping iron will help to alleviate stress. During anxiety-ridden situations such as preparing tax forms, going to the gym will burn adrenaline, and thus, reduce stress. While getting the right amount of exercise will keep you physically fit, it will help you to be mentally fit and promote a sense of mental health and well being, as well.
2. Get enough Zzzz's.
While burning the midnight oil to find those final deductions may seem like a good idea, it may do more harm than good. Constant stress and worry has a diminishing affect on your health and quality of life, and stress and anxiety can disrupt the normal sleep cycle. A restful night's sleep will benefit you before and after you mail in those taxes.
3. Pass on the espresso.
Because dollar signs and filling out complex paperwork can be stressful on their own, taking proactive measures such as cutting down on caffeine will help reduce even more feelings of agitation and anxiousness. Like nicotine, caffeine can be overly stimulating for the mind and body and make you feel worse.
* * *
Stress may also lead people to raid the refrigerator, eat unhealthy foods and seek out comfort foods.
Because financial stress skyrockets during Tax Season, people often experience decreased immunity and health problems like a stiff back, strained eyes, headaches, and heartburn, but it can also lead to another problem - depression. Determining what triggers both physical and mental stress and minimizing that stress, is imperative.
"During stressful times it is especially important to take a moment to listen to your body. If you have tightness or tension in your back, that is your body telling you something. Try to relax and go for a walk to flex the muscles," said CCHHS Director of the Section of Behavioral and Preventive Medicine Dr. Dave Goldberg. "It's also important to be mindful of your mood as stress accentuate negative thoughts and cause even more stress."
If it's clear that tax stress is getting the best of your health, you may want to consider visiting an accountant. The main goal, after all, is staying healthy.
-
CCHHS (formerly known as the Cook County Bureau of Health Services) oversees a comprehensive, integrated system of healthcare throughout Chicago and suburban Cook County through its hospitals, ambulatory and community health network clinics, public health department, correctional healthcare facility, and outpatient infectious disease center.
The CCHHS is comprised of: John H. Stroger Jr. Hospital, Provident Hospital, Oak Forest Hospital, Cook County Department of Public Health, Cermak Health Services, the Ruth Rothstein CORE Center and the Ambulatory and Community Health Network (ACHN) health centers.
-
Posted by Beachwood Reporter at 1:30 AM | Permalink
The [Tuesday] Papers
"Turner Field has one of the largest high-definition video displays in the world, measuring nearly 80 feet high, but umpire Marvin Hudson never looked at it," Carrie Muskat reports at MLB.com.
"It was the sixth inning Monday when the Cubs needed Hudson to take a peek. They had closed to 8-5 against the Atlanta Braves thanks to Aramis Ramirez's two-run homer in the third. He singled to open the sixth and Marlon Byrd then lofted a ball to deep left-center. Atlanta's Nate McLouth made what looked like a diving catch to Hudson. But it wasn't."
No, it wasn't.
"Replays clearly showed McLouth did drop the ball, which is what Ramirez saw and why he advanced to second base. Byrd thought McLouth caught it. Ramirez was doubled off 8-6-3, and instead of having runners at first and second, the Cubs had two outs in the sixth."
Now, if we lived in the world we so often pretend to live in, McLouth would have simply told the truth to the nearest umpire. After all, don't those involved in athletics go on and on about how playing sports is character-building?
And aren't we taught that cheating - and lying - is wrong?
Is it so absurd to think that players whose grotesque salaries come derive in part from their status - wanted or not - as role models should act honorably?
Just tell the truth. Pols, athletes, corporate executives, people with power and wealth and fame - just tell the truth. It's not so hard.
* * *
"It was vivid, right in front of the replay," Piniella said. "I told the umpire, 'Just look at the replay and you'll get the correct call.'"
Of course, umpires aren't allowed to make calls based on stadium video screens. Seems absurd - everyone but the decision-makers can look at the evidence - but there you go.
* * *
"I like the human element," new Cub Marlon Byrd said, even though the human element of bad calls went against his team this time.
Apparently the human element includes a baseball code not of honor, but of doing anything it takes to win as long as you don't get caught - just like in any other sport.
That's what we really teach our kids.
* * *
"But Hudson, the second-base umpire, didn't look, and after conferring with the rest of the crew, upheld the double-play call."
And as Piniella pointed out after the game, that call wasn't why the Cubs got crushed 16-5, though their momentum was certainly killed.
But that doesn't make Len Kasper's whiny assertion late in the game about what-might-have-been any less embarrassing.
Had the umpire made the right call, Kasper said, the Cubs' next batter was momentum personified, "in the form of home-run hitter Alfonso Soriano."
Kasper could have just as easily said the Cubs might not have scored anyway because the next batter was "in the form of .248 hitter Alfonso Soriano," who went 0-for-4 on the day.
* * *
Baseball does teach us lessons. Sometimes the wrong ones. I guess you could say it tells us a lot about ourselves, though.
Hurly Buehrle
The play of the year on Opening Day?
-
Innkeeper Alexi
"The $6.5 million sale price Treasurer Alexi Giannoulias accepted for a state-owned hotel once tied to indicted political fund-raiser William Cellini netted taxpayers about half of the property's estimated value at the time of the deal, the Chicago Sun-Times has learned.
"The hotel's buyer, developer Steve Horve, confirmed that appraisal valued the property at $11.2 million - making his $6.5 million bid a true bargain.
"'I think if this thing was bid again [in a couple years], it's very, very unlikely I would have gotten it,' said Horve, who estimated that building a comparable hotel would cost $40 million."
Now, Giannoulias says the state shouldn't be running a hotel and getting rid of it quickly was more important than timing the market.
Perhaps.
But here's what really hurts:
"Under Giannoulias' control, the hotel posted a net profit of $1.3 million between March 2008 and last January."
Dude!
* * *
Then again, that's what can happen when you cater to mobsters. The Al Capone Suite did particularly well.
* * *
"I couldn't build a Holiday Inn Express, 62 rooms, for $6.5 million," Horve said.
Not even if you stayed in a Holiday Inn Express last night?
He's Fired
That's okay, Rod, there's no texting in prison.
Forrest And Trees
Forrest Claypool is a thousand times more preferable than Joe Berrios in the Cook County Assessor's race, but two questions about Claypool nag:
1. Did he really bow out of the Cook County Board president's race to work in the private sector, or did he not have the stomach for it?
2. The Sun-Times editorial on Monday lionizing Claypool asserts that he "served honorably twice as Mayor Daley's chief of staff."
Really? I don't remember an honorable era under Daley. If Claypool was really honorable - and really a reformer - he would come clean and spill. Surely he knows where many of Daley's bodies are buried.
Cub Stub
Newspaper narratives never seem to change. On Monday the Sun-Times delivered a story I'm pretty sure I've read every year since I moved to Chicago in 1992: "Signs point to lasting changes in Cubs culture."
I suppose that would be true if those stories were about the gentrified fan base, but they're not. They're about the Cubs so-called culture of loserdom, which is really about decades of inept management that keeps feeding on itself. And it hasn't changed yet, the Ricketts' notwithstanding.
Cat Scat
When Caterpillar first announced health care reform would cost it $100 million, I posted a link to the story. Other companies followed with similar announcements, but I didn't; I wasn't sure I understood what these "charges" really meant. Thanks to David Greising of the Chicago News Cooperative - among others - for taking a step back and clarifying the situation for folks like me:
"Caterpillar's complaint led to dozens of headlines, but a closer look at the impact of the new law indicates it is not quite the budget buster that the company's human resources executive, Gregory Folley, implied in his missive," Greising reports.
*
Crain's also pushes back.
Today's Beachwood
* PBS goes inside an innovative Illinois prison.
* Cook County offers tax tips.
* We celebrate National Poetry Month.
-
The Beachwood Tip Line: Poetic.

Posted by Beachwood Reporter at 12:58 AM | Permalink
Maximum Capacity: PBS Goes Inside An Illinois Prison
"The number of inmates in American prisons is outpacing the system's ability to hold them all," PBS reports. "In one startling example, California prisons hold well over 50,000 more inmates than they're designed for, even though the state has built a dozen new prisons in the last 15 years. One of the biggest reasons is rampant recidivism.
"This week, NOW goes inside an Illinois prison that may have the answer to California's problems. With its innovative plan to keep released inmates from coming back, the Sheridan Correctional Center is trying to redefine 'tough on crime' by being the largest fully dedicated drug prison in the country. The approach involves aggressive counseling, job training, and following the convicts after they get out.
Can their novel approach keep convicts out of jail for good?
-
Maximum Capacity:
-
And:
From the Illinois Department of Corrections:
"The Sheridan Correctional Center is an adult male medium-security prison, totally dedicated to substance abuse treatment. When at capacity, it will be the largest substance abuse treatment program in the nation.
"Sheridan Correctional Center was reopened on Jan. 2, 2004, to curb the trend in Illinois' growing prison population to reduce high recidivism rates of released Illinois offenders, providing men with state-of-the-art substance abuse treatment services, and using a holistic approach to equip offenders to return to drug-free, crime-free lives upon release. In the Sheridan Correctional Center nation model program, treatment interventions and access to other services are coordinated from the outset. The substance abuse provider collaborates with a cadre of service providers, the Illinois Department of Corrections and Adult Parole to effect community reintegration of returning offenders and improve public safety.
"Recovering from addiction requires a wide range of social and psychological interventions to confront old behaviors and instill new ones. Sheridan Correctional Center applies clinical best practices and uses a modified therapeutic community model with cognitive self-change.
"Sheridan Correctional Center staff collaborates with other organizations to integrate job preparation programming, clinical reentry management services and community reintegration, including continuing care provided by community-based substance abuse treatment providers."
* * *
"Sheridan Correctional Center is located approximately 70 miles west of Chicago in LaSalle County and was originally constructed in 1941 as a juvenile facility. On Aug. 13, 1973, it was converted to an adult facility. Sheridan Correctional Center was closed from Aug. 15, 2002, until it reopened on Jan. 2, 2004. Sheridan Correctional Center consists of a total of 75 buildings, which comprise more than 600,000 square feet. There are 13 housing units and a 9-bed health care unit. The facility sits on 270 acres with 80 acres inside the perimeter fencing. The facility houses general population offenders."
* * *
Warden:
Michael Rothwell
* * *
Vital Statistics:
Opened: (Re-Opened) January 2, 2004
Capacity: 848
Level 4: Medium-Security Adult Male
Average Daily Population: 943
Total Average Daily Population: 943
Average Age: 29
Average Annual Cost Per Inmate: $43,607.00
* * *
Vocational:
* Commercial Custodian
* Culinary Arts
* Barbering
* Dietary Class
* Education to Careers
* Welding
* Warehousing
* Horticulture
* Youthful Offender
* Home Builders Institute (HBI)
Including:
- Electricity
- Carpentry
- Plumbing
- Masonry
- Building Apartment Maintenance
* Illinois Manufacturing Foundation (IMF)
Including:
-Machining/Manufacturing
* * *
See also:
* The Sheridan Correctional Center on Prison Talk
-
Posted by Beachwood Reporter at 12:56 AM | Permalink
April 5, 2010
The [Monday] Papers
No column today, but a few other treats.
* Our very own Andrew Reilly is back today with his weekly White Sox Report, and I dare say it's the best piece of sportswriting in the nation today, even if he's wrong about the Twins' rotation. Writeth Andrew:
"Mark Kotsay batting fifth. Alex Rios coming off an absolutely Swisherian season. All the optimism in the world suggesting Andruw Jones will, at best, get on base 30 percent of the time. The oldest player in the American League backing up the most reckless. Mark Teahen replacing Gordon Beckham replacing Chris Getz. Their best players in decline, their eventual best not yet there, and the whole thing just reeking of another season spent envying the competition. But it's only April, so let's not yet dwell on things which might not happen."

* Our very own Jim "Coach" Coffman is back today with his weekly SportsMonday, and I dare say he rounds up the doings of our local disasters better than anyone out there. Writeth Coach:
"Third baseman Mark Teahan and the three-year contract he signed with general manager Kenny Williams are a mystery. (Three years Kenny? Who were you bidding against, teams from the Moon League?)"
* The Beachwood Brackets: Updated to reflect the privatization of America.
* Finally, if I've said it once, I've said it a million times: if you're not reading Natasha Julius's Weekend Desk Report, you are not living a life as fulfilling as you could be. Here's this week's, and remember we keep them archived with the Papers columns here. Treat yourself.
-
The Weekend Desk Report
We're not trying to be unethical or anything, but if you voted for Obama seek your weekend news somewhere else.
Market Update
The need to count ourselves spurred a heartening recovery in the job market last month. Those concerned that the upturn is temporary should take heart; analysts suggest by the time the 2010 census ends, a lot more people will be needed to creatively count the unemployed.
Unfit State
The welcome news of economic recovery was slow to affect Michigan, where more people are out of work than anywhere else in the nation. Of course, recent evidence suggest more people in Michigan are out of their damn minds than anywhere else in the nation as well.
Ike Strike
As a major construction project gets underway on the Eisenhower, commuters face an unenviable choice: sit in endless traffic or cram themselves onto crowded CTA trains and buses. Or, you know, find some way to combine the two.
Vatican Pwned
In a subconscious bid to heal the wounds within the Catholic Church, the Pope's personal preacher Father Raniero Cantalamessa used his Good Friday sermon to inadvertently reverse decades of Vatican denials by violating Godwin's Law. Victims' rights groups hailed the speech as an "epic fail" that might lead to meaningful reform.
Loan Sharked
Finally this week, the Cubs' collective attempt to lease the soul of Wrigley Field to a heartless conspiracy has hit another snag. Analysts suggest this could be beneficial, however, as these types of arrangements never seem to pay off in the long run.
-
The Beachwood Tip Line: Epic success.
Posted by Beachwood Reporter at 7:05 AM | Permalink
SportsMonday: Cinderella Stories
What an amazing night of basketball on Saturday . . . after Butler edged Michigan State to continue its Cinderella story. Then again, at least sitting through the second half of the first national semifinal and the long stretches of offensive ineptitude therein (lowlighted by the Bulldogs going almost 11 befuddled minutes without a field goal) enabled me to avoid watching the Bulls' early fourth quarter follies. Those were especially special considering they included numerous big plays from former locals turned Bobcats such as Larry Hughes and Tyrus Thomas. By the time I really focused on the local professional franchise during the break between national semifinals, the team, which had led by double-digits for much of the second and third quarters, had reached its nadir. It was down six with about five minutes remaining.

Then, just like that, the Bulls flipped the switch back on. The rest of the game looked like a long highlight reel. When Derrick Rose wasn't making like a machete on his way through the Charlotte defense time and again in the final minutes, he was passing to a red-hot Kirk Hinrich, who hit the three that gave the Bulls the lead for good and was 9-for-12 from the field on the night, or Joakim Noah. It was Noah's dunk through Thomas' outstretched hand that seemed to convince the Bulls once and for all that they could turn this game around one final time and record the victory, one that improved their record to 37-39.

It is still a long shot that the Bulls will pull ahead of Toronto, which beat the bad 76ers in overtime earlier Saturday to improve to 38-37, for the eighth and final playoff seed in the Eastern Conference. The home team has six games remaining, the Torontonians have seven. But the Bulls' first victory over a playoff team in more than a month was simply a thriller.

Then it was Duke and Northbrook's Jon Scheyer (a game-high 23 points) playing their best game of the season against West Virginia. My wife Julie noted during the Butler game that she wondered if the Bulldog and Spartan shooting was suffering from the lack of depth perception that comes with holding basketball games in football stadiums containing acres of relatively flat spectator space behind the glass backboards. That clearly was not a problem for the Blue Devils and it would seem to bode well for them in tonight's final.

Tournament Folly
Early last week was dominated by the incredible news that just about all observers believe the NCAA will almost certainly make fundamental changes to the tournament the next few seasons. They will essentially add a third wing to the golden goose, cramming 31 more teams into the event, probably the year after next.

Obviously the powers that be are doing this to increase revenues and increase revenues only but we're only talking about two more afternoons and evenings of basketball. And those rounds will be played on a Tuesday and Wednesday (after the traditional first weekend of first- and second-round play first involving the bottom 32 seeded teams and then the whole field).

Is the relatively small amount of additional television money that will result (in the next big deal the NCAA will almost certainly sign with ESPN and ABC during the coming offseason) really worth making a major change to an American sporting institution that is so clearly hitting its stride? It is not difficult to argue that this year's tournament is the best ever - so the response is to totally water it down and almost certainly diminish the level of overall play?

One group that loves the idea of 96 teams in the tournament is the coaches. They support the change because, quite simply, many more of them would be able to take their teams to the tournament and therefore be less likely to get fired. And then there is that increased revenue.

And of course there wasn't a word about any sort of compensation for the basketball players who make it all happen, the ones who too frequently don't even graduate and when they do, too frequently receive substandard educations.

The pathetic mouthpieces the NCAA loves to trot out at times like this, the ones whose entire salaries are paid by the revenues that flow from the efforts of "amateur" athletes, yammer about things like the other "88 championships" the NCAA runs for other sports. But last I checked, basketball players are too busy with year-round training to even think about playing in any of those other sports.

Sox vs. Cubs
Happy Opening Day everybody! Its an almost bee-you-ti-ful day for baseball and let's dive right in. How can the White Sox not be the consensus pick to win the AL Central? What am I missing? Yes there are bullpen questions, particularly about Bobby Jenks. But what American League team has a better set-up one-two punch than Matt Thornton and J.J. Putz? If Jenks struggles, the White Sox have not one but two flame-throwing potential replacements.

As for starters, no one in the AL Central has a big four that even comes close to Jake Peavy (2007 NL Cy Young), Mark Buehrle (13-10, 3.84 ERA in 2009), Gavin Floyd (11-11, 4.06) and John Danks (13-11, 3.77). The Twins' top four projected starters are Scott Baker (15-9, 4.37), Carl Pavano (14-12, 5.10), Nick Blackburn (11-11, 4.03) and Kevin Slowey (10-3, 4.86). Francisco Liriano is a wild card. He has wicked stuff when he's on and he pitched well over the winter and during the spring. But last year he was injury-plagued and eventually 5-13 with a 5.80 ERA.

As for the Tigers, they have stud Justin Verlander up top, but he isn't as much of a stud as Peavy. And the same goes for No. 2 Rick Porcello (versus Buehrle) despite the fact that he is a very promising young pitcher. And then they drop way off to Max Scherzer (9-11, 4.12 for the Diamondbacks last year) and Jeremy Bonderman, who hasn't had a decent season since 2006.

There are clearly concerns about the White Sox lineup but an average year from Paul Konerko in the clean-up spot and a bounce-back performance from Carlos Quentin in the three-hole will give the Sox substantial production. Third baseman Mark Teahan and the three-year contract he signed with general manager Kenny Williams are a mystery. (Three years Kenny? Who were you bidding against, teams from the Moon League?) And the sooner the White Sox get Juan Pierre out of the leadoff spot and bring up Jordan Danks to take his place the better. But I have the Sox winning this division handily.

* * *

The big problem for the Cubs is that if one of their presumptive late-inning guys - John Grabow, Sean Marshall (Grabow gets right-handers out better than lefties so he could actually be the guy to take on the tough right-handed bats in the seventh and eighth innings while Marshall faces the lefties) and Carlos Marmol - falter, they are in big trouble. There isn't the interchangeability there that is apparent on the other side of town. Jeff Samardzija will not be an effective late-inning guy. The sooner they send him to Triple A and have him start starting again, the better.

Hawksville
Tough to draw too much of a conclusion about anything about the Hawks after Sunday's latest cakewalk over a Calgary team that long, long ago on ice far, far away was last competitive with the home team.

This year the Hawks had knocked off Calgary by a combined 10-2 in their two previous meetings and the 4-1 win on Sunday was not that close. So perhaps a simple congrats on their first division title in 17 years is in order .

-

Jim Coffman rounds up the sports weekend every Monday in this space. He welcomes your comments.


Posted by Beachwood Reporter at 6:42 AM | Permalink
The White Sox Report
And so, armed with only a staff for the ages and no bats to immortalize it, the White Sox enter 2010 a little wiser and a whole lot older.
Mark Kotsay batting fifth. Alex Rios coming off an absolutely Swisherian season. All the optimism in the world suggesting Andruw Jones will, at best, get on base 30 percent of the time. The oldest player in the American League backing up the most reckless. Mark Teahen replacing Gordon Beckham replacing Chris Getz. Their best players in decline, their eventual best not yet there, and the whole thing just reeking of another season spent envying the competition. But it's only April, so let's not yet dwell on things which might not happen.
Instead, this being Opening Day and thus The Time When Everyone Has A Chance, let's focus on the positive and wonder not what could go wrong, but how it might just all go so very, very right because if you can't hold on to hope, even at its most fleeting, then you might as well not even bother.
Because the Twins have a terrible rotation. Because the Tigers are weak in the field. Because Cleveland and Kansas City still have so very far to go. Because 83 games just might win baseball's worst division and the Sox, if everything goes right, just might be able to turn so very, very much into so very, very little. And in this, the unspoiled beginning, we are still free to believe they can do just that.
Week in Review: This past Thursday, the Sox squared off against their AAA Charlotte affiliate . . . and lost 4-3. Think about that for a minute.
Week in Preview: Three at home against the hated Cleveland Indians followed by three more at home against the even more hated Minnesota Twins.
Hawkeroo's Can-O-Corn Watch: This team here, I tell you what, this White Sox team assembled here, today, in 2010, this might be the best team I've ever seen coming out of spring training. You show me a team like this, with what Kenny Williams and Ozzie Guillen have done with our Sox, you show me a team like that and I'll show you a team that can win 95, 96, maybe even 100 games. Because that's what good baseball is: it's teams winning games that they're going to win, and these Sox are as good a team at that as I've ever seen.
Gordon Beckham Hall of Fame Update: White Sox second baseman Gordon Beckham home runs through age 22: 14. Hall of Fame second baseman Ryne Sandberg home runs through age 22: 7. And so we can see Gordon Beckham is, without a doubt, already twice as good a player as Ryne Sandberg ever was.
Alumni News You Can Use: Former White Sox pitcher Jon Garland takes the ball this week as Opening Day starter and ace-by-default for the San Diego Padres.
The "H" in "DH" Stands For: Hurt, after Mark Kotsay, Andruw Jones, and Omar Vizquel missed a combined 275 games in 2009 due to injury.
The Q Factor: Asked recently about how he spent his offseason, Quentin laughed, then simply responded "There is no offseason." The reporter followed up with a question about how Quentin spent his winter, to which Quentin responded "There is no winter, no summer, no spring, no fall; seasons are for the weak of spirit and the thin of heart, an excuse to hide rather than to hunt. You call this the start of a new year; I call this the end of an undeserved three-day weekend." Quentin then punched a hole through the wall . . . of a bank vault.
The Guillen Meter: His team locked in a vicious five-way tie for first place, the Guillen Meter reads nine for "ready to kill indiscriminately."
Endorsement No-Brainer: James Frey's third book for the dawn of a new year in baseball: it's a bright, shiny morning.
Cubs Snub: On May 4, 2008, Carlos Silva started a game by giving up eight runs in three innings. Two weeks later, Silva took the hill and handed over seven earned runs in four frames. Ten days later, he coughed up another seven-spot while facing nine batters, retiring only two of those and not even making it out of the first inning. The White Sox Report welcomes Mr. Silva to Chicago with open arms, and wishes to make him the early favorite to become Our Favorite Cub.
The White Sox Report: Read 'em all.
The Cub Factor: It's funny because it's true.
-
The White Sox Report welcomes your comments.
-
Andrew Reilly is the managing editor of The 35th Street Review and a contributor to many fine publications.
Posted by Beachwood Reporter at 6:33 AM | Permalink
April 3, 2010
The Weekend Desk Report
We're not trying to be unethical or anything, but if you voted for Obama seek your weekend news somewhere else.
Market Update
The need to count ourselves spurred a heartening recovery in the job market last month. Those concerned that the upturn is temporary should take heart; analysts suggest by the time the 2010 census ends, a lot more people will be needed to creatively count the unemployed.

Unfit State
The welcome news of economic recovery was slow to affect Michigan, where more people are out of work than anywhere else in the nation. Of course, recent evidence suggest more people in Michigan are out of their damn minds than anywhere else in the nation as well.
Ike Strike
As a major construction project gets underway on the Eisenhower, commuters face an unenviable choice: sit in endless traffic or cram themselves onto crowded CTA trains and buses. Or, you know, find some way to combine the two.
Vatican Pwned
In a subconscious bid to heal the wounds within the Catholic Church, the Pope's personal preacher Father Raniero Cantalamessa used his Good Friday sermon to inadvertently reverse decades of Vatican denials by violating Godwin's Law. Victims' rights groups hailed the speech as an "epic fail" that might lead to meaningful reform.
Loan Sharked
Finally this week, the Cubs' collective attempt to lease the soul of Wrigley Field to a heartless conspiracy has hit another snag. Analysts suggest this could be beneficial, however, as these types of arrangements never seem to pay off in the long run.
-
Final Foursome: Beachwood Brackets updated!
-
The Weekend Desk Tip Line: Epic.

Posted by Natasha Julius at 7:51 AM | Permalink
April 2, 2010
The [Friday] Papers
Not a lot of time this morning, so just a few quick items.
1. The Top 10 April Fools' Day Fake News Items For 2010. My favorite might be Google Translate . . . For Animals.
2. Another list - compiled by Ad Age - includes Coldplay Perfume.
3. Sharon Osbourne on Rod Blagojevich: "He is absolutely crazy. He is insane. Completely self-obsessed, insane. He talks like a typical politician. Backtracks all the time."
And did I mention insane?
4. The Tribune has lost mostly stellar education reporter Stephanie Banchero to the Wall Street Journal, Alexander Russo reports.
5. From the Facebook feed of one of our favorite local commentators, whose work on the side when he's not being a lawyer and musician is eons beyond most highly paid full-time columnists in town:
"Matt Farmer and his guitar-picking buddy Steve Doyle will entertain the masses with three action-packed sets of barroom favorites this evening at Finley Dunne's Tavern, 3458 N. Lincoln Avenue. 9:00 pm-midnight. No cover. Stop by and say hello."
6. This week's Reader cover story:
"The Chicago Public Schools are broke. Teachers have been asked to share the pain. Coaches have been asked to work for free. Bigger class sizes have been threatened. So why are CEO Ron Huberman and other top bureaucrats taking raises?"
7. From the Facebook feed of one of my other favorite local amateur commentators, who also happens to be a musician:
"John Kuczaj's examples of phoning it in #2: Richard Roeper's columns are reading like the blog of a severe head trauma victim. Today's insights: Let gay people go to proms (story from 3 weeks ago), Wreck of the Edmund Fitzgerald is a great song, He watched a bit of American Idol on Tuesday, All of his minute thoughts while flying to LA." http://www.suntimes.com
*
Also from Kuczaj:
"The Cubs have announced that later this season they will honor Ron Santo with a bronze statue. Going for a realistic portrayal, it will be solid bronze except in the cranium, which will be filled with an inert liquid. Also, the statue will be carried by a statue of Pat Hughes."
8. Speaking of Roeper, our man on the rail Thomas Chambers digs into RR's latest book excerpt:
"Yes, I did read the Roeper excerpt, and you wish Jason Robards was in the newsroom to tell the guy 'Come back when you've got something.' I understand the automatic hype of the S-T's featured columnist brands, but as Albert Brooks protested in Real Life, he's shallow."
And according to Chambers, he blows his gambling cred pretty early in the excerpt.
9. Our very own George Ofman downs a rum and OJ with a Nyquil chaser and comes up with some Cubs and White Sox predictions - and a whole lot more. In Dis and Dat, Dem and Dose.
10. Jakob Dylan joins the Bloodshot fray; you can see him at the Park West later this month with Neko Case and Kelly Hogan. Our very own Matt Harness has this and the rest of the Bloodshot show schedule for April, complete with sample video.
-
The Beachwood Tip Line: Like one headlight.

Posted by Beachwood Reporter at 9:09 AM | Permalink
Bloodshot Briefing: April
April's lineup of Bloodshot Records shows couldn't get off to a better start than with Tuesday's Dogfloydapalooza. Hosted by the Bottom Lounge, folks can listen to Andre Williams, The Goldstars, and Jon Langford and The Cashed Johnnies while sipping on brews from Dogfish Head and Three Floyds, which is based in Munster, Ind.
Here's what else is going on this month.
Artist: Alejandro Escovedo
Venue: Old Town School of Folk Music
Date: Saturday, April 3
Sample:
*
Artist: Robbie Fulks
Venue: Hideout
Date: Monday, April 5; April 19; April 26
Sample:
*
Artist: Nora O'Connor
Venue: Old Town School of Folk Music
Date: April 10
Sample:
*
Artist: Waco Brothers
Venue: Yakzies on Clark
Date: April 12
Sample:
*
Artist: Graham Parker
Venue: Old Town School of Folk Music
Date: April 17
Sample:
*
Artist: Jane Baxter Miller
Venue: Martyr's
Date: April 21
Sample: Chicago's Texas Ruby
*
Artist: Jakob Dylan and Three Legs featuring Neko Case and Kelly Hogan
Venue: Park West
Date: April 26
Sample:
-
Matt Harness brings you his Bloodshot Briefing (nearly) every Friday. He welcomes your comments.

Posted by Beachwood Reporter at 7:40 AM | Permalink
Ofman: Dis and Dat, Dem and Dose
Here's a prediction you won't see anywhere else: The Sox will go 135-27 while the Cubs will finish 144-18. This is what happens when you have a rum and OJ followed by a Nyquil chaser.

* * *

Here's the real prediction: The Cubs will finish 87-75, five games behind the Cardinals. The Sox will wind up 87-75, two games behind the Twins. Hope I'm wrong.

* * *

Bear down! Alex Brown is gone. What a class act and a solid player. I'm just wondering whether Jerry Angelo could have gone under the radar the way Kenny Williams does and tried to trade Brown rather than release him.

* * *

Is it me or is Julius Peppers getting more ink than Barack Obama?

* * *

I've warned you before about these Blackhawks . . . they won't make it to the conference finals. The goaltending issue is one thing and so is the loss of Brian Campbell, whom fans should miss. His loss is one of the reasons why the Hawks pace has slowed. This is a quick-moving, slick-passing puck control team. Campbell is a quick-moving, slick-passing puck control guy.

* * *

Remember this when the Bulls miss the playoffs and then enter the lottery; they can't finish 10th or better, otherwise Milwaukee gets the pick thanks to the trade of John Salmons. And if you're checking the box scores, Salmons is averaging 20 points a game since he joined the Bucks.

* * *

Plantar fasciitis: pass it on.

* * *

The Sun Times story about the McCaskey family being so private leads me to this: What is it you really want to know about Virginia McCaskey?

* * *

I had Kansas beating West Virginia. So why not take Butler and enjoy the show? It was 30 years ago I covered my first Final Four, which happened to be in Indianapolis at the old Market Square Arena. And I stayed in a dorm on the Butler campus. Louisville beat UCLA and its vagabond coach . . . Larry Brown!

* * *

If Tyler Colvin makes the most of his limited time with the Cubs, whose job do you think he'll take? Will he unseat Alfonso Soriano? I've got 90 millions why he won't. How about Kosuke Fukudome? I've got another 26.5 million reasons why he won't. Marlon Byrd? He's the anti-Milton Bradley (shame on me for mentioning his name in this column). Sorry, the Cubs have 15 million reasons why Colvin can't play there. Now, the Cubs have three kids in their bullpen who have about as much major league experience as I do downhill skiing. I'm just asking but would you deal Colvin for a veteran reliever? I'm just asking, nothing more.

* * *

De Paul will interview Reggie Theus for its head coaching job. I covered Reggie as a Chicago Bull when he played before so few fans at the old Stadium you could count them by halftime. I also covered Isiah Thomas, who wants to be interviewed. Thomas is nothing more than a cheat and scoundrel, but I bet he could recruit a lot better than Theus. My guess is neither will be hired.

-

-

George Ofman is now with WGN radio after a 17-year run with The Score. He also blogs for ChicagoNow under the banner That's All She Wrote.

-

You can also follow George on Twitter @georgeofman and on Facebook.


Posted by Beachwood Reporter at 7:20 AM | Permalink
TrackNotes: Roeper Goes To The Dogs
Seems a lot like CB radio or swing dancing or expensive cigars, this faddish gambling fetish Richard Roeper's latched on to as fuel for his latest non-fat, pop-culture lite tree killer of a book. Ever the now hipster, Roeper cites Super Size Me as an inspiration for his Bet the House, excerpted in Sunday's Sun-Times.
Isn't gambling in a slump and isn't the Texas Hold 'Em craze kind of fading? And Super Size Me was six years ago already. RR seems typically late to this one.
And you can kind of smell a rat in Roeper's theme if you check out the premise of Horseplayers: Life at the Track by Ted McClelland, where McClelland uses a book advance to spend a year as a horseplayer. Horseplayers is a great book and I'll wager it's of much more substance than Roeper's.
Yes, I did read the Roeper excerpt, and you wish Jason Robards was in the newsroom to tell the guy "Come back when you've got something." I understand the automatic hype of the S-T's featured columnist brands, but as Albert Brooks protested in Real Life, he's shallow.
And Roeper completely blows his gambling cred in the first installment. Who picked this excerpt?
Of his trip to Kenosha's dog racing track, Roeper reminisces: "I'm trying to pick medium shots and long shots, but there's a problem: Every time I put $100 or more on a dog, it substantially affects the odds. Because I am an idiot, it takes me a while to figure this out." At least he admits it. "In some cases, the amount I'm wagering on these dogs is more than their entire career winnings. It's a substantial percentage of the entire pool on each race."
That's right, Rich. You're showing either a complete lack of knowledge of pari-mutuel wagering and betting pools, or you're figuring readers of the book won't know the difference anyway. Ever heard of ROI (return on investment)? In a venue like that, you bet small for the big ROI, or else the pools get skewed.
But at the Kenosha windows, you're Lex Luthor, tilting the balance of the pools. Any real player would know that those kinds of bets would have that effect on a small pool such as Kenosha dog racing. The other thing to remember is that a fair number of people in that small crowd were probably also betting the horses on simulcast, perhaps exclusively. Making the dog pools even smaller.
So if this excerpt sets the tone, how can we not figure Roeper is getting joyously fleeced at the poker table by Ben Affleck and his buddies as Richard gets to hang around some really cool guys? And by the way, what credibility will there be in Roeper's review of the next Ben Affleck movie?
* * *
So here comes the segue.
I was all over the pools and the odds Saturday morning after wiping the sleep away, firing up the Keurig and tuning in early to the Dubai Festival of Racing from the brand new Meydan Racecourse, an indescribably opulent racing complex where the grandstand building is over a mile long and the hotel has a wind hole in it in the shape of a horse's head.
It was the best single day of my horseplaying career. I've always enjoyed the Dubai festival every year because you get to see the international crowd of race horses. Then you take a breather and come back in the afternoon for a couple of big Kentucky Derby preps.
The Dubai Festival is the richest in the world, paying out more than $25 million in purses across eight races, culminating in the $10 million Dubai World Cup, the richest race on the planet.
Unable to really study beforehand, the first two races were just a losing blur, as deciphering different kinds of data on horses from circuits all over the world proved daunting. I recognized a few names and tried to remember that just because I've heard a horse's name before, especially the Americans, doesn't make him or her the best horse here.
It's against the law to wager in Dubai. I've got to think they send a family emissary to Paris or London to do their betting for them, so the pools they showed were generated primarily in Europe. We in the U.S. were betting into pools generated here. Even in my two domestic betting accounts, I was seeing different odds, so it was something I had to watch for.
I cashed a very small ticket on the place horse Raihana in the fourth, the UAE Derby. Then it was another cold spell with a lesson built in. I started to notice a few things that all tied together.
1. The American pools were stubbornly favorable to the American horses, although I didn't think they were any great shakes in these races. When the clowns on TVG tried to make The Usual Q.T. out to be Curlin or Invasor simply because he is a California horse familiar to them, I knew the provincialism was running rampant. And you could see it on the tote board as Q.T. immediately started taking money, getting hammered to under 10-1. They also touted Presious Passion, the hellbent-for-leather speedster who always just takes off and then often gets caught, as he did Saturday.
2. Upsets were possible, so count no horse out. In the sixth, the 9-furlong Dubai Duty Free on turf, I actually liked Al Shemali. While no great shakes on turf, the horse had won two races back in smooth fashion, according to the running line, and had finished just under three lengths from the winner in a Grade 2 on Meydan's artificial Tapeta surface. The top three in that race were to run in the big one later.
The same 99-1 that looked intriguing also put me off the horse. It's the old adages: "There are a lot of other people who know more than I do" and "He's 99-1 for a reason."
You guessed it. The horse won. Paid $292.20! He had to have gone off at over 100-1. It's usually bad form to start chasing longshots after a hit like that, but what did I have to lose? I did like him for legitimate reasons, so the thought process was valid, even if I was a chicken for not pulling the trigger.
3. They run differently over there. In the longer races overseas, the rhythm is to plod along early and then build up speed as you go along, trying to make a frenzied dash down the stretch. So, start looking for the closers. Especially in these fields of 14 or 15 horses.
4. Find a horse in relatively good form, don't hold a single bad recent race amongst good efforts against him. Especially if he ran against classy horses. And does he seem to like the Tapeta in his stay here at Meydan? That proved to be a killer angle.
So while Presious Passion was taking a tote hammering for the Dubai Sheema Classic, 1.5 miles on the turf, I settled on Dar Re Mi, familiar to me from last November's Breeders' Cup Turf. He was bumped around in that race but finished in third less than two lengths back. Six runnings in Grade 1's peppered his sheet, including the ultra-prestigious Prix de l'Arc de Triomphe last Fall, where he finished a respectable fifth. Cashing a confidence-building ticket on him, I couldn't believe how surprised so many people were that he won. Oh well.
Time for the big one. The Dubai World Cup at the classic 10 furlongs on the Tapeta. Gitano Hernando, five-for-eight lifetime, went off the favorite. American turf sensation Gio Ponti and the American Richard's Kid were taking money, along with the Japanese filly Red Desire.
With all of the above factors in mind, I fashioned a big Exacta box where I needed longshots to win to hit big, but with the size of these pools, I should have been able to at least get my investment back. So I looked at the Brazilian Gloria de Campeo, South African Lizard's Desire, and the Irish Allybar.
Gloria seemed a no-brainer, at almost 30-1. He'd finished second in this race last year, was unfortunate to get a heavy turf in the Arlington Million last year, and had just done very well in two graded preps at Meydan for this race.
Lizard's Desire is trained by Michael de Kock, who has won nearly half of the Dubai World Cups. The horse had won two of his last three, all at Meydan, and was 12-for-16 in the money lifetime. At over 30-1, I was nearly delirious.
Many of these same things also held true for Allybar, who showed me he likes the Tapeta based on an eight-length victory three back. And he is trained by Mahmoud Al Zarooni, a rookie who had guided Calming Influence to victory in the Godolphin Mile earlier in the day.
I didn't bite on Vision d'Etat, a top-shelf horse who needed a vet's permission slip just to run, or the American, Richard's Kid, who I consider really overrated. I really hated to toss Gio Ponti with his huge heart, but I figured jet lag, or something.
Well, my three hit. I had the exacta (should have had the trifecta) and covered them all in straight bets. The exacta paid $527.40 for a dollar. Gloria de Campeo paid $52.40 to win and Lizard's Desire $20.60 to Place. I don't know why, but they also paid $12.20 for Allybar, even though they don't take show betting.
Win or lose, hindsight is always perfect, except for Mine That Bird, but I felt better than Miss Cleo. It all seemed so logical to me.
After the aforementioned breather, I also hit the exacta on the Louisiana Derby and had the winner in the Lane's End back here in the States.
* * *
There was some bellyaching about the doings in Dubai, as Daily Racing Form editor Steve Crist's blog sounded an awful lot like sour grapes over wagers lost.
"For all that it proved about the quality of the contestants either individually or as a group, the results of the Dubai World Cup might as well have been drawn out of a hat," Crist moaned. He also took another swipe at synthetic surfaces.
If they want Tapeta at Meydan, don't bother me none. It's one day a year at a track on the other side of the world. It seemed to run fairly, there was very little kickback, unlike the Dust Bowl storms during Turfway races, and the races seemed formful. I don't know, but maybe Tapeta is a good synthetic alternative. Leaders and closers were both winning Saturday.
And I sure had fun.
-
Thomas Chambers is the Beachwood's man on the rail. He brings you TrackNotes every Friday. He welcomes your comments.
Posted by Beachwood Reporter at 12:36 AM | Permalink
April 1, 2010
The [Thursday] Papers
"Nearly 10 percent of the inmates in Illinois' juvenile prisons have essentially completed their sentences - in some cases more than a year ago - but are stuck behind bars because they have no place to go, state records show," the Tribune reports.
"Many of the youths are being held longer in one of the state's eight juvenile prisons because officials cannot find an appropriate placement in a transitional living program or other kind of facility. Others are still in prison because officials found the homes of families or friends to be unacceptable, or because families simply refuse to take them back, according to records obtained under the Freedom of Information Act."
Disaster Model
"We could have told Johnston Press, when it announced the plans back in November, that people won't pay to read local newspapers online. But you can't begrudge the publisher finding out for sure for itself," paidContent reports.
"Its three-month pay trial on six local papers sites is now ending, with apparently dismal results. One paper staffer tells HTFP the trial was a 'disaster' with subscribers "in single figures", while another title got subscribers only 'in the low double figure', Press Gazette says."
Here's my favorite part:
"While some of the sites had pay or registration barriers, others' articles told readers to go buy the paper after paragraph two."
Frustrating your customers and then trying to force unnatural behaviors on them is not a winning business model.
*
"Quoted on JP-owned Scotsman.com in November, CEO John Fry got swept up in Rupert Murdoch's new bullishness: 'Having examined JP's traffic, the most valuable comes from loyal users. Those who come to JP from search engines tend to come from a sensationalist angle, and are therefore are not as valuable from an advertising point of view.'"
That actually is true, though. Nick Denton of Gawker Media has been saying the same thing.
"New visitors are only really valuable if they become regulars," Denton now says.
Of course, I've been saying that since I started here in 2006. The way I've always looked at it is that returning readers are like your subscribers, while "unique" visitors often coming from search engines are like newsstand buyers, attracting by a particular story but folks who may never read you again.
From both an editorial and advertising standpoint, returning visitors are of far more importance than bursts of unique visitors. This is also why SEO is far from the end-all, be-all, and why sites based on SEO strategies (NBCChicago.com strikes me as one) are not sustainable (though NBC's local sites have certain economies of scale that work in their favor).
Woo-hoo Yahoo!
"Yahoo has recruited nearly a dozen journalists from traditional and online media outlets and opened a bureau in Washington to push into original content and increase the popularity of its online news site," the New York Times reports.
This is really just the latest dozen, as regular Beachwood readers will recognize. Like AOL, Yahoo! is making aggressive moves into original content - politics, sports, finance - and finding it profitable. And why not? I do not fear a world in which companies like these use their massive hoards of cash to fund journalism.
*
But do they have journalism values? I can hear the lamebrains asking.
Compared to whom? Sam Zell or Colonel McCormick? Conrad Black? Gannett? NBC?
*
"AOL practically added two new sites a month last year as part of its goal to reach 100 sites under its MediaGlow content group. While the content strategy has lately rested on building up its freelance content site Seed.com, AOL still plans to roll out more verticals. The latest is what amounts to an overhaul of the AOL Food channel in the form of recipes site Kitchen Daily, which was fully launched this morning. Parts of AOL Food are sticking around on Kitchen Daily, including Grilling Hub and Dinner Tonight page. But an AOL rep tells paidContent that the Slashfood blog will be kept as a separate, stand-alone site, as it continues to focus more on the food news and culture."
Sigh. This, too, is the model I've been preaching. Using the revenue from sites like these to fund journalism is one of the primary models that will lead the way; ironically it's based on the old newspaper model. The metro section never paid for itself; the food section and its brethren subsidized it. I'm almost sick of talking about it and seeing it work elsewhere while watching funders continue to be enamored with completely unworkable citizen journalism projects.
*
Speaking of old models working, the success of Craigslist only proved the value of classified ads. Craigslist didn't demolish the old model, it validated it. The difference is that Craig Newmark, quite by accident, innovated through the simple use of e-mail (at first) and then a website. He maintained brand loyalty by keeping his service largely but not wholly free - and is fabulously wealthy because of it. He brought classifieds closer to the customers. In short, he didn't change the model as much as he just executed it better because he wasn't sitting on his ass and just collecting paychecks.
Money is made by selling goods and services. You can't really come up with a whole lot of new there. There are no secret formulas. The models are staring us right in the face.
Two Kegs Of Busey!
At the Point Break Beach Party!
Beachwood field trip?
-
Shoot The Tires!
-
The Beachwood Tip Line: Break serve.
Posted by Beachwood Reporter at 7:33 AM | Permalink
Obama And Tea Party Heard Loud And Clear
Northbrook, Illinois - If there is one thing both sides of the political spectrum can agree on it is that AmpliVox Sound Systems assure reliable communications. On two separate political occasions, Barack Obama's 100th day in office and a recent Tea Party rally, both sides chose an AmpliVox MityMeg Megaphone to deliver their newsworthy message. Click here for AmpliVox Megaphones.
The nation's political parties depend on and trust the reliable quality sound of AmpliVox megaphones at their important events. AmpliVox megaphones are known as durable weather resistant workhorses that get the message across loud and clear with their solid-state electronics, lightweight design and long life battery technology.
AmpliVox Sound Systems CEO Don Roth describes their megaphones as an integral part of their multimedia presentation systems. He says, "The MityMeg line of megaphones is a great example of the reliable communication tools AmpliVox is proud to offer. From high quality portable sound systems and public address systems to lecterns and podiums AmpliVox Sound Systems ensure a crystal clear message."
In addition, AmpliVox has recently launched a "Speak Up for America" program. With every megaphone purchased AmpliVox will make a $15 donation to the YMCA of the USA to benefit the Y's mission, programs and services nationwide.
-
AmpliVox Sound Systems products are made in the USA (with only a few exceptions), meet stringent UL standards, and come with an up to six-year warranty. Our wide selection meets every speaker's sound coverage and style needs. Whether you are in a small meeting room of 30 people or a large 20,000 square foot auditorium of up to 10,000 people, AmpliVox Sound Systems' extensive range of superior quality, simple to operate and reliable electronics will provide maximum customer satisfaction and ensure a crystal clear message.
-
1. Obama Heard Loud And Clear.
-
2. Sarah Palin using the Amplivox Pinnacle Lectern.
-
3. The Half-Mile Hailer at in Hollywood.
-
Posted by Beachwood Reporter at 12:05 AM | Permalink