« February 2008 | Main | April 2008 »
March 31, 2008
The [Monday] Papers
Opening Day.
1. "The crowd was vocal. Because the subject here was baseball and the stadium was full of scholars - and historians - and soon enough I found myself engaged in learned debate with all these . . . strangers, these . . . guys."
2. "Cursed by goats/and a guy with glasses/ our Cubs front office/run by asses."
3. Like-minded ideas happen all the time in this business; I'm not saying the Sun-Times stole their limericks contest from us. But - inspired by a submission from Jerry "Bleacher Preacher" Pritikin - we published Sam Zell limericks on March 12. An outraged Rick Kaempfer writes:
The ballpark's name Sam Zell commercializes,
So Sam Zell limericks the Beachwood devises,
Though the Sun Times stole it,
They couldn't bankroll it,
And had lousy t-shirts to give out as prizes
4. Rick Kaempfer, by the way, is the proprietor of Just One Bad Century.
5. The Mount Lou Alert System is at Green. But remember: Molten rock can still be spit in cold weather.
6. "Beachwood Sabermetrics: A complex algorithm performed by the The Cub Factor staff using all historical data made available by Major League Baseball has determined that it will be a long season for the White Sox if Jose Contreras is the key."
7. "Mighty Santo At The Bat."
8. "Sometimes baseball is quirky in clever little ways and sometimes it is just flat-out weird," writes our very own Jim Coffman. "Bring it on, baseball!"
9. Not even close to getting old.
10. "I'm just a sausage running a race."
-
Rev. Wright's Reward
If I say so myself.
Automatic for the Critics
"This hasn't been an easy decade for fans of R.E.M. The favorite sons of Athens, Ga., haven't made a beginning-to-end great album since Automatic for the People in 1992. Even guitarist Peter Buck now admits the band has been on a 'downward slide'," writes Jim DeRogatis.
"Mind you, that hasn't stopped the musicians, their label or their tireless boosters from hailing every new release as the one that recaptures former glories or 'the record where R.E.M. rocks again.' And so goes the corporate line on Accelerate, the band's 14th studio album, which arrives in stores on Tuesday.
*
DeRo also (rightly) reserves the right to change his mind.
Church Mice
"You can no more paint the black church with one brush as you can the white Evangelical church, the Catholic Church or any other denomination," writes Dawn Turner Trice.
But isn't that what liberals have done for years?
*
Will Mitt Romney please report to the white courtesy phone!
That's Todd!
Memo to Larry Suffredin et. al.: Todd Stroger is who he is. He is impervious to reason. He has a picture of the world in his head, and that picture is not going to expand anytime soon, if at all.
Exhibit 3847: His interview with Dane Placko on Fox Chicago Sunday. The lowlights:
* On his cousin's raise right after hiking taxes to pay for a budget still laden with patronage: "It's not truly an increase. The [cost-of-living-adustments] came literally from Commissioner Suffredin and Commissioner Quigley coming to my office and saying we need to give raises to non-union employees."
* "You can ride that horse, 'she's your cousin' . . . "
Placko: "Well she's still your cousin!"
After listing her resume, Placko says: "Your dad's niece as well."
* "What has Commissioner Claypool said nice about me in the last year?"
* "This is really a manifestation of the system which we had where the party committeemen had to choose a candidate, and there's still a backlash . . . "
It was the system. Nothing Todd could do.
* Defending Dorothy Brown employing a chauffeur-security guard listed as a "systems analyst" in the budget: "The clerk is the second-largest office in county government . . a lady . . . out all night, up early in the morning . . . "
* "People don't get the full truth. They only get half the story."
Isn't that how you got the job, Todd?
Children's Center
From Beachwood reader John Kuczaj:
If Jennifer Farrington thinks children deserve to be at the center of the city ( . . . why do I get images of children's internment camps?) she might want to stop suggesting a site less than a mile away from the eastern border of the city is the CENTER of the city.
There Once Was A Contest . . .
Just so you know what you're getting into if you enter the Sun-Times limerick contest.
"LIMITATION OF LIABILITY: EACH PARTICIPANT AGREES TO RELEASE, HOLD HARMLESS AND INDEMNIFY SPONSOR, AND ITS PARENT, DIVISIONS, SUBSIDIARIES, AFFILIATES, ADVERTISING, PROMOTION, AND PUBLIC RELATIONS AGENCIES, AND THE RESPECTIVE OFFICERS, DIRECTORS, EMPLOYEES, REPRESENTATIVES AND AGENCIES OF EACH FOR ANY LIABILITY WHATSOEVER FOR INJURIES OR DAMAGES OF ANY KIND SUSTAINED IN CONNECTION WITH THE ACCEPTANCE, POSSESSION, USE, MISUSE OR AWARDING OF A PRIZE OR WHILE PREPARING FOR, PARTICIPATING IN AND/OR TRAVELING TO OR FROM ANY PRIZE- OR CONTEST-RELATED ACTIVITY, INCLUDING, WITHOUT LIMITATION, ANY INJURY, DAMAGE, DEATH, LOSS, OR ACCIDENT TO PERSON OR PROPERTY. EACH WINNER AGREES THAT THE PRIZE IS PROVIDED AS-IS WITHOUT ANY WARRANTY, REPRESENTATION, OR GUARANTEE, EXPRESS OR IMPLIED, IN FACT OR IN LAW, WHETHER NOW KNOWN OR HEREINAFTER ENACTED, RELATIVE TO THE USE OR ENJOYMENT OF THE PRIZE, INCLUDING, WITHOUT LIMITATION, ITS QUALITY, MERCHANTABILITY, OR FITNESS FOR A PARTICULAR PURPOSE."
The Beachwood Tip Line: Liability-free.
Posted by Beachwood Reporter at 7:33 AM | Permalink
SportsMonday
I didn't tune in in time Sunday to watch the initial drama unfold during Major League Baseball's Continental Opening Night (as opposed to this season's actual opening . . . morning . . . in Japan last week . . . with the Red Sox rallying to beat the A's in a game that started before sunrise back here in the States). Forget Opening Days - baseball seasons now begin with Opening Chronicles.
President Bush had been tapped to toss out the first pitch at brand spankin' new Nationals Park in D.C. Sunday evening as the home team took on the Atlanta Braves. But it occurred to someone on his staff a couple days ago that Washington's starting catcher, Paul LoDuca, was identified as a steroid cheat in the Mitchell Report. LoDuca then started the spring by reading one of those vague apologies in which he takes responsibility for nothing in particular but is nevertheless very, very sorry. So who would catch this momentous first pitch?
As it turned out, Nationals manager Manny Acta stepped up, caught Bush's heave and by all accounts, executed a successful grip and grin to cap it all off.
By the time I settled in to watch, the innings were flying by. After coaching youth baseball for the last few springs and summers, I've gained a new appreciation for the degree of difficulty of some of the stuff the MLB's finest do in the field with little apparent strain. But on this night that wasn't what was going on. The weather was cold (game time temperature was in the upper 40s), the pitching was solid and hitters on both sides were producing only a steady stream of weak ground balls and pop ups/shallow flies.
Sometimes baseball is quirky in clever little ways and sometimes it is just flat-out weird. The Nationals scored a couple two-out runs in the initial inning, and then went without a base-runner for eight innings - from the last out in the first until there were two outs in the ninth). It looked as if the home team's pitchers would make that lead stand up until Mr. LoDuca couldn't quite flag down an errant Jon Rauch pitch in the top of the ninth. The Braves' game-tying run scored on what was ruled a passed ball.
After two quick Nationals outs in the bottom half of the frame, third baseman Ryan Zimmerman stepped up and launched a solo home run into the second row in deep left-center to end it. Bring it on, baseball!
And about that basketball tournament . . .
* As boring as it is to have all four No. 1 seeds advance in the NCAA men's basketball tournament, it could be worse. If you cared about the women's tournament you would find yourself heading into an Elite Eight in which not only have all the No. 1 seeds advanced but so have all the No. 2s.
* Stephen Curry hit all sorts of exquisite jump shots during Davidson's (student population by the way - 1,700) rousing run. But his best shot was a lay-up. As the regional semifinal was slipping away from Wisconsin in a hurry during Friday's regional semifinal, Davidson's Curry drove toward the basket, started to put up a layup attempt, but then was shoved. As the whistle sounded, Curry somehow managed to reach back under the backboard, to the other side of the basket, and flipped the ball up off the glass with some spin. It zipped right into the net.
A foul was called, the basket counted, Curry made the free throw and Davidson was on its way . . . to a tough loss to Kansas in the regional final. The guard apparently announced later Sunday that he will return to college for his junior season. Players with a lot less game than Curry will make the jump to the NBA this year. But if for no other reason than to try to find some way to toughen up that unbelievably baby-ish baby-face (and I thought B.J. Armstrong looked young when he played for Iowa), a return to college hoops is in order.
* One more baseball note - Paul Sullivan's "100 Questions For 100 Years" in the Sunday Trib commemorating the Cubs' century of futility was awe-inspiring. Sully is a great beat writer who has been all over a great sports beat for a long time. So he'll probably be accepting a buyout any day now.
* On the heels of a solid 4-3 victory at St. Louis Saturday, the Hawks recorded another thrilling home victory Sunday. They rallied from 3-1 and 4-3 deficits to take the game with the Blue Jackets into overtime and then into a shootout, during which they prevailed thanks to Patrick Kane's backhander. They've gone 4-1-1 in their last six games and . . . have made up very little ground. As of late Sunday, Vancouver held the last playoff spot with 88 points, four more than the Hawks with only three games to play.
* The Bulls are . . . another week closer to the off-season.
Jim Coffman appears in this space every Monday. He does so out of love.

Posted by Beachwood Reporter at 4:35 AM | Permalink
The Cub Factor
As another season is about to begin, the consensus around here seems to be that the Cubs are good enough to win woeful NL Central Division, but mostly because the division is horrendous. So it's like the Cubs are the fifth-grader on the playground with the third-graders. I guess that's good. But what will happen when they graduate eighth grade at the end of the season and go into junior high? Will they still be able to hang? Or will they be stuffed into a locker come playoff time? Will the foreign exchange student be rated cool or lame? Will guidance counselor Lou keep them sober, unpregnant and in school? Or will superintendent Hendry cast a shadow so dark that this team just gives up to go smoke pot in the woods everyday? Unfortunately, until we get to the end of September we just aren't going to know if they will grow up enough to play with the big boys.
Week in Review: There were a bunch of spring training games that really didn't mean anything.
Week in Preview: The Cubs come north to open the 2008 season with three games against a young Brewers team that really didn't seem to improve itself in the off-season, followed by three against an Astro team that might be its worst in years.
The Second Basemen Report: The starting job looks to default to Mark DeRosa despite every attempt by Jim Hendry to get Brian Roberts. This is good news for DeRosa and The Second Baseman Report but probably not for the Cubs, who could really use Roberts as their leadoff man. But these are the Cubs, so expect a number of players to once again man the second sack this season. You know, just like Jim Hendry drew it up.
In former second basemen news, Tom Veryzer last played second base for the Cubs in 1984. His whereabouts these days are unknown. He is missed.
Zam Bomb : A crack team of doctors seems to have defused the Zam Bomb for now. He is apologetic for now but as Big Z has said himself, only God can control his temper and my bet is that God is busy.


Lost in Translation: Kerrio Wud is Japanese for "wildflower."
Center Stage: I know it looks tasty, but this Pie isn't ready yet.
Sweet and Sour Lou: 85% Sweet, 20% Sour. Lou is a little cranky after a spring of Cubbie occurences and continuing lineup instability. But just a little.
Beachwood Sabermetrics: A complex algorithm performed by the Cub Factor staff using all historical data made available by Major League Baseball has determined that 100 years is a long-ass time.
99 Years of Cub Losses (99 Jahre von Bengeln Verlusten): Cursed by goats, and a guy with glasses, our Cubs front office, run by asses.
Over/Under: The weather at Wrigley Field as opposed to the weather at Miller Park +/ a lot worse.
Mount Lou: Mount Lou begins the volcanic season at level green but natives be warned. Not meeting early season expectations will make Mount Lou rumble early and often. Molten rock can still be spit in cold weather.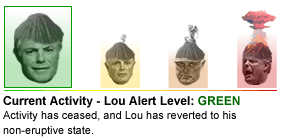 Posted by Beachwood Reporter at 3:50 AM | Permalink
The White Sox Report
If it's Opening Day for the White Sox, that can only mean one thing: C.C. Sabathia and Cleveland Indians. For the fourth consecutive season, the Sox and Indians square off in their season openers; for the third consecutive season, Sabathia will be on the mound for the Tribe. His career record versus the Sox is 14-3.
Opening Days are just one game, but they are often revelatory. In 2005, the Sox snuck by Cleveland 1-0, with the immortal Shingo Takatsu - frisbee pitch and all - recording the final out. Few would have guessed that 1-0 would also be the score of the Sox's final game that season, a win over Houston to secure the World Series.
In 2006, the White Sox pounded Cleveland 10-4. The rest of that season would characterized by their explosive offense, with four players hitting over 30 home runs - even though a 90-win season was only good enough to finish third in the mighty AL Central that year.
And then there was the 12-5 beat-down Cleveland handed the White Sox to open the season last year. The Sox went on to lose 90 games.
So watch the opener closely and we'll get a good idea if Ozzie Guillen will have to make good on his promise (threat?) to run naked down Michigan Avenue if the Sox win the World Series.
*
Week in Review: The Sox went 2-5 down the stretch to compile the worst spring training record in the AL at 11-19.
Week in Preview: It's three in Cleveland and three in Detroit as the Sox find out early how much distance there is between them and the division favorites.
Center Stage: Alexei Ramirez is slated to start in center on Opening Day, but he's only keeping the spot warm for . . . Nick Swisher, Jerry Owens, Brian Anderson and probably a couple others who will audition this season, with no single player getting the starring role.
Cell Stem Research: Beachwood Labs has determined that The Cell still sucks.
Fields on the Farm: You know, he's only a career .280 hitter down there.
Jose Can You See: Ozzie says Jose Contreras "might be the key to the season." He's not allowed to drive the car at night, though.
The Missile Tracker: Hey, he said it, not us.
That's Ozzie: "He won't be the key," he said, changing his mind about Contreras.
Over/Under: How long into the season it takes for Sox fans to complain that the Cubs get more attention: one-millionth of a second after the first pitch.
Beachwood Sabermetrics:A complex algorithm performed by the The Cub Factor staff using all historical data made available by Major League Baseball has determined that it will be a long season if Jose Contreras is the key.
-
Ricky O'Donnell is the proprietor of Tremendous Upside Potential.
Posted by Beachwood Reporter at 12:48 AM | Permalink
March 30, 2008
Westward Ho!
It's lonely out here.
I'm not complaining, mind you. It's not like I'm begging for food or wound up on the West Coast because of some sticky situation back in Chicago. My personal laments notwithstanding, I wasn't exactly fleeing an unstable situation with few options ahead of me.
On the other hand, maybe it would be easier if that was the case. See, I've left behind the same bunch of friends I've had since elementary school, as well as a loving family who has known me forever, though they've always claimed I was simply a visiting alien sent to investigate their Earthly ways.
So yes, things have been a bit rough, emotionally. The effect of being removed from all things familiar and comforting, relatable and defining is astonishing. You suddenly become just you.
But like I said, I'm not going to cry or anything (at least not on paper). I walked into a pretty sweet set-up out here. And I'm not going to bitch about my financial instability all too much either. Yes, I was warned, and now I see as plain as day, Mom and Dad, the actual amount of money a person must spend to live alone is more than I ever imagined. Laundry detergent is expensive, for instance. I had never actually inquired of - nor been required to know - how much Tide costs. In fact, the whole cleaning supply aisle is a revelation to me.
I have also had the good fortune of moving into a beautiful home with an immaculate view of the Cascade Mountains with a very patient and wonderful boyfriend. But aside from that guy, and the couple of pussies who rode along with me, I knew nobody upon my arrival, and that's been the toughest part about this westward journey.
The complicated part about my being so lonely is that I really enjoy my alone time. That worked out well for me in Chicago. My best relationships were long-distance, I now realize, and, respectfully, my mom just left me alone as a commuter college student, though we lived a room away. Then I left Chicago and had about the most desirable and sensational alone time a loner could ask for - three days in a car, complete introversion, and utter independence - before arriving to the social chaos that would be my new life in Washington.
In order to make new friends, get this shit, a person must socialize. I neglected to consider that very heavily before leaving all those beautiful people of comfort and security behind. In planning my move, I overlooked the fact that whle I may have felt like shelling up into a despondent and lonely hole, in order to prevent depression and madness most people must go out into the world and meet others. When a lifetime of relying on dear friends - the kind who never miss an emotion in your life in all their nuances - is suddenly removed, new friends are hard to measure up, no matter how honorable and caring they may be.
Though it is filled with great social opportunity, the biggest social adjustment has been the corporate climate of my new job. I stick out like a sore thumb, and not just because I am unfit for corporate life and its jargon, and the six or seven bosses I have to answer to when I am slightly vulgar in my e-mails (really, people are too sensitive), but also because work is already restricting on a person's demeanor. How many of us leave the office and act like the same person we were for the past eight or nine hours? Putting a human into a corporation, regardless of how liberal-minded or neat the corporation is, requires a degree of alienation. Like raising a Great Dane in a studio apartment downtown. And it's not just a physical confinement to which I refer.
I will even admit a fondness for my cube - it is decorated fittingly, adorned to my tastes and passion for right angles; everything's got its spot, from the stapler to the Post-Its. My interests are well-displayed, and my friends framed and showcased. Cubicles are like three-dimensional, real-life, tangible MySpace pages. With supplies.
The mental and character censorship that occurs there is highly alienating, though. Well, at least it is for me, because I'm one of those people who really wants to share my opinion about everything with everyone around me. That can win some hearts, but also earn some serious scowls from around the office. I've learned how to be a corporate employee the hard way - by doing what I should not do, and saying what I should not say.
It's just not so ideal for me to make many friends there. And how unfortunate that I happen to spend a great deal of quality awake time in that very office, in my own little tangible MySpace world. With supplies.
Sometimes I just feel a little out of place, a little too outspoken and offensive. Even lewd and lascivious in comparison to others. I'm like a Brillo pad in the soft and spongy atmosphere of Seattle. A company sign hangs outside of my cubicle with my name on it. A homemade sign hangs right below my name. The homemade sign reads: "Leigh's Cube: Your One-Stop for Class." The good news is that even if the love isn't all there, my co-workers are at least starting to understand and accept me.
Overall, the move was relatively painless, loneliness aside. Lifestyles and attitudes are vastly different here, but I was lucky enough to speak the right language and have a basic idea of how culture and law works. But then again, I am still struggling with the fact that Road Rage, even in the form of honking a horn, is illegal here. I'm already preparing my speech for the first officer who pulls me over. Somehow I suspect he or she won't care how we do it in Chicago.
-
Previously:
* Part One: Departure
* Part Two: Rebuff
Posted by Beachwood Reporter at 1:24 AM | Permalink
Chad Everett: All Strung Out
This album has been lumped into the Movie Stars Making Godawful Vanity Projects bin, along with the likes of William Shatner rapping Dylan and Jayne Mansfield reading Shakespearian sonnets. And for the most part, that's probably where it belongs. But even though it's most assuredly crap, Chad Everett's All Strung Out has a couple of worthy moments when the hunky TV doctor starts singing about his love for God in a few original gospel tunes that roll out in a kind of whitebread, early '70s version of Ike Turner on a Jesus bender.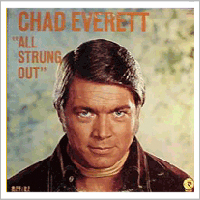 Everett made this record in 1971 for MGM's Marina label. He was at the height of his hunkiness, in the second season of a six-year run playing Dr. Joe Gannon on the incredibly popular CBS show Medical Center. He was kind of eternally in a battle with James Brolin of ABC's rival Marcus Welby, M.D. over who was the sexiest primetime soap opera doctor. They even had a political rivalry. Brolin, of course, was and is one of Hollywood's most outspoken liberals. Everett on the other hand, is a religious Republican who in 1972 said on the Dick Cavett Show that he viewed his wife as his property and so infuriated Lily Tomlin that she stalked off the set.
Politics aside, though, for my money the sexiest '70s TV doctor nod goes to Chad. Purely because he had the hands of a sturgeon.
And the singing voice of your Uncle Bill, as it turns out. I'm not going to kid you, his earnest attempts to carry a tune on All Strung Out are, for the most part, mildly to acutely cringe-inducing. It's not that he has no singing voice at all, a la Shatner who merely does spoken-word versions of songs, karaoke-style, against an instrumental background. No, it's much worse than that. He can sing just well enough to make you feel very, very sorry for him. If only they would have had Simon Cowell back then . . . none of this would have happened.
I'm sure it seemed like a good idea that MGM recruited Nino Tempo to produce this album and write a bunch of the songs. Tempo, of course, was the '60s pop sensation who teamed with his sister, April Stevens, to write and record one of the biggest hits of the Kennedy years, "Deep Purple." Tempo was a talented musician who had a knack for writing sweet, laid back pop-rock - along the lines of Gerry Goffin and Carole King - that captured the innocent zeitgeist of the pre-heaviness days of rock 'n' roll. Another of Tempo's hits along the same lines was 1966's "All Strung Out," which he has Chad cover on this album.
But given all his talent and studio smarts, Tempo couldn't hide the fact that Everett has a rather monotonous and laconic singing voice that lacks range and emotion. And it didn't help that the first song on the album really, really makes that clear - it's a note-for-note remake of the Righteous Brothers' "You're My Soul and Inspiration." At least, the notes in Tempo's lush arrangement are the same. Not so with Everett attempting to imitate Bill Medley. Ouch. "What good am I?" indeed. And the funny thing about this song is that you'd think, because was an actor, Chad would nail Bobby Hatfield's spoken-word part in the tune, where he goes " . . . I'm telling you, honey, you're my reason for living . . . " But no. That sucks, too.
Then there's "Ain't No Sunshine," which was a then-current hit for Bill Withers. Probably the best thing on this album was the group of (uncredited) black female backing vocalists Tempo assembled for this effort. If it has any saving graces, they are it. They take the signature part of this song, the endlessly-repeated "and I know, I know, I know . . . " while Chad cools his tonsils. Thanks, Nino.
Then he launches into "All Strung Out." It's interesting to hear how Tempo updated his song to turn it from a Phil Spector-ish kind of '60s pop song into a big-sounding '70s soul number, again with the back-up gals pretty much taking center stage along with a funky-ass bass line.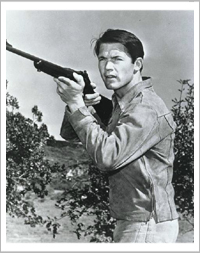 We next segue into what is the meat of the album, more Tempo-written songs that all are lushly produced with horns and swelling strings and most of which have that kind of early '70s lite rock sound. Chad's best moments are when he's channeling John Sebastian from "Daydream," a kind of low-key, loping and easy-going vocal delivery that may have worked if only he could have . . . ummm . . . acted better. It's pretty obvious he doesn't mean it when he sings, "I didn't see the hang-ups when I met you, I thought I'd taste your love and then forget you."
Oh, and if you're truly a child of the '70s and thrilled to Donny Osmond's pre-pubescent "Hey Girl," I urge you to stay far, far away from Chad Everett's version here. It's beyond bad. It's truly creepy.
But then, surprise, things pick up dramatically when, on side two, we get to a pair of rollicking gospel numbers! This is where Chad lets go and means what he sings. "Jesus Hammer" and "Man From Nazareth" are by far the best songs on the album, as the back-up singers combine with a smokin' horn arrangement that comes kind of close to Ike & Tina's "Proud Mary." On the choruses of these songs, Chad's vocals are nicely buried into the mix and he becomes part of the chorus - right where he belongs. I'd say these songs also compare very favorably to, say, "Put Your Hand In the Hand" by Ocean, which was also a big inspirational-rock hit in 1971.
It turns out Chad Everett, much like fellow Republican Pat Boone, was pretty much a soulless white guy when it came to music . . . until he started singing about the Lord. Maybe if Dr. Joe Gannon had prayed more on Medical Center, Chad would have been inspired enough to once and for all kick that commie Brolin's ass.
*
See what else is in the Beachwood Bins. Bin Dive explores rock's secret history through the bargain bins and your old stack of records. Comments - and submissions - welcome. You must include a real name to be considered for publication.
Posted by Don Jacobson at 12:09 AM | Permalink
March 29, 2008
The Weekend Desk Report
We won't let you stumble around in the dark for more than a symbolic hour this weekend.
Market Update
New research suggests that a series of small shocks can improve the sense of smell. They're right; most Americans can now perceive that the economy stinks.
Recycled Joke of the Week
In an effort to ease the pain of the recent economic slump, Treasury Secretary Henry Paulson plans to announce a major overhaul of financial markets. Administration officials note the details of this plan will not be finalized before President Bush leaves office as he's too busy fixing the Middle East.
Chicago 2016
Chicago's Olympic efforts received a boost this week with the Illinois EPA's announcement that we will run out of landfill space just in time for the Games. In response, the Chicago 2016 commission has announced the following new events:
Medal Events:
AOL Startup CD Discus
White Paper Rafting
Uneven Batteries
For Exhibition Only:
Curbside Recycling
New Blue
Top cop Jody Weis this week unveiled the latest phase in his Extreme Makeover: Police Edition, suggesting no stylish patrolman would roll in a cheesy Crown Vic. Weis envisions a fleet of infinitely more banging Chevy Tahoes to go along with snappy new flashlights and wicked sidearms. Observers predict Weis's next move will be tackling the force's growing hangnail problem. No unsuspecting Chicago barmaid will be round-housed by an unmanicured fist again.
Kiss of Death
Yeah, sure, Madge. That worked really well the last time.
Father of the Year
Finally this week, Patrick Roy apologized for sparking a bloody riot, saying if he had just controlled the situation better, his son could've been spared a lot of unpleasantness.

Posted by Natasha Julius at 8:40 AM | Permalink
March 28, 2008
The [Friday] Papers
Today's Worst Person In Chicago is Jennifer Farrington, president of the Chicago Children's Museum. Is this what you teach the children, Jennifer?
Last night, Farrington appeared on Chicago Tonight with 42nd Ward Ald. Brendan Reilly. What transpired was stunning for these parts: a Chicago alderman clearly and directly answering questions while a children's advocate shamelessly dodged and weaved. Eddie Arruza moderated. Let's take a look. (The questions are indirect quotes, but the answers are about 99 percent there; I typed as I watched. The comments are mine.)
*
ARRUZA: Does the mayor have the votes?
REILLY: Not according to my count. I think even museum officials will admit the vote count remains fluid . . . [contrary to Fran Spielman's report], by my count, the mayor does not have the votes to pass this plan.
Comment: So the story was a plant. Good job, Hill & Knowlton!
FARRINGTON: We've reached out to a number of aldermen . . . I'm not even in the business of trying to convince anyone."
Comment: Then why am I watching you?
*
ARRUZA: Is the proposed new museum mostly underground?
FARRINGTON: It uses the grade of the site to its advantage.
Comment: So . . . not so much?
*
REILLY: This is not about the Children's Museum, this is about legal precedent . . . if we make this one exception for the Children's Museum the city will have to be prepared to grant many more exceptions . . .
ARRUZA: What about the list of alternative sites?
FARRINGTON: We certainly did our due diligence, we were looking for a site that would be appropriate . . . best for the Children's Museum . . many of the (alternate) sites are simply not ideal . . . we want children to be at center of city . . .
REILLY: The criteria were so narrowly defined, they were designed to conclude that Grant Park is the only (viable location) . . that's complicated by the fact that putting one there is illegal.
Comment: How much did you pay Hill & Knowlton to come up with the "children at the center of the city" line?
*
ARRUZA: Have you received assurances by the mayor that this will be approved?
FARRINGTON: I think the important thing is this is a decision our board, our staff, our supporters really need to believe (is best?) for Chicago . . . Do children deserve to be at the center of the city?
Comment: 1. So the answer is Yes. 2. A follow-up pressing for a real answer would have been nice. 3. Does the Children's Museum have an exhibit about how to dodge questions?
*
FARRINGTON: A long part of this process was about listening.
Comment: To Hill & Knowlton.
*
After Farrington insisted that public support is on the museum's side . . .
REILLY: The fact that the museum has been hiring up a reportedly large list of public relations firms, lobbyists, attorneys, making commercials, sending out mailers indicates that perhaps the public support isn't there . . . I don't think the museum would be spending hundreds of thousands of dollars on this campaign is the support already existed.
ARRUZA: Why are you spending so much on this campaign if you already have the public's support?
FARRINGTON: Our staff is primarily made up of folks who are educators . . . we don't have a robust PR staff . . . sure, we had the support . . we needed expert assistance in communicating that support.
Comment: Communicating it back to the people who . . . have it?
ARRUZA: How much are you spending?
FARRINGTON: We are spending what we need to spend.
Comment: Including fees for lessons on how not to answer questions.
*
REILLY: I'm absolutely certain it will be litigated if this passes the council.
ARRUZA: Is this worth a court fight?
FARRINGTON: Our legal folks assure us that we're in compliance . . . so we are going to move forward.
*
ARRUZA: Our viewers are almost unanimously and rabidly against the idea.
-
Shame on you, Jennifer Farrington.
-
Gov. Baloneyvich
Also on Chicago Tonight, Rich Samuels reported on the latest bullshit to emanate from the governor's mouth. Blago was asked if Stuart Levine's testimony in the Tony Rezko trial that the governor once told him, "Stick with us and you will do very well for yourself" was true.

BLAGO: Let me answer that question with an answer. I'm not a party to that trial. I'm not following the trial. It would be inappropriate for me to comment . . . I have a full-time job as governor.
Comment: Let's pretend Blagojevich was completely unaware of the activities described in the trial - that he's 100 percent innocent. Wouldn't it be the height of irresponsibility for him to not follow this trial? Wouldn't he be following every last detail?
Q: Don't people of illinois deserve to know?
BLAGO: I already answered your questions.
Comment; You did? Did we all fall asleep briefly?
BLAGO: Those characterizations do not characterize how I or anyone operates . . . that description is not accurate.
Comment: Wow, actually stunning in the lack of an actual denial in there.
BLAGO: I'm not a party to that trial . . . a trial I'm not involved in . . .
Comment: Governor, you need Hill & Knowlton even more than the Children's Museum does.
The Beachwood Tip Line: For the children.
Posted by Beachwood Reporter at 12:29 AM | Permalink
March 27, 2008
Dusty Baker Is Back
Sound familiar?
1. "Dusty Baker Hates Hits, Reds Fans."
2. "Every time the man talks strategy, every time he starts in on his disdain for slow-footed sluggers who 'clog the bases' with walks, every time he goes to the bullpen early - heck, every time he fills out a lineup card - he becomes an easy target for stats-crunching critics everywhere."
3. "I was on the Dodgers' all-time team as an outfielder. I was on the all-time San Francisco Giants' team as the manager. I started out great in Chicago and then ended up on the all-nothing team."
4. "If you didn't live through it, you can't imagine how bad it was. That was Johnnie B. 'Dusty' Baker talking, inside the visiting clubhouse at Legends Field. He had been asked about his previous job as manager of the Chicago Cubs, which ended in 96 losses.
"It happened two years ago, an endless summer of misery and helplessness for a man who has been National League Manager of the Year three times. As he says, 'I wasn't used to that, especially when in your own mind you believe you have the Midas touch. Then when that Midas touch isn't working, you realize how much is out of your control."
*
"Maybe I was chosen for this situation. It seems like I've been in and out of something like this my whole life. Sometimes you ask the Lord, 'Why me?' Then you get the answer: Why not me?"
5. "Dusty Being Dusty Could Get Messy For Reds."
6. "Dusty Baker and the Art of Motorcycle Maintenance."
7. "The Reds' Disappointing Off-Season Decision."
8. "I also see a team with a manager completely and totally ill-suited to his personnel, with an outsized reputation that far exceeds his actual performance and more control over the roster than he should be allowed. Sometimes I think I'm too hard on Dusty Baker, given that he has managed successful teams, made postseasons, won a pennant, owns a career .527 winning percentage from the dugout. Maybe I make him a caricature, a toothpick-chewing, OBP-hating Luddite who doesn't trust anyone under 30.
"Then he starts talking."
9. "A quick glance at the FanHouse sundial makes it official: It's only March 5. Yet Dusty Baker has managed to humorously alienate nearly every intelligent Reds fan in the greater Cincinnati area. How? The requisite bit about walks clogging the bases is an excellent start, of course, but that's not all; Dusty followed that up yesterday by bringing back two of his mostest favoritest players in the world from the Cub years, Corey Patterson, and Jerry Hairston, Jr.
10. "It's late February, the pitchers and catchers have reported, this cold midwestern winter is, ever so slightly, warming up - it's a time of rebirth. A time of epiphany. A time for baseball's dignitaries to come out of the cold and reveal their newfound knowledge. A time for Dusty Baker to . . . continue to prattle on about on-base percentage!
11. "Outfielder Jay Bruce visited with manager Dusty Baker to clear things up today. Bruce wanted his manager to know he hasn't had leg 'problems.'
"As far as professional baseball, I missed three or four games at the end of the year with a hamstring," he said. "I played 133 games last year. In Dayton (in 2006), I missed one game."
He missed the game in Dayton with a quad problem, but it was a bruise that was the result of breaking a bat over his knee.
Baker said Monday he is a bit concerned that Bruce has had some problems with his legs, and that it might affect whether he plays Bruce in center field.
Bruce said he is not concerned about how the addition of Corey Patterson will affect him.
12. Chad Fox defends Baker too.
13. Dusty Baker is the Cincinnati Reds' new manager, but he's an old-school guy. And Paul Daugherty of the Cincinnati Enquirer loves that. 'The best baseball managing is done by the seat of your pants, using good, old-fashioned, pre-sabermetric logic,' he writes. 'That's another reason to like Dusty Baker. (Beyond his knowledge of single-malt Scotches and Van Morrison lyrics, which is merely astounding and downright Renaissance.) If Baker manages by a book, it's one inside his head, not one written by Bill James. The other day, the Reds manager decided he wanted Joey Votto and Adam Dunn to swing their bats more. 'I don't like called third strikes,' Baker said. Can we get an Amen?'
Oh boy. That begged for a response from the baseball enthusiasts of Fire Joe Morgan, and Ken Tremendous doesn't disappoint (bad language warning): 'There's a war brewing in Cincinnati. On one side: the Dustyites. On the other side: common sense. Articles are being written every day celebrating the folksy wisdom of a man who thinks bases are only good when there's no one standing on them. This is exactly what happened in L.A. when Grady Little was hired - 'He's folksy! He's down-home! He has a drawl!' (one year later) 'He kind of stinks!'
"As is Fire Joe Morgan's wont, the site's response pitilessly deconstructs Mr. Daugherty's column point by point. For example, to his statement that 'It always amuses when fans defend heart-of-the-order hitters by pointing to their on-base percentage. Wow, look at all those walks,' Fire Joe notes that 'five of the top six teams in walks last year were playoff teams.'
"'That's another reason to like Dusty Baker. (Beyond his knowledge of single-malt Scotches and Van Morrison lyrics, which is merely astounding and downright Renaissance.)
"'It doesn't matter to me if a guy gets on base if he can't run. If he can't run he's just clogging up the bases. Also, in an unrelated matter, it's a marvelous night for a moondance." (does a shot of Lagavulin 21).'"
*
Comments welcome. As always, you must provide a real, full name and, preferably, actually have something interesting to say.
Posted by Beachwood Reporter at 11:00 PM | Permalink
RockNotes: No Depression is Punk'd
1. First the forces of darkness - the bad kind, not the kind we like - came for Punk Planet. Now they've come for No Depression. My two favorite magazines. Dead.
"Barring the intercession of unknown angels," the founders of ND write in the March-April issue, there is just one more to go before the end.
"[The] circumstances are both complicated and painfully simple. The simple answer is that advertising revenue in this issue is 64 percent of what it was for our March-April issue just two years ago. We expect that number to continue to decline.
"The longer answer involves not simply the well-documented and industry-wide reduction in print advertising, but the precipitous fall of the music industry . . . because we're a niche title we are dependent upon advertisers who have a specific reason to reach our audience. That is: record labels. We, like many of our friends and competitors, are dependent upon advertising from the community we serve.
"That community is, as they say, in transition."
Like Punk Planet, No Depression is a publication that has been a joy to read the old-fashioned way - on printed paper. But I can't help but wonder if, like Punk Planet, the absence of any semblance of a real website helped do it in. (It's more full and linky now than I've ever seen it, just to give you a clue.
Both publications seemed stubbornly unwilling to digitally expand their franchise. Perhaps they were wary - like their mainstream counterparts long were - that a strong online presence would put a dent in subscriptions. But that sort of thinking is akin to Bill Wirtz's unwillingness to telecast home Blackhawks games out for fear of cutting into ticket sales. Expanding the audience you serve is never a bad idea, and the Internet offers enough revenue sweeteners, in the least, to offset any lost subscriptions that might result. In fact, it was old school distribution that helped do Punk Planet in.
(No Depression has a cover price of $5.95; at half that they might have attracted twice as many readers, allowing for a boost in ad rates. Or maybe they could have foregone the newsstand entirely.)
Punk Planet was in a trickier position, committed to not allowing major label advertisers and to keeping its ad rates affordable to the indies and little guys. And I certainly do not want to blame the victims. I know full well how hard it is to make these ventures work; obviously I'm intimately familiar with the struggle.
But I find it hard to believe a combination of partnerships, the Internet, and expanded offerings couldn't have saved this dynamic duo. A punk rock job board? Americana's premiere alt-country portal?
No Depression, too, suffered from a lack of focus at times, and a failure to upgrade editorial quality as the magazine labored on.
But those aren't reasons enough to die given the joy each magazine provided. If there aren't enough people in the world to support publications like Punk Planet and No Depression, well, then it's a lousy world indeed.
2. "In the late eighties, Winger, lead by the photogenic Kip Winger, specialized in radio-friendly heavy metal. Their music fell out of fashion with the advent of grunge, and Winger himself was mocked by the metal community after posing for Playgirl. The band broke up in the early nineties, but Winger has since launched a comeback of sorts."
- From a recent New Yorker listing of Winger's appearance at the B.B. King Blues Club & Grill on West 42nd Street.
A) Who knew?
B) The best - and worst - PR that Winger ever got.
3. The New York Times has started a songwriting blog (Paging No Depression!) and one of its authors is "Chicago-based singer, songwriter, violinist, guitarist and whistler" Andrew Bird.
4. It's unfortunate that Amy Winehouse is such a tabloid mess because, as Sasha Frere-Jones explains, she's a helluva talent.
5. This week on Sound Opinions: "Jim and Greg welcome the always outspoken and political singer-songwriter Steve Earle. He's joined by wife Allison Moorer for a conversation and live performance. Then the critics will review the second effort by 'Crazy' duo Gnarls Barkley and the Jack White side project, The Raconteurs."
6. You can also Rock for the Animals this weekend.
7. I can't tell whether this statement by Michael Stipe to Pitchfork is typical REM smugness or reversely arrogant self-deprecation designed to ingratiate itself with its imagined slacker indie fans, but at face value it is wholly true: "In the past 10 years, we had figured out how to completely lose focus in the studio - with no one to blame but ourselves."
Does that mean he was lying whenever he said they were really excited about their new material? Probably. Are they lying about their new material now? Likely. Life's Rich Pageant was the last REM record of real value, though Automatic for the People was a good representation of paths not taken, with the unforgivable exception of "Everybody Hurts." That song sends them straight to Rock and Roll Hell. And not the good Rock and Roll Hell - the one we like. The other one that really, unironically, sucks.
8. On the other hand, Stipe is dead-on as a media critic. "Everyone comes into an interview situation with their own story and their own idea and then they cherry-pick the comments that help create their argument."
*
Comments welcome. As always, you must include a real, full name to be considered for publication.
Posted by Beachwood Reporter at 10:22 PM | Permalink
The [Thursday] Papers
I'm not sure if the city has a Ministry of Parks yet, but it's getting awfully heavy-handed when it comes to its vaunted green space.
Consider this report in today's Tribune:
"For more than 20 years, park volunteers have planted shrubs and weeded flower beds in the city's more than 500 parks. They've shown up at park meetings and advised officials on how to fine-tune athletic programs and plan park improvements.
"But volunteering may not be that simple anymore.
"Proposed park guidelines would require volunteers to submit to background checks, supply three non-family references and agree to not grant media interviews."
In other words, the city wants to make it harder to voluntarily water a public magnolia - or whatever - than it is to actually get a paying job with the Daley administration, which doesn't even require that you still be living.
And a gag order on park volunteers? Why stop there? I can see the movie in 50 years: The Chicago 2.8 Million!
"Advisory council members, who recruit volunteers for everything from planting to park cleanup days, say if adopted, the proposed rules will discourage people from getting involved."
Gee, you think?
"Advisory council members say the new guidelines may be an effort by the Park District to restrict park advocates' voices, especially with regard to the city's bid for the 2016 Olympics. Most Olympic venues will be in the city's parks, and at least one park advisory council has voted to oppose plans to put Olympic field hockey stadiums in its park."
These would be the Chicago Olympics, not the Beijing Olympics. I know it might be hard to tell the difference.
"Park advocates also point to advisory councils' opposition to other projects, such as the Lincoln Park Advisory Council speaking out against the Latin School's proposal to build an athletic field in Lincoln Park, and the Kenwood Park Advisory Council's efforts to prevent the expansion of a baseball field. In the case of Kenwood Park, advisory council members were told their group was not recognized."
Park advisory councils are now being disappeared.
"No one had a record of the advisory council even existing," parks Supt. Tim Mitchell told the Trib.
The council couldn't be found anywhere! Not even in the park . . . on weekends . . . planting shrubs.
"The volunteer groups recently have taken a greater role in fundraising. With the Park District increasingly dependent on outside funding for capital improvements, the advisory councils have stepped in, convincing state and local elected officials to contribute hundreds of thousands of dollars.
"'We want to make sure the funds are being used for what they're being slated,' said Jessica Maxey-Faulkner, a Park District spokeswoman."
But park advisers find it curious that "the Park District is seeking accountability from them, yet failing to make any commitments that funds they raise will go toward designated projects."
Oh, don't worry your pretty little head about that. The city doesn't need your help when it comes to accountability and parks.
Grant's Tomb
Meanwhile, Fran Spielman reports today in the Sun-Times that "influential aldermen predicted this week that Daley has at least 30 votes to approve the project over strenuous opposition from local Ald. Brendan Reilly (42nd)."
Is that a "prediction" or does Daley have the votes securely in pocket?
"By my count, they don't have the votes," Reilly told Spielman.
Reilly has proposed a couple dozen alternate sites, but museum president Jennifer Farrington says "We're pursuing this site exclusively."
*
"After laying low for several months huddled with PR powerhouse Hill & Knowlton, museum officials are embarking on a new offensive - and that pretty much describes it - in its unpopular effort to move to Grant Park," I write in "Museum Melee" over at Division Street.
I think I just committed synergy. Let me know if it's too annoying.
Love Is . . .
Continues to surprise.
Thank You . . .
Herb Peterson.
Precinct Captain
"Mary Mitchell is on assignment."
Huh, I wonder what the Obama campaign has her working on.
Change and Hope
On the other hand, this is the sort of photo that makes you want to vote for the guy.
For Pete's Sake
"The Orland Park Village Board could vote on a proposal for the new Petey's II at 161st Street and LaGrange Road as soon as April 7," the Southtown reports.
"The restaurant would be allowed to keep serving its moderately priced steaks, chops, pasta and Greek specialities in the existing building until the new building is finished later this year.
"Peter Kattos, owner of Petey's II and Petey's Bungalow, a sister restaurant in Oak Lawn, declined to comment on the plans.
"'I don't know nothing about it,' Kattos said. 'Please leave me alone.'"
- spotted by Scott Buckner
Middle Class Mess
Our very own Kiljoong Kim will be a facilitator next week at a big-time conference on the decline of the middle class.
The News Swami!
Way better than this guy.
The Beachwood Tip Line: No references necessary.
Posted by Beachwood Reporter at 7:46 AM | Permalink
March 26, 2008
The Periodical Table
An occasional look at the magazines laying around Beachwood HQ.
Noodle Head
"At Noodle Bar, a junior line cook had been cooking chicken for family meal - lunch for the staff - and although he had to cook something like seventy-five chicken pieces and the stoves were mostly empty, he'd been cooking them in only two pans, which meant that he was wasting time he could have spent helping to prep for dinner," Larissa MacFarquhar writes in her incisive profile of neurotic restaurateur David Chang in the New Yorker.
"Also, he was cooking with tongs, which was bad technique, it ripped the food apart, it was how you cooked at T.G.I. Friday's - he should have been using a spoon or a spatula. Cooking with tongs showed disrespect for the chicken, disrespect for family meal, and, by extension, disrespect for the entire restaurant.
"But the guy cooking family meal was just the beginning of it. Walking down the line, Chang had spotted another cook cutting fish cake into slices that were totally uneven and looked like hell. Someone else was handling ice-cream cones with her bare hands, touching the end that wasn't covered in paper.
"None of these mistakes was egregious in itself, but all of them together made Change feel that Noodle Bar's kitchen was degenerating into decadence and anarchy. He had screamed and yelled until a friend showed up and dragged him out of the restaurant, and his head still hurt nearly twenty-four hours later."
Chief Executive Tyrant
"Observers are often amazed when executives with impressive track records are mysteriously transformed into corrupt and tyrannical monsters once they become C.E.O.s," writes a Clemson management professor in the Sloan Management Review. [via What's Offline in the New York Times]
A) Really? On what planet?
B) I thought that was how they got there in the first place.
Jerry Yahoo
* Yahoo! started as "Jerry's Guide to the World Wide Web" but stands for Yet Another Hierarchical Officious Oracle.
* "Sergey Brin and Larry Page . . . invented Google, a search engine that Yahoo! chose not to buy, mistaking search for a feature of web portals rather than a new approach to surfing."
Yow!
The Week Ahead
When The Week magazine first came out a few years ago, I was less than impressed. I don't if I've changed or they have, but now when I look at it it looks like the future; it's essentially a print blog, not unlike a more tightly edited version of Controversy, the late Sun-Times Sunday section. Like each, you don't even feel constrained by not being able to click links to get full stories. The rundowns and excerpts are enough. Coming soon to your daily newspaper. Or instead of it.
-
The Week Daily is its oxymoronic website. There are no artificial news cycles anymore; and let's be clear, news cycles are artificial, not ordained by the Journalism Gods. They are products of printing press and circulation department limitations. A reporter files a story on a Tuesday evening and it sits around spoiling overnight instead of becoming instantly available to its audience. There is nothing sacred about that. There is no such thing as a monthly, a weekly, a daily or even an hourly anymore. Everything is - our ought to be - nowly. Like life. That doesn't mean stories ought to be published before their time, it just means there's no reason to delay publication once they are finished.
Treats
Print magazine is an example of a publication that is immensely enjoyable to read in, well, print form. It's a visual and almost tactile feast. Doesn't mean they couldn't do more with their website. Nothing wrong with pressing an advantage, though, and that's why I think daily newspapers might get somewhere with semi-glossy news photography weeklies, with a dash of editorial cartooning and graphic illustrations like those Thomas Frisbie has done on the Sun-Times editorial page.
Title Fight
Speaking of The Week, it reported recently that International Falls (Minnesota) won its federal trademark case making it the official Icebox of the Nation. "The townspeople celebrated by huddling around their wood-burning stoves as temperatures plunged to 40 below."
Bucktown Bayless
Just catching up with a recent New York Times Sunday Magazine snapshot of local hero Rick Bayless, who, it turns out, lives in a converted 1916 tavern in Bucktown.
"Our living room has the original pressed-tin ceiling and terrazzo floor of the tavern," he told the Times. "Where the beer lines went down into the keg room, you can see stains where a million drips of golden beer dropped."
Also:
* "We grow about $25,000 worth of produce for the restaurant out of our backyard in Chicago. Right now we are growing microgreens in the basement. We'll take them into the garden in the spring."
* "My parents had a barbecue restaurant in Oklahoma City called Hickory House, and I have all the pictures from opening day. The pork ribs were the specialty; dry rub, sauce on the side."
Phenomenon
* "Something seems wrong with the laws of physics. Spacecraft are not behaving the way that they should."
* "Three-dimensional pictures for all the family, with no need for special glasses, could be on the way."
* "As more commercial uses are developed for holograms, they may soon be found all over the place."
Posted by Beachwood Reporter at 4:37 PM | Permalink
The [Wednesday] Papers
"The Defense Department mistakenly shipped secret nuclear missile fuses to Taiwan more than 18 months ago and did not learn that the items were missing until late last week, Pentagon officials acknowledged Tuesday," the Washington Post reports.
Somewhere in Changhua County a farmer is still wondering why the lights in his house are so bright.
Obstacle Course
A recent study of Chicago neighborhoods finds that poor people who don't exercise aren't lazy, they just don't find a morning run all that appealing if they have to dodge bullets along the way. [h/t: NYT]
Pork Chop
"A top aide to Rep. Dan Lipinski (D-Ill.) has used his employment with the House to help win local races, repeatedly claiming in campaign literature and public meetings that he is responsible for securing millions in federal earmarks for the village of Oak Lawn, while also racking up thousands in campaign contributions from companies with business before Lipinski's Congressional committees," Roll Call reports.
The aide is also an aspiring Oak Lawn mayoral candidate, Carol Marin writes this morning.
*
I'm not sure if Barack Obama supported change in the Third District but I doubt it.
Wright vs. Oprah
"When Oprah goes to church in Chicago, she has been known to attend Trinity United Church of Christ, located on the city's South Side, "Christianity Today reported in 2002.
"Trinity is the largest church in its denomination, with more than 8,000 members, several subsidiary corporations, and an annual budget of about $9 million. It is an Afrocentric church with a membership composed largely of upper middle class blacks. These elements, no doubt, appealed to Oprah's roots in the church, her longtime interest in black history, and her concern for social justice.
"According to Trinity's senior pastor Jeremiah Wright, however, Oprah has not attended a service there in the last eight years. When she first came to Trinity in the 1980s, it seemed that she would become an active participant. Says Wright, 'She walked the aisle to become a member, publicly claimed us as her church in Ebony magazine, and when I would run into her socially, like at a United Negro College Fund dinner, she would say, Here's my pastor! But Oprah never completed the membership classes and after awhile her attendance dropped off,'
"Today Oprah's relationship with Trinity and Jeremiah Wright seems strained. In a column for a recent issue of Black Collegian magazine, Wright mentioned Oprah as an example of African Americans who forget their roots in the church after finding success. 'A lot of us do not even like the word faith anymore,' he wrote. 'We prefer the more chic-sounding word, spirituality! We are caught up in an Oprah-generated mentality and a 12-step vocabulary that prevents us from using the very words and the very bridge that 'brought us over!'"
"Oprah Winfrey did not respond to CT's request for comment about the article, but Wright stands by his statement. He is clearly put off by the direction Oprah's faith seems to have taken.
"'She has broken with the [traditional faith],' he says. 'She now has this sort of "God is everywhere, God is in me, I don't need to go to church, I don't need to be a part of a body of believers, I can meditate, I can do positive thinking" spirituality. It's a strange gospel. It has nothing to do with the church Jesus Christ founded.'"
*
Oprah.com's messages boards are aflame.
Go West, Young Man
Kwame Kilpatrick would be a killer ballot name in Chicago.
Truth in Headlines
"As The Globe Warms: Chicago Editor Goes Back To Warming-Denial Group"
- St. Petersburg Times [h/t: Romenesko]
Rock Survivor
The Empty Bottle cat is 75.
Vallas Ballast
The Chicago coterie in New Orleans. [h/t: District299]
George vs. Rod
Former Gov. George Ryan deserves to be in prison, but it occurs to me that the corruption that was the bedrock of his administration was at least part of an actual governing philosophy - that this was the way to get things done. And he did get things done.
There doesn't seem to be any such philosophy to the behavior of the Blagojevich administration; he's getting nothing done in return for letting his pals run wild. He's running a fake government, built on Potemkin press releases.
Maybe he'll learn a few lessons from George when he joins him in the pokey.
Best Political Team
CNN anchor: "We're waiting for the details, but until then, let's speculate."
Reporter: "We can't be making that kind of speculation right now."
Anchor: "Just asking the question."
Conversation prefaced by the anchor saying she would like to "give fodder" to conspiracy theorists wondering if the Clinton campaign had anything to do with the breach of Obama's passport.
Dead-Enders
Now meeting up in Tinley Park: "The VERTICAL REPUBLICAN Spoilers of Latterday Huckabees."
Dealbreaker
"She snorted when she laughed. She always snorted when she laughed, but one day I knew I couldn't spend another minute listening to it."
- Bill, in a Tales From The Front column about last straws
The Beachwood Tip Line: Don't be shy.

Posted by Beachwood Reporter at 7:42 AM | Permalink
Whipped Cream Indecency
FOX TV REFUSES TO PAY FCC INDECENCY FINES
Claiming Constitutional Right to Air Naked Whipped Cream-Covered Strippers
On Feb. 22, 2008, the FCC issued a Forfeiture Order against 13 Fox TV Network stations, determining that the stations violated the broadcast indecency law when they aired an episode of Married by America that focused on adult-only parties featuring sexually oriented entertainment provided by nude or semi-nude female and male "strippers."
The FCC had first proposed fining all 169 Fox-owned and affiliate stations a total of $1.2 million in 2004 for airing a 2003 episode of Married by America, which featured digitally obscured nudity and whipped cream-covered strippers. Later they reduced the fines toward only 13 Fox affiliates and a $91,000 fine.
Despite the fines being reduced to less than 10 percent of the original amount, Fox TV still blatantly refused to pay the fines. On March 24, 2008, Fox TV stated that it would not pay its part of the $91,000 fine, asserting that the FCC decision is "arbitrary and capricious, inconsistent with precedent and patently unconstitutional."
Robert Peters, President of Morality in Media, is conducting interviews on this subject. Here are some of his comments:
"The FCC is to be commended for issuing a Forfeiture Order against Fox TV Network stations for airing program content that one might expect to see in a burlesque show, not in a medium that reaches into almost every American home and at a time of day when most children are still watching TV.
"I still remember my father talking about burlesque when I was a child; but neither my father nor any other sane adult of the 'great generation' would have recommended moving the burlesque stage from an 'adults only' performance hall to a public park so that everyone could share in the good times.
"As MIM's long-time general counsel Paul McGeady once put it, 'TV . . . communications partake of the nature of a public thoroughfare (albeit an electromagnetic one), and what may be prohibited on the public street [or park] should be equally prohibited on TV . . . '
"Once upon a time, TV broadcasters understood that their audience consisted of a cross section of the community, including children of all ages, and acted accordingly.
"Today, broadcast TV networks seem to care less about who is exposed to their programming, caring more about is Nielsen ratings, which continue to decline in proportion to the degree that the networks trample on community standards, while parading under an ACLU-styled banner of 'free speech.'
"Despite their protestations, however, the problem is not that TV broadcasters can no longer discern community standards. The problem is that the networks no longer care about those standards.
"Nor is the problem that most Americans will no longer watch decent programming that uplifts or enriches the human spirit. The problem is that the media is dominated by individuals who have utter contempt for mainstream values and who confuse pushing the envelope with genuine creativity."
-
ABOUT "SPECIAL GUESTS"
Our Mission at Special Guests: To obey God as He leads us in matching Judeo-Christian guests with talk show hosts to disseminate vital information that ministers to the physical and spiritual well being of listeners and viewers.
-
Beachwood Resources:
* "FCC Refuses To Pay FCC Indecency Fine," The Washington Post
* "FCC Sucks, Says Google Lawyer," WebProNews
* "Tell It To The FCC," The Beachwood Reporter
Posted by Beachwood Reporter at 5:42 AM | Permalink
March 25, 2008
Chicagoetry: Mighty Santo At The Bat (The Cubs Will Shine In '69)
MIGHTY SANTO AT THE BAT (THE CUBS WILL SHINE IN '69)
The Outlook was quite brilliant for the Wrigley nine
that day,
my first Official Cubs game and I didn't have to pay.
The paperboys of Naperville were on their yearly
outing,
Ice cream, hot dogs, popcorn, fanatical screaming and
shouting.
Destined for the playoffs, the Cubs weren't frightened
of Atlanta,
our fearsome starting line-up felt the Pennant all but
granted.
The pure green field and outfield vines did shimmer in
the sun,
and we paperboys were confident the contest would be
won.
A Cub named Kenny Holtzman had been picked to take the
mound,
the best infield in baseball had him covered all
around.
Santo, Beckert, Kessinger, Ernie Banks there at first
base,
Randy Hundley in the catcher's gear as the outfield
took their place.
For long the game was scoreless, both teams stuck
between the lines,
with one Atlanta long-ball snatched by Williams from
the vines.
And then the time had come for Mighty Santo at the
bat,
two Cubs on the basepaths, the opportunity was FAT.
Atlanta's sorry pitcher threw what well he would rue
later,
to the very wrong Cub he served up a big, fat TATER.
The ballpark then exploded as they watched the soaring
goner,
The Cubs had grabbed the lead with Mighty Santo's
three-run homer.
The game continued onward 'til it's foregone
conclusion,
but the wild pandemonium left me muddled in confusion.
The Cubs and Kenny Holtzman beat the Braves and scored
a shut-out,
but the passion in the grandstands had me wallowing in
doubt.
I turned to Johnny Wetzel, paperboy extra-ordinaire,
and wondered why grown men threw one another in the
air.
Johnny turned to me like I was well out of my wits:
"Come on, J.J. Tindall, the Braves DIDN'T GET ANY
HITS!!!"
And so we paperboys got ourselves a lifetime's thrill,
and Holtzman and Ron Santo? Forget I never will!
O: the days before September when our playoff hopes
turned bitter,
I celebrate the day I learned the meaning of
"no-hitter."
-
J. J. Tindall is the Beachwood's poet-in-residence. He can reached at jjtindall@yahoo.com. Chicagoetry is an exclusive Beachwood collection-in-progress.

Posted by Beachwood Reporter at 3:13 PM | Permalink
Cubs Still Stuck In Hendryville
The Cubs may win the NL Central again, but they aren't a World Series team. And it's a team more vulnerable than many of its fans thought it would be going into spring training. Even Lou Piniella knows something is wrong. And once again, Jim Hendry is to blame.
Hendry's trademark is putting together rosters that simply don't fit.
Take the lineup.
In the beginning of the season last year, Lou's mad scientist ways almost lost the team until he plugged Ryan Theriot and Mike Fontenot into the lineup about the same time the team emerged with a fighting spirit missing for . . . ever.
Piniella's mixing and matching turned out to be the only way to coax 85 wins out of the team.
This year, amazingly, the lineup problems persist.

Hendry's big off-season acquisition is a prime example. Kosuke Fukudome may turn out to be a nice player, but he'll probably hit .280 with no power. His on-base percentage will be unusually high for a Cub and he'll be a good defensive player, but he's not an All-Star.
In fact, his skill set is so problematic that Piniella has tried to hit him second and third - two very different places in the lineup - talked of batting him leadoff, and has now apparently settled on him in the five-hole, where he most definitely does not belong.
"And I know that the 2-hole is more suitable for the young man, but right now, the way we're put together, I just feel that Ramirez out of the 4-hole will get more protection with Fukudome hitting behind him," Piniella said recently.
Look at that again. Piniella isn't using Fukudome where he is best suited because of "the way we're put together." Which screws up two spots.
And really, I'm not sure how much protection Fukudome gives Ramirez. But the truth is that Piniella would probably like to put Fukudome even lower in the lineup given his difficult spring. He'd be an ideal number eight hitter.
Now let's look to the other corner outfielder clogging things up. Alfonso Soriano was signed to the richest contract in Cubs history to play center field and lead off. It turns out he can't do either. Lou considered batting Soriano third and fifth before settling on the two-hole, which is only one degree less ill-suited than leadoff.
Soriano would like nice in the six-hole, where Corey Patterson always belonged. But you can't really have Hendry's two big acquistions batting sixth and eighth, can you?
(In fact, given the dicey Felix Pie, the Cubs entire outfield should hit at the bottom of the order . . . )
-
UPDATE 3/26: The Cubs' acquisition of Reed Johnson gives the team . . . another marginal player who is being touted as a platoon leadoff hitter. Think about that.
-
The truth is that Ramirez doesn't really need protection as much as he can give it to others. That's why keeping him behind Derrek Lee makes sense. Hell, put him behind Geovany Soto and watch Soto's numbers soar.
But no, Ramirez, the stat hog, was at one point moving down in the order, to fifth. Which he preferred to clean-up. Head case much?
That move would have left D-Lee in the cleanup spot at a time when the Cubs have to be concerned about Lee's prolonged slump, which is now more than a season old.
One thing about Piniella is that he doesn't stand on ceremony the way Dusty Baker does. Piniella tends to play the players who deserve to play. But he's starting this season in a surprisingly familiar place: not knowing what kind of team it is. It doesn't have much speed, but it's not really a power team, but it's not really a scrappy team with the exceptions of Theriot and Mike Fontenot.
The bullpen is similarly muddled. Mike Ditka used to say that if you had three quarterbacks, you didn't have one. That's the way I look at the closer role. I think Marmol is the guy. We all know Kerry Wood's history. And Howry doesn't get going until a couple months into the season. So disaster looms. Kerry Wood, people!
Thank God Scott Eyre is headed to the DL, opening up a spot for the more deserving Carmen Pignatiello or Sean Marshall.
Expect Lou to use the Iowa Shuttle liberally once again.
*
The one strength the Cubs have is their complement of starting pitching, and props to Sweet Lou for keeping Jason Marquis in the rotation. Marquis has been lights out this spring, and his April and May numbers are traditionally pretty killer. His late-season fades are a problem, of course, and they might be someone else's problem this year, but it's a better tradeoff than a still-questionable Ryan Dempster, who is just as likely to fade at the end of his first season back as a starter.
There's been some bitching and moaning that Rich Hill didn't do anything this spring to win a spot in the rotation, but spring isn't everything. Pulling Hill from the rotation would have been the worst thing they could do to the budding star.
I like Marshall, too, but it's probably for the better that Jon Lieber ends up as the long man in the pen. Lieber is a swingman at best at this stage in his career. (As Elliott Harris wrote in the Sun-Times, "Nothing like having a glut of No. 5 pitchers.")
Instead of a healthy competition among the pitchers, the combination of the oversupply plus the closer's drama and the never-ending Brian Roberts rumors, seemed to cast a pall over spring training this year. Off-season optimism has kind of faded.
The Cubs could very well win this division, but only because it's a crappy division. They are not in the same league as the Mets, Rockies and Diamondbacks, nor probably the Phillies, Dodgers and Padres.
I saw a report on ESPN the other day about the joy the Rockies took in an oddball fielding drill, and it kind of made you pine for that sort of feeling among the Cubs. No Troy Tulowitz here, though.
The Cubs could have had that. I was a Joe Girardi man, but I will admit that Piniella won me over last season. He was a master at taking the leftovers in Hendry's kitchen and turning it into a fine meal.
But I would still prefer to see a Cubs roster without Soriano, Ramirez and Fukudome that instead had Mark DeRosa at third, Theriot and Fontenot up the middle, Murton in left, and All-Stars in the other two outfield positions and as closer.
COMMENTS BELOW.
Blue Flu
When Lou Piniella uttered the phrase "a Cubbie occurrence," he officially became one of us.
Ex-Cub Factor
Let's play a little Where Are They Now.
Michael Barrett: In a Padres platoon with Josh Bard at best.
Hee Soep Choi: With the Kia Tigers in the South Korean KBO League.
Randall Simon: Appears to be retired. He had 21 at-bats with Philly in 2006.
Mark Prior: Opening the Padres season on the DL and may not pitch until late May or early June.
Jacque Jones: "The Tigers' big free-agent acquisition is hitting .190 with no extra-base hits, and he looked slow in leftfield Friday," the Detroit Free Press reported on Saturday. Slated to start in left and bat eighth.
Jim Riggleman: Bench coach for the Mariners.
Corey Patterson: "With one week left before Opening Day, Patterson is batting .367. He played two years in Baltimore, batting .276 with 45 steals in 2006 and .269 with 37 steals last year."
Patterson looks like he's won the starting centerfield job in Cincinnati for his old pal/nemesis Dusty Baker, much to the chagrin of many Reds fans who want to see top prospect Jay Bruce.
Steve Stone: New gig is almost enough to get me to listen to White Sox games. Almost.
Hi-Tops: Is now Harry Caray's Tavern. Harry Caray is now officially overexposed.
Clean Sox
I like a Sox lineup that starts with Swisher, Cabrera, Thome, Konerko, Dye and Crede. A lot of ifs in the last four returning to form, but better than folks think it will be. The Sox problem is their rotation, pure and simple. Yet, they have Buehrle and Vazquez at the top, which is more than my Twins have. And that's who they're competing with this year, for third place.
Beer Wars
The Cubs open with three games at home against the Brewers and close with three games in Milwaukee.
-
Comments welcome. As always, please include a real, full name when explaining to me why I'm wrong.
-
COMMENTS
1. From Marty Gangler: Dude - are you nuts? The jury is certainly out on [Fukudome] but if you want to look at the other high profile Japanese players that have come over, they have all been fundamentally sound and good players that are capable of adjusting to the U.S. game and competing at a high level. To bat him 8th? That's insane. Are you serious?

DeRosa is not an everyday player and you're equally nuts to think he should be at third every day. The guy is in his thirties and had been nothing but a utility guy his whole career - did he just get a whole lot better? He had a career year last season and it wasn't even that good. He's a great guy to have on your team and I am a fan, but like it or not Ramirez can hit. I'm not a huge fan either, but there really aren't that many guys with 35-HR power in the league.

I can't stand Soriano either, he mucks up the whole lineup, but I trust Lou to get a lot out of this team. And I certainly am not a Hendry fan. And we'll see what happens with the closer situation. The only thing I like is that Marmol is like The Wolf from Pulp Fiction. He fixes things in the mid- to late-innings. I like the way he was used last year. Another year of that from him before the closer position might not be bad. But counting on Wood, sheesh, that's a tall order.
Get over the Fontenot thing. Until he handles some breaking stuff he's going to do nothing but be a marginal major leaguer. I want to believe, but he hasn't made the adjustment after two weeks of great hitting and nothing else afterward.
Rhodes Reply: I would say this: If Fukudome isn't going to bat second, then he's got to be much lower in the lineup than 3,4,5,6. I would put him 8th rather than 7th because you want a guy like him in front of the pitcher. High on-base average, a lot of sacrifice bunts behind him. He's essentially Tadahito Iguchi.
I think DeRosa showed last year he could play every day. The point isn't that he's a great third baseman, but if you trade A-Ram for a top flight outfielder, then you have to make a sacrifice.
Fontenot slumped at the end of the season, but that coincided with a decrease in playing time. He can hit and he can field, he's had a good spring. He and Theriot have great DP chemistry. This is about Pirahnas. Again, you give a little at some positions in return for others. A solid defensive infield buttressed by a big-hitting outfield.
I'm not suggesting the Cubs just cut Ramirez. I think he's great trade bait; I advocated trading him during or after Baker's last season, along with Barrett. You trade players like that after their career years. Let Ramirez be a millstone on someone else's team. The guy doesn't want to hit clean-up, is a bonehead on the basepaths, and has an iron glove. He'll carry a team for two weeks with his bat and then fall into a black hole for three.
Marty Responds: I've read the comparisons to Iguchi, but I don't think iguchi was a multiple batting champion. I think he should be better than Iguchi. You have to think he'll be close to a .300 hitter and last I've seen, .300 hitters don't hit in the 8-hole. i just don't get what you are saying about much lower in the order.
Rhodes Reply: Do you hit .280 hitters in the 8-hole? Because that's what I think he'll be.

Posted by Beachwood Reporter at 12:23 PM | Permalink
The [Tuesday] Papers
Here's my first contribution to the latest national conversation about race: I truly believe one mark of progress is that African-Americans in cities like Chicago now have ample opportunity to ascend to the highest levels of government and rip us off, just like white guys have for . . . ever.
In fact, today's news shows that women have also broken through the, um, the . . . corruption ceiling?
And that just expands the pool of targets for people like me. God bless progress!

Sure, some of us idealists hoped that the oppressed wouldn't behave like their oppressors, but translate their experiences into higher planes of public service. But then, it's probably not fair to set a higher standard of behavior for those who have been left out for so long and just want to get a piece of the action for themselves, like the jowly honkies who laid down the template and continue to benefit most from public corruption.
Still, the news today is disheartening.
First we have Donna Dunnings, cousin of Cook County Board President Todd Stroger, defending her $17,048 raise in the wake of a bitter budget battle that resulted in a controversial increase in the county sales tax.
"Dunnings said her critics could have submitted an amendment to Stroger's budget proposal to block the pay raise 'If they were so concerned about the salary of the first African-American female CFO,' the Tribune reports. (That's Chief Financial Officer, not Current Family Obligation.)
I'm not sure either how this budget line eluded Stroger's board opponents, but maybe they were preoccupied with, you know, the budget.
Or maybe they finally discovered that that the county's chief financial officer is a black woman and they don't like it one bit.
But who is Dunnings really hurting more, liberal white reformers or the poor people who are disproportionately black because of this country's shameful history who depend on the county for services?
Or her colleagues forgoing raises - or losing their jobs?
*
Today's second exhibit is a bigger fish than Dunnings, and she'll have to face the people come election time.
In his "Clerk Perk?" report last night, Fox Chicago's Dane Placko reported that Circuit Court Clerk Dorothy Brown put a former police officer on her payroll as a "systems analyst" who instead appears to be her chauffeur. I say "appears to be" because Brown claims the man is part of her security force.
"That's just a budget title," she says of the "systems analyst" designation.
That sounds like fraud to me, but I'll leave that up to others to decide.
It turns out, though, according to Placko, that Brown's driver is "one of 10 investigators with clerical titles but carrying guns."
Stay away from those accordion files or I'll shoot!
Now, Brown says that she's received death threats because her name is on county documents, and that's no laughing matter. But Sheriff Tom Dart told Placko that he's not aware of either a security request from Brown or any threats against her.

Brown also compared herself to Dart and Cook County State's Attorney Dick Devine, whom she said get security details. "I'm like a law enforcement person," she said.
Dart told Placko that, by and large, he drives himself to and from work.
(I got distracted at this point in the broadcast, but I'm pretty sure Placko said that judges don't get security details. And they aren't just like law enforcement people; they do the actual sentencing.)
Brown's driver $63,000 a year, but Brown assured Placko that he has a tough, five-pronged job. "He has to secure me," she said. He has to drive the vehicle, a Ford Expedition XLT, "which is not an easy job." I never got the other three, though I think she said something about investigations at the office.
Brown argued that she's really doing the taxpayers a favor; she couldn't be as efficient if she had to drive herself.
When Placko pointed out that other county employees drive themselves, Brown said in her best Leona Helmsley: "Am I just an employee of the county?"
Brown also complained that "I make only $105,000 a year."
And then the kicker: "I feel harassed, and I feel discriminated against."
You are being discriminated against, Dorothy. But it has nothing do with being an African-American woman. You're a Cook County politician, and that means you don't get the benefit of the doubt.
COMMENTS
1. From Tim Howe: Brown also complained that "I make only $105,000 a year." Perhaps she could decide not to run for re-election and instead apply for a different job in county government. I hear some of the department-head gigs are paying pretty good these days.
*
Beachwood Update
A while back I wrote about trying to complete some deals to put the Beachwood on financial footing. Those deals are still, um, afoot with only a smidgen of movement, but I do have an announcement to make: I have begun a political blog on the side for NBC5 called Division Street.
This will offer greater exposure for the Beachwood through cross-promotion, and bring a small bit of needed revenue into the company. At the same time, I'll get to work with some of the Internet and politics folks over there, which hopefully will produce exciting results.
Please visit, but please be gentle. It's still in the early-going and many improvements are coming. In short order, the blog will find a voice and character of its own.
I'll keep everyone posted on other developments as warranted.
*
I suppose this means an ethical disclosure is in order: I am under no obligation, nor would I agree to one, to praise Channel 5 or criticize its competitors. I rarely comment about TV in this space, and as you can see today, I gave major props to Fox Chicago's Placko, as I have in the past. Regular readers know that I am a big Carol Marin fan, and she is affiliated with NBC5, though I almost always reference her here in relation to her work at Chicago Tonight and the Sun-Times. But I'm more than happy to field questions or concerns about this.
Cab 101
"There's a reason this is Cab 101, because you're about to get quite an education."
Flake State
The Illinois Flake went for $1,350.
Geez, kind of anti-climactic.
I love this, though: "The winner of the auction, which lasted more than a week, is the owner of a trivia website who wants to add the corn flake to a travelling museum."
Reprise
"Todd Stroger's father and predecessor, John Stroger, made Dunnings the top deputy in the county's Finance Department in 1999," Tribune noted. "The county didn't advertise that opening, but Dunnings heard about it from her uncle and was the only applicant."
The Beachwood Tip Line: Divisive.
Posted by Beachwood Reporter at 8:26 AM | Permalink
March 24, 2008
The [Monday] Papers
We shouldn't be surprised that Todd Stroger is taking some of that taxpayer money he just raised and giving it to his cousin, Donna Dunnings. But I wonder how Larry Suffredin feels today.
Friends & Family Plan
At a time when the rest of America is in an economic death spiral, Stroger is awarding his cousin - the county's Chief Financial Officer - a 12 percent raise. She will now make $160,000, up from her current$142,000.
Stroger's childhood friend, Gene Mullins, recently hired as a spokesman, said Dunnings deserves the raise because "she's doing twice the work she was before and has more responsibilities."
Welcome to post-1973 America!
The hiring of Dunnings was supposed to save money because she was taking less money than her predecessor. Now we know that was a short-term proposition. Kind of like those low-interest credit card offers.
"She only took [less] when we didn't have any money," Mullins told the Sun-Times's Steve Patterson, who helpfully added that he was "referring to the just-passed 1 percentage point sales tax increase that is so substantial, it will ultimately give county government more money than it needs to operate."
Paging Larry "I'm sorry people think I empowered Todd Stroger" Suffredin!
Patterson notes that Mayor Daley is tightening his belt at City Hall, by contrast, but I have a lot for sale in Bubbly Creek for anyone who doesn't think Daley ultimately controls the board. His brother, John, is the powerful, longtime Finance Committee chairman who could revoke Stroger's parking pass with one phone call. He, too, supported the tax increase. And I don't remember the mayor calling Stroger - or Suffredin - to say, "Don't do it if you know what's good for you!"
Of course, the bulk of Chicago's sales tax burden falls on Mayor Daley and the city anyway, and he certainly has his own Friends & Family Plan. What Todd Stroger can't be forgiven is his how incompetent even his corruption is. That is something Chicagoans can't abide.
Illinois Handbook
As opposed to pros like Stuart Levine and Tony Rezko, who almost make George Ryan's administration look like pikers.
"In just six days' worth of prosecution witnesses, it's already a barnburner," Carol Marin writes of the Rezko trial, "filled with descriptions of hinky deals orchestrated by a bipartisan band of politically connected power brokers who locked onto the Blagojevich administration like blood-starved leeches, sucking out all the cash they could from government contracts and pension funds."
Must-See TV
"It sends the message that taxpayers have to make sacrifices and President Stroger's friends, family and supporters get special treatment," BGA honcho Jay Stewart told the Sun-Times. "It is a classic example of how Cook County politicians look at the world - one set of rules for the outsiders and a different, more favorable set of rules for the insiders."
Here's a tip: Watch Fox News Chicago at 9 p.m. tonight to be outraged all over again on that score.
Cola Wars
"A controversial contract Gov. Blagojevich's administration signed last year giving Pepsi exclusive rights to sell soft drinks on state property will be probed after lawmakers unanimously asked Illinois' top government auditor to investigate the deal," the Sun-Times reports.
"Auditor General William Holland will look into allegations made by Pepsi's chief rival, Coca-Cola, that the contract was tainted because the administration accepted Pepsi before hearing Coke's best offer."
Change Bank
"According to witnesses, a loud black man approached a crowd of some 4,000 strangers in downtown Chicago Tuesday and made repeated demands for change."
Come Clean
"Yes, we do know that Obama opposed the Iraq war from the beginning and that he now favors diplomacy with Iraq's neighbors, including Iran. And that, if elected, he'd advocate allotting $2 billion or more to help Iraqi refugees. And, oh right, that he'd withdraw one or two U.S. combat brigades each month, with the goal of bringing all combat brigades home within 16 months - though keeping a residual force to protect American diplomats and target al-Qaeda.
"But do we know the senator's stance on how to construct a working public-library system in Baghdad? What about his views on establishing an off-track betting site in Kirkuk? And can any of us pretend to know how Obama plans to get Sunnis, Shias and Kurds to agree on a recycling program?"
- Mark Bazer, in "Stop Dodging The Issues, Barack!!!!"
Public Housing
Washington, D.C. is taking a different approach to public housing than Chicago: Redeveloping the projects for the benefit of the people who live there, not the monied interests and gentrifiers who want the land.
"[The director of the city's housing authority] is undertaking a great experiment to see if he can turn around distressed neighborhoods and keep the original residents there to benefit," said Sue Popkin, a housing expert at the Urban Institute. "It's a big gamble. We don't know how to take a terrible neighborhood and make it nice while keeping the same people there."
Wireless City
"Hopes For Wireless Cities Fade As Internet Providers Pull Out."
It's not just Chicago whose plans - announced with great fanfare - have gone awry.
Ticketmaster
"Whether they were going to an all-ages punk gig at Metro, a country show at the United Center or a heavy-metal festival at Alpine Valley, the same name made many music fans see red for the past two decades: Ticketmaster," Jim DeRogatis writes.
"The company has come to be loathed by concertgoers for adding an average of 25 percent to advertised prices through its steep service fees. But the dominant, some would say monopolistic force in ticketing is showing chinks in its armor at every level of its business here in Chicago."
Lesson Learned?
Neil Steinberg - honorably - issues a correction for his "stand-on-a-chair-and-whoop enthusiasm" of the Iraq War. (Second item)
Who Makes What
"The minimum salary for a Sun-Times columnist with five years' experience is $77,137, as set forth in the Chicago Newspaper Guild contract, but there's a wide variation beyond that," Mark Brown writes.
The "talented but unproven twentysomethings" who blog for Gawker make an estimated $80,000 a year.
Diversity
"If Chicago Police Supt. Jody Weis is serious about re-establishing trust between police and the black community, he should start by hiring and promoting more African Americans. That's the message black ministers have delivered to Weis during a series of fence-mending meetings - and the statistics back them up," the Sun-Times reported on Sunday in a front page story headlined "Do The Math."
While the city's population is 36.5 percent white, 35.3 percent African-American, and 28.2 percent Latino, it's patrol officers are 54 percent white, 25 percent African-American, 17.7 percent Latino.
So, yes, the police department isn't quite up to speed. However, it appears to be light years ahead of the Sun-Times.
Goodbye, Ivan
"The technically adept Kinchloe was in charge of electronic communications and could mimic German officers on the radio or phone."
And we loved him for that. But Kinchloe - Ivan Dixon - had a career beyond Hogan's Heroes. "[His] films included vivid portrayals of black struggles in the American South and insurrectionist inclinations in the North," the New York Times obituary says.
COMMENT:
From Brian Rhodes (my brother): Kinch could also make a good batch of home-made ice cream when he wasn't hiding the radio in the churn.
The Beachwood Tip Line: Contact Allied HQ.
Posted by Beachwood Reporter at 8:16 AM | Permalink
Reviewing the Reviews
"In 2003, Colby Buzzell, then twenty-six, was living in a small room in a renovated Victorian house in the Richmond district of San Francisco, doing data entry for financial companies," Michael Massing writes in The New York Review of Books. "Raised in the suburbs of the Bay Area, Buzzell had hated high school and, deciding against college, ended up in a series of low-paying jobs - flower deliverer, valet parker, bike messenger, busboy, carpet cutter, car washer. Data entry paid somewhat better - about $12 an hour - but even so he was barely able to get by. At one point, he ran into an old friend who had joined the Marines, and, in his telling, military life sounded like one big frat party, but with weapons and paychecks. After nearly a year of feeling stuck, Buzzell decided to visit an Army recruiter. He describes his state of mind in My War: Killing Time in Iraq, an uproarious account of his life in the military:
I was sick of living my life in oblivion where every fucking day was the same fucking thing as the day before, and the same fucking routine day in and day out. Eat, shit, work, sleep, repeat.

At the time, I saw no escape from this. I was in my mid-twenties and I still had no fucking idea what the hell I wanted to do with myself . . .

"I figured if I joined the military it might be a quick-fix solution to my problems, it would add some excitement to my life, and at the same time give me the sense that I had finally done something with myself. And who knows? A trip to the Middle East could be one hell of an adventure."
My War: Killing Time in Iraq is just one of several books Massing considers in a piece called "The Volunteer Army: Who Fights And Why."
Massing's most compelling insight is an obvious truth few Americans seem to want to face: "In these books, the idea of joining the military to defend America or uphold its values is largely absent. Rather, these soldiers signed up to escape dead-end jobs, failed relationships, broken families, bills, toothaches, and boredom. The armed forces offered a haven from the struggles and strains of life in modern-day America, a place to gain security and skills, discipline and self-esteem."
Nervous Nellie
"For a brief but intense period in 2006, Patricia Pearson logged on daily to Flu Wiki. This is a Web site (fluwikie.com) devoted to the concerns - the very deep concerns - of people convinced that a worldwide outbreak of influenza is imminent, and that it will make the ravages of the Black Death seem like a mildly unpleasant interlude," William Grimes writes in the New York Times.
s
"'Here could be found a great milling together of fiercely articulate and freaked-out people from around the world, posting to discussion topics like What Will We Do With the Bodies?' Pearson writes in A Brief History of Anxiety. Visitors to the site offered suggestions on how to turn back the infected, zombie-like hordes who, in a desperate search for food, will try to invade the fortified homes of the healthy.
"Pearson, the author of the highly amusing Area Woman Blows Gasket, sees the humor in Flu Wiki, but she too worries about pandemics. A lot. She also obsesses about sudden liver failure, possibly cancerous moles, flying insects, the supervolcano underneath Yosemite National Park and the possibility that her car will blow up. All of this seems potentially hilarious, but the humor quickly freezes as Pearson describes a lifetime of absurd but crippling fears.
"Like 40 million Americans, Pearson suffers from anxiety, which she pithily calls 'fear in search of a cause.' Her own case fascinates her, and quite rightly. It presents her with the opportunity to examine modern civilization and its discontents, as well as her own miseries, which she does, thoughtfully and incisively."
Blunt Edge
"This year's Columbia College event at Metro gives Sun-Times writer Kevin Nance the opportunity to write a fluff piece that offended the heck out of my sensibilities and made me shed my second tear this week for Chicago cultural journalism," Eugenia writes at Literago. "The angle of his article in Friday's paper seems to be that Columbia's decision to host a reading at Metro is bold and anti-establishment . . . Is his editor Poochie?"
Browsing
* "[Nicholson] Baker's portrait of Churchill may infuriate those who believe he was a hero."
* "Americans of many sorts were in one bad mood or another between 1819 and 1850."
* "In Knockemstiff, lonely women do 'kinky stuff with candy bars, wake up with apple fritters in their hair.'"
* "In January, 1965, Jenkins was a U.S. Army sergeant stationed in South Korea. Sure that he was about to be sent to Vietnam, he drank ten beers, abandoned his patrol, and crossed into North Korea. He spent the next four decades in a country that had become 'a giant, demented prison,' until the Japanese government secured his release, along with that of his Japanese wife, who had been abducted by the North Koreans. Jenkins's book is oddly compelling. The blank ordinariness of his character brings out the moral and physical ugliness of life in North Korea, where soldiers steal and beg for food; a dog digs up a fresh mass grave (and the next day all the dogs in the neighborhood are shot); and Jenkins awakens to the bleak, deadening realization that his two daughters are being groomed as spies. 'I would always tell them, We are not in the real world. This is not the real world,' Jenkins writes of his daughters. 'But they didn't believe me.'"
Posted by Beachwood Reporter at 12:48 AM | Permalink
Obama Drama: The Race Speech
Between Tony Rezko and Jeremiah Wright, the Obama camp has fallen into an embarrassing place lately. Caught early in the morning without their makeup on, as it were. Last Tuesday, Obama sought to fix that problem by inviting the media into a press conference, sitting them down, and essentially rubbing their own fodder in their faces.
Race has been a main issue in the candidate's campaign, though he has tried to distance himself from the subject, hoping perhaps that no one would notice that he isn't an old white man like our presidents have always been. Well, somewhere along the line someone leaked that juicy bit of gossip, so the secret's out.

And, finally, Obama is addressing it. It took a preacher saying "God damn America" and the indictment of a fund-raiser close to the campaign, but at least the cards are on the table. In his response, Obama rose to the occasion. With great aplomb and a raw honesty rarely seen from candidates tackling the same subject, he basically told the press to "Get over it." Aren't we all tired of hearing those speeches of Wright, as if Obama wrote them for the man and sat in the front row cheering? And how many times can we dredge up Geraldine Ferraro's sentiments as if she, above all people, is held in the highest of political esteem? Obama is a lucky man. He is rallying the people in a way that hasn't been seen for decades, and if that brings unity between different races and ethnicities, more power to him.
While condemning the overzealousness of his preacher, Obama reminds us that the black journey is not an easy one. There is a "bitterness and bias" there that isn't so easily pushed aside. He seems to think that the press may have forgotten that the black man is a slighted man, a man held back for centuries, still struggling. (But hey, don't feel bad; we all make mistakes.) Obama doesn't justify Wright's opinions - he is sure to make that plain. Instead, he offers a path leading up to the anger, an explanation, if you can call it that. Slavery makes an appearance, and Jim Crow. Even Brown v. Education makes a cameo, and of course, the ever-elusive American Dream. It's a history lesson we've gotten before, in similar situations, with one distinct difference: Obama gives us both sides. White anger - did anyone else know this was fair ground? Yes, folks, he brought it out in the open. White people are mad too, he tells us, about having to hear that their race is an advantage, about fear being masked as prejudice and affirmative action as a solution, not another disadvantage. Basically, it doesn't matter what race you are, we're all pissed off! Everyone just relax, now. Stop pointing fingers, stop calling each other names.
*
Once his finger stops wagging, Obama's message is a refreshing one: both sides are angry, and both sides feel slighted. But racial divides don't dissolve with one election, and one man, and they don't go away by being talked to death. Anger and resentment are counterproductive, but they don't necessarily translate to racism, and ignorance. So instead of laying blame and avoiding the real issue, let's ask ourselves why we care so much about Obama's heritage. Personally, I'd like to stop hearing about where he ranks on the scale of black-enough, and not-black-enough. I say move on, let the man talk about what matters - how's that universal health care plan going, Barack?
-
Regan Crisp is a junior in the journalism program at Columbia College.
Posted by Beachwood Reporter at 12:40 AM | Permalink
SportsMonday
Western Kentucky senior Ty Rogers dropped in one of the great shots in NCAA tournament history Friday. But then he choked.
Rogers' buzzer-beating, Reggie-Miller-esque (some of those treys Miller used to hit for the Pacers, I swear he was no more than a tiny step inside the scorer's table when he let them fly) three-pointer gave his team a pulsating 101-99 victory over Drake in a Friday afternoon first-rounder. It was the best game of the tournament so far by far. In fact, it was the best first- or second-round game from the last half-dozen tournaments.
And the shot, well, the shot was so good in part because of the distance (26 feet), in part because of the timing (the final horn sounded while it was in the air) and in part because of the stakes. Western Kentucky had squandered a 16-point lead in the second half, regained a small advantage in the final two minutes but then watched as Klay Korver, brother of noted NBA sharpshooter Kyle Korver (now of the Utah Jazz), drained a game-tying trifecta near the end of regulation. The teams went back and forth in overtime but a couple of free throws gave Drake a one-point lead with just over four seconds left.
The most dramatic shot in basketball is the one that goes up when a team trails by one with a second or two left. When it comes down the squad will either win or lose in an instant. The shot in question looked good right out of Rogers' hand, arced high and then splashed down dead-center. It was as good as basketball gets.
Unfortunately, then the celebration began. After dropping the bomb that led all the highlight shows for the next 24 hours, Rogers turned and raced down the court with arms held high, stopping near the other end line. And that was certainly all well and good. Then he turned and found his teammates racing toward him. It was clearly time for the typically delirious group hug.
Except Rogers didn't want a group anything, he determinedly pushed teammates away as he made his way back to midcourt, screaming something unintelligible and preening like a peacock. The cameras switched away for a few moments and then they were back on Rogers, at which point he again fought off several teammates and again stood alone.
* Rogers' celebration was especially disappointing in light of some of his post-game comments. He noted that the final "play" (it wasn't really complicated enough to qualify as a play) called for leading scorer and ball-handler Tyrone Brazelton (local guy alert - Brazelton was born in Chicago and graduated from south suburban Rich Central) to get the inbounds pass, dribble up the floor and get the best shot he could. As they left the timeout huddle and headed back onto the floor, Rogers pulled Brazelton aside and told him something along the lines of "don't be afraid to pass me the ball if you have the chance."
Sure enough, Brazelton brought the ball across half-court, drew two defenders to himself and then flipped the ball behind him to Rogers, who had just enough space to get his shot off.
So the first thing Rogers should have been doing after his initial mad dash down the floor was to turn around and look for Brazelton, the guy who absolutely made his heroics possible. Western Kentucky also wouldn't have been anywhere near overtime without Brazelton's 33 huge points, a total that lead both teams.
But it is tough for the photographers to get your good side if there's one of those annoying teammates in the way.
* The good news for Rogers is that when this basketball thing ends (which it will shortly - Rogers, a senior, is a far cry from a pro prospect), he can always give the NFL a try. The hey-look-at-me, 'I just made a moderately important tackle and I am clearly the greatest thing in sports history' celebration that totally disdains any and all contributions made by teammates is huge in the NFL.
* Friday's match-up (Drake versus Western Kentucky) itself was a great example of what drives fans crazy about the tournament's Selection Committee. Ask anyone who watches the tournament for anything other than bracket bet fulfillment and they'll tell you the best thing about it is when lesser-known schools make a run. But the selection committee still rigs the set-up to favor major-college interests (the teams from the ACC, Big East, Pac 10, etc. . . . I was about to say the Big 10 but our region's primary conference barely qualifies as major anymore). The committee has traditionally done that by consistently under-seeding the teams, such as Gonzaga or last years's sensation, George Mason, to make them have to get past tougher teams earlier to advance.
This year featured some of the typical under-seedings and a new twist. In a couple key instances, the committee pitted potential mid-major darlings against each other in the first round to make sure at least one was immediately eliminated. There were two especially irritating examples: the WKU-Drake battle and a Gonzaga-Davidson showdown later that day. Happily, the committee was foiled in both instances. San Diego shocked highly rated UConn to set up the unlikely San Diego vs. Western Kentucky second-round matchup that WKU won. And Davidson, after squeaking past always-strong Gonzaga, shocked Georgetown in the second round Sunday. So now Western Kentucky and Davidson will get all sorts of attention going into the Regional Semifinals and Finals next weekend.
And in a little bit of other news:
* Ladies and gentlemen, the next, great coach of the Chicago Bulls - Boston Celtics Assistant Tom Thibodeau. Thibodeau is the defensive mastermind behind many of the better defenses in the NBA the last two decades. Most of that work was done with former Knicks and Rockets head coach Jeff Van Gundy, but Thibodeau has proven with his great work with the league-leading Celtics this year (where he is specifically in charge of coaching the defense) that his principles travel well.
Don't worry John Paxson, when you hire him I won't charge you a finder's fee.
* While I'm here, I have a quick question. Hey, Luol Deng, it has been months since you were officially slowed by injury. I understand that sometimes these sorts of things linger but, I mean, if your long-ago Achilles' tendon tendonitis is still a factor, you might want to contact the Guinness Book of World Records. And I understand that leaving more than $50 million in guaranteed money (the rumored total value of the contract extension he declined to sign before the season) on the table can worry a man just a bit.
Anyway Luol, the reason I called . . . are you ever going to hunker down and battle your way back to what you were just last season, let alone take the next step up?
I was one of many Bulls fans who thought that even if you weren't on your way to a major breakthrough at the end of a great season, you were right on the verge of being a very good player in the NBA. I patiently await your gracious reply. Sincerely, Jim.
* Deng scored 28 against the Pacers Saturday night, but when the Bulls needed big baskets down the stretch of the fourth quarter, he was nowhere to be found. Sigh.
-
Jim Coffman writes in this space every Monday. In the locker room, he's known as a character guy.
Posted by Beachwood Reporter at 12:36 AM | Permalink
Tell It To The FCC
Ever wonder if somebody isn't laughing when Jon Stewart emphasizes a statement with a well-placed four letter expletive? What about when Family Guy features a joke about Lois's boobs? And then, of course, the ever-unanswered question of whether those whiners are on to something when they complain game shows are rigged.
Turns out all three types of people exist. A site called Government Attic collects complaints sent by these people to the FCC.
Reading these complaints only makes these TV shows more enticing, kind of like when you're a kid and told never ever to reach for that batch of delicious chocolate chip cookies. Let's take a look.
*
FAMILY GUY
The overall theme of Family Guy complaints are about naughty words and sexually based humor. If you need to remember why you used to watch Family Guy, just read these.
Breasts
"On Sunday, March 12, 2006, my family went to a new restaurant, Quaker Steak & Lube. We were seated in an area that had at least 8 televisions, plus a blaring stereo system. The new television that was facing me was turned on to Fox and had the close-captioning turned on. While I was eating, I was 'treated' to the show Family Guy, an animated cartoon show.
"For a 30-minute show, it was chock full of raunch and offensive TV. The storyline revolved around a mother's attempt to wean the infant from breast-feeding. It went into great detail, including the infant crawling into her bedroom at night to attach a double breast pump to her; the older sons attempting to breastfeed the father; the mother's issues with engorgement; the father's attempt to dry her off by 'jiggling' her.
"During this wedding reception scene, the newly married groom is seen having a hard time controlling himself because of this woman's engorgement problem. Throughout the 30-minute show, the mother is seen removing her shirt, the baby finally latching on, and the mother seeking solace and advice from the family dog, who insists that he needs to see the mother topless and also asks to check out her underpants.
"Needless to say, I was outraged that this filth is allowed to be shown on our airwaves and I was thankful that, with the configuration of our table, I was the only one who had to look at it and not my elementary aged sons.
"The show that followed, Free Ride, was not much better, with graphic references to the parents' sex life, including questions to the college-aged son if he could have sex with a celebrity who would he choose, with the follow-up from the mother about which celebrity she thinks of when she has sex with the father.
"The college-aged son leaves the room in disgust at the thought of his parents having sex, all the while the parents yelling at him, 'Yes, we have sex!'
" I do not normally watch Fox television and now I can see that I have made a wise decision, since they are apparently not showing decent programming, at least on Sunday evenings. I appreciate your efforts in looking into these programs and assuring that our television airwaves are family friendly and protective of the family viewing hours."
God's Condoms
"I would like to file a complaint regarding the TV show (cartoon) Family Guy. The name of the episode is "The Courtship of Stewie's Father." The show has no redeeming/moral value what so ever. The show actually had the gall to show GOD in bed with a young woman ready to have sexual intercourse and the dialogue to go with that event, including the condoms. They also had Jesus and his earthly father Joseph having an argument. Along with portraying the total disrespect of family values - Stewie hitting his mother, the father and son ganging up on the wife/mother - there was also a male sexual predator in the episode as well. The whole show was quite revolting. It should be taken off the air. Thank you for your time and attention on this matter."
Banging
"Family Guy is listed as a children/family program on the Dish network guide. It is aired both on the Toon Network and TBS on the Dish Network programming. It airs weeknights at 7:00 and 7:30 PM on TBS and 8:00 PM on the Toon Network. I had not viewed this program before but on the night in question, I was at a friend's house and one of her children was watching this show. The show used phrases such as 'Fucking Bitch,' 'Banging the Old Lady,' and numerous racial slurs and other sexual jargon.
"I had the child turn to another station. I watched the show again last night (11/28/2005) to see if it was a regular occurrence. Again, the program was full of sexual jargon, racial slurs, and obscene language. This is a cartoon that airs on a children-oriented channel before 10:00 PM and does not have any warnings for strong language or content of sexual nature."
Beheading
"My family and I, including young children, were flipping through channels last night and landed on the cartoon The Family Guy. I was shocked to see the program displaying a person being BEHEADED, with blood splattered on the guillotine! I changed the channel quickly in disbelief and am angered that this is allowed on regular programming during early evening hours exposing children to such material. Thank you for your time on this matter and I look forward to your response."
Rampaging Jesus
"Every Sunday, a program called Family Guy is aired on the FOX network. Unfortunately, it is animated, which draws in younger viewers. The show has shown Jesus Christ going on a rampage and shooting people and other junk on an episode in which it negatively portrays Mel Gibson and Jesus Christ following The Passion release. It also makes fun of the Holocaust, and has repeated sexual material, including a character who's sole purpose on the show is to provide sexual comedy relief (i.e., masturbating, hiding in women's restrooms, etc.)"
*
THE DAILY SHOW
As for The Daily Show, everybody seems miffed with Jon Stewart's mastery of the English language even though the show is full of all kinds of fucking shit (which he could never tell you because Comedy Central censors his more colorful lexicon).
The 'F' Word
"Instead of spending your time trying to get conservative programming to GIVE liberals equal time, how about cleaning up the language. Jon Stewart said the 'f' word, course it was cut out but there was no question about what he said. That word is very filthy & shouldn't be permitted on TV. If you allow him to say it, others will."
Talking Shit
"When Jon Stewart described losing his keys as 'bad,' I think after that he said the apocalypse was 'shitty.' It didn't get bleeped, and you guys are usually pretty good at that. Either you slipped up or my ears are going bad, but I played it about 10 times and I'm pretty sure that's what he said. Either way please E-mail me at the address above and just let me know. Thanks."
The Gay Agenda
"While I know that you are struggling with the option of controlling pornography, graphic sexual activity and violence on Cable TV, I implore you to take action in this arena. Tonight during The Daily Show, Jon Stewart had two women on a bed French kissing, once again giving support to the agenda of the homosexual population.
"Now, I have had 1 cousin who died of AIDS, 3 friends who died of AIDS, a female roommate who was a lesbian, and a nephew who is gay. So I am definitely not homophobic. However, this incessant focus on the gay lifestyle tends to lead youngsters who do stay up to watch this program that it is OK to experiment with gay/lesbian activities. And, if you don't believe that, just watch Will and Grace, which is on a mainstream channel (ABC, CBS, or NBC, I think), as well as many of the shows in the so-called mainstream media. It's time for TV programming to get back to focusing on the vast majority of our population, the heterosexuals, and stop making it seem like the country is primarily homosexual . . . plus, the proliferation of these shows lead youngsters to believe that homosexuality is prevalent in our society, whereas it makes up a small portion of our population.
"And, there is the religious factor, too. Practicing homosexuality is against the teachings of virtually every religion. So, we should not allow the left-wing media to pass it off as normal and OK. Thank you for your consideration of this very important matter."
Mother F**ker
"Dear Sir,
"I found the 10/14/2004 interview on C-Span (American Perspectives) with TV's The Daily Show host Jon Stewart offensive when he chose to use a term that is not appropriate in private, let alone my television.
"When speaking, Stewart chose to use the term 'Mother F**ker' to describe someone's expression/feeling. He used it twice within a period of 10 minutes!
"Whether this station, C-Span, is providing 'information' regarding a political stance or not, this choice of language is inappropriate and inexcusable! I am sure that I will hear that it is cable, but this does NOT sit well with me as C-Span is NOT a choice on my cable package.
"Stewart also chose to Sh*t on several occasions but I guess if you let the "MF-Bomb" fly, saying Sh*t should be acceptable."
Madonna's Chest
"Last night I was watching the Daily Show with Jon Stewart on the Comedy Channel, 7 PM, during one of the pieces about Madonna visiting Israel, he mentioned her 'TIT CONES' on TV. This type of 'humor' shocks and offends me. What do you plan on doing about this type of behavior and what type of constraints will be put in place to prevent this type of behavior again?"
*
GAME SHOW CHEATING
When it comes to game shows, viewers seemed surprised that the networks have a hand in the results. Imagine that! These are the type of people who go to Vegas for fair gambling.
The Price Is Fixed
"Saw game show - The Price Is Right - looked like they were cheating - advised contact DOJ. Info from A 'game show' in which selected contestants participate is governed by the United States Code (USC) Title 47, regulated by the Department of Justice."
Big Brother Bad
"Game Show Fraud-A Contestant name Edward Donato openly admitted on TV that he cheated on the program Big Brother 8 by receiving outside help from his son. In addition, Mr. Donato has been frequently shown on Primetime TV from CBS by using edited words against contestants, a homosexual contestant and other male contestants relating to sexual matters.
"Allison Grober (spelling) Productions is responsible for allowing such material to be aired through CBS on public television during evening hours in the presence of children. The behavior shown by Mr. Donato with the approval by CBS and Mr. Donato's confession on live TV that he had been receiving coded messages and was taped with the suspicion of cheating on live TV has been condoned by CBS and Allison Grober Productions. The entire Big Brother Season 8 has ruined the integrity of the show and airing of the language even though edited both of a profane and sexual nature in the presence of children is unacceptable."
Big Brother 812
"CBS is committing a modern form of fraud in the way the old game shows did in order to get a specific result. They are using meetings on the set of the show and one of the players in order to influence the outcome. The show is then . . . NOT FAIR . . . and therefore a fraud.
"Perhaps even worse, CBS is allowing one of the contestants to abuse others in a way that makes this and many other viewers uncomfortable . . . the player is known as 'Dick.' Evidence of this discomfort can be found on the CBS website message boards for the show and a website for TV Grapevine that discusses events on TV reality shows.
"I have been a regular watcher of the show for several seasons and consider this season a desperate attempt to CBS to prop up the show. Rule changes are one thing but attempting to influence the outcome of your own show is another."
Big Brother 813
"I'm not sure this is the proper form, but please let me know if there is a different form for potentially fraudulent 'contests' on television. I'm hoping that the FCC will look into how valid the 'competition' is on CBS's 'reality' show Big Brother 8. It has become clear this year that the 'rules' of the game are not being followed. One contestant has had drinks dumped on her head even though there's a no-violent acts rule. One rulebook-reading contestant is currently having her actions undone even though she had confirmed the rules in advance. (Destroying cigarettes which were immediately replaced.) It really seems as if this is a 'game' in which the producers have picked their winner long ago. There is also talk about pressure in the 'Diary Room' (where contestants are isolated for private conversation) to keep certain players. I hope this is taken serious. I've held back this form for almost a month but it is very, very clear by now that there are no true rules being enforced.
"Like the game shows of the 1950s, this one is rigged for ratings It may even be possible that the producers are not aware that they are rigging the game if they're blind to the line between ratings and rigging. If nothing more, the show should be forced to disclaim it's status as a contest. Please help make me make sure future contests enter a safe house with valid competition, and that viewers are aware of what they are *not* seeing: a fair, unbiased contest."
Mystery Wheel
"I have for a long suspected that Wheel of Fortune and Jeopardy are fixed in terms of managing wins.
"Recently on Wheel of Fortune there was added two 'Mystery' spaces on the wheel. The incidence rate that these two spaces are landed upon defines all laws of probability, establishing in my mind that the show controls the wheel. And if it can control the wheel, it can control the game and have certain contestants win order to increase their audiences and ratings.
Double Jeopardy
Jeopardy tests its contestants so that it knows what the contestants know and do not know and they can manage, and I suspect they do, the questions in order to have a given contestant win so that they also can increase their audiences and their ratings.
"It is my view that these shows must be impartial to their contestants And I seriously believe that they are not impartial for purposes of pandering to certain audiences and for purposes of improving their ratings.
"These shows are defrauding and cheating their contestants by not giving them an equal chance to win and are being less than honest with their audiences who are led to believe that the contestants have an equal chance to win based on their skill and knowledge.
"I would encourage you, in the interest of fairness and justice, to check this out. And I would greatly appreciate your keeping me informed of your actions in this regard."
Posted by Beachwood Reporter at 12:28 AM | Permalink
Westward Ho!
I moved out to Washington about a year ago now, and in that time I have been somewhat quietly absorbing Seattle, taking in all the nuances that I can use against the city in my ongoing efforts to prove to absolutely nobody who cares that Chicago is a far superior urban setting, richer with culture, denser with black people (I miss black people), and what the hell is this puny piece-of-shit skyline anyway? Are we allowed to call it that here? I should not be able to count all the tall buildings on one-and-a-half hands. And where is the logic to this street intertwinement? This is your best excuse for a grid?
I have this rant aloud and to myself at least twice a week as I drive into work. It's usually the mornings that I can anticipate a bad day ahead and my morning cup of joe just ain't cuttin' it. That's when I really pick on Seattle. And it only gets worse the closer I get to my building.

It's 5:45 a.m. in Seattle, so you know what that means! Time for a freight train to come cruising through the tracks in the downtown area, stopping me dead in mine, within a perfect view of my office. This common inconvenience often prevents me from getting to the building at that crucial turnaround when the parking goes from sweet to sour.

Because by the time the train passes through the downtown streets, it is 5 minutes to 6, and I get to the parking spots only to wait for Dipshits A through E to figure out how to back their cars into slots at at passable interpretations of perpendicular angles (they are artsy here - nothing is logical). Then my walk is that much longer, and there are that many more slow-walking Seattleans that I need to breeze by on the sidewalk because, in the city from where I come, people know how to pick up their feet. It's a survival skill. Seattleans would be stampeded if they approached Chicago with the same head-up-my-ass assertiveness to foot transportation.

But just the same, I also focus on the charming subtleties of Seattle, and Washington even moreso. I need to . . . in order to convince myself that I really want to live here. Before I moved, I was warned that I had a predisposition to assume superiority in attitude solely because I am a proud Chicagoan. I was warned that I would tenaciously resist convincing of another city's desirability. Even when Chicagoans move by choice, like I did, we still have a tendency to shut out our new locations because they just are not right. I have been aware of this proneness from the get-go and have done my best to tame my inescapable prejudice. Even in the face of horrible, dispiriting, uninspiring, sad and sorry slices of pizza. And even harder yet when, after 23 years, I am no longer able to honestly and proudly declare that: "In my entire life, I have never met a slice of pizza that I didn't like." Seattle robbed me of my bad pizza virginity.

So, have I moved beyond this imbedded barrier of snobbery and rebuffery? Ehhhhh. I'd like to think that I am now standing next to the barrier, contemplating my attempt to get over it. But it's just so damn hard to make that move when Seattle is simply downright embarrassing, and urbanly challenged in so many ways.

"City" is a strong word to use when describing Seattle. I know that it technically classifies and all, but when I think city, I think edginess and diversity. Seattle is about as edgy and diverse as a Death Cab For Cutie concert in Naperville. Most people have an image that they are striving to perfect - that Seattle cool. However, it is difficult to be cool merely through the association of your locale. Ask a Seattle resident why they are cool, and they'll tell you because they live in Seattle. Whereas I believe that a good city should make you cool through the experiences you have with it, the way it toughens you up, shapes your interests, and instills some passion within you. Seattleans lack that fiery passion. Too much organic food maybe?

I truly am not here for the city - it's the nature that drew me to the West Coast. And I spend most weekends deliberately driving full-speed away from Seattle, to the Pacific Ocean, to surf and camp and enjoy the stunning serenity found on the edge of this country. I could go on about the splendor of a state that combines so many natural elements and ecosystems within its borders. But I would much rather depart with a specific example of a recent occurrence that absolutely chafed my Chicago ass.
*

Like I said before, the closer I get to work, the quicker my blood boils. A couple weeks ago, I was suddenly stopped by a changing red light just a couple blocks away from my building. I looked around for another car that could have triggered the change and found only a pedestrian . . . standing at the intersection, waiting for the walk symbol. I almost floored it through the intersection and hit the dude, out of principle. This guy actually stood at the desolate corner during a red light and pushed the walk button to get the green . . . at 5:45 AM, when I was the only car in plain sight.

This would never happen in Chicago! Those pedestrian "requests" are reserved only for desperate times. Even when traffic is dense and the pedestrian is in the middle of a block, far from any formal walkway (I think they have a name for those), the Chicago pedestrian will still walk out into the road and just kinda hope someone stops. It's called assertiveness and getting somewhere. None of this waiting for signals bullshit.

Just as my dad would say as he hustled us through downtown Chicago streets as children, "You gotta go when you can - not when you have to." He would also tell us this during pit stops on long road trips, stretching the meaning to apply for movements of the bladder and bowels. Solid words to live by.
-
Previously:
* Part One: Departure. Maybe a sprinkle of Neutral Milk Hotel around Montana.
Posted by Beachwood Reporter at 12:08 AM | Permalink
March 22, 2008
Cab #101
Date Taken: 3/21/08
From: Roscoe Village
To: Wicker Park
The Cab: Clean, uncluttered, refreshingly un-air-freshened. Windows were open despite the dodgy weather, but wouldn't you know it? The brisk breeze actually proved rather invigorating.
The Driver: There's a reason this is Cab 101, because you're about to get quite an education. We begin right here in America with the "criminal" deployment of traffic cameras, move swiftly to armed uprisings in the driver's native Romania, swing over to the NATO countries for an examination of their attempts to manipulate global economies, have a cup of coffee in Baghdad, visit underage prostitutes in northern Italy, and end back in Chicago for a discussion of the sad state of affairs for cabbies. All of this in less that three miles. Turns out, Ceausescu's son? Not such a bad guy. And what about our prospects for long-term social stability? Don't bet on it, according to Driver 101. To quote directly from the source, "maybe it will go nuclear. Maybe that's not so bad." A word of advice for future students: Bring your notebook. This is a lecture, not a discussion forum.
The Driving: Honestly, I was so engrossed by the tapestry of international intrigue and unrest being woven before my very ears I didn't even notice we were moving.
Overall rating: 4 extended arms
- Natasha Julius
*
There are more than 6,000 cabs in the city of Chicago. We intend to review every one of them.

Posted by Natasha Julius at 9:11 AM | Permalink
The Weekend Desk Report
While you're hunting for Easter eggs, we'll stay busy hunting the news.
Market Update
The United States Federal Reserve hit on a novel way to stabilize the plunging dollar: martyr the Son of God. Analysts warn the effect is likely to be temporary.
Passport to Terror
Secretary of State Condoleezza Rice pulled damage-control duty this week in the wake of security breaches concerning the three main contenders to replace her boss. Specifically, she apologized for accidentally redeploying John McCain to Baghdad, slipping Barack Obama's name onto a terror watchlist and inadvertently waterboarding Hillary Clinton. Mistakes will happen, people.
The Revelation Will Not Be Televised
Hip to the power of the moving image, China this week mulled the prospect of barring live broadcasts from the always-contentious Tiananmen Square. Ultimately, however, officials feel fairly confident that no one will be able to see remote protesters anyway.
Marathon Stakes
The official Olympic warm-up season begins this weekend with the perennially popular Plausible Deniability Marathon. Historic pace setters witness tampering and convenient legal misinterpretation look to fade early to this year's juggernaut, questionable chain of custody. It's a one-horse race, folks.
Supernova
Finally this week, a note to all of those lesser celebrities constantly jockeying for attention with sham marriages, naked antics and general air of desperation: This is how a universal superstar really self-destructs.
*
Programming Note: Steve Rhodes will appear on Fox Chicago Sunday at 8 a.m. discussing the Internet and politics.

Posted by Natasha Julius at 9:09 AM | Permalink
March 21, 2008
The [Friday] Papers
First, some housekeeping.
1. My Facebook friends know that I snapped last night at all the Tribune and Sun-Times news stories (and photos) that have begun to clog my Facebook news feed, along with an increase in press releases and event notices. I love Facebook; it's fun and powerful and I have yet to truly explore all it can do. But my Facebook page is a personal page and I've watched in annoyance as it has turned into a Chicago news service smothering what I'm really there for: updates from friends and acquaintances about the urgent, the quirky, the witty, the sad, and the trivial aspects of their lives.
That isn't to say that I don't want folks to post interesting stories or notices of events they are involved in that keep us all in the loop - and the vast majority of those on my list who received my message of ire are not culprits - but that many newspaper reporters are now apparently under mandates to sign up for Facebook and spread their work far and wide, and it's crowding out all that makes Facebook so enjoyable. Don't smother the damn thing out of desperation.
"Young people use these sites to connect with friends, or make new friends, and resent it when their outlets are used for ham-handed marketing efforts," Bob Reed wrote recently of his brief foray onto Facebook.
I don't think the distinction is so much an age issue as the purpose of use, but in the main Bob has it right.
"Mainstream media types, such as me, risk looking like posers by being on Facebook," he says. "Moreover, I'd wonder if Facebook isn't concerned about the flood of professional types and established companies entering its space. While the prevailing wisdom of the Internet is the 'more the merrier', having too many establishment players could easily drain the cool factor and remake Facebook into a watered-down, non-descript Web utility such as AOL.
"To me, social networks are among the most dynamic concepts the Internet era has to offer. There's a bunch of them. Some have more users and clicks than others, but the good ones have a core mission. They aren't one size-fits-all. Not yet, at least. From now on, I'll pick my networking spots more carefully."
2. The link I provided in an Obama item at the bottom of my column yesterday was the wrong one. I mixed up a Windy City Times interview with an NPR interview. The link is now corrected.
3. Also, I wrote yesterday in my review of the Tribune's evolving editorial position in the run-up to the Iraq war that "I couldn't find any editorials around the launch of the war in March 2003."
Late in the day I was sent the editorial that eluded my search. It's an important part of the story and the column now includes an excerpt from it.
Now, on to today's column . . .
War Drums
Unlike the Tribune editorial page's skeptical though ultimately resolute march to war, as featured yesterday, the Sun-Times editorial page was cocksure about war from the beginning. The rampage of its editorials is breathtaking to review, and this list is by no means exhaustive. Let's take a look.
*
Allies Gladly Leave Dirty Work To Us
September 15, 2002
"We can expect our allies to show up after the victory to claim credit."
*
U.S. May Be Forced To Wage Fight Alone
January 31, 2002
"Certainly, alternatives to military action must and will be considered."
*
Time To Separate Our Allies, Ingrates
April 12, 2002
"At this crucial juncture in the history of this planet, we need our allies to stand with us, soul to soul if not shoulder to shoulder, in a fight that will determine the future of the world."
*
Better Get Them Before They Get Us
June 4, 2002
"Few things are certain about nuclear terrorism. But one thing is: Should a nuclear device, paid for and developed by Saddam Hussein's criminal regime in Iraq, ever be detonated in a U.S. city, the atrocity will occur even while negotiations are going on over resuming international weapons inspections. Guaranteed.
"The only way Saddam will stop is if we stop him."
*
Another Reason To Topple Saddam
June 6, 2002
"Most likely the most effective thing Bush can do to promote peace in the region is to bring down Saddam Hussein of Iraq . The message of regime change there - that the United States is serious about destroying state-supported terrorism - would, as former CIA Director James Woolsey put it, change the face of the Middle East."
*
Bush Must Press Case Against Iraq
August 6, 2002
"No one wants to wage war against Saddam; 11 years ago we preferred hope that some element of his long-abused citizenry would finally dislodge him. That hope proved overly optimistic. As Saddam struggles to advance his nuclear and biological weapons programs, we cannot merely hope he will refrain from using them. Nor can we continue to turn a blind eye to Iraq 's support for international terrorism. Failure to bring Congress on board will only open the way for political grandstanding should an attack on Iraq suffer a setback, always a possibility in war, on the way to inevitable victory. Congress, which has already granted the administration authority to combat terrorism, will, we believe, rise to the occasion. And the American people, absorbing the process, will better understand why war with Iraq is a grim necessity."
*
Whole World Wise To Saddam's Game
August 7, 2002
"Up to his old tricks, the Butcher of Baghdad was attempting to dispel the growing threat of military action against him by once again dangling the false prospect of compromise. He invited a U.S. congressional delegation to Iraq to nose around themselves, searching for his nuclear, chemical and biological weapons program, and he told the UN that he was ready - sincerely this time - to begin talking about inspections, which broke down four years ago."
*
U.S. Has Reason To Attack Saddam
August 19, 2002
"We have advocates for doing nothing, nevertheless. Even members of Bush's own party have been restive lately, complaining that the case to attack Iraq has not been made, the peril not proven.
"This is disappointing, but not surprising. When Adolf Hitler's troops were rolling over Europe, there were loud voices in the United States claiming there wasn't a threat. They were wrong in 1941. And they're wrong now.
"One last point to remember: During the Gulf War, Iraq rained missiles down on Israel, a noncombatant. Consider what one military analyst told the Senate Foreign Relations Committee last month about what would happen if Saddam Hussein did that again with nuclear weapons.
"'Strikes on Israeli population centers are likely to trigger a major nuclear war,' he said.
"If averting a 'major nuclear war' isn't reason to act, what is?"
*
Let's Hear It For 'Willful Blindness'
August 28, 2002
"Those of us who want President Bush to make the case against Iraq are getting our wish. Just the other day Defense Secretary Donald Rumsfeld disclosed intelligence information about al-Qaeda terrorists taking shelter right under Saddam Hussein's nose. Reports persist of a terrorist training camp south of Baghdad, and a small Islamist group operates a chemical-weapons lab in northern Iraq. And of course it's no secret that Iraq is working feverishly to produce nuclear weapons technology. Now, to that intelligence evidence, Vice President Dick Cheney has added the rationale, saying Saddam already has weapons of mass destruction, and he can't be allowed to become capable of threatening the world with nuclear blackmail.
"Now that the Bush administration is making its case, let's hear the other side, the argument for, well, appeasing terrorists like Saddam."
*
It's Time For UN To Stand Up To Iraq
September 13, 2002
"But it is the issue of weapons of mass destruction, and what the consequences for the world would be of a nuclear-armed Iraq, that is the prime motivating factor behind Bush's projected military action. Even as Baghdad's ambassador to the UN, Mohammad Al-Douri, accused Bush of 'the longest series of fabrications that have ever been told by a leader of a nation,' Iraq was harboring and supporting terrorists, including members of al-Qaeda, manufacturing biological and chemical weapons, working on nuclear capability and building long-range missiles."
*
Seeing Is Believing On Iraq Inspection
September 18, 2002
"In comic books and old serials, it was common for our hero to fall for tricks devised by the villain that he had fallen for many times before. Selective memories are the stock and trade of action adventures. But in real life, when a villain with the taste for mass destruction of Saddam Hussein threatens to pull wool over eyes again, the last thing to do is take him at his word. Perhaps bowing to pressure from the United Nations following President Bush's speech last week, or perhaps indulging in gamesmanship, Saddam has agreed to allow UN weapons inspectors back into Iraq for the first time in nearly four years. The offer was made, Iraq said, 'without conditions,' leading some people to think it's one the United States can't refuse."
*
Iraq Debate Displays Democracy In Action
September 30, 2002
*
Poor Reasoning, But Not From Bush
October 1, 2002

*
With Inspections, It's All Or Nothing
October 3, 2002
*
No Way To Contain Iraq Without Force
October 6, 2002

*
Delays Play Into Saddam's Hands
October 9, 2002

*
Bush Stands Tall With UN Victory
November 10, 2002
*

UN Stumbles Down The Rabbit Hole
January 22, 2003

*
U.S. Forces Aim High, Will Not Be Denied
March 21, 2003
"Afghanistan can be seen as a reflection of the next Iraq: a place being transformed toward representative government, but where nation-building will not be achieved overnight."
At least they sort of accidentally that part right.
The Beachwood Tip Line: Face the music.

Posted by Beachwood Reporter at 8:57 AM | Permalink
And Then There's Maude: Episode 18
Our tribute to the 35th anniversary of the debut of Maude continues.
*
Season 1, Episode 18
Episode Title: Florida's Problem
Original airdate: 13 February 1973
Plot: Florida is in a foul mood and Maude can't help butting in. After a bit of cajoling, Florida admits she's been fighting with her husband Henry over whether to quit her job as the Findlays' maid. Maude, always ready for a good fight, jumps to her friend's defense. After Maude witnesses Henry order his woman to quit and come back home where she belongs, it quickly turns into a battle of the sexes. The sides are evened up when Walter demands that Maude keep out of it. Together, Florida and Maude declare their "Womancipation" from the "yoke of male domination."
An episode recap in dialogue:
*
Maude, Walter and Carol: Good morning Florida.
*
Florida: Don't worry about it. I always come through the kitchen like a black tornado.
*
Florida: Haven't you read the papers? It's National Foul Mood Day . . . whoopee!
*
Maude: She just bit my head off. Walter you talk to her . . . and if you hurt her feelings, I'll rip your heart out.
*
Maude (when Carol refuses to talk to Florida about her bad mood): Carol you owe me your life. There were years when I could have stepped on you in your playpen.
*
Maude: Florida, what are you doing? You don't smoke.
Florida: They say these are supposed to relax you. (Stares at the cigarette in her hand.) I'm waitin'!
*
Maude: All right, if that's the way you feel, you're free to leave!
Florida: Well, glory, halleluiah, thank you. Thank you, Miss Lincoln.
*
Florida to Maude: Your big mouth don't bother me none. It's kind of like working with the radio on.
*
Maude: Are you having trouble with Henry?
Florida: Henry who?
*
Florida: He's tired of me working for The Man. Actually, he said honky.
*
Florida: You live with a man for 22 years. You wake up one morning and all of a sudden he's Superfly.
*
Maude to Henry: You're Florida's husband.
Henry: That's one way of putting it but the other way - which is the right way - is that Florida's my wife.
*
Henry: Yeah, that's right. Just like I was tellin' Mrs. Findlay, here come the judge.
*
Henry: No more ironin' for white folks.
Maude: Mr. Evans, I'll have you know that under this roof we are all human beings. There is no white and no black. We are all the same. We are all - people color!
*
Henry to Florida: See, you been working for "Miss Ann" too long. Where you get off using words like "abuse."
*
Florida: Alright man, you're hasslin' me!
*
Henry: You save that jive-talk for the cotton field, Ms. Findlay.
*
Henry: Once and for all, I'm taking you home for good . . . I'm coming back at 9 o'clock and I mean 9 o'clock W.P.T.
Maude: Florida, what's W.P.T.?
Florida: White People Time. If he didn't mean 9 o'clock sharp, he would have said C.P.T. That's Colored People Time, which means shuffle on in when you feel like it.
*
Maude to Florida: Boy, of all the male chauvinist pigs. I mean he's something straight out of the Dark Ages. Nothing racial intended.
*
Walter: Now look Maude, I'm sure that Florida understands. We have no right to interfere in her marriage.
Maude: And I have no time for any of this jive-talk!
*
Florida: I think she's turning black by osmosis.
*
Maude: I've watched every single pro-football game on TV all year so I'm an authority and I know that Joe Namath, without a shadow of a doubt, has a cuter rear end than either Bob Griese or Mercury Morris.
*
Maude: Here's to our Emancipation Proclamation. I mean, our Womancipation Proclamation. Florida and I are finally getting out from under the yoke of male domination.
*
Florida: And did you ever see a girl join her father in business? You never heard tell of Sanford and Daughter.
*
Walter to Maude: Your lips feel like thin slices of day-old liver.

Maude (slamming a Swanson's frozen dinner in front of her husband): Walter if you think that's a frozen chicken wait 'till you see what you find in bed tonight.
*
Henry: A cigarette? Well tell (Florida) to drag her butt out here.
*
Maude: I've just spoken to Mrs. Evans and she wishes me to convey the message to you that at this particular moment she does not care to converse with you. She requests instead that you bug off.
*
Maude: Walter, the last king in this country was Kong and he was shot off the Empire State Building for being less of a drag than you are right now. He was also a lot more attractive.
*
Henry: Florida, I got a good mind to go right upside your head.
*
Henry to Florida: You're my wife. That gives me the right (to order you around.)
Maude: When he says right, he means possession.
Walter: So what, Maude. You told me a hundred times you want to feel possessed.
Maude: Walter Findlay, I never said that standing up and you know it.
*
Henry: Woman's rights. Boy, don't nobody ever want to talk about men's rights.
Walter: Outta sight Henry. Let's talk about it right now!
Henry: Right on!
*
Henry: . . . 'cause I am no longer going to be the husband of a black maid!
*
Florida: You people ain't going to be sucked in by that jive . . . You ain't listenin' to a black problem, woman. You're listening to a male ego.
*
Florida: There are a lot of women, Henry, on both sides of my family who worked all their lives in white kitchens so their kids could get some of the things they should have. You want to be proud of something Henry, you be proud of them 'cause they was all black women and I tell you there ain't never been a better woman than that.
*
Florida: I'm going home now Ms. Findlay. I'll see you in the morning. Right, Henry?
*
Maude to Walter: Regardless of race, color or creed you're all a bunch a male chauvinist pigs.
-
Hot button social issue:Equal rights for women - jive talk or outta sight!
Fashion statement: Carol is wearing a low-cut purple minidress with long, poofy granny sleeves paired with knee-high black boots.
Neckerchief count: Three, including a riot of purple and green paisley Maude wears that coordinates with a full-length vest.
Number of times Maude yells: 5
'70s slang: This episode is a bonanza of '70-speak - Outta sight, bug off, jive-talk, drag, right on, honky, male chauvinist pig, and The Man.
Memorable quote: When Maude alludes to the fact that Florida's bad mood might be the start of menopause, Florida snaps: "You don't know how old I am. You forget, you people don't never know how old we are. That kills you don't it."
Times the live audience breaks out into spontaneous applause: 6
Keep an eye out for: John Amos, who makes his first appearance as Florida's husband, Henry Evans.
-
Previously:
Season 1, Episode 1: Maude's Problem.
Season 1, Episode 2: Doctor, Doctor.
Season 1, Episode 3: Maude Meets Florida.
Season 1, Episode 4: Like Mother, Like Daughter.
Season 1, Episode 5: Maude and the Radical.
Season 1, Episode 6: The Ticket.
Season 1, Episode 7: Love and Marriage.
Season 1, Episode 8: Flashback.
Season 1, Episode 9: Maude's Dilemma (Part One).
Season 1, Episode 10: Maude's Dilemma (Part Two).
Season 1, Episode 11: Maude's Reunion.
Season 1, Episode 12: The Grass Story.
Season 1, Episode 13: The Slum Lord.
Season 1, Episode 14: The Convention.
Season 1, Episode 15: Walter's 50th Birthday.
Season 1, Episode 16: The Medical Profession.
Season 1, Episode 17: Arthur Moves In.
Posted by Beachwood Reporter at 7:14 AM | Permalink
Dear Illinois Works Coalition
Chicago Metropolis 2020 has sent a letter to the members of the Illinois Works Coalition, established by the Governor. In it, our Chairman and President encourage its members to think comprehensively about long-term State needs for capital investment, improve the capital planning process and asking its members to think about the size of a program.

*
The Honorable Glendal William Poshard
President
Southern Illinois University
Carbondale, IL 62901
Dear President Poshard:
Congratulations on your appointment to the Governor's Illinois Works Coalition.
Analyzing the state's infrastructure needs, setting clear objectives and priorities for expenditures, and finding reliable revenue sources are all important tasks. We commend you for taking on this assignment.
As you execute your responsibilities, there are three points that we ask you to keep in mind.
First, the transportation program needs to be substantial in size and scope. In light of the need - estimated at $14 billion over five years in new state and local dollars for rail, road and transit - a small symbolic program makes no sense. The business community and public will lose patience with inadequate, piecemeal efforts that allow our infrastructure to crumble and the economy to suffer.
Second, you need to find a revenue source that is reliable and sustainable. Burdening the state's balance sheet with more debt without new revenues to pay for it is unacceptable. Raiding the road fund to pay for new debt is a shell game. Increasing user fees or taxes is the most responsible way to fund a capital program.
Third, it is essential to create a process to ensure that investments are based on clearly articulated state goals and a rationale for setting priorities. The process should result in investments that yield the greatest transportation, economic and environmental benefits. Two recent reports, by the National Surface Transportation Policy and Revenue Study Commission and the Eddington Commission for the United Kingdom, recommend this type of thorough analysis. If you only produce a capital bill that is a grab bag of projects without such a rationale, it will fail to give the public confidence about how their money is used.
Last month the Pew Center on the States released its performance evaluation of the 50 states in the areas of personnel management, information management, financial management, and infrastructure planning. Illinois received a grade of "C", which is a drop from the "C+" it received three years ago. Only 6 of the 50 states received a grade lower than Illinois'.
You may argue with the Pew rankings and the criteria they used. However, Illinois taxpayers that have to foot the bill for infrastructure have a right to expect better before they open their pocketbooks once again.
We need to invest in the state's infrastructure, or we risk losing our competitive position. You have an opportunity to reform the way we manage and fund our capital program. If the funding is not accompanied by reforms, it will be difficult to gain public support for investing in a third-rate program.
Sincerely,
Donald G. Lubin George A. Ranney
Chairman President & Chief Executive Officer
Posted by Beachwood Reporter at 2:41 AM | Permalink
Easter Debate: Saturday or Sunday?
Is the True Sabbath Saturday or Sunday?
This Easter, billions of Christians will celebrate resurrection Sunday. But is Sunday the true Sabbath as set forth in the bible?
Jews celebrate Saturday as the Sabbath. So do 7th-Day Adventist Christians.
An excellent article on this topic was published in WorldNetDaily, written by executive news editor, Joe Kovacs, posted March 16, 2008, titled, ""'Deception': Christians war over worship day. Centuries-old clash continues over disputed commandment.""
The article presents a lively discussion of the theological dispute over the Christian day of worship, representing the major themes of both sides in the debate. (See article below.)
Conducting interviews on this the topic of what is the true Sabbath day is Seventh-day Adventist Church spokesman Alan Reinach.
During your interview with Alan, he will share how the Seventh-day Adventist Church is the largest organized Christian group adhering to the Seventh-day Sabbath, and encourages people everywhere to honor the day of rest and worship established by the Creator.
He discusses seven key points central to the view of the Sabbath:
1. It is commonly agreed that the biblical Sabbath is the seventh day, Saturday, and that the Bible identifies Sunday as the first day of the week.
2. It was Jesus' custom to worship on the Saturday Sabbath, Luke 4:16, not on Sunday, so those who observe the Sabbath follow the example of Christ.
3. Christians who worship on Sunday do so in honor of the resurrection.
4. The Bible does not conclusively state whether Jesus rose on Sunday. All it says is that when the women came to the tomb before dawn on Sunday morning, Jesus had already been resurrected. Luke 24:5 -6. Therefore, he may have arisen before or after midnight. We just don't know.
5. The New Testament does not clearly command any change in the day of worship.
6. Anti-Judaism is a key historical reason the Christian church abandoned the Sabbath.
7. On both sides of the question, pastors and scholar agree on the need to return to the experience of Sabbath rest.
According to Alan, after decades of neglecting the law of God, and teaching that God's law was nailed to the cross, churches are rediscovering the Ten Commandments, including the Fourth Commandment.
Said Reinach: ""Great emphasis has been placed on efforts to display the commandments in public places, and many lawsuits have been filed. Yet, in the 'new covenant' of the Bible, the law of God is to be written on the human heart. It was in the 'old covenant' that the law of God was written on stone tablets, yet today, there is considerable enthusiasm for erecting public displays on stone monuments and pictures of stone.""
Reinach adds that in light of the considerable moral decline of our society, and the growing permissiveness, it would appear that Americans desperately need to invite God to write His law on the human heart. But when He does so, what will Christians do in obeying the Sabbath commandment? No doubt, what godly people have been doing since the origins of human history - worshipping on the seventh day.
*
ABOUT ALAN REINACH
Alan J. Reinach is an attorney, a Seventh-day Adventist minister, and serves as president of the Seventh-day Adventist Church State Council, the oldest public interest organization in the western United States devoted exclusively to issues of religious freedom.
Reinach's law practice emphasizes religious liberty issues in the state and federal courts in addition to employment related religious accommodation cases. He has authored two law review articles: "Why We Need State RFRA Bills";" 32 U.C. Davis Law Review, No. 3 (1999); and ""Religious Accommodation in Post 9/11 America"," Employee Rights Quarterly, Volume 2, No. 4 (Spring 2002). Reinach is a nationally recognized expert in the field of religious discrimination in employment, and has lectured on this topic at national legal conferences.
The Seventh-day Adventist Church State Council has provided counsel to thousands of individuals on issues like: religious accommodation in the workplace; exemption from labor union membership on religious grounds; religious land use disputes; and prisoner's access to religious services.
The Seventh-day Adventist Church State Council also monitors state legislation in a five state western region, including California, Arizona, Nevada, Utah and Hawaii, insuring that legislation does not interfere with the rights of conscience and of religious institutions to carry out their religious mission.
*
Our Mission at Special Guests: To obey God as He leads us in matching Judeo-Christian guests with talk show hosts to disseminate vital information that ministers to the physical and spiritual well being of listeners and viewers.
At special-guests.com we wear many hats, yet in similar hues. We are a publicity agency, book publicists, book publicity agents, literary agents and providers of wide variety of talk radio guests to talk show hosts. Among the topics covered by our radio talk show guests include breaking news, politics, world events, conservative issues and natural health.
We provide literary services, talk radio publicity, book publicity, author publicity, literary PR, publisher services, book publicity promotion, book publicity services, literary publicity, Christian promotion, with a special focus on providing assistance to conservative hosts and Christian hosts of radio talk shows and to conservative radio talk show management and conservative talk radio program directors who like working with conservative Christian booking agents. Some of our interview guests we promote are traditional or natural health guests. Others expose error and further truth in other vital areas of life, discussing much of what is either unreported or under reported by many within the mass media.
We are a public relations firm experienced in providing radio show marketing. As a public relations agency we are experts in guest marketing for book authors, film producers, education and other experts. We offer high quality radio interview venues to newsmakers and spokesmen for various causes and organizations. Whether you need a publicity firm, a publicity company, PR firm, booking agency, booking firm or PR agency, Special Guests can deliver positive radio talk show publicity, with the results you would expect from a professional public relations company.
We look forward to the opportunity to promoting you as our Special Guests!
Posted by Beachwood Reporter at 12:44 AM | Permalink
March 20, 2008
The [Thursday] Papers
"You may be surprised to learn that, precisely five years ago, at least one-third of the top newspapers in this country came out against President Bush taking us to war at that time. Many of the papers may have fumbled the WMD coverage, and only timidly raised questions about the need for war, but when push came to shove five years ago they wanted to wait longer to move against Saddam, or not move at all," Greg Mitchell writes at Huffington Post.
Not so here in Chicago, where both the Tribune and Sun-Times supported the war. Nonetheless, a look at editorials from the time is fascinating. The Tribune, for example, was far more skeptical at first than I'd recalled in my own mind.
"Taking the war to Hussein would be a much more formidable undertaking than defeating the Taliban, and one that might do as much to undermine the current war against terrorism as to enhance it," the Tribune editorial page said in November of 2001, in an editoral titled "Don't Take The War To Baghdad."
"Advocates of a wider war suspect Saddam Hussein helped the hijackers who hit the World Trade Center and the Pentagon. Yet the evidence to support that charge remains thin at best. Without a solid case, Washington would find itself with few allies in the effort."
In August of 2002, the Tribune editorial page continued the theme in "Insufficient Evidence On Iraq":
"Saddam Hussein is unquestionably an aggressive, brutal tyrant. But the president has yet to explain clearly why his governnment's existence can no longer be tolerated. If the administration can prove that Iraq played a role in the Sept. 11 attacks, or if it can show why he can't be deterred from using weapons of mass destruction, it can to win over the American people and many skeptics abroad. That case, however, is still waiting to be made."
Nonetheless, the Tribune was in favor of the resoultion authorizing the war - sounding very much like Hillary Clinton.
In "Pass The War Resolution," from September 2002, the paper said: "The question of whether the U.S. should attack, unilaterally or nearly so, is quite different from the question Congress now faces: whether to give the president broad powers to launch such a war. The danger is that proponents and opponents of war with Iraq will run to their well-fortified corners, and turn the immediate issue of a congressional resolution into a proxy battle for their raging dispute over war itself.
"The paradox here is that the best hope for avoiding a war - and let's be honest, that is a fading hope for a variety of reasons - lies with being prepared to wage one."
In October 2002, the Tribune followed with "What The War Resolution Means":
"With the Congress falling in squarely behind him, President Bush now can put the authorization of U.S. military action to its best and highest purpose: squeezing a timid United Nations to enforce its own resolutions against Saddam Hussein.
"Bush can speak in a stronger voice to the UN because of the strong voice emanating from Capitol Hill. The decisions in recent days of so many previous skeptics - U.S. Sens. Tom Daschle (D-S.D.), Chuck Hagel (R-Neb.) and John Kerry (D-Mass.) among them - to back the president says something about how he methodically has built support for his Iraq agenda since Labor Day.
"Back then the concerns of his critics drove the national debate: Bush, many feared, would plunge blindly into war without consulting the UN, without seeking a war resolution from the Congress, without taking his case directly to the American people."
UPDATE 4:15 P.M. I couldn't find any editorials around the launch of the war in March 2003

My apologies, I don't know why this eluded my search. I was just sent a Trib editorial from March 2, 2003 titled "The Case For War", in which the paper laid out a detailed argument of its position.

""For more than a year, Americans again have asked whether the stakes are worth the risks," the paper said. "Throughout, the Tribune has resisted calling for war, arguing instead that combat is completely avoidable - if the rest of the world will stand united in demanding that Saddam Hussein immediately disarm . . .

"Last summer, critics at home and abroad railed against the Bush administration's rush to war. Many said Washington would plunge blindly into combat without making its case to the American people, to Congress or to the UN.

"Instead the administration obtained congressional permission to launch a war, and a unanimous Security Council vote threatening it. Secretary of State Colin Powell has demonstrated that while Iraq is happy to cooperate minimally if that will stall a war, Hussein continues to hoard the bulk of his long-banned weaponry.

"Those who oppose war, particularly on the Security Council but also in the streets of many cities, have not met similar burdens."

The paper concluded, though, that "Year upon year, every earnest tool of diplomacy with Iraq has failed to improve the world's security, stop the butchery - or rationalize our inaction. The Tribune's reluctant but unavoidable conclusion today echoes the final two sentences of the editorial that appeared here in 1990: "If there is a war, the U.S. and its allies will pay a heavy price. But the price of stopping Saddam Hussein isn't going to get any smaller."
Later that July the paper wrote "Questioning The Case For The War":
"Like any good salesman, President Bush highlighted the facts that made the most compelling case as he sold the American people on the urgent need for war against Iraq. In his State of the Union address in January, he spoke of 38,000 liters of the deadly botulinum toxin and as much as 500 tons of sarin, mustard and VX nerve agent - all unaccounted for by Saddam Hussein. He spoke of Hussein's continued quest to build nuclear weapons.
"He and his administration made the case forcefully for months, at the United Nations and elsewhere, using an impressive array of intelligence reports and satellite photos. Many Americans were convinced, as was this editorial page."
Tomorrow I'll take a look at the Sun-Times.
War Facts
* Rod Blagojevich was still in the U.S. House at the time and voted in favor of the war resolution.
* In October 2002, Barack Obama gave his now-vaunted anti-war speech. Neither the Tribune nor the Sun-Times covered it. The Defender mentioned Obama's presence at the anti-war rally where the speech took place, but did not mention the speech itself.
* Daschle and Kerry are now Obama supporters. Daschle's former chief of staff, Pete Rouse, was one of the first insiders Obama reached out to when he got to Washington. Obama's communications chief, Robert Gibbs, was the spokesman for Kerry during his presidential campaign until leaving that post to become spokesman for a group formed by the party establishment to stop Howard Dean's presidential bid.
That effort included an ad defended by Gibbs that morphed Howard Dean into Osama bin Laden while an announcer said: "Americans want a president who can face the dangers ahead. But Howard Dean has no military or foreign policy experience. And Howard Dean just cannot compete with George Bush on foreign policy. It's time for Democrats to think about that - and think about it now."
* "Barack Obama suggested Wednesday that Hillary Rodham Clinton could not be trusted to end the Iraq war because she only started opposing it when she began her bid for president," AP reports.
"Ask yourself," Obama told the crowd, "Who do you trust to end a war: someone who opposed the war from the beginning, or someone who started opposing it when they started preparing a run for president?"
Four years ago, during his U.S. Senate campaign, Obama told the Windy City Times NPR something different. Note: Sorry, I mixed up a Windy City link with an NPR link I had.
"NPR: This ticket, obviously, John Kerry and John Edwards, both senators voted for the war.
"OBAMA: Yeah. Well - and I think that there is room for disagreement in that initial decision. Where I think we have to be unified is to recognize that we've got an enormous task ahead in actually making Iraq work. And that is going to take the kind of international cooperation that I think the Bush administration has shown difficulty pulling off, and I think that the Kerry-Edwards campaign is going to be better prepared to do."
The Beachwood Tip Line: Just sayin'.
Posted by Beachwood Reporter at 8:22 AM | Permalink
Not in Grant Park
Opponents of building a 100,000-square-foot children's museum in Grant Park are calling on Mayor Daley, the City Council and the Chicago Children's Museum to solicit public input on 24 alternative sites recently unveiled by Alderman Brendan Reilly (42nd), as well as seek additional recommendations from the public.
Save Grant Park, a citywide grassroots group, says Reilly's list contains many viable sites in downtown, but it would be unfair for the City Council to dismiss locations in other parts of the city without giving them full consideration.
Reilly's list of 24 alternative sites is based on recommendations from citizens across the city. It includes several downtown locations, including expanding the museum's current home at Navy Pier, as well as Northerly Island and the Museum Campus. Reilly's list also includes a number of sites outside of downtown Chicago, including Hyde Park, Logan Square, Garfield Park and Bronzeville.
Save Grant Park says that they have already posted the list of alternatives on their website to solicit public feedback and new ideas, and they are asking the museum and Mayor Daley to do the same.
"The Chicago Children's Museum is aggressively seeking taxpayer subsidies. If they want taxpayer's money they should also seek taxpayer's ideas for the new location by aggressively seeking full public input into alternative sites," said Peggy Figiel, co-founder of Save Grant Park. "Everyone in Chicago deserves to have their voices heard, and every neighborhood deserves full and equal consideration, especially considering the potential for creating sustainable economic development that is at stake."
Save Grant Park notes that the Children's Museum of Indianapolis is located miles from that city's downtown in a diverse low-income neighborhood, and it is also the largest and most successful children's museum in the country, generating nearly $60 million a year in economic development.
"The success of the Children's Museum of Indianapolis is undeniable evidence that an institution can thrive in many types of locations," said Figiel. "The Chicago Children's Museum needs to follow the successful blueprint of Indianapolis and stop their single minded insistence that downtown Chicago in general, and Grant Park in particular, is the only place where they could be successful.
"In fact, four Supreme Court decisions have made clear that the only location that must be ruled out is Grant Park. It's time for the museum and its supporters to take the blinders off and give every neighborhood in Chicago a chance to compete for the tremendous economic benefit that a high-quality children's museum could bring."
"Montgomery Ward waged a 21-year legal battle to protect Grant Park, and we will continue to fight to preserve 172 years of legal decisions and public policy that have preserved Grant Park as forever open, clear and free." Figiel added. "Our city's front yard is irreplaceable, and shouldn't be privatized, but instead protected for future generations of Chicagoans of all ages and from every corner of the city to enjoy, just as past generations have protected it for us."
*
Children's Museum of Indianapolis Provides Successful Model
The Children's Museum of Indianapolis is located six miles north of downtown Indianapolis in a diverse, low-income neighborhood. Parents Magazine ranked the Children's Museum of Indianapolis the top museum in the country, with world-class exhibits, 365,000 square feet of exhibit space, and over 1 million visitors a year. The Indianapolis museum generated $24 million in revenue in 2006 and creates nearly $60 million a year in economic development, according to a study by Professor Mark Rosentraub of Cleveland State University.
The Legal Case Against Building in Grant Park
Four Illinois Supreme Court decisions have made clear that Grant Park is specially protected open space. From the first Supreme Court decision in 1897 to the most recent, the law makes clear that Grant Park is public ground "not to be occupied with buildings of any description."
The law also prohibits Grant Park from being used for "such circuses or exhibitions to which the public would not be admitted for free."
In addition, in 1909 the Supreme Court ruled specifically on a proposal to build The Field Museum in Grant Park. At that time, supporters of The Field Museum made exactly the same arguments that supporters of the Chicago Children's Museum are making today. Those arguments were categorically rejected by the court, and they have been rejected by history. Everyone agrees that The Field Museum has been highly successful at its current location. In fact, The Field Museum is recognized as one of the best and most popular museums in the world, and it is visited by more than 2.1 million people each year, including hundreds of thousands of children.
About Save Grant Park
Save Grant Park is a grassroots group with thousands of supporters from across the city who have signed petitions and volunteered their time. Allies of Save Grant Park and opponents of building a children's museum on Grant Park include Preservation Chicago, which put Grant Park on their Endangered List, Friends of the Parks, Friends of Downtown and Environment Illinois.
-
Comments welcome. As always, you must include a full, real name to be considered for publication.
Posted by Beachwood Reporter at 4:53 AM | Permalink
Chicagoetry: The Governor's Whore
THE GOVERNOR'S WHORE
I think that I shall never see a poem nauseating
as a fake, business-arrangement marriage.
Thank CHRIST the truth comes out once in awhile,
like, nauseatingly self-righteous assholes and their
LOUSY, miserable marriages, with which they seize
the moral
high ground, looking down their noses at single men
and women who just happened to decide NOT TO BE
FUCKING MISERABLE . . .
You can have all the money and power in the world and
still be a fucking bald, homely motherfucker who has
to fucking pay for it. I DO NOT CARE HOW BITTER I
SOUND!
I think that I shall never see a poem hilarious as a
goddam politician finally taking it up the ass in
front of the entire world. No sympathy either for the
wife who rode the wave to power and fortune.
No sympathy. Sympathy rhymes with sympathy, no?
Shit, the rhythm isn't right. NO BIG WHOOP!
MARRIED PEOPLE DESERVE THEIR MISERY!!! Especially
when
they bring children into this world that they neither
want nor raise properly. O, dear, does that rhyme?
Mercy, I better take a time out . . .
-
J. J. Tindall is the Beachwood's poet-in-residence. He can reached at jjtindall@yahoo.com. Chicagoetry is an exclusive Beachwood collection-in-progress.
Posted by Beachwood Reporter at 3:20 AM | Permalink
March 19, 2008
The [Wednesday] Papers
UPDATE 5:58 P.M
From Chicago Tonight: "Senator Barack Obama's impassioned speech in Philadelphia yesterday took on the issue of race. Carol Marin and her panel take a closer look at the speech and the concerns he raised."
You can tune in, as always, at 7 p.m. on WTTW.
*
I didn't get the chance to see Barack Obama's big speech yesterday, though I saw the video clips that later ran most frequently on the TV news shows; I hope to catch up with the whole thing later this week. In the meantime, I thought I'd bring you what I thought was the most interesting local commentary in today's papers.
Also:
- Our third annual Beachwood Brackets are here! A surefire way to win your office pool.
- Cate Plys has a new Open Letter that can neatly summarized as: Let my Cook County people go!
- "The [Rezko] Papers" has been updated to reflect the very interesting comments by reporters and editorial writers who met with Obama last Friday.
And now, compare and contrast.
*
"What I haven't always been sure about is Obama's wisdom," writes Mark Brown, who notes that "despite some misgivings."he voted for Obama in the Illinois presidential primary. "Is he a wise man, I've asked myself, the Tony Rezko business frankly having given me pause.
"I see real wisdom in this speech, a man who is learning as he goes along, a man who knows who he is . . . His experience - or lack thereof - has been an issue in the presidential campaign. In this matter, though, we are reminded he has the experience from which this country could greatly benefit - seeing the world through eyes other than our own."
*
"It was a great speech." writes Lynn Sweet. "And it would have been greater if it were not delivered because Obama was in a jam. But the enduring truths of Obama's words are important to acknowledge even if they may not provide him with the political cover he desperately needs at this time. His speech, magnificent as it is, offered moral guidance that may influence one's conscience but not one's vote . . .
"Obama was forced to give this defining speech because selections of Wright's sermons - the poisonous parts - burst out in the open a few days ago, and the videos don't lie.
"Obama is lucky they did not surface earlier. He decided now is not the time to run from Wright, a man he considers family. As charitable as he was toward Wright, he had found no mercy for Geraldine Ferraro, the Clinton supporter and former vice presidential candidate whose ill-chosen racial references were seized on by Obama's campaign and whipped up into a frenzy until she was forced to exit Clinton's campaign, her own legacy ruined.
"Obama also raised more doubts. He admitted in his speech that he heard some of Wright's fiery rhetoric. 'Did I know him to be an occasionally fierce critic of American domestic and foreign policy? Of course. Did I ever hear him make remarks that could be considered controversial while I sat in the church? Yes.'
"Obama said something different on Friday, when he met with the Chicago Sun-Times. 'I'll be honest with you. I wasn't in church when any of those sermons were issued.' He went on to say, referring to Wright, 'I had not heard him make such, what I consider to be objectionable remarks from the pulpit.'"

*
"It's not often that a politician gives a speech that's both beautiful and brave," writes Mary Schmich. "Barack Obama did it Tuesday."
"I say this as someone not pledged to candidate Obama. At the moment, I'm wearing someone else's ring. I say this merely as someone who appreciates anyone with the ability to talk bluntly but calmly about race, not only what it meant in 1823 and 1963 but how it shapes our lives right now."
*
"As he spoke, I saw him as the next president of the United States and thought of voters feeling the same," writes John Kass. "A few moments afterward, one of the wire service headlines said: 'Obama Speech Confronts Racial Division,' a view certain to continue, reinforced by the media at every opportunity, that Obama faced the dragon and emerged from Philadelphia as triumphant as St. George. All of this is quite nice indeed. But confronting race wasn't the task at hand . . .
"Obama joined Wright's church for a reason, just as he knew there was a reason the political fixer Tony Rezko was trying to seduce him. Obama is no fool. He gets to the edge of things.
"So on Tuesday, he stepped lightly, expertly shifting the debate about Wright to a wider debate on solid ground, about race and American hopes and American guilt."
*
"Are we listening, America? On Tuesday morning, Barack Obama delivered the speech of his life about the most divisive issue in America in this day or any day - race," the Sun-Times editorial page says. Obama on Tuesday spoke to our better angels. And maybe America moved a little."
*
"[A]s powerful as his words were, there was more he could have said but didn't," writes Carol Marin. "It was about Geraldine Ferraro. Just as Sen. Obama spoke about the decency and complexity of his incendiary pastor, Rev. Jeremiah Wright, in the wake of the firestorm Wright has provoked, surely he knows the same is true of Ms. Ferraro, whom Obama coolly acknowledged but only in very spare terms . . .
"At the Sun-Times last Friday, at the height of the Wright controversy, the senator said he was not in the pews of Chicago's Trinity Church when his pastor issued some of his more vitriolic sermons. Obama flatly stated, 'I'll be honest with you. I wasn't in church when any of those sermons were issued.'
"But Tuesday, the senator in his speech said something different. 'Did I know him to be an occasionally fierce critic of American domestic and foreign policy? Of course. Did I ever hear him make remarks that could be considered controversial while I sat in church? Yes.'
"OK, which is it?
Bonus Marin: "This will not be the first time that Obama has parsed. The whole reason for the meeting with reporters and editors at the Sun-Times was that for more than a year we had asked for and not gotten from the senator the full story on his relationship to his now-indicted friend and fund-raiser, Tony Rezko. And when he finally arrived to address that last week, the number of times they met and/or talked and the amount of money Rezko raised for Obama were at variance with the descriptions Obama originally provided."
*
"Much like the travails that bring a child into the world, amid the bitter groans of racial strife, a president may have been born," writes Mary Mitchell.
The Beachwood Tip Line: Groaning.
Comments
1. From Tim Howe: "I watched the whole thing on the Trib site yesterday afternoon. It was not perfect, but it was good. It seemed to be more of a conversation than oratory (which many commentators later suggested was an intentional effort to avoid sounding like the "'black preacher' whose words he was condemning - maybe so). And I think Mark Brown's take is accurate: he had probably been kicking around most of this in his head for some time.
"The question is, will anyone besides political reporters and political junkies watch a 37-minute speech? Of course not. Which means most folks will only know what the pundits tell them about it.
"John Kass was, as usual, mostly mocking even as he praised. And he went on to call out Wright for language (regarding 9/11) which was actually much milder than that of so many white ministers (Hagee, Falwell, Robertson, etc.) who continue to be embraced by the GOP establishment. I'll refrain from holding my breath in anticipation of his column attacking his conservative heroes on this point. But Kass probably thought Obama hit a bit too close to home with his reference to grandma, who had used racial slurs even though she's not a bad person. Kass and I hail from the same world; I can tell you how close to the surface the undercurrent of racist speech and attitude runs in that world. It's damned uncomfortable.
"But I was most surprised by Carol Marin's offense at the way Obama dealt with Geraldine Ferraro. She suggested 'he knows the same is true of Ms. Ferraro' but how can Carol know this? I suspect, in fact, that Obama doesn't know Ferraro at all, and that's why he couldn't say what he thought was in her heart, which is what he was trying to get at in discussing Wright.
"Sweet & Marin must have watched the speech together - their columns so closely mirroring each other with the angle you highlight in both. They seem to want Obama to recite exactly what Wright said every time he heard Wright preach, and then pronounce on whether it was merely fierce, or crossed over into objectionable, and then to explain why he didn't march out of church right then and there if it was (or perhaps storm the pulpit and wrest the microphone away from his pastor).
"Which of course leads me to harken back to my last point about Kass and a great many of us in general. What obligation do we have, whether as private citizens or public figures, when we hear someone else using offensive speech? Does it matter whether it's in public or in private and your respective role within that setting? Does your home church fall into some gray area between public and private? Do you work within that environment to create change and growth and enlightenment, or simply remove yourself from it?
"I don't pretend to know the answers to those questions. And I'm not sure Obama does either. But (contrary to what Kass wrote) we don't really talk about race in America, not in terms of how we personally confront the issue. What we talk about is how we talk about race as a society, which is substantially different. And I think that if we spoke more about the personal experience of race in America, as Obama tried to do Tuesday, we might - might - start to make progress."
Posted by Beachwood Reporter at 8:20 AM | Permalink
Open Letter
I am shocked and appalled by your callous disregard for the welfare of the citizens of Cook County. Let's review:
* Your Civic Federation has long supported transferring management of the Cook County Bureau of Health Services from the Cook County Board of Commissioners to a separate group of actual health care professionals. That goal was finally achieved as a compromise in the Board's recent 2008 budget agreement, in order to win Commissioner Larry Suffredin's vote for County President Todd Stroger's odious increase in the county sales tax.

* The Civic Federation and Friends of the Forest Preserves have just come out with a report advocating that governance of the "beleaguered" Cook County Forest Preserves also be wrenched from the Cook County Board, and handed to a separate elected Forest Preserve board.
* The Civic Federation's analysis of Stroger's originally proposed 2008 budget called for "privatizing the delivery of programs or functions for which a competitive private sector exists," up to and including County print shops.
Trees, sick people, anyone who needs a quick Xerox - these you deem important enough to protect from the villainous Cook County Board. But not the average Cook County citizen? Where is your compassion? Please, Mr. Msall. Don't leave us behind. The next step for the Civic Federation should be obvious: You must call for the Cook County Board to relinquish its authority to a newly-formed elected body. As your report on the forest preserves put it, "A separate board will allow voters to elect Commissioners on the basis of candidates' positions, credentials, experience and interest in the forest preserves." Just take out the "forest preserves" part and insert "welfare of Cook County".
Technically, yes, the current Cook County Commissioners are elected. But one does not have to read lengthy Civic Federation reports to know that they are not elected on the basis of such things as credentials. I really don't know how they're elected. It might be some kind of mass hypnosis. You should look into that, too, while you're at it.
All the evidence you need to support this bold new proposal is contained in your Cook County 2008 budget analysis and the forest preserves report. For instance, in the budget analysis, you opposed Stroger's original crazy tax increase because of the County Board's "history of inefficiency, cost overruns, and eye-popping mismanagement". I mean, come on. The only time "eye-popping" should be an accurate adjective is when discussing the effects of the vacuum of space on human anatomy.
Your forest preserves report points out that the County Board has an inherent conflict of interest in governing the forest preserves district. "Many of the current Commissioners have shown a keen interest in promoting economic development and other uses of District property that conflict with the District's core mission to preserve natural land," the report states.
Hello! Talk about conflict of interest - what do you call the critical need to reduce the County budget versus the need to hire as many friends, relations and neighbors of the Commissioners as possible? You're not the only one who can write reports. Check out the one from Cook County's federal hiring monitor, former judge Julia Nowicki, which says that she sees nothing "that would indicate that illegal political patronage has been eliminated" at the county, and that there's been "little change in the status quo" under Stroger.
"Status quo" is shorthand for hiring your cousins (county finance chief Donna Dunnings), childhood pals (new Stroger public relations chief Gene Mullins) and guys who aren't good enough to work for Stroger's political campaign because they've been arrested for stalking (hospital spokesman Sean Howard).
Your forest preserves report also notes that the County Board clearly doesn't have time for the forest preserves, since it met 33 times in 2007 to govern the county and only 11 times for the preserves. A separate forest preserve board would allow that body to concentrate fully on the forest preserves. Here, however, is the problem: It would also allow the County Board to concentrate completely on the county, and frankly, that is a frightening scenario.
Can you imagine how much more damage the County Board would be capable of inflicting on innocent Cook County citizens once it is unencumbered by its gigantic, failing health system and the pathetic, fading county forest preserve district? This would be like killing off Superman so Lex Luthor can focus on devising a fool-proof plan for world domination. Please Mr. Msall . . . anything but that.
I know, you shouldn't have to do this work all by yourself. Rather than chuckling at the attempts of suburban Palatine to sever itself from Cook County, we should be joining them. I mean every single Cook County municipality should secede and form a New Improved Cook County. Unfortunately, the political obstacles are rather high.
So I beg you, propose and fight for a new governmental body to take over Cook County government - heck, let the current commissioners stay on at their current salary, it'll still be cheaper. In exchange, we, the citizens of Cook County, will express our undying gratitude by learning how to pronounce your last name.
Sincerely,
Cate Plys

-
Open Letter is open to letters.
-
See who else Cate has written to - from Lin Brehmer and The Person Who Let Their Dog Defecate Near The Southeast Corner Of 58th And Kimbark to Fellow Parents Planning Birthday Parties and Macy's - in the Open Letter archive.

Posted by Beachwood Reporter at 2:20 AM | Permalink
The [Rezko] Papers
UPDATE MARCH 19
We learned a little bit more about Barack Obama's meetings with the city's editorial boards to discuss Tony Rezko on Chicago Tonight Monday night. Carol Marin moderated. The panel: Investigative reporter David Jackson and deputy editorial page editor John McCormick from the Tribune and reporter Chris Fusco and editorial writer Deborah Douglas from the Sun-Times. Let's take a look.
*
(Direct quotes will be in quote marks; the rest is from my notes but pretty close to verbatim.)
MARIN: Why did Obama do this now?
JACKSON: The Tribune "was preparing to run a story in Sunday's paper that listed the unanswered questions."
FUSCO: The Sun-Times has been asking questions since November 2006. How much money has Tony Rezko raised for you? When the Obama campaign said $50,000 to $60,000, "you just sit there and realize, that cannot be right."
MCCORMICK: There were 36 Tribune people in that room. Ten editorial board members. David Jackson asked 80 percent of the questions.
DOUGLAS: He came off like a regular, ordinary person . . . he seemed like he was one of us . . . you could sit there, you could listen to him all day.
MCCORMICK: He answered every question that we put to him.
JACKSON: The question that lingers for Wright . . . he was there for 20 years as a seamless part of the community, "you say you never heard language like this?"
DOUGLAS: "That was the only part that struck me as being possibly disingenuous [that he would have pulled Wright aside and talked to him about it if he had heard that kind of language]. I'm willing to give him the benefit of the doubt. . . . [Wright] gives voice to a common black experience . . . black oratory style . . . uses fiery, incendiary language.
FUSCO: There are still some questions that I think are unanswered [about Rezko]. [Reads a quote from Obama], it's indicative, talking about Rezko in a way that reflects positively about himself . . . thinks he will do the same with Wright . . . make himself look good.
MARIN: Did he answer all the questions that needed to be answered?
JACKSON: "He answered as best he could . . . I was struck by the number of points where he couldn't answer questions . . . he can't say how many fundraisers Rezko held for him, which is surprising given Obama's posture of transparency in campaign finance and reform . . . some things have changed . . .now e've learned that Tony Rezko raised a lot more than Obama had previously acknowledged and that he knew in early spring 2005 that Tony Rezko had come under a federal grand jury investigation and [Obama] asked him about this and Rezko assured him nothing would come from this . . . he'd never been specific about that before, and we'd been trying to elicit that for a long time."
MARIN: Has Obama disposed of these issues?
JACKSON: I don't think you can say he's disposed of these issues, but that is what he tried to do.
DOUGLAS: It really is refreshing to have had that experience.
FUSCO: I don't know that anything is ever disposed of in a presidential campaign . . . McCain will be going against a guy who lost a congressional race to Bobby Rush not long ago.
MCCORMICK: The campaign . . . thought they could ride it out.
DOUGLAS: The malcontents and Obama-haters in the blogosphere will keep this alive.
MARIN: And maybe reporters, too.
*
Original post March 17:
It's mighty nice of the Chicago media to give Barack Obama a largely clean bill of health on his relationship with Tony Rezko now that he's held strategic meetings with editorial boards of the Tribune and Sun-Times, but as near as I can tell, every media outlet in the city missed the story. Let's try it this way:
"Barack Obama acknowledged in meetings with the city's two editorial boards that he had not been truthful in describing his knowledge of Tony Rezko's legal problems when he became entangled in a real estate deal with the political fixer involving Obama's South Side mansion."
Let's take a look at what we really learned over the weekend.
1. Obama revealed that, contrary to his insistence that he had no idea that Rezko was the subject of a federal investigation, including recent statements to national news organizations, he actually asked Rezko about the allegations that had made their way into media reports.
The Tribune knew this going in; its endorsement of Obama in the Illinois primary said: "Obama's assertion in network TV interviews last week that nobody had any indications Rezko was engaging in wrongdoing strained credulity."
Among those assertions:
* "Nobody had an inkling that he was involved in any problems," Obama told CBS's Harry Smith.
* "Nobody had any indications that he was engaging in wrongdoing," Obama told ABC's Diane Sawyer.
The Sun-Times knew this as well.
On Friday, though, Obama did an about-face.
"The senator said that at the time, in early 2005, he was aware of the growing controversies surrounding Rezko's dealings with state and city government," the Tribune reports. "In March 2005, for example, city officials alleged that a minority contractor at O'Hare International Airport acted as a front for a Rezko firm. 'I started reading the reports that were surfacing,' Obama said. Rezko 'gave me assurances that this wasn't a problem.' And, Obama added, 'at that time, the news around Rezko's problems had not elevated to the levels that they did later."
So, contrary to "nobody" having "any inkling" about allegations surfacing about Rezko, Obama himself was quite aware - he even talked to Rezko about it. Whether he was satisfied with Rezko's answers is besides the point, though it strains credulity in its own way.
2. Obama reiterated that Rezko never asked him for a favor. I haven't read the full transcripts or listened to the audio yet, but in their news articles there is is no indication that either paper asked Obama about this New York Times report:
"While Mr. Obama was running for the Senate, Mr. Rezko was also raising money for a huge development in the South Loop of Chicago, often playing host to dinners in a private room at the Four Seasons Hotel here.
"Former Rezko associates said that Governor Blagojevich attended one of the dinners, and that at Mr. Rezko's request, Mr. Obama dropped in at one for Middle Eastern bankers in early 2004, just as he was starting to pull ahead in the Senate primary. The visits, Mr. Rezko's partners said, helped impress foreign guests.
"'I remember that he had been on the campaign trail, and he was completely wiped out and exhausted,' said Anthony Licata, a lawyer who represented Mr. Rezko on real estate deals. 'My recollection is that he drank ice tea, and he talked about how he was really making progress, and we were all excited to see him.'"
Or this, also from the same Times report:
"Rita Rezko paid $625,000 to outbid others for the lot and later sold the Obama's one-sixth of that land land, for $104,500.
"After the Chicago Tribune reported the transactions last November, Mr. Obama said he had acted ethically, though it had been a mistake to let Mr. Rezko do anything that could be seen as a favor.
"The disclosure came four days before Michelle Obama was to appear as a special guest at a charity fashion show organized by Mrs. Rezko. Mrs. Obama attended, though others there said it seemed a bit awkward."
Which certainly doesn't sound like the biggest deal in the world, but it does indicate how close the couples appeared to be.
And, of course, there is this June 2007 report from the Sun-Times:
"Obama's letters for Rezko
NOT A FAVOR? | As a state senator, he went to bat for now-indicted developer's deal
"As a state senator, Barack Obama wrote letters to city and state officials supporting his political patron Tony Rezko's successful bid to get more than $14 million from taxpayers to build apartments for senior citizens.
"The deal included $855,000 in development fees for Rezko and his partner, Allison S. Davis, Obama's former boss, according to records from the project, which was four blocks outside Obama's state Senate district."
[The Sun-Times account on Sunday has Obama briefly defending a 1998 letter he wrote for a Rezko development.]
As for the reverse, well, when Obama says "He never did any favors for me, other than obviously supporting my campaigns," that kind of elides the point, doesn't it?
3. The media did bite on the disclosure that Rezko contributed more money to Obama than previously acknowledged. David Axelrod knew they would, and that's why they've dripped out these continual discoveries of more Rezko dollars. But it's really the least interesting and important of the revelations. The real story here is why the campaign has been disingenuous about the contributions, not the contributions themselves.
After all, the Sun-Times reported last June that "During his 12 years in politics, Sen. Barack Obama has received nearly three times more campaign cash from indicted businessman Tony Rezko and his associates than he has publicly acknowledged, the Chicago Sun-Times has found.
As the latest Sun-Times report says, "Obama acknowledged that Rezko had raised $250,000 for him - about $100,000 more than had previously been disclosed and about five times more than Obama conveyed during a November 2006 question-and-answer exchange with the Sun-Times."
The Obama campaign uses its own disclosures to change the story line when it wants to, and it works. There is little harm in headlines about the senator giving more money to charity.
Media Conceit
Like with the campaign contributions, Obama has continually insisted he has told all there is to know about his relationship with Tony Rezko, and yet he continues to reveal more. Still, he kept up the conceit in his meetings with the newspapers, acting as if it was the media who just didn't get it.
"I want to start by talking about my house purchase and Tony Rezko, because that's something that I know you guys have editorialized on, suggesting that we haven't provided you guys enough information," he told the Trib.
"We want to put the sense that we're not being forthcoming behind us as quickly as possible," he told the Sun-Times.
Of course, that sense and suggestion comes form the fact that the campaign hasn't, in reality, been forthcoming.
And it largely got away with it until Obama's disastrous Texas press conference amid the start of the Rezko trial. Obama's brain trust made a strategic decision. But it wasn't just to let it all hang out. It was to do so in a way that would snow the media. How?
By meeting with jam-packed editorial boards instead of the investigative reporters whose interview requests have gone unanswered for the better part of a year. Like Mayor Daley's press conferences, the appearance of access is overwhelmed by the extreme difficulty of following a line of knowledgeable questions coming from a large group.
The papers' editorial boards should have set aside their egos and insisted that any meetings take place with their investigative reporters, not the folks who have already endorsed Obama.
That aside, Obama's assertion of having revealed all was also proven disingenuous.
"Obama disclosed Friday that someone else already had an option to buy the garden lot," the Tribune account says. "But he said Rezko took over that option after Rezko learned Obama was bidding for the house. Obama said he knew next to nothing about those transactions and does not recall when he learened that Rezko was interested in buying the side lot - or even how Rezko learned it was for sale."
The Sun-Times account has it a little different:
"After touring the Kenwood home with Rezko [I think the paper means Obama here] and his real estate agent, Rezko 'expressed some interest potentially in purchasing the lot,'" Obama said.
"My basic view at that time was having somebody who I knew, a friend of mine, who would be developing the lot if he could, would be great. It would be somebody who we know."
Bingo.
"In his first accounts of the purchase, Obama did not divulge that tour," the Tribune recalls. "He said Friday that he simply didn't feel the information was salient and insisted the tour didn't mean he and Rezko coordinated their purchases."
He didn't think it was salient. And if you believe that, I've got a side lot in Brooklyn to sell you.
Pundit Patrol
The pundits are almost uniformly pleased. Obama got his "clears the air" headlines. But there is some nuance underneath those headlines.
* "I'm too old to believe in fairy tales," John Kass writes.
"Obama said he asked Rezko about the federal investigations, if Rezko had any problems, and Tony said no, and Barack believed it . . . So I left half-satisfied, thinking Obama more naive than crooked.
More interesting was this passage from Kass:
"'I know there are those, like John Kass, who would like me to decry Chicago politics more frequently.'
"Just the corrupt parts, I said.
"'I'll leave that to his editorial commentary, but I think it's fair to say that I have conducted myself in my public office with great care and high ethical standards."
Isn't decrying the old politics the centerpiece of his campaign? He's not asking Americans to leave change to newspaper columnists. He's asking them to do something he himself failed to do in elected office here in Chicago.
* "I don't think anybody at this newspaper can make the claim that he hasn't answered our inquiries," Mark Brown writes, though he then cites some outstanding questions.
"He patiently took on all comers, and, when it was over, the biggest question was why he hadn't done so sooner."
Yes. Because he's clearly had a strategy.
"During the last year, Obama has used his cooperation with one news organization or another on the Rezko story to try to immunize himself from the inquiries of others. He should not be allowed to use his meeting with the Sun-Times - and a similar get-together at the Tribune - to wave off questions from others now about Rezko and the house."
* "Reporters have tried for more than a year now to get Obama to explain in detail his relationship with his friend and campaign fund-raiser, but he has resisted as Rezko became more radioactive with every passing day," Carol Marin writes, adding that she finds the senator's answers perfectly plausible.
* "Obama should have had last Friday's discussion 16 months ago," the Tribune editorial page says. "Asked why he didn't, he spoke of learning, uncomfortably, what it's like to live in a fishbowl. That made him perhaps too eager to protect personal information - too eager to 'control the narrative.'"
*
Perhaps. But I think a combination of factors can be pieced together from all of this that might explain what has happened. Barack Obama has described Tony Rezko as his political godfather. Rezko has been a patron, a friend, and Obama's chief money man for the length of his public career. Kass finds Obama more naive than venal, and Marin remarks on the loyalty he appears to feel toward a man he still calls his friend. Obama got mixed up with a typical Chicago political character in a way that cuts across the image he is now presenting to the rest of the country, and made grievous ethical errors - in part, let's face it, because that house is gorgeous. And Obama has found it very hard to throw his friend under the bus. Along the way, he has shown a penchant for political strategy and limiting information and press access that also cuts across the image he seeks to portray on the campaign trail. His problem with Rev. Jeremiah Wright is similar; and let's not forget the kinky stock investments he found himself wrapped up in.
For a guy touting his role writing ethics legislation - and the importance of judgement - Obama's thin track record isn't exactly encouraging. Given that thin record, the Rezko story is the best prism available to evaluate how Obama meets certain tests. Maybe he's learned his lesson, but I don't think we can give him a passing grade.
-
See Obamathon for more Beachwood coverage of the man, the myth, and the legend.
Posted by Beachwood Reporter at 12:58 AM | Permalink
March 18, 2008
The [Tuesday] Papers
As our very Natasha Julius wrote in this space six months ago, shit's bad, people.
The economy is in deep doo-doo.
It's worth noting that Natasha also wrote back in September that "Bank of Dad Chairman Ben Bernanke insisted he's not bailing us out of this latest mess. Someday we're going to have to learn to sink or swim on our own."
And that's just how it's turned out. We're sinking, and the bankers who created this mess are watching from the deck chairs on their taxpayer-subsidized yachts. Playing bridge.
eBay Economy
We here at The Beachwood Media Company have a new business strategy.
"I am looking for a frosted flake that looks like the eBay logo," the Beachwood's Iowa bureau chief, Jay Wagner, says. "Instant goldmine."
At last check, by the way, bidding for the the Illinois Flake was over $200,000.
*
Jay, by the way, is the proprietor of Essential Iowa.
Edit Acid Test
Gov. Rod Blagojevich was asked on Monday if he would appear before the city's editorial boards like Barack Obama just did and answer all questions put to him about his relationship with Tony Rezko.
Forget Blago, why not ask Richard M. Daley if he'll appear before the editorial boards and answer questions about . . . well, the list is long. But maybe start with Angelo Torres and go from there.
From Beachwood reader Hugh Devlin:
"Forget the editorial boards! Ever watch Prime Minister's Questions on C-SPAN on Sunday nights? I'd like to see Daley take questions from real people every Friday afternoon until they're done asking."
Graphic Images
Got a chuckle this morning at the Trib headline "Economy Moves Into Uncharted Territory" over a half-page chart of the economy.
McCain vs. McRib
McCain: Claims to oppose pork
McRib: Claims to be pork
From Beachwood reader Andre Delattre:
"Your McRib piece reminded me of a peculiar thing that I thought you'd appreciate: I was in D.C. yesterday, and while on the Metro I noticed an ad that said 'VOTE' in large text, and had a much smaller tagline that was some platitude to the effect of 'any reason is a good reason.' But what really caught my eye was the golden arches logo in the bottom right corner, and the web address "365black.com". There are many things to be said about McDonald's 365black.com marketing ploy, but it seems that the first would be their failure to recognize the bitter irony of encouraging D.C. residents - the most disenfranchised citizens in the country - to vote 'for any reason'. Truly demonstrates their 'Deep roots in the community!'"
Cop Shop
"Mayor Richard Daley on Monday strongly defended a just-promoted senior police official who received early warnings from underlings complaining about a lack of action against rogue cops in the department's Special Operations Sections," the Tribune reports this morning.
The mayor's defense comes in response to a Trib story from Monday that reported this:
"A Chicago Police Department internal affairs investigator wrote a memo in 2005 expressing frustration that for months his bosses had not approved a more aggressive probe of officers in the Special Operations Section, despite a growing pattern of misconduct allegations.
"Police Agent Christopher Taliaferro notes in the memo that five months earlier, a colleague had sent a similar request to Assistant Deputy Supt. Debra Kirby informing her of the mounting evidence of wrongdoing, but that no action followed.
"The memo, which was obtained by the Tribune, sheds light on why federal prosecutors decided last year to widen the probe into the SOS scandal to include the internal affairs division under Kirby.
"It also raises questions for new Supt. Jody Weis, who last week promoted Kirby to be his top legal adviser. Weis, a former FBI official, was hired to clean up the department's image after a string of scandals, most notably the indictments of SOS officers."
"Daley insisted that Kirby was on top of the situation, even though it was the Cook County state's attorney's office that eventually took the lead in the probe of SOS, filing charges against four unit members for kidnapping, robbery and making false arrests. Three more officers subsequently were charged.
"Chicago police previously claimed the open investigations that Internal Affairs conducted on SOS complaints led to the charges in September 2006. But over the weekend, in response to questions from the Tribune, police officials acknowledged for the first time that the investigation that led to the charges was prompted by the state's attorney's office."
*
The Sun-Times reports that "Former Supt. Phil Cline said Monday he recalls meeting with Cook County State's Attorney Richard Devine in 2005 or 2006 to talk about the progress of both his and the department's investigations into the misconduct. Devine's office had launched its own probe after an assistant state's attorney noticed a pattern of the SOS officers not showing up for court to prosecute drug busts."
And: "On Monday, Weis defended Kirby, saying her office was already pursuing the rogue cops with those very tactics when the memo was written. 'They were already monitoring the actions of the officers through a variety of surveillance techniques and undercover operations,' department spokeswoman Monique Bond said.
"The investigation began in the IAD's 'confidential section' at least seven months before the memo was written."
Two side points:
* Weis's quick shake-up has police officers and watchdogs wondering who the new chief is taking advice from. One clue: "The FBI has had a close working relationship with Deb Kirby," Bond said. "Supt. Weis has full confidence in all of the command changes he made."
Weis used to work in the FBI office here and, presumably, has tight relationships with folks over there.
* On the other hand, when Daley says "I interviewed [Kirby] for superintendent, that's how good she is," you've gotta wonder. And you're reminded of how Daley sidestepped the process to name Weis by going around the police board to interview candidates on his own.
Mea Rock Culpa
Jim DeRogatis writes in response to my recent comment that "Maybe DeRogatis and Kot should take their Sound Opinions franchise and turn it into . . . a website, a magazine, a music festival and even a record label. Just a thought."
Writes DeRo: "Then we'd be A&R men or concert promoters. And all we ever wanted to be was critics and journalists. Why ain't that enough?"
Touche. My enthusiasm for a larger Sound Opinions franchise got the best of me. But I still think a Sound Opinions music portal could be pretty cool - including all of the boys' archives, an index of their record collections, sound clips . . . oh, there I go again. Just keep writing, guys. I'm a fan.
Abba Drummer Joins The List
Of the weirdest rock deaths.
County Web Snag
The Cook County Board of Review - which handles property tax appeals - accidentally let its URL (cookcountyboardofreview.com) expire, the Sun-Times reports, and "For nearly 17 hours anyone could have submitted a bid to take over the Web site."
Another missed opportunity for The Beachwood Media Company, and this one really hurts.
The Beachwood Tip Line: Unexpired.
Posted by Beachwood Reporter at 8:10 AM | Permalink
McCain vs. McRib
An epic battle.
*
McCain: Tougher than crap
McRib: Crap
*
McCain: McCrazy
McRib: McCrazy to eat
*
McCain: Five years of captivity
McRib: Five years of inventory
*
McRib: On special for $1.99
McCain: Ideas worth $1.99
*
McCain: Willing to stay in Iraq for 100 years
McRib: Shelf life of 100 years
*
McCain: Bones broken in captivity
McRib: Bones removed in laboratory
*
McCain: Victim of whisper campaign
McRib: Beneficiary of viral marketing campaign
*
McCain: Stages barbecue for gullible reporters
McRib: Poses as barbecue for gullible diners
*
McCain: Mysterious relationship with female lobbyist
McRib: Mysterious relationship with meat
*
McRib: Limited time only
McCain: Limited time left
*
McCain: Claims to oppose pork
McRib: Claims to be pork
*
McCain: Accompanied by totally hot MILF
McRib: Accompanied by fries and Coke
*
McCain: Maverick politician
McRib: Maverick burger
-
- Tim Willette, Eric Emery, Rick Kaempfer, Marty Gangler, Steve Rhodes
-
See also:
* McCain for McPresident
* Oprah vs. Obama
* Lincoln vs. Obama
* Chicago 2016 vs. Baghdad 2016
* Tank vs. Troutman
* James Brown vs. Gerald Ford
* Hester vs. Hastert

Posted by Beachwood Reporter at 6:13 AM | Permalink
RockNotes: Top 10 Rock Deaths
The very strange death of 62-year-old former ABBA drummer Ola Brunkert from a fatal run-in with a pane of glass has to rank right up there with some of the best of a truly head-shakingly strange roster of accidental rock 'n' roll demises. Not to diminish the human tragedy of Brunkert's passing, but let's face it, karma seems to have a big score to settle with rock musicians. Of course, sound judgment clouded by all sorts of high-living hijinks might have something to do with it, I'll grant you that. But that alone just cannot explain the sheer volume of weird.
The usually execrable British tabloid The Mirror has taken something of a break from its depressingly yobbish wall-to-wall coverage of Sir Paul's divorce battle with Heather to provide what seems to be a surprisingly good and accurate top 10 list of the weirdest accidental rock 'n' roll deaths of all time. Some, of course, are obvious: It's The Mirror, when all is said and done. But others, however, I either hadn't heard of or hadn't remembered in quite awhile. So a tip of the undertaker's akubra to The Mirror for providing this melange of misadventure.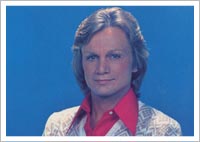 1. Claude Francois. He was the king of the French knock-offs of '60s American rock 'n' roll songs. His biggest hits up until 1967 were ultra-cheesy foreign language versions of famous songs by such groups the Everly Brothers, the Bee Gees and the Beatles ("Je veux tenir ta main"). "Clo-Clo" was widely derided as a megalomaniacal ball of fromage. Then in 1967 turnabout became fair play as he wrote an original French song, "Comme d'habitude," which ultimately became Frank Sinatra's "My Way," one of the cheesiest all-time English-language songs. Clo-Clo met his fate in 1979 when he was electrocuted while attempting to replace a broken light bulb while standing in a bathtub full of water. (Misuse of electricity plays a big role in the Top 10 list).
2. Randy Rhoads. Death by airborne Ozzy Osborne tour bus-ramming. Ozzy explains: "Yhhuu uhhh woll, ha, Randy, eh, noghht to the buzz, the driver eh toollough ober at, I thouawt, 'Eh! Gwann stick me, mate! Ehhhh? Bloody deejorrrgh rawt. Yhhuu paarraaahh the bloody stupid git, ehhh? Then, ruusseff went up annnn dooon, buzzat rawt fracking in th road, mate."
3. Mama Cass Elliott. Cass Elliott really shouldn't be on this list because she did not die accidentally from choking on a ham sandwich, as was widely believed to be the case for years thanks to a false preliminary medical report that was almost immediately debunked (it was a heart attack). But the irony of believing the world's first fat rock star died from food was too delicious to discredit. (The London apartment in which she died also would be Keith Moon's deathplace four years later.)
4. Johnny Ace. I have to admit I'd never heard of this guy, who died on Christmas Day 1954, after playing Russian Roulette with a loaded pistol backstage at a show in Houston. Apparently he was high on PCP when it happened. Yep, that'll do it. The shooting was witnessed by Big Mama Thornton, who was touring with him with her own hit "Hound Dog," just as the race barriers in popular music were coming down. Johnny Ace probably would have been one of the first and biggest crossover artists had he survived.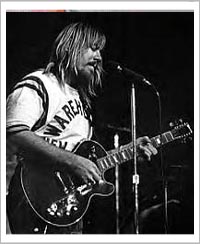 5. Terry Kath . Another Russian Roulette casualty. Chicago was never the same after Kath died: He provided its edge with his hard-rock guitar solos. His death in 1978 ensured that Chicago would go down the easy-listening path that resulted in oh so many soft rock classics.
6. Leslie Harvey. Another one I hadn't heard of. His band, Stone the Crows, was an early '70s British psychedelic blues rock outfit managed by Led Zeppelin's cricket bat-wielding mentor Peter Grant. Harvey is among the few rock 'n' rollers to actually die onstage; in 1972, he touched an ungrounded live mike with wet hands in Swansea, England. Also trivia-wise, another Stone the Crow, Jimmy McCullough, who later joined Wings and wrote the anti-drug song "Medicine Jar," died of a heroin overdose in 1979.
7. Keith Relf. Again, remember to ground your amplified equipment. Please. He died of electric shock in a home studio after the break-up of the Yardbirds while practicing guitar for his new band, Armageddon. Smokin.'
8. Jeff Porcaro. I think John Bonham and Keith Moon kind of set the standard for drummer deaths (choking on own vomit and OD'ing on an anti-alcoholism drug, respectively). No, the legendary studio drummer and Toto member's demise was a bit less rock 'n' roll. It was caused by a heart attack triggered by an allergic reaction to a pesticide he was using in his yard. Great as Porcaro was, It's kind of hard to imagine Keith Moon tending to the crabgrass.
9. Sonny Bono. No matter what you thought of Sonny, no one could ever have imagined him dying in a skiing accident. I mean, Sonny on skis? It obviously wasn't meant to be.
10. Gram Parsons. Not so much his death (kind of a run-of-the-mill overdose), but the aftermath in which his buddy stole Parsons' body and tried to burn it in the desert at Joshua Tree to honor some kind of drunken pledge. So strange, Johnny Knoxville made a movie about it.
-
Catch up with the entire RockNotes collection. It tastes great, it's very filling, and it rocks.

Posted by Don Jacobson at 1:46 AM | Permalink
March 17, 2008
The [Monday] Papers
"Knowing the sadness that would surely accompany me on my trip, I expected to comfort myself with a 2,000-mile musical journey, led by Radiohead, Shawn Phillips, Pink Floyd, Tom Waits, Bob Dylan, and Wilco. Maybe a sprinkle of Neutral Milk Hotel around Montana," writes our very own Leigh Novak, in the first of her Westward Ho! dispatches that will chronicle her transition from Chicago to Seattle.
"When my journey was said and done, though, I had spent about 25 of the 30 hours meditating solely on Wilco. Specifically, Wilco's latest album, Sky Blue Sky. Sometimes albums just feel undeniable.
"The treetops nod, the rain applauds . . . "
Moral Dilemma
"So here's where Illinois stands now," our very own Jim Coffman writes in SportsMonday. "Potential star shooting guard Jamar Smith, who in February of last year drove drunk through an ice storm despite a specific warning from his coach, trashed his vehicle and Carlwell and then left his teammate in the car to die alone not once but twice before someone else finally called 911 and saved him, will play for the Illini next season. Carlwell will not."
Altercation
"I don't think the world needs another book-length recounting of the misdeeds of Limbaugh and Coulter; liberals don't seem to understand that the key to their success - as well as Bill O'Reilly's - is their supreme talent as entertainers. Eric Alterman has no such appeal, and shouldn't try to play on their field," I write in Reviewing the Reviews.
Tony's Tiger
"Barack Obama acknowledged in meetings with the city's two editorial boards that he had not been truthful in describing his knowledge of Tony Rezko's legal problems when he became entangled in a real estate deal with the political fixer involving Obama's South Side mansion."
And other revelations buried over the weekend amidst joy that Obama finally spoke to the local press about Rezko.
UPDATE 4:47 P.M.
From Chicago Tonight: "Presidential candidate Barack Obama met with the editorial boards of both the Chicago Tribune and the Chicago Sun-Times last Friday. He addressed, among other issues, his association with jailed political fundraiser Tony Rezko. But why did he chose to do that now? Carol Marin and her panel take a closer look."
Chicago By Southwest
* DeRogatis: "As I continued mulling over what really bothered me most about Friday's interview with Ticketmaster CEO Sean Moriarty, it finally struck me: the slight of hand comparing Ticketmaster fees to cable TV and ATM fees, which hits at the heart of the lie behind the company's PR efforts."
* Kot: "One of Peter Jenner's favorite phrases is 'monetize the chaos,' and it was heard several times over the last few days at the 22nd annual South by Southwest Music and Media Conference, which concluded Sunday.
"Jenner was Pink Floyd's first manager, and Billy Bragg's current one, and he's figured out how to make a steady living in an industry not known for its steadiness. In a sense, Jenner's long and illustrious 40-year career is what most of the estimated 12,500 registrants at the conference covet."
Flaky State
"A corn flake shaped like the state of Illinois is being offered for sale on eBay," AP reports.
Last I looked, bidding had topped $20 $1,000 and was still on the rise.
Whaddya say, Beachwood readers, should we go for it? This idea is no longer operational.
Spit Take
"These guys that pay $4,300 for a hooker are the same guys that pay $9 for an espresso. They're ruining it for everyone else."
- Bob Beleson, independent beverage marketer, quoted in the New York Times's "I Agree Dear, It Was Awful"
And the same guys who pay a grand for a frosted flake that looks like a state.
Music City U.S.A.
"Ask any touring musician, artist's manager or booking agent about their favorite cities to play, and Chicago is certain to rank near the top of the list, thanks to enthusiastic, adventurous and loyal audiences and some of the most renowned venues anywhere in the world," Jim DeRogatis wrote on Sunday.
"Now, after several trying years when live music seemed to be under constant assault, the Windy City is welcoming two new clubs that could change business as usual on the local scene."
Click here to find out what they are!
The Pentagon Papers
Of this generation. But we so already knew this it barely made news.
The Other Dead
"For me, one of the most striking indicators of the suffering Baghdad has endured is to be found in our own office, in the number of people known just to the Iraqis working in the Chicago Tribune's bureau who have been killed," Liz Sly wrote on Sunday.
"For security reasons, I'd rather not disclose how many people we employ; suffice it to say that our news operation is small compared with most. But if we were to open a Facebook account for our little bureau's social network of relatives and friends, it would be littered with the faces of the dead."
Cubs Flubs
"Just so I have it all straight, Aramis Ramirez trains roosters for cockfighting, Felix Pie has a twisted testicle and the Cubs are promoting the arrival of Kosuke Fukudome with an ad picturing an offensive rising-sun flag," writes ace Cubs dissector Greg Couch. "Has anyone noticed that this Cubs season is already a circus?"
*
"The Cubs are for sale. Wrigley Field's name is for sale. The state might buy the park. The team might play at Sox park for a season . . . Oh, I almost forgot Mark DeRosa's irregular heartbeat. Happy anniversary, Cubs."
The Beachwood Tip Line: Rising.
Posted by Beachwood Reporter at 10:02 AM | Permalink
SportsMonday
The slipper didn't fit the Illini. Any chance of it fitting disappeared long before Sunday's decisive loss to Wisconsin in the Big Ten tournament final. A basketball program doesn't quite qualify as Cinderella when it flounders about in complete disarray for more than a year.
The last straw was a quiet announcement made late last month. That was when Brian Carlwell, who starred as the man in the middle for strong Proviso East teams just a few years ago, announced he was leaving the U. of I. Conveniently enough less than two weeks later, Coach Bruce Weber used the newly available scholarship to pick up a commitment from a typical junior college quick fix. Dominique Keller is a 6-7, 235-pound forward who averaged 25 points and 9 rebounds for Lee Community College in Baytown, Texas this season. He promises to add desperately needed toughness to Illinois' front line next year.
So here's where Illinois stands now. Potential star shooting guard Jamar Smith, who in February of last year drove drunk through an ice storm despite a specific warning from his coach, trashed his vehicle and Carlwell and then left his teammate in the car to die alone not once but twice before someone else finally called 911 and saved him, will play for the Illini next season. Carlwell will not.
Weber, who fought valiantly to keep Smith in his program when so many other coaches would have given him the boot in a heartbeat, may have had a moral compass at one point. But it was obliterated in the last couple year by his willingness to let things go if doing so might generate wins.
The main reason Illinois stunk this year was its guards' limitations. The most promising of the bunch, freshman Demetri McCamey (who turned in that great performance against Purdue in the tournament quarterfinals on Friday) can light it up from beyond the arc. But the St. Joseph (Westchester) graduate is under-sized and his defense is, at best, shaky. Junior Chester Frazier can't shoot. Fellow junior Trent Meacham lacked confidence all year despite it being clear all year that he was the team's best shooter. And of course star freshman guard Eric Gordon went to Indiana instead of Illinois last year. And there aren't any major impact guys coming in as freshmen for the 2008-09 season for goodness sake.
So the Illini will need Smith next year - big time. And Weber knew this. And in what could only be described as a final, twisted master stroke, Weber arranged for Smith to receive a highly unusual red shirt for this year. Red shirts are, of course, usually reserved for preserving the eligibility of players who suffer serious injuries. But here, Smith is doing nothing but serving an unofficial year-long suspension. And he is doing it without losing a year of eligibility. By the time next season rolls around, the furor will die down, most people will forget about what he did and Weber will have more of a chance to pile up more wins.
Athletic Director Ron Guenther asserted last week that the Illinois men's basketball program was in great shape. Ron, willful denial of reality doesn't accomplish anything other diminishing your credibility, severely.
* Weber's inability to do the right thing was again on display, in vivid detail, last month during the disgrace that was the Illinois-Indiana game. That was the game when Gordon, who had committed the sin of changing his mind about which college he would attend when he was 17 years old, made his only trip to Champaign. The coach has rarely missed an opportunity to talk about how much Gordon's change of heart hurt the Illini, not just because Gordon didn't join the Illini, but also because other recruits took a pass on the team because they thought Gordon would be getting all the attention. This doesn't make a ton of sense because people have been talking about Gordon going to the NBA as quickly as possible since his junior year of high school - everyone knew he was only going to college for one year and, sure enough, at this point he projects as a top 10 pick in the draft this summer. Were Illinois recruits really lost because Gordon was going to get a lot of attention for a year? But anyway.
So as a highly disappointing season wound down there was only one thing left for the Illinois student body to do: heap derision on the guy their coach had told them had destroyed their team's chances. And then before the game even started, during the introduction of the lineups, a time when one player from one team is announced, followed by one from the other, the heat was turned up even further. The second player typically goes over to the first, they slap five and then the players return to spots in front of their benches. But Illinois' Frazier had a different plan. After he was introduced, he ran over to Gordon and ran into his chest with his shoulder. I know that sometimes college basketball players greet each other that way these days. But it is, of course, no good when one player is doing the bump and the other isn't.
What Weber should have done at this point could not have been clearer: he should have put Frazier on the bench. But how would that have helped Illinois win? And when fans wouldn't stop chanting "Fuck you Gor-don," Weber should have taken the public address microphone in hand and told them to cut it out, to try to not embarrass the university quite so much. But again, if the crowd hadn't been quite so rabid, it almost certainly wouldn't have unnerved Indiana as much as it did, at least for a little while. Illinois eventually got its just desserts, though. Missed free throws did the team in and they lost in overtime.
* It wasn't surprising Smith didn't take Weber seriously, by the way, when Weber warned him not to drink and drive early on that February evening last year. The previous fall, senior Rich McBride had been busted for drunk driving. His punishment? He was suspended for six meaningless, non-conference games. He returned in plenty of time to be ready for the games that mattered - Illinois' Big Ten slate. Other Illini basketball players were also assessed lenient penalties for all manner of transgressions in the several years prior to McBride's offense.
* And finally, there's a big ol' reason it just shouldn't be that hard for Weber to figure out what to do in these sorts of situations. There's a guy with an office right down the hall who has it figured out. A couple of Illini football players were caught with stolen merchandise last year. Coach Ron Zook kicked them off the team faster than Rashard Mendenhall hits a hole. Maybe Bruce noticed Zook's winning percentage last season? There are some coaches who do the right thing and win plenty. Miraculous, we know.
-
Jim Coffman appears in this space every Monday.

Posted by Beachwood Reporter at 5:58 AM | Permalink
Reviewing the Reviews
"No matter how shiny and safe a city gets, no matter how high its housing prices climb, how fast its crime rates fall and how many of its corner stores are turned into buzz-before-entering boutiques dedicated to clothing the 'urban baby' or are replaced by franchised coffee shops with WiFi hot spots for laptop-toting Beat poets, there is one sort of room at the city's very core whose design schemes rarely shift upscale and whose typical occupants - be they real or fictional - resist much gentrification of the soul, let alone beautification of the hair," Walter Kirn writes in the New York Times in his review of Richard Price's Lush Life.
"Sometimes the hands move slowly, sometimes swiftly, but when they're controlled by a serious storyteller, they always tell the same time: too little, too late. That's the lesson of these ugly pens. A case may be cracked and the motives behind it exposed, but the greater mysteries always go unsolved: what good are answers when what's done is done and something just like it, or worse, will happen tomorrow?"
Is it really possible for this book to be as well-written and seductive as its review?
Word Bird
"Madness did not just run in his family; it galloped, sped, sprinted, dashed and made haste."
- From a Times review of The Man Who Made Lists: Love, Death, Madness, and the Creation of Roget's Thesaurus
Choir Boy
Liberal pundit/author Eric Alterman strikes me - and many others who actually know him - as an insufferable, arrogant prick. Just read Altercation for a few weeks and you'll see what I mean.
Still, he's something of a representative liberal voice of the sort that needs regular checking-in on, kind of like Michelle Malkin on the right, although she's a much better blogger. (Alterman has a lot of other things going on and seems to blog as an afterthought.)
Of course, Alterman would object to the high heavens at such a comparison, which would be fine if Alterman's allegiance was to facts, truths and reality instead of ideology. Ironically, Alterman calls for a more partisan mainstream media even as he is one of the best examples why such a thing is the opposite of what the world needs right now. Ideological prisms shield the truth instead of revealing it.
But that's the swamp he plays in, so it's no surprise that his new book disappoints in a particular way, according to Scott McLemee's review in the Times.
"Alterman seems to relinquish a chance to shape the political agenda of the next decade in favor of settling accounts with such heavy thinkers as Rush Limbaugh and Ann Coulter," McLemee writes.
I don't think the world needs another book-length recounting of the misdeeds of Limbaugh and Coulter; liberals don't seem to understand that the key to their success - as well as Bill O'Reilly's - is their supreme talent as entertainers. Eric Alterman has no such appeal, and shouldn't try to play on their field. Instead, it might be nice if Alterman and his ilk figured out how to talk to the 99 percent of America that is outside of their shielded, elite (and hypocritically elitist) cohort.
"If it has never before occurred to you that conservative polemicists might sometimes be dishonest or hypocritical, then this book will offer a good remedial education," McLemee writes dryly. "Alterman is, as always, a capable polemicist. He has no trouble shooting every fish in the barrel. But after a while, the whole effort begins to seem like an exercise in identity politics for an ideological minority."
There are few folks more aggravating than the socially abrasive kid with above average intelligence couple with a screaming inability to comprehend a world wider than his or her own interests and viewpoints who in adulthood, consciously or not, seeks revenge and triumph on the happier kids who pranked their asses through high school. That is who I imagine Alterman to be, and like his cohort, he is still thoroughly uncool and, worse, not nearly as smart as he thinks he is.
"Self-esteem is boosted through therapeutic confrontation with bullies," McLemee writes, "followed by affirmations that liberals really are good enough - and doggone it, people ought to like them!'
Alterman's book, then, sounds like the ultimate preaching to the choir. My question: Isn't the choir bored by this stuff by now? Does the choir really need this constant reinforcement to solidify its views?
"Why We're Liberals is like a crash course in how to yell effectively at the talking heads on Fox News," McLemee concludes. "Whatever progress might mean, this is not an example of it."
False American Idol
"The story has no single villain, but Alan Greenspan comes close."
- From the Economist's review of The Trillion-Dollar Meltdown: Easy Money, High Rollers, and the Great Credit Crash
Karma Chameleon
"If there's one thing that May Pang has been fighting for the last 28 years, it's the idea that John Lennon was depressed, isolated and out of control during the 18 months she lived with him, from the summer of 1973 to early 1975, when he reconciled with his second wife, Yoko Ono," Allan Kozinn writes in a Times review of Pang's Instamatic Karma, a 140-page home photo collection.
Pang makes the case that Lennon's infamous Lost Weekend was actually a hugely productive time.
Reason To Be
"There are few subjects more timely than the one tackled by Susan Jacoby in her new book, The Age of Unreason, in which she asserts that "America is now ill with a powerful mutant strain of intertwined ignorance, anti-rationalism and anti-intellectualism," the Times's Michiko Kakutani writes. "[P]olicy positions tend to get less attention than personality and tactics in the current presidential campaign . . . "
It's the entertainment state. The new politics is based on the Oprah Book Club model.
Meanwhile, "Ms. Jacoby notes that two-thirds of Americans cannot name the three branches of government or come up with the name of a single Supreme Court justice . . . only 57 percent of adult Americans had read a non-fiction book in a year."
So lay off the kids. Adults have the problem and they're just handing it down.
*
This book has gotten lukewarm reviews, though. Kakutani concludes that "Al Gore's 2007 book, The Assault on Reason, did a better job than this volume in providing an up-to-date inventory of political and cultural developments reflecting the decline of reason in our national discourse."
Gore, you might remember, is the guy who was excoriated for being a policy wonk with a wooden personality. Of course, Gore won the 2000 election, but George W. Bush was only competitive because the media helped make the public believe that a dry drunk was a great guy to have a beer with. I'm not sure we've learned our lesson.
Posted by Beachwood Reporter at 12:00 AM | Permalink
Westward Ho!
Maybe the sun will shine today
the clouds will blow away . . .
It was pissing rain when I drove away from Chicago. It felt like a sort of turned-shoulder send-off from my hometown as I headed west with all my life crammed into my two-door hatchback, en route to Seattle. Or maybe it was a fuck you, get used to it type of thing; a nod to the city notorious for rain and depression. All the same, I can accept that, as I sit here and watch the downpour out my window in Washington.
With a sky blue sky, this rotten time wouldn't seem so bad to me now . . .
There was something very therapeutic about sitting in a car alone for four days with my two cats. Cats, by the way, are excellent partially-sedated passengers for cross-country trips. So good, in fact, that I left them lucid for the last couple days, as to let them enjoy the scenery.
My mind was naturally in a unique frame upon leaving my beloved city, family and lifelong friends to move to an unfamiliar and dramatically different place. I teetered quickly and often between deep sadness and unknowing excitement. I attempted to focus on the latter as much as possible, but there's nothing quite as heartrending as riding alongside Chicago for the indefinitely final time.
Knowing the sadness that would surely accompany me on my trip, I expected to comfort myself with a 2,000-mile musical journey, led by Radiohead, Shawn Phillips, Pink Floyd, Tom Waits, Bob Dylan, and Wilco. Maybe a sprinkle of Neutral Milk Hotel around Montana.
When my journey was said and done, though, I had spent about 25 of the 30 hours meditating solely on Wilco. Specifically, Wilco's latest album, Sky Blue Sky. Sometimes albums just feel undeniable.
The treetops nod, the rain applauds . . .
Fears take on different forms when you are thrown from your environment and forced into your essential sort of self. I wasn't running around naked, or spearing fish in frozen Minnesotan lakes, but I felt elemental. My fears on the road were some I had not previously experienced in my Chicago comfort zone. I uneasily became aware that it would be a while before I understood my location beyond a mile marker on a map. Even once I arrived, I would still be lost in unfamiliarity.
I feared my tire blowing on a mountain pass. I envisioned my car flying over the metal rail and contemplated what would consume my last thoughts. I concluded that the overwhelming loss of control and certainty of death would occupy my whole focus and leave little room for anything else. But if I did have a spare millisecond, I would try to change the CD and listen to Radiohead's "Let Down."
Tires type black
where the blacktop cracks
Weeds spark through
dark green enough to be blue . . .
Quite possibly the best thing about driving long distance alone is all the time you get to spend with yourself. I mean it. I didn't talk on the phone, text, or watch DVDs. I just hung out inside my head, which I think most people don't do much anymore. The human mind is a lot scarier than, say, Dancing with the Stars.
On the road, I had plenty of time to introspect. At some point, I decided that if life expectancy increases, the conversion to dog years should be also affected. I pondered whether couples with vanity license plates that somehow cutely combine their names ("PAT N PAM" or "JON N JDY") loved each other more than everyone else. I thought about religion and how Jehovah's Witnesses could make a killing during the holidays (specifically on Christmas Eve) since households are more condensed with people. But then I realized that maybe Christmas Eve wouldn't supply the best market for Jehovahs after all.
I watched as my windshield transformed from a mere killer into a mass murderer. I had one stubborn splat of a bug whose juicy body managed to get lodged in my windshield wiper, so that every time I needed a swipe of the blade, I got a perfect parabola of bug guts drawn upon the glass. That lasted for at least 1,000 miles.
I also got to see a vast assortment of not-your-average road kill. I'm used to raccoons, squirrels and possums. Headed west, I was treated to all these, plus a giant turkey, a cow, a deer, a deer being eaten by a wolf, and a baker's dozen of indistinguishable small animals. As I passed the wolf feasting on the deer, I thought of how cool it would be if I could symbolically relate something in my life to that scene. Despite my best poetic efforts, I couldn't.
*
North Dakota was one flat sonuvabitch; the road kept disappearing into the sky just in front of my eyes. All of a sudden, though, I hit Valley City and the elevation was a sorely welcome sight. I pulled over to stock up on duct tape and bungee cords to shore up the belongings that were just barely hanging from the roof. It wasn't long out of Minnesota when I noticed in my rear-view mirror that my bike was dangling down the side of my car, so it was long past time for the kind of reinforcement that Tesoro was promising.
People were eerie in Valley City. When I arrived at the gas station, I heard the Tesoro record skip. I noticed a few people staring. By the time I came out of the store with my duct tape and bungees, there was a crowd of at least 15 people gathered outside the adjoining cafe, smoking and watching my every move. It was right out of one of those serial-killer-on-the-road movies. I threw a couple pieces of duct tape over my bike rack and got out of there quickly, as I felt the eyes of a local woman upon me just a tad too suspiciously. And just like the movies, I left in such frightened haste that I forgot to remove the pump from my gas tank. I sheepishly returned to the pump as the smoking spectators kept their vigil; I felt like a horse's ass. But that feeling passed as swiftly as a White Castle slider when I remembered I was an unknown in the middle of nowhere. Maybe I was the eerie one.
*
Around mile 288 in North Dakota I saw the greatest billboard in the world: Black letters on a white background that simply said "Smile".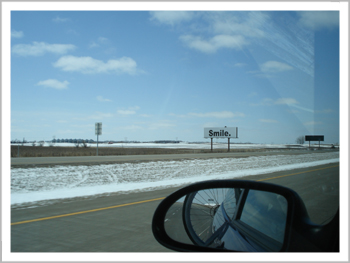 No corporate brand, website address, or sales pitch. No source credit whatsoever. Just a pure advertisement for pleasantness.
A giant warehouse of a store in Montana called Aluminum Critters N More amused me. And exit 192 in Montana got me to wondering: Why would anyone want to take the exit for Bad Route Road?
Minnesota's abundance of lakes made me to realize that although almost all other bodies of water have their water description following the name (Pacific Ocean, Red Sea, Mississippi River), for some reason we describe lakes in the opposite way (Lake Michigan, Lake Crescent, Lake Wobegon).
*
I made it to Seattle in a comfortable four days of driving. I eventually developed a method for securing my bike on the back and my canvas bag on rooftop holding on by a singular, duct-tape reinforced sturdy strap. Duct tape saved my ass repeatedly through this journey. It would be cool to symbolically relate that to something in my life, too, but sometimes duct tape is just duct tape.
So here I am: a Chicagoan to the bone, living in an evergreen land of gentle-mannered hippies, eco-nuts and passive drivers. Much has changed since my initial road trip. For starters, I can no longer put on Sky Blue Sky without conjuring images of Volkswagens and a pauperized Jeff Tweedy selling out. But that aside, living in Seattle is an enormous culture shock. I am taking it all in as it comes. And at the moment, I am just hoping this rain with let up. I survived. It's good enough for now.
-
Next: Seattle is about as edgy and diverse as a Death Cab For Cutie concert in Naperville.
Posted by Beachwood Reporter at 12:00 AM | Permalink
March 15, 2008
The Weekend Desk Report
We hate to start the Report with something as dull and irrelevant as real news, but Barack Obama's important announcement that he's "somebody who is not engaged in any wrongdoing . . . and who [we] can trust" broke awfully late on Friday. We're sure he wouldn't want any of us to miss this just because we'll all be drunk this weekend, right?
Now that's out of the way, back to the crucial work at hand.
Market Update
Markets were rattled this week as blue-chip stocks including Established Dignitaries and Spiritual Advisors posted unexpected losses. Analysts remained upbeat, however, noting that the current buying frenzy should continue for a few more months at least.
Ettu, Scarlett?
We all know she's got a new album she'd like to promote, but we didn't think she'd take it this far.
Spitzer? They Hardly Knew 'Er!
And with that introduction, it's time to announce the full bracket for this year's Still-Employed Elected Official Invitational. We'll start with the tantalizing mid-seed match-up and work our way to the top.
#4 Richard Daley vs. #5 Ray Nagin
We can't help but think if you combined Daley's penchant for building things no one needs where no one wants them with Nagin's inability to build much at all, you might wind up with a half-decent city.
#3 Rob Blagojevich vs. #6 Sally Kern
Kern has made a strong push to get into the ball, but there's no room for Cinderella when Uncle Tony's on trial.
#2 George Bush vs. #7 Mahmoud Ahmadinejad
We know "elected" is a relative term in both cases, but this contest will be all about how they can hurt you. Would you rather be blown to Kingdom Come or slowly suffocated? It's a tough call, but the warheads might just pull the upset.
#1 Kwame Kilpatrick vs. #8 Ted Stevens
You've got to admire the perennially plucky "Intertube" Stevens, but even the Bridge to Nowhere can't save him from this year's overwhelming tournament favorite. And, frankly, we're not sure he should try all that hard. It takes a lot to make Elliot Spitzer look like a good guy. Congratulations, Kwame. This year's title is yours for the taking.
Say It Ain't Bo
We end this week with a somber note of caution: the world stands to be a lot less funny if this turns out to be the mysterious Client 10.

Posted by Natasha Julius at 8:49 AM | Permalink
March 14, 2008
The [Friday] Papers
The Sun-Times guide today to the city's best corned beef - with St. Patrick's Day around the corner - reminds me of a curiosity about cultures and food. I grew up in a Reform Jewish home culturally poles apart far from Irish, but as you already know, corned beef is a Jewish deli food. We also ate tongue growing up, which I now eat in burritos here in Chicago; it's called lengua. Seems to me every culture eats just about the same foods, just prepared differently with different names.
-
COMMENTS
From Garry Jaffe:
The S-T left out the absolute best corned beef in the city: Sinai Kosher's factory store on Pershing. Also the cheapest and leanest you've ever seen. The pastrami is great, too.
*
From Bethany Lankin:
Re: Plenty to beef about: St. Patrick's Day (or any day) is reason enough to celebrate Chicago's love affair with corned beef
"For starters: Irish spring rolls at Moher's, 5310 W. Devon, (773) 467-1954."
Come on . . . A deep fried veloute of green and white striped soap? Ugh. Do they taste fresh and clean as a whistle?
-
Obama Ears
"Sen. Barack Obama, who had been declining to reveal earmarks he requested in 2005 and 2006, finally did so Thursday and probably would prefer the story to be about how his campaign challenged Democratic presidential rival Sen. Hillary Rodham Clinton, to do the same for her entire Senate tenure," Lynn Sweet reports.
Indeed, Sweet has been writing for some time about Obama's refusal to dislose his earmarks, despite his campaign pledges of transparency - and his attacks on Hillary Clinton for, for example, not releasing her most recent tax filings. And indeed, it's part of a media strategy some might call cynical. To wit, this New York Times story today:
"Obama Lists His Earmarks, Asking Clinton For Hers."
The story begins: "Senator Barack Obama on Thursday released a list of $740 million in earmarked spending requests that he had made over the last three years, and his campaign challenged Senator Hillary Rodham Clinton to do the same."
Sweet's headline was "Obama Lists Pet Projects, At Last."
The Times story includes this quote from Obama communications director Robert Gibbs: "If Senator Clinton will not agree to join Senator Obama in releasing her earmark requests, voters should ask why she doesn't believe they have the right to know how she wants to spend their tax dollars."
Sweet asked campaign spokesman Bill Burton "why the change of heart. 'Sen. Obama thought it was appropriate to release them,' Burton said."
After thinking about it for three years?
The Times said a spokesman for Clinton "did not address whether she would release a list of her requests."
Sweet reports that "Clinton spokesman Philippe Reines said that Clinton 'has made public the funding she has helped to secure and will make public the requests she submits this year.'"
But in any case, what Clinton does is irrelevant to whether Obama's reality matches his rhetoric.
The Times, though, gives him the old soft-shoe: "Mr. Obama had previously released the requests for earmarks that he made last year. And Thursday's statement disclosed details of his requests from 2005 and 2006 for the kinds of home-state projects that critics often describe as pork-barrel politics."
Sweet, by contrast: "[S]ince I have some reporting history here, I am noting a pattern that has emerged: This is Obama's third ethical conversion of convenience - taking on a higher standard, but only when it appears to be politically expedient."
It's easy to see looking at Obama's earmarks why he hasn't been eager to trumpet his record. I didn't find an Obama earmark story in print version of the Tribune, but the home page website headline promoting its Swamp blog entry on the matter is "Obama Sought Funds For Wife's Employer."
Which we're only finding out about now.
Mess Hall
"Maybe Al Gore could jump in and fix the mess," the Tribune's Naftali Bendavid writes today of the Democratic presidential nomination battle.
Nobody likes some of the places this contest has taken us, but is it really a mess? I think this is more of how it should be. I wish more candidates were still in it. Before each primary or caucus we read about how excited folks are in states that never mattered before. Turnout is soaring. The candidates are being tested at least somewhat seriously. This is what it's all about. And a brokered convention? Party leaders don't like the idea because they want to put on a glossy show. But I don't get why journalists also seem to prefer a three-day display of each party's public relations skills to an actual real convention.
*
The story's contention that a party elder would have stepped in in the past to avoid convention chaos is also a-historical. Conventions actually used to be the place where nominees were chosen.
*
Memo to political reporters: Stop giving advice to pols and parties about how best to spin . . . yourselves . . . in an effort to manipulate the views of voters.
Health Care
"By the time Blagojevich came into power in 2003, lobbying the hospital board had grown into a fertile business," the Tribune reports in today's episode of Tony on Trial. "Many politically connected heavyweights had latched onto clients seeking permits or new facilities or, in some cases, seeking to block competitors from getting their projects approved."
And Tony Rezko was the man to see.
Via Chicago
* Local bands at South By Southwest.
Will County Hunting
* "From City Hall To Tomczak To Savio Case, A Tangled Web."
Cubs Scrub
So Jim Hendry signed Alfonso Soriano, then 31, to a team record eight-year, $136 million contract to play center field and leadoff, and it turns out he can't do either.
And he's hardly suited to batting second, which is Lou Piniella's new plan. Why not just it over with and make him the most expensive eight-hole hitter in baseball history?
Sam Spam
"Boy, is it fun to hate Tribune Co. and its new owner these days," Rick Telander writes this morning.
"But let me be the first at the Sun-Times to submit that maybe, just maybe, it's all a trifle over the top - our (meaning all things Sun-Times) endless bashing of anything having to do with 'the Tower,' the Cubs' sale, Wrigley Field improvements, naming rights for anything located anywhere near Addison and Clark, Sam Zell, anybody who might buy the Cubs or my favorite hoo-ha creation of scorn, 'Tribsters.'"
Yes. But that doesn't change the fact that Zell is evil.
*
"Whatever [Sam Zell] wants, I'm opposed to," Senate Majority Leader Debbie Halvorson (D-Crete) tells the paper. "Going way back on my mobile-home legislation, I've always been an advocate for those who live in manufactured-home parks. He owned most of them and treated the residents like dirt. That's left a sour taste in everybody's mouth, this wealthy man who thinks he can do anything he wants because he has money. It's sickening."
*
"The [Speaker's] law firm represents properties owned by Zell's company," Michael Madigan's mouth, Steve Brown, said. "The Speaker decided the best course of action would be to recuse himself . . . [and] because he's not involved, he's decided not to form an opinion on it."
Comedy Gold
"Lincoln Park Zoo Chimp Expert Says . . . ITS NOT FUNNY."
Oh but it is.
COMMENTS
From Marty Gangler: Okay - chimps are endangered. I got it. Now dress up the ones we have like Groucho and make them dance.
The Beachwood Tip Line: It really is.

Posted by Beachwood Reporter at 9:55 AM | Permalink
Portable Hot Tubs Go Green
The following press release announcing advancements by one business owner to make hot tubs more economical and environmentally friendly may be of interest to your audience. Any editorial comment or mention that you may give this press release would be greatly appreciated.
- - -
PORTABLEHOTTUBSNOW.COM GOES GREEN
Dateline: North Tonawanda, NY
Web Address: Portablehottubsnow.com
NORTH TONAWANDA, NY - March 14, 2008 - Portablehottubsnow.com goes green. Bonnie Feltz, owner of portablehottubsnow.com is doing her part to conserve energy and save vital natural resources. Bonnie is looking into providing solar panels, generators and covers, making the hot tubs not only more economical but environmentally friendly.
Bonnie says, "This portable hot tub has many benefits to save the environment." She continues, "the smaller size uses less water, needs less energy to come to temperature and because of the smaller volume of water it needs less energy to maintain temperature than the larger standard hot tub."
Bonnie found tips that will also decrease your energy expenditure which lowers your energy costs. For example, lowering the water temperature a degree or two will not affect your pleasure but will save energy. Also using a cover when the hot tub is not being used will hold in the heat and keep debris out. By keeping the hot tub cleaner the filter is spared and fewer chemicals are needed.
Portablehottubsnow.com offers a guilt-free and less expensive way to enjoy a hot tub.

Posted by Beachwood Reporter at 6:13 AM | Permalink
March 13, 2008
The [Thursday] Papers
Normally I would be up for a good newspaper campaign inveighing against the misdeeds an ogreous rich guy and his unfeeling company were planning against the good people of our fair city.
But the Sun-Times's campaign against Sam Zell's plan to sell Wrigley Field to the state has been transparent and sophomoric. After all, I haven't seen the paper put its editorial giving out its phone number and asking Barack Obama to give them a call and 'fess up to Tony Rezko on front page; it wasn't even the lead editorial of the day. I haven't seen an Obama-Rezko video contest like the one the paper is running for Zell and the Cubs.
That said, the Sun-Times hits a home run today. It's "Home Field Disadvantage" editorial is the best-written (and presumably, edited), most well-reasoned argument I've seen coming out its pages in . . . well, at least in a long time. Did they bring in a stunt board for this one?
"Last we checked, Wrigley Field was not a homeless shelter," the paper says. "It was not a day care center or a factory about to decamp for China. Last we checked, Wrigley Field was among the most successful ballparks in America, sure to remain home to the flailing Chicago Cubs - under any and all owners - for decades to come.
"There is, then, not a single good reason the State of Illinois should buy Wrigley Field, a scheme now roaring forward that would put our tax money at risk, to ensure the ballpark's survival. Beautiful as it is, Wrigley Field is not some architectural damsel in need of being 'saved.' Only Sam Zell and his Tribune Co., owners of the ballpark, stand to gain. And in an economic downturn, only the taxpayers stand to lose."
Bravo.
"This is no time for the people of Illinois to help Sam Zell pad the value of his assets by buying his ballpark."
To the paper's credit, it does not merely make this assertion, but supports it.
My only fear is that this will be an instance of singular smarts. The paper's otherwise embarrassing efforts to stir up a war with Tribune stinks of a desperate marketing ploy of a newspaper careening toward bankruptcy that damages the credibility of its reporting and commentary. When the editorial board tells us that "In subsequent editorials in the days ahead, we'll look at this issue and others in greater detail," I can only take that as a warning and shudder.
It's hard to forget that the paper's editorial board once promised to assign extra reporters to cover the Todd Stroger administration to protect the integrity of its weird and calculating endorsement. Or that it did an about-face in 24 hours and declared itself the "progressive conscience of the city" after years as the paleo-conservative conscience of the city. Or that it was just last week that it endorsed Jim Oberweis for Congress.
But I'm a Cubs fan. Maybe this year is the year.
Trib Tattlers
Meanwhile, it's not as if the Tribune is taking a pass on the various threads of the Wrigley Field story. Today, for example, the paper offers up an analysis by Blair Kamin - who has already written a piece called "Why Wrigley Field's Landmark Status Should Be Preserved" - of what the ballpark's landmark designation does and does not allow in terms of physical changes and improvements.
Tribune Company and its potential Wrigley Field buyer, the Illinois Sports Facilities Authority, are asking for a relaxation of landmark rules so it can embark on a massive rehab. (Shudders, again.)
Kamin persuasively reports that such a relaxation isn't necessary - unless (my words, not his) they really want to wreck the joint.
"It's kind of a lame argument that they're making for their relaxation of the designation," Planning Department spokesman Pete Scales tells Kamin.
The Tribune also reports in a separate article that "The Chicago Cubs are closer to a partial stadium-naming-rights deal with one or more major corporations, though the historic Wrigley Field moniker is expected to remain in some fashion, sources close to the situation said Wednesday."
So let me get this straight. Sam Zell is proposing that he would sell naming rights to Wrigley Field for hundreds of millions of dollars. Then he would sell the ballpark to the state for hundreds of millions of dollars. Then the Cubs would put a surcharge on already-rising ticket prices to help pay for renovations, along with a portion of the naming rights money and 30-year tax-exempt bonds. Then Zell would sell the team for hundreds of millions of dollars and the new owner wouldn't get the ballpark or the naming rights.
Meanwhile, Zell bought Tribune Company for $8.2 billion but only put in $350 million of his own money, yet has an option that will give him 40 percent of the company at a discount should the company rebound sufficiently. If not, the risk falls on the Employees Stock Option Plan he created "using a provision that was stuck into a minimum-wage-increase bill in 1996 at the behest of the owner of a small Minnesota company who wanted to sell a stake to his workers."
Under this structure, Tribune Company no longer has to pay corporate income taxes.
But if the Wrigley deal goes through, a portion of your tax bill will go to Zell.
And that is why he is the richest man in Chicago. Evilly so.
There Once Was A Man . . .
Sam Zell limericks.
Wrigley Wiggly
"The chairman of Wm. Wrigley Jr. Co. failed to put the kibosh on speculation that his business might buy naming rights to Wrigley Field," the Sun-Times also reports today.
But William Wrigley Jr. "noted that the Cubs had been owned by the Wrigley family and not the company."
Wrigley Field has never really been a corporate name, and the company has accrued little value from it.
"[T]he company tends to put marketing dollars behind brands and not the corporation's name," the Sun-Times notes.
Brand Stands
"Wm. Wrigley Jr. Co. will overhaul the packaging and flavor of its ubiquitous stick gums, including Doublemint, Juicy Fruit, Big Red and Extra brands, as part of an effort to revive sagging U.S. sales," the Sun-Times reports separately today.
"The confectioner announced the makeover Wednesday during its annual shareholders meeting in Chicago, saying the change would help boost the gum's profile among store shoppers.
"On Wednesday, Chicago-based Wm. Wrigley Jr. Co. announced new packaging for its line of stick gums, including Doublemint, Juicy Fruit, Big Red, Winterfresh and Spearmint.
'''This cool new pack will make these brands more contemporary and give them a better presence on the shelf,' President and Chief Executive Bill Perez said."
Isn't it kind of, oh, funny (or something) that wealthy corporate executives make their bones on how packs of gum look?
The Beachwood Tip Line: Double your pleasure.
Posted by Beachwood Reporter at 9:11 AM | Permalink
Chicagoetry: Pindaric Ode to Everett McKinley Dirksen
PINDARIC ODE TO EVERETT McKINLEY DIRKSEN
My man: you make Chicago proud.
Nobody, dude, and I mean NOBODY, remembers who you are.
I fucking do:
Horse-trading, WITH CIVILITY,
with LBJ over bourbon,
trading judges for votes.
You're in The Right Stuff,
for Christ's fucking sake!
Newsbabes gather every day
at your building. I eat
my heart out.
You'd be proud of
Paul Meinecke,
I sincerely believe.
Everybody remembers Paul
Simon, thinking he wrote "Me and Julio
Down by the Schoolyard."
Maybe today, fucking MAYBE,
somebody will Google
you. Praise GOD!
-
J. J. Tindall is the Beachwood's poet-in-residence. He can reached at jjtindall@yahoo.com. Chicagoetry is an exclusive Beachwood collection-in-progress.
Posted by Beachwood Reporter at 7:05 AM | Permalink
Blago vs. Spitzer
A gubernatorial death match.
*
Spitzer: Client 9
Blago: Public Official A
*

Spitzer: Cheats on wife
Blago: Cheats with wife

*
Spitzer: Spends money on blowjobs
Blago: Takes money for state jobs
*
Spitzer: Does business with whores
Blago: Does business with whores
*
Spitzer: Secret affair with Chrissy
Blago: Secret affairs with Tony
*
Spitzer: Has testicular virility issues
Blago: Has testicular virility issues
*
Blago: Governs by press release
Spitzer: "Governs" by "early release"
*
Spitzer: Doesn't finish out term because of scandal
Blago: Doesn't finish out term because of scandal
-
- Rick Kaempfer, Eric Emery, Steve Rhodes
-
READER SUBMISSIONS
From Spencer Maus:
Spitzer: Pays to get screwed.
Blago: Gets paid to screw us.
-
See also:
* Paging Client 10
* Oprah vs. Obama
* Lincoln vs. Obama
* Chicago 2016 vs. Baghdad 2016
* Tank vs. Troutman
* James Brown vs. Gerald Ford
* Hester vs. Hastert
Posted by Beachwood Reporter at 6:43 AM | Permalink
Comcast Now!
The eerily representative playlist of Comcast's Music Choice Channels at 6:30 this morning.
*
Sounds of the Seasons: James Galway, "The Minstrel Boy"
Today's Country: Kellie Pickler, "Things That Never Cross A Man's Mind"
Classic Country: The Judds, "Have Mercy"
Bluegrass: The Nitty Gritty Dirty Band, "Will The Circle Be Unbroken"
Hip-Hop and R&B: Jay-Z, "I Know"

Classic R&B: Maze Featuring Frankie Beverly, "I Feel That You're Feelin'"
R&B Soul: Jill Scott, "Whenever You're Around"
R&B Hits: Aaliyah, "If Your girl Only Knew"
Rap: Juelz Santana & Cam'ron, "Dipset (Santana's Town)"
Metal: Ozzy Osbourne, "No More Tears"
Rock: Bon Jovi, "Have A Nice Day"
Arena Rock: Ozzy Osbourne, "Crazy Train"
Classic Rock: Cream, "White Room (Live)"
Adult Alternative: Gerry Rafferty, "Right Down the Line"
Alternative: Gravity Kills, "Guilty"
Retro-Active: The Church, "Tantalized"
Electronica (uncensored): Goose, "Bring IT On (Boris Dlugosch Remix)"
Dance: Satoshi Tomlie & Ice, "Scandal in New York"
Lite Hits: Carrie Underwood, "Before He Cheats"
Adult Top 40: Rob Thomas, "Ever The Same"
Hit List: Buckcherry, "Sorry"
Kidz Only!: Jojo, "Leave (Get Out)"
Party Favorites: Prince, "Let's Go Crazy"
Classic Disco: Ami Stewart, "Knock On Wood"
90s: Nirvana, "Smells Like Teen Spirit"
80s: Huey Lewis And The News, "I Want A New Drug"
70s: Bad Company, "Feel Like Makin' Love"
Solid Gold Oldies: Ricky Nelson, "Poor Little Fool"
Smooth Jazz: Marc Antoine, "Hi-Lo Split"
Jazz: Pat Martino, "S.K.J."
Blues: Koko Taylor, "Better Watch Your Step"
Reggae: Bayanga, "Reunanse"
Soundscapes: Chinmaya Dunster, "Fame Status"
Easy Listening: Johnny Keating, "The Windmills Of Your Mind"
Big Band & Swing: Glenn Miller, "Tuxedo Junction"
Singers & Standards: Lena Horne, "Just In Time"
Show Tunes: Dorothy Loudon, "Do It Again"
Contemporary Christian: Brian Littrell, "In Christ Alone"
Gospel: Donnie McClurkin & Marvin Winans, "Who Would've Thought"
Classical Masterpieces: Vladimir Horowitz, "Nocturne, Op. 62 No.1" (Chopin)
Light Classical: Bournemouth Sinfonietta, "Spoon River" (Grainger)
Pop Latino: Mana, "Manda Una Senal"
Musica Urbana: Hector El Father/Jowell & Randy, "Hola Bebe"
Salsa y Merengue: Grupo Granada Pal Mundo, "El Lobo"
Mexicana: Edith Marquez, "Total"
Rock En Espanol: La Ley, "Mas Alla"
Posted by Beachwood Reporter at 6:10 AM | Permalink
March 12, 2008
The [Wednesday] Papers
Page overheard at O'Hare: "Client 10, please pick up the white courtesy whore."
Coffee Whores
"Starbucks did a great job of letting consumers know it was closing for three hours last month, but it failed to communicate the most important part - why. At least that's the conclusion of one new study," Ad Age reports.
Ad Age previously noted the "hundreds of millions of dollars worth of media coverage" generated by the shutdown in "News Outlets Fixate on Starbucks' No-Joe Play Media Attention Over Coffee Chain's Three-Hour Closure Helped Publicize Howard Schultz's Turnaround Message."

Jackie No
Today's media story du jour is wonderment over why political wives stay with their straying husbands. Let's take a look.
* "Why Stand By These Men?" the Tribune asks on its front page, along with photos of the McGreeveys, the Craigs, the Kilpatricks, and the Spitzers.
No doubt the paper decided it wouldn't be fair during an election to include the Clintons, even though Hillary is usually thought of as Ground Zero in the exercise.
Maybe it's also because, as the Trib notes, "she did not appear at her husband's side during the live televised address in which he confessed to an inappropriate relationship with Monica Lewinsky."
But Hillary Clinton is conspicuous by her absence from the photo gallery. She can't win.
* John Kass manages to shoehorn the obligatory Clinton swipe in a column that otherwise chides Eliot Spitzer for "drag[ging]" is wife "like some prop" in front of the cameras the other day. Question: Do you think Silda Spitzer had any say in the matter? She reportedly was among the strongest voices among Spitzer's aides pressing him to not resign. And she reportedly has a brain and a will of her own, too.
* Kass writes that "Hillary Clinton stood by her husband, and she got her payoff, a New York Senate seat and now a presidential campaign." Because, you know, Hillary Clinton only got to where she is by marrying well. It's not even remotely possible that a woman who's pre-Bill commencement speech at Wellesley resulted in a Life magazine article or a woman who was advising the U.S. House Judiciary Committee during its Watergate hearings when she was 27 could possibly have had a successful political career on her own. I'm not sure if she's done much since then, though.
* Mara Tapp writes on the Tribune Op-Ed page that Hillary "set the standard for long-suffering spousal silence."
To the contrary, if anything, Hillary Clinton (for better and worse) set the standard for going public in that infamous 60 Minutes interview after the media had decided the affairs of politicians were public business.
If anyone set the standard for long-suffering spousal silence, it was Jackie Kennedy, the most cheated upon First Lady in history. Funny how no one asks why she stayed with her husband.
* Jackie, in fact, does make an unironic, a-historical and myth-embellishing appearance at the bottom of the Tribune story:
"[Dina] McGreevey, who listened with an incongruous smile on her face as her husband announced that he was gay, later told Winfrey, 'I smiled because I didn't want to break down. But, as his world was falling apart, he was still choreographing the entire day and how everything would play out. [He] told me when to smile, what to say if I was asked a question by reporters.
"'He was telling me what to do, and he said, You have to be Jackie Kennedy today. And I'm thinking, Jackie Kennedy - her husband was murdered. You lied and cheated on me, and I have to be Jackie Kennedy?'"
* Sun-Times editorial writer Deborah Douglas also weighs in, writing "In some quarters of the female universe, Hillary Clinton still suffers from a whiff of disrespect for not dumping Bill Clinton when his infidelities with White House intern Monica Lewinsky were publicly aired."
Douglas, though, is on the other side of the argument. "These women stand by because that's what they signed on for. They should be uplifted and supported, not denigrated and second-guessed."
I find that line of thinking equally incomprehensible. Outside of the part that is the public's business - the part where Eliot Spitzer allegedly participated in a crime he had sent others to jail for and secretly moved funds between shell business accounts to hide it - the rest is eally none of our business. Particularly the part about what goes on between spouses.
Client 9 From Outer Space
* I'm not endorsing the sentiments, just passing this on.
* Why is prostitution illegal?
* Is Silda Spitzer the Ghost of Jennifer Aniston Future? And I mean that in an entirely good way.
Sufferin' Suffredin
Methinks Larry Suffredin's career as a political reformer is over.
Schmoozing Sneed
"Hmmm: Despite Mayor Daley's furor over drunken cops behaving badly (criminally), police spokeswoman Monique Bond claims Sneed's item stating new top cop Jody Weis may have ordered roadblocks to target drunken cops in neighborhoods where a preponderance of police officers live . . . is 'absolutely not true. It's just wrong, emphatically wrong,'" Sneed writes. "How many more times, Monique, do I have to request a meeting with Weis?"
A. As many times as you print false rumors.
B. Until Weis realizes your column is the Emperor's Club of Chicago journalism and he can be Client 9.
C. Approximately a hundred more times than your paper's real reporters.
The Beachwood Tip Line: Where emperors are penguins.

Posted by Beachwood Reporter at 10:32 AM | Permalink
There Once Was A Man Named Zell
A tribute in limericks.
*
There once was a man named Sam Zell
Who drove mobile homeowners to hell
Named the Grave Dancer
Wealth grew like a cancer
He made the Cubs play in the Cell
*
There's a park named Wrigley Field
Whose owners want more profit to yield
First there were lights
Now naming rights
That Sam Zell has the power to steal

*
There once was a man named Sam Zell
Who bought the newspaper company from hell
He took on lots of debt
Kept his corporate jet
And really knows how to yell
*
There once was a mogul named Zell
Who had a great naming right to sell
Chicago's Wrigley Field
From tradition will yield
And Cubs fans can all go to hell
*
There once was a man from Trib Tower
Who had too much money and power
And as with the Cell
Said the former Sam Zell
I've rechristened myself Andre Braugher
*
There once was a Grave Dancer named Sam
He liked stories about puppies not scams
He swore like a sailor
And eschewed a tailor
And probably listens to Wham!
*
There once was a man from Trib Tower
Who had bucks and too much power
His name is Sam Zell
He had naming rights to sell
He demanded all Cub fans cower
*
There once was a complicated financial scheme
That to Sam Zell was structured like a dream
He sold Wrigley to the state
Used naming rights as bait
And Cubs fans he did ream
-
Tim Willette, Marty Gangler, Eric Emery, Marilyn Ferdinand, Steve Rhodes and Jerry "Bleacher Preacher" Pritikin.
Posted by Beachwood Reporter at 8:11 AM | Permalink
Paging Client 10
"Please oh please, scandal gods, let 'Client 10' be someone famous and in need of a take-down.
"Client 10 is Chicago's own link to the Eliot Spitzer debacle. Turns out someone wanted to transport prostitute "Chrissy" from LA to Chicago, and he paid for her ticket and everything. (A flight from LAX to O'Hare for $482.98. Not a great price. That's what you get for using Orbitz instead of Kayak, Client 10.)
"So far, no one knows if Chrissy actually made the trip, but if she did, then our Client 10 violated the Mann Act. Among other things."
- Chicagoist's Margaret Lyons
*
"Clients 10 through 20 may now board."
*
"If you are traveling with men acting like small children, you may now board."
*
"Client 10 please pick up the white courtesy whore."
*
United introduces The Emperor's Club: We know why you fly.
*
You've just won the Super Bowl . . .
*
Must . . . resist . . . such . . . speculation.
*
Must . . . encourage . . . such . . . speculation.
*
Client 10's lawyer reportedly charges up 50,000 hooker-earned frequent flier miles per hour.
*
Recently purchased by Client 10.
*
Customers who viewed that item also viewed this one. Just sayin'.
*
*
How did that get in there? That's not mine!
*
-
Marty Gangler, Eric Emery, Rick Kaempfer, Marilyn Ferdinand, Google Images, Steve Rhodes
Posted by Beachwood Reporter at 7:26 AM | Permalink
Celebrity Rehab Reunion
NOW UPDATED WITH POST-SHOW MATERIAL!
If you are anything like me, you can hardly wait until Thursday night's reunion show of Celebrity Rehab With Dr. Drew.
See, I'm an addiction addict. I can't get enough. They can't make more episodes of Intervention fast enough. I'm also a Dr. Phil convert, in part because of his expertise in addiction.
Here's an idea: The Addiction Network.
Anyway, we're all dying to catch up with our favorite C-list addicts, even though some of us already know that, for example, former American Idol star Jessica Sierra relapsed to the max.
Here are my predictions.
1. Brigitte Nielsen. She is, as fellow cast member Ricco Rodriguez said in the finale, the 2-1 favorite. I think she'll make it. I don't think she ever wants to drink again. The only catch is that she rejected the after-care sober living arrangement that each and every one of them needs, opting for her own specialized Plan B. But judging by the latest blog entry by Dr. Drew, she's gonna make it after all.
UPDATE: Brigitte Nielsen is a rock. She's emerged from this show with an entirely different reputation than she gained from her awful Flava-Flav shenanigans. She's been tempted, but she hasn't relapsed, and even if she does - because even the best of recovering drunks and addicts do - she's going to not only make it but inspire and motivate the others to make it as well.
2. Ricco Rodriguez. I kind of hate this guy, and I'm guessing he'll relapse. He still has an anger management problem. But he's come a long way. He was almost convincing in his commitment to sobriety in the season finale.
UPDATE: I have to admit that Ricco Rodriguez is proving me - and others - wrong. Partially because he's so hell-bent on proving everyone wrong. But so be it. He fulfilled his promise to "hit 90 meetings in 90 days," which is pretty amazing. I couldn't do it, and I'm not an alcoholic. Another corny success story.
3. Seth "Shifty" Binzer. I've hated this guy from the start, and that's what made it so hard when I learned that he wrote and performed "Starry Eyed Surprise." I love that song. (I guess he's in Paul Oakenfold's posse.) And by season's end, he seemed to finally understand the depth of his disease and what he has to do to conquer it. He became an effective counselor of others. He might make it after all.
UPDATE: I don't think it's a surprise that Shifty relapsed. I did find myself sympathetic for the first time. He's really trying, but as Shelly pointed out, you can't hang out in the environments that Shifty hangs out in and expect to stay sober. Particularly just four months in. As Dr. Drew has pointed out, Shifty is one of the real hardcore cases. Shifty himself knows he's sick. It's going to take him a while. But one bad slip and he could end up dead.
4. Joanie "Chynna" Laurer. Just kind of clueless for most of the show, she's a total wildcard. But she seems to have had an epiphany by season's end.
UPDATE: Still a total mystery. She still doesn't seem to know what the hell she was doing in rehab. She seems lost. But Brigitte pledged to her that she is "her Viking friend." Brigitte is Joanie's best chance.
5. Jaimee Foxworth. Still tenuous and vulnerable. Still partially in denial, and fully into addict excuse-making. She hasn't totally bought in. Dr. Drew says in his last blog entry that he knew she would use again within a couple days of leaving treatment. But she did, surprisingly, agree to go to sober living. I found it interesting that Dr. Drew wrote "She's a really substantial person." I believe it.
UPDATE: No surprise, Jaimee learned that she really should have gone to sober living. No shit! She's also still smoking (she's a pothead). Now she has it under control, though. Right. That's addict talk. Brigitte has it right realizing that she can't have even one drink. Moderation management is just another word for denial.
6. Jessica Sierra. Well, we know she relapsed badly. You could see at season's end how vulnerable she still was. There was little question about her using again; she still has a long way to go.
UPDATE: "Jessica Sierra did not attend because a judge rules that she is not allowed to be within 100 feet of a camera or a microphone," the official Rehab blog says. "Dr. Drew isn't pleased about that.
"'Jessica is amazing. It was a major loss that she couldn't be at the reunion,' he told me later. 'She was a beacon in that group. She's obviously a firecracker, but for me she was a go-to person in the group. That's why I was so pissed off that the judge was so rough on her. He treated her like a bad patient. She isn't a bad patient, she's just a sick person.'"
Jessica is probably the most sympathetic member of the group. She has a long way to go, and a lot of trauma to overcome. Reading the blog comments about and from the women in the group, you see the common threads of how much being valued for their appearance and sex appeal plays with them. It's not just the celebrities who are sick; it's the celebrity and media culture.
"Mary, who bonded with Jessica the most closely (the two of them and Jamie dubbed themselves the 'Mary J's') explained just how big of a firecracker Jessica can be," the VH-1 blogger writes. "'I had a bad experience with sober living because Jessica and I got into a fight, we were roommates there. She attacked me, she tried to choke me. I packed up my stuff and left, a week into it.'"
"They've since reconciled and Mary visits her in rehab. Mary told me stuff about Jessica's current frame of mind that I'm sure would sadden Dr. Drew if he's not already aware: 'She's really excited that her porno's up to No. 1. She needed money really bad, so she told the guy that she'd do it.'"
7. Mary Carey. Along with Jessica, the most vulnerable and a sure bet to relapse. I don't know if she believes yet that she will lead a happier life sober than the life of an addict she is living now. Plus, this is just sad.
UPDATE: Like Jaimee, Mary is not quite there. She's given up hard liquor, she says, but still drinks wine. And she still has a lot of personal work to do. Hey, this stuff takes time, so we shouldn't expect miracles. But . . . this is disturbing.
"I'm happy with the experience I had in the porn industry. It's definitely unique," she says on the show's blog. "It's a weird industry . .. I could never win (the AVN Award for) Performer of the Year, which is the girl who does the most dirty movies of the year. I never did anal, I never swallowed, I never did two guys at once. People in porn think I'm lame because I don't do that stuff, but I feel better about myself not having done it. I save anal for personal life!"
And she has huge new breasts. Like I said, though, it's not just the patients who are sick.
P.S. I missed the end where apparently Mary had some big secret to reveal. Anyone?
8. Jeff Conaway. Apparently Scientology is helping him stay sober. But you know, I think he'll go back to pain-killers and/or kill himself at some point.
I'm not joking blithely, folks. It's incredibly and horribly sad. His is a portrait of someone who has not been able to face up to and overcome awful childhood trauma, and who among us can say with any confidence that we could do better?
He was not a sympathetic character on this show, in my book, but then, he and the others aren't really characters, they are real people, and we saw one in just about as bad a place as we can imagine.
UPDATE: We learned that counselor Bob Forrest was once 12-stepped by . . . Jeff Conaway! During a period of sobriety, Jeff counseled others! But here's what he says on the blog:
"I was there to do a job and whatever rehab came out of it was a perk. It was an add-on. I'm an actor. Hire me and I do my thing. As an actor, there's a myriad of choices you make, so I would choose the one that would be the best for the show and do that. So, in a way it was acting, but it was real."
And it turns out, his fellow rehabbers suspected as much.
P.S. Brigitte said Vicki, Conaway's evil girlfriend, needs rehab herself. Which we all know, but it was great that she said it so directly.
9. Daniel Baldwin. This guy seems like a total jerk who too readily uses his considerable intellectual and emotional talents to fool and rationalize those around him and himself. I do not say that with joy.
UPDATE: A no-show. Several rehabbers said they felt like Baldwin let them down. Dr. Drew seemed more sympathetic. I think he's in great danger.
10. Shelly Sprague. I have to admit, I have a little crush on Dr. Drew's assistant. The celebrity addicts didn't seem to like her much; I guess she was bad cop to Dr. Drew's good cop. I thought she kicked ass. All business. And yes, great glasses. And a horrible past. A former addict herself, she was as low and lower in her previous life than any of the celebrities on the show. Maybe someday the inmates will show the proper respect and gratitude to their warden that she deserves.
UPDATE: Jaimee apologized for her behavior towards Shelly and Ricco gave her major props. I'm in love with Shelly, though I worry that she's too thin.
ADDENDUM:
* Dr. Drew appeared on Larry King Live - and probably elsewhere - to talk about the woman identified as Eliot Spitzer's prostitute. Guess what common thread runs through her childhood?
* "Mitch Winehouse: I Ruined Amy's Childhood."
-
Celebrity Rehab's reunion show premieres on VH1 on Thursday at 9 p.m. CST. Though Jessica Sierra appeared on The Tyra Banks Show recently, she and Daniel Baldwin reportedly did not attend the reunion show.

Posted by Beachwood Reporter at 2:42 AM | Permalink
March 11, 2008
The [Tuesday] Papers
Client 10 to the Blue Concourse!
Rezkorama
The New York Times today devoted an entire story to the latest mention of Barack Obama in the Tony Rezko trial, and with a tone altogether harsher than the locals:
"An e-mail message made public on Monday in the fraud trial of Antoin Rezko, a businessman and political contributor, brought attention to Barack Obama's role in discussions involving a state health planning board that Mr. Rezko is accused of improperly influencing," the Times said.
"The vaguely worded message also seemed to raise the possibility that Mr. Obama, who at the time was chairman of the Illinois Senate's health committee, had been involved in recommending candidates for the board."
While the local papers today downplayed the Obama mention - and I'm not saying they shouldn't have, it's really not clear to me - the bigger picture that may get lost by the home team that I think the national press might be looking for is not whether Obama did something obviously sleazy but simply whether he practiced politics as usual here in Illinois, rather than acting as the transformational figure of a new kind of politics that he sells himself as.
*
UPDATE 10:37 A.M.: You can see the e-mail for yourself here, courtesy of Lynn Sweet.
Pitching Fork
"Asked to name the most successful new publication of the Internet era and you'd be hard-pressed to find a student of new media in general and music journalism in particular who wouldn't say Pitchfork, the mostly Chicago-based Web 'zine that has become a must-read for every fan of adventurous cutting-edge music and independent rock," Jim DeRogatis writes.
I'm not a huge Pitchfork fan per se, but I often use it as an example of what newspapers could have done but didn't as they cowered in the corner when the Internet came along. Whether Pitchfork or YouTube or the plethora of sports blogs or The Huffington Post or CTA Tattler, the innovation of the age has - and is - coming from outside the mainstream media industry, and that's why it's in so much trouble.
*
Anyway, DeRogatis interviews Pitchfork founder Ryan Schreiber about expansion plans that include on online music channel launching next month.
*
Meanwhile, Greg Kot reports that "Public Enemy will perform its 1988 classic, It Takes a Nation of Millions to Hold Us Back, as part of the third Pitchfork Music Festival, July 18-20 in Union Park." (The Trib website is driving me crazy right now so I'm not even going to provide a link. That's all you need to know.)
*
Maybe DeRogatis and Kot should take their Sound Opinions franchise and turn it into . . . a website, a magazine, a music festival and even a record label. Just a thought.
Think of your future, boys!
That's Stella!
Stella Foster wants Tyra Banks to stop using the word "booty" so much. "Try substituting rear end, butt, buttocks, rump, bottom, behind," she writes.
*
Stella also thinks Paula Abdul should be removed from American Idol because "It is always as if she is running for prom queen."
*
Stella also says "The Sun-Times is so worth having in your life."
*
The Sun-Times pays Stella to sprinkle these insights amidst re-typing names, dates and times from press releases.
Yeah, I said it. Sigh.
Daley Tax
Todd Stroger is likely getting heat for his recent tax increase, but how 'bout directing some ire at the Daleys?
"[Mayor] Daley also defended the Cook County Board for its recent approval of a 1 percentage point increase in the sales tax to fill a budget gap. 'When you have the state government giving less money and the federal government absent in regard to rebuilding American cities, you have to make tough decisions,' said Daley, whose brother John is the board's Finance Committee chairman and voted for the increase," the Tribune recently reported.
So just to be clear: Mayor Daley supported the tax increase, as did his brother John, who is the board's Finance Committee chairman.
*
It's also worth noting that while Stroger's tax increase gives Chicago the highest sales tax in the nation (among major cities, at least), the rest of that tax is the responsibility of Daley. Stroger merely knocked in a run in the ninth to complete the rout.
*
It's also worth remembering that Stroger didn't and doesn't have a vote on the board, even though he is the county president. In the deal that put him in office, Bill Beavers took John Stroger's place as District 4 commissioner. Todd Stroger can't even vote for his own proposals.
Which isn't to excuse him. To the contrary. He's being played the fool all the way around and still doesn't seem to know it.
Paging Liberty Mutual
"A Gold Star For This Considerate Blue Line Motorman."
The Beachwood Tip Line: Motorin'.
Posted by Beachwood Reporter at 9:06 AM | Permalink
Chicagoetry: Gimme Back My Bullets
GIMME BACK MY BULLETS
Put 'em back where they belong.
I ran to a gangfight and a
classroom broke out. HO-la!
I shouted out
DRUGS FOR
WHITEY!!!
Whitey don't care unless the
dead kid white.
WHOOPS!
Sorry, fellas . . .
This morning on Chicago's Very
Own Champs d'Elysees, North Avenue,
I walked alongside a funeral
procession. The hearse
silver, head of a
snake, scaled like a pearl-string of
late-model,
mid-size sedans.
Felt
my pockets
for my
bullets. All good!
Schanna boom-boom,
yeah, Sister,
gotta barrel that's a-blue
and
cold . . .
-
J. J. Tindall is the Beachwood's poet-in-residence. He can reached at jjtindall@yahoo.com. Chicagoetry is an exclusive Beachwood collection-in-progress.
Posted by Beachwood Reporter at 7:39 AM | Permalink
March 10, 2008
The [Monday] Papers
1. "Why is it that so many people who are paid to write about and talk about sports in this town can't figure out that Jerry Angelo knows what he's doing?" our very own Jim Coffman asks today in SportsMonday, where he makes a case for Angelo's off-season.
2. "The Dave Clark Five were the Beatles if Ringo had been a heavy metal drummer and George had played sax at Chess Records," our very own Don Jacobson writes in his appreciation of the band in RockNotes.
The Dave Clark Five will be inducted into the Rock and Roll Hall of Fame today.
3. "Legions of penny-pinchers, united in the thrill of the bargain hunt, have found Target a target," the Buffalo News reports (hat tip: Consumer World).
"Shoppers across the country regularly search out what they call Target's "secret sales," and many share the details of their hunts in online forums.
"Dubbed 'perimeter perusing' by those who engage in it, the name comes from the location of most clearance items found at brick-and-mortar Target stores."
4. "Backed by U.S. Rep. Danny K. Davis (D-Ill.) and other lawmakers and activists, Deputy Gov. Louanner Peters said the Chicago Sun-Times and House Speaker Michael Madigan (D-Chicago) wrongly suggested politics played a role in Blagojevich's 2005 pardon of Sharon Latiker," the Sun-Times reports.
There's a deputy governor?
*
*
Plus, of course, a lieutenant governor.
*
Here's an idea: Can any of them drive a bus?
5. Apparently cops are calling new police chief Jody Weis, a former FBI agent, "J-Fed."
*
According to Urban Dictionary, "j.fed" can also mean "The state of having an unnatural addiction to old episodes of Boy Meets World," i.e., " His obsession with Topanga has totally gone j. fed."
6. The Bill Foster-Jim Oberweis special election over the weekend was of national import for several reasons.
* The congressional seat up for grabs was that of former U.S. House Speaker Dennis Hastert.
* The race was viewed by national pundits as an early weather vane to the fall election (even if the battle was between a bumbling candidate versus a lackluster one).
" It was another test of the blogosphere's potential influence on local races; having failed to do much damage in its opposition to U.S. Rep. Bill Lipinski in his recent re-election rout, the liberal netroots tried again by supporting Foster.
But despite these factors and turnout in the presidential primaries soaring, the election was disappointing in at least one regard.
"Gov. Rod Blagojevich scheduled the special election on Saturday as an experiment to see whether it would increase voter participation," the Tribune reports.
"But the turnout was low, with barely more than one in five of registered voters making it to the polls."
7. I believe it was the late Steve Neal of the Sun-Times who named Jim Oberweis "The Milk Dud." Here's why:
"Oberweis has now spent nearly $9 million of his own money on six elections the last six years and still does not hold elected office," the Tribune account notes.
"The investment manager is better known for his family's home-delivered milk and ice cream shops but could not translate that profile to victory."
8. The Tribune's gentle handling of Austan Goolsbee, the controversial University of Chicago professor who is Barack Obama's chief economic advisor, featured Goolsbee's mother calling the Canadian consulate general here in Chicago a liar (or an incompetent).
"It's very frustrating for him, because he says everything that's being said about what he said is all very false," Jane Goolsbee told the Trib.
Well, that's what Austan is telling his mother. He's not telling the rest of us anything.
"Goolsbee has kept a low profile in the two weeks since his Canadian misadventure first became news, and he did not respond to repeated requests for comment," the Trib notes.
*
"He's basically a volunteer," Axelrod said as he distanced the campaign from the heretofore rock star advisor.
Axelrod then took a call from the producers of Moment of Truth and declined an invitation to appear on the show.
9. This is sad.
- Bethany Lankin
10. "You don't have to like heavy metal to appreciate this dark, headbanging corner bar; you don't even have to like alcohol. No, the main thing is that you're into burgers, because Kuma's, unlikely as it seems, serves the best in Chicago," Jeff Ruby of Chicago magazine writes in Playboy.
"Take a look at that menu of 20 intriguing half-pound black Angus burgers named for the owners' favorite bands: Dark Throne (with chipotle peppers, goat cheese, pico de gallo); Melvins (basil, prosciutto, mozzarella); Motorhead (goat cheese, kalamata olives, oregano, tzatziki, onion, tomato). They're all well thought out and carnivorously debauched beyond words - but the centerpiece is the Kuma burger, a masterpiece piled with bacon, cheddar, and a fried egg on a puffy Labriola pretzel roll. Ask for yours rare, and rest assured there will be blood."
The Beachwood Tip Line: Medium well, please.

Posted by Beachwood Reporter at 8:45 AM | Permalink
SportsMonday
Why is it that so many people who are paid to write about and talk about sports in this town can't figure out that Jerry Angelo knows what he's doing?
Angelo took over a franchise that was lost in the wilderness a half-dozen years ago. The Bears had followed the disastrous Dave Wannstedt regime with the Dick Jauron fiasco (Jauron, who was hired before Angelo arrived, lucked into a divisional championship and a first-round playoff bye early in Angelo's tenure but then his team choked away a home playoff game against the Eagles and went downhill from there). At the end of Jauron's tenure - marked most ridiculously by the employment of the most out-of-his-element offensive coordinator (John Shoop) in the NFL in the last quarter century - Angelo hired Lovie Smith. Meanwhile, he was bringing in all sorts of talent - particularly impressing with his ability to find great players in the middle of the draft and with his willingness to go get the players he most wanted early in free agency. The Bears returned to the playoffs in 2004-05 and went to the Super Bowl in 2006. They did so without a big-time quarterback.
They had a bad year last year. They need upgrades, on offense in particular. And Angelo has made some moves. They aren't great moves (other than re-signing Lance Briggs for what everyone seems to agree is a bargain price), but they are solid. There are clearly more moves to come. The most important thing about the Bears defense is the health of the primary guys up the middle (Tommie Harris and Brian Urlacher) and they showed signs late last season that they were finally returning to full speed. On offense, the Bears need to get the running game going behind a running back who isn't currently on the roster. I'm confident they will draft at least one player who will fill the bill. Even more importantly, either Rex Grossman or Kyle Orton need to step up and show they can lead a team to post-season success. They both showed both during shorts stretches of last season and in longer stretches in previous seasons that there is reason to believe they could do that. The Bears will also probably draft a guy who will become their quarterback of the future.
The off-season move that has apparently upset the most people is the loss of Bernard Berrian. Berrian's departure, along with that of well over-the-hill Muhsin Muhammad, leaves the Bears without either of their starting receivers from last year.
So what. Were the Bear receivers so good that there shouldn't have been a complete overhaul in that area? These were the receivers who were at or near the top of the league in passes dropped all season, the receivers who failed to consistently create distance between themselves and defensive backs. And who were the Bears receivers who clearly showed the most promise last year? They were Greg Olsen and Devin Hester (oh by the way I don't want to see Hester starting at wideout - he is way to valuable as a return man and he can do plenty of damage as the third receiver who comes in during obvious passing downs. He also can't block to save his life.)
The Vikings obviously overpaid Berrian. If there is ever going to be even a slight slowing of the thing that drives most sports fans the most nuts - player salaries that grow by leaps and bounds each year no matter what - more general managers have to do what Jerry Angelo did and let guys like that go (and like the Patriots let top cornerbacks Asante Samuel and Randall Gay go this off-season).
But this move is also justified by what goes on on the field. The main thing Berrian gave the Bears was breakaway speed. He had the ability to hit the home run or at least stretch out defenses. Well, Hester can do that. Otherwise the Bears need guys like Olsen who can run good routes (a Marty Booker strength). And maybe, just maybe, Brandon Lloyd will finally decide to find himself this fall.
I'm not entirely optimistic. How can the Bears not have done anything to bolster the offensive line? Again, though, it is still early in the off-season. Many more moves await.
In other news:
* Patrick Lalime gave up six goals on 19 shots for the Blackhawks on Sunday as the team suffered a crushing 6-5 overtime loss to Edmonton. It was noted in this space about a month-and-a-half ago that the the Hawks weren't quite good enough to make the playoffs in the loaded Western Conference. We stand by that assessment.
* You could not possibly make up the myriad ways the Bulls have self-destructed this season. There was a great breakdown of all that is wrong with the squad written by K.C. Johnson in Sunday's Trib. It began with the latest incident, one that involved Aaron Gray - Aaron Gray! - the scrub second-round seven-footer who caught on with the Bulls by the grace of God at the beginning of the season (they didn't have anyone with center size and any kind of real promise so they held onto the former Pitt standout). Gray, who showed a tiny bit of promise early in the year but they tapered off, apparently popped off to coach Jim Boylan after he returned to the bench after a typically ineffective run of playing time last week. The bottom line here is that if Gray feels as though he can disrespect the coach, everyone feels that way.
But that wasn't the worst of it. Let's set another special scene: Boylan is apparently watching the Duke-North Carolina contest on Saturday evening and up there in the crowd . . . that's a familiar face. It's backup point guard Chris Duhon. Tough night for Duhon because not only did his beloved Dookies blow a late lead and lose to the Tar Heels, but also he hadn't received permission to attend the college contest. And when he then missed a Sunday morning shoot-around with the Bulls, he was fined and suspended for last night's game at Detroit. And that game turned into the second straight loss in which a Bulls team that used to take pride in its defense allowed more than 114 points.
How much longer 'til this season ends?
* A very nice outing for Mr. Ryan Dempster on Sunday, allowing a run on a hit in four innings of awfully good work for the Cubs. Always remember, Dempster was once a very good starter for very good Florida Marlins rotations. If he is ready to rock, the Cubs have to be feeling very good about the first four spots in their starting rotation. Yeah, yeah, I had a little (Cubbie) blue Kool-Aid with my breakfast this morning but Carlos Zambrano and Ted Lilly should at the very least repeat their strong 2007 performances, shouldn't they? And all Rich Hill has done the last two seasons is continue to develop into one of the top young lefthanded starters in the National League. This is practically a Fearsome Foursome already.
-
Jim Coffman brings you the city's best sports roundup every Monday. He does so out of love.
Posted by Beachwood Reporter at 6:22 AM | Permalink
The Hispanic Dilemma
Recently, a demographer filed a report for a Chicago suburban school district about its future enrollment projections. In it, he remarked that although the white population will remain as the dominant racial group in the district, the Hispanic population is projected to grow dramatically by 2011. This is to say there is a category of people characteristically and, to an extent, visibly different from white people just as we distinguish blacks, Asians, and Native Americans. But according to the United States Census Bureau, Hispanic Origin is not a racial category. In fact, the Bureau's document specifically states that "the Hispanic percent should not be added to percentages for racial categories." So why do so many people, including some experts, have such a hard time defining and understanding who Hispanics are?

The Census currently asks if you are of Hispanic Origin, to which one can answer yes or no. Based on this answer, combined with an answer on racial category, Hispanics can be subdivided into blacks, whites, Asians, Native Americans, Pacific Islanders, and Some Other Race, just as non-Hispanics are presented with the same set of categories. This arbitrary exercise attempts to recognize the diversity of Hispanic populations using an American context of race. Hispanic Origin most typically refers to those from Mexico, Puerto Rico, Cuba, and Central or South America. But this group also includes Spaniards and Filipinos who speak Spanish. Having lived under the racial dichotomy of black and white for most of its history, U.S. society has struggled with groups that do not fit into those two categories. Now that the percentage of Hispanics (14.8% in 2006) exceeds that of blacks (12.4%) as the largest racial/ethnic minority, it is time to be aware of proper classifications.

In 2000, Illinois had 1,529,141 residents who were classified as Hispanic, with nearly half (49.3%) living in Chicago. Racially, 45.8% of these Hispanics identified themselves as whites (700,156) and 46.5% were counted as Some Other Race (710,911). By 2006, the Hispanic population grew by 23.5% to 1,888,439, with substantial growth found in those areas outside of Chicago. In fact, 90.4% of all Hispanics in Illinois (1,707,810) reside in the Chicago metropolitan 6-County area, with 933,768 in the suburbs. The whites among Hispanics, however, did not grow as dramatically as those who selected the Some Other Race category: the whites increased by 2.4% to 717,089, while Some Other Race grew 50.6% to 1,070,556. This means that 38.0% of Hispanics were white where as those who identified as Other Race among Hispanics became the group's racial majority at 50.6%. This rapid growth of the Other Race category, and the declining rate of growth among Hispanic whites, may not be reflecting real changes among Hispanic populations but merely changes in how they racially identify themselves.

Spatially, the distinction between whites and Some Other Race seem quite evident, with substantially higher levels of concentration for Hispanic whites in the suburban areas. There are a number of ways to speculate why this is the case. It is possible that American racial categories are unclear to many Hispanics, particularly those immigrants who have never considered their identities along racial lines. Or, as European immigrants have previously experienced, being or becoming white is seen as an important indicator of assimilation.

This type of categorization constantly changes and that is why sociologists argue race and ethnicity are not biological, but a social construction. It is inevitable that the next generations of Americans will construct their own understanding of dealing with racial and ethnic diversity. When history reflects upon our interpretation, one can only hope the current tabulation is seen as a noble attempt rather than an ignorant one.

-

Kiljoong Kim is a research director in the College of Liberal Arts and Science. and a lecturer of sociology at DePaul University. For more Kiljoong, see the Who We Are archive.


Posted by Beachwood Reporter at 12:41 AM | Permalink
RockNotes: In Death, The Dave Clark Five Gets Its Due
I'm really kind of amused at how a good number of the obits for Mike Smith of the Dave Clark Five called the band unappreciated. Hell, I appreciated them even when, as a precocious moppet, they were the first band - other than the Fab Four themselves - to get a wall poster spot in my very, very humble 1964 bedroom, a place where Smith's growling "I like it like that" boomed out through the walls many times a day on the wings of a Sylvania solid state portable.
The DC5 were the Beatles if Ringo had been a heavy metal drummer and George had played sax at Chess Records. Their long string of classic British Beat, R&B-influenced songs in what was essentially a two-year period was truly tremendous, and Mike Smith's considerable contributions to their many melodic delights stand as a great achievement, surely deserving of a spot in the Rock 'n' Roll Hall of Fame. The Dave Clark Five's induction is set for today, so Smith's sad death on Feb. 28 from the aftereffects of a paralyzing accident was oh so ironically ill-timed.

Underappericated? Maybe. But I think I appreciated them enough for at least 10 or 12 people. As has been noted be some writers, the DC5 were British Invasion Band No. 2 for those two years, a position that ensured millions and millions of records sold. The Rolling Stones came along ("Satisfaction") and knocked them out of that spot as surely as the Beatles did to Pat Boone. But in their golden period, Clark and Smith really defined some key things that would later be incorporated into blues-based hard rock. Clark's gunshot drumming was louder than pretty much any other British band, and Smith's forceful vocals kind of remind me of an earlier Joe Cocker: A lot yelling and a whole lot of soul. He was every bit the worthy rival to, say, Eric Burdon. What they called the Tottenham Sound.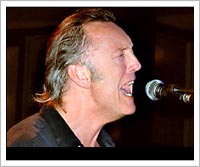 And they got tons of airplay. "Glad All Over," their first (and only) U.K. No 1. hit, was a constant staple of their Top 40 airwaves in early 1964. It was the first British Invasion No. 1 by someone other than the Beatles. It was followed quickly in the next few months with what's probably their defining R&B stomps, "Bits and Pieces," "Can't You See That She's Mine" and "Do You Love Me?" The latter song features an impressive vocal by Smith, demonstrating an incredible stretch. Then, that summer, came the haunting pop ballad side of the DC5, with "Because." That song highlighted yet another skill of Smith's, his memorable keyboard riffing in a band that didn't feature much guitar. He carried a big part of the instrumental load. (Much of the rest came from harmonica/sax player Denis Payton, who himself died less than two years ago).
What a year. Except that it wasn't over yet. Before Christmas, the band struck gold again. "Any Way You Want It" might be Mike Smith's magnum opus. His overpowering "it's alrights" building up to a thrilling crescendo with the title lyric is one of the key moments in the British Invasion, his double tracked-harmonies augmented with feedback distortion in a great touch by Clark, who, in yet another interesting thing about this band, produced the records and managed the band himself at at time when artists rarely had that option. The flip-side is that he was described as dictatorial.
The group reappeared on the radar in June 1965, when "I Like It Like That" and "Catch Us If You Can" washed over beaches and drive-ins everywhere. As I said earlier, "Like It" was one of Smith's most likable and memorable performances and probably my personal favorite. And "Catch Us" was perfect summer pop song, and just like the Beatles' "Help," it came from a movie the band made, Having a Wild Weekend - not exactly on a par with Richard Lester's Hard Day's Night, but most kids didn't care.
Everything peaked for the DC5 in the U.S. in the fall of 1965 when they finally got their only American No. 1, "Over and Over," a song that really crystallized the DC5 formula of foot-stompin' drums, Smith's soulful vocals and a wailing sax. But, in a harbinger of the future, this was also exactly when "Satisfaction" was making its paradigm-changing impact on American tastes, and it was never the same again for the Dave Clark Five. They didn't do psychedelia. They didn't want to drop out. They were more at home on the Ed Sullivan Show (where they appeared 18 times!) than in the streets protesting. The group soldiered on until 1970 and Smith spent most of the intervening years making a pretty good living as a music producer.
I think there are a couple reasons why the Dave Clark Five ended up being marginalized by history despite their once-overwhelming popularity. They of course were always unfairly compared to the Beatles, although in truth they only superficially sounded much like them. Their music was "good-timey" and upbeat, and thus became suspect once Baby Boomers got caught up in important things like changing world. It also didn't help that Smith never did interviews, was a bit of a recluse, and later, that Clark was reluctant to reissue DC5 music first on CDs, and then on digital formats (the group's music has just become available on iTunes, for instance, only in the last few weeks).
One of the things that made Smith's passing so sad is that he was still making some pretty good music before he was partially paralyzed in a 2003 fall at his home, which happened only months after his son Jamie had died in a scuba diving accident - now that's a true run of bad, bad luck. If being under-appreciated and victimized by fate ever has any real rewards in the hereafter, Mike Smith will be the richest soul in rock 'n' roll heaven.
-
Catch up with the RockNotes collection. It tastes great and it's good for you.

Posted by Don Jacobson at 12:31 AM | Permalink
March 8, 2008
The Weekend Desk Report
This whole report might be total bullshit. And you know what? I don't have to admit a damn thing.
Market Update
Due to spiraling energy costs, we have decided to "green up" the Weekend Desk by recycling a joke. President Bush this week conceded that the economy has slowed, but predicted things would improve rapidly right around the time he fixes the Middle East.

Meet the New Boss
Outgoing Russian President Vladimir Putin this week announced his baby-faced, puppet-like successor will be no less of a thorn in the West's side. Interestingly, Bill Gates said just about the same thing.
Headline of the Week
Oh, please. These people elected Snidely Whiplash six fucking times. How the hell is she going to lower their expectations any further?
Anagram of the Week
TONY REZKO TRIAL = ZERO KNOTTY LIAR
Body Politic
Chicago police hit out this week against public criticism of their recent weight gain by angrily confirming that they are, in fact, pregnant. Now back off, you vultures!
Artistic License
Finally this week, Hollywood has given to humanity a rare and beautiful gift: the unique view of a world populated by wooly mammoths, killed ostriches and nascent pyramids; a world here-to-fore experienced only by the truly visionary. What a rush.
Posted by Natasha Julius at 9:09 AM | Permalink
March 7, 2008
The [Friday] Papers
"Yes, Barack Obama's name came up on the first day of the Tony Rezko trial and Rezko didn't blush or flinch or twitch," John Kass writes.
That's because the real news to come out of day one was about a Republican. Kass explains.
*
Not that Gov. Rod Blagojevich came away unscathed.
"Testimony from an FBI analyst pointed to a reason behind Rezko's influence: money. Special Agent Charles Willenborg said that internal Blagojevich campaign documents credited Rezko with raising more than $1.4 million for the governor between June 2001 and August 2004," the Tribune reports.
"That is nearly three times what Rezko has publicly acknowledged raising for Blagojevich. In a 2005 interview with the Tribune, he put the number at about $500,000."
*
According to calculations made by Beachwood Labs, the odds of Blagojevich being indicted this year are holding steady at 90 percent.
The odds of Blagojevich refusing to resign his office after said indictment are now at 95 percent. "That's who he is - nuts," our analysts say.
New on the board: The odds that Blagojevich flips - on himself. "50 percent. He's just crazy enough to do it!"
*
You know, I've always been a little disappointed that my "Gov. Baloneyvich" nickname hasn't really spread beyond the confines of the Beachwood. I do have to give props, though, to the Capitol Fax commenter whom I'm told has coined "Governor Subpoenovich."
That's Todd!
"Cook County Board President Todd Stroger spent Thursday lecturing the press about how a recent federal court report - accusing his administration of continuing patronage hiring practices - was full of lies and half-truths," the Sun-Times reports.
"'If you read the report, you'll find out that is the case,' he said. Turns out, Stroger admitted he hadn't even read it himself."
Meanwhile, Stroger revealed that he has starting reviewing records for Maxim magazine.
*
"Yet that federal report - filed Monday - provided a launching point for counterattacks by Stroger's most loyal County Board members, who voted Thursday to delay any payments to the federal hiring monitor's office until her report 'can be put in the proper perspective,' Commissioner Joseph Mario Moreno said."
Moreno suggested shredders are excellent perspective-providing devices.
"Commissioner Jerry Butler said the monitor, former Judge Julia Nowicki, should 'tell us why she wrote the report she wrote,' and she 'can wait' to be paid for the work she has already done."
See, Nowicki doesn't get it. The county pays you to not work. When you do, you have to explain yourself.
"Stroger's allies ripped the media for getting it wrong on details of the report, but Stroger said he'd learned what he has of the report from reading the newspaper."
Okay, where's Ashton Kutcher? Is Cook County getting Punk'd?
Dear Bicyclists
"My God I'm tired of hearing bikers whine about their lot," our very own Cate Plys writes in her latest Open Letter. "Don't you understand that most drivers are terrified of running into you? You think we want that on our conscience for the rest of our lives?"
Pork Chop
John McCarron defends earmarks in a Tribune Op-Ed today.
"What's so wrong with allowing elected members of Congress - or the president himself, through his executive departments - to insert special requests into a budget for particular projects?" he asks.
I know! I don't see what the big deal is about elected officials subverting the usual budgeting process to secretly award millions of dollars in taxpayers' money to projects of questionable value that are often rewards to campaign contributors or examples of currying favor with voting blocs come re-election time.
Next thing you know, they'll make it illegal to hire people on the basis of their political affiliation.
Earle Pearl
"There's no easy way to ask this, Steve, so I'll just say it: You've been married seven times to six different women, one of them twice. What makes you think this marriage to Allison [Moorer] is going to work?"
- From Jim DeRogatis's interview with Steve Earle
They Love the 90s
For a campaign that doesn't want to refight the 90s, the Obama campaign is sure refighting the 90s.
"If Senator Clinton wants to take the debate to various places, we'll join that debate," Obama strategist David Axelrod told the New York Observer. "We'll do it on our own terms and we'll do it in our own way. But if she wants to make issues like ethics and disclosure and law firms and real estate deals and all that sort of stuff issues, I don't know why they'd want to go there."
"I for one do not believe that imitating Ken Starr is the way to win a Democratic primary election for president," Clinton spokesman Howard Wolfson responded.
And now, in the role of Rush Limbaugh, comes Obama foreign policy aide Samantha Power calling Clinton "a monster."
What's next, Oprah taking target practice with pumpkins in her backyard?
The Wrigley Play
"If the state has its way, a TIF on sales taxes means you'll be funding the rehab of Wrigley Field," the Reader's Ben Joravsky reports.
Head Games
"In the worst periods of migraine suffering - in particular during the making of the record A Ghost Is Born - the cycle of pain and pain relief and pain killer abuse got really difficult to dig out of," Jeff Tweedy writes on the New York Times's migraine blog. (How great is the Internet?)
"I was rarely able to function for more than a few hours a day. For a lot of that record I was just trying not to be too drugged out and as a result I was suffering from enormous migraine type throbbing pain. Quite a bit of that came out on A Ghost Is Born There is a lot of material that mirrored my condition. In particular there's a piece of music - "Less Than You Think" - that ends with a 12-minute drone that was an attempt to express the slow painful rise and dissipation of migraine in music. I don't know why anyone would need to have that expressed to them musically. But it was all I had." (via Whet Moser's Chicagoland)
The Beachwood Tip Line: Jesus,etc.
Posted by Beachwood Reporter at 9:24 AM | Permalink
Open Letter
Yes, yes, we know: You're better than us. You care about the planet. You have a vast wardrobe of colorful biking outfits that you imagine make you look like you're racing up an Alp in the Tour de France rather than the gentle slope of a paltry Lake Shore Drive overpass. You assume the people you leave in your two-wheel wake are marveling at the reds, greens and oranges, envying you.
We're not. We're thinking that most of you are a bunch of smug, self-satisfied, frequently dangerous jerks. We're thinking you should lose about ten pounds before subjecting the world to those bike pants again. We're wondering how you manage to keep on that ten extra pounds if you're so damn active and healthy and wonderful.
That's just a small part of what makes Mayor Daley's proposed new ordinance for fining cars that even come close to bikes so incredibly annoying.
I think I understand why you bikers believe traffic rules are only for fossil fuel-using geeks. You're above it all! Or rather, I wish you were above it all, in a pedal-powered jet pack of some sort, so I wouldn't have to worry about accidentally hitting you when you pull another hare-brained maneuver in traffic. Don't you understand that most drivers are terrified of running into you? You think we want that on our conscience for the rest of our lives?
Oh, that felt good. Whew! I really needed to let that out. OK, now I can be reasonable. Wait, no. I feel more coming on, it's like having the flu . . .
My God I'm tired of hearing bikers whine about their lot. They'll ride slowly down the middle of a lane so cars can't go around them, but then when the cars are piled up at a stop sign or traffic light - we motorists have to pay attention to these things - they expect to cruise to the front of the line, no matter how little room is available for them.
Earlier this year I was at a dead stop at a traffic light, and a bike crashed into me. I am not making that up. He didn't want to slow down to maneuver the infinitesimal space between the cars and the curb, misjudged a few centimeters, and smashed right into my passenger side door. And here's the craziest part: I felt guilty. Almost jumped out of my skin, afraid I'd killed someone. Then I remembered I wasn't even moving.
That is perhaps the most laughable part about Mayor Daley's proposed ordinance, which fines drivers for passing a bike within less than three feet. Ha! The vast majority of cars steer as wide around bikes as they possibly can, often veering into the next lane or over the yellow line to do it. It's the bikers who like to squeeze into tight spaces. Then they're surprised when a driver doesn't realize they've materialized inches away.
Yes, I know there are crazy drivers out there too. That just makes typical biker behavior all the more insane. And here's where your holier-than-thou argument breaks down: You are not better than pedestrians, which includes me as often as possible. At most, you are the equal of pedestrians. So why do you treat pedestrians like vermin too? I have literally never seen a biker in my neighborhood stop at a stop sign, and that includes the time I watched a biker nearly run over someone crossing 56th Street, shooting through the intersection as if aiming for the poor bewildered soul, who by that time had seen the danger racing at her and stopped dead in her tracks. She would have been better off as a moving target. At the very last second, the biker made a sudden swerve around her. I thought she was going to drop dead anyway, from a heart attack.
Here's the thing that most royally jacks me off about bikers: I am one of you, too. Spring, summer, fall, I'm out there along the lake. I'm the one who actually slows down to go around pedestrians and says things like "on your left." I'm the only one who does that, I guess - it startles the pedestrians so much, it's almost counterproductive.
Admittedly, I bike the streets less frequently. I usually feel that if a distance is bike-able, it is also walkable, and walking in the city tends to be more attractive to me. Also, I think the current U.S. system for accommodating bikes in the street is nuts. More on that later.
But I cannot defend you, bikers, to people who are solely motorists or pedestrians, because I truly believe you are the worst traffic offenders out there, and your own worst enemy. I understand why your fellow travelers so often can't stand you. I speak especially to you maniacs who ride at night without so much as a reflector, in all-black outfits as if you're on your way to a Matrix costume party.
This is not the way to persuade a recalcitrant, car-addicted America to become more bike-friendly, as it should. It is the way to piss people off. It is the way to get killed.
Two years ago, I was driving down a one-way street with my kids when we all saw a van run into an older gentleman riding his bike in the wrong direction through the upcoming intersection. From his speed, it didn't appear to me that the biker could possibly have even paused at the corner, which would be a four-way stop if they bothered putting stop signs pointing in the wrong direction.
I hit the brakes, grabbed my cell phone and called 911, then parked and ran to the intersection. The older gentleman was laying on the ground, his bike partially on top of him, unconscious. His breathing was shallow. He had no helmet. The van driver was beside himself: he never saw the bike coming. The last time a lawyer called me about the case, the biker was still in a coma.
After the ambulance and police had come and gone, we left, feeling just as badly for the van driver as the bicyclist. Maybe you think that's wrong. I don't.
There's no question that this country needs to become more bike- and pedestrian-friendly. We should take plenty of cues from European cities. Here in Hyde Park, the city's idea of making 55th Street more bike-able was to send a crew of painters out one day to paint little bike pictures at intervals on the ground alongside the parked cars, as if the pictures held some magical power to expand the street or form a force field around bikers.
Why hasn't bike-crazy Mayor Daley figured out a way to start incorporating real bike-only paths wherever new development or streetscaping gets done? I mean bike paths that will actually one day form a biking grid, as in many European cities - a grid that lets people do useful things on a bike instead of just scaring pedestrians along the lake. Maybe because a real biking path system won't fit in Millennium Park. We don't need more bikes to rent. We need better ways for the existing bikes to get around, first.
Since the mayor is all over raising extra revenue through ferocious ticketing, why not start enforcing traffic laws among bikers? That's another handy European trick. And start re-doing intersections to incorporate bike boxes where bikers gather at red lights. Yes, it will annoy some drivers, because the system includes separate traffic lights for the bikers that let them clear the intersection ahead of the cars when the lights turn green. But the upside is that the bikers actually stop at the light.
I can live with that, and more importantly, more bikers would live with that system in place.
Sincerely,
Cate Plys
*
Open Letter is open to letters.
*
See who else Cate has written to - from Lin Brehmer and The Person Who Let Their Dog Defecate Near The Southeast Corner Of 58th And Kimbark to Fellow Parents Planning Birthday Parties and Macy's - in the Open Letter archive.
*
COMMENTS
1. From Gregory Perkins.
My dearest Cate: I was somewhat taken aback by your lack of professionalism when it came to your Dear Bicyclist article. Please don't pre-judge all bicyclists by the use of phrases such as "a bunch of smug, self-satisfied, frequently dangerous jerks" and "bikers decided en masse." In such, you have succeeded in polarizing our road community. What Chicago needs more than anything in this battleground that you have helped define is to build a sense of brotherhood on the road, not to justify the supposed animosity that you depict. I follow the laws of the road. If I don t, I accept responsibility for my infractions. My payment will most likely be my life, not a mere dent on a quarter-panel or a recurring nightmare.
For this reason, most cyclists are cautious not callous abusers of automobile rights. As far as the "vast wardrobe of colorful biking outfits" is concerned, most cyclists don these garments in an effort to be more visible to our automobile brothers, not to highlight pulsating buttocks. And yet if we are condemned for being too colorful, you also condemn us for wearing "all black" and being on the way to a Matrix party. Which is it? What are we to wear? Your contradiction disgraces the newspaper.
Chicagoans, let us set aside the hateful propaganda designed to create a chasm between us fellow commuters. We all want to arrive safely at our destination. I, for the first time, am fearful that some previously courteous automobile driver will now feel justified to adopt the militant stance of some journalist. I truly hope that my widow won t be in contact with you before summer is up.
2. From Peg Burke.
I'm a bicyclist too, and the only place I'll disagree with you is where you say if it's bike-able, it's walkable. No, no, no.
I'm in the Near Southwest 'burbs, and when it's nice out, I ride my bike downtown (14 miles, give or take) to work. Walkable, that's not.
I should point out, though, that I ride like that only in daylight, and only in nice weather. Suicidal, I'm not.
I rode downtown a couple times a week pretty much all summer. I found that, mostly, cars stayed the hell away from me. Trucks and buses, a lot of the time, would set themselves in such a way that they blocked other traffic when I went by. When I stopped at lights (my ride takes me down Western from 91st to Archer), more often than not, I'd have nice conversations with the folks waiting at bus stops.
In short, for the most part, my rides were a heck of a lot more enjoyable than I expected.
And, by the way, I made sure I was always wearing a screaming yellow shirt, and a yellow reflective helmet. No, these things aren't pretty, but they sure are visible, and when I ride in traffic, visibility is a priority second only to making sure my bike is in good working order.
So, you might ask, weren't there any problems on my rides? Sure there were. I was really kind of surprised at who caused the biggest traffic problems. Not cars, not trucks, not buses. Bikes. Other people on bikes
were the biggest problems. Goofballs on bikes would zoom around, never signaling in any way, cut me off, scare the hell out of me. Cyclists doing stupid things, and not wearing helmets. Cyclists refusing to
signal turns. Cyclists not even slowing down at traffic signs and signals. People who should know better, wearing outfits that made them pretty much invisible in traffic. Dingdongs who think they're Lance
Armstrong, trying to pass while cars were whizzing by a foot or two away. Morons with too much money who think their several-thousand-dollar bikes entitle them to do all sorts of really stupid
things in traffic.
Now, I'm not saying that there were never any fuzz-for-brains drivers who caused problems. I am saying that they were far fewer than the number of idiots on bikes. There are those drivers who don't think bikes
should share the road. About all I can do about them is keep as clear as possible. Even those drivers don't usually do more than yell something obscene out the window.
I agree with you that Daley's got it wrong. The problem isn't cars. The problems are that most bikers are stupid, and that the roads aren't designed to accommodate bikes and cars. You're never going to fix the
first. Fixing the second, if Hizzoner would lay off the TIFs, and lay off making sure his buddies get lots of contracts, would do a much better job of getting us all home safely.
3. From Kenneth Green.
Amen on the bike thing. I ride too, but am fed up with riders who believe the motto "share the road" really means "move out of my way, I'm on a bike and I'm not polluting the environment, pig." And my biggest
disdain is not for the hell-on-wheels bike messengers. It's the idiots who THINK they're bike messengers. Overweight Loop cycling commuters with all of the agility of Tupperware who somehow think that because they're downtown and because they're on a bike, they can conduct themselves in the same manner as bike messengers, i.e., squeeze between cars at a light rather than just stay behind one car like the vehicle they are, cut through stop lights, ride in the far left lane, etc. It's a wonder the streets aren't littered with dead IT-worker carcasses, pants clips and flattened Dasani water bottles.
And to make matters worse, they often alternate between the street and the sidewalk in some schizophrenic dance. Hey, Lance Armstrong: Vehicle or pedestrian? Make a choice and stick with it!

Posted by Beachwood Reporter at 6:22 AM | Permalink
March 6, 2008
The [Thursday] Papers
With Wheel of Fortune in town and taping shows at Navy Pier, I thought I'd tell a little story today before getting to the news.
When I was in college at the University of Minnesota in the 1980s - I was there most of the decade because I was having too much fun to leave - one of my buddies got our circle of friends hooked on Wheel for awhile. We would hunker down every night at 6:30 p.m. for 30 minutes of puzzle-solving and hijinks, before moving on to mere hijinks.
When word came that the Wheel was coming to Minneapolis to audition contestants, my enthusiastic friend, Eddie, gathered us together in a mission to get one of us on the show. So we went to the tryouts.
The first thing they had us do was to basically fill out hangman-type puzzles. This, oddly, eliminated five or six of us. I say oddly because, well, we weren't idiots!
Then the show staff had the remaining competitors play a mini-game of Wheel, with a, um, mini-wheel.
Two of my friends made the cut and I flew out to L.A. with them to watch them tape the show.
My friend Chris was a geography major at the time, and when Pat Sajak asked him what he planned to do with a geography degree, Chris said, "Make maps, I guess."
Chris didn't fare well on Wheel, ended up in business school and has worked for a major credit card company for many years. Maybe Sajak spooked him.
Chris's cousin, Bob, on the other hand, won a tropical vacation, some furniture, and a lifelong supply of something or other, maybe breath mints or some type of household cleaner. In the finale, Bob stood alone with Sajak trying to solve the big bonus puzzle and kept saying, "Seven . . . seven . . . seven . . . " The answer was "Seventh Heaven," but Bob never quite got there.
A few years later, Eddie dragged me to a taping of The Jenny Jones Show, which wasn't nearly as much fun. But you need someone like Eddie around to corral you into things like that you might not otherwise do. (His latest is writing crossword puzzles; he recently had one accepted by the New York Times.) I love telling people I had a couple college friends who were on Wheel of Fortune.
My goal now is to someday make it to Celebrity Rehab With Dr. Drew. I'd like to go to group in the mornings, ride horses in the afternoon, and drive the Pasadena clinic staff crazy at night. Then my life will truly be complete.
*
UPDATE 9:57 A.M. FROM CHRIS
The only other thing I would add would be how they screwed up on that one game, made us wait a 1/2 hour while they got an official ruling from the Merv Griffin Enterprises rules committee, and then threw out the game I was just about to win. That scarred me.
Other nuggets:
1. Eating dinner with everyone on the set including Pat and Vanna.
2. In the bonus round, Pat spun the wheel, landed on $5000. I guessed "L", there were 2. I guessed "BULL HORN". Answer was "FULL MOON". Almost got $10,000!!!
3. How cheesy the set was.
*
UPDATE 11:55 A.M. FROM EDDIE
You forgot to mention how I made you house me while I tried out for Jeopardy in Chicago a few years back. Though I get rejected for many things, I still get back up on that horse, baby!!!!!
*
"Wheel, you have let me down," our very own Leigh Novak writes in A Wheel-Watcher's Lament. "You aren't what you used to be.
"I understand the need to adapt. But you have gone too far with your fancy-dan graphics and ridiculous new puzzle topics - not to mention your lewd sponsorship stroking. The only thing worse than Pat Sajak deliberately fondling the cute female contestants is the constant fondling of product placers."
Site Note
If you've had sporadic problems getting onto the Beachwood (or our sister site, Ferdy on Films) this week, it's because our hosting provider, Media Temple, is once again providing the best service it can possibly muster.
Milk Bones
The Sun-Times editorial page at least acknowledges the irony inherent in its endorsement this morning of dairy magnate and immigrant-baiter Jim Oberweis for the U.S. House.
"The Sun-Times in recent months has made a point of returning to its political roots, speaking with a more progressive editorial voice than our competitor, the conservative Chicago Tribune," the paper says. "Yet now we find ourselves backing Oberweis, a rock-ribbed Republican, while the Tribune sides with Foster. Like all leaders, Oberweis has a point of view, which he argues forcefully and effectively.
"But after meeting at length with both candidates, this endorsement was not such a difficult call. Oberweis was forceful and informed, while Foster was a disappointment. Though a respected physicist, he failed to do his homework, unable to discuss important issues in anything but superficial terms."
That may be true; I wasn't there and I don't know much about Foster or his campaign. And there is some merit to the paper's concluding thought: "Our endorsement is a vote for competence, personal leadership and an individual who will effectively represent the 14th District in the important debates in Congress over issues that will mold our future. We believe those debates are the essence of our democracy and require well-informed and articulate people from both sides of the aisle."
But Jim Oberweis? The Milk Dud?
Don't take it from me. Take it from the Tribune editorial page, which writes today in a must-read editorial that "any similarity between the Oberweis campaign and the truth is pure coincidence."
News Bits
* "Beleagured County Hospital Chief To Quit."
His pension lets him keep the car though, and a lifetime supply of free gas.
* "CTA Forced To Cut $200 Million."
Will use new credit-card fare machines to pay for the rest of its budget.
* "Ald. Freddrenna Lyle elected city chairman of the Cook County Democratic Party."
But Vladimir Putin will continue to be the real power behind the scenes.
Pardongate
"Gov. Rod Blagojevich's administration presented a confusing picture Wednesday of what his office knew about a woman who received a criminal pardon from the governor in 2007, even as her school received a $1 million state grant to re-opened after being burned out of the Pilgrim Baptist Church," the Tribune reports.
Blagojevich insists he's not Pardon Official A.
It's 3 a.m.
The phone rings. It's Jerry Angelo. I know it's late, but can you play offense?
- Dan Dorfman
*
See the whole 3 a.m. series, exclusively from the Beachwood!
Dese Dose Dems
A Mayor Daley Impersonation Contest.
Team Beachwood?
Civic Building
"A lot of people apparently don't know the process of the trial - the fact that there is a defendant and plaintiff, what a civil trial is versus criminal, and what the judge's and jury's role is in the process," our very own Nikki Golden writes today in Jury Duty. "Thankfully, when you first show up, Lester Holt, who as far as I know hasn't been a Chicago anchor - nor had a mustache - since about 2000, narrates a video that describes to you the whole process so you will know what's going on."
The Beachwood Tip Line: On trial.

Posted by Beachwood Reporter at 8:45 AM | Permalink
Jury Duty
For those of you keeping tabs of the hour-by-hour coverage of the Tony Rezko trial, you might be thinking to yourself, "That can't be the way they select a jury for such an important, much-discussed trial."
You'd be partially correct. That's actually the way jury selection goes for all trials.
*
I have always wanted to serve on a jury, so when the notice finally arrived in my mailbox, I was hyperexcited. After having seen the process, however, I'm a little saddened. Some things I learned:
1. A lot of people apparently don't know the process of the trial - the fact that there is a defendant and plaintiff, what a civil trial is versus criminal, and what the judge's and jury's role is in the process. Thankfully, when you first show up, Lester Holt, who as far as I know hasn't been a Chicago anchor - nor had a mustache - since about 2000, narrates a video that describes to you the whole process so you will know what's going on.
2. Getting dismissed from a jury for cause doesn't work the way you think it does. You don't give your excuse, the judge accepts it and lets you leave. Instead, you desperately over-explain how you couldn't possibly sit on a jury for two weeks because you have a big meeting in Cleveland that, no, you don't personally have plane tickets for because you were planning to drive but many others were flying in for the meeting that urgently depends on you, the person who has only been with the company for two weeks, and then wait on pins and needles until everyone on your panel of 12 has been questioned and the lawyers go out in the hall to deliberate with the judge and come in and announce the keepers. You suddenly feel as if you're the plaintiff waiting to see if you'll win a large sum of money. You are that nervous. And the truth is, if you are dismissed, you will never, ever know why anyway.
3. There are a lot of sad stories in Cook County, and prospective jurors have to share them in open court. If you don't want to, then you, the judge, the two lawyers for the plaintiff, the two lawyers for the defendant, and the stenographer, who has to schlep her stenographer machine, all can go out in the hall to discuss, but that adds a lot of time to the proceedings. So you will hear stories, as I did, like the one from a man had been in a head-on collision in 1978, having been hit by a car going 80 mph. He spent two years in the hospital with nearly all of his bones broken and still is in pain today. He was dismissed. Then there's the man whose family thought his sister died because of neglect on a hospital's part but didn't sue. He was also dismissed. Another man's son - because if you have adult children or spouses, they delve into their background, too - has a police brutality case pending against the Chicago Police Department. That same man said he'd sat on a jury six years earlier and it was the worst experience of his life because of the fighting among jurors to decide the case. He was chosen anyway.
4. No matter how many books you read that contain trials or how many times you watch Law & Order, there's no telling why the people are chosen for the jury. Our case involved a woman suing a medical school that gave out DOs rather than MDs. Her complaint was against the school, as she had gone to the health clinic there and been adjusted incorrectly, causing her pain and suffering. On the first panel was a woman who had two daughters who were nurses, and when questioned by the defendant's lawyer, she said that even though they went through the same medical training and were licensed the same, she thought a DO had lesser standing than an MD. She was chosen for the jury.
5. You're sworn in first thing when you get into the courtroom, so you're under oath every time you answer a question. So when the lawyer says, "There is no question that this woman has suffered and has experienced pain, and she has every right to your sympathy, but you will need to decide this case with your head, not your heart. Will you be able to rule against her if you don't think she makes her case in regards to the letter of the law, even if you find the law to be unfair?" you have to answer honestly. And then you feel as if the bailiff will throw you in jail because the follow-up is, "It's not up to the jury or the judge or the lawyers to make the law, we have to follow it, so you'd go against the law if you think the law is unfair?" What can I say? I have a strong sense of fair play that I can't turn off, but thankfully, I think that's what got me out of sitting on that jury.
*
As I said, I'm a dork who was excited to be called for jury duty, but after sitting through a day of jury selection, I'm rethinking that. True, as the judge said at the beginning of the week, your country only calls on you for two reasons: To fight a war and to serve on a jury, which makes it sound very noble. But one of the questions asked of one of the jurors during my jury selection was if he would hold it against the doctor named in the lawsuit if he wasn't in court every day because he was seeing patients. I wasn't even in the jury box at the time, but I wanted to stand up and scream, "Hell yeah! Why is his time more important than mine?"
-
Nikki Golden is a fine citizen who only wants to do the right thing.
Posted by Beachwood Reporter at 6:03 AM | Permalink
March 5, 2008
The [Wednesday] Papers
"Speaking in San Antonio, Obama congratulated Clinton for her wins, but added, 'We know this, no matter what happens tonight, we have nearly the same delegate lead we had this morning, and we are on our way to winning this nomination,'" the Sun-Times reports.
The delegate math is one of the biggest lines of baloney that the media has bought into . . . because it doesn't matter who finishes the primary season with more delegates. The nomination doesn't go to the candidate in the lead, it goes to the candidate who secures 2,025 delegates.
And Obama is nearly as unlikely to get there as Clinton. Beyond that, a delegate lead of under a hundred out of 2,000 surely doesn't close the deal, as opposed to, say, a candidate with 1,800 delegates and another with 500.
To further complicate matters, Obama is likely to take Wyoming and Mississippi next, while Clinton is likely to take Pennsylvania and Indiana. Beyond that, the remaining run of states favor Obama - because those states are generally small and red.
Perhaps new contests in Michigan and Florida could settle things. Or party leaders might put Clinton and Obama in a room and order up a unity ticket. And it's almost impossible to imagine Obama getting top billing under that sort of arrangement.
There's plenty of campaign left.
Paging Tina Fey!
Did Hillary Clinton rebound on Tuesday night because she was willing to do "everything, truly everything" to win?
Of course not. Unless you are the Tribune's Michael Tackett channeling the Obama campaign's talking points.
"Her strategy was built on a foundation of contradiction," Tackett writes in the paper's big front-page analysis, repeating, for example, the notion that she "opposed the trade agreement that was considered a signature achievement of her husband's presidency."
Tackett ignores evidence supporting Clinton's claims of skepticism about NAFTA while soft-pedaling the Obama campaign's forked tongue on trade.
"She shed her serious side and mugged on Saturday Night Live and The Daily Show to change her image," Tackett continues.
Saturday Night Live's media criticism had far more impact than Clinton's appearance on that and other shows. And did those appearances really change her image? (Funny, every time Clinton follows the pundits' advice "show her human side," the pundits turn around and rail at her for it, accusing her of insincerity.)
Then Tackett writes that "After accusing Obama of plagiarizing speeches, she used an ad strikingly similar to one Walter Mondale ran in 1984 about a dreaded late-night phone call."
That pairing is a bit of a stretch.
But not as much as this:
"Her campaign invoked Obama's association with developer Antoin 'Tony' Rezko, a man also in possession of his own grip-and-grin photo with then-First Lady Hillary and President Bill Clinton."
As if there's an equivalency there. Tony Rezko is a man Barack Obama has described as his political godfather; today the Tribune editorial page states once again that Obama has "never submitted to a full vetting of his ties" to him.
There is no such relationship between Rezko and the Clintons; the photo - likely leaked to Matt Drudge by the Obama campaign - might as well have been taken on a White House tour for all we know.
And the final ridiculousness offered up by a major metropolitan newspaper's Election Night analysis:
"And, in an interview on 60 Minutes, she even seemed to hedge on the question of whether she believed Obama might be a Muslim."
Oy. And she paroled Willie Horton, claimed she invented the Internet, and betrayed her Swift Boat unit!
If anyone should be taken to task, it's 60 Minutes correspondent Steve Kroft. Let's go to the transcript (via Media Matters).
KROFT: You don't believe that Senator Obama is a Muslim?
CLINTON: Of course not. I mean, that's - you know, there is no basis for that. You know, I take him on the basis of what he says. And, you know, there isn't any reason to doubt that.
KROFT: And you said you'd take Senator Obama at his word that he's not a Muslim.
CLINTON: Right. Right.
KROFT: You don't believe that he's a Muslim -
CLINTON: No. No. Why would I? There's no -
KROFT: - or implying, right?
CLINTON: No, there is nothing to base that on, as far as I know.
KROFT: It's just scurrilous -
CLINTON: Look, I have been the target of so many ridiculous rumors. I have a great deal of sympathy for anybody who gets, you know, smeared with the kind of rumors that go on all the time.
So there you have it. But political journalists are so eager to validate their pre-conceived narratives that they'll wedge squares into holes.
(I'm saddened to report that one of our city's gems, Carol Marin, fell for this too, writing this morning that "Clinton needs to never again reprise her insincere 60 Minutes answer that Obama is not a Muslim 'as far as I know.' It's foul play."
(Oh Carol! No! But I still love you!)
Now back to Tackett.
"The Obama campaign could credibly argue that the contests in four states did nothing to alter the reality of delegate math that suggests it is not possible for Clinton to win the nomination without being put over the top by party elders and insiders known as 'superdelegates.'"
The reality of the delegate math suggests it is not possible for Obama to win the nomination without being put over the top by party elders and insiders known as superdelegates either. But apparently you aren't supposed to know that.
"It is doubtful that this argument will push Clinton out of the race anytime soon."
She's so stubborn! She'll do anything!
Of course, the Obama campaign was peddling a line before Tuesday night that Clinton should drop out after losing 11 straight contests. Does anyone seriously think now that she should have quit?
Let the process play out. Let every state have their say. And let Obama finally face his vetting. If he does eventually win the nomination, he'll be the better for it.
*
"It's 3 a.m. The phone rings. It's Dr. Evil, and he's holding the world hostage for . . . one million dollars!"
And other new "3 a.m." ads you can expect to see soon.
The Beachwood Tip Line: Witty words matter.
Posted by Beachwood Reporter at 7:01 AM | Permalink
Chicagoetry: After Midnight In The Latin Quarter
AFTER MIDNIGHT IN THE LATIN QUARTER
At midnight, the weather broke
in two, and warmth gushed in. I and I
were flushed out into the night.
I floated down North Avenue,
walking past a number of selves -
one drunk, hammered, maybe nineteen -
through the Latin Quarter.
Along the blue-black thoroughfare:
dollar stores, Mexican restaurants,
liquor stores, Puerto Rican restaurants,
joyeria, lavanderia, licoreria, supermercado.
Uh, and shuttered gates
where Capitalism
was late.
Another self here holds onto his dreams
tight, that Right is Might, and in
sucking the life
out of life.
Another will shortly attend a synagogue of bright
pain,
then a cathedral
of rain.
"Wish you were
beer . . . "
Hell is given, Heaven siezed
from the blue-black
breeze.
Off the thoroughfare, the houses and multi-flats
evoke a soothing, familial, OLD WORLD DIGNITY,
A FUGITIVE GRACE, breeze at your face,
after midnight
in the
Latin Quarter.
-
J. J. Tindall is the Beachwood's poet-in-residence. He can reached at jjtindall@yahoo.com. Chicagoetry is an exclusive Beachwood collection-in-progress.
Posted by Beachwood Reporter at 5:02 AM | Permalink
Bleacher Birds B Gone
FOR IMMEDIATE RELEASE
MARCH 4, 2008
Good Afternoon,
Wrigley Field in Chicago has been battling a pest bird problem in its upper bleachers for years. After trying various products, and fielding many complaints from fans, netting was finally installed to humanely block birds from sitting in the rafters. Now the maintenance department says the bird problem is no more.
From facility managers, to homeowners, many people are unsure of what to do about pest birds. This is because the market is flooded with various products with limited success. In February of 2008 we interviewed the maintenance department at Wrigley Field about the netting, and feel the story offers insight that many could use.
*
For years the Chicago Cubs have had to share their ballpark with unwanted guests: Pest birds. It seemed Wrigley Field was an ideal spot for birds, providing generous shelter, and an abundant food source.
Birds such as pigeons, seagulls, and starlings had been around the park for awhile, but it was complaints from the fans that prompted a real solution.
Gary Hubbard has worked in Maintenance Operations at Wrigley for the last four years. Gary's seen all sorts of devices implemented to shoo the winged pests away. "We've used a sticky gel, Owls, Sound Devices, and nothing seemed to work" said Hubbard of past attempts.
Hubbard explained that during games "pigeons and starlings would sit in the rafters above the upper deck and descend upon the bleaches to feed once to fans left." Some of the fans sitting in the upper deck were being bombarded with bird droppings.
After continuous complaints poured in, the maintenance department sought a solution that would take care of the problem once and for all.
That's when they called Bird-B-Gone, a company in California that specializes in Bird Control. The sales team at Bird-B-Gone recommended Bird Net 2000, a heavy duty polyethylene net that would prevent birds from entering the rafter area altogether.
Bird-B-Gone sales staff explained the importance of altering the environment. If the rafters were blocked off, the birds would have no where to roost. If the roosting spot was taken away, the birds had no where to wait for food scraps.
Changing the behavior of the pest birds would be the most successful approach.
Bird Netting has been installed at Wrigley now for the past few years. Hubbard said that the Bird Net 2000 "has solved 9/10ths of the bird problem," explaining that seagulls still land on the field during games.
In the past few years, Wrigley Field has seen many changes. In 2005, an expansion project saw the removal of some of the last remaining pieces of the original building. Earlier this year it was announced that Wrigley Field may be changing hands, and getting a new name. As for a positive change, Wrigley has now finally taken care of the pest birds in the upper deck.
*
MARCH 7 UPDATE/COMMENT
Jerry "Bleacher Preacher" Pritikin writes:
During the summer of '47, my dad bought me a baseball uniform from Sears Roebucks for $6.95 and it came with iron-on letters spelling YANKEES. I recall taking a scissors and rearranging the letters so they spelled CUBS. The first time I wore it was to go to a Cubs game against the Pirates. I bought a scorecard for a dime and decided that I was going to keep a perfect card to show my dad when I got home. I was able to get a few autographs of future members of the Hall of Fame on that card . . . Ralph Kiner and Hank Greenberg.
My brother and I sat down the left field line in the grandstand beneath the upper deck. After getting the line-up from Pat Pipper, I took my time keeping score; with each batter, I made sure that everything was perfect. In fact I never even used the eraser.
Then, in the sixth inning, it happened. Out of nowhere, a pigeon scored a direct hit from the overhead rafters beneath the upper deck grandstands right onto my scorecard. It might as well have been an atomic bomb! But in a way, I was lucky, because none of the excess landed on my baseball cap or uniform. But the scorecard, made with my best penmanship and autographs, was a complete loss.
It did leave a lasting impression on me, because I never kept a scorecard after that game. And maybe that's the reason why I found a new place to watch the games: in the Bleachers, where, in the 50 years since, I have never been a target of the pigeons and birds that fly in and around the Friendly Confines.
*
Also: Lament of The Bleacher Preacher.
Posted by Beachwood Reporter at 4:54 AM | Permalink
It's 3 A.M.
Hillary Clinton's "3 a.m." TV commercial was so successful that Beachwood Labs has offering the following as sequels.
*
It's 3 a.m. The phone rings. Your calls are important to us and will be answered in the order they are received.
*
It's 3 a.m. The phone rings. It's for Hugh. Hugh Jass.
*
It's 3 a.m. The phone rings. The red phone. Two large pepperonis and a 10-piece order of chicken wings are on the way. Because you work at Domino's.
*
It's 3 a.m. The phone rings. It's Karl Rove. He wants his phone back.
*
It's 3 a.m. The phone rings. It's Hillary Clinton telling Bill to come home.
*
It's 3 a.m. The phone rings in the middle of the night. My father says what you gonna do with your life. Oh daddy please you know your still number one. And girls, they want to have fun.
*
It's 3 a.m. The phone rings. And only I have the experience to know how to pick it up and say, "Hello?"
*
It's 3 a.m. Your children are sleeping soundly in their beds. If they had any idea how fucked this country is, they'd be up pacing the floor and drinking whiskey, just like you.
*
It's 3 a.m. The phone rings. It's Walter Mondale telling Hillary to stop ripping off his commercial.
*
Ring ring!
"Hello?"
"Hello, I'm Senator Hillary Clinton, and I am running for President of the United States."
"Christ! Will these robo-calls ever stop? And worse, I'm still paying for them!"
*
It's 3 a.m. The phone rings. It's the ghost with the bloody fingers, and now he's only three miles away.
*
It's 3 a.m. The phone rings. It's coming from inside the White House!
*
It's 3 a.m. The phone rings. "Is your refrigerator running?"
*
It's 3 a.m. The phone rings. It's Prince Albert. "Help! I'm in a can!"
*
It's 3 a.m. The phone rings. Your spouse rolls over and says, "Hey, who are all these people in our bedroom?"
It's your network.
*
It's 3 a.m. The phone rings. And the nation's telecoms are listening in, because they have immunity.
*
It's 3 a.m. The phone rings. And I'm not wearing pants.
*
It's 3 a.m. The phone rings. It's 9 a.m. in London.
*
It's 3 a.m. The phone rings. It's your booty call. Just one more time and then this has to end.
*
It's 3 a.m. The phone rings. It's important. It's always important. They just keep calling. When will they get off your back? "Something is happening in the world again," yeah, yeah. Well, the world will have to take care of itself tonight. You're taking another Ambien.
Ambien: Fuck the World.
*
It's 3 a.m.. The phone rings. It's the bill collector from China threatening to repossess our country again.
*
It's 3 a.m. The phone rings. It's Dr. Evil, and he's holding the world hostage for . . . one million dollars!
*
It's 4 a.m. The phone rings. Who has the experience to handle daylight savings time?
*
- Tim Willette, Rick Kaempfer, Eric Emery, Marty Gangler, Steve Rhodes

Posted by Beachwood Reporter at 4:27 AM | Permalink
Connie's Corner: An American in Iceland
Who knew? Iceland is hot! At least it is according to one American, author Bill Holm, who has spent many summers there when he is not teaching English at a rural branch of the University of Minnesota. He fell in love with the island when he first brought a group of students there on a field trip. Being from heavily Scandinavian Minnesota, he already had the bona fides of coming from Icelandic stock. What he found was a place at once beautiful, mysterious and unique.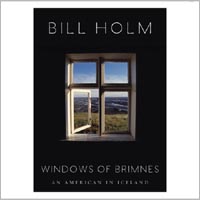 Riddle: How many Icelanders does it take to change a light bulb? Holm would contend that the answer is no answer because Icelanders would not be able to agree on who should do the job. When he was interviewed about his The Windows of Brimnes: An American In Iceland by Garrison Keillor at a reading I recently attended in St. Paul, he testified that there are many Icelandic families whose members hardly speak to each other - they're too stubborn to admit the other might be right. On the pro side, he finds the people of Iceland to be the best of neighbors to him at his home in Hofsos, Iceland, in a house he calls "Brimnes."
One of the country's charming customs is that all homes have proper names. In fact, everything has a name; often they reflect the world of fairy folk that seems to exist, still intact, just under the crust of the countryside. How about a church called Trollakirkja, which means "troll's church," or a pile of rocks named Trollasamlokur, a troll's sandwich?
Of course, there is always the climate, which is not so good, especially in winter. But Icelanders have an answer to that as well: Because there's often long stretches of winter darkness and gray fog, they prefer a certain bright, efflorescent quality in their house colors:
"An old man just atop the hill painted his small concrete house in stripes of orange and lavender. It matched the sunset well. He's tamed it down now to blue and white, but I miss that gypsy touch."
The view from Holm's big front windows make up, however, for all the winter gloom. They face fjords, for example:
"Some fjords have narrow, dark mouths, Puritans who dare you to enter their inner space, rocks that eat an hour or two of daylight at either end of the day . . . [My] fjord is a fat fjord with a wide mouth open to all the light it can drink, even the last smidgeon it can suck out of the sun, or even the intense winter moon or the northern lights."
Iceland is also a place where everyone is a poet. David Sefansson, a well-known poet in this land, loves the many ravens on the island - they are called Krummi because of their unlovely, croaky voices, their krak. Sefansson tells a story of a raven who wanted to sound as good as the other birds, but couldn't.
Raven owns no lovely notes
Under his black cowl condemned to croak
Til his raven heart is broken -
But raven is my bird.
He croaks his song
To the sky and sun.
Icelanders are also born storytellers. Holm's neighbor, Sverir Asgrimsson, told him a story from his childhood: He was overcome with loneliness at his isolated farm and tried to walk seven hours in the dark to the next farm.
"And the great silence and the heavy fog, and the wind blowing from all directions at once, and the crying of the gulls and gannets, and the sloshing of the cold, shark-rich sea in its last few miles before the ice takes over once and for all."
The elves also live in Iceland. But, Holm says, these elves are not the cuddly "little people" of, say, the South Side Irish. Not " . . . the cute felt and pottery Huldefulk in gift shops, nor the grotesque dwarves with buckteeth, big noses, silly grins and pointy toes. No, they are a mirror of us, what Jungians call a shadow self, or the interior life. The stories about them are not whimsy or fantasy, but rather coded messages - hidden wisdom - to be revealed to us when we exercise our 'second sight' . . . road construction crews are careful to avoid laying roadbeds through elf dwellings."
Even though Icelanders are known to be logical and skeptical, they won't take a chance on upsetting the elf world by carelessly destroying a rock that might bear the small ones' mark in some way, say for instance by having a funny-looking crack or by being in a place traditionally known for harboring elves.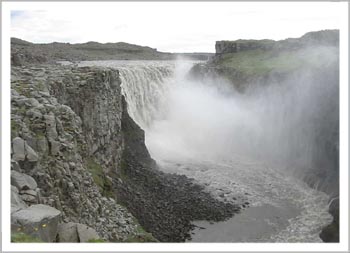 And near by Brimnes is a genealogy center where people visit form all over to find out about their ancestors who have fanned out across the world looking for a "better" place to live. You can type your name into a computer, which will tell you to "hold your horses" while it finds some facts (this is because Iceland is also famous for its powerful breed of sturdy work hoses raised on the island).
Holm is also a published poet. He likes to play Bach in his small living room and often invites friends and neighbors to play with him. He wrote the following poem called "Bach in Brimnes."
The cello seems too big for this small room
But when he starts the saraband in G
The whole house grows too tiny for the tune
As if the walls were pressing to expand
Another fifty paces toward the sea
To make breathing space for all this sound,
If any human space we build could house
Whatever whirls around inside this suite.
Holm told Keillor that night that he couldn't write fiction because "all my heroes have my opinions - all my villains speak with my voice." His voice is often that of a cuttingly funny curmudgeon, ready to leave the hectic and sometimes crazy world of the USA for the silence of the fjords. Keillor, in his introduction of Holm, said he "is a sort of an iceman, someone who was buried in ice for centuries and we excavate him and we're able to study him and see what authors used to be like. He's one of the last of great 19th century writers."
I don't know about the 19th century part, but Holm is indeed a unique voice of canny and fascinating opinions about living in the 21st century. He has written about being in a teacher in China in Coming Home Crazy; a book of poetry, Playing the Black Piano; and many other poems, essays and travelogues.
He ends The Windows of Brimnes with a comment about the practice (or actually the non-practice) of Lutheranism in Iceland.
"Don't come to the windows of Brimnes to pray - instead, lift your head to peer about, even into the heart of the fog. Take it all in; grandeur, foolishness, the whole lot. Sing. Maybe Bach, to lift the fog."
-
Previously in Connie's Corner:
* "Heavier Than Air." Nona Caspers creates a tapestry of small towns and chronicles the lives of people living there who have a hard time coming down to earth.
* "Pale Fire." Nabokov creates a novel that doesn't seem to have coherent plot but a story that contains a do-it-yourself kit.
* "Out Stealing Horses." A coming-of-age story that reveals a father's secret life during wartime.

Posted by Don Jacobson at 12:18 AM | Permalink
March 4, 2008
The [Tuesday] Papers
"We're concerned about preserving the unique culture of our ballpark," the Tribune lawyer currently acting as Cubs chairman, Crane Kenney, says. "Fan backlash is certainly something we're thinking about."
Of course they are. They thrive on it. It's part of the brand.
*
*
By the way, the price of beer at Wrigley is going up to $6.25 a cup. $6.25! And it's domestic!
*
Fare Fees
The CTA is installing fare-card machines that will accept credit cards, the Tribune and others report.
This is certainly convenient for riders, but I have yet to see if this is expected to cost the CTA money or generate more revenue.
"The CTA will pay a fee to the credit card companies," the Trib notes. "The CTA is financing the $4.5 million purchase of the vending machines from bonds."
Is there some expectation that with a $5 minimum purchase via credit card, the CTA will somehow make more money by forcing riders to purchase more rides than they use? Or that the convenience will somehow increase ridership?
Because if it's not a net gain, this isn't exactly a good time to spend on amenities.
That's Todd!
"As Cook County Board President Todd Stroger prepares to fill hundreds of new jobs delivered to him by the County Board last week, a federal hiring monitor says political patronage continues to hamper county hiring," the Sun-Times reports.
"In a U.S. District Court filing, monitor Julia Nowicki cites repeated examples among hundreds of claims she's investigating - including an employee boasting shortly after being hired that he was a 'Soldier for Stroger' in the board president's election campaign and would soon be a supervising his co-workers.
"That employee never even applied for the job, she notes, but quickly became a top boss. That person has also been using county fax machines to process orders for political materials, she notes."
County attorney Laura Lechowicz-Felicione says Stroger has made progress, though.
"It's a process," Lechowicz-Felicione said. "But it's a process that would move more quickly if we had additional resources."
So . . . the county needs more money to create processes whereby its employees don't steal our money?
Car Talk
"Each year Chicago's 50 aldermen get $1.5 million dollars for expenses. There are few limits on how the money is spent and it's supposed to be used to service the taxpayer. Now, in a Fox News Chicago investigation, Dane Placko questions just how much of the people's business is being done when the money goes for some hot wheels."
It's a process. And if the aldermen had more resources, they could move more quickly.
Obama's Narrators
It takes 2,025 delegates to win the Democratic nomination. By most accounts, Barack Obama is leading by about 100 delegates. By most punditry, Hillary Clinton should drop out of the race if she doesn't win the overwhelming majorities needed to close that gap.
Q. Since when is a lead of 100 delegates out of 2,000 considered the kind of huge gap that should induce a candidate to drop out?
Besides that, the math doesn't work for Obama either; he is unlikely to reach 2,025. You don't get the nomination for getting close. If that means a brokered convention, so be it. That's the way it works.
Will of the People
"It's well known that Barack Obama's success has depended largely on independent and Republican voters. The corollary to that, however, has been less thoroughly reported: Obama is losing among Democrats," Slate notes.
"Over at The Perfect World, Cal Lanier crunches the numbers and finds that Obama, despite being ahead among pledged delegates, has fewer total votes among people who identify themselves as Democrats. (He has 7392809 votes; Clinton has 8229063.) That gives Clinton as lead at 52 percent of Democrats. Lanier also breaks the numbers down by race, and points out that Obama has won white Democrats in only two states: New Mexico and Illinois."
Trade and Tony
Obama gets it with both barrels.
Chicago's Brash Boys
As described by Wired.
Movie Moxie
The University of Chicago Press blog offers background on Chicago 10.
Zell's Bells
"A company run by Sam Zell, the new chairman of the Los Angeles Times' corporate parent, stands to gain up to $15 million if an eminent domain initiative on the June ballot is approved by California voters," Capitol Weekly reports.
"The initiative, Proposition 98, would repeal rent control ordinances across California, which could lead to a boon for Zell.
Zell, the Tribune Co. chairman, is also chairman of Equity Lifestyle Properties Inc., a Chicago-based company that owns more than 112,000 residential units across the United States and Canada. The company's 28 properties in California include a dozen rent-controlled mobile home parks."
As Carol Marin reported in "Mobile Home Owners Feel Rent Pinch," "Sam Zell is a Chicago billionaire and is reputed to be the largest single property owner in America."
Marin has been on top of this story in her Sun-Times column too.
"A couple of years ago, I visited two of your properties, Willow Lake Estates in Elgin and Golf Vista in Monee," she wrote in a mock letter to Zell. "They are lovely places that challenge any negative stereotype of a 'trailer park.' The lawns are well kept, the homes are beautifully maintained, and the mostly elderly residents have a clear sense of community.
"But boy, do they have a problem, Mr. Zell.
"You've got retired people like Phil Asplund, 80, a retired accountant, trapped. He and his wife Marian own their home, but you own the land underneath it, which your company rents to them. And since you took over, once-affordable rents tied to the consumer price index are now set at 'market rate,' which is whatever you say it is. Leases have gotten even more restrictive. And retirees, on fixed incomes, are depleting their savings trying to pay the increases. Many have been forced just to abandon their homes, turn the keys over to your managers, and go live with their kids.
"When the Asplunds and others go to their legislators, like state Rep. Ruth Munson (R-Elgin), you have fleets of lobbyists and lawyers to outspend and outgun them. And when Munson and her colleagues, in spite of all that, manage to vote out even a small measure offering some consumer protection for those homeowners, you've got Gov. Blagojevich to veto it for you. After all, you and your wife have given him $82,000 since 2002. Not that there is necessarily a connection."
The Beachwood Tip Line: Zell bait.

Posted by Beachwood Reporter at 8:17 AM | Permalink
Trade and Tony
Is Barack Obama a liar?
Well, consider the two issues troubling him this week: Tony Rezko and NAFTA.
Let's take NAFTA first.
*
"The denials were sweeping when Senator Barack Obama's campaign mobilized last week to refute a report that a senior official had given back-channel reassurances to Canada soft-pedaling Mr. Obama's tough talk on Nafta," the New York Times reports.
"While campaigning in Ohio, Mr. Obama has harshly criticized the North American Free Trade Agreement, which many Ohioans blame for an exodus of jobs. He agreed last week at a debate with Senator Hillary Rodham Clinton that the United States should consider leaving the pact if it could not be renegotiated.
"On Monday, a memorandum surfaced, obtained by The Associated Press, showing that Austan D. Goolsbee, a professor of economics at the University of Chicago who is Mr. Obama's senior economic policy adviser, met officials last month at the Canadian consulate in Chicago.
"According to the writer of the memorandum, Joseph De Mora, a political and economic affairs consular officer, Professor Goolsbee assured them that Mr. Obama's protectionist stand on the trail was 'more reflective of political maneuvering than policy.'
"It also said the professor had assured the Canadians that Mr. Obama's language 'should be viewed as more about political positioning than a clear articulation of policy plans.'"
Well, then.
- My Direct Democracy has the Obama Denial Timeline.
- Talking Points Memo has the Obama campaign disseminating a video that actually makes things worse.
"Now, the headline of the Obama camp's e-mail reads 'Canadian Prime Minister Addresses Issue,'" Josh Marshall writes. "But what's interesting is that Harper, who's close to DC Republicans, actually doesn't address it in a way that's helpful to the Obama campaign. Indeed, notwithstanding a statement of regret and other flowery language, he seems to go out of his way to confirm the essential charge against the Obama campaign."
- This is classic Obama slipperiness. He makes you believe he's said something he hasn't.
"At some point," he added, "they started talking about trade and Nafta, and the Canadian Embassy confirmed that he said exactly what I have been saying on the campaign trail."
Well, no; demonstrably not.
And the the hits keep coming.
"Campaign officials said Professor Goolsbee went to the consulate as a professor, not as an adviser to Mr. Obama and that other campaign officials did not know about the meeting when it was held," the Times account notes.
"In a statement, the Canadian Embassy in Washington suggested that the consulate had sought out Professor Goolsbee specifically because of his ties to Mr. Obama's campaign."
Oops.
*
The Tribune editorial page is curiously ambivalent about Obama's NAFTA nonsense, targeting its most vicious attack on Hillary Clinton.
"Hillary Clinton is an odd one to accuse someone of being two-faced on this topic," the Trib says. "After all, it was during her husband's presidency, and with his support, that the treaty was ratified. As recently as 2004 she made it clear she grasped its value. 'I think on balance NAFTA has been good for New York and America,' she said, while indicating she had some reservations as well. Now, of course, Clinton insists she never liked it."
Pretty damning, except that the Tribune isn't giving you the full quote.
As Media Matters discovered, this is what Clinton really said: "I think on balance NAFTA has been good for New York and America, but I also think that there are a number of areas where we've not dealt with in an upfront way."
In fact, a little bit of further research on the part of the Trib editorial board would have found numerous examples like this one rebutting its claim:
"DEE DEE MYERS (former Clinton White House press secretary): Well, not really, because when - during the NAFTA debate within the Clinton White House, the then-first lady was always quite skeptical of it. She wasn't an enthusiastic backer of NAFTA inside the White House in my memory. And in fact, you know, she had a lot of questions, she had a lot of reservations, not only about the content of NAFTA but about the strategic placement in terms of that versus health care and, you know, what constituencies were we going to have to tap in order to pass NAFTA that might come back to haunt us as we tried to pass a universal health care plan."
So it's a bit disingenuous - some might say the same old typical politics - for Obama to say this, as reported in the Tribune: "What's not disputed is that Sen. Clinton and her husband championed NAFTA, worked on behalf of NAFTA, called it a victory, called it good for America, until she started running for president. That's indisputable. That's a fact."
Meanwhile, "Goolsbee has not responded to calls from the Tribune for comment, and the campaign did not make him available Monday."
*
"What disturbs most about the whole affair is the pattern of blanket denials issued by the Obama campaign - denials that were at the time implausible and now, in retrospect, borderline indefensible," Christopher Beam writes in Slate.
Welcome aboard!
*
And now, Rezko.
"As Sen. Barack Obama (D-Ill.) closed a combative press conference on Monday, where he was thrown seriously off message being asked about influence peddler Tony Rezko and why his campaign at first denied his economic adviser Austan Goolsbee met the Canadian consul in Chicago and talked about NAFTA, some reporters - me included - wanted him to take more questions," Lynn Sweet reports.
"'Guys,' said Obama, who is campaigning on a platform that there should be more government transparency. 'I mean come on. I just answered like eight questions,' he said as he waved and left to a chorus of shouted questions."
Well, I guess that depends on what the meaning of "answered" is, as Sweet shows. (And I didn't know eight questions qualified as an extended effort.)
One of the questions Obama has been stonewalling on for the better part of a year - and not even the most important one - was noted by the Trib: "Obama, however, wouldn't disclose how many fundraising events Rezko hosted for him or who attended, saying such requests 'can just go on forever.'"
Huh? Obama could have put this to bed a long time ago. Instead, the campaign - for reasons I hope will become clear one day - has chosen a different strategy.
"As recently as Sunday, on ABC's This Week program, Obama's campaign manager, David Axelrod, insisted that Obama has fully responded to every question posed by reporters," the Sun-Times editorial page says today. "But this is not so.
"For months, Sun-Times investigative reporters have had a standing request to meet with Obama, face to face, to get answers to questions such as these:
"* How many fund-raisers did Rezko throw for Obama?
"* Obama is donating $150,000 to charity that Rezko brought into the campaign. But how much in all did Rezko raise?
"* Did Rezko find jobs for Obama backers in the Blagojevich administration or elsewhere?
"*Why did Obama only recently admit - after Bloomberg News broke the story - that Rezko had toured his South Side mansion with him in 2004 before he bought it?"
Meanwhile, Obama continues to play cute.
"At a news conference on Monday in San Antonio, Mr. Obama said he had already acknowledged that he had erred," the New York Times reports.
"'I bought a strip of land on an adjacent property that [Rezko] had purchased; I have said that was a mistake,' Mr. Obama said. 'I have been very open about what I have called a boneheaded move.'"
1. The strip of land Obama bought from Rezko is the least of it, but it's a clever deflection employed by his campaign to minimize the story.
2. I think we've already show that he has been far from "very open."
"Mr. Obama said there was no suggestion that he had betrayed the public trust or given political favors to Mr. Rezko."
But there has been more than mere suggestion.
"[A]s a state legislator, Mr. Obama wrote letters to city and state officials supporting efforts by Mr. Rezko and a partner to build apartments for the elderly with $14 million in government money," the Sun-Times reported in its June 13 editions.
"The developers received $855,000 in fees," the New York Times recalled, before disclosing this:
"While Mr. Obama was running for the Senate, Mr. Rezko was also raising money for a huge development in the South Loop of Chicago, often playing host to dinners in a private room at the Four Seasons Hotel here.
"Former Rezko associates said that Governor Blagojevich attended one of the dinners, and that at Mr. Rezko's request, Mr. Obama dropped in at one for Middle Eastern bankers in early 2004, just as he was starting to pull ahead in the Senate primary. The visits, Mr. Rezko's partners said, helped impress foreign guests."
Was Nadhmi Auchi there?
*
It's good to see the media finally pressing Obama on Rezko, but what if the Rezko trial was scheduled for July? Would questions only come then?
It's a little late, and I have little doubt that further revelations will lead to media self-examination that will result in absolutely no changes in future behavior.
*
"Barack Obama tells us he is the messenger of a new kind of politics. Open. Transparent. Different. But put the pedal to the metal and ask Illinois' junior senator new and serious questions about his radioactive, federally indicted, former friend Antoin 'Tony' Rezko, and suddenly this gleaming presidential hopeful and paragon of new politics behaves just like any other dissembling, dismissive Chicago pol, ducking the discussion while pretending not to."
Carol Marin wrote that almost a year ago. We can only wonder what it is that Obama wants so badly to keep secret.

-
Find the world's best Obama analysis in Obamathon!

Posted by Beachwood Reporter at 7:00 AM | Permalink
Reviewing the Reviews
"Wikipedia is just an incredible thing," Nicholson Baker writes in a New York Review of Books review of John Broughton's Wikipedia: The Missing Manual.
"It's fact-encirclingly huge, and it's idiosyncratic, careful, messy, funny, shocking, and full of simmering controversies - and it's free, and it's fast. In a few seconds you can look up, for instance, 'Diogenes of Sinope,' or 'turnip,' or 'Crazy Eddie,' or 'Bagoas,' or 'quadratic formula,' or 'Bristol Beaufighter,' or 'squeegee,' or 'Sanford B. Dole,' and you'll have knowledge you didn't have before. It's like some vast aerial city with people walking briskly to and fro on catwalks, carrying picnic baskets full of nutritious snacks."
Baker is stupendously right, and that's why I'm a huge Wikipedia fan.
"It was constructed, in less than eight years, by strangers who disagreed about all kinds of things but who were drawn to a shared, not-for-profit purpose. They were drawn because for a work of reference Wikipedia seemed unusually humble. It asked for help, and when it did, it used a particularly affecting word: 'stub.' At the bottom of a short article about something, it would say, 'This article about X is a stub. You can help Wikipedia by expanding it.' And you'd think: That poor sad stub: I will help. Not right now, because I'm writing a book, but someday, yes, I will try to help."
Like Craigslist, Wikipedia is an example of the wondrous, innovative and organic nature of the Internet.
"It worked and grew because it tapped into the heretofore unmarshaled energies of the uncredentialed. The thesis procrastinators, the history buffs, the passionate fans of the alternate universes of Garth Nix, Robotech, Half-Life, P.G. Wodehouse, Battlestar Galactica, Buffy the Vampire Slayer, Charles Dickens, or Ultraman - all those people who hoped that their years of collecting comics or reading novels or staring at TV screens hadn't been a waste of time - would pour the fruits of their brains into Wikipedia, because Wikipedia added up to something."
The reaction against Wikipedia, mostly by standard newspaper types, is not only misguided but ignorant about what it really is and how it really works.
"But it also became great because it had a head start: from the beginning the project absorbed articles from the celebrated 1911 edition of the Encyclopedia Britannica, which is in the public domain. And not only the 1911 Britannica. Also absorbed were Smith's Dictionary of Greek and Roman Biography, Nuttall's 1906 Encyclopedia, Chamber's Cyclopedia, Aiken's General Biography, Rose's Biographical Dictionary, Easton's Bible Dictionary, and many others. In August 2001, a group of articles from W.W. Rouse Ball's Short Account of the History of Mathematics - posted on the Net by a professor from Trinity College, Dublin - was noticed by an early Wikipedian, who wrote to his co-volunteers: 'Are they fair game to grab as source material for our wikipedia? I know we are scarfing stuff from the 1911 encyclopedia, this is from 1908, so it should be under the same lack of restrictions . . . . ' It was."
Wikipedia, in fact, is better than a traditional encyclopedia. Because it is so much more.
The common complaint that Wikipedia isn't reliable is absurd. Most Wikipedia entries are footnoted to sources - encyclopedias are not. That alone makes Wikipedia a superior research tool. Studies have also shown that Wikipedia's accuracy rivals - if not bests - that of traditional encyclopedias, which are typically full of entries scrubbed clean with "objectivity" masquerading as the word of God.
And perhaps best, Wikipedia is filled with entries on songs, TV shows, catch phrases, celebrities, mysteries - created and updated with a frightening immediacy (and an admirable elasticity).
Are there blunders? Sure.
"The Pop-Tarts page is often aflutter. Pop-Tarts, it says as of today (February 8, 2008), were discontinued in Australia in 2005. Maybe that's true. Before that it said that Pop-Tarts were discontinued in Korea. Before that Australia. Several days ago it said: 'Pop-Tarts is german for Little Iced Pastry O' Germany.' Other things I learned from earlier versions: More than two trillion Pop-Tarts are sold each year. George Washington invented them. They were developed in the early 1960s in China. Popular flavors are 'frosted strawberry, frosted brown sugar cinnamon, and semen.' Pop-Tarts are a 'flat Cookie.' No: 'Pop-Tarts are a flat Pastry, KEVIN MCCORMICK is a FRIGGIN LOSER notto mention a queer inch.' No: 'A Pop-Tart is a flat condom.' Once last fall the whole page was replaced with NIPPLES AND BROCCOLI!!!!!'"
On the other hand . . . how great is that?
All hail Wikipedia. You are (deservedly) loved.
*
The same people who whine about Wikipedia are likely those who rail about YouTube as the playpen of cat owners who got video cameras for their birthdays.
*
Or those who repeat one of the most well-worn bugaboos of the Internet era - that bloggers are crazy people in basements wearing pajamas.
*
Most of the complainants, again, are standard newspaper folk; the people you would expect to be most open-minded, progressive, innovative . . . are in fact . . . something else. How sad.
Jewel Box
From Michael Azerrad's review in the New York Times of Dan Kennedy's Rock On:
"He attends a meeting about Jewel's song 'Intuition,' which she has licensed to a line of women's razors, also called Intuition. 'Anyone in the room who knows the irony of a song about not selling out being used to sell razors,' Kennedy writes, 'displays a perfect professional poker face.
"'I, on the other hand, am most likely doing the thing where I stifle disbelief and then start getting paranoid that I totally don't understand what's going on and that it's showing on my face, and then I get paranoid that you can get cancer this way.'"
Posted by Beachwood Reporter at 4:04 AM | Permalink
March 3, 2008
The [Monday] Papers
"The brouhaha over Sam Zell's plan to sell the naming rights to Wrigley Field obscures a far more significant issue," Blair Kamin warns in the Tribune this morning.
"By arguing that the City of Chicago should 'relax' landmark restrictions on the ballpark, proponents of a deal that would have a state agency buy and renovate the park would undermine decades of carefully structured protection for Chicago's architectural treasures.
"The deal would almost surely embolden some property owners of landmark building throughout Chicago - there are 259 individual landmarks and 49 landmark districts across the city, encompassing more than 9,000 properties - to go back and challenge landmark status that the City Council had previously approved.
"And that would wreak havoc with legal protections for the city's architectural and historical treasures that were set up 40 years ago to safeguard such structures as Louis Sullivan's former Carson Pirie Scott & Co. store or Frank Lloyd Wright's Robie House."
The Tribune Company has already chipped away at the glory that once was Wrigley Field. The city shouldn't let Sam Zell complete the rout.
"It hasn't been an issue in Boston, where the Red Sox have made major, approved changes while staying within the landmark designation of Fenway Park," the Sun-Times's Greg Couch wrote on Friday.
But this is just part of an all-out assault on the Cubs brand by a really rich guy who now owns a large company with nearly unmanageable debt loads. Thanks, Tribune!
Just when you thought there was peace in Wrigleyville . . . brace yourself for another round of fights about night games, concerts, rooftops, congestion, urination, and the last breath of life from the golden goose.
"Sam Zell does not care about you, Cubs fans," Couch writes. "It's nothing personal; it's business."
More to the point, it's his business - but none of yours.
Name Game
And that goes for the name, too.
Wrigley Field!
Of course the name shouldn't be sold to the highest-bidder. I thought that'd be a no-brainer, but maybe I overestimated the amount of heart left in a beaten-down populace.
"The indignation that's being thrown on this fire is humorous," the Tribune's Rick Morrissey writes. "Some things are worth fighting for; this isn't one of them."
Really? Then wake me up when one of them comes along.
Wrigley Field!
Of course it's worth fighting for. It's ours.
"A fifth starter for the Cubs, an experienced center fielder, Alfonso Soriano's hamstring? Valid concerns. The name of the ballpark? Way down the list," the Sun-Times's Carol Slezak writes.
Wrong!
Fifth starters and hamstrings come and go. Wrigley Field is the constant . . .
"The one constant through all the years, Ray, has been baseball. America has rolled by like an army of steamrollers. It's been erased like a blackboard, rebuilt, and erased again. But baseball has marked the time. This field, this game, is a part of our past, Ray. It reminds us of all that once was good, and it could be again. Ohhhhhhhh, people will come, Ray. People will most definitely come."
Not everything in life should be sold to the highest bidder. Only those without souls believe otherwise.
San Francisco Treat
"After two much-criticized naming rights agreements with corporate sponsors over the past 12 years, the San Francisco 49ers and city officials formally announced that their aging stadium would be known as Candlestick Park," AP reported over the weekend. "San Francisco voters passed a proposition forbidding the city and the team from reselling [its existing] naming rights when the deal expired."
How 'bout it, Chicago?
Field General
Beachwood reader Robert Pruter writes: "Regarding your suggestion to rename Wrigley Field as 'Marshall's Field,' you should know at one time we already had such a stadium. The University of Chicago from the 1890s to approximately 1917 had a football stadium called 'Marshall Field,' named after the department store owner. The university added seats around 1917 and renamed the stadium Stagg Field."
Alternate Spelling
Wig Lee Field?
*
Maybe we'll have The Cell on the South Side and The Zell on the North Side.
*
"Maybe we can get Jerry Reinsdorf to buy the naming rights to Wrigley Field and change it to Comiskey Park," a reader suggests to the Sun-TImes's Elliott Harris.
True Tales
"You say you're young but you're not completely stupid. I beg to differ."
- Cheryl Lavin in the always wise and entertaining "Tales From the Front"
Clintonesque
Like Curtis Lawrence, I too thought Barack Obama was going all Sister Souljah on our asses.
Sufferin' Suffredin
Larry and Todd, sitting in a tree . . .
Journalism 101
"Our job is, whoever is in power, we're opposed," Saturday Night Live impresario Lorne Michaels says in a New York Times article about its political satire.
In that way, comedy and journalism are truth-telling twins.
Michaels' comment reminds me of a time many years ago when I was, wrongly, trying to pin down a journalist friend on his place on the political spectrum when he finally - and rightly - threw up his hands and said to me, "Whatever's the status quo, I'm against it!"
Trial Balloons
"With the corruption trial of one of Sen. Barack Obama's longtime friends and supporters set to begin Monday in Chicago, Ill., reform watchdogs say it will reveal the 'cesspool' of Illinois politics in which Obama came of age and has said little about in his campaign for president," ABC News reports.
"'We have a sick political culture,' said Jay Stewart, the executive director of the Chicago Better Government Association, 'and that's the environment that Barack Obama came from.'
"Stewart says he does not understand why Obama has lectured others about corruption in Washington and Kenya but 'been noticeably silent on the issue of corruption here in his home state, including at this point, mostly Democratic politicians.'
"There was no immediate comment from the Obama campaign."
There never is.
*
"But a review of court records, including new details of Mr. Rezko's finances that emerged recently, show that the lot purchase occurred as he was being pursued by creditors seeking more than $10 million, deepening the mystery of why he would plunge into a real estate investment whose biggest beneficiary appears to have been Mr. Obama," the New York Times reports.
"As Mr. Obama and Mr. Rezko were completing the property purchases in June 2005, Mr. Rezko was fighting to keep lenders and investors at bay over defaulted loans and failing business ventures. But he side-stepped that financial dragnet by arranging for the land to be bought in his wife's name, making it the only property she owned by herself, according to land records."
The Times article makes clear that Rezko was involved in a complicated financial shell game that ensnared an oblivious - or uncaring - Obama.
The article also makes clear - as have others - that Obama has not been forthcoming about his real estate deal with Rezko nor the full nature of their relationship. Some might go so far as to say that Obama has been untruthful as he has employed a strategy of obfuscation.
"When the transactions were first reported, Mr. Obama said only that he had asked Mr. Rezko, as a developer, whether he thought the house was worth buying. But last month, Mr. Obama's campaign staff said the senator also recalled walking around the house and the adjacent lot with Mr. Rezko," the Times notes.
"Some critics say that given Mr. Obama's longtime emphasis on ethics, it is puzzling that he would have been so involved with the Rezkos on the house and lot deals after questions had begun to crop up about Mr. Rezko's political and business activities.
"For at least two years before the property purchases, news articles had raised questions about Mr. Rezko's influence over state appointments and contracts. There had also been reports that the F.B.I. was investigating accusations of a shakedown scheme involving a state hospital board to which Mr. Rezko had suggested appointments.
"Also, Chicago officials had announced that they were investigating whether a company partly owned by Mr. Rezko had won public contracts by posing as a minority business.
"As a result, said Jay Stewart, executive director of the Better Government Association in Chicago, Mr. Obama 'should have been on high alert.'"
Instead, he has made a series of statements to national media outlets like this one to Good Morning America that clearly are not true: "Nobody had any indications that [Rezko] was engaging in wrongdoing."
Perhaps Obama has buyer's remorse. The question is, will voters?
The Beachwood Tip Line: Against it.
Posted by Beachwood Reporter at 8:59 AM | Permalink
SportsMonday
Someone affiliated with the NBA should find a way to set up radar guns to measure how quickly dunks go through the hoop.
That's because the dunk LeBron James threw down on the Bulls in the final three minutes of Sunday's nationally-televised matinee would have either set a new ball-speed record or broken the gun. The game featured the Bulls putting it all together to stretch out an eight-point lead early in the fourth quarter, only to watch the homestanding Cavaliers rally, thanks in large part to former Bull Joe Smith knocking down a series of big shots. Then King James put the game away in the final minutes with a hanging lay-up, the dunk, a mid-range jumper and a pass to Wally Szczerbiak for a crushing trifecta.
I've had a chance to watch James at different points in his career, starting with a post-season All-Star game at the United Center at the end of his high school career in which he was so clearly a man among boys. In his rookie year I attended a Bulls game in which he assisted on something like six of Cleveland's first eight baskets and then hit all the big shots late in the fourth quarter to put the game away. Last year I watched in amazement (on TV) as he scored Cleveland's final 25 points in the absolutely epic, double-overtime, conference-final playoff victory over Detroit. Then there was Friday's dunk (again on TV). Let's just say how fortunate it was the ball didn't hit Luol Deng, who provided slightly less-than-effective-help defense on the play, in the head. Then again a concussion would have been the perfect final chapter in the story of Deng's 2007-08 season, one that has been notable for injuries and injuries alone.
Today we're going to spend a little more time on basketball:
* A radar gun would also be a great way to liven up the first full day of All-Star weekend, which had seemed to be on its last legs for oh, about a decade until Gerald Green and Dwight Howard gave the dunk contest new life in New Orleans a few weeks back with gloriously imaginative throw-downs. But even this year's much-improved event was a long, long way from the heyday (and so is the three-point contest - has anyone done anything even remotely as exciting as Larry Legend essentially calling his shot back in the 80s, i.e. walking away with his No. 1 finger held high as his contest-winning three was on its way and then swished through? The correct answer is no).
* In honor of Leap Day last Friday, ESPN's SportsCenter asked the audience to vote on the greatest leaps in sports history. The answer should have been a, well, slam dunk of a different sort. It should have been Bob Beamon's otherwordly gold-medal-winning long jump at the 1968 Mexico City Olympics - the one in which he broke the 29 foot barrier before anyone had broken 28. It still stands as the greatest leap of all time.
But of course Mr. Beamon's jump is ancient history now, having happened all of 40 years ago, so it didn't even make SportsCenter's top five.
The number one "Leap" in sports was found to be Michael Jordan's legendary dunk-contest winner - the one where he took off from the free throw line with the ball held high in one hand, brought the ball down just a bit as he ascended, but then brought it back up just before he jammed it, giving the impression that he had continued to gain altitude all the way to the hoop. If it wasn't going to be Beamon I suppose it was OK they honored Michael's slightly exciting signature slam.
* Unfortunately a bit more must be said about at least one current Bull. Ben Gordon hit some sweet shots in the second half on Sunday, but Bulls fans knew one of those shots would almost certainly lead to trouble a little further down the line. That was when Gordon slipped through two defenders and into the lane with a slick dribble move, faked a pass to a cutting teammate as he came to a jump stop to freeze the Cavaliers' Anderson Varejao, and then tossed in a beautiful floater.
Unfortunately it was just the sort of move Gordon executes every once in a while before deciding that his greatest strength is playmaking (as opposed to his true specialty - cutting off a screen, catching a pass and shooting). And the almost invariable result is turnover after turnover. Sure enough Gordon gave away crucial possessions in the second half of the fourth quarter with an offensive foul, ill-advised passes and out-of-control penetration attempts.
* The Bulls have had so many brutal losses this season, and so many brutal losses at home, but Friday's debacle against the depleted Washington Wizards will claim a spot in the top five at the end of the year no matter what. Two of Washington's three best players, Gilbert Arenas and Caron Butler, were out with injuries, but that didn't prevent the Antawn Jamison-led Wizards from rallying to outscore the Bulls 35-14 in the third quarter and obliterate the home team's 18-point halftime lead. The Wizards held on in the fourth to win by a half-dozen or so as the boos rained down on the team that is now down to putting the finishing touches on a remarkably disappointing run.
Afterward the thought occurred: Hey Bulls, just so we're clear, you aren't playing to try to squeak into the last playoff spot in the brutally bad Eastern Conference anymore. I know it would be great fun to get killed by the Celtics in the first round of the postseason, but that is no longer the primary focus. You are now playing to give young guys a chance to develop and to showcase tradeable assets (and I am sorry Jim Boylan that this means you probably won't turn your interim head-coaching gig into a longer-term job).
So the worst thing about the game with the Wizards wasn't the third quarter collapse. It was the fact that Tyrus Thomas only played nine minutes. He got more playing time against the Cavs and responded with his usual handful of spectacular plays (including a couple of blocks and, yes, dunks).
And we have to say at least a little about the Bears and Blackhawks:
* There was a pretty good team that dumped its top receivers at the end of last season. They had enjoyed some success during the 2006-07 campaign but had decided anything short of the Super Bowl just wasn't good enough. The necessary cuts were made. Then the team went out and signed a whole new crew. And it worked out awfully well for . . . the Patriots. For 18 games at least.
I'm not saying the Bears have the slightest chance of turning similar receiver turnover into anything remotely resembling the Pats' passing offense. But I am saying that there was no way Bernard Berrian was worth the franchise tag (and a guaranteed salary of seven-plus million dollars) and there is no way he's worth the guaranteed $16 million the Vikings apparently decided to pay him (the overall deal is much larger but the only number that matters in NFL contracts is guaranteed money).
The Pats came up with Wes Welker, Randy Moss and Dante Stallworth (and it must be noted they grabbed the first two in trades; so just because there aren't a whole lot of free agent receivers left on the market doesn't mean the Bears can't do anything). Of course that free-agent market does still contain one receiver in particular, that very same Mr. Moss. What do you say, Jerry Angelo? At least talk to the man.
* If the Cubs or the White Sox find themselves desperate for hitters at some point this summer, maybe they can look to the Blackhawks. During a very impressive 4-1 victory Sunday over a Vancouver team that had earned 13 points in its previous eight games, the Hawks' Patrick Sharp and Patrick Kane both scored by swatting pucks out of mid-air and into the net. If a guy can hit a slender disc with a skinny stick, surely he can pound a nice, round ball with a nice, round bat.
-
Jim Coffman brings you the city's best sports roundup every Monday. He does so out of love.

Posted by Beachwood Reporter at 6:43 AM | Permalink
March 2, 2008
Truly, Modly, Deeply
In Mr. Suave's very British part of the musicverse, everyone speeds on scooters through rainy seaside resort towns at night, popping amphetamines while riding around in their tight suits, looking to spazz their way through a rumble, amped up from listening to Pete Townshend shred a perfect power-pop riff over their transistors. In this place, all the boots are Beatle, the pills are green and the music is mod.
DJ Mr. Suave, though, is from Seattle, not Brighton, and in this edition of his great Modcast podcast, he seems to be visiting family in Minnesota and is freezing his ass off. Seriously, I don't think I've ever heard anyone bitch as much about four degrees below zero (Mr. S.: . . . and that's Farenheit!!). Tell me about it. Anyway, he whipped up a half-hour show with mod nuggets that pretty much all rock hard, in the hopes of "warming things up" in the midst of a nasty winter visit.
Poor guy. He did succeed, though, producing a fine playlist of obscure-yet-great British Beat and late '70s pop-punk numbers guaranteed to make you want to shake off the snow, head to the garage and fire up the Vespa. (I wonder how Quadrophenia would have looked if the streets were covered in slushy snow? Skinny ties topped by tuques? Sting probably would have had to wear a parka instead of that demeaning bellboy outfit.)
Here's the playlist from Modcast #85.
1. The Legendary Golden Vampires, "Rebel Woman." A ferocious German anti-new wave band, kinda like a Kraut Cramps (funny, I did get cramps the last time I ate kraut . . . I think it was at a Cubs game). The singer guy shouts in barely intelligible English, "I'm gonna git you, rebel woman!!" (Mr. S.: Not that they're necessarily legendary.)

2. The Crooks, "Me and My Friends." "We used to smoke in the toilet," the guy brags in a snotty ode to what sounds like prep school bad-boyism. "No one puts one over on me and friends." The Crooks were a British band from the golden era of power pop, 1980 or so. Pretty tight. Their classic album is Just Released.
3. The Odd Numbers, "Autumn Leaves." More modern-day Who worshippers from San Jose. Pretty cool sound, more on the melodic edge of pop-punk, with just a hint of Nirvana tossed in.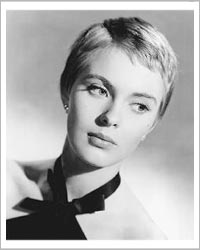 4. Chardon Square, "'65 Film Show." A punk ode to stylish chicks, you know, like the kind you find actressing in the '65 film shows (I'm thinking Jean Seberg.) "Whatever happened to opening doors?" and "timeless style," asks the guy with the pin through his nose. (Mr. S.: This band is from the '84 era of Southern California. Very hard power-pop trio. They had a distinctly SoCal mod sound that incorporated '60s influences as well as the mod revival sounds of the late '70s.)
5. The Lambrettas, "London Calling." I never knew there was more than one "London Calling." Actually, this one is pretty good, too, with the "London calling, London calling, on a wavelength of its own, This is London calling, into the Twilight Zone." This song rocks! The singer is great. The Lambrettas were an early '80s contender for the British mod-pop-ska title, throwing down with groups like the Beat. The singer is Jez Bird. Love the name. Their big album was Beat Boys In the Jet Age. Elton John signed them to his label.
6. The Soup Dragons, "Slow Things Down." I bought their album with "I'm Free" on it (Lovegod) back in the day and remember listening to it continuously on a long road trip to Thunder Bay (Mr. S. hates it). But it really saved my life that week. "Slow Things Down" is much more bittersweet power pop than the SD's usual exed-out glam and glitz of later records. Although it features the same ultra-fuzzed guitar and a lot of '50s-style twee back-up "oooh-oohs" from Sean Dickson.
7. The Continentals, "Walking Tall." Sounding so much like Elvis Costello, they're "walking tall where the angels fear to tread." Really, if Elvis had ever needed a voice-double around 1980 or so, this guy would have done a good imitation. This is from the group's only major label release, a four-song EP released on Epic Records' experimental, short-lived NuDisk format. (Mr. S.: They were a post-punk skinny-tie sounding band from the early '80s. This song has a really cool hook).
8. The Alljacks, "Guilty." Soulful '80s British R&B revival band that apparently played a lot in places like Clacton and Yarmouth. It's like they took ska and turned it into pure Motown, with a touch of Jake & Elwood thrown in for good measure. Huge female backing vocals.
9. Manual Scan, "Don't Know Where to Start." Well, every playlist has to have a stinker and this is it. Wimpy vocals and unimaginative, ballad-y song structure. (Mr. S.: Every inch just a great piece of power pop. Me: In your dreams, Suave.)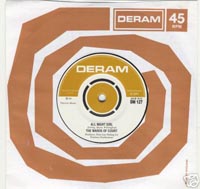 10. Wards of Court, "How Could You Say One Thing?" B-side of band's one major single, 1967's "All Night Girl." Like Mr. S. says, "a real shaker, a great song." Indeed, like Ringo himself is shaking the tambourine in time to the stompin' soul. Also a drum solo, kind of unusual in this kind of mod pop, unless you're Keith Moon.
11. The Vertebrats, "Left in the Dark." Champaign's greatest contribution to rock 'n' roll ever, and one of the crucial founders of '80s-era alternative rock, The Vertebrats show how to sing a punky, power-pop blues ballad. Classic from the word go. Check out a great new remastering of their groundbreaking recordings, A Thousand Day Dream, and hear this song, which Paul Westerberg ranks as an influence on his own songwriting for the Replacements. Also covered by Courtney Love.
-
From the Beachwood jukebox to Marfa Public Radio, we have the playlists you need to be a better citizen of the Rock and Roll Nation.
Posted by Don Jacobson at 1:30 AM | Permalink
March 1, 2008
What I Watched Last Night
I've finally figured out how to accept the spectacle, the drama, and the constant variety of sports that is The Jerry Springer Show and everything else that is free daytime commercial TV. It's pretty simple, really: Switch on Chicago's own WPWR-TV at 9 a.m., imagine you have nothing hopeful to live for, and then just swim in. Because really, The Jerry Springer Show actually can be the shining beacon of your day if you just quit fighting it and give unrelenting unemployment, chronic alcoholism, and clinical depression a chance.
Or sometimes you just end up on the couch on an otherwise fine, sunny day because your back didn't like your recent decision to drag your 47-year-old body long accustomed to every form of carbohydrate known to man down to the gym. As any medical professional will tell you, the human body will ultimately rebel against things it doesn't like. Listen to them. They know their business.
Personally, I would find being a guest on Springer disturbing enough, but I can't think of many things more disturbing than having a mime constantly slinking around my peripheral vision. That's because a mime is a new (for me, at least) addition that Jerry's guests and audience have to contend with now. That, and Jerry opening the show by sliding down a firehouse pole. It might actually be a stripper pole, but Jerry doesn't bump-and-grind his crotch against it, so I'm pretty sure it's just a plain old firehouse pole.
Now, it would be one thing if I had to contend with the distraction of a stripper, some babe dressed in a Catholic school uniform, or even Zippy The Pinhead constantly slinking around the stage out of the corner of my eye. But a fucking mime? As mimes go, this one's not even very good. He spends most of the program seemingly signing for the deaf if the deaf were blind and on Qualuudes, pretending to be on the phone, plugging in imaginary electrical plugs, and investigating the astoundingly interesting world of carpet fuzz.
Maybe Mr. Hand was right and the whole world really is on dope.
Another recent development is the show's surrender to the fact that three seconds into the meeting of any two hostile guests, someone's getting cold-cocked. So really, why even bother trying to separate two inbred dipshits when you know damn well they're just going to keep trying to kick each other's brains out? So now, Jerry's security staff basically serves as brawl moderators, separating the combatants long enough to give a standing eight count before letting them duke it out until one of them runs out of steam.
There's even a ring girl now. Really.
Jerry's Thursday morning show, "Pregnant Gals & A Mime," also featured what is without a doubt the most creative, funniest thing Jerry ever came up with: The Reverend Shnorr. See for yourself: The Bible and public intoxication can coexist for fun and profit. If someone doesn't give this guy his own show when Jerry retires, television deserves what it gets.
The show closed with another new-to-me feature: one of the show's security bouncers interviewing someone from the audience outside the studio. Thursday morning, it was two fairly hot women - in that slightly skanky, three-in-the-morning-closing-time-hot sorta way - from Hobart, Indiana, being interviewed by a security dude who was quickly amused by the word "Hobart."
Security dude: "Are there 'hos in Hobart?"
Skanky-hot chick: "Plenty of 'em."
Note to self: Visit Hobart kinda soon.
*
Say what you will about Springer, but that show doesn't even begin to illustrate all that is wrong with some people in this world. For that we have Montel.
On Thursday, host Montel Williams spent a half-hour struck completely speechless by the story of Crystal, a very sweet young woman who spent her childhood as an incest toy groomed by her drug-selling mom for years of rape and sodomy by her mom's crazy-fuck sociopath boyfriend.
Thursday's Springer guests were entertainment. Thursday's Montel guests were like being chased by a tornado every second of your existence, even in your sleep. If there was anything hopeful involved in a poster child for Post-Traumatic Stress Syndrome, it was the show's ongoing plug for the Rape, Abuse & Incest National Network (RAINN) at 1-800-656-HOPE, where help and hope are available 24/7.
Sixteen years and 300,000 guests filled with stuff that only surviving the Holocaust could probably measure up to. No wonder why Montel looks like hell.
*
Sun-Times ad critic Lewis Lazare is so full of shit. The Geico commercials with The Pips and Peter Frampton are still brilliant, no matter how many times you see them.
"New car smells like sunshine . . . Take a train to happy town - woo-hoo."
Slays me every damn time.
*
Speaking of slay-me commercials, if you tune into WCIU-TV long enough, you'll eventually see the ad for Yale/Insurance Plus featuring Bill Clinton and George W. Bush drag-racing their limos down the street at night. The two yell smack at each other out the windows, Bill wins the race, and afterward the two walk off camera headed to the Denny's down the street to swap funny stories about their wives.
I first saw this one when I woke up on the couch at three in the morning a few months ago and hadn't seen it since, so I wasn't even sure whether I was dreaming or drunk or it was actually real. Sure enough, there it was again Thursday afternoon during Judge Mathis.
The celebrity impersonators are dead-on enough while oozing the perfect amount of cheese that a low-budget commercial like this demands. If anything, whoever came up with the concept deserves a raise just for not having either George or Bill in a bird suit laying a giant egg on the top of some uninsured chick's car.
*
I can't think of anything more frustrating than being Tyra Banks. Imagine the heartbreak of being a woman with a talk show who so wants to be Oprah but never will.
I think it might be because Oprah doesn't squeal like a girl at a pajama party or slip into that annoying Valley Girl dialect.
*
For those who never get sick of game shows, WPWR-TV clocks in with Temptation: The New Sale of the Century, a show that might as well be called Win Ugly, Overpriced Crap That Even QVC Wouldn't Bother With.
Oh, wait a minute. You don't even have to go on the show! You can go here and actually buy the same ugly, overpriced crap contestants win at a staggering 60 percent discount. Is there anyone else who sees a correlation between the rise of Internet shopping and the demise of Bob Barker?
Temptation is certainly a fast-moving game show, thanks mainly to host Rossi Morreale, who speaks at roughly twice the speed of sound and looks a lot like Michael J. Fox if Michael J. Fox was a lot taller, still fit into his Family Ties wardrobe, and was fathered by the dude from Sugar Ray. How I managed to go through life with the idea that game shows were places where careers went to die, I'll never know.
Like its merchandise-based game show brethren, the mental effort needed to compete in Temptation isn't terribly high. The most challenging obstacles faced by contestants on Thursday was knowing the difference between Ben Stiller and Ben Affleck movies, and the location of various bones in your body. Also like it's merchandise-based game show brethren, Temptation has overpriced crap being pointed to by anonymous models who you imagine would be an obscenely good time if you had huge mounds of cocaine at your disposal.
The twist to Temptation is that it doesn't deal in real money. Instead, the winning contestant goes to Shopper's Paradise to win Temptation Dollars, a measure of fake currency which uses the yearly raises given to most American workers as its value model. That's why not even Wal-Mart shoppers can buy a $6,178 trip to Jamaica for $368, a $13,890 piano for $603, or a $35,590 Jaguar X for the insanely low price of $936.
Forget all that business about democracy and freedom. This is why America is the number one destination among every Third Worlder looking to break free of the shackles of starvation, oppression, and hopelessly awful music. You know, if everyone in the Al-Qaeda network could walk off the Temptation stage with a brand new fridge and a Jag after 20 minutes, the War on Terror would be over.
*
If it's unrepentantly annoying, it must be The Insider. Today, the unrepentantly annoying Steven Cojocaru is - I kid you not - breathlessly jumping around the stage blowing a big bubbly gasket over the upcoming movie version of Sex and the City like it's The Second Coming Of Christ.
In response, I find myself sitting there wishing someone would just shove him into a gunny sack with a bunch of cats and a brick and dump the whole mess into a farmer's pond.
*
There's a difference between unrepentantly annoying and relentlessly annoying. That's why whoever came up with the "so prehistoric" commercials for Comcast ought to be tied by the ankles to the bumper of a truck going on a very long trip.
Why? Kids don't talk like that. The last kid who did was Waldo in the Our Gang shorts. He ended up in a gunny sack with a bunch of cats and a brick at the bottom of a farmer's pond.
*
The most unexpectedly unusual moment of TV viewing on Thursday came during an afternoon edition of The People's Court. The plaintiff and defendant, embroiled in a nasty mosquito-filled koi pond die-off case, enter the courtroom to the show's signature dramatic music as usual, but there's no announcer to provide the public introductions of the defendant and plaintiff.
The crawler running across the bottom of the screen blames the Writer's Guild strike. Really.
*
WPWR has its own candidate competing with WCIU's daylong stable of small claims TV court judges: Judge Cristina Perez of Cristina's Court, who will never fuel as many wet dreams as Judge Marilyn Milian, and isn't as outwardly annoyed with obvious bullshit as Judge Mathis. Matter of fact, I doubt we'll ever see a day where Judge Cristina will get as fed up as we're all waiting for Judge Mathis to get over the endless stream of fools and slouches parading before him and scream, "What is wrong with you people?! Are you all fucking stupid*or what?!"
So what's Judge Cristina got going for her? She's got the hugest, scariest-looking bailiff daytime court TV has ever seen. She's got Bailiff Cam. She doesn't blink at the mention of porn. And she doesn't mind sitting in a golf cart wearing golf shoes and drinking beer while her husband plays.
And yeah, dammit - she does make you feel like she cares.
*
I know I'm way behind the curve, but in which season did someone turn the Scrubs theme song into such a plodding piece of shit?
-
What did you watch last night? Lists, observations, essays and rants welcome And check out the entire fantastic mind-blowing What I Watched Last Night catalog, the world's best TV criticism. Because we care.
Posted by Beachwood Reporter at 1:21 PM | Permalink
The Weekend Desk Report
With Weekend Desk Editor Natasha Julius on assignment this week researching potential new markets for the Beachwood and the Weekend Desk B Team feeling all icky and congested, today's report will be brief.
1. Peace efforts in the Middle East continue to make progress. We'll stay on this story for another 1,000 years to bring you the latest breakthroughs.
2. Prince Harry learns from the Obama campaign how to effectively leak to Drudge. It's good to be the king-in-waiting.
3. Has Dr. Drew really thrown in the towel? Will he start shooting junk? We can't wait for part two of the season finale either!
4. Instead of the U.N., maybe we should have World Leader Rehab With Dr. Drew, where world leaders converge on a treatment center in Pasadena and Dr. Drew weans them from their addiction to power and thuggery. We'll form a working group to explore the idea.
5. Germophobes can add snowflakes to the list.
-
Now Playing
"It is to the credit of playwright Steven Simoncic, Pegasus Players, and Live Bait Theatre that they took on the formidable task of dramatizing this highly readable, but still scholarly and detailed work. Heat Wave had its world premiere this week at the O'Rourke Center of Truman College, in a neighborhood not so very different from those where the disaster hit hardest," our very own Marilyn Ferdinand writes.
"It is near-miraculous that Simoncic was able to cover every significant finding in Klinenberg's book in the space of a two-hour play, painting a vivid picture of the disaster that anyone can follow."
-
The [Friday] Papers
"The phrase 'natural born' was in early drafts of the Constitution," the New York Times reports in "McCain's Canal Zone Birth Prompts Queries About Whether That Rules Him Out."
Q. Would a President McCain appoint strict constructionist judges who would then rule he is not eligible to be president?
-
"The anti-McCain litany is the list of bills he has co-sponsored with Democrats: McCain-Feingold (campaign finance restrictions), McCain-Lieberman (greenhouse gas restrictions), and McCain-Kennedy (illegal immigration)."
Jeez, McCain's passed more Democratic legislation than Obama.
-
"Spending nights without her husband has been the most difficult adjustment, Lura Lynn Ryan said," the Sun-Times reports. "She has kept a strong faith, praying every night, even though 'the Lord is a little slow in getting here sometimes.'"
Hey, give the Lord a break. He's a little busy deciding the outcome of sporting events all over the world.
-
Alternate punch line: Hey, give the Lord a break. He's a little busy trying to nail down the nomination in Texas.
-
George Ryan has been transferred to a federal facility in Indiana, where he was immediately named a superdelegate. He said he will vote his conscience.
-
"Stroger's not dumping his old $100,000 PR director - Andre Garner. He's shuffling Garner into a vacant job in the county planning department," the Sun-Times reports in a story about Todd Stroger hiring childhood friend Gene Mullins as his new propaganda minister.
"Mullins would supervise another former Stroger PR chief, Chinta Strausberg - who is now paid $99,807 a year as Stroger's liaison to churches - as well as $85,000-a-year hospital spokesman Sean Howard, who was fired from Stroger's political campaign after he was arrested on charges of stalking a woman.
Wow, I want to be a former Stroger spokesman. Can I apply online?
-
"Mullins has a solid reputation at the [Chicago] police department, but his hiring comes on the heels of Stroger hiring another childhood friend, his cousin, his best friend's wife and even his floor leader's girlfriend for high-level county jobs."
The scary thing is that genealogy research shows that Dick Cheney is a distant cousin of Stroger's . . . and he'll be looking for a new job soon.
-
"For the first time in U.S. history, more than one of every 100 adults is in jail or prison, according to a new report documenting America's rank as the world's No. 1 incarcerator."
The Illinois political caucus put us over the top in a close race with China.
-
Voter turnout from inside America's prisons is unusually high this year.
-
Maybe the Wrigley Co. could offer Sam Zell a swap and rename its downtown headquarters Tribune Field.
-
If Sam Zell gets his way and sells Wrigley Field to the state, "There'd be no more talk of moving the team to Schaumburg, like the rumblings that accompanied the Trib's 1981 acquisition of the Cubs for $21 million," the Sun-Times reports.
In other news of exploiting lame threats more than 20 years old, former East German officials announced that for the right price they will not rebuild the Berlin Wall.
-
Why doesn't Sam Zell sell naming rights to the Tribune?
-
"It's not the same as 20 years ago, when I kept the White Sox in Chicago by passing a tax on out-of-towners," says former Gov. Jim Thompson.
And that concluded the reading of his new book, Self-Aggrandizing Fairy Tales, out soon on Combine Press.
-
Apparently Patti Blagojevich is in line for the commission if Wrigley Field is sold to the state.
-
If Wrigley Field becomes McDonald's Field, will the neighborhood become McDonaldville?
-
At least Sam Zell provides us with an identifiable villain instead of a cast of faceless corporate bureaucrats. Now bring me his head on a stake.
-
What if Wrigley was renamed Marshall's Field?
-
"I do not believe that anybody can grow a business by reducing the number of employees," Sam Zell said upon taking over Tribune. "It is not our game plan to, in effect, try and figure out how few people we can have run this business."
Maybe Zell should coach the Bears, because he's proving more adept at changing the game plan than Lovie Smith.
-
"The focus of everything that we're going to do is directed at one thing: generating more revenue," he added.
Apparently that means figuring out how few people can run the business.
-
In response to a campaign being waged against him by the Sun-Times, Zell said "We'll see you in Bankruptcy Court!"
-
A Beachwood reader writes: "I'm surprised you didn't mention the the S-T printing the word "asshole" more than once in Mariotti's column.
"Maybe it's part of some brilliant new marketing campaign to reverse their fortunes: "The Chicago Sun-Times: Beating the Tribune one asshole at a time."
-
"[The Wire's David] Simon is highly amused by an irony he perceives in the press's reaction to corporations' slashing of newsrooms: that newspaper editors are now making speeches about the same economic forces - the triumph of capital over labor - that the press has been ignoring in their own cities for years. 'What they should have been covering is now biting them in the ass,' Simon said. 'We'll see it in season five: Guys, you're a little late. It happened to you, and it happened to the entire working class.'"
It's not news 'til it happens to the Tribune.
-
If the Straight Talk Express is rockin', don't come knockin'.
-
The Clinton campaign is facing charges today that it leaked a photo to The Drudge Report of Barack Obama dressed in a blue shirt and khakis from the Gap.
-
Gov. Rod Blagojevich insists he's not Public Official A, he just pretends to be when he's having governmental relations with Patti.
-
Conrad Black reports to prison on Monday and as part of his punishment the only visitor he's allowed to receive is Neil Steinberg.
-
Barack Obama raised $50 million in February and said he would use the funds to take the money out of politics.
-
"Bernardo Rangel and Juan Verra were dressed in camouflage and tending as many as 40,000 marijuana plants when they were arrested last summer in a Cook County forest preserve near Barrington Hills," the Tribune reports.
"On Thursday, Rangel and Verra, 23-year-old Mexican immigrants, were both sentenced to 2 years in prison after pleading guilty to their roles in what authorities said was an elaborate operation."
Wait a minute. Are you thinking what I'm thinking?
The Beachwood Tip Line: The next best thing to being there.
Posted by Beachwood Reporter at 6:35 AM | Permalink