« April 2007 | Main | June 2007 »
May 31, 2007
The [Thursday] Papers
The Tribune calls it "A $100 Million Mystery" atop its front page today: A graduate of the University of Chicago has donated $100 million to the school "to eliminate student loans for hundreds of undergraduates," the paper reports.
The donor has asked to remain anonymous. Various news reports call the gift the largest ever to a university in Illinois.
"The cash gift . . . will provide full scholarships each year for about 800 students whose family incomes are less than $60,000," the Tribune account says. "Another 400 of the college's 4,400 undergraduates, whose family incomes are less than $75,000, will have roughly half their loans replaced with grants."

Facts On The Ground
This sounds fantastic:
"Chicago's public housing high rises were internationally infamous. Now they are almost all gone. Where did the residents go? What are the consequences of the demolition for Chicago and beyond? Explore these issues with We The People Media, publishers of Residents' Journal, a national award-winning news magazine written by low-income people.
"Sign up today for a We The People Media Bus Tour.
"Slots are available beginning June 1, 2007. Each journey of the The Bus Tour is hosted by Residents' Journal Assistant Editor Beauty Turner, a former resident of the Robert Taylor Homes, in its day the largest public housing development in the world. Beauty will take you to historic sites around the city, provide you with data and details about low-income families in Chicago, and introduce you to former tenants of public housing as well as families who live in the mixed-income communities which replaced the high-rises.
"Learn from the experts about the communities in which they live. At the end of the tour, Beauty will bring you to the Ghetto - Greatest History Ever Told - Gallery, which holds a unique display of photos, memories and artifacts. Schedule Your Tour Today!
"Contact Ms. Beauty Turner Call: (312) 745-2686 or write: beauty@wethepeoplemedia.org."
Betting Your Life
"I wish lawmakers would quit taking the easy way out and actually restructure the state's tax system," the Daily Southtown's Kristen McQueary writes this morning.
"I wish you, taxpayers and constituents, would give elected officials the cover to approve a moderate tax increase without running to the ballot box.
"Because if you think expanded gambling isn't going to impact your life or raise your taxes through more crime, more addiction, more foreclosures and higher interest rates, you're wrong.
"If you think the education of kids in Harvey or Dixmoor doesn't impact you, you're wrong.
"If you think you can just keep moving west to new subdivisions with rising property tax bills to escape faltering public schools, you're wrong.
"Illinois doesn't need more gambling. It needs elected officials who will listen to their conscience and voters who will keep them around."
Character Test I
"Imagine that the top presidential candidates are all at an airport, trying to get on a flight. There is one seat left on the plane, and there are six people ahead of them in line. What does each of the candidates do?"
Suggestions welcome for Illinois public figures.
Character Test II
"The Illinois House signed off on $150 million in school construction dollars late Wednesday, money intended to once and for fulfill the state's commitment to nearly two dozen school districts that were promised state building aid nearly six years ago but never received it because the state ran out of cash," the Daily Herald's John Patterson reports.
"However, as is often the case in Illinois government, there's a catch.
"The school construction money is part of a plan that also includes bigger paychecks for state lawmakers, among other goodies."
Bullpen Blues
Greg Couch explains how the Sox and Cubs took different approaches to their bullpens - and how both got it wrong.
Upside Down
Cubs fans like to say that despite their team's woes they are still just six games out of first place. They neglect to mention that they are just 2 1/2 games out of last place.
Brendan Natarus
What is Ald. Brendan Reilly (42nd) waiting for?
If the suspicion that he's going to allow the demolition of the Lake Shore Athletic Club, whose first floor has been boarded up and is rimmed with scaffolding, couldn't be "further from the truth," (third item) he might want to let us know.
The Reader's Ben Joravsky is the latest to be rebuffed by Reilly. Perhaps if Joravsky would have pretended that he was Rich Miller, who is a friend of Reilly's, he would have had his phone calls returned.
As Joravsky notes, Preservation Chicago has scheduled a rally for 1 p.m. this Sunday at 850 N. Lake Shore Drive.
Juvy
Would you put your child under the care of Todd Stroger's administration?
Dealt Out
Country Club Hills is the biggest loser in Emil Jones's latest casino shenanigans, says the Daily Southtown's Phil Kadner.
Downsizing Defender
The paper might become a weekly.
Thriller
The Internet is a Bounty of Goodness.
I-Man
Lee Iacocca really takes it to George W. Bush - and says you're not a patriot if you're not outraged.
Mighty Ducks
In case you missed it, there is a Stanley Cup Final underway. Our preview not looking so bad.
Rating Rod
Well, maybe Blago is the second-worst governor in the nation.
The Beachwood Tip Line: Looking for leaders.
Posted by Beachwood Reporter at 8:32 AM | Permalink
T-Ball Journal: No Cheering, Coach
Whatever you do, don't cheer. The kid has two strikes on him with two outs and runners on second and third. We are clinging to a small lead and if he strikes out, we have a real good chance to turn that lead into a win, our first of the season. But nobody is truly happy when coaches strike out the kids on their teams at this level. It is so much better when they hit it and we make a play on defense. So coach, don't cheer. In fact, don't move a muscle as the umpire cries out "Strike three!" But don't be too tough on yourself for feeling so relieved. It can't be helped.
Deciding just how much your T-Ball/coach-pitch team plays to win is one of the biggest challenges facing a coach at this level. It infuses every part of my son Noah's junior division games. Of course I'm not trying to win at all costs (Congratulations coach, your team just won the T-Ball championship! Thank you, thank you very much. I'm so pleased to accept this honor because it so clearly validates my entire life . . . I'd like to thank the grounds crews, the umpires, the bottled water distributors . . . ). But the "Can't we all just rise above this petty competition stuff?" approach doesn't work either.
There was a team in our league last year whose coach's daughter was a real good player. At the draft (before the season the coaches get together to form up teams - at our level teams usually pick a few friends of the coaches' kids and then use rankings to try to make sure all the squads are reasonably competitive), her team took as many girls as it could. But that meant taking kids from well down in the rankings with early picks. I'm sure there was a lot of fun female fellowship going on but the team lost all but one of its first 13 games.
When we played them late in the season, more than a half-dozen team members had simply stopped showing up. And when it came time for our game to start they only had seven kids (out of 16 on the roster). Five minutes later we could have called it a forfeit, but didn't (how can you not take the win right there coach? You could have improved your playoff seeding!). Ten more minutes later one more kid showed up to give the team the minimum. It didn't take long for us to build a double-digit lead and we eventually finished off a less-than-satisfying win.
One thing a coach has to be real careful about at this level, and even more so in my daughter's T-Ball division, is that with some kids it doesn't take much to prompt them to bow out completely. Alana's coach talked recently about a kid who struck out early in the first game last year and just like that "we lost him. I pleaded with his parents not to let him quit, but he was gone."
The "how much do I care about winning" questions begin before the game. Should I use my favorite method of lineup creation, the one in which "the players who get here first bat first?" Or should I have a set lineup going in, with my best hitters always batting first, second and third? I don't do that in part because last year we always had a couple kids who surprised me by not showing up, despite my begging and pleading with parents to give me a heads up if they weren't going to make it. And of course because a pre-game lineup requires just a bit more pre-game organization. Have I mentioned that isn't my strong suit?
Usually my lineups are mostly based on order of pre-game arrival. I made exceptions last year to try to spread out my weaker hitters but this year we have more hitting parity throughout our roster. And the kids are aware enough of the rule this year that some are running from their cars to the diamond before games to try to move up a spot.
Before our third game, which eventually became our second loss to go with a tie, I noticed the opposing coach walking away from his bench with one of his players. This coach was seriously organized - enough to have his lineup posted on an erasable clipboard hanging above where the bats were stored. As he went he was explaining, in a very serious way, "I decided to drop you down two spots in the lineup and I just wanted to tell you why . . . " to a seven-year-old . . . I hate to second-guess another coach but my feeling is that sort of move doesn't quite require a heart-to-heart chat.
At that point I realized that coach was probably tilting a bit more toward the "win at all costs" model. I probably should have figured that out earlier, especially after Noah and I arrived a full half hour before game time and his team, the Cubs, already had eight guys there taking precision infield practice. And then there was the contest's aftermath, when I walked by their bench after talking to my team, giving my son enough time to wolf down two snacks, gathering my dust-drenched equipment and picking up trash, and the Cubs were still sitting there, listening to their coach's post-game analysis.
Then again, the game with the Cubs was more fun than our most recent outing, which actually resulted in our second victory (we went into the Memorial Day break with a 2-2-1 record). We had recorded our first win a day earlier in a competitive contest in which we built up a lead during the T-Ball innings, scored a few runs during coach-pitch and hung on. It was a real nice result and it was a relief - we were off the schneid.
The most recent game was against the Giants, a team we knew a little about going in. A friend of ours' twin daughters play for the Giants and when we talked to her she readily acknowledged the squad was struggling. My son heard her say this and when we arrived at the game and I reminded him who we were playing he immediately said "We're going to win." I admonished him not to jinx us and he responded "Dad, there's no such thing as jinxes." I told him not to be overconfident and let it go at that. It occurred to me that the concept of a jinx is not easily defended, even if they so clearly exist.
The game began and sure enough, the Giants struggled. We took an early lead due in part to aggressive base-running. Sometimes in these games the best base-running policy is to just keep going, trying to egg the other team into making bad throws. And a couple of the Dodgers employed it to great effect during the first few innings. Yet another conundrum by the way: should you stop your players from doing that and avoid embarrassing the other team? Or does doing so corrupt the game? And while I'm at it, there is the question of who plays which position when? The Giants switched their kids around every inning after the third, letting whoever wanted to play pitcher play there. It probably cost them a few runs but was that the best way to do it? I always tell our kids that I'm trying to put them in the positions where they have the best chance to succeed but clearly that is at least a little bit of a cop out.
The game took forever to finish, what with the Giant coaches seeming to make up the defense as they went along the last several innings. The sun had gone down and their coach pitcher was still having his kids take a half-dozen practice swings every at-bat.
In the end the competitive questions continued to nag, as did the fact that my pitching had been sub-par, resulting in one of my better players striking out twice (Doh!) and others not getting enough good pitches to hit. Do kids have more fun when they play the positions they want to play, even if they then struggle to make plays at those positions?
My friend, the mother of the twins, had noted that after an earlier game the Giants had lost, "they thought they won and we weren't arguing." So did an actual win matter? It would have if any of the Giants had tried to tell the Dodgers they had won this one. In my experience any efforts to downplay the actual score have always been defeated by players insisting (my man Noah in particular) on knowing what the numbers truly are. You can fudge the goal totals in soccer a bit but in baseball it is all right there in the scorebook. So many questions . . . .but hey, I'm sure we'll figure it all out by the end of the season. On the other hand something tells me a few more questions will probably come up.
*
Jim Coffman's daughter is in her first season of T-Ball. Her older brother is in his last year in the Junior Division. Coffman is chronicling his travails as coach of his son's team and observer of his daughter's initial foray into this slice of Americana.

Posted by Beachwood Reporter at 5:56 AM | Permalink
May 30, 2007
Reviewing the Reviews
May 26-27.
Publication: Tribune
Cover: Sara Peretsky sits on a table, for a review by Samuel G. Freedman of her latest, Writing in an Age of Silence. Didn't read the review.
Other News and Reviews of Note: The Sun Farmer: The Story of a Shocking Accident, a Medical Miracle, and a Family's Life-and-Death Decision. The Tribune headline: "What Price Life? This tale of injured Illinois farmer raises questions about science and ethics." Between that and the exceedingly long book title, I sense I'm being given a really hard sell about a book that doesn't live up to its billing.
Also: Former Tribune investigative reporter William Gaines reviews Nation of Secrets: The Threat to Democracy and the American Way of Life. Interestingly, Gaines says Gup's book is "a frontal attack on secrecy" but that "Something is amiss. Journalism is supposed to be fair, and Nation of Secrets is instead a one-sided diatribe."
And: "Literary Editor" Elizabeth Taylor interviews Ald. Ed Burke (14th) and Thomas J. O'Gorman, authors of End of Watch, which reconstructs every Chicago police officer ever killed in the line of duty. This sort of exercise of a book makes me squeamish, like opportunistic enforced patriotism and nationalistic myth-making. I'm also not comfortable with interviews of political subjects on topics of their own self-interest who are otherwise generally unavailable to news reporters with tough questions at-hand. Fuck Ed Burke.
Finally: The Trib's Steve Mills serves up the second review I've seen of Kevin Davis's Defending the Damned: Inside Chicago's Cook County Public Defender's Office that describes the book's real life characters as hardly being the idealistic people's lawyers we might hope and presume work in that unit. "Indeed," Mills writes, "the book sends a signal that many readers will find troubling: that defense lawyers simply want to win - rather than vigorously challenge the state's evidence and protect their client's rights - even when the evidence is overwhelming that their client is guilty." Public defender Marijane Placek is the book's main protaganist.
*
Publication: Sun-Times
Cover: Somewhat nonsensical but not entirely aesthetically unappealing art to decorate the pairing of reviews of two books about the rich: Robert Frank's Richistan: A Journey Through the American Wealth Boom and The Lives of the New Rich; and Frances Kiernan's The Last Mrs. Astor.
Scott Jacobs, a Bucktown writer who, we are told, summers in Highland Park, does a nice job with Frank's book, including nuggets such as:
"Being rich is not as easy as you may think. When you have mansions in Chicago and Palm Beach, a yacht in St. Marten and a ranch in Montana, just getting from one to the next on your private jet requires a fair amount of scheduling.
"To be certain they are the residences of your dreams - and that you have the right clothes, toiletries and other assumed comforts when you get there - you can easily maintain a staff of 100 employees.
"The first thing Frank discovered is that, when you are rich, you are not a family anymore. You are a small business."
-
I didn't read Lisa Lenoir's review of the Astor book; no reason other than disinterest. It doesn't appear to be available online.
Other News and Reviews of Note: The S-T also reviews The Sun Farmer.
Also: The rest of the S-T's reviews are more intriguing than what the Trib offers up this week: The Other Woman, a collection of 21 true stories; The Entitled, by Frank Deford; Presence, by Arthur Miller; Divisadero by Michael Ondaatje; and an interview with Marco Pierre White, author of The Devil in the Kitchen: Sex, Pain, Madness and the Making of a Great Chef.
*
Publication: The New York Times
Cover: An arresting piece of art based on the iconic 9/11 photo of the man falling from the World Trade Center, with the body now a smudge. For a Frank Rich review of Don DeLillo's Falling Man. Didn't read it; grew weary of Rich a long time ago, and from what I've read elsewhere, this isn't a particularly transcendent work.
Other News and Reviews of Note: The Times also reviews Devil in the Kitchen; Steven Pinker likes Natalie Angier's The Canon: A Whirligig Tour of the Beautiful Basics of Science.
Also:
- The Last Tycoons: The Secret History of Lazard Freres & Co., under the headline "Bankers Behaving Badly." By William D. Cohan.
Pull Quote: "For more than a century, Lazard Freres engendered awe among Wall Street insiders; not anymore." Reviewed by Richard Parker.
- The Jesus Machine: How James Dobson, Focus on the Family, and Evangelical America Are Winning the Culture War. By Dan Gilgoff.
Pull Quote: "Dobson conferred with Karl Rove about a Supreme Court nomination; he received a thank-you note from Samuel Alito." Reviewed by Jacob Heilbrunn.
- The Occupation of Iraq: Winning the War, Losing the Peace. By Ali Allawi.
Pull Quote: "Who are Iraqi's leaders? They are warlords living in compounds walled off from the rest of the country." Reviewed by Edward Wong.
- Fallen Founder: The Life of Aaron Burr. By Nancy Isenberg.
Pull Quote: "The Burr you know is the bad boy of the early Republic. The one Isenberg knows is witty, wise and sexy." Reviewed by Jill Lepore.
Charts: Subjects of the top three best-selling non-fiction books.
1. Einstein.
2. George Tenet.
3. Chef Paula Deen.
God slips to No. 4.
Posted by Beachwood Reporter at 1:29 PM | Permalink
The [Wednesday] Papers
The provision in the gambling expansion bill now before the General Assembly that would reimburse a star-studded cast of political insiders for their lost investment in the failed Emerald Casino has been removed, and the excessive cash the legislation would deliver to Chicago State University has been trimmed back. But this is a bill that keeps on giving. Call it an Emil Jones Special.
Carol Marin writes this morning that "The proposed legislation provides for four new casino licenses, one of which would be for the south suburbs, specifically designated to be within 'eight miles from the Indiana border.'"
You don't need to consult Mapquest to figure it out. As Marin notes, the town of Dolton, ruled over by the notorious Shaw brothers, fits the bill.
"And the Shaws still have powerful friends in high places, not the least of whom is Senate President Emil Jones, an ardent fan of gaming, a 30-year friend of the twins, and a ferocious supporter of a south suburban casino location," Marin writes.

"There is plenty of concern down in Springfield that the Brothers Shaw might be holding a fistful of aces on this deal."
State Sen. James Meeks (D-Chicago) confronted Jones, Marin reports.
"Jones told him, 'This would not be a Dolton boat.' Was that assurance enough for Meeks that a riverboat is not going to Dolton? 'I am not convinced it's not,' was the senator's grim response."
Ebert's Bad Review
John Kass weighs in on the casino legislation from Hapless Taxpayer World, focusing on the now-disappeared Emerald investor bailout.
"Another investor is Chaz Ebert," Kass writes, "wife of the renowned Sun-Times movie critic Roger Ebert. I wanted to feel sorry for her too. Then one day, after one of my columns ran on another bailout attempt, she called to complain about my tone, while she was en route to the French Riviera."
Party Pattern
Funny how state and national Democrats could hardly have been given a better opportunity to lead following the George Ryan Era here in Illinois and the historically failed Bush Administration in Washington, and in both cases they have fumbled it away.
Kucinich-Paul is looking better all the time.
Corporate Ruling Party
"The four-figure checks taxied into Rep. Jerry Costello's campaign account in the final weeks of the 2006 congressional elections: $5,000 from American Airlines, $3,000 from United, $1,000 each from Delta, Southwest and a trade group for private jet ownership. Together, they could have funded a few television commercials and helped in a tight race," the Tribune reports.
"Too bad Costello was running unopposed."
ObamaCare
Barack Obama released his health care plan on Tuesday and its hardly an exercise in transcendence.
"The presidential candidate and Illinois Democrat placed himself in the center of his party's mainstream with a plan that relies heavily on the promise of cost savings through a big investment in technology," the Tribune reports.
Um, technology to come up with a better plan?
"He's talking about something that takes the existing system and makes it work," a Harvard professor of health policy told the Tribune.
On what planet?
"Like Edwards, Obama would preserve the current employer-based health insurance system and so reduce the risk of stirring opposition from those who are satisfied with their health coverage," the Tribune says.
Like senators and their major benefactors.
"The financing of Obama's plan depends heavily on often-elusive cost savings, which he said would result in the average family saving $2,500 a year in insurance premiums," the Tribune reports.
Problem solved.
Charlestown Chief
Sun-Times sports columnist Greg Couch has lunch with Steve Carlson of Slap Shot fame - "You know, the guy who beat up the Coke machine because the ''[expletive] machine took my quarter," Couch writes.
Be a Patriot
Smoke the weasel out.
O'Hare Syndrome
"Canadian National Railway Co. chief executive Hunter Harrison voiced frustration over the congestion his freight trains have been experiencing in Chicago, saying he did not see things improving at North America's largest rail interchange hub any time soon," the Financial Post reports.
"The outspoken Tennessee born chief executive said moving goods from the south side of Chicago to the north side sometimes takes as long as it would to move them to Winnipeg, while speaking to a group of analysts in Toronto yesterday."
Product Placement of the Day
A new restaurant in Darien!
PR Arms
It's no coincidence that when NBC Nightly News broadcasts from Chicago on Thursday the show will include a profile of Michelle Obama. The campaign has been spoon-feeding Michelle Obama profiles nationwide as part of its media strategy. Even the most vaunted of media outlets happily go along; seeing as how they have no strategy of their own, they're thrilled to have one provided for them.
25 Strikes and You're Out
Why is this man still driving?
Dumb Cubs
Both the Sun-Times and Tribune take up the continued stupidity of the Cubs today without getting to real issue: The fact that general manager Jim Hendry has made a habit of acquiring players lacking in baseball smarts (not to mention fielding skills).
Michael Barrett, Alfonso Soriano, Aramis Ramirez, Jacques Jones, Matt Murton, Cesar Izturis, Mark DeRosa . . . these guys and those before them didn't come out of the Cubs crappy farm system - a problem in its own right - but were brought in by Hendry.
And after an off-season spending spree, what does it say when manager Lou Piniella says of using a set lineup every day, "I don't think we have that type of situation"?
It says Hendry spent $300 million and still didn't give his manager a starting lineup.
The Beachwood Tip Line: Scouts?
Posted by Beachwood Reporter at 8:04 AM | Permalink
Day in the Life: Downtown Chicago
I don't get downtown much, but I was downtown recently and had some time to really take in my surroundings. A few observations.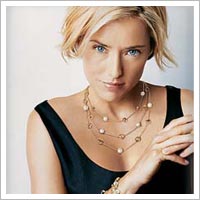 1. You know those those big electronic street kiosks with ads that keep changing? Every time I passed one along my route between the Randolph Street Metra station and my first destination at Monroe and LaSalle, Tea Leoni kept popping up in the same ad for Di Modolo jewelry. It was like those eyes kept following me, kind of like that 3D picture of crucified Jesus in Born In East LA. If I was paranoid, I'd have thought maybe the Chicago Police Department was using her ads for streetside surveillance work.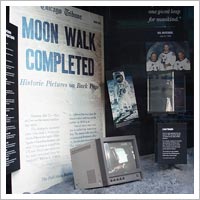 2. A window in the Tribune Tower has a moon rock brought back by the astronauts from the Apollo-whatever mission in 1971. It looks like lava from Hawaii, but still, how fucking cool is that?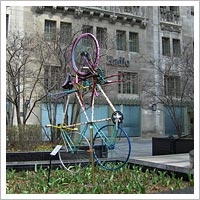 3. I'm almost tempted to say the bicycle art along Michigan Avenue sucks. I know: Why don't we scour the suburbs on trash day for a boatload of rusty old bikes, do some wacky things like weld a few frames to each other, put the handlebars on backwards, paint them Day-Glo colors, stick them in the middle of some tulip gardens next to the curb, and call it civic art? I've seen collisions between two bike messengers that were more inspiring.

Every single one of whoever made these artifacts missed the boat by making them civic art instead of putting them all in the middle of Atlas Galleries on North Michigan Avenue and charging $42,000 a pop. I don't know - maybe the hunger from being starving artists makes you not think straight or something.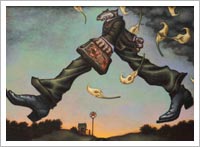 4. Speaking of Atlas Galleries and things inspired, if the funky-coyote art of Markus Pierson in the north window doesn't make you even the teeniest bit amused, you need to march your cynical-ass life out to Michigan Avenue and push it in front of the first speeding cab you see so you can get a new one.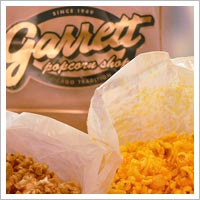 5. There are a lot of crummy places to work in the city. Take your pick. My leading candidate is the Garrett Popcorn store. I passed two of these places and instead of thinking, "Hey, that's some great-smellin' popcorn, I think I'll get me some," I ended up pondering whether it might be possible to develop contact-high diabetes. I'm not sure which would be worse, working at Garrett's and overdosing on the sickly, overwhelming aroma of caramel all day, or working at a notions shop and overdosing on the sickly, overwhelming aroma of potpourri all day.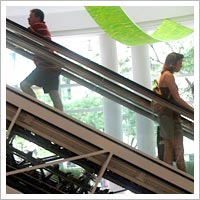 6.Seen one escalator, seen 'em all. But when was the last time you saw how one works? Maybe I'm just easily fascinated, but I thought the uncovered, moving innards of the escalator between the first and second floors of the Crate & Barrel on North Michigan Avenue was pretty neat. There didn't appear to be any escalator repairman-looking people working on it and none of the other escalators had their innards exposed, but the thing was moving, so I wasn't sure whether it was in the middle of regular maintenance or the Crate & Barrel folks just thought it might be a nice touch for customers to be able to see escalator guts.
Mundane stuff like that may not fascinate many adults other than me, but if you have an 8-year-old kid in tow, seeing moving escalator innards might be one of the higher points of his day. Because I guarantee that any 8-year-old getting dragged around the Magnificent Mile isn't in it for the entertainment. Only problem is, you'd have to ride the floors all day to get more than one passing glance at moving escalator guts. Even I'm not easily-fascinated enough to do that.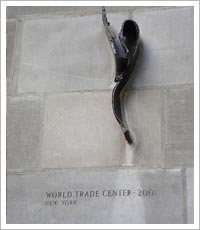 7. Along with stuff like bricks from Hans Christan Andersen's house and the house in Holland where the pilgrims gathered to pray before sailing over on the Mayflower, the Tribune building has a bent ribbon of steel from one of the World Trade Center towers stuck into its wall on the Pioneer Court side. I'm not much on patriotic symbolism, but I kept thinking of the parallel of this ribbon of metal to The Wall in Washington, D.C., in that you didn't have to actually be there to be able to appreciate the gravity of either one afterward.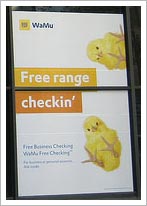 8. My job makes me design the endless river of boring-ass institutional marketing shit banks insist on putting out. Which means I find myself wishing several times a week that someone would just put a gun to the back of my head and pull the trigger. That's why I'd love to buy whoever came up with Washington Mutual's "Free Range Checkin" window banners (the photos of baby chickens pull it together: checkin', chicken, get it?) in the the 230 West Monroe building a drink or three, because creativity and wit like that doesn't get rewarded enough.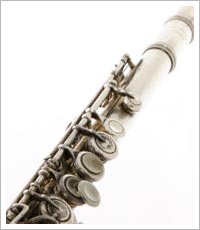 9. My train was about to leave, so I didn't have any time to catch the name of the flute-playing musician at the entrance to the Randolph Street Metra station at 12:30 p.m. But this guy deserves a whole pile of spare change for putting out some totally bitchin' jazz instead of being some guitar-playing rummy doing off-key Hank Williams at the bottom of the stairway.
*
Share your Day in the Life, be it People, Place or Thing.
*
Photos: 1. leonionline.com | 2. Chad Kerychuk | 3. Eric Pancer | 4. Atlas Galleries | 5. JellyBeanJill13 | 6. Paul Fontana | 7. Chad Kerychuk | 8. Janet Dong | 9. Beachwood Reporter file photo.
Posted by Beachwood Reporter at 12:50 AM | Permalink
TV Plot Keywords Vol. I
According to IMDB.com.
1. M*A*S*H
Army Nurse | Clairvoyant | Ignorance | Alcoholic | Immaturity | Alcoholism | Strait Jacket | Satire | Surgery | 1950s | Anti War | Army Life
2. One Life to Live
Soap | Sex | Multiple Personality | Borderline | Personality Disorder | Human Relationship | Interracial Relationship
3. MacGyver
Science | Spy | Gilligans Island Character Similarity | Improvisation | Espionage | Hero

4. The Price is Right
Shopping | Non Fiction
5. WKRP in Cincinnati
Workplace | Radio | Sitcom | Cincinnati Ohio | Disc Jockey | Radio Broadcasting | Radio Station | Radio DJ | Radio Personality | Radio Reporter | Rock 'n Roll | Rock And Roll | Secretary
6. Chicago Hope
Surgery | Neurotic | Chicago Illinois | Doctor | Eccentric | Black Comedy | Gambling Addiction | Hospital | Surreal | Medical | Brain Surgery | AIDS | Heart | Leech | Medical Research | Revival | Tracheotomy
7. The 700 Club
Christian | Prayer | Christianity | Fundamentalism | Religion | Conservative | Evangelical Christianity | Antichrist | Republican | Televangelist | Fundamentalist Religion | Money

8. The Rockford Files
Sting Operation | Malibu | Detective | Hollywood Sign | James Rockford | Private Detective | Famous Opening Theme | Camaro | Ex Convict | Father Son Relationship | Los Angeles California | Police | Trailer Home | Cult TV | Cult Favorite | Answering Machine | Different Gags During Credits
9. Soap
Post Traumatic Stress Disorder | Shell Shock | Ventriloquist And Dummy | Homosexual | Mafia | Spoof | Possession | Ventriloquist | Alien Abduction | Cult Comedy | Cult Favorite | Cult TV | Gay Slur | Gay Stereotype | Soap Opera | Connecticut | Soap Opera Spoof | Gay Son
10. Family Guy
Irish American | Theme Song | Famous Opening Theme | Male Nudity | Dog Driving Car | British Tourist | Obese | Animal That Acts Human | Father Son Relationship | Homicidal Baby | Obesity | Spoof | Politically Incorrect | Sex | Talking Animal | Baby | Dog | Father Daughter Relationship | Surreal | Ignorance | Stupidity | Vulgarity | Cartoon | Talking Dog | Depiction of God | Rhode Island | Small Town | Talking Baby | Boy | Girl | Kid | Unaired Pilot | Sitcom | Cult Favorite | Matricide | Golf | Adult Humor | Controversial | Evil Child | Dysfunctional Family
Posted by Beachwood Reporter at 12:28 AM | Permalink
May 29, 2007
The [Tuesday] Papers
State legislators, public interest groups, and reporters ought to read the 218-page gambling expansion bill now before the General Assembly - and supported by the governor - awfully closely, because state senate president Emil Jones is at it again.
The Sun-Times reports this morning that "tucked within" the bill is a $32.8 million bailout of the female and minority insider investors in the failed Emerald Casino.
Apparently the politically connected - including Chaz Ebert, Connie Payton, and former Chicago Bear Shaun Gayle - expect to be granted risk-free investment opportunities when the fix is in, even if the fix goes kerflooey.
"Jones (D-Chicago) is believed the driving force behind the language protecting Emerald investors," the Sun-Times account says.
This on top of last week's report that the bill was also a bonanza for Chicago State University, one of Emil Jones's favorite pork bellies.
"Republicans attacked the proposal, in part, because it would divert 2 percent of revenues from the four casinos to Chicago State University, potentially handing the school a $40 million windfall that would double its take from the state," the Sun-Times reported.
"The university has been a Jones favorite. He has steered state funds to the university when other colleges faced deep cuts, and Chicago State has named a building after Jones and given him an honorary degree.
"This week, the university was hammered by Auditor General William Holland for misspending funds, including on a pair of 'leadership seminars' its president attended on cruise ships in the Caribbean and Mediterranean.
"In committee, Jones initially said Chicago State wasn't in the legislation. But the GOP pointed out the specific language in the 218-page bill that would assure the university a multimillion-dollar windfall, prompting Jones to quietly tell a dissatisfied and surprised Senate Democratic colleague that the bill could be amended."
So who is the fabricator now?
*
Meanwhile, Rod Blagojevich's total lack of effective leadership has consigned the state to yet another year in which education, health care, and mass transit will remain unaddressed in any significant way and House Speaker Mike Madigan is content to sit back and protect his fiefdom.
Welcome to Illinois, where governing is child's play.
Gucci Governor
"When Gov. Rod Blagojevich's proposal for a new $7 billion business tax crashed in the legislature, he railed against the influence of high-powered, arm-twisting lobbyists who 'eat fancy steaks' and 'shuffle around in Gucci loafers,'" the Tribune reports.
"But the cadre of influence-peddling lobbyists at the Statehouse includes some of Blagojevich's closest political allies, including chiefs of staff during his tenure as governor and congressman, the current and former chairmen of his now-subpoenaed campaign fund, a campaign spokesman and one of his top fundraisers."
Piniella's Pen
Like Don Baylor and Dusty Baker before him, the Cubs' roster limitations are bringing out the worst instincts in our fair manager.
Train Pain
"While Loop stations were being beautified for the benefit of tourists, the overall infrastructure of the CTA rail lines deterioriated and commuters shared the pain of service cuts, interruptions and derailments," Avery S. Buffa of Chicago writes today to the Tribune, which is calling on riders to "share the pain" of additional fare hikes.
Avery goes on to blame the mayor.
Dumb and Rich
More millionaires live in Cook County than any other county in the country except one. Paige Wiser has a few questions for them, including "What are you still doing here?"
Parking Posse
I found it hard to be outraged about the city's top parking ticket scofflaws profiled in the Sun-Times on Sunday. I'm kind of rooting for them.
Consider: "Revenue from parking has increased since at least 1999 - $77 million that year, compared with $106.3 million in 2006 - even as the number of tickets written has decreased."
I'm surprised that the number of tickets written has decreased - that doesn't sound right to me - but collecting more than $100 million to firm up the mayor's budget is nothing but a corruption tax.
What those figures confirm to me is that the fines have been increased to unreasonable levels - a lot of $50 violations that are out of whack with reality and the marketplace.
Worse, vehicles are now bootable at three violations instead of five. It's a cash cow for the city.
Let's face it, the last thing the mayor wants is a violation-free city; he'd have to pare back a few contracts to his buddies in order to balance the budget.
Campaign Coincidence
I've lived in the First Ward far beyond the tenure of Manny Flores so I can report first-hand that there's been a noticeable uptick in the amount of literature hitting our mailboxes here from the alderman's office.
Can it just be coincidence that, after years of paltry communications and low-visibility, the alderman is getting in touch with his constituents just as he embarks on a congressional campaign?
The latest was a postcard announcing that new light poles are coming with 250-watt fixtures and 50-watt ornamental "piggyback" features.
You know what? Our light poles are fine. Spend the money on the schools or the CTA.
This on top of new gadgets that will signal via red or green light if street sweeping has taken place and it's safe to park your car again.
"One of the biggest complaints we hear related to street sweeping is from residents who avoid parking for the duration of posted street sweeping parking restrictions because they don't know whether the sweeper has come by yet and they don't want to risk a ticket."
I'd have to say that's, um, bullshit.
Once a month, city workers used to tie orange signs around trees a day or two in advance to signal that street sweeping was about to commence and parking was prohibited on this side or that side of the street.
Residents could clearly tell when the sweeper had already been by and would often go ahead and re-park on the prohibited side. It was never a problem.
Now most of the ward is coping with permanent signs about monthly street sweeping dates - signs that blend into the visual clutter and, due to their permanence, became forgettable. This is what I hear the biggest complaints about.
While residents have made some adjustments, for at least the first few months pretty much every car on every block on the streets in my neighborhood was getting ticketed - at $50 a crack. The number of residents still getting ticketed seems to my eye to be more than what it used to be. And for what?
The old system worked; the new one doesn't. That's what residents - including myself - complained about. All I got was a snotty e-mail reply about how the alderman would prefer city workers to actually be working instead of posting street sweeping signs once a month.
I thought that was working. Somebody's got to do it.
I wonder how much money has been spent on this new system - and why the police couldn't just agree to not ticket anyone after the sweeper has been by. Though that's never really been a problem.
But then, reducing tickets isn't the goal. Apparently it's up to us to, as Avery Buffa points out, "share the pain."
I just wish we could share it with Emil Jones and Manny Flores instead of with ourselves.
The Beachwood Tip Line: Come to the light.
Posted by Beachwood Reporter at 8:39 AM | Permalink
Cab #4856
Date Taken: 5/23/07
From: Wicker Park
To: Navy Pier
The Cab: Well-kept, clean, nondescript. A weird circular interior roof light above the fare meter. Efficient use of visors for printed materials.
The Driver: Greeted me with a silent nod. Wore stylish rectangular sunglasses. Remained calm and oblivious throughout the trip as if we didn't nearly hit a car, a school bus, and a trolley. It was only when his crappy jazz-samba Muzak ringtone rang a couple times that I realized he had been engaged in low-volume secret conversations the whole ride.
The Driving: Erratic. As noted, chock full of close calls. We almost got into a major conflaguration at the tricky Milwaukee & Wood intersection that would have likely caused at least three other drivers to exchange insurance information. Then we nearly smashed into the back of a school bus as we drew close to Navy Pier. Finally, we almost took out one of those trolleys down there, which would have been satisfying and even anticlimactic. The main issue seemed to be Driver #4856's depth perception. It was only at the end of the ride that Driver #4856 spoke, and it certainly wasn't to apologize. "Is this Graduation Day for students or something?" he said, eyeing all the teenagers at the Pier. I got out before he mowed any of them down.
Overall rating: half an extended arm.
- Steve Rhodes
*
There are more than 6,000 cabs in the city of Chicago. We intend to review every one of them.
Posted by Beachwood Reporter at 12:31 AM | Permalink
May 28, 2007
The Cub Factor
Lou Piniella has reached the stage of Ultimate Cubs Flummoxation in record time. It took Dusty Baker, for example, three years before he was really so beside himself that he started mumbling incoherently. Don Baylor before him got a couple years in before acquiring that thousand-yard Cubs stare. Jim Riggleman was the stalwart: He lasted five seasons and appeared to leave the job with his sanity intact.
Truth to tell, Uncle Lou came into the job already a little unbalanced. But he's gone from angry to resigned in record speed, uttering the phrase last week "What're you gunna do?" three times after yet another heartbreaking loss and getting a sympathy quote from Cliff Floyd, who assured reporters that Piniella "doesn't want anyone to feel sorry for him."
Jay Mariotti suggested one thing Piniella could do: "How about bailing while you still have your health and mind?"
The Cub Factor has some additional answers to Lou's query.

* Drive a new route to the ballpark to change your luck.
* Shave your head.
* Never use Scott Eyre in any situation in which the game is remotely on the line.
* Stop using all of your position players before the 8th inning.
* Manage one game from the bleachers.
* "Accidentally" give Jacque Jones the wrong flight number for the next road trip.
* During mound visits, discuss possible wedding gifts for soon-to-be-married teammates.
* Wait for Prior and Wood to save the season.
* Put Eyre, Bob Howry, and Will Ohman into the starting rotation so you have nowhere to go but up after the first inning.
* Throw a damn base already.
* Start making out the lineup in pen.
* Switch places with Bob Brenly.
* Call Yankee manager Joe Torre and set up new reality TV show called Manager Swap.
* Switch places with Joe Girardi.
* Blame reporters for asking the same questions after each game, like "What're you gunna do?"
* Switch places with Dusty Baker.
* Let Cliff Floyd fill out the lineup card.
* Do your homework better before taking your next job.
-
Week in Review: Because the Cubs were playing on the West Coast, you saw the Cubs win four of six if you went to sleep at a reasonable hour. If you stayed up late to see the games in their entirety, you saw the Cubs lose four of six. In their series' against the Padres and Dodgers, the Cubs lost three more one-run games. It's like the Cubs have intimacy issues; the closer you get to them, the more they fall apart.
Week in Preview: The Cubs come home for a six-game homestand with three against the Marlins and three against the Braves. So it's back from the road for some home cooking. Except it's a broken home and the food sucks.
The Second Basemen Report: DeRosa started four games at second, with Theriot handling the other two. Almost the exact opposite of the previous week. What're you gunna do? Like most Nicholas Cage movies, Uncle Lou's handling of the second base position has little rhyme or reason.
In former second basemen news, Bobby Hill played his last professional baseball season in 2005 with the Pirates. He was cut by the Padres in spring 2006. He played in 249 games in his career and had a .262 career batting avg. His whereabouts are unknown. He is missed.
Sweet and Sour Lou: 42% sweet and 58% sour. Down six points on the Sweet-O-Meter this week. Like your real aging bitter uncle, Lou doesn't like any of the birthday gifts he got this year and he's not being nice about letting you know.
Beachwood Sabermetrics: A complex algorithm performed by the The Cub Factor staff using all historical data made available by Major League Baseball has determined that the law of averages does not apply to the Cubs bullpen.
Over/Under: Total number of "boos" heard this week at Wrigley: 62,520.
The Cub Factor: Catch up with them all.
Mount Lou: Mount Lou continues to hold at yellow but be wary. Continued bullpen breakdowns are bringing molten anger to the surface. The alert system is likely to skip Orange and go straight to Red sometime Wednesday night while the Marlins are completing the sweep.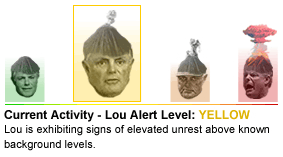 Posted by Beachwood Reporter at 1:04 AM | Permalink
Friday Night Beachwood
Jukebox run, 5-25-07.
1. Shining Star/Earth, Wind & Fire. So funky smooth and glide-y.
2. Scarborough Fair/Simon & Garfunkel. For some reason this song led to a debate about the name of the crime dog, determined to be McGruff. Says Beachwood Bob: "Did you play this Joe? Don't ever play it again."
3. El Condora Pasa/Simon & Garfunkel. Sparks debate about the song title. At one point I suggested it was "Ticonderoga or something." Preferred consensus: The I'd Rather Be a Hammer Than a Nail Song.
4. Last Train to Clarksville/The Monkees. CTA jokes ensue.
5. Sloop John B/The Beach Boys. We liked it better when it was Sloop John A. During this song I learned that Will Patton does the Al Gore audiobook. Will Patton kicked butt as the villain in The Postman. He was the copier clerk turned militia general.

6. Give A Little Bit/Supertramp. The orignial version, not the freakin' Goo Goo Dolls cover. You can make the tambourine sound if you have the right combination of change and keys in your pocket.
7. Lonesome Loser/Little River Band. Have you heard about the lonesome loser? Yes - whoever played this song.
8. Jah Live/Bob Marley.
9. Fat Bottomed Girls/Queen.
10. Orange Blossom Special/Johnny Cash.
11. Jolene/Dolly Parton. Apparently a true story.
12. Small Town Saturday Night/Hal Ketchum.
13. You Ain't Seen Nothin' Yet/BTO. Ugh.
14. Baby Come Back/Player. Wearing a mask of false bravado.
15. Give a Little Bit/Supertramp. Again, original version. Again.
- set by Joe
*
1. Australia/Kinks. Because Andrew is from Australia.
2. Smokestack Lightning/The Yardbirds.
3. Complicated/Rolling Stones.
4. Red Red Wine/UB40. Eh.
5. Shake a Pal/Stooges.
6. Let the Good Times Roll/Cars. Saw some live Cars footage recently. Has there ever been a more boring live band? Some quirky singles, but on the whole, totally overrated.

7. I Wanna Be Sedated/Ramones. After this set, yes.
8. Sex Machine/James Brown. Another song I just don't need to hear again.
9. Hey Joe/Jimi Hendrix. Already too widely available elsewhere, like Classic Rock radio.
10. Baby, You're a Rich Man/Beatles.
11. Golden Years/David Bowie. People who like the Kinks and the Stooges tend to like Bowie too.
12. Bohemian Rhapsody/Queen. Playing this in a bar is a major faux pas at this point, but there was a night a few years ago when me and Cub Factor writer Marty Gangler did all the voices and all four people in the video just right. We nailed it. The bar was floating off the earth's surface that night.
13. Radio/Elvis Costello.
14. Jailbreak/Thin Lizzy. Tonight there's gonna be a jailbreak, somewhere in this town. I'm not sure where. It could be at the 7-11, or the Walgreens, or City Hall. It might even be at the jail.
15. Back in Black/ACDC. Never. Gets. Old.
16. Welcome to the Jungle/Guns 'n Roses. I hate G 'n R, and I hate this song. It's so cloddy and thick and ham-handed. Or do I mean plodding?
17. Brown-Eyed Girl. There is so no reason to ever play this again. I'm aborting the rest of this set list.
Celebrity Note: Sideshow Bob is in the bar tonight.
- set by Andrew
*
1. Ain't Even Done With the Night/John Cougar. Possibly his best song. From before he became Mellencamp. This video doesn't do the song any favors, though.
2. And It Stoned Me/Van Morrison.
3. Welcome Back/John Sebastian. Signed, Epstein's mother.
4. Tonight's the Night/Rod Stewart.
5. She's Gone/Hall & Oates. What went wrong?
6. To Be With You/Mr. Big. Feel it tooooo!
7. You're So Vain. Don't you! Don't you! Don't you!
8. American Girl. Raised on promises.
9. The Joker/Steve Miller Band.
10. Rocky Mountain High/John Denver. I've seen it rainin' fire in the sky.
11. Only the Good Die Young/Billy Joel.
12. Stop Draggin' My Heart Around. This doesn't have to be the big get-even.
13. Shooting Star/Bad Company. Love Me Do, I think it was; from there it didn't take too long.
14. Is She Really Going Out With Him/Joe Jackson. There's something goin' wrong around here.
15. The Candy Man/Sammy Davis Jr. You can even eat the dishes.
16. Keep On Lovin' You/REO Speedwagon.
17. Drift Away/Dobie Gray.
18. Sara Smile/Hall & Oates. If you feel like leaving, you know you can go. Why don't you wait until tomorrow?
19. Lights/Journey. The White Sox ruined Don't Stop Believin'.
20. Even the Losers/Tom Petty and the Heartbreakers. Well, it was nearly all summer we sat on your roof/Yeah, we smoked cigarettes and we stared at the moon/And I showed you stars you never could see/Babe, it couldn't have been that easy to forget about me.
21. Friends in Low Places/Garth Brooks.
- set by Steve
*
1. Cherry Bomb/John Mellencamp. We were young, and we were improving.
2. The River/Bruce Springsteen. Her body tan and wet down at the reservoir.
3. Billie Jean/Michael Jackson.
4. Tell Me Something Good/Rufus. Tell me, tell me, tell me.
5. Under Pressure/David Bowie and Queen. Still a great song, despite Vanilla Ice.
- set by Unknown or Bob, things got confused at this point
*
1. Just a Gigolo/David Lee Roth. Sadandlonelysadandlonelysadandlonely.
2. Nobody Does It Better/Carly Simon. The best of the Bond songs.
3. Roll Me Away/Bob Seger. She didn't have to say a thing - I knew what she was thinking.
- set by Bob

Posted by Beachwood Reporter at 12:37 AM | Permalink
A Mighty Stanley Cup Preview
This would be the best thing to happen to the NHL in a long time - a recognizable star leading his team to a championship - one that we'd be reflecting on rather than waiting to start. The season, like many of the players' names, is too long. Hello, it's almost time for All-Star ballots!
Nonetheless, the Beachwood offers the following Stanley Cup Preview for your viewing enjoyment.

*
Team: Ottawa Senators.
Conference: Eastern (formerly the Wales).
How They Got Here: Playing the best hockey of any playoff team. The Senators stunned the hockey world by knocking out Cup favorites Buffalo in five games.
Key Weapons: Their first line. Dany Heatley leads all playoff scorers with 21 points. Linemates Jason Spezza (20 points) and Daniel Alfredsson (17 points, including 10 goals) are close behind.
Goalie: Ray Emery has benefitted from solid play in front of him, but he's more than held his own when needed most.
Fun Fact: This would be the first Stanley Cup championship in the modern history of the franchise.
Ex-Hawk Factor:1.5. Dean McAmmond and Tom Preissing, who briefly was a Hawk as part of a big (i.e., Martin Havlat-Mark Bell) three-way trade last off-season.
*
Vs.
*
Team: Anaheim Ducks (formerly the Mighty Ducks).
Conference: Western (formerly the Campbell).
How They Got Here: They've managed to play gritty hockey when it counted most. They kept their poise in a pressure cooker Game 5 on the road in Detroit, and tied a 1-0 game late in the third period with their goalie pulled. In OT, Teemu "the Finnish Flash" Selanne capitalized on a Detroit giveaway of epic proportions and made Dominik Hasek look silly with a slick wrist shot for the game-winner.
Key Weapons: Speedy center Andy McDonald and a deep set of forwards, including Selanne, Dustin Penner, Corey Perry, Ryan Getzlaf, and Chris Kunitz (who is out with a broken hand). On the backend, Chris Pronger leads the team in playoff scoring with 14 points. Captain Scott Niedermayer has 9 points, but more importantly 2 overtime game-winning goals.
Goalie: J.S. Giguere will look to continue his solid run in the playoffs and continue his case for a second Conn Smythe trophy. Giguere has been awfully tough in OT games.
Fun Fact: Arrowhead Pond is now called the Honda Center.

Ex-Hawk Factor: 3. Kent Huskins, Travis Moen, and Shawn Thornton. (Four if you include Senior VP of Hockey Operations Bob Murray.)
*
The Match-Up: These teams are pretty evenly matched. Both won 48 games in the regular season. The Ducks notched 110 points to the Senators' 105. Going into the final round, the Senators have lost three playoff games; the Ducks four.
Keys: Nearly half the goals Ottawa has netted in the playoffs have come from their first line. In order to shut Ottawa down the Ducks must quiet that first line. This is where underrated checking center and defensive stalwart extraordinare, Samuel Palhsson, must prove he can get the job done where others, in prior rounds, have failed. Ottawa is solid on their blueline, and where they lack the big name talent the Ducks possess in Niedermayer/Pronger, they make up for in depth with Wade Redden, Chris Phillips, Tom Preissing, Joe Corvo, and Anton Volchenkov. The series could turn on the ever precarious awkward bounce of the puck or bad giveaway, but it's an even bet that this will be a seven-game tilt, where Anaheim has the home ice advantage in its favor.

Prediction: Anaheim will defy the Ex-Hawk Factor on the strength of its blueline and Giguere shutting down Ottawa's top line. If the Ducks can accomplish that formidable task, they will have the advantage of a deeper and more balanced team. And then they can start calling themselves Mighty again.
Posted by Beachwood Reporter at 12:29 AM | Permalink
May 26, 2007
The Weekend Desk Report
Happy holidays, everyone! Parts of our brains will be taking a break from reality this long weekend. The rest, we devote to you.
Market Update
Despite the brave face presented by industry insiders, analysts predict the surge in raw materials will result in increased pressure on the already strapped Cardiac Health index.
Teenaged Mutant Ninja Drivers
The start of next year's summer driving season looks set to be a whole lot safer as the Illinois House unanimously passed a bill designed to further isolate mentally fragile teens. Because everyone knows teens are much less dangerous all alone in broad daylight, and the best defense is always hysterical overreaction.
1-888-YOUR-CTA
The CTA has threatened to go nuclear unless the world at large ponies up $110 million for infrastructure improvements. Studies indicate that a full-scale military invasion of the agency would yield a funding bonanza rich enough to guarantee each rider their own personal conveyance.
Red or Dead
Simmer down, everyone. No need to panic over the latest blustery posturing from Asia. This time it looks like the revolution will be home-cooked and minty-fresh.
Gift Guide
Finally, for those who want to get a jump-start on their Father's Day shopping, we have found the perfect present: 30 years of sweet, sweet validation.
Posted by Natasha Julius at 8:43 AM | Permalink
May 25, 2007
The [Friday] Papers
New CTA chief Ron Huberman says fares will rise to $3.25 a ride and the Yellow Line and Purple Line Express will be shut down if the state doesn't step up with an adequate funding package,
The Sun-Times splashes the story on its front page with the headline "Is The CTA Bluffing?"
The paper lists seven previous doomsday warnings issued by the CTA since 1997, implying that the agency is crying wolf.
Another way to look at it, though, is that the CTA is continually operating in crisis mode because it has never had a secure funding stream and workable business model.

Which isn't to say there isn't a bit of politics going on. Threatening to shut down the Purple Line Express, for example, is sure to get the attention of North Shore suburbanites who might not otherwise be engaged in what is usually seen as a city matter.
But the larger question is why nobody has come up with a fresh vision for the CTA after all these years, both in funding and operations. Yes, there are plans for line extensions such as the Blue Line to Schaumburg, the Orange Line to Ford City, and the Yellow Line to Old Orchard, and, of course, the dreaded Circle Line and such - all of which have been sitting on a shelf for years. But where is the larger vision? This is an agency, under the mayor's watchful eye, that proposed eliminating the Brown Line not too many years ago for lack of ridership. Can you imagine?
If the mayor really wanted to, he could have found someone with a vision to turn the CTA on its head - and combine it with a regional transportation plan that by the way includes building the airport in Peotone.
Until that happens, it will be more of the same. Threats, service cuts, fare hikes, cuts and hikes avoided, last-minute budgets, and more threats the next time around. It's not bluffing; it's just the way it is.
Office Max
Chicago's stapler king.
Dumb Dems
"Dem Leaders Finally Talk Budget, Get Nowhere."
Headline reusable. Just insert "Iraq," "Health Care," "Global Warming," or whatever else is the issue of the day.
Mail Call
The city is considering adding the old central post office that straddles the Congress Parkway to a TIF district.
I've got another idea, given the recent news that we have the nation's worst mail service. Let's make it a post office.
Our Stupid Aldermen
I mean, really. Get a load of Lona Lane, Daley's handpicked representative of the 18th Ward.
Lou Stew
The Democratic base is in revolt over the Iraq cave-in. The Republican ranks hate the immigration compromise.

It's a Lou Dobbs jackpot.

- Tim Willette
Lou Pooh
Saw Cubs manager Lou Piniella yesterday saying the team looked better on paper in the off-season than it's looked on the field.
Actually, the team looked worse on paper. Nobody expected Ted Lilly and Jason Marquis to actually earn their outsized contracts. The rest we knew.
Toweling Off
At a time when Sun-Times reporters barely had Internet access, Conrad Black had heated towel racks in his New York City company apartment.
This is your media.
Flight Delay
"Construction will start soon on a new runway that originally was supposed to open this year under the city's expansion plans at O'Hare International Airport," the Tribune reports.
And the running track for the 2016 Olympics is now scheduled for completion in 2017.
Horse vs. Goose
The governor signed a bill on Thursday that bans the slaughter of horses for food. I wonder if he would sign a bill banning the torture of geese for food.
Juxtaposition of the Day
Jack Higgins's editorial cartoon in the Sun-Times positing a Mexican flag being raised on Memorial Day to the tune of "Jose can you see . . . " above the headline "Irrational Attacks On Immigration" for an Andrew Greeley column.
Beachwood Cinema
Check out the latest at Ferdy on Films, now part of The Beachwood Media Company and soon to relaunch bigger and better. Just posted: Ferdy looks at Hal Hartley's 1990 film Trust, and Rod Heath continues his Martin Scorsese retrospective.
That's Neil!
Wow, Neil Steinberg is really upset at the tongue-in-cheek text on bottles of Vitamin Water.
He opens his column asking "Just how stupid are people supposed to be?" and then he proceeds to show us.
Over/Under
On how long it took Steinberg to write today's column: 20 minutes. He did have to do some transcribing.
Obama's Neighborhood
You know what? I really don't need to know where in Hyde Park Barack and Michelle Obama shared their first kiss ("The Obamas Field Guide To Hyde Park"). Though documenting the media's first kiss of their asses would be interesting.
In Today's Reporter
The best website in the city; maybe in the world.
* In our new T-Ball Journal, the Rookie League Red Sox take on the Obama Cubs.
* Who's going to jail next? Find out in The Political Odds.
* Finding Nazi guards in Middle America. In The Periodical Table.
* And more in Music, TV, and People Places & Things.
The Beachwood Tip Line: Electronically activated.

Posted by Beachwood Reporter at 9:15 AM | Permalink
The Periodical Table
Our weekly review of the magazines laying around Beachwood HQ.
Amiable Dunce
I just can't get past the fact that even while he was president, Ronald Reagan called Nancy "Mommie." I mean how creepy is that? He did so in writing too, according to Nicholas Lemann's account in this week's New Yorker of The Reagan Diaries. In conjunction with a dip into The Education of Ronald Reagan: The General Electric Years and the Untold Story of His Conversion to Conservatism, Lemann offers a fairly rich portrait of someone who is utterly and undeniably an inscrutable simpleton.
ALSO: New Yorker editor David Remnick's devastating piece on how the Six-Day War shaped Israel's political culture is a stiff dose of reality to those whose sympathies lie with the tiny Jewish nation, the Palestinians' horrific blunders notwithstanding.
Rudy's Republic
I have absolutely no interested in reading The New Republic's cover story about "Why The GOP's Future Belongs to Rudy" Giuliani, by former Washington Post political writer Thomas Edsall, now of The Huffington Post. Just another piece of useless punditry posing as reporting that will be forgotten by next week with its assertions never held to account.
ALSO: The magazine features a story about the guy who is taking care of our veterans because the government isn't, in another in a decades-long attempt by the magazine to prove it's not liberal, this time assuring us that it really does support the troops.
RECOMMENDED: Cass Sunstein of the University of Chicago turns in a terrific and terrifying review of Philip Zimbardo's The Lucifer Effect: Understanding How Good People Turn Evil. Zimbardo's argument turns on the idea that perpetrating evil is not a matter of one's predisposition to do harm, but situational response largely due to our instinct to obey authority.
One of the most famous examples of this phenomenon tested by social scientists was the shock experiment of Stanley Milgram, which caused Milgram to state that "if a system of death camps were set up in the United States of the sort we had seen in Nazi Germany, one would be able to find sufficient personnel for those camps in any medium-sized American town."
Guilt's Goals
Soccer goalies facing penalty kicks often end up prematurely leaping in the wrong direction as a strategy to outguess the kicker. But according to Psychology Today, "A study reveals that the optimal goalkeeper strategy is to stay centered - at least until kickers switch their strategies, too. So why don't they? Unlike most situations, the researchers say, goalies feel more guilt for failure after inaction than after action."
ALSO: Words I never thought I'd see in large print in this far-too-sedate magazine: "AJ=The intern in my office whom I want to fuck." They left it off the web version of the story.
Newspaper Trade
You know things are bad in the business when the trade journal for the Society of Professional Journalists includes "Tips For Throwing a Mixer." I don't see it online here, but trust me, you're not missing anything.
Green Scene
I pretty much skipped the entire issue of last Sunday's green architecture-themed New York Times Magazine, though it was kind of interesting to see how Ed Begley Jr. lives.
The Game of Life
In last week's New Yorker, the story of Milton Bradley and his game Life was so surprisingly boring I barely got through the first page. On the other hand, Connie Bruck's profile of Los Angeles Mayor Antonio Villaraigosa is fascinating even to, I think, only the mildest political junkie.
ALSO: "Chinese universities may not have produced Great Wall specialists, but a small community of wall enthusiasts has developed outside academia. They tend to be athletic - a rare quality among the Chinese intelligentsia. And the Great Wall attracts obsessives. Doug Yaohui, a former utility-line worker, left his job in 1984 and doggedly followed wall sections on foot for thousands of miles across China."
- "Walking the Wall"
AND: It turns out God isn't that great.
Posted by Beachwood Reporter at 6:31 AM | Permalink
May 24, 2007
The [Thursday] Papers
Teenagers have the Tribune to thank this morning for making their lives even more miserable than they already are when it comes to overbearing adult supervision.
As a result of the paper's teen driving series, both the Illinois House and Senate have now approved legislation that "would make Illinois' licensing program among the nation's most stringent," the Sun-Times reports.
Gov. Rod Blagojevich is expected to sign the measure into law.
Not everything in the bill is objectionable, though it hardly seems as if a Teen Driver Safety Task Force convened by Secretary of State Jesse White 10 months ago was really necessary.
Then again, White and state legislators weren't about to look a cheap political gift handed to them by the state's biggest media concern in the mouth. Not only is this apple pie legislation, but teens don't vote.

The three key provisions cited by the Tribune are the ones that are most unreasonable.
Consider:
* Driving curfews for teens under 18 will switch from 11 p.m. to 10 p.m. on Sundays through Thursdays, and from midnight to 11 p.m. on Fridays and Saturdays.
"Why?" the Tribune explains. "Research shows risk of fatal crashes for 16- and 17-year-old drivers increases after 9 p.m."
I have a feeling research also shows that the risk of fatal crashes increases for all drivers after 9 p.m., but that just begs the question: Why not start the curfew at 9 then?
Wait, what am I saying? Teen driving curfews? I hate to switch into "when I was young" mode, but when I was young growing up in suburban Minneapolis, there was no such thing. I can't imagine not being able to, say, drive my friends home from a movie that ends at 11 on a Thursday night. And other things.
* For one year, instead of six months, drivers under 18 will only be allowed one teenage passenger.
"Why?" the Tribune again explains. "Statistics show the risk of fatal crashes for 16-year-olds climbs with each additional passenger."
For the rest of us, too. But we've had our fun. I mean, Baby Boomers had their American Graffiti. Look at how much they swoon over Grease. Those are high school kids cruising. Many of them are under 18 - and out past 11 on a Friday night. Please. If you really want to eliminate risk, lock them in their rooms. But make sure they don't listen to that rock and roll while they're in there!
* The learner's permit stage will be extended from three months to nine months.
"Why? Experts say more adult-supervised driving makes for safer teens at the wheel."
Why not a year, then? Why not forever?
Sometimes I think adult legislators ought to be supervised by teens for at least a year. Adult journalists, too.
*
It's not that I'm oblivious to the tragedy of teen driving deaths - though the Tribune's own reporting shows how rare they actually are - and that there is no upward trend.
There are all sorts of things we can do to improve road safety. I'm not sure clamping down on teenagers is among the most important and effective in a world filled with drunk driving adults and in a state where unqualified truckers were put on the road in exchange for campaign contributions for years and driver's licenses were had for five bucks on the seat.
I'm always more concerned about what the adults are up to than the kids.
Listen Up!
Our very own Natasha Julius discusses Taxi Cab Journal this morning at 10 a.m. on Vocalo.org, the new radio project from Chicago Public Radio. Natasha will also read her latest cab review, in the first of a series of audio reviews we'll be putting on the air.
Where's Blago
Not really, um, around. The Daily Herald this morning went big on its front page with a story headline "Stay-At-Home Governor?," detailing the reclusiveness of Rod Blagojevich.
The portrait the paper paints is of a governor rarely in Springfield but often spotted jogging near his home in Ravenswood.
The governor is also curtailing his availability to the media, though it's not clear he's even calling his own shots anymore.
"During his most recent public appearance at a health care rally, Blagojevich asked a staff member if he should answer reporters' questions, but was told no," the DH reports.
Meanwhile, the Sun-Times today followed the Tribune's story on Wednesday about one of the continuing federal investigations surrounding the governor by asking in a headline if Blagojevich was "The Next Ryan?"
That's Todd!
If Blagojevich is The Next Ryan, Todd Stroger is Baby Ryan.
Illinois Idol
I feel a competition coming on where Illinois pols compete to best represent our culture of sleaze. Oh wait, we already have that. It's called Election Day.
Immigration Nation
Another idea.
Trump Slump
Only eight condos sold since January at his prime riverfront project that is rising from the ashes of the late, lamented Sun-Times Building.
Black's Flat
"A lawyer for Conrad Black said the former press baron spent nearly $4.6 million renovating and decorating a New York apartment where he lived just 60 days of the year," the Sun-Times reports.
Don & Con
"When Conrad Black needed someone to help fend off a group of angry shareholders in 2003, he turned to a professional: Donald Trump," the Toronto Globe and Mail reports.
Daley Dose
"The City Council will hold hearings on a special prosecutor's 'whitewash' report into alleged police torture by former Chicago Police Lt. Jon Burge, thanks to a resolution co-signed Wednesday by 26 aldermen," the Sun-Times reports.
The mayor pretended not to care - but not very well.
"They can look into anything they want," he said. "It's up to them. I was not mayor or superintendent during all of that time."
No. He was the Cook County State's Attorney.
Tax Crack
"The caucus results do not bode well for the so-called tax swap proposal pushed by Sen. James Meeks (D-Chicago) and Rep. David Miller (D-Calumet City), which would increase the income and sales taxes in exchange for lower property taxes," the Tribune reports.
"Everyone wants to go to heaven," Miller said," but no one wants to die."
The Beachwood Tip Line: Heaven-sent.

Posted by Beachwood Reporter at 8:30 AM | Permalink
What I Watched Last Night
Um, excuse me, but who on God's Green Earth thought it would be a sterling idea to turn last night's two-singer showdown finale of American Idol into the goddamn Oscars? The Academy Awards telecast is a boring, drawn-out affair with a lot of extraneous crap the world could do without occupying 99.9999 percent of the show. So how did we end up with the same thing with last night's Idol?
I've never been an Idol fan, or even a casual follower. For people like me, following Idol is like following Chicago's professional sports teams or the Indy 500: You might tune in a few times in the beginning just to see who's crashing and burning, but you're only there for the big season finale for the free beer and food at someone else's house. And if the commercials interrupting your eating and drinking and socializing don't suck, that's even better.
All the Lost fanatics were at home for that show's season-ender last night, so that left ESPN baseball diehards and Idol fans to duke it out over TV time at the two gin mills I visited last night. Consequently, I didn't get to see the whole two-hour Idol finale in its entirety, and the sound was off for most of the snippets I did manage to see. But that didn't stop me from making some observations anyway.

*
Actually, I didn't even know Idol was on until roughly a half hour after it began, when all the bar glassware around me began shattering and every dog within earshot started howling. This coincided with a trophy being presented to - I gather - whoever Paula, Simon and Randy voted as the universe's most dreadful singer from the opening episodes of this season.
Also coincidentally at the exact same moment in time, previous-season Idol washups William Hung and Chris Daughtry were too busy counting their royalty money for it to occur to them that the Idol finale was on TV, either.
*
Paula Abdul's recovery from a reportedly broken nose a scant two days ago - no black eyes, not a scratch to be seen - was nothing less than miraculous. Sources tell me the Chicago Police Department's Citizen Torture Division will be sparing no expense to find out exactly how she managed it.
*
Aerosmith's Joe Perry appears onstage with a whole bunch of other people playing guitar to, I think, Ruben Studdard's cotton-candy version of Lucy In The Sky With Diamonds. Joe celebrates the loss of respect from every Aerosmith fan in the nation by announcing he is replacing Esteban as Home Shopping Network/QVC's shill for badly-made guitars and instructional DVDs.
To their credit, Ringo Starr, Pat Travers, and Alice Cooper were nowhere near the stage for Ruben's big number.
*
Is it just me, or is Ryan Seacrest looking more and more like Tom Hanks in Philadelphia? I'm not sure which Ryan needs more, a shave or a sandwich.
*
High fives were being exchanged by the creators of the Oscar-like Idol extravaganza until the announcement in the show's closing few minutes that Jordin Sparks won all the marbles. It was at this point that they realized they spent so much time stuffing all sorts of extraneuous bullshit into the show that they deprived Jordin of a big Oscar-like Halle Barry-esque acceptance speech where Jordin might have publicly thanked God and Billie Holiday for making this moment possible.
*
The Idol finale was so Oscar-huge and astoundingly electric that WFLD/Fox News sent a dressed-to-the-nines correspondent to stand there on the red carpet in front of an empty runway promising to be back later in the newscast with exciting comments from, uh, someone.
Yet, not a single minute of the newscast was devoted to the full-blown plague of man-eating cicadas now in progress that every newscast has been warning us about for the past week.
Local Chicago news. Serving and protecting the citizenry.
-
Read the What I Watched Last Night collection. It's good for you.
Posted by Beachwood Reporter at 6:03 AM | Permalink
T-Ball Journal: Welcome to Little League
This spring and summer my kindergarten-going daughter Alana has embarked on the happy little slice of Americana that is a first season of T-Ball. She plays for the Rookie League Red Sox at a North Side park a little less than a mile from our house. And her brother Noah, 8, is playing his last year in the Junior Division. At that level, the first three innings are T-Ball and the last four are coach-pitch. That's when the head coach, in this case me, tries to groove pitches for his own players to hit. We'll have more on that excruciating task later.
So this is the only season in which my two oldest kids are both utilizing the traditional youth baseball starter kit. And I'm cautiously optimistic we'll all make it through at least reasonably unscathed. Then again, one realizes early on in the process of coaching this sport to kids this age that there are a great deal of things that can go wrong.
Before Alana's season started I had considered volunteering to be an assistant coach for the Red Sox. But it quickly became apparent that my assistance wasn't needed. It is safe to say a sizable percentage of dads are more than a little fired up to help their kids' teams when they are first starting out. Sure enough, at Alana's initial practice a few weeks ago, a squadron of six paternal presences were already out on the diamond when we arrived. There isn't quite the fervor to coach at my son's level, but I've had as much help there as I've needed.
But back to the Rookie Red Sox and, specifically, their season-opener last week. It was early in that game, perhaps as early as the bottom of the first, that it became clear that abject begging would be required. The 5-year-old ballplayers weren't responding to quiet admonishments not to kick up the dirt covering the field.
They weren't responding despite the fact that the game was being played in what was at times an all-out dust storm. Wind gusts combined with dry, thin infield dirt to send large clouds of grit rushing off the diamond and through the area where many parents had initially gathered. Those clouds sometimes even managed to swirl back around to the other side of the field. And so the time arrived for pleadings, i.e. "Please, please, please! Don't kick up the dirt!"
That only worked for a little while. There was nothing to do but carry on.
*
That and to make sure our children stayed hydrated. Whatever you do, keep the water flowing!
My generation of parents worries slightly more than necessary about proper hydration. I know I somehow survived childhood in Chicago without ever having a water bottle handy. When we got thirsty, well, the game was usually good enough to distract us for a while longer. Except for my friend Scott, who lived in mortal fear of "cotton mouth" and would eventually wear us down and force us to go to the store for a pop.
He'd have had nothing to worry about in this era, when someone always seems to have an extra store of water. Thankfully, someone had deposited four bottles of water near our kids' bench. On a day there was no denying a little extra water was a good thing, those bottles were big, especially for those sad few parents who had forgotten water bottles for their little T-Ballers. Not surprisingly, I was one of those parents.
I forget water disturbingly frequently. And when I do remember it, at least half the time I leave it in the cup holder. Now, I'm of the belief that the children would survive for an hour or even two without water, but when all the other kids are slurping down perfectly chilled refreshment, there is a certain urgency to making sure your child isn't left out.
*
The quest for water was perhaps the biggest drama during the season-opener - against the Cubs, a team that amazingly enough was sponsored by "Obama for President" (a fact that was made evident by the message on the back of their uniforms above the number).
Kids hit the ball off the tee and run to first and stop. No doubles are allowed as baserunners proceed according to a strict base-by base protocol. And there is a limit of 10 batters per frame. The Red Sox struggle early on defense although at least one out is achieved by the pitcher rushing in for a ground ball, fielding it and then proceeding home to touch the plate for a bases-loaded force.
It gets better later in the game. More outs are achieved and the Red Sox actually pull out what is believed to be a 28-25 decision - not that any of the coaches on either of the teams will acknowledge having kept careful track of the score.
By the time kids get to the Junior League, careful score is definitely being kept. My son's first game is nervous enough - did I mention we play with hard balls as opposed to the slightly soft version used in the Rookie League - but even worse is trying to figure out who will play where before the game even starts.
League organizers decided a while back to try to give as many kids as many chances to play as many different positions as possible at this level. A noble concept sure, but I need some sore of new algorithm to determine how to create a defensive chart in which 16 players play at least three positions (one of which must be in the infield), take a one or two-inning break and oh by the way also take into account arm strength, left-handed vs. right-handed, etc.
And oh by the way also, 12 kids play at a time (there are five outfielders and one short-centerfielder who plays right behind second).
The night before, I put my chart together and it worked out OK. It is especially important to put your best players in the best spots in the first three innings, when the opposing team is whaling away at the tee, and I do that. We take an early lead but we can't quite make some big plays late in the game and it ends up a tie (we've got to get off the diamond to let the next game begin).
The coach-pitching goes reasonably well - hey, I didn't hit anybody! But it is still a nervous, difficult task during which I am sure my form is not nearly what it should be. For one thing, I almost hit Noah with a pitch, but he somehow manages to pull his bat in, make contact and beat out an infield hit.
Amazingly enough we finish seven innings and find ourselves in a tie. Baseball traditionalists would never allow for such a thing but it must be said neither I nor the opposing head coach is particularly unhappy about finishing the contest without losinig. Soon the Dodgers move on to the next challenge. The schedule says our next game is versus the Cubs, but we know the next big challenge is finding a place to practice that isn't a marsh (due to rain within the previous week) nor is it occupied by older ballplayers (CPS baseball and softball teams always have priority on park district diamonds). Whatever the obstacle, however, we know we'll find a way to slide past it.
*
Jim Coffman's T-Ball Journal will appear all season unless or until he is lost in a dust storm or dehydrates.

Posted by Beachwood Reporter at 12:46 AM | Permalink
Cab #6052
Date Taken: 5/19/07
From: Wicker Park
To: Roscoe Village
Reviewer's Note: Many years back - when Glam-To-Go was still the scary Romanian butcher, a cut and blow-dry at Big Hair cost $5, and your reviewer was just another bright-eyed Rust Belt refugee looking to make her name in the city - Ray St. Ray, the Singing Cab Driver, was a fixture in Roscoe Village. You'd peek out the window of Mulligan's and there he'd be at the Speedway, cleaning the back dash of his spiffed-up rockabilly cab. Hailing him during non-peak hours was almost automatic. After a year or so in the neighborhood, this reviewer had heard his entire musical catalog and knew his polished introductory shtick almost word-for-word. Then, like Cardenas Grocery and Irv's Adjuvant General Dry Cleaners, he was gone. No more buffed vinyl, no more snappy ties, no more songs about love or sex or chocolate or other. Ahead lay a long succession of non-musical drivers and taxi cab emptiness. Right up until the night of May 19.

So here's the thing; you already know this is a five-arm review. In fact, you can multiply that by a factor of Vishnu. There is no objectivity when it comes to Ray St. Ray. He is, in so many ways, the unwitting father of the Taxi Cab Journal, my first truly memorable Chicago cab experience. As you read what follows, picture not just an ordinary customer service interaction, but rather the chance meeting of two world-weary former lovers after a lifetime apart. Only, you know, without the awkward sexual tension and emotional baggage. Welcome back, Ray. This girl missed you.
The Cab: It doesn't have the sass that it used to, but it's clean as a whistle and it smells like home. OK, fine, not home, but somewhere outside home where you spend a lot of time and don't really care if anyone catches you scratching yourself or whatever. It's Cheers on wheels.
The Driver: He's more laid back now, and more worn around the edges. The trappings of musician are gone now and it takes a block or so to place that silky voice. There's the sense that Singing Cabbie is less of an act and more of an identity. This is Ray; deal with it. The stories are more personal and the banter more interactive. He's playing off his audience, not afraid to be heckled. A fellow passenger carefully steered the song choice to an old favorite - Sugar Slut. Do you remember Ray? This is when we rode to Navy Pier with my blushing 19-year-old future sister-in-law. Good times. He's reworked the material to suit the age; less jangly, more raw. He even threw in a glory note on the bridge before that famous closing line; "chocolate gets her hot!" Careful, Ray. That's my mother you're singing to.
The Driving: Were we driving somewhere? Were the wheels touching the ground, or were we just floating along? Oh, Ray. Sing me one about social significance. We could circle the block all night.
Ahem. Yes. Good driving. Obeyed all traffic laws. Obliged front-seat passenger to buckle up. Knew exactly where he was going.
Overall rating: 5 extended arms. Damn it, Ray, it's been too long.
- Natasha Julius
*
There are more than 6,000 cabs in the city of Chicago. We intend to review every one of them.
Posted by Natasha Julius at 12:09 AM | Permalink
May 23, 2007
The [Wednesday] Papers
"Federal prosecutors have subpoenaed records from Gov. Rod Blagojevich's campaign fund as part of a sweeping corruption investigation into whether top aides and advisers exchanged state business and jobs for political support," the Tribune reports today atop its front page.
Here's the part I like.
"On Tuesday, Blagojevich offered a rare opportunity for news media interviews. The administration refused an interview request from a Tribune reporter who rejected the condition that the questions remain solely about the governor's budget proposal."
Damn straight. That's newspaperin'!
And it gets better.
"In March, following a meeting with the Tribune editorial board, Blagojevich sidestepped a question about whether he had been interviewed by federal authorities since 2005, saying he wasn't at the meeting to discuss those matters but would set up a time to do so later.
"'I'm happy to make an appointment to talk to you guys about that,' said. 'But I feel real good about all the different things that we do because we follow the rules and we do things right and at the end of the day, as they say in the Bible, the truth shall set you free. The truth is what it is. And the truth is we do things right.'"
"But in the weeks and months that followed, as the Tribune pressed for the sit-down interview, the administration declined."
Nation's Worst Governor?
"[Sen. James] Meeks is yet another member of Blagojevich's own ruling party who 'can't figure out [this governor] to save my life,'" Carol Marin reports.
That's Todd!
* "What's the biggest challenge facing Cook County right now? The $500 million budget deficit? Layoffs and cutbacks? Management of the county juvenile detention center? Nope. Board President Todd Stroger said Monday it is the media," the Daily Southtown reports.
* "Cook County Board President Todd Stroger has another high-level advisor: Sean Howard, who just months ago resigned in embarrassment from the Stroger campaign because he'd been arrested for allegedly stalking a girlfriend," the Sun-Times reports. "Howard, 39, is the new director of public affairs for the county hospital system."
The job pays $85,000 a year.
"Stroger insisted last year that Howard would have no role with his campaign after his arrest."
Well, at least by waiting until after the election to bring Howard back in the fold, Stroger didn't break a campaign promise.
Best News of the Day
"Chicago's largest philanthropic organization, the John D. and Catherine T. MacArthur Foundation, announced Tuesday that it will invest $26 million during the next five years to help redevelop 16 of the city's lowest-income neighborhoods," the Tribune reports.
"The New Communities Program seeks to revitalize beleagured neighborhoods and preserve the diversity of others in the path of gentrification, officials said."
Best Campaign Ad So Far
Goes to Bill Richardson.
Wal-Bama
"Michelle Obama resigned her position as director of TreeHouse Foods on Tuesday, ending the relationship with the Wal-Mart supplier that had threatened to become a problem for the presidential campaign of her husband, Sen. Barack Obama," the Tribune reports.
Black Crack
"In 2002, angry shareholders confronted Conrad Black about controversial multimillion-dollar payments that he and other Hollinger International Inc. executives had received from the sale of newspaper assets. He fired back, calling them idiots," the Tribune reports in its continuing coverage of Black's trial in federal court here.
Black, the paper reports, also "brushed aside their complaints as 'nonsense,' 'foolish', and a 'scandalous slanderfest.'"
Separation of Powers
Here's a silly thought: Maybe the mayor should have absolutely nothing to do with naming city council committee chairpersons.
Simpsons Sagacity
* Rupert Murdoch's secret.
* How to submit a script to The Simpsons.
Taxi Twist
Business writer Bob Reed suggests our cabs go hybrid in exchange for that fare increase.
Scrubs
I'm confused. Is it still spring training? Because the Cubs are still deciding who their closer is, who should bat lead-off, and who should play second base, shortstop, and each outfield position.
And how long until Lou Piniella's daredevil managing has Jason Marquis in left field in the bottom of the ninth?
Earth Angel
Angel Pagan would be a decent rock band name, but Pagan Angel would be even better. For an all-girl metal group from LaCrosse, Wisconsin.
Democratic Deconstruction
While not generating much interest locally, the lead story of The New York Times today is the one in which Democrats stop pretending to have spines.
Creatures of the Abyss
How freakin' cool is this?
In Today's Reporter
* A lot more going on in that Styx rhythm section than you ever thought. In RockNotes.
* Creepiest cab ever? In Taxi Cab Journal.
* Women who magically fart on command. In What I Watched Last Night.
* E-mails to Al Gore. A Beachwood exclusive.
The Beachwood Tip Line: A life raft to sanity.
Posted by Beachwood Reporter at 9:42 AM | Permalink
Dear Al Gore
Al Gore appeared on Larry King Live last night to discuss his new book, The Assault on Reason, which in part decries the media's focus on the "horse race" in politics and endless speculation over the strategic motivations of candidates instead of healthy debate of the issues. King and his viewers proceeded to pepper Gore with questions about the horse race and whether his book was a precursor to another presidential run instead of a discussion of the issues raised in it.
The Beachwood Al Gore Affairs Desk has obtained additional viewer e-mails that did not make it onto the air but reflect the tone of those that did.
*
Dear Al,
What would be your favorite meal if you were running for president?
*
Vice President Gore,
Who's gonna win the World Series this year? Also, are you running for president?
*
Al,
In the event you were to rule out running for president, what would it take for you to change your mind?

*
Dear Al,
Aren't you already president of the Internet?
*
Dear Vice President Gore,
Is ruling out a run for president a clever way of actually running for president?
*
Al,
What Middle Eastern country would you withdraw troops from if you were president?
*
Vice President Gore,
Can I import a PDF into my PowerPoint presentation? How?
*
Mr. Gore,
Now that the Council of Elders has appointed you Chancellor of the Galaxy, could you run for President of the United States once your term expires?
*
Al,
Aren't we doomed either way?
*
Dear Al,
How do you intend to get around the Supreme Court-imposed maximum IQ limit for presidents?
*
Al,
If you were named president in 2000, would you be running for a third term?
Posted by Beachwood Reporter at 8:30 AM | Permalink
What I Watched Last Night
It's early Tuesday morning and A&E Classroom is chronicling the life of U.S. president and poker aficionado Dwight D. Eisenhower, from his humble beginnings in Abilene, Kansas, to his place on one of the worst American dollar coins ever designed.

It's a show filled with some interesting insights into the life of our 44th president. Initially, Ike passed the entrance exam to the U.S. Naval Academy. Had he not been too old be be accepted, he never would have enrolled at West Point Military Academy and gone on to become a five-star general in charge of planning the D-Day invasion. A born hell-raiser, he collected demerits at West Point by the boatload, but the Navy named an aircraft carrier after him anyway.
Eisenhower's presidential legacy includes the development of the nation's interstate highway system, a network of interconnected freeways designed to speed us quickly and nonstop to our destinations - or so the asphalt-industrial complex that keeps ripping them up and rebuilding them would have you believe. Ironically, in 1964, the Chicago City Council renamed the Congress Street Expressway the Dwight D. Eisenhower Expressway. Ike was not amused.
As Mike Royko famously pointed out, the Ike is the city's only Republican expressway.
*
I have a few theories about the existence of Fuse TV, satellite TV's safe harbor to the lamest damn shows mankind has ever had the misfortune to witness: A) Richard Pryor has returned from the dead because he's come up with one more way for Montgomery Brewster to waste $1 million a day; B) Fuse is owned by some Arab sultan whose principles won't let him douse pallets of cash with gasoline and just set them on fire in the parking lot; C) Fuse is still working the bugs out of its groundbreaking pioneer program to place crackheads and the mental patients in key decision-making positions.
I'll go with C. This can be the only possible reason why we get stuck with smegma like Pants Off Dance Off while an original thought like God, Inc. gets stuck in the YouTube ozone. Which is exactly how I ended up with Fuse's Rad Girls and The Whitest Kids U'Know during the midnight hour last night.
Here's all anyone really needs to know about Whitest Kids: White kids can't jump. They can't do sketch comedy, either.
The show tries painfully hard to rival The Kids In The Hall - a show that actually was funny almost all the time - but the only thing it accomplishes, quite amazingly, is being the only sketch comedy show in TV history worse than Saturday Night Live. The only good thing about Whitest Kids is that it's 60 minutes shorter than Saturday Night Live.
Now, here's another bad idea: Take the premise behind Jackass and stick it in the hands of three young women known as Ramona Cash, Munchie, and Darling Clementine who have the magical ability to fart on command. What do you get? A lame, sucking waste of time called Rad Girls, that's what. At least Jackass managed to raise mindless and fucked-up to an art in incredibly mindless, fucked-up ways. Conversely, Rad Girls is, near as I can tell, just part of an ongoing Russian program to develop a joke.
Jackass had Johnny Knoxville shoot fireworks out his ass. Rad Girls has Ramona Cash see how many pedestrians on the street are willing to play "May I Fart In Your Mouth?" She never really farts in anyone's mouth, since nobody actually gets close enough. Jackass had Steve-O try to get a live alligator to snap at pieces of raw meat hanging off his sack. Rad Girls has Darling Clementine see whether dogs behind a cyclone fence will lick her meat bikini.
And what do you suppose happens when Clementine wants to see what might happen if you drink a cup of Louisiana hot sauce just like the other 200+ goofballs on YouTube who have already done the same thing? She pukes. Duh. Just like the other 200+ goofballs on YouTube who have already done the same thing.
Like Ike said, beware the idiot-industrial complex.
*
Peruse the What I Watched Last Night collection. You'll be a better person for it.
Posted by Beachwood Reporter at 7:14 AM | Permalink
RockNotes: U2 vs. Styx
1. U2 was at Cannes, hawking their new three-dimensional movie, U2 3D. I dunno, even if it turns out to be the most awesomely great visual experience I've ever had, I still have a funny feeling about something this gimmicky. As Milhouse says, "It used to be about the music, man."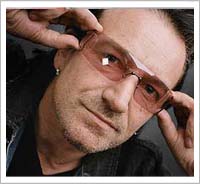 According to Reuters, "U2 3D, shot in South America during the band's Vertigo tour, seeks to recreate the atmosphere of a gig and take fans on a thrilling visual ride.
"The film combines camera angles that soar over the audience of up to 80,000, zoom in to within inches of the performers, join them on stage and look back into the stadium.
"At one point, U2's lead singer Bono reaches out towards the 3D camera and looks as if he is about to step into the cinema."
If it's the kind of 3D movie where everyone in the theater has to wear those huge cardboard glasses, I'm hoping they have the smarts to make them look like Bono's wraparound shades, thus pointing out the irony that Bono has seemed like he's been going to a 3D movie for about 20 years now.
Despite the hype factor, however, I do think that U2 is still the only band both good enough and big enough to pull off something like this and actually make it work. Would it be worth plunking down $20 at the IMAX to see a 90-minute filmed U2 concert in which the band comes right up your nose? Maybe if I were in the right mood.
And by that I mean if I were drunk.
2. Maybe at some point we're going to have to merge the rock 'n' roll and minor league baseball desks here at The Beachwood Reporter. After Bob Dylan and Willie Nelson did their groundbreaking tour of minor league parks in 2004 by playing such cozy venues as Sec Taylor Stadium in Des Moines and Coveleski Stadium in South Bend, there's another generation of small town ballpark touring coming along this year. Only this time, it's not quite Dylan. It's more like Counting Crows, Live and Collective Soul. Oh well. Like all great ideas, this minor league ballpark thing is losing something through repetition.
It's threatening to turn into the jam band niche venue of choice. Why is that, I wonder? It could be concertgoer logistics. You'd have to think it would be pretty hard to carry out any kind of law enforcement actions while the perps are all standing around on a baseball field. You could probably see the cops coming from a mile away.
Tickets for the "Rock 'n' Roll Triple Play Ballpark Tour" are $50. Is it just me, or does that seem a like a lot to stand on some infield dirt for four hours, even with the help of whatever stimulants you can find? Shouldn't the $50 level be reserved for an actual seat?
"So if you live in Pawtucket, Rhode Island, or Buffalo, New York, or Sedalia, Missouri, or Sauget, Illinois, or any of the other 20 or so yards we'll be playing this summer," says Adam Duritz, "then we'll see you there. If not, get in the car and take a drive. Like I said, it's a big beautiful country. You ought a see it anyway. That's what I'm gonna do."
Well, if Adam's gonna see the country, darn it, I can, too. So let's see, it's the $50 for the Rock 'n' Roll Triple Play Ballpark show ticket, plus gas at $4 per gallon to drive from Chicago to Sauget (basically to East St. Louis) and back (so maybe $70), then probably staying at the Cornfield Motel (another $50 per night) or at the KOA campground if you're outdoorsy ($60 for two nights). Then there's food and "beverages" ($100 for the weekend). And, uh . . . hey, now I'm broke! Wow, this minor league park-rock thing really does have rural American cred: It is like living in a small town! You're stuck out in the middle of nowhere without a dime to your name!
3. I, like most of us, will admit to having a certain amount of interest in the misfortunes of larger-than-life rock music dysfunctionals. Looming larger in that pantheon now are the Panozzo Brothers of Styx. I remember writing an obituary for United Press International for drummer John Panozzo when he died in Chicago in 1996, apparently from alcohol-related health problems. His sad passing set off my irony meter because Styx was such an antiseptic, "safe" rock band - you wouldn't think its members were doing anything but enjoying their well-funded middle-age years, hanging out on the golf course with Sammy Hagar and all the other bogus corporate rock icons.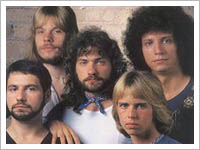 So that surprised me. Then about six years ago, we found out that his surviving brother, bassist Chuck Panozzo, not only was a closeted gay man during Styx's glory years, but later contracted full-blown AIDS and survived. The Panozzos were dealing with a lot of heavy shit, that's for sure... not that you'd ever notice from the squeaky-clean persona projected mainly by frontman Dennis DeYoung. To most everyone, Styx seemed like a comfy half-way alternative between the sacred and the profane, like the musical equivalent of suburbia.
Little did we know the rhythm section was this dark and troubled miasma of heartbreak and shame. Chuck Panozzo has just released a memoir called The Grand Illusion: Love, Lies, and My Life With Styx, and according to the reviews, it's mainly about the lies he had to live as a gay rock star. The reason he didn't come out, even in an industry as liberal as the music industry, is, he says, because he didn't want to endanger the band's appeal to female fans. Now he's ashamed he denied who he was.
That he was urged by at least one unnamed band member to stay in the closet doesn't come as a surprise: It's merely confirmation to me that Styx, like so many crappy '70s bands of their product-friendly ilk, was all about the revenue and only had grand illusions that their mediocre music actually made some kind of difference. But there are some non-gay-related revelations from Panozzo as well. For instance, Styx bombed in its first incarnation as a wedding band in the '60s because they didn't want to play music that people their own age would be interested in. Hmmm. In other words, "rock" music was not their first choice. That explains a lot.
Another revelation concerns DeYoung and the, shall we say, mixed feelings he engenders. Panozzo says it was his vote that determined DeYoung wouldn't be able to call his new band "Styx" when he acrimoniously parted ways with the others in 2000. The reason Panozzo voted to stiff him: He didn't like the way DeYoung had treated him when they recorded their last album together, 1999's Brave New World, allegedly insisting that Panozzo's name be left off the credits because Chuck had been too weak from his AIDS drug regimen to play bass on most of the tracks.
Yow. Nice one, Dennis. Nice one.
*
Send comments and brickbats to Don. Please include a real name if you wish to be considered for publication.
Posted by Don Jacobson at 1:33 AM | Permalink
Cab #1889
Date Taken: 5/16/07
From: Lincoln Park
To: Wicker Park
The Cab: Why do so many cabs use that same perfumey air freshener that certainly doesn't refresh? I'd rather have my cabs smell like repair garages, or even like working men. An ordinary interior beyond that, though this was one of those cabs with that weird coil-y thing snaking from the front dash to the back dividing window. What, are they pumping that odor directly into the backseat to improve efficiency and speed up the nausea to come?
The Driver: He drives in silence. He is a phantom, sometimes disappearing from the cab altogether. He is a silent, phantom driver. If you observe him, he does not exist. I'm in Schrödinger's cab.
The Driving: A little rough, but within one standard deviation of the norm. But what is that sloshing sound? Am I crazy or is something sloshing under the backseat? Wait for it . . . yes, there it is again! It doesn't appear to be coming from the trunk. It's not beneath me or the driver. It's beneath the backseat behind the driver. And there is a slight whirring. This cab is sloshing and whirring! Does Driver #1889 know the cab is sloshing and whirring? This cab is giving me the creeps.
Overall Rating: 2 extended arms.
- Steve Rhodes
*
There are more than 6,000 cabs in the city of Chicago. We intend to review every one of them.
Posted by Beachwood Reporter at 12:33 AM | Permalink
May 22, 2007
The [Tuesday] Papers
A new city council was sworn in on Monday and Mayor Daley told them to skip the politics. That's the mayor's job.
The role of the aldermen was explained on Sunday by the Tribune's Dan Mihalopoulos and Robert Becker: "Before voting on most significant legislation, aldermen generally turn for instruction to Daley's lobbyists, who hover around every meeting of the council and its committees."
A Daley Thing
Bob Sirott, now playing a newsman on Channel 5, was granted a few minutes by the mayor. Instead of asking the mayor how it is that he's helpless to end corruption in his administration after 18 years in office and a grip on the city that Mussolini could only dream about, he asked how corruption made this swearing-in "different."
And yet, watch how the mayor's eyes dart around anyway. I'd like to see his body language analyzed by a criminal profiler.

At any rate, Daley once again showed absolutely no concern about corruption; he only drags out his anger every couple of years when it's politically necessary. Instead, he just shrugged and said "you correct it and move on."
And on. And on.
The mayor also once again compared his administration's corruption to that of the private sector - as something inevitable and everywhere. Sirott should have said that last time he looked, NBC 5 didn't have a bunch of extra trucks sitting around unused at taxpayer expense.
Instead, he asked: "Thinking about your dad today?"
And to Maggie, in the human shield role we last saw with little Darren Baker at his dad Dusty's press conferences: "What part did you play in the discussion whether to run or not?"
"Well, Bob, I told him that if he didn't clean up the corruption in his adminstration, I couldn't support him."
Well, not exactly.
Back at the anchor desk with Warner and Alison, Sirott informed us that Maggie thinks her husband's greatest attribute is his sense of humor.
Yes, like when he bullies the City Hall press corps with grade-school taunts and makes fun of their jobs. That's pretty funny.
Another Thing
I have to say I kinda liked Sirott's Fox Thing in the Morning, and I didn't think it was such a bad idea to hire him to conduct Chicago Tonight, though he never looked entirely comfortable in the role. Sirott is a true broadcasting talent with a passion for Chicago. I've had the opportunity to chat with him occasionally over the years and it truly is enjoyable.
But there's a reason he was granted the interview with the mayor and not, say, Steve Warmbir and/or Tim Novak of the Sun-Times. I wonder how Sirott feels about the mayor stiffing the press all the time. I get the feeling he kinda likes it.
One More Thing
A couple Sunday night's ago on WGN radio, Sirott and his wife, Marianne Murciano, spoke with Richard Roeper and Rick Kogan in a reprise of the latter's old Media Creatures show. I didn't hear it, but a Beachwood listener tells me that they all agreed that blogs are bad and newspapers good. Apparently they didn't address blogs published by newspapers.
"At one point," my source says, "Bob sneered that 'Now, everyone is a "journalist."' Which prompted my wife to say, 'It would be nice if someone was.'"
This from Bob Sirott, Richard Roeper, and Rick Kogan, who is also great fun to talk to but just spent an election year writing bouquets to incumbent aldermen. No wonder everyone thinks they can do it just as well.
Last Hurrah
By the way, Michael Chandler lost.
Obamification
"In his column on the Commentary page on Monday, Sen. Barack Obama (D-Ill.) wrote: 'To set an example in the in the 2008 presidential election, I am refusing to accept campaign contributions from registered lobbyists, political-action committees, and I won't take contributions bundled by lobbyists.' A spokesman for his campaign clarified that the policy of Obama's campaign is to not accept contributions from registered federal lobbyists. He is accepting contributions from registered state lobbyists."
One Last Thing
Might have been nice to ask the mayor why he is more upset about the foie gras ban than police torture.
Anyone Can Do It
A Sun-Times reporter ate a cicada and called it news.
The Media Creatures are right; everyone thinks they're a "journalist" these days.
Amateur Hour
Speaking of amateurs encroaching on the turf of our esteemed professionals, I'm glad the Reader's Whet Moser took this on because I didn't have the stomach too.
Safe Succession
"Retiring Police Supt. Phil Cline on Monday urged Mayor Daley to choose an insider as Chicago's next top cop," the Sun-Times reports.
Someone who already knows where the bodies are burned.
The Mom Factor
"If a man's body isn't working right, Congress will help fix it. If a woman's isn't, check back in 20 years or so."
- Kristen McQueary, " Why Congress Needs More Moms."
That's Ozzie!
After Ozzie Guillen's little set-to with Mike North, I sent an e-mail to our very own Natasha Julius. Her reply:
"Oh. My. Gawd. I cannot believe the sheer force with which Ozzie Guillen has sucked the love out of me. He's awful. I never thought I would say this, but I would suffer the accumulated cigar smoke of a thousand Mike Ditkas before I would sit through one more of his homophobic, asinine temper tantrums. The guy is one pistol whipping away from Ugueth Urbina and no one seems to notice it. By the way, what'd he do today?"
Now, the problem isn't that we're shocked by Guillen's language, as some pundits seem to think. Some of us talk like that too.
But we don't call up radio stations and do it live on the air. And baseball managers who do so - especially in response to a debatable lineup decision - are usually on their way out.
As the Sun-Times's Elliott Harris put it: "To say Sox manager Ozzie Guillen is the same manager today as he was when he first took over is to say life's lessons are lost on him."
Candy Man
"North brought some candy into Guillen's office Friday morning," the Tribune reported. "Guillen threw it in the garbage after North left."
Piss Poor Priorities Schoolbooks vs. urinals.
The Beachwood Tip Line: Copper-plated.
Posted by Beachwood Reporter at 8:56 AM | Permalink
What I Watched Last Night
TV is an incestuous playground, particularly when it comes to one (or often several) TV series being spun off from another. The list of television programs doing a lot of begettin' and begottin' is pretty considerable, particularly once the 1970s. (Yes, Mork and Mindy was indeed a Happy Days spinoff.) While Norman Lear and Aaron Spelling were perhaps the most successful purveyors of incestuous small-screen lineage, the undisputed king of the big screen tree-without-branches during the 1960s had to be Walter Elias Disney.
This thought dawned on me during this past Saturday afternoon's Hallmark Channel doubleheader presentation of the still-incredibly popular Disney films Old Yeller and Swiss Family Robinson. Go ahead - try and play Six Degrees of Kevin Bacon with any 1960s Disney movie and see how far off the ground you're able to climb.

Released in 1957, Old Yeller is set on the Texas homestead of the Coates family. Dad Jim (played by Fess Parker, looking like a poor man's Gregory Peck in a mustache. Or Tennessee Ernie Ford. I haven't figured out which) is off driving a herd of cattle to Kansas, so the 'stead is being tended to by mom Katie (Dorothy McGuire) and young sons Travis and Arliss. The family hasn't seen any money since the Civil War, but curiously, they enjoy a standard of living that extends beyond the more-believable Little House on the Prairie standards of that era, where people dressed in rags and ate dirt. The Coates home is a multi-room McMansion of a log cabin (with wood-plank floors, even!) with multiple corn cribs out back, and they're somehow able to harvest a massive wagonload of corn from the most miserable patch of spindly stalks growing far enough apart to drive a car between. How these people manage to escape an IRS audit is a mystery to me.
While Jim's off cattle driving, Katie spends her days as the frontier's uber-June Cleaver. She accomplishes all sorts of hard labor like chopping fenceposts and hoeing the even-more-miserable patch of green crops, yet her clothes stay impeccably clean even when she's worn them several days in a row, and the updo's always in place. And dammit, she knows how to handle a rifle, too. If that girl just had a good set of pearls and a crock pot, there's no telling how far she could've gone as the Frontier Martha Stewart. Meanwhile, teenaged son Travis (Tommy Kirk, as the inspiration to Johnny Crawford's Mark McCain in The Rifleman - referenced by the cameo appearance in this movie by Chuck Connors) does the outdoor chores and hunts wild game for food and keeps tabs on little brother Arliss (Kevin Corcoran, as the inspiration to every Chucky movie), who spends most of his time chucking rocks at everyone and annoying whatever small furry mammals wander his way.
Anyway, a yellow mutt that's made a name for himself across the entire state of Texas for stealing and sucking dry bags upon bags of eggs from local chicken coops wanders in from the somewhat-nearby Texas town of Salt Licks to take up residence at the Coates 'stead because, well, any dog that's been able to master more than sit, stay and fetch on his own deserves that sort of reputation. Even in Texas. Since everything's perfect in Eisenhower-era Disney World, Yeller also happens to be a remarkably clean and well-fed example of a stray dog that, in today's world, would be mauling joggers alongside the rest of the feral dogs living in the south suburban Cook County Forest Preserve District. Neither Travis nor dad Jim has cottoned much to well-diggin' yet, so Arliss adopts the dog and names him Old Yeller while the two frolic in the muddy stagnant pool that serves as the family's only source of drinking water. Travis chucks rocks at Yeller, Arliss chucks rocks back at Travis ("Don't you go rockin' my dog!") and Travis plans to shoot Yeller in the morning if he eats any of the venison hanging on the porch overnight.
Yeller's an eggs-and-bacon sorta dog, so of course he doesn't touch the venison. So Travis spends the entire rest of the movie developing a brotherly bond with Yeller because Yeller's "a heap more dog than I had him figger'd for." But really, it's more because Yeller doesn't have Arliss' penchant for sassing back and chucking rocks. Yeller further ingratiates himself to Travis and Katie because he's really good at fending off scary wildlife like black bears, boars with razor-sharp tusks, spindly-corn swipin' raccoons, the rabid family cow Rose, and a rabid wolf not afraid of a big pyre built to cremate the rabid family cow before it rises from the ashes and inspires a then-unknown director named George Romero to come up with Night of the Living Dead.
Which brings us to the rabies (a.k.a. hydrophobia, a.k.a. rabies) epidemic that bodes the end for Yeller - an epidemic known more commonly around those down-home Texas parts as "hydrophobee." Or known - even more commonly than that -- as "the slobberin' fits." Which, interestingly enough in the Disney world, also brings us to the traveling menfolk who come sniffing around the Coates homestead since Katie's husband happens to be out of town for Lord knows how long. That's because, if on thing these guys know how to do better than sniff out manless womenfolk, it's how to identify a critter with rabies.
The first arrival is lazy ne'er-do-well Bud Searcy, a fat, slobberin' sort of guy who could easily have been the inspiration for Terrill - the fat, slobberin' leader of the Red Legs in Clint Eastwood's 1976 non-Disney film, The Outlaw Josie Wales. Bud's favorite pursuits are sponging free meals from the local housemarms and - when he's not subjecting his daughter Lisbeth (Beverly Washburn, easily the twin to Hayley Mills in Disney's Pollyana) to a wide variety of child labor law infractions like fetchin' water and harvestin' spindly corn - he's abandoning her at the Coates homestead for weeks at a time. Bud was sent by Jim Coates to look in on his family in his absence, so given Bud's disposition, you have to wonder about Jim's ability to judge the basic character of his neighbors.
While Bud wasn't making a pig of himself at the Coates kitchen table, Katie was being visited by passerby Burn Sanderson, played by Chuck Connors in a respectable cameo appearance on his way to North Fork to play Lucas McCain on The Rifleman. Burn, the rightful owner of Yeller, trades Yeller to Arliss for a "Jim Dandy finest-lookin horny toad" and a home-cooked Katie Coates meal. In the real world, it might have dawned on Katie right about then that she could just hop a stage over to Dodge City and snuff Miss Kitty and become the wealthiest cook/saloon owner/hooker nearest the Rio Grande. But she didn't, so she and Travis are left to flip a coin over who gets to shoot Old Yeller after Yeller saves the family for about the fiftieth time from some wild, ferocious, rabies-infected local beast. A dog can save a family only so many times in the middle of a raging hydrophobee epidemic, so Travis ends up drawing the short straw in the Rabid-Dog Shootin' Derby.
But that's okay, because when he wasn't busy sucking eggs stolen from chicken coops, Yeller's other talent was siring various illegitimate offspring throughout the Texas countryside. Lisbeth had presented one of Yeller's bastard offspring to Travis as a gift, but by the time Yeller was dead and buried and Travis had spurned Lisbeth's gift about an hour earlier in the movie, Jim had returned from the cattle drive with a big sackful of coins, a pony for Travis, and some fatherly advice for Travis: "When you start lookin' around for somethin' good to take the place of the bad, as a general rule, you can find it."
So New Yeller comes to be the new Old Yeller, the nation's last band of banjo-playing baritone singers land a movie soundtrack gig, Walt Disney somehow misses the opportunity to invent the sequel, and the screenwriters of Stripes are left to provide Bill Murray with background for one of the more memorable lines in modern movie history.
*
Immediately thereafter on the Hallmark Channel, the Disney incest-fest continued with Swiss Family Robinson, a 1960 release that ranks among one of the most ambitious - and successful - of Walt Disney's live-action movies. Which, incidentally, was the inspiration for the 1960s TV series Lost In Space. I've never seen Swiss Family Robinson in its entirety, and I was only able to catch half of Hallmark's presentation last weekend, but I saw enough of it to drag out this column perhaps longer than some people might think it deserves.
I missed the opening 10 minutes or so, so I'm not sure whether Jim Coates got snuffed by a Texas twister or some leftover hydrophobee milk from the rabid family cow or whether Katie just dumped him for bringing her nothing more than a pair of shoes and a "My husband went on a cattle drive to Kansas and all I got was this crummy T-shirt" T-shirt, but there she was (as Mother Robinson, along with Arliss and Travis - imagine that!) with a fellow known only as Father Robinson (John Mills, the real-life father of 1960s Disney Movie regular Hayley Mills) getting shipwrecked on some tropical East Indies island. They were on their way to Australia along with son Fritz Robinson (a boyish James "Dan-O" MacArthur from Hawaii Five-O) when something pretty awful happened to sink their big ol' pirate-looking ship. Yet they managed - without the benefit of power tools - to build a perfectly-constructed log raft and a stupendous, massive set of multiple treehouses right off the pages of Better Homes and Foliage.
On top of that, these regular folks who couldn't figure out how to stay dry in a rainstorm somehow manage to invent the refrigerator. And to think all The Professor managed to cobble together during those many years on Gilligan's Island was a radio from two coconuts.
At this point, I would be remiss in not mentioning that while Dorothy McGuire upgraded her wardrobe to something more button-down Victorian, her updo's always perfect in this movie, too.
Anyway, Mother and Father Robinson are quite content to live out the rest of their lives on this island inhabited by elephants, tigers, ostriches, and all sorts of other animals that have no natural business being anywhere near the East Indies, but they send Travis off with Dan-O in some little canoe outrigger sailboat to sow their wild teenage oats elsewhere because there are no women besides Mother Robinson on their island, and she's pretty much spoken for. Arliss, however, is left behind with mom and dad because the only thing he'd do with a live woman is chuck rocks at her.
This leads Dan-O and Travis on a wild adventure involving a Tubbs-and-Crockett wardrobe that predates Miami Vice by a good 25 years and a shipload of pirates borrowed from the set of whatever movie Disney was making about the life of Ghenghis Khan at the time. Further complicating matters is British navy Captain Moreland (Jonathan Pryce, looking suspiciously like British governor/navy man Weatherby Swann in Disney's current Pirates of the Caribbean franchise) and his very hot daughter Bertie (Janet Munro, who would have been Kelly LeBrock if it had been 1985 instead of 1960), who have been captured by the Mongolian pirates. Captain Moreland has done an amazing job of giving Bertie (actual girl name Roberta) a bitchin' short-short hairdo to make everyone believe she's a cabin boy, but neither the Mongolian pirates nor Dan-O or Travis have brains enough to recognize a hot, full-lipped woman beneath the gangsta ski cap when they see one.
I didn't stick around long enough beyond that to see how Swiss Family Robinson finally ends, but sources tell me it involves a thrilling climax where the Robinsons join forces with the Mongolian pirates to roast Jeff Probst on a spit and emerge victorious on the upcoming season of Survivor: Tobago.
*
See what else the Beachwood Nation has been watching, in our What I Watched Last Night collection.

Posted by Beachwood Reporter at 6:36 AM | Permalink
Reviewing the Reviews
May 20-21.
Publication: Tribune
Cover: Nondescript photo that will mean nothing to readers promoting the review of When the World Was Young, in which "Fremd High School teacher Tony Romano offers a vivid, evocative tale of kinship and conflict in 1950s Chicago."
Not a totally terrible choice for a cover, but something more than an author photo, please.

Other news and reviews of note: None.
*
Publication: The New York Times
Cover: X-ray skull with bombs shooting out of the mouth. Would be better if the background wasn't yellow. For a review of William Langewiesche's The Atomic Bazaar.
Other news and reviews of note: David Talbot's Brothers: The Hidden History of the Kennedy Years is reviewed by Alan Brinkley and played off against Vincent Bugliosi's Reclaiming History: The Assassination of John F. Kennedy, reviewed by Bryan Burrough.
Bugliosi has concluded from exhaustive research that Lee Harvey Oswald acted alone. Robert F. Kennedy never believed that.
Also: Another Michael Beschloss book that his historically irrelevant, from the Doris Kearns Goodwin School of American History 101 Publishing. This one is Presidential Courage: Brave Leaders and How They Changed America, 1789-1989. A book called Presidential Folly might have been more useful.
Essay: "Point of Order," by Rachel Donadio. "Robert's Rules, brainchild of an obscure general, has survived 130 years, 10 editions - even use by 1960s radicals."
Charts: Subjects of the three non-fiction best sellers.
1. George Tenet.
2. Albert Einstein.
3. God.
*
Next week, adding the Sun-Times and possibly others to this feature.

Posted by Beachwood Reporter at 3:00 AM | Permalink
May 21, 2007
The [Monday] Papers
"Last December off-duty Chicago police officers reportedly attacked four businessmen in a bar, leaving one in need of reconstructive surgery and another with four broken ribs," John Conroy wrote in the Reader last month. "In February off-duty officer Anthony Abbate beat up a young female bartender who declined to serve him any more drinks. Both incidents were recorded by security cameras.
"Outgoing police superintendent Phil Cline said he was 'disgusted' by the assaults. He said what dismayed him wasn't just the beatings but also how the attackers were subsequently protected by the department. Commanders kept the offenders in the December incident on active duty for months, even after seeing the recording. In videotape of February's incident, Abbate can be seen repeatedly punching and kicking bartender Karolina Obrycka, yet he was only charged with a misdemeanor till the state's attorney's office brought more serious charges. A police captain ordered his men to harass the media who came to cover Abbate's first court hearing.
"'I won't tolerate any misconduct. If it comes to a criminal nature, we'll arrest you. If somebody tries to shield Officer Abbate, or any other officer accused of misconduct, then they're going to have to pay the consequences for it,' Cline said after that hearing. But this isn't anything Cline hasn't seen before.

"In 2003, when an officer Cline had worked with years earlier got into trouble, Cline and other high-ranking officers helped make the problem go away. That problem was caught by security cameras too. That victim wasn't beaten - he was shot dead. The full tape of the incident has never been shown publicly, and nobody's apologized to the victim's mother."
(You can see the video for yourself on the Reader's website.)
I'm revisiting this story today because of the Tribune's report on page 3 of the its metro section this morning:
"A Chicago police officer who shot and killed an unarmed man at an elevated train station in 2003 acknowledged late last year that the shooting was unjustified contradicting the opinion of department officials, according to sworn testimony he gave in a lawsuit related to the shooting."
As the Reader noted in its piece on April 20, "Officer Alvin Weems shot an unarmed man point-blank in view of CTA security cameras. Investigators recommended that he be fired. Phil Cline promoted him."
Phil's Fans
* Neil Steinberg, self-described "professional explainer," May 4:
"For those of us somewhat sorry to see plain-speaking, up-from-the-streets Chicago Police Supt. Phil Cline get the bum's rush for departmental screw-ups that were completely out of his control - including his own mouth, sadly - there is reason to take heart.
"He might be back.
"I hear - murmured by a starched, in-the-know political pal whose identity, alas, must remain hidden behind the red velvet drapes - that friends of Cline's are lobbying for him to be thrown the plum job of heading up security for the 2016 Olympics, should Chicago get it.
"I'm all for that. Cline is only 57, with plenty of good years left in him. Why bring in some perfumed security analyst from France who'll have us all prisoners in our own city, squatting in the sun, our fingers laced behind our necks? A Chicago Olympics should be protected by a Chicago cop, and Phil Cline, for good and ill, is exactly that."
* Michael Sneed, April 3 (to be fair, before the Reader story, though Sneed has given no indication that she's read it - I mean, really - nor changed her mind ):
"I'm flummoxed. Why would Mayor Daley accept Police Supt. Phil Cline's resignation?
[snip]
"Why did Daley decide to let Cline retire in the midst of the latest brouhaha over a handful of drunken off-duty cops, whose conduct was repugnant, shocking, unacceptable and punishable - but infinitesimal in comparison to the bigger Police Department picture?
[snip]
"We just lost one of the very best."
Omentum
"Obama has taken his war opposition to a new level in recent days, launching what some are calling his '16 votes' campaign urging that number of senators to vote to override President Bush's recent veto of a bill to re-deploy troops," the Tribune reports.
"For more than a week, Obama has been calling out senators - not by name, but by implication - when he campaigns in their states. Until Saturday, he had pointed the finger only at Republican lawmakers.
"But on Saturday night he was to attend a private fundraiser in Connecticut, home state of Sen. Joseph Lieberman, the former Democratic nominee for vice president, who voted with Republicans on the withdrawal measure."
Of course, it could have been "15 votes."
- Tim Willette
Obamoney
Barack Obama vs. reality.
Diet Right
"[M]ilk will no longer be advertised or marketed as a weight-loss tool, according to a recent letter sent from the Federal Trade Commission (FTC) to a health-advocacy group that has long contested the claim," the Tribune's Julie Deardorff reports. "Instead, the $50 billion dairy industry promised it won't promote a link between dairy consumption and weight loss until there actually is one . . . Was there ever any evidence that milk consumption leads to weight loss? Studies by Michael Zemel, a professor of nutrition and medicine at the University of Tennessee, have found milk has slimming properties if it's combined with calorie cutting. But Zemel has accepted nearly $1.7 million in research grants from the National Dairy Council."
Also Friday, the National Pizza Council announced it will stop production of its popular Slice Away Fat campaign. Begun in 2004, ads for the industry group claimed that eating pizza aids weight loss when combined with calorie cutting.
- Tim Willette
Editor's Note: Just don't tell me the Lose Weight With Leinie's campaign was a sham. That would really hurt.
Generation Crap
"Jean Twenge, an associate professor of psychology at San Diego State University, reports that college students increasingly agree with statements indicating oversized egos, such as 'I am an important person,'" the Trib's Steve Chapman writes. "Marian Salzman, a senior vice president at the advertising agency JWT, told The Christian Science Monitor, 'Gen-Y is the most difficult workforce I've ever encountered,' because they 'are so self-indulgent.'"
And the last thing psychologists and advertisers want is a culture that promotes self-indulgence.
- Tim Willette
Inside Today's Reporter
* Cab #580: "The highest burglar-shield-to-fare-window ratio yet experienced, being somewhere in the neighborhood of 30 square inches of ballistics-rated plastic for every one square inch of open space."
* The Cub Factor: "Mount Lou is currently holding at yellow but watch out. Expect a West Coast bullpen tremor to jostle Lou into a lava-spitting expletive eruption. Look for volcanic activity during the middle of the Dodgers series to top out at 6.7 on the Piniella scale."
* Lighting Chicago's Olympic torch: "Angelo Torres, though nobody remembers how he got the job." And other suggestions from The Beachwood Olympic Affairs Desk.
* The BBC writes rock's obituary: Long live rock.
* "Behind Closed Doors/Charlie Rich. This is a great song, but let's face it: Everyone knows what goes on behind closed doors." And other commentary on one Friday night with the Beachwood jukebox.
The Beachwood Tip Line: Indulge yourself.


Posted by Beachwood Reporter at 7:55 AM | Permalink
Cab #580
Date Taken: 5/18/07
From: Roscoe Village
To: Irving Park
The Cab: Boasted the highest burglar-shield-to-fare-window ratio yet experienced, being somewhere in the neighborhood of 30 square inches of ballistics-rated plastic for every one square inch of open space. The backseat breathing room was further obstructed by a bizarre contraption - maybe a stereo, maybe a climate-control device, or maybe just a conversation starter - suspended from the ceiling above the fare window. It boasted four round grate-like openings and what looked like a light on the undercarriage, but no discernable means to make it do whatever it was it was meant to be doing. Despite these unsettling features, the cab was clean and your tobacco-wary reviewer appreciated the oversized "No Smoking" sign posted just behind the driver's seat.
The Driver: Upon further consideration, maybe Driver #580 doesn't like clean air and personal safety quite so much as he likes being completely invisible to his back-seat passengers. In fact, one gets the sense that if Driver #580 could fall through this crystal pool of a world without leaving so much as a ripple, he would consider his life a success. There's something soothing in that notion; something utterly at odds with the burglar shield's outward hostility.
Of course, this practiced non-interactivity also comes in handy when angling for that borderline exorbitant fare round-off. After all, if you don't offer the change in the first place, the passenger is less likely to take it from you. It's a strategy so subtle in design and execution it almost makes you think he deserved the extra-bulky tip.
The Driving Safe, direct, showing a clear understanding of local traffic patterns and one-way streets. Navigated a congested corridor with ease and gladly made the extra left turn so that your reviewer wouldn't have to cross a busy street on foot.
Overall rating: 3 extended arms
- Natasha Julius
*
There are more than 6,000 cabs in the city of Chicago. We intend to review every one of them.
Posted by Natasha Julius at 12:57 AM | Permalink
Torching Chicago
Chicago's Olympic committee was recently sent back to the drawing board to come up with a new logo because the old one used a torch - a no-no according to International Olympic Committee rules. This got us to thinking: who will get to run the last leg with the torch and light the Olympic Flame?
A few suggestions.
1.Tony Rezko. It turns out, in a complicated deal, he owns the torch.
2. Rod Blagojevich. He'll accept the job of Olympic mascot as community service in lieu of jail time. His highly flammable hair adds to the spectacle.
3. A bystander with a lighter after ComEd turns off the flame for non-payment.
4. A wild-eyed Tony Peraica, who then leads the village on a midnight march to the election board.
5. Angelo Torres, though nobody remembers how he got the job.
6. Calatrava lights the top of the Spire instead.
7. Mrs. O'Leary's great-granddaughter's cow.
8. Larry Warner.
9. Whoever it is will be late when they get stuck circling O'Hare.
10. Michael Shakman, as part of a patronage settlement.
11. Sam Zell, who will buy out the city's Olympic committee and sell the flame and torch separately to pay for debt service. Alternate Zell scenario: He'll leap the torch on his motorcycle and light it with a flaming Sunday Tribune.
12. A 7-11 cashier at 7:11 p.m. in a naming rights deal.
13. Alfonso Soriano. But he drops the torch on Aramis Ramirez's head as Ron Santo screams "Oh nooooooooooooo!"
14. Frank Kruesi, using a torch lit by a Blue Line fire.
15. Mayor Patrick Daley.
16. Michael Sneed hears it will be a Chinese national.
17. A poor black man who was awarded all the city's assets in a police brutality lawsuit.
18. Jon Burge will fire it up with an electroshock device. The torch will later confess to assorted unsolved crimes.
19. Charlie Trotter will ignite the flame after adding bananas, butter, brown sugar, and cinnamon to the torch, along with a splashes of dark rum and banana liqueur. The torch will then be served with a scoop of vanilla ice cream and garnished with powdered sugar and fresh mint.
20. The torch bearer will take the CTA's advice to leave early, stay late and alternate, thereby missing the event altogether.
21. Barack Obama, but only after the Sun-Times begs him for five weeks, submits the request in writing, and he finally does it exclusively for the Tribune.
*
Care to add to the list? Send your suggestions to the Beachwood Olympics desk.

Posted by Beachwood Reporter at 12:26 AM | Permalink
The Cub Factor
The Crosstown Classic should be renamed The Six Regular Season Games Against Another Team Classic. Sure, that isn't interesting or fun, but neither are the games. Okay, they are as interesting as any typical weekend series at Wrigley Field, or The Cell for that matter, but they certainly aren't any fun. The Cubs-Sox rivalry stopped being fun a while ago; now it's just annoying.

I've attended a few of these games over the years and it's never been fun. The last time I was in the stands at a Crosstown "Classic," I had to endure a loudmouth White Sox fan bitching about everything wrong with Wrigley Field. Sitting in front of this guy, I heard him cry about the food, the washrooms, and the scoreboard. The worst part of it was that he thought he was being funny, but these tired, useless, pointless, tired (did I say tired?) arguments just weren't funny at all. At one point, as a Sox player was batting, he said something like, "I wish I knew the batting average of this guy. But no, the scoreboard doesn't tell me that," to which I turned around to him and said, "If you were a real fan you would know the batting average of this guy." That shut him up for approximately .3 seconds, and then he started bitching about how the women on the South Side are hotter than those at Wrigley. Um, yeah.
Where was the fun there? Don't get me wrong, there are probably as many idiot Cub fans as idiot Sox fans, but the point is that these games bring out the inner idiot of all of Chicago. Let's just put an end to them and everyone will enjoy this great city a little bit more.
*
Week in Review: The Cubs went 3-4 this week, losing three of four to the Mets and winning two of three from the Sox. Three up and four down during a tough stretch doesn't sound so bad, but the way that the Cubs lost in New York just leaves you with a not-so-good feeling. Like if you were on a date and the person you were with ordered the salmon and you wanted to order the salmon but now it'd be weird if you both got the same thing so you order the seared tuna and it's just okay and your date keeps saying how good the salmon is and you just think that your dinner could have been better, but it just wasn't.
Week in Preview: A six-game West Coast trip with three against the Padres and three against the Dodgers. So there's a bunch of late nights in store for Cub fans. Or you could go to bed at a reasonable hour while the Cubs are winning and wake up to hear about how the merry-go-round of crappy relief pitching lost another one.
Side Note: The Dodgers' typical line-up starts with Rafael Furcal, Juan Pierre, and Nomar Garciaparra, who are either fomer Cubs or almost-former Cubs (Furcal). And the Dodgers are in first place, six games over .500. How do these things happen?
The Second Basemen Report: Ryan Theriot started five of seven games this week at second. Mark DeRosa started the other two. Just when you thought it was safe to say DeRosa is the second baseman on this club, Uncle Lou pulls another fast one. So for now, Theriot is the actual second baseman and DeRosa is the utility guy. Until next week.
The Cub Factor would also like to welcome Mike Fontenot to The Second Basemen Report. And say goodbye to Mike Fontenot, though we have a feeling we'll see him again soon. Fontenot came up for a few games this week and played a little second base. Maybe next time he'll play a little outfield too.
In former second baseman news, Neifi Perez has had 24 at-bats for the Detroit Tigers this season, and is batting .208 with one homer and 4 RBI. He is missed.
And in second-in-the-batting-order news, The Cub Factor would like to welcome Angel Pagan to the two hole! And he just might stay there, wait, no he won't. No one stays in the two-hole. When Derrek Lee gets all the way back, well, who knows what will happen. Anyway, we're glad you visited the two-hole, Angel. You did a great job smacking the crap out of the ball. Now go hit seventh and warm up the bus to Iowa while you're at it. Cuz you ain't gonna see the same pitches batting in front of Cesar Izturis and the pitcher as you did hitting in front of Alfonso Soriano and Aramis Ramirez. So we hope you had a good time, made some friends, and took some pictures. Bye-eee.
Sweet and Sour Lou: 48% sweet and 52% sour. Down two points on the Sweet-O-Meter this week. Lou is beginning to get more sour than sweet these days as this team just can't get it together yet can't seem to completely break down either. Frustrating.
Beachwood Sabermetrics: A complex algorithm performed by the The Cub Factor staff using all historical data made available by Major League Baseball has determined that Alfonso Soriano is not worth the money.
Over/Under: Number of games this week typical Cub fans will watch in their entirety : +/- 1.5
The Cub Factor: Catch up with them all.
Mount Lou: Mount Lou is currently holding at yellow but watch out. Expect a West Coast bullpen tremor to jostle Lou into a lava-spitting expletive eruption. Look for volcanic activity during the middle of the Dodgers series to top out at 6.7 on the Piniella scale. Mount Lou is due; Mount Lou is due.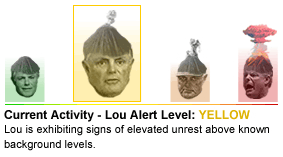 Posted by Beachwood Reporter at 12:24 AM | Permalink
Here Lies Rock 'n Roll
Rock has had seven "ages," according to BBC Television, which has launched what seems like a pretty darn comprehensive seven-week, seven-part documentary called, appropriately, The Seven Ages of Rock, which works out to one age per week. That's a lot to cover. Here's how they break down the history of rock 'n' roll.
1. "The Birth of Rock," Blues-based Rock 1963-1970
2. "White Light, White Heat," Art Rock 1966-1980
3. "Blank Generation," Punk, 1973-1980
4. "Never Say Die," Heavy Metal, 1970-1991
5, "We Are the Champions," Stadium Rock, 1965-1993
6. "Left of the Dial," Alternative Rock, 1980-1994
7. "What the World Is Waiting For," Indie, 1980-2007
Now, because we're Americans who don't support our television networks with tax dollars (only with advertising dollars given to private owners who then slip some of the cash to politicians who in turn make sure all competition is destroyed), we here in the United States aren't allowed to watch any clips of the shows on the BBC website. So I can't tell you that judging by the samples, the Ages shows are, say, promising, or, say, pompous, or perhaps pure shite. All I can go by are the written descriptions. And those are great.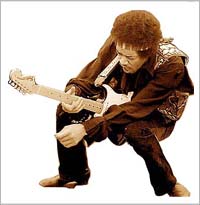 The first show, "The Birth of Rock," focuses on Jimi Hendrix as the centerpiece for the era, both because of how Rhythm & Blues influenced him on the front end, and for the influence he exerted in the years following his 1970 death, which in the eyes of the film, marked the end of rock's first era. The show's liner notes were written by assistant producer Tony Higgins, who talked about the challenge and rather awesome responsibility of distilling the 1960s into a form that made at least some sense:
"Salvation lay in the device we'd adopted for much of the series - using a central figure to take us through the story, a figure who could demonstrate the developments and transformations in that period of astonishing artistic creativity and social change.
"There was only one candidate really: Jimi Hendrix. He encapsulates the first age of rock more than any single figure; a summation of all that had gone before him and a projection of all that was to come. He was the roots bluesman who used new technology, perfectly bridging the past to the future to create a dazzling psychedelic present.
"It's essential to remember that his career in the spotlight lasted only four years and three studio albums; dead at 27, an artist whose potential was so massive, it's hard not to reflect on his unrealised projects without a profound sense of loss."
Higgins says one of the film's highlights is a "candid" interview with Cream drummer Ginger Baker, who speaks casually of the drug-filled circumstances surrounding Hendrix's death from a sleeping pill overdose as well as his own simultaneous close call with the Reaper:
"One story he told was of the night Hendrix died. Ginger had come into possession of a bottle of pure cocaine hydrochloride from a friend who worked at Charing Cross hospital. Keen to share his windfall, Ginger called Hendrix but could not get hold of him. Ginger proceeded to get stuck in, OD'd and came round to a doctor telling him that Hendrix was dead. 'The extraordinary thing is,' said Ginger, very matter of factly, 'if he'd had the coke he wouldn't have died because he wouldn't have gone to sleep.'
"He finished with a darkly comic round up: 'I seem to manage to stay alive by some miracle because I was supposed to have died you see. I was in the Playboy Dead Band in 1972 along with Jimi and Janis Joplin and Greg Allman. I was the drummer in the Dead Band.'"
The playlist for the show looks pretty representative, including such Hendrix tunes as "Purple Haze," "Voodoo Chile," "Hey Joe," "Killing Floor," and his Woodstock "Star Spangled Banner"; Dylan's "Like a Rolling Stone"; the Beatles' "Lucy in the Sky With Diamonds"; Cream's "Crossroads"; the Stones' "Little Red Rooster" and "Satisfaction," and 18 others.
The program doesn't really give much truck to Elvis or Chuck Berry: It starts the history of rock in 1963 with the then-thriving London blues club scene (maybe that's because it's the BBC). That's where Eric Clapton, the Who and the Rolling Stones all got their mega-doses of Big Bill Broonzy, Willie Dixon and Howlin' Wolf. The next big moment was 1965, when Dylan went electric and it became hip to sling an electric guitar. Then the Stones' "Satisfaction" came out and Hendrix was soon discovered. The rest, as they say, is history.
This kind of thing goes on and on, stretched over six more "ages" all the way from Lou Reed to the Arctic Monkeys. The director of the art rock episode, Francis Whatley, has an amusing piece about interviewing the notoriously difficult Reed, a guy who once said rock journalists were morons and idiots who weren't fit to guard his sewer. I can relate to the stuttering fear that overtakes you when you're supposed to interview someone you worship and they're being impatient. You do feel a bit like Chris Farley interviewing Paul McCartney. But Whatley was thrilled that he got something he could use from "Laughing Lou."
Other highlights gleaned from the Seven Ages website: Glen Matlock of the Sex Pistols says he was influenced by ABBA; Ian Gillan and Lars Ulrich get plastered with each other; Stewart Copeland compares himself to an Aztec sun god; and the conclusion that Oasis will be probably be "the last" British rock phenomenon. Whenever anybody says in a rock context that so-and-so will be "the last" whatever because they were so friggin' great, all that means is wait a couple years. But I guess that's some of the buzz surrounding this BBC series: Part of its unspoken premise seems to be that rock is dead and this is its obituary.
Perhaps. But to envision an England without rock 'n' roll is to picture a satisfied England, a happy England where there's nothing to protest. And that will never happen.

*
Comments? Talk to Don. You must include a real name to be considered for publication.

*
COMMENTS:
1. From Robert Pruter:
I did not see the BBC documentary on rock, but I suspect like a lot of people they make the distinction between rock 'n' roll and rock. I make that distinction as well. Rock 'n' roll was the music I grew up with, and it was a teenage working class functional music, for entertainment, necking, and dancing. After high school, those who went to college (meaning the middle class and post teenagers) listened to folk and jazz.
Rock music emerged about the time of the British invasion as music of the middle class. As a result folk music became folk-rock and the fan base shifted from fast disappearing folk music to rock music. Rock music was not merely a functional music, but an art music, that supposedly reflected the thoughts of its creators. What developed in the fandom was the notion of validation. Validation is an important element in the creation of taste in popular music. Most people develop their self-image and measure their self-esteem by their own tastes, and they often look to their peers in developing their tastes. If a music is deemed incorrect among their circle, it cannot be acceptable to them. In the realm of rock appreciation, the element of validation looms as large as the element of critical judgment. Thus, rock 'n' roll, the music of doowop groups and rockabilly artists, was a declasse music that simply was not acceptable to the new middle class fans of rock. Even the name changed. You can go to all the media during the latter part of the 1960s, and "rock" was the preferred term. Only later, sometime in the 1970s, did the term "rock 'n' roll" come back. But in this case it merely replaced the term "rock."
WXRT is a perfect example of a station devoted to middle-class rock music. The playlist had always assumed that their music began circa 1964.
Posted by Don Jacobson at 12:01 AM | Permalink
Friday Night Beachwood
The jukebox run from May 18, 2007.
1. Another Done Somebody Wrong Song/BJ Thomas. Hey, won't you play, another somebody done somebody wrong song? 'Cause I miss my baby.
2. School's Out/Alice Cooper. A graduation party came into the bar the other night. A college graduation party. Plus, Beachwood Bob likes to keep the jukebox seasonal. So this went on the box instead of "Eighteen."
3. Behind Closed Doors/Charlie Rich. This is a great song, but let's face it: Everyone knows what goes on behind closed doors.
4.Islands in the Stream/Dolly Parton & Kenny Rogers. Written by the BeeGees. So a lot of talent brought to bear. And a song some of us couldn't admit we liked until we were 35 or so.
5. Summer Wind/Frank Sinatra.
6.Luckenbach, Texas/Waylon Jennings & Willie Nelson. A very nice choice.
7. Play That Funky Music/Wild Cherry. KC and the Sunshine Band did a cover, so there's often confusion about who does this song. Classic album cover.
8. Lady Marmalade/LaBelle. "A sexy, four-minute funk party with a hot streetwalker whose lovers just can't stop thinking about her or her come-on line: "Voulez-vous coucher avec moi ce soir?", the Beachwood's Mick Dumke says. "But if you actually really listen to 'Lady Marmalade,' you'll sense that this character and her story are also fleeting and sad."
- Set by Jamie
*
1. Watching the Detectives/Elvis Costello. I get so angry when the teardrops start, but he can't be wounded 'cause he's got no heart. Organ: Eweeeeeeeeeeeeeee-ewhoomp!
2.Everyday I Write The Book/Elvis Costello. Don't we all.
3.The Seeker/The Who. I'm just not a Who fan, despite my many music-loving friends who swear by them. I don't like their sound, I don't like their lyrics, I don't like Townshend, I don't like Daltrey. So that pretty much does it.
4.515/The Who.
5.Golden Years/David Bowie. Written for Elvis Presley at the height of Bowie's cocaine addiction. Elvis didn't want it. I've never liked Bowie much.
6.The Night They Drove Old Dixie Down/The Band. I dunno, I'm kind of glad they drove old Dixie down. So I find it hard to listen to this song sympathetically.
7. Shoot to Thrill/ACDC. Too many women, too many pills. This band never fails to deliver, and their songs never get old.
- Set by Andrew
*
1. Solsbury Hill/Peter Gabriel. Still not sure what this song is about, but you can take his things, they've come to take him home. Pretty killer.
2. Last Train to Clarksville/The Monkees.
3. Small Town, Saturday Night/Hal Ketchum. Bobby told Lucy, The world ain't round. Drops off sharp at the edge of town. Lucy, you know the world must be flat. 'Cause when people leave town, they never come back.
4. Lorelei/Styx.
5. I'm on Fire/Bruce Springsteen. Sometimes it's like someone took a knife, baby, edgy and dull, and cut a six-inch valley through the middle of my skull. Like most everything on this album, though, ill-produced.
6. Incense and Peppermint/Strawberry Alarm Clock. I could've done without this, but it did spark some acid conversation. Too bad we didn't have any. But just to really blow your mind, this band has links to both Lynyrd Skynyrd and Roger Ebert.
7. Yummy, Yummy, Yummy/Ohio Express. Yeah, this set is kinda goin' off the rails. Beachwood Bob tells us he almost put "Chewy, Chewy" on the box instead. It's a push.
- Set by Joe
*
1. Ain't Talkin' Bout Love/Van Halen. This is my traditional opening song. I like to announce my presence.
2. Ramble On/Led Zeppelin. Listen to the bass drum on this. Killer.
3. Once Bitten, Twice Shy/Great White. Yeah, I admit it. You didn't know that rock 'n roll burned, so you bought a candle and you loved and you learned! I mean, c'mon! Written by Ian Hunter, but I like this version.
4. Night Moves/Bob Seger. We were just young, and restless and bored. Somehow that was more romantic than being old and restless and bored. We stole away every chance we could, to the backroom, alley, and trusty woods.
5. Sister Golden Hair/America. I've been one poor correspondent. I've been too too hard to find. But that doesn't mean you ain't been on my mind.
6. Burnin' For You/Blue Oyster Cult. Time to play b-sides.
7. Cowboy Song/Thin Lizzy. I am just a cowboy, lonesome on the trail. Lord, I've been thinking about a certain female. Epic.
8. Silly Love Songs/Paul McCartney and Wings. One of those songs you try to deny for years until you finally give in.
9. Drift Away/Dobie Gray. Thanks for the joy that you've given me. I want you to know I believe in your song.
10. Keep Your Hands to Yourself/Georgia Satellites. Not a song I usually play, but thought it fit the rhythm of the set. Paul Westerberg once suggested he and Dan Baird trade bands.
11. Rich Girl/Hall & Oates. It's so easy to hurt others when you can't feel pain.
12. You're So Vain/Carly Simon. Don't you! Don't you!
13. Sylvia's Mother/Dr. Hook. Considerable time has been spent at the bar arguing about how much the operator says he needs for that phone call. It's 40 cents. For the next. Three. Minutes. Bon Jovi (!) covered this song.
14. Tiny Dancer/Elton John. I mean, yeah. C'mon. Count the headlights on the highway.
15. Lights/Journey. The White Sox ruined Don't Stop Believin'.
16. Sloop John B/The Beach Boys. They actually made a video for this - one that doesn't do the song any favors. Still, the worst trip he's ever been on turned out to be a pretty good one for the rest of us.
17. American Girl/Tom Petty and the Heartbreakers. Well, she was an American girl, raised on promises. She couldn't help thinkin' that there was a little more life, somewhere else. After all it was a great big world, with lots of places to run to. Yeah, and if she had to die, tryin' she had one little promise she was gonna keep. Oh yeah. Alright.
- Set by Steve
*
1. Something sucky. A stranger is at the controls.
2. Stir It Up/Bob Marley. Whatever.
3. Cheeseburgers in Paradise/Jimmy Buffett. Possibly the worst selection in Beachwood history. Begs the question of why this is even on the box, but that's kind of like asking why there is evil in the world. Something about free will and there being a reason for everything. The reason for this just hasn't been revealed to us yet.
4. Kashmir/Led Zeppelin. Just not appropriate for a Friday night at the Beachwood.
5. What's Love Got To Do With It/Tina Turner. Nothing, believe me.
6. Rock With You/Michael Jackson. Pretty frickin' great. This pick meets with universal approval.
7. I Need A Lover/John Cougar. Great tune, don't really need to hear it again.
8. Brown-Eyed Girl/Van Morrison. Ditto.
9. Pour Some Sugar On Me/Def Leppard. Sometimes this works ironically. Not tonight.
10. Shake Your Groove Thing/Peaches and Herb. Better.
- Set by Unknown
*
1. Rocky Mountain Way/Joe Walsh. It's better than the way we had.
2. Blue Collar Man/Styx. Tommy Shaw tries to be hard.
3. We're Not Gonna Take It/Twisted Sister. At first I thought this was "Cum On Feel The Noize," which we are compelled to sing the way it's spelled - "C-u-m feel the noize!" There was a time when we used to sing "We're not gonna take it" and pound on the bar when a crappy song came on and we wanted bartender Bob to hit the reject button he has hiding back there.
4. Signs/Five Man Acoustical Band. From a better time when people didn't want to obey signs. Covered by Tesla.
5. Doctor My Eyes/Jackson Browne.
6. The Boys Are Back In Town/Thin Lizzy. They're hangin' down at Dino's.
- Set by Joe
*
1. Check It Out/John Mellencamp.
2. The Joker/The Steve Miller Band.
3. Running on Empty/Jackson Browne. He did this with Springsteen in Central Park at the Rally For Disarmament in 1982.
4. Only the Good Die Young/Billy Joel. Actually, as I understand it, Catholic girls tend to start early.
5. Beating Around the Bush/ACDC. I actually meant to play Back in Black. One of the best openings ever: I'm rolling thunder, I'm pouring rain. I'm coming on like a hurricane. White light flashes, across the sky. You're only young but you're gonna die.
6. Welcome Back/John Sebastian. Your dreams were your ticket out.
7. Dead or Alive/Bon Jovi. I hated Bon Jovi back then, and I suppose I still do. But this song has its charms, and is a killer bar singalong. We've seen a lot of faces, and we've rocked them all.
8. Keep on Lovin' You/REO. We like to think about Richrath's reaction when Cronin brought in this song. We think it went something like, "Jesus Christ, what the fuck am I gonna do with this?" His only answer was to just play the chords as hard as he could get away with. Still, Cronin's inimitable phrasing is on full display here, it's a great singalong, and we always chuckle remembering the recently divorced pal who sang out one night in character as his ex, "When I said that you loved me, I meant that I loved you for two-and-a-half years!"
9. She's Gone/Hall & Oates. I'd pay the devil to replace her.
10. Friends in Low Places/Garth Brooks. Feel free to hate Garth Brooks - we're not that fond of him - but this is one of the all-time drinking buddy songs.
11. 50 Ways to Leave Your Lover/Paul Simon. Curiously, he only names four or five. Of course, we've tried to fill out the list numerous times. Drop off the cliff, Cliff, is one of my favorites.
12. Every Rose Has Its Thorn/Poison. Yeah it does.
13. This Beat Goes On/The Kings. Me and Zero request you in the Mercedes! I don't understand any human who doesn't think this is music magic. They did this on American Bandstand.
14.Switchin' to Glide/The Kings. Only pure amateurs play just one of these, of course. It costs you two picks on the jukebox but you better do it or you're not welcome back. Out of this hole!
15. Tonight's the Night/Rod Stewart.
16. Everytime You Go Away/Paul Young.
17. Highway to Hell/ACDC. What more can you say about these guys? My friends are gonna be there too.
18. Rosalita/Bruce Springsteen. If you don't get it, I can't help you.
- Set by Steve
*
Comments, arguments, suggestions welcome. You must use a real name, however, to be considered for publication. And while you're here, see what other playlists Beachwood has in store.
Posted by Beachwood Reporter at 12:01 AM | Permalink
May 19, 2007
The Weekend Desk Report
Despite a few minor sticking points, we're ready to present a unified front on the key stories this weekend.
Market Report
Investor confidence sagged this week as the resignation of Paul Wolfowitz from the World Bank failed to boost share prices in Government Credibility. Analysts, however, pointed to poor performance data from the Montana State Legislature, which continues to defend marriage against the perceived threat of homosexuality while exposing its soft underbelly to greedy straight people. No wonder potential shareholders are confused.

AG-gravated Assault
With the overwhelming favorite now out of the race, the Beachwood Reporter Weekend Desk has shortened the odds on Attorney General Alberto Gonzales ahead of this weekend's Preakness. Gonzales now stands at 1-5 to leave the post early.
EuroBlindness
Meanwhile, MPs in Great Britain this week moved to completely dismantle one of the great sources of regional stability within Europe, saying the lack of tension and violence posed a threat to global credibility. Somehow we have a feeling the seeds of discord will be easy to sew anew.
Research Pit
Scientists announced this week they have at last answered one of the 10 great burning questions that has plagued mankind throughout history. Next up, why we always leave the Laundromat with an odd number of socks.
Split Squads
In the NHL's Eastern Conference Finals this weekend, the Ottawa Senators seem poised to complete a surprisingly straight-forward ouster of the top-seeded Buffalo Sabres. With the Western Conference Finals still a long way from settled, Senators coach Bryan Murray has announced plans to let the team tear itself apart in preparation for the Championship round.
The Song Remains the Same
Finally this week, duh. But at least he has better hair.

Posted by Natasha Julius at 12:32 AM | Permalink
May 18, 2007
The [Friday] Papers
"Somehow Guillen is above .500 with a team that doesn't hit and has been outscored by 13 runs," the Tribune's Phil Rogers writes in his "All-City Team" preview of the Cubs-Sox series that begins today.
"Piniella, meanwhile, is below .500 with a team that has outscored its opponents by 26 runs. Bill James' Pythagorean standings had the Cubs only gone game behind Milwaukee after Wednesday but the real standings show a gap of seven games after Thursday. So far Piniella isn't having as much of an impact in his first season in Chicago as his predecessor, Dusty Baker, did in his."
Ouch.
Dusty in the Wind
The Beachwood's very own Cub Factor, in fact, has determined that Dusty Baker would be managing this team very differently from Lou Piniella - but with the same result.
Look for a new Cub Factor on Monday for insight on this weekend's series that you won't find anywhere else. The Cub Factor, the world's best Cubs column, brought to you exclusively by The Beachwood Reporter. Tell your friends all about it.
Crosstown Expressions
"Sox, Cubs Fans Urged To Take CTA."
By each other. Things have gotten mean.

Law School
"Miller Calls 'Man Law' Ads Mistake."
No kidding. I thought those were for Budweiser.
Bike Blast
"Floyd Landis' sleepy, scientific arbitration hearing on his doping case morphed into a pulp-fiction blockbuster Thursday, replete with revelations of sexual abuse, allegations of threatening phone calls and even a Donald Trump-style firing," the AP reports.
"It came courtesy of Landis' fellow American Tour de France champion Greg LeMond, who disclosed he had been sexually abused as a child and received a call Wednesday from Landis' manager who threatened to reveal the secret if LeMond showed up to testify."
Falwell Farewell
"Who knows whether, at this moment, the Rev. Falwell is polishing one of the many crowns he's stored up in heaven from his good work for the kingdom on Earth, or is on day three of his seminar with Jesus about what the Gospel really meant and how the reverend had royally screwed up the message?" Sun-Times religion columnist Cathleen Falsani writes today. "Only God is privy to that kind of insight."
Tax Break
"Meanwhile," the Sun-Times reports at the bottom of a ComEd story, "Mayor Daley said legislative leaders are prepared to deliver for schools and mass transit, but only if Blagojevich drops his pre- and post-election threat to veto income or sales tax hikes."
Is opportunity staring the governor in the face?
Olympic Gamble
Maybe this is how the Olympics will be funded.
Generation Veneration
"As Medal of Honor winner Al Lynch sees it, the me-first generation is 'one generation away' from losing the freedoms it takes for granted," the Sun-Times reports.
He's got that right. Thank God Bush and Cheney can't run again.
Correction of the Week
"A Metro story on Page 13 on Saturday incorrectly described the intentions of participants in the entertainment event 'Looptopia,' who said they were going to see the ponies. The reference was to a music group, The Ponys."
- Tribune, May 15
Bar None
"AP: World's Top Dive Site To Get A Face Lift."
"Malaysia's Sipadan Island, widely regarded as one of the world's top dive sites, is set to get a face lift, a senior official said following criticism that its facilities were falling into disrepair."
Oh. I expected a story about the Beachwood's new front door.
- Tim Willette
Borrowed Time
The Sun-Times's credit is worse than yours; they can't get a loan and business writer Bob Reed sees layoffs in the future.
Monkey Business
"We're got news for you, and you'll want to sit down for this one," Metromix reports this month. "A restaurant just opened in Gurnee that's - wait for it - not a chain. We're completely and utterly serious. Allow us the pleasure of introducing you to Monkey Dish Bar & Grille . . .
"'Monkey dish' is a culinary term for a small bowl used for side dishes, and while the origin of the name is foggy (The appropriate sized bowl to feed monkeys? Looks like those little hats that a hurdy-gurdy man's monkey would wear?), you'll find the little saucers filled with mashed sweet potatoes or corn pudding here. Mostly, it's just a fun, off-the-wall name, says David Potesta, who owns Monkey Dish with Phil Marienthal (formerly of Blue Mesa and Canoe Club)."
Also, according to Wikipedia: "Dish monkey is a slang phrase for an employee of a restaurant who washes dishware, typically a minimum wage position where workers are not well treated."
- Tim Willette
Poor Product Placement
A citizen of Beachwood Nation reports that on Tuesday "at approximately 6:11 p.m., WBBM-AM ran a piece that included sound bites from Juan Luna's victim's families.The piece concluded with the story of Luna killing a cat by dragging it from a car. This story was immediately followed by . . . a Luna Carpet commercial."
Banning Bernstein
Tim Willette, following-up on yesterday's "Score Card" item (last in column), reports that, in fact, CBS Radio has forbidden Score host Dan Bernstein from speaking actual words on the air. He responded yesterday:
mip clatorka?
pfin pflangeer pflugarenck
horzabloo wa virteembo
shplekwai!
increplaquil fruoreyor
morta . . . beujapumb
Metromixology
"Fulton Market is aglow, literally, with the arrival of new lounge Lumen (Latin for 'light)," Metromix reports this month. "Once home to a meat-packing factory, the 5,000-square-foot space now resembles more of an art gallery . . . "
Still, appropriate name for a former meathouse!
"Lumen: The interior of a vessel within the body, such as the small central space in an artery or vein, or any of their relating vessels through which blood flows . . . On a larger scale, the interior of the gastrointestinal tract may also be referred to as its lumen . . . "
- Tim Willette
"When 'Bad' Is Good"
"The Oxygen cable network is holding an open casting call Saturday for season two of the reality series The Bad Girls Club," the Sun-Times reports. " If you consider yourself a bad girl, head for Goose Island, 1800 N. Clybourn, between 10 a.m. and 5 p.m."
Tomorrow's headline: "Guys Flock to Goose Island."
- Tim Willette
Inside Today's Reporter
* A drag racer's daughters hold an anger management intervention.
* Behold the Swivel Sweeper!
* Brit Hume: Atheist or Druid?
* Cab #5063 will get you there quickly if you don't mind a little bumper-curb.
From the Archives:
* A Beachwood Guide to Chicago's New Charter Schools.
The Beachwood Tip Line: Charter a new course.

Posted by Beachwood Reporter at 8:21 AM | Permalink
Cab #5063
Date Taken: 5/16/07
From: Wicker Park
To: Lincoln Park
The Cab: A Four Aces cab with the satisfying array-of-four-aces logo on the door. A cab fit for moviemaking; perfectly worn but not dirty. Small tears in the vinyl seat; a broken door-inset litter tray; seat belt straps hanging down below the driver's seat. It felt right. The engine was just a little rough and the brakes just a little squeaky. Action!
And there would be.
The Driver: A perfectly calm middle-aged family kind of guy in dead silence and oblivious or just totally blase to his driving behavior.
The Driving: Oh, this is interesting. He's using the shoulder on Ashland to get around these cars backed-up at a stoplight. Wait, there is no shoulder! This guy's creating a new lane! He's a lane-creator! Which is ingenious and all, and I suppose standard-issue savvy cab drivin', but WHOMP! That must be the tires running out of room and hitting the curb! Got a little body, too, from that metally grindy sound.
Holy cow, he got by all those cars and now he's revving up for the drag race on the green light to get by his final competitors! He's done it!
I don't feel right. I would be so mad if I were the other drivers. And it's not as if I told him to "Step on it!" or "Follow that car!" or "I'll give you a really big tip if you get me there really fast!" Or "Pretend we're in a movie!"
Oh my god, here he goes again . . . he's a serial lane-creator!
Hey wait, that worked. Maybe the city oughta hire this guy to redraw our street grid. Yeah, looking at it another way, he's single-handedly solving congestion.
Oh, was that us hitting the curb again?
No, it was just the "Bump" sign he ignored.
Oh my god, he's turning right and there are two kids not quite to the corner and one of them has dropped his toy!
Well, he slowed down enough to appear somewhat conscientious. A horrible incident averted.
Wait, I'm here already? Maybe I'll use the extra time to meditate my way out of throwing up.
Epilogue: That wasn't a receipt he gave me, I discover later at home. It's an offer for a free six-week guest pass at Bally Total Fitness!
Overall rating: half an extended arm.
- Steve Rhodes
*
There are more than 6,000 cabs in the city of Chicago. We intend to review every one of them.
Posted by Beachwood Reporter at 6:00 AM | Permalink
May 17, 2007
What I Watched Last Night
Is famous multimillionaire drag racin' funny-car driver and confessed marital failure John Force a seething ball of anger who needs professional managing, or does the world just make him fucking nuts? That was the question anyone tuning in to back-to-back episodes of A&E's Driving Force early Tuesday morning was left to think about.
Even though I don't catch it anywhere near as often as I'd like, Driving Force is one of my favorite A&E shows. I started watching it last summer because I initially thought John Force was the separated-at-birth twin of whacked-out actor Gary Busey before he crashed his motorcycle while not wearing a brain bucket and ended up even more whacked out. While he's still and all Busey-esque, Force isn't the same sort of whack job. He's an old-school guy who, in his judgement, had the basic misfortune of siring girls to follow in his drag-racing footsteps instead of boys. He's had cars disintegrate around him, and he's been on fire after plowing into concrete walls at 300 miles per hour, "but nothing could prepare me for having daughters," he says during each program intro.

It's not that he loves his kids (Brittany, 20; Courtney 18; and Ashley, 24) any less because they're not boys. Instead, his bugaboo is that his personal and professional life happens to be surrounded (and often directed) by his daughters and wife Laurie and their accompanying female issues. Compounding matters is that he's been separated from Laurie for years and his daughters are all funny car drag-racers who are nowhere near as obsessed as he is with being funny car drag-racers. Oh yeah - and they all work together . . . sort of, because John Force can be an insufferable, hard-headed prick even when he's trying to do the right thing. Just like Paul Teutul Sr. on The Learning Channel's American Chopper, a show which features roughly the same quota of Tightly-Wound Yelling Dad getting pissed off because nobody knows how to do ANYfuckingthing right, so the world just makes him fucking nuts.
Or maybe not; maybe John's just a guy who has a hard time communicating. Or maybe it's just his steady diet of more stress than even the inventors of Valium ever thought possible in a human being. Either way, a letter from a fan who complained she became upset when John was "talking to your daughters in a loud voice at the track." Nevermind that drag race tracks tend to be ear-bleedingly loud places where people need to shout, but his brother brings up the possibility that, well, John should think about looking into anger management. What followed was one of those classic Intervention Moments:
John: "You shitting me? You got the balls to say I need to go to management? If my wife told me to go, I'd go because I'm the first one to listen to people."
Laurie: "You should go."
John: "Who else is complaining?"
Laurie: "Everyone that knows you."
So after a lot of bitching about how his personality makes him the go-to guy in the family when crisis arises in the first place ("When that crisis happens, you're going to wish you had John Force on the job!") - nevermind that he creates a lot of them - he books an appointment with therapist Dr. Ari. "Maybe this therapy shit can keep my daughters from making me crazy."
Dr. Ari gets John to find his Happy Place that doesn't include women and the smell of burning nitro, they talk a bit, and then book an appointment for the whole family because when someone needs anger managin', it's helpful to know who's to blame for the mess - yourself, everyone else, or the whole damn lot of ya.
"I don't think one session of therapy can describe [my father]," says Ashley. "He's too screwed up."
*
I watch a lot of TV; consequently, I see a lot of TV commercials. In my estimation, nobody this year been able to come up with a spot better than the priceslessly surreal one for Emerald Nuts featuring Robert Goulet.
Whoever came up with the idea of hvaing Bob waltz through an office eating Post-It notes and kicking over stuff at the desks of napping office workers is a total genius. "Around 3 p.m., when your blood sugar and energy are low, some say Robert Goulet appears - and messes with your stuff. But the natural energy in one handful of Emerald Nuts is enough to keep Robert Goulet away. Until tomorrow, anyway."
Some may argue that Englebert Humperdinck might have been a better choice, but somehow I get the feeling he doesn't have Bob's sense of humor. Or taste for Post-Its.
*
See what else the Beachwood TV Affairs Desk has been watching, in the What I Watched Last Night collection.
Posted by Beachwood Reporter at 6:01 PM | Permalink
The [Thursday] Papers
"Who started the bar fight that landed three Chicago cops in jail?" the Sun-Times asks at the beginning of its news report about an incident last December at the Jefferson Tap & Grille in the West Loop.
Three of six officers allegedly involved in the fight with other bar patrons have been charged and appeared in court on Wednesday. Revelations of the scrap, coming on the heels of the internationally televised surveillance video of a separate incident involving an off-duty Chicago police officer beating up petite female bartender, led to the announcement that police chief Phil Cline would retire/resign later this year. Cline has acknowledged he was slow to act in the Jefferson Tap case.
"Sources close to the cops claim a drunken patron poked fun at one of the officers, Paul Powers, for crying over his dad's death," the Sun-Times account says.
"But at their bond hearing Wednesday, prosecutors countered that 'in interviews and grand jury testimony, not a single witness among the victims, bar personnel and other uncharged officers has stated that the victims taunted or mocked the defendant officers."

Attorneys for the officers charged in the case, however, "say they have witnesses who say the alleged victims attacked the officers," the Tribune reports. One of those attorneys says the victims "were drunk and belligerent and made fun of Powers."
Another attorney representing a police officer in the case said "This is a case where the victims were the instigators."
Lost in the frame of who started the fight is the idea that police officers in a bar should know better than to be goaded into violence - if that even happened - and to respond so aggressively as to pummel other patrons, evade filing a police report, and wave off other officers arriving at the scene.
The Sun-Times headline pretty much says it all: "Police Officers Defense: They Started It."
Even if that turns out to be true - and the evidence gathered so far by prosecutors probably not eager to go after police officers says it's not - that's the kind of defense parents don't accept from their eight-year-olds, much less what judges and juries are likely to accept from law officers.
Torch Bearers
As much as I've been a critic of the way the city has conducted its Olympic effort, I've always thought the torch logo was pretty cool - even if, as my Beachwood associate Tim Willette has pointed out, it appears to show a city on fire.
Now it turns out the city violated the rules (big surprise!) of Olympic logo design because certain elements like torches and rings are off-limits; it's back to the drawing board.
The Tribune reports this morning that new suggestions are pouring in including "How about a big cookie jar with a hand sticking in it?"
Whet Moser of the Reader is also on the case.
Bird Bath
"West Nile virus has prompted a long-term crash in the population of bluebirds, crows and other bird species that once dominated the suburban landscape," the Tribune reports, citing a new national study.
Among the birds affected: the Blue Jay, the Chickadee, the Tufted Titmouse, and the Crow.
Defending Daley - Twice!
* "Fifty million dollars for after-school tutoring to produce only negligible gains was money 'well spent' by the Chicago Public Schools, Mayor Daley said Wednesday, arguing that 'you can't do miracles in one year,'" the Sun-Times reports.
At least in theory, I have to agree. Now, this being Chicago, maybe a lot of that money was wasted, maybe the wrong firms were contracted, maybe the methods weren't sound. But in general, I find it hard to believe that $50 million in after-school tutoring wasn't beneficial to a whole lot of kids, regardless of what test scores show.
* "This is the first time ever in the history of Illinois that the business community has ever come together and said, 'We'd like to increase the income tax," Daley said yesterday. "So listen to their voice. They want a better education system."
I don't know if that's true, but a governor who so badly wants to make a mark is really blowing his chance. He should make the deal even if that means breaking a campaign promise, because conditions have changed. And it was a bad promise to begin with. He could just say he was wrong.
Sweet Obama
* Lynn Sweet calls out Barack Obama today for his explanation on This Week on Sunday about why he asked Tony Rezko to help him buy his $1.65 million home.
* In the same column, Lynn Sweet calls out Barack Obama for his disengenuous portrayal on the same show of his relationship with lobbyists while in Springfield - as well as in his presidential campaign.
* And finally, Lynn Sweet calls out Michelle Obama for taking a page from her husband's playbook and trying to keep her fundraisers a secret.
Those are big-dollar fundraisers with special interests and the usual moneyed Establishment that run counter to the fundraising e-mail solicitations the Obama campaign continues to send out portraying its campaign as a grass-roots exercise against the cynicism of campaigns funded by special interests and the usual moneyed Establishment.
Hedge Wedge
Democratic presidential contender John Edwards has been taking some flack for earning almost half a million dollars in consulting fees working part-time for a hedge fund last year. Edwards has defended the deal by saying he wanted to learn about the relationship between hedge funds and poverty. And now he knows: Work for a hedge fund and you won't be poor.
Captain Kirk (D-Ill.)
"[Karl] Rove last week telephoned Rep. Mark Kirk of Illinois to dress him down for allegedly giving the media an account of a private meeting at the White House in which Kirk and other moderate Republicans complained to Bush about his Iraq war policy," Robert Novak writes today.
Novak says that Kirk told a colleague: "That's not the first time I got blamed for doing what Ray LaHood (a garrulous fellow Illinois Republican House member) did,"
Tamron's Toots
Looks like that boob job paid off. Fox 32 morning news personality Tamron Hall is leaving for, gulp, MSNBC, the Sun-Times's Robert Feder reports. We don't care much about Hall's breast implants here at Beachwood HQ, but you might recall her insistence last November that she's a "news journalist" who is "in the grind" breaking stories every day. Then she appeared in an episode of Fashion House.
At least she inspired one of our better Beachwood Christmas carols last year.
Rattling Radler
David Radler may have been effectively portrayed as a liar and a cheat, but I'm not sure that will help Conrad Black's case much. First, Black still got the dirty money alleged in the case. That's the bottom line. He got the money and he knew where it came from. Second, Radler the scumbag, as portrayed by Black's lawyer, was Black's partner and deputy for umpteen years. Radler's flaws rub off on Black. Finally, the negligence, purposefully or not, of audit committee chairman Jim Thompson only adds to the mix that these guys were unscrupulously ripping off the company.
But it's fun to see Radler squirm.
That's Stella!
Stella Foster is in favor of the death penalty for Juan Luna in the Brown's Chicken murder case even though several relatives of the victims are not.
"Luna, spending a life in jail, still will be able to get three squares a day, lift weights in the gym, get yard time playing basketball or whatever, read mags and possibly still have a sex life . . .maybe not the one he would want . . . but still, a sex life!"
Methinks the lady doth protest too much.
Score Card
According to the Trib's Teddy Greenstein, Score radio host Dan Bernstein "was not permitted" by CBS Radio bosses to comment to the paper about the latest (warranted) criticism of Cubs broadcaster Ron Santo on the Boers & Bernstein show.
And from now on Bernstein will only be allowed to read box scores aloud on the air. The new show will be called Box Scores and Bernstein.
I mean, sheesh. Commenting is what the guy gets paid to do.
The Beachwood Tip Line: Permission granted.
Posted by Beachwood Reporter at 8:16 AM | Permalink
May 16, 2007
Swivel Sweeper
What it Is: An ultra-light, slim vacuum cleaner.
Quote: "It cleans forwards, but it also cleans backwards!"
Cost:$40 (Apparently cheaper here.)
Shill: Young-ish, slim, British infomercial super-hunk Anthony Sullivan. What is it with these Brits in infomercials? Some sort of shill-exchange program we haven't been told about?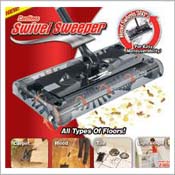 Set and Costumes: Sullivan appears to be in some sort of convention hall - he says he's in Orlando - with carpet so blazingly red it alters the intended psychological feel of the spot (more on that below). It's also got a demonstration set of stairs, but, most importantly, more than enough room for every conceivable substance you'd ever want to get out of your carpet - Pet hair! Dirt! Broken glass! Also some wood floors with wet vegetables on them.
Gimmick: Multiple action shots on that red carpet - a matching red color's splashed all across this spot.
Empathy Ploy: A kindly, sorta-Southern woman in her 50s or early 60s takes a run around the set with a variety of inferior cleaners. The back strain of the Dustbuster! The clumsiness of the leading-brand floor vac amid furniture!
Casting Triumphs: Nearly all the people brought in to testify are boring without being off-putting. There's only one goof in the bunch - a fortysomething guy who beams that he's now "lookin' for stuff to clean" with his Swivel Sweeper. In other words, joining this bunch really doesn't seem too far-fetched or embarrassing.
Performance Stats: "It uses sliders - not wheels."
Evaluation: Anthony inevitably gets a tad boorish at times, but otherwise, his delivery is consistently taut, snappy, and incredibly professional. And the pervasive red color is one of paid programming's most effective tricks - it could snap your eyes open at 4 a.m. after a two-week morphine bender. Combine these elements, and you've got an infomercial that's uncannily focused on matters both Pavlovian and practical, numbing the mind to any potential humor in the spot's goofier moments - though there aren't many to begin with. In short, this is the most scarily effective, credible spot entered in the Infomercial Reviews Catalog so far. Like the Swivel Sweeper itself, it's a minimalistic, self-powered machine whose only flaw is the obligatory glint of hucksterism.
Rating: 9
- Scott Gordon
Posted by Beachwood Reporter at 11:33 PM | Permalink
The [Wednesday] Papers
"Dr. Everett Righteous, founder and leader of the MMM (The Majority for Musical Morality), became influential in American politics through the use of his own cable TV network. He spoke about the evils of rock 'n' roll music, and how its permissive attitudes were responsible for the moral and economic decline of America. He was charismatic, entertaining, and above all, he understood the media."
Bet you didn't know Styx's 1983 Kilroy Was Here was about Jerry Falwell and the Moral Majority.
Falwell is dead, but his influence lives on.

Students Slain
"So far this school year, at least 27 Chicago Public Schools students have been killed," the Tribune reports. "That's one young life every 10 days.
"District officials do not keep an official tally, but they know 20 students have been shot to death - matching the highest total since they began tracking it nine years ago. The Tribune has identified seven more students who were beaten, suffocated or stabbed to death."
Tweedy Bird
Jeff Tweedy remains one of the most enigmatic, inscrutable artists of significance in rock today.
In Today's Reporter
* Mystery Debate Theater. Round two for the Republicans is mostly an exercise in who has the biggest balls.
* Minor League Report. Plan now for Olive Garden giveaways and State Farm Insurance Caps Night.
* What I Watched Last Night. It's crab season again. People might die.
Genetic Material
The DuSable Museum of African American History will host a panel discussion titled "How Does Race Matter? Genetics and Race" on May 23rd at 6 p.m.
Participants include Troy Duster, grandson of legendary civil rights activist Ida B. Wells and a South Side native who is now a sociology professor at New York University; Dr. Blase N. Polite of the University of Chicago; and Michele Goodwin of the Health Law Institute and Director of DePaul's Center for the Study of Race and Bioethics.
The event is free but requires reservations, which can be made online through the Illinois Humanities Council. Or call (312) 422-5580 or send an e-mail to ihc@prairie.org.
Human Rights Reporting
I was called upon to pinch hit as moderator of a panel on human rights reporting last week. The University of Chicago student group sponsoring the panel issued an open letter to Chicago as part of the panel, which says in part:
"It is our belief that the systematic underreporting in the mainstream media of police brutality, gender violence, racial discrimination, and the public housing crisis, among other issues, has produced a skewed portrait of the city that too often relies on tired stereotypes and hasty research. Such oversimplifications and problems are the products of a press that is suffering from increasing corporate conglomeration, a lack of institutional investment in coverage outside of high-income areas, and self-censorship at its highest levels. The resulting stories reinforce existing injustices or ignore them altogether, and often both.
"Nowhere do we see these issues converge as clearly as in Chicago's public housing system. While the Chicago Housing Authority's 'Plan for Transformation' has been wrapped and sold with catchphrases such as 'mixed-income development,' 'revitalization,' and 'urban renewal,' the reality is inextricably bound to the massive displacement of residents from such developments as the Robert Taylor Homes and Cabrini-Green, which continues years after the initial dismantlement of several projects. The injuries suffered by tenants at the hands of police officers, criminals, and administrators remain largely suppressed or ignored. In this city of almost three million, efforts to spin and prevent news of policy blunders are linked to a history of impunity for those few connected to powerful officials and structures.
"A case in point is the Chicago Tribune's lack of coverage of Bond vs. Utreras, a federal civil rights suit brought against the City by Diane Bond, a resident of Stateway Gardens, who alleged repeated acts of brutality, including sexual abuse, by five Chicago police officers. Settled in December 2006, the Bond case disclosed the underlying systemic conditions that allow abusive officers to operate with impunity.
"Yet the Tribune did not cover it. Rather than attribute this to the failures of individual reporters, we believe that it reflects an institutional failure. The resulting silence testifies to the media's complicity in allowing Chicago residents to remain ill-informed of rights abuses. If we are not aware of these, and those who are cannot or will not speak, we the public cannot act or vote responsibly. It is that simple.
"Because of the difficulty of current working conditions, not enough people are undertaking the work of documenting and investigating the conditions that allow human rights violations to happen here. Ida B. Wells (1862-1931), a one-time resident of Chicago and one of this country's brightest journalistic lights, once wrote: 'Eternal vigilance is the price of liberty, and it does seem to me that notwithstanding all these social agencies and activities there is not that vigilance which should be exercised in the preservation of our rights.'
"One might wonder whether lack of vigilance has in part allowed for public housing developments such as the Ida B. Wells Homes, built in 1941, to be renamed 'Oakwood Shores' by private developers. We hope that more media professionals and Chicagoans consider what else is behind such a blatant erasure of Chicago history."
Paneling
The panel was an all-star cast.
* John Conroy of the Reader has done Pulitzer-worthy work on police abuse and, in particular, the torture that occurred under former area commander Jon Burge. For a long time, Conroy was out there alone on the story. At some point it was taken up - though not as well - by the mainstream media and Conroy said at the panel that he's still unsure what the tipping point was or why and how the MSM finally got interested.
* Jamie Kalven is, among other things, the proprietor of View From The Ground. There is no good reason - only a handful of bad ones - why either of the Chicago dailies or other media outlets couldn't have done what Kalven did, which was to station himself at Stateway Gardens to record the CHA Plan for Transformation from, well, the ground. Isn't that where journalists should be?
* Beauty Turner is a reporter and assistant editor at Residents' Journal who is a joy and an inspiration. Turner was featured in a front-page Wall Street Journal article about RJ, and has a world of insight to spill about how reporters for the dailies do - or don't do - their jobs. She had the vision, instincts, and street smarts to see where the CHA was heading, producing the questions that her daily competitors should have been asking.
* Salome Chasnoff is the executive director of Beyondmedia Education, which works to expand access to the media for women. She is also a video and installation artist.
In brief, it's no surprise that the panel and audience generally concluded that human rights reporting - defined both as reporting focused on low-income people and also reporting about basic liberties lost - is lacking among the Chicago mainstream media, and what the Chicago mainstream media does produce is often naive and too trusting of officials and their PR narratives.
The daily papers, too, are slow to pick up on the work of non-traditional journalists, whether it's someone like Conroy, whose reporting is as traditional in its methods - documents and sources - as it gets but who works for a weekly, or someone like Turner, who again uses basic reporting methods fueled by the street smarts few daily reporters own but whose publication exists in the shadows. Every reporter ought to have been taught long ago, though, that the shadows are where the stories are.
Interestingly, Kalven thought local reporting on human rights issues had gotten worse over the years, and that a competitive spark between media outlets had been snuffed out. Conroy disagreed, saying he thought more reporters were paying attention to issues such as police abuse than in the past.
Students wanting to know what to do about their frustrations with coverage were advised that each and every one of them was a potential source, and they should learn how to pick out reporters and columnists they think would be amenable to hearing their pleas about stories that ought to be covered.
Though the "alternative" vs. "mainstream" dynamic shaped the discussion, I'm not completely fond of those divisions. I'm not sure the "alternative" media comes any closer to achieving its mission than the mainstream. In the end, quality journalism is quality journalism. I know this: either daily would do well to have these panelists on their staffs.
The Beachwood Tip Line: At a tipping point.
Posted by Beachwood Reporter at 9:46 AM | Permalink
Mystery Debate Theater 2007
The Republican candidates for president met in South Carolina Tuesday night for their second debate, this one sponsored by Fox News. The Beachwood Mystery Debate Theater team of Andrew Kingsford, Tim Willette, and Steve Rhodes was on-hand at Beachwood HQ to analyze the proceedings.
*
The candidates were introduced with a graphic summary of vital statistics, including religion. Then to Brit Hume.
Hume: I'm Brit Hume . . .
Andrew: . . . and I'm an atheist.
Tim: Let's make him a Druid.
*
Tommy Thompson talks about being tough on criminals.
Andrew: I not only killed them, but made them into cheese!
*
We were all expecting the body of Jerry Falwell to lie in state on the stage tonight. No such luck. Republicans have no sense of humor.

*
Chris Wallace questions Tommy Thompson on his Iraq proposal.
Thompson: They should elect leaders in 18 territories like we do in our 50 states.
SR: And fire all the gay people.
*
We are all impressed at how Thompson's body does not move when he speaks.
*
Mitt Romney is asked about pulling forces out of Iraq.
Andrew: I use the rhythm method, so there's no need to pull out.
*
SR: Romney has the look. It doesn't matter what he says.
Andrew: He does. He's the George Hamilton of the panel.
*
Sam Brownback is asked about his support of the Iraq Study Group's report. He has an extensive repertoire of gestures.
Andrew: It's the claw. And the bridge. Now the inverse double claw. Karate chops! Interlocking. Walking them forward. The bolt. Back to the inverse claw - now walk it!
*
Rudy Giuliani is asked about Iraq.
Tim: Is he dubbed? The words don't seem to be coming out of his mouth.
My e-mail notification dings.
Tim: Wow. you have a bell that rings whenever he says Islamic terrorists?
Andrew: Mayor Guiliani, what if the terrorists are gay abortionists?
Tim: With guns.
*
SR: Is that Crazy Dude?!
Tim: Nah, that's Ron Paul.
SR: Is Gravel gonna be in this one?
Tim: He's a Democrat. But maybe!
*
Tim: The microphones look like coat hangars. Think one of 'em is gonna have an abortion on stage?
*
Tim: Duncan Hunter is the Great Santini of the debate. Can you imagine being his kids?
*
SR: Do you have to have big ears to run for president?
Andrew: I told you that last time, it's like the Cavalcade of the Dumbos.
*
Andrew: It's gonna be so good when the fried rice gets here! Write that one down.
*
We notice that the lights behind Romney are changing behind him.
Tim: He's doing something secret, he has some kind of mind power.
Andrew: No, I think he's got a foot pedal. He's all wowwowowwow!
*
McCain is asked about his opposition to the president's 2001 tax cuts, which he now says he supports.
Andrew: 'Cause Pepperidge Farms remembers!
*
Mike Huckabee advocates something called the Fair Tax.
Huckabee: I'm going to put a Going Out of Business sign on the Internal Revenue Service . . . it would save $10 billion.
Tim: Wouldn't someone still have to open the envelopes though? And someone would have to take all those checks to the bank. You'd need a pretty big car to put them in the back.
*
Sam Brownback is asked to name three programs he would cut from the budget.
SR: Millennium Park. That thing is bleeding us dry!
SR: How much does all this cost?
Tim: What?
SR: You know, all this. Paper, reports, slides . . . it could be millions.
*
Andrew: Well, first I would eliminate state government.
SR: First, I would fire gay people.
*
Ding ding.
Andrew: Sixteenth-century knights for $500.
*
James Gilmore makes an appearance.
Tim: Has he been asked a question before?
Andrew: No. It's because of the tie. That tie - wrong!
*
Hunter is asked how he would deal with the Chinese trade deficit.
Andrew: Gunboat diplomacy.
*
SR: The Chinese will greet us as liberators.
Tim: They will. They make all our toy flags already anyway.
*
Andrew: Start up a roadside bomb manufacturing base and capitalize on a growth market.
*
Tom Tancredo is speaking.
SR: He always makes me feel like he's not wearing any pants.
Andrew: You know why? Because he's very expressive with his eyes.
*
SR: There are commercials? Who do you think is advertising on this?
Andrew: Smith and Wesson.
Tim: al-Qaeda.
Andrew: The Bin Laden Group.
Tim: Because you could die tomorrow.
*
SR: Days Inn? Shouldn't it be called Nights Inn? You're not really spending a day there.
Andrew: How 'bout Shag Inn? If you're doing a lot of sleeping, we're not doing our job.
*
Andrew: Plavix: Protexts you from gayness, 24 hours a day.
*
Gilmore says some of his opponents are not true conservatives but are being liberal in characterizing others as conservative while . . . something.
SR: He's already lost me.
Tim: I wish I could just abort this whole sentence.
*
SR: This debate sucks.
Andrew: I know. I thought it would get better when the Chinese food got here, but it hasn't.
*
McCain is speaking about immigration.
SR: I was somewhere outside of Phoenix when the drugs began to take hold.
SR: Actually, I'm here illegally.
Tim: I'm not even from this planet.
*
SR: Shoudn't illegals be rewarded for making it across the border? I'd put them at the head of the line.
*
Hunter: I built that border fence in San Diego.
Tim: With my bare hands.
Andrew: Me and my boys took a weekend.
Tim: We had to use a lot of illegal workers to get it done.
*
Brit Hume: Governor Huckabee, there might be a need for economic policies to change. What policies would you propose?

Andrew: Vacant consumerism.
*
Huckabee praises the president for advising Americans to spend after 9/11.
Andrew: Feel good America! Spend! Spend! 'Cause it's all renewable. Renewable couches! Renewable high-rises!
*
Some scenario is posited where U.S. shopping centers are bombed. What would be the first thing you do?
Andrew: I would slash prices across the board!
*
ANALYSIS: Mike Huckabee as the potential dark-horse continues to disappoint. Tommy Thompson did nothing to break out. McCain is going nowhere. Giuliani rebounded. Romney looks and sounds the part. Fred Thompson would make a nice VP candidate for either of them.
*
Previously on Mystery Debate Theater:
- The Democrats: Episode 1.
- The Republicans: Episode 1.
Posted by Beachwood Reporter at 7:35 AM | Permalink
What I Watched Last Night
Gilmore Girls ends with a whimper, in character with these last two disappointing seasons. The entire town of Stars Hollow throws Rory a going away party. She's leaving to cover the Obama campaign for an online magazine and apparently won't be seen again for years.

Luke orchestrates the party, sewing a big tent for the town square out of old tents, tarps and raincoats. After everything that's gone on between Luke and Lorelei, this is just the sign Lorelei has been waiting for and they reunite with the most passionless kiss in television history.
*
The Cubs held on to their lead and beat the Mets 10-1.
*
Over to the DVR for tonight's episode of Deadliest Catch. Last week's episode concluded with the end of king crab season, when many of the boats haul in more than a million bucks worth of giant sea spiders. Tonight is the opening of opilio crab season. First lesson: there's such a thing as an opilio crab. Much smaller than king crab, these creatures hardly look worth the effort. They're in season during the brutal month of January and the Bering Sea looks absolutely wicked, mixed with snow, ice and bitter wind.
I'm getting nauseous just watching these boats ride the waves up and down. The commercials are actually a welcome respite.
Anyway, Jonathan, co-captain on the Time Bandit, is letting his brother Andy captain the boat for the winter. I'll miss Jonathan's happy crab dance when the baited traps (the large steel cages called pots) come to the surface full of crab.
At the crew's request, the Northwestern takes on a new deckhand, a fifth man to help during the difficult season. The new man is a 23-year-old greenhorn named Jake Anderson and he'll have to prove himself to the crew, most of all to Captain Sig Hansen. Following his tradition, Sig won't shake hands with the new guy until the season is over and Jake has proven he's got the right stuff. Tough captain.
Greenhorn Nick on the Wizard eats raw cod intestines for good luck. He's game, chewing on it for a good ten seconds until he spits it out. I don't know what's worse, watching it go in or come back out.
Still at dock, the Northwest Leader runs through a Coast Guard fire drill. The crew has to find a strobe and smoke bomb hidden somewhere on board. They pass and then it's on to the survival suit race; each crew member must don their survival suit in less than a minute. The show's producers are getting a lot of mileage out of harrowing footage from last season, replaying the rescue of a man overboard for the umpteenth time. Lesson number two: the survival suit can save your life.
The Northwestern searches for missing pots, a job made harder by sea lions using the diver bags that bob on the surface as toys, puncturing them so they fill with water and sink. It's like searching for a needle in a liquid hay stack.
Rookie Nick on the Wizard wears glasses. I'm wondering how the heck he works with glasses on? All that sea spray? You wouldn't be able to see a thing on deck. Might as well fish with a blindfold on.
Heading out to the fishing grounds, pots stored on deck run the risk of icing over, adding weight that could make a boat top-heavy and in danger of rolling over. Imagine shoveling and chipping ice off your driveway if it were suspended 20 feet over the rolling deck of a 127-foot crab boat in 15-foot swells and 30-foot gusts. Good times.
The Cornelia Marie has to wait it out while their crab processing boat is repaired after a fire. Fisherman seem as superstitious as baseball players. Captain Phil shaves his beard and mustache to bring the boat some much needed good luck.
The episode concludes with another appearance by the Coast Guard, called out to rescue a gravely ill fisherman. The man has been vomiting blood and once he's safely up in the helicopter, he buries his head in a plastic bag and does so again. Lesson number three: when you barf in a Coast Guard helicopter, it's called a "biohazard," as in, "We've got biohazard here."
The crab count at the end of the program shows the Wizard in the lead. They're also the only boat to pull any pots out of the sea.
*
Now I'm off to catch-up on two episodes of The Riches waiting on the DVR. With all the talk in these pages about the dreaded jumping of sharks, I hate to admit I'm already sensing the shark beginning to circle about Rich family motorhome. So soon? We shall see.
*
See what else we've been watching, in the What I Watched Last Night collection.
Posted by Beachwood Reporter at 6:16 AM | Permalink
The Periodical Table
A review of the magazines laying around Beachwood HQ.
Slump City
The recent disappointing run of The New Yorker continues with a May 14 issue with little to recommend. Elizabeth Kolbert's story about the new supercollider under construction outside Geneva reads with an awful familiarity. I wasn't moved to read about Richard Branson's biofuels kick. I started the piece about a renowned maker of guitars as well as the one about an archeological find of possibly the world's first "computer"; didn't finish either. A Ken Auletta piece about Wall Street Journal consumer technology reporter Walt Mossberg was interesting. The cultural criticism was dull. What's going on, New Yorker? Worst run in memory.
Portfolio Prognosis
I received a free copy of the premier issue of Portfolio, the new Conde Nast business magazine edited by former Journal editor Joanne Lipman. The verdict: It sucks.
Lipman's Editor's Letter (why do magazines waste a whole page with this nonsense?) was like the magazine itself: overheated hype. "Business is about power," Lipman writes. "And guts. And passion."
Yes, unlike just about every other part of life. Please.
"Business coverage should be too."
See, Portfolio is trying to corner the passionate, gutsy business journalism market niche. Would that it were so, and we had a major business magazine really taking it to the corporate sector. Alas, that's not what Lipman means.
I can at least recommend, if you have room in your head for another Plamegate story, Matthew Cooper's firsthand report of his involvement in the Valerie Plame affair, which explored the legal positions of Time Inc. and others in determining whether Cooper and his colleagues should go to jail to protect their sources.
Who's That Girl?
On the cover of the new No Depression?
It's Miranda Lambert, and from the looks of it, "country's new alternative" rocks.
Speaking of editor's letters, even in No Depression, one of my favorite mags, they're getting a bit tired; in ND, they tend to be meditations on what alt-country is, what the magazine is, which bands they should and shouldn't cover, defenses of cover choices . . . enough already! We've been discussing this for years. Save it for your staff meetings!
Nonetheless, ND doesn't disappoint.
Kurt Reighley turns in an interesting piece on Libertyville's very own Tom Morello - quite a feat considering the recent spate of publicity about Morello's new incarnation as The Nightwatchman. Reighley's piece nonetheless manages to be fresh.
Likewise, Jesse Fox Mayshark contributes a worth piece on Conor Oberst, and I'd be remiss if I didn't mention the visual and editorial presence of bandmate Nate Wolcott, who used to work the door at the Beachwood Inn right here in lil' ol' Wicker Park.
Reviews include Wilco's Sky Blue Sky, and releases by The Detroit Cobras, Golden Smog, Los Straitjackets, and Koko Taylor.
And as always, even the ads are visually appealing and editorially informative, much like in Punk Planet. If you read one magazine this week, this is the one.
Arouse Your Man
The new Cosmopolitan was within reach on a recent morning at the Flying Saucer restaurant in Humboldt Park, promising a bunch of new ways to satisfy your man sexually. To steal a line from Beachwood contributor Rick Kaempfer . . . it really doesn't take nearly as much effort as Cosmo makes out to attract, arouse, and satisfy a man. I'm not one for gender stereotyping, but I think I'm on safe ground saying that just standing there pretty much works.
Blog and Roll
Things have been kind of slow over at The New York Times Magazine lately too (is all of New York publishing suffering from ennui these days?), but I can at least recommend one fascinating piece about a topic that may seem tired but the Times presents from the ground-level. "Sex, Drugs and Updating Your Blog" explores how bands are making it on their own without record labels by selling their work online, which again might sound old to you, but the way they are using blogs to communicate with fans is turning the whole enterprise on its head. The artist at the center of the story now spends most of his day blogging with fans. Definitely worth a read.
Posted by Beachwood Reporter at 12:58 AM | Permalink
May 15, 2007
The [Tuesday] Papers
Dick Durbin, Illinois' senior United States senator - you know, the one who isn't Barack Obama - took to the well of the Senate recently and gave what some, including myself, considered an astounding speech about how the information he was given before the Iraq War as a member of the Senate Intelligence Committee differed from what the administration was telling the public. Durbin appeared to be saying members of the Intelligence Committee knew the administration was lying but remained duty-bound by their committee vows of secrecy to not inform the country that we were being led to war on false premises.
Durbin's dilemma has since been discussed in a variety of forums, including the Tribune's Washington, D.C., blog, in radio interviews featuring Durbin himself, in the conservative press, and the liberal blogosphere.
Today, the Tribune publishes Durbin's response to a Dennis Byrne column last week as a letter to the editor in which Durbin says that, contrary to Byrne's claim, this is the ninth time he has spoken about this issue on the Senate floor - that he's not just springing this on us right now.

I haven't had time to research this further, but it's certainly ripe for further exploration by our hometown press, not only because of its inherent relevance to (amazingly) still unanswered questions about how we ended up in this war, but because, well, you know, Durbin is an Illinois senator who is only the No. 2 Democratic in that august chamber. He is of national import. (Some might argue that in a different political culture, he would have much more claim based on experience, knowledge, and leadership ability to be a presidential candidate than his junior partner.)
"What the public was told and what the Intelligence Committee was told in closed session were not inconsistent. The difference is that the committee was told both sides of the story and the Bush administration was giving intelligence information to the American people selectively," Durbin says in his letter to the Tribune, which isn't quite as fiery as his Senate oration.
"As to the allegation that I didn't do enough to stop this war, I was one of 23 senators who voted no and offered an amendment in the Senate that would have limited military action unless the administration could show that Iraq was an imminent threat to our nation," he also wrote.
"But my amendment was defeated, derided as unpatriotic and dangerous by conservative commentators and talking heads - some of the same people who today are saying those of us who opposed this war should have done more."
Liberal commentators and talking heads too.
Hull House
"Axelrod is known for operating in this gray area, part idealist, part hired muscle," The New York Times reportedly recently, in a magazine story explored today in Obamathon.
"It is difficult to discuss Axelrod in certain circles in Chicago without the matter of the Blair Hull divorce papers coming up. As the 2004 Senate primary neared, it was clear that it was a contrast between two people: the millionaire liberal, Hull, who was leading in the polls, and Obama, who had built an impressive grass-roots campaign. About a month before the vote, the Chicago Tribune revealed, near the bottom of a long profile of Hull, that during a divorce proceeding, Hull's second wife filed for an order of protection. In the following few days, the matter erupted into a full-fledged scandal that ended up destroying the Hull campaign and handing Obama an easy primary victory.
"The Tribune reporter who wrote the original piece later acknowledged in print that the Obama camp has 'worked aggressively behind the scenes' to push the story.
"But there are those in Chicago who believe that Axelrod had an even more significant role - that he leaked the initial story. They note that before signing with Obama, Axelrod interviewed with Hull. Axelrod swears up and down that 'we had nothing to do with it' and that the campaign's televison ad schedule was long planned."
So is Axelrod calling the Tribune reporter a liar?
Being Obama
From ABC's This Week:
STEPHANOPOULOS: Valerie Jarrett, a good friend of the family, says you told her in your Senate race, "I just think I have some special qualities and wouldn't it be a shame to waste them?"
OBAMA: That - I think I probably did say that.
STEPHANOPOULOS: What are they?
OBAMA: I think that I have the capacity to get people to recognize themselves in each other.
Shark Jumping
Me yesterday: "Heard Joe Scarborough say the other night that American Idol has jumped the shark. Got me wondering: When did the phrase 'jump the shark' jump the shark?"
Commenter Don on the Trib's The Watcher blog, Feb. 20: "The phrase ('jump the shark') is so tedious and ubiquitous that even the joke that claiming that the phrase 'jump the shark' has jumped the shark has, in itself, jumped the shark (and the thing I just said is darn close to doing the same thing)."
Guilty.
Radio Notes
I was sorry to see Rosenbloom and Salisbury get the boot at WMVP. I've long been a Rosenbloom fan, and I think Salisbury brings rare insight and broadast talent to the table for an ex-jock.
I also caught Laurence Holmes filling in last week for Terry Boers on Boers and Bernstein over at The Score and I have to say Holmes brought a new and welcome energy to the proceedings.
Tax Genius
Is Rod Blagojevich actually a master strategist? Or just screwing up in reverse?
"[W]ittingly or not, Blagojevich has given great cover to backers of alternative plans including income tax hikes: Next to him, they now look like cautious, reasonable, flexible, job-friendly, fair-minded and brave Solons who know a good tax from a bad tax," Eric Zorn writes this morning.
"Blago the fox? Maybe so.
"But if he ends up botching this opportunity to reform our broken system, it won't matter either way. Playing the fool or not, he'll still be a fool."
Affording Daley
The mayor's new affordable housing ordinance provides for set-asides aimed at homebuyers who make no more than $75,000, the annual median income in the Chicago metro area for a family of four. (Does that mean that figure includes the suburbs, and not just the city? Why?)
Ald. Toni Preckwinkle (4th) wanted to set it at $60,000; Billy Ocasio (26th) wanted to set it at $49,848, which is the median income in his ward.
Get the background here from the Reader's Mick Dumke, who ended his piece last Friday on the issue this way:
"In a Q & A with reporters afterward, Mayor Daley dodged questions about whether his affordable-housing amendment went far enough to address the city's shortage. 'This is a very good ordinance,' he insisted. Asked if its introduction had been timed to avoid debate in the new council, he snapped, 'No,' then moved on to a question about how much he'd miss Dorothy Tillman's hats."
Fast Feddie
On Week in Review on Friday, Mike Flannery said the media consensus over the years was that Eddie Vrdolyak was a confidential informant for the feds - and for reporters.
Sugar Baby
"Splenda Settles With Equal At 11th Hour."
A) New product to be called Splequal.
B) Would've turned to salt at midnight.
C) 12th Hour To Be Spent On The Can.
Foxy News
New CTA chief Ron Huberman appeared on Fox Chicago Sunday and there is no doubt that he is a very smart guy who has already absorbed the details of the agency's operations, as well as being a guy with the commanding presence of an up-and-coming junior officer slated for bigger things. He was also separted-at-birth from former Cubs catcher and now-broadcaster Joe Girardi.
But running the CTA more efficiently isn't the answer and we all know it. What isn't clear is if Huberman is an innovator. As co-host Dane Placko said to Huberman after an impressive riff about the importance of mass transit as a subsidized entity: "That argument has been heard time and again."
(Placko, by the way, related that his 20-minute ride to work downtown on the Blue Line now takes 40 minutes.)
Just like we've known for years that the state is going to have raise income taxes to solve its budget problems and help fund education, we know that transit in Chicago requires regional cooperation and a long-term funding commitment. There are just certain things we know that the political system will eventually have to accommodate - gay marriage may also be one - but seems designed to screw up for a designated period of time until persistence and necessity pay off.
Anyway, on those rare mornings when I tune in to Fox Sunday Chicago, I always regret not doing so more often. Placko and co-host Jack Conaty are informative and aggressive interviewers certainly not cowed or wowed by the public officials they bring on. And they get quite a few.
Aside from Huberman, Placko and Conaty cross-examined Ald. Tom Allen (38th) on property taxes, and interviewed former teachers union president and now-again candidate Deborah Lynch.
And, oh yeah, the governor. I almost forgot. Rod Blagojevich himself went on live and tried to portray himself as the bravest and loneliest man in the state taking on powerful lobbyists who want to defeat all the programs he wants to bring to us.
Blagojevich can be impressive in these forums; he is a lousy governor but usually slick as all get out in front of the cameras. Still, Conaty pressed the governor on his relationship with state senate president Emil Jones (D-ComEd), the man standing at the legislative gate in Springfield (along with House leader Mike Madigan), and particularly zeroed in on the electricity rate increase which Jones favors and the governor says he's against.
I'd like to see the mayor appear every week, but I know that's too much democracy to ask for. Maybe someday. After all, Eddie Vrdolyak has been indicted and Splenda has settled with Equal. Dreams can come true.
The Beachwood Tip Line: Dream. Plan. Track.
COMMENTS:
1. From Tim Howe:
Re your last item today, two observations.

The state tax issue is part of the larger picture that always seems to get glossed over. Quite simply, we need to repeat, over and over and over again: taxing is a zero sum activity. When the federal government announces a tax cut, you can be damn sure that down the line, state and local bodies will have to raise taxes. The things that taxes provide: roads, schools, police & fire protection, water treatment, public transportation, health services, etc. & ad nauseum, do not cease to be needed simply because the feds stop paying for them. Ultimately, the people have to keep paying for this stuff somehow because we need it. Of course you can have the discussion over which entity is better able to provide these things, and to raise & distribute the money needed to provide them, but we need to be continually reminded that - overall - total taxes as a percentage of GNP will never - can never - truly go down.

Second: [ComEd chief] Frank Clark was on WBBM-AM's At Issue on Sunday. Unfortunately, the interviewer never did call "bullshit" on his many outlandish claims. The best that I heard (paraphrasing) was: "I have no idea who Exelon sells energy to besides ComEd, and I have no idea where our suppliers other than Exelon get their power from." If you believe that a CEO doesn't know who else his suppliers sell to, and where his suppliers get their product - in any business - you also have to believe that CEO is a bumbling fool of the highest order. That point, sadly, was never made in response.
2. From Kent Green:
I used to enjoy reading The Beachwood Reporter for what appeared to be reasonable criticism and praise for Chicago media. You've started to go around the bend, though, and frankly, it's sad and frustrating. I now skim the items because I know what I'm going to get: often grumpy diatribes about how you would do things better, how the mainstream media sucks, how you dump all over Obama coverage (which, in effect, serves to extend that coverage - I don't even read any item in which you mention him any more because I'm sick of the double-teaming) coupled with the occaisonal gem. One of your items finally broke my frustration to the point where I had to write. You said Ben Joravsky couldn't find anyone in Washington Park who wants the Olympics to come. Oppositional reporting just for the purpose of being oppositional is as wrong as biased reporting in order to promote something. There's no excuse for lauding this report as the gold standard while trashing the mainstream. You can't be a critic of the media if you don't critique it all equally.
3. From Margaret Burke:
I have to disagree with Mr. Green. Ben Joravsky's Reader story on how no one in Washington Park wants the Olympics is not opposition for the sake of opposition. He's giving voice to people who clearly don't count in Chicago, people who, for whatever reason, probably don't have the money to have many options. Chicago has a pretty nasty history of this; bulldozing the CHA without having places for the residents to go, and bulldozing a chunk of Pilsen for "affordable" housing (not too many reporters were asking for whom those condos would be affordable; Joravsky was one of the few) are just a couple recent examples.

I think it's important, no, critical, for guys like Ben Joravsky to point these things out to people like Mr. Green who probably wouldn't notice them otherwise. I say, keep up the good work.

Posted by Beachwood Reporter at 7:15 AM | Permalink
Obama's Media Manipulator
The New York Times recently ran a Sunday magazine story about David Axelrod, the Chicago media manager for Richard M. Daley and Barack Obama, among others. Axelrod, who recently wrote a Tribune Op-Ed column defending patronage, is perhaps the chief man behind the Obama curtain. Let's take a look.

*
"When you finish watching the [announcement] video, you don't have a particularly good sense of Obama as a politician (you might be able to say that he's for change), but there is an intimacy - you have been drowned in his life, and you feel as if you know him," author Ben Wallace-Wells writes.
"Axelrod says that the way to cut through all the noise is to see campaigns as an author might, to understand that you need not just ideas but also a credible and authentic character, a distinct politics rooted in personality."
COMMENT: Cult of personality is the new politics? Maybe getting serious about politics should be the new politics.
*
"When the first major profile of Axelrod appeared in Chicago magazine in 1987, three years after he left a high-profile job as the lead political reporter for the Chicago Tribune work as a political operative , the article ("Hatchet Man: The Rise of David Axelrod") began by comparing him to an 'exotic rodent.'"

*
"What David is basically doing - and this is somewhat new for Democrats - isn't trying to figure out how to sell policies," Democratic media consultant Saul Shorr told the Times. "It's a matter of personality. How do we sell leadership?"
COMMENT: Maybe exhibiting leadership would be a good place to start.
*
"It seems bizarre to consider now, but there was a time, just about three years ago, when Barack Obama was a pretty obscure black candidate for statewide office, and his political fortunes seemed to obey the regular, racialized rules of urban politics."
COMMENT:
A. If he was such a great leader in Springfield, why was he so obscure?
B. Wrong. Blacks were never his base. White Hyde Park intellectuals were. Obama's political fortunes have never followed the regular, racialized rules of urban politics.
*
"Axelrod has been intimately involved with the staffing of the campaign (David Plouffe, who was a partner in Axelrod's consulting firm, is now Obama's campaign manager), with its strategy and pacing and with the scurbbing of its message and language."
COMMENT: Because portraying authenticity takes a lot of message scrubbing.
*
"Axelrod has worked through Obama's life story again and again, scouring it for usable political material, and he believes that some basic themes come through; that he is 'not wedded to any ideological frame or dogma,' that he is 'an outsider rather than someone who spent years in the dens of Georgetown,' that he is 'an agent for change.'
COMMENT: Because Obama was such an agent for change in the dens of Springfield.
*
"Barack is the personification of his own message for this country, that we get past the things that divide us and focus on the things that unite us. He is his own vision."
COMMENT: Um, problem-solving is necessarily about the things that divide us. If we just talk about what we all agree on, change doesn't happen. It's a sophomoric way of thinking. Please, let's just get along!
COMMENT: "He is his own vision." Who is he, Mao?
*
"Axelrod took the message [from Dean and Edwards in 2004] that the problem with failed candidacies isn't usually that the message wasn't shrewed but that 'unless a message authentically reflects the messenger, it's likely to fail."
COMMENT: Um, Dean wasn't authentic? It was his authenticity that scared the party elders. And nobody has accused Edwards of being a phony - not really. Just of being rich and wanting to help the poor anyway. Obama is the one whose reality doesn't match his image.
*
"[Axelrod] appears on television in Chicago so frequently that construction workers and subway conductors recognize him on the streets."
COMMENT: Huh? This is pure fantasy. He doesn't appear that frequently. It's also offensive to construction workers and subway conductors; they presumably don't follow politics? I'd lke to know how the author reported that. I doubt he interviewed construction workers and subway conductors.
*
"[Axelrod] says that Daley's election was necessary as a 'moment of racial healing' . . . "
COMMENT: So, um, Chicago needed a wet mayor?
". . . and he's proud of the mayors progressive record."
COMMENT: Except on corruption and the way he manages city government. And the Duffs and Meigs Field. And development and the big box ordinance. And recycling. And affordable housing and social service budgets. And public housing and mass transit. But besides that, yes, a progressive record.
*
"Axelrod is known for operating in this gray area, part idealist, part hired muscle. It is difficult to discuss Axelrod in certain circles in Chicago without the matter of the Blair Hull divorce papers coming up. As the 2004 Senate primary neared, it was clear that it was a contrast between two people: the millionaire liberal, Hull, who was leading in the polls, and Obama, who had built an impressive grass-roots campaign. About a month before the vote, the Chicago Tribune revealed, near the bottom of a long profile of Hull, that during a divorce proceeding, Hull's second wife filed for an order of protection. In the following few days, the matter erupted into a full-fledged scandal that ended up destroying the Hull campaign and handing Obmaa an easy primary victory. The Tribune reporter who wrote the original piece later acknowledged in print that the Obama camp has 'worked aggressively behind the scenes' to push the story. But there are those in Chicago who believe that Axelrod had an even more significant role - that he leaked the initial story. They note that before signing with Obama, Axelrod interviewed with Hull. Axelrod swears up and down that 'we had nothing to do with it' and that the campaign's televsison ad schedule was long planned."
COMMENT: So Axelrod is calling the Tribune reporter a liar?
*
Check out the Beachwood's coverage of Barack Obama's presidential campaign in Obamathon.
Posted by Beachwood Reporter at 12:54 AM | Permalink
What I Watched Last Night
The greatest infomercial on network TV isn't really an infomercial at all. It's Poker after Dark, televised on NBC after the late-night talk shows and the nightly replay of the 10 o'clock NBC 5 news. I recently came upon the show after a bout of insomnia and quickly found myself glued to the tube. It's shown nightly (Monday-Friday) with a weekly behind-the-scenes director's cut on Saturday in the wee hours of the morning. A director's cut!
NBC has partnered with Full-Tilt Poker.net to show weekly themed broadcasts of no-limit Texas Hold 'Em. In between the action, commercials run that are part noir/part campy theatrics aimed at enticing viewers to try their luck at online poker. Each episode is an hour long. It starts with six seated players on Monday and by Friday the table is narrowed to two who go head-to-head until there is a victor. It's an imaginative - and winning - formula.
The show is hosted by Shanna Hiatt, who starts each show with player introductions and the catchphrase, "Let's get the cards in the air!"
Hiatt is also on hand for player comments after they've been humiliated, er, eliminated by their poker peers.Then, there's the voice from above, or maybe it's just Daniel Stern narrating an episode of The Wonder Years. Nope, it's Oliver "Ali" Nejad, poker's version of Dick Vitale, with his clever anecdotes and frequent deployment of all that gritty poker terminology ("chop the pot," "Fifth Street," "pocket pair"). Well, maybe not the Dick Vitale, he's not that over-the-top; maybe the John Madden of poker, without the turkey legs. Ali is the glue who holds the show together and makes it work. When the table trash talk isn't flowing, he plays the role of color analyst/biographer/and play-by-play announcer all in one.
The contestants are TV-worthy as well. This week, for example, is Ladies Week, featuring some of poker's deadliest femme fatales. There oughta be enough "blinds, bluffs, and bravado" to keep even the mildest poker fan interested. (Last week Mr. Kotter was onboard; finished fifth. If only they would have had the whole Sweathog gang on; I'd of bet on Freddy "Boom Boom" Washington.)

If Poker After Dark doesn't fit your schedule, NBC also broadcasts Heads Up Poker in the daytime. Shannon Elizabeth, an actress and upstart poker savant, is looking to parlay her stunning early run through the tournament field into a finals appearance; she's currently one of four players left.
Or you can watch Poker After Dark online in the light of day. But it's really not the same. The illicit is part of poker's appeal, despite the mainstreaming it's gotten in recent years. Poker By Day just isn't the same.
*
Check out our What I Watched Last Night collection.
Posted by Beachwood Reporter at 12:02 AM | Permalink
May 14, 2007
The [Monday] Papers
1. The Mount Lou Alert System is now on yellow. Heightened concern is warranted. Pressure is expected to build throughout the week with an eruption by Saturday.
2. I'll admit I was wrong about Ted Lilly and Jason Marquis when Jim Hendry admits he was wrong about the outfield and infield.
3. "Team scouts believe Soriano could smoothly make the transition from left field to center field and be an upgrade defensively over the weak-armed Juan Pierre," the Sun-Times reported last November.
The same scouts who didn't believe in Ryan Theriot.
4. So maybe, um, fire the scouts?
5. Sun-Times front page on Saturday: "Honors Student Slain On CTA Bus."
Would it be less tragic if the victim was a C student? Or how about "Failing Student Slain On CTA Bus"?

Why not just "Heroic Student Slain On CTA Bus"? Or "Chicago Student Slain On CTA Bus"?
It reminds me of the Tribune years ago lamenting in its report on the Lincoln Park porch collapse that the victims were so full of promise. What, it was more tragic because some of those killed had careers ahead of them as corporate lawyers and stockbrokers?
6. The American flag is back on the Sun-Times cover. In case you didn't know what country you were in.
7. It should come with an apology for the paper's ginned-up war coverage - as anti-patriotic as journalism can get.
8. Tribune public editor Tim McNulty writes that mainstream media is "still keeping watch." Yes. On its 401(k)s and early retirement offers.
9. Contrary to reporters at the dailies, the Reader's Ben Joravsky couldn't find a single person in Washington Park who wants the Olympics to come there.
10. Joravsky also tells how city workers made the park glisten for an Olympic committee visit after, oh, probably years of neglect. Bet they haven't been back.
11. Too drunk to drive home? Naperville has a new solution.
12. How to protect your Elvis sighting.
13. "Democratic White House hopeful Sen. Barack Obama was pressed on why, when he was running for the Senate in 2003, he opposed extra funding for the Iraq war, yet voted for supplemental spending bills bankrolling the war once in office, in an interview broadcast Sunday," Lynn Sweet reports.
"Obama also declined on ABC's This Week with George Stephanopoulos to say what he would do if confronted with a war-funding measure that did not include a timeline for withdrawal."
14. "Obama told Stephanopoulos it was 'political suicide' for him to be against the Iraq war in 2003," Sweet reports.
Well, obviously not.
The real question is, where has he been since then?
15. "Obama said while running for the Senate that he would not, if in the Senate, vote for an $87 billion supplemental appropriation to bankroll the war and Iraqi reconstruction," Sweet writes. "Once in the Senate, Obama voted for all of the Iraq war funding bills.
"Obama told Stephanopoulos he opposed the $87 billion because 'I was trying to establish a principle at that time,' and the $87 billion legislation included wasteful spending."
Apparently Obama had no need to "establish a principle" - whatever that means - once he got into the Senate. And apparently the war funding bills he voted for contained no wasteful spending whatsoever.
16. I guess a vote is never really a vote for Obama; it's always something else. Like when he explained his vote for George W. Bush's 700-mile fence on the Mexican border by saying it was "part of a larger strategy."
One he has yet to reveal, but I'm sure he will in time. Maybe he was just establishing a principle.
17. Hockeytown, USA. Listen to the audio all the way through and you'll hear why.
18. Romney For President!
"While some evangelical Christians are defending the presidential candidacy of Mormon Mitt Romney from an attack by Al Sharpton, another prominent pastor is going further in his condemnation - saying a vote for the former Massachusetts governor is a vote for Satan," WorldNetDaily reports.
"That's the word from Bill Keller, host of the Florida-based Live Prayer TV program as well as LivePrayer.com.
"'If you vote for Mitt Romney, you are voting for Satan!' he writes in his daily devotional to be sent out to 2.4 million e-mail subscribers."
19. A complex algorithm devised at Beachwood HQ has determined that this will be America's last newspaper subscriber.
20. "Daley was Cook County state's attorney from 1981 to 1989, when the bulk of the torture took place," the Reader's John Conroy writes. "He was in a position to investigate and didn't, setting an example his successors in the office have followed to the present day. No one knows how many were tortured, but more than 100 likely victims have been identified, and some are still behind bars on the basis of those suspect confessions."
21. "The mayor would have the public believe that he's already been grilled on the subject."
To the contrary.
22. Heard Joe Scarborough say the other night that American Idol has jumped the shark. Got me wondering: When did the phrase "jump the shark" jump the shark?
23. "Most wives not only leap to tell their husband what to do, but how to do it, when to do it, and the efficient way to clean up after it's done," writes Neil Steinberg (second item), channeling the 1950s again.
24. "Phil Spector tries to dodge the paparazzi by cleverly disguising himself as Sandy Duncan."
- Paige Wiser
25. "City May Borrow $1 Bil. For O'Hare: Would Pay For New Runway, Refinancing, Temporary Stadium."
Well, the headline writer ran out of room and couldn't fit the stadium part in there, but still.
The Beachwood Tip Line: Trecia was here.
Posted by Beachwood Reporter at 8:27 AM | Permalink
What I Watched Last Night
Who knew Todd Bridges could act? And that I would learn this seeing something I thought I'd never see on TV - black people on Little House on the Prairie? And that I would actually watch an entire episode of LHOTP, as I assume fans call it? Holy crap was it good.
In "The Wisdom of Solomon," Bridges played a young boy (and son of a dead slave) tired of working in the fields with his mother and brother. He longed to get an education and be something more than an oppressed farmhand. So he ran away from home, found himself in Walnut Grove, and hopped on the back of Pa Ingalls' wagon when he wasn't looking and ended up at the home of our favorite prairie family.
Pa Ingalls enrolls Solomon in school and sets him to work on chores around the house while the townspeople subtly and not-so-subtly show their disapproval. Meanwhile, little Laura Ingalls is enthralled to be in the presence of "a real Negro person" while coming to realize she is the unknowing possessor of what academics 100 years later would call "white privilege." She comes to see how much she has taken for granted, sparking a renewed interest in her schoolwork, for example.
There is another black person on the show who is not related to Solomon - a black doctor who takes care of Indians on the nearby reservation. He's not allowed to doctor white people.
This is actually a heartfelt and multi-layered episode that ought to be shown in classrooms (and to adults once a month) for its insights, as well as the arguable issues. Pa Ingalls, for example, asks Solomon why he said in class one day that the thing he hates most about himself is being black. Solomon asks Ingalls if he would choose to be a black man who lived to be 100 or a white man who lived to be 50. Ingalls is left searching for a feel-good answer that does not come.
Almost against my will (I've never been interested in the show; too dusty) I watched the whole thing and was kind of disappointed when it ended - and not necesssarily in a happy way. The ending, in fact, is ambiguous; it could bring many a man to tears if the mood is right on, say, a Saturday afternoon.
*
I spent some time Saturday night searching for programming that really wouldn't demand my attention, as I was doing some work at the same time as watching, but something interesting enough to merit actually being on. Cold Mountain? No, I couldn't commit to that. What, three hours? Kill Bill - both volumes back-to-back? So tempting. But not serving my purpose. Raising Helen? Geez, a lot of movies on a Saturday night. And why this one? Seems like it's always on, and it sucks pretty hard. Little People, Big World? Now we're talking, though I might be tempted to give it too much attention.
I love Little People, Big World, though I spend a lot of time trying to figure out their finances. Matt was a software salesman and did well, apparently, but there's gotta be family money doesn't there? This is too distracting, I need TV that doesn't make me think.
Shocking Moments on Tape? No. I would actually want to watch. I need something intermittently listenable.
Scrubs? I've only just started watching this show, in reruns. Kind of like that Elliot. Nah.
Jesus Christ, that Mellencamp truck commercial is still running. Hey John: the 1980s called, they want their vibe back.
The Tube Musical Network? Beck's "Loser" video is playing. Actually cool enough. But no.
George Foreman is fighting Evander Holyfield on ESPN Classic. It's from 1991. I'm not a boxing fan, but I can ride this right into Baseball Tonight.. Wow, Foreman is really taking some blows.
Where did my night go? Before the Internet, there was channel surfing. Some things really don't change, just the way we go about them.
*
Check out the What I Watched Last Night collection.
Posted by Beachwood Reporter at 6:39 AM | Permalink
Ag School Fail
Remember when the Cubs were building a team around Corey Patterson, Bobby Hill, and Hee-Seop Choi? It wasn't long ago that these were the saviors of the franchise. But when it comes to the Cubs, the word "prospect" has just as often meant "pipe dream." Where have you gone, Brooks Kieschnick? A lonely Cubs Nation turns its eyes to you.
That's what makes the budding stardom of Ryan Theriot so fascinating. He's an un-hyped, un-heralded, un-hoped for, un-Cub described this week as "Almost Left For Dead." He's the best position player to come out of the Cubs organization in a long time. And yet, even after hitting .328 in 53 games last season, Cubs scouts didn't believe. Now Lou Piniella has to move heaven, three outfielders, and two infielders to get Theriot into the lineup every day.
Leave it to the Cubs to screw up in reverse. If the Cubs farm system were really an actual functioning farm, they'd be milking chickens, looking for eggs from cows and, of course, beating dead horses.

*
Week in Review: The Cubs went 2-4 last week, losing 2 of 3 to both the Pirates at home and the Phillies on the road. So much for that warm fuzzy feeling we all got from beating up on the Nationals. Game time temperatures for the four losses were 69, 76, 82, 76 - an average of 75.75 degrees. Apparently still not warm enough for the Cubs to start winning. We look forward to July.
Week in Preview: A four-game set on the road against the 23-13 Mets and then three at home against the White Sox. Like too many housewives with not enough Oprah tickets, this could get ugly.
Second Basemen Report: DeRosa started 4 of 6 with Theriot starting the other 2 - same as last week. Looks like Uncle Lou has settled into a "platooney" situation at second, regardless of who's pitching for the other team. Like a real uncle, Lou is playing favorites. Theriot may deserve as good a birthday gift as DeRosa but Uncle Lou's been losing at the track and Theriot's birthday party just came at the wrong time. Sorry kid.
In former second basemen news, "Fast" Freddie Bynum has appeared in 16 games for the Orioles and is hitting .188 without a stolen base attempt. He is missed.
Sweet and Sour Lou: 50% sweet and 50% sour. Lou is down 4 points this week on the Sweet-O-Meter. Lou is still not sure what kind of team he has. We are.
Beachwood Sabermetrics: A complex algorithm performed by the The Cub Factor staff using all historical data made available by Major League Baseball has determined that the Cubs will be eliminated from playoff contention by June 1st.
Over/Under: Fights this weekend at Wrigley +/- 82.
The Cub Factor: Catch up with them all.
Mount Lou: The Cubs/Sox media tornado will hit the unsuspecting shore of Mount Lou causing anger lava to burst through the surface. Expect lava flow down Sheffield Avenue on Saturday afternoon. Rooftops may be the only refuge.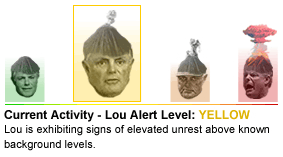 -
Marty Gangler is our man on the Cub. He welcomes your comments.

Posted by Beachwood Reporter at 5:58 AM | Permalink
Righteous Brothers: Sayin' Somethin'
This is the moment in 1966 when the steam starting coming out of a Righteous Brothers juggernaut that, thanks largely to the ever-lovable Phil Spector, had all but invented the genre of "blue-eyed soul" during the preceding two years. Only 12 months after Verve Records had succeeded in prying the (probably very grateful) Righteous boys away from gun-totin' Phil for the then-unheard of sum of $1 million, not even Carole King and Gerry Goffin could keep the times from changing, and it shows on Sayin' Somethin'.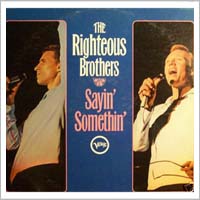 Not that it's a bad album at all. But it's not very special, which given the Righteous Brothers' track record up till then constituted a major disappointment. Probably the most telling thing about the situation was that the other album that Verve recorded the same month as Sayin' Somethin' was Absolutely Free by Frank Zappa's Mothers of Invention. The writing was on the wall: After two years of incredible, groundbreaking success in introducing the world of R&B and soul music to white kids in a way that no one ever had, by Summer 1966 the Righteous Brothers phenomenon was winding down in the wake of the British Invasion and the onset of the counterculture. Less than two years later, the duo was history.
Sayin' Somethin' had one charting single, its lead-off track, "On This Side of Goodbye," written for the Righteous Brothers by King and Goffin. The foursome, along with Spector at the Wall of Sound controls, had certainly struck lightning before with "Just Once In My Life" and "Hung On You" for Spector's Philles label. But although "This Side" had all of the sonic elements of those songs - as well as those of the Brothers' big Barry Mann-Cynthia Weil-written hits "You've Lost That Lovin' Feelin'" and "(You're My) Soul and Inspiration" - it was nevertheless lacking something. The song has the same lushly orchestrated arrangements (by Bill Baker), the same kind of lost-love lyrics. The vocal skills of Bill Medley (baritone) and Bobby Hatfield (tenor) are still at their peak here, to be sure. So what's the problem?
"On This Side of Goodbye," despite its pedigree, is a song that feels like a knock-off. King's lyrics, which only a few years earlier seemed heartfelt, now seemed more calculated somehow:
I've had my taste of independence
Since the day I set you free
Now I don't bear the least resemblance
To the man I used to be
Cause baby things look much different now
On this side of good-bye.
Can't you find it in your heart somehow?
To give our love just one more try
It could be because the Righteous Brothers' usefulness to the Baby Boomers was ending quickly in 1966: By this time, their original fans were in college, protesting the Vietnam War, mixing with people of color. They no longer needed "acceptable" white guys interpreting soul music for them. After becoming exposed to the original material and to the more imaginative interpretations of blues and soul music by British Invasion bands, the Righteous Brothers were feeling quaint.
The irony, or course, is that despite not quite coming up to their earlier standards, Saying' Somethin', which was produced by Medley, has some very fine moments that make it worth listening to. For instance, their version of Leiber/Stoller's "I Who Have Nothing" is just classic blue-eyed soul, a winner by any standards. And Medley's basso profundo has never been more thrilling than it is on "Yes Indeed," in which the Brothers do a spot-on tribute to Ray Charles' 1957 version of the same tune.
Another cover of note is the novelty item "Along Came Jones," in which Medley and Hatfield reprise the comedy repartee of the Coasters' 1959 original. Again, even though it was a fine effort in and of itself, by 1966 the time for faithful recreation of R&B songs by white artists was over, which, even though overall it was a good and necessary thing, meant guys like the Righteous Brothers were probably cast aside a little too righteously by a generation which had become embarrassed by having its black music spoon-fed to it by a music industry that had turned out to be horribly racist.
*
From Tommy Cash to Blue Oyster Cult, Bin Dive reveals rock's secret history. Send comments, suggestions, distortion and feedback to Don. You must include a real name to be considered for publication.
Posted by Don Jacobson at 5:37 AM | Permalink
Barista! The Coffee Goes Cold
Well, I can't put it off anymore, I have to break the news. You may have noticed my recent disappearance from the barista scene. While I'm sure that most of you dear readers assumed I was merely off on a month-long cruise of the Mediterranean, perhaps celebrating my exciting Lisagor nomination, I am sad to say that has not been the case. Nor have I been in a bitter, paralyzing funk over not actually winning the Lisagor. I am happy to say that is also not the case. I knew I stood no chance against a competitor with "Katrina" in the title.
Truth be told, I have struggled in recent weeks to be inspired. It is difficult to pour my feelings onto this page without the daily brewing of corporation- and people-loathing, for I am a barista no more. My heart hangs heavy.

I have undertaken a new job - one that pays me more and allows me to sleep past 3 a.m. No longer can I devote the time and passion essential to successful baristaship. Some might say my baristaship has sailed. Then again, I said that three years ago, and as luck would have it, I got sucked right back into the coffee undertow, head banging on the metaphoric burner the whole way. So I am opting not to say "never" again.
Despite all the disgusted reporting I've done in the past six months, observing and serving the delicate yuppie species, returning to my undisclosed coffee company was a good move for me . . . and not only because I accumulated a sweet stockpile of free beans.
My now-former store, located in a quaint little mansion-spotted suburb, provided me with unforgettable moments and interactions. Certainly my co-baristas gave me endless joy and full-bellied laughs throughout the days. I managed to find a whole storeful of really incredible characters. I will miss them. No longer will Velma and I proudly put Tina Turner's back-up dancers to shame. Nor can I design poop-persuasive pastry arrangements for Lillian. I know Leona's giant tits could still knock me down from across the counter, but I am not there anymore to duck and dodge them with the swiftness of Apollo Creed. They were my partners in customer-service crime.
You may be surprised, but I also feel a strange longing for certain loyal coffee patrons. Sure, I made an awful lot of transactional enemies, but I had even more allied customers that went largely unmentioned in this column. Let's be honest, you readers didn't care about them. You only wanted to know about the dipshits and the douchebags - the people with 27 drink modifiers and the clueless housewives whose ability to spread their legs and spend their husbands' money apparently gives them the right to act superior to the person pushing blend on their fatty-boom-batty whipped cream liquid meals that will be sucked off their hips and injected into their lips in six months.
Hell, I even miss those assholes. No longer can I fuck subtley with unsuspecting yuppie moms or their shit-stained children. My fine-tuned glares are wasted in my new gig, which bears no trace of customer service. I can't decide whether that upsets me or if I should be burning aprons in psychotic glee.
Either way, I have tried to scour my memory for instances or occurrences that I didn't report as they happened. I know they are there, I know there are many, and I would love to write this column until I was 50, henceforth in retrospect. But I am no longer in the muck and I cannot fake it for the sake of good material. Even my former co-baristas have offered me tales since my exit, but they are not my own and I am not there to feel them as they happen.
Customers and co-workers aside, I am grateful for my short-lived return to the coffee company because of how it affected me. It is all too easy to categorize and pre-judge people we encounter in casual spaces. While many of my customers fit right into the yuppie stereotype assigned to the neighborhood, many did not. Submerging myself into customer service once again reminded me how to interact with others, showed me the variety of people in a seemingly stark and one-dimensional town, and coincidentally renewed my patience with the human race by entirely unraveling it in the first place.
And now that it is all said and done, I hope I have at least caused a few of you to be more aware of your civility. Do you say hello to the person behind the counter? Does your finger contact glass when you try to draw attention to your pastry? Do you whisper orders to your server when the person on the other end of your cell phone is talking? Do you start your order with "Gimme a . . . "? Do you pick up after your kids in public? Honestly, just how specific is your beverage? Do you say thank you? Shit, I feel like a kindergarten teacher writing to an audience of adults.
But when you work on the front lines of trendy yuppie retail, you get used to adults who act like children. Learn from them so as not to become them. I hope all my stories and experiences have shown you why. At the very least, maybe you've considered your own daily interactions and wondered who your Maude is.
*
Maude Perkins was The Beachwood Reporter's pseudononymous service industry affairs editor while employed as a store supervisor for a large, publicly-held corporate coffee chain. You can read the Barista! series in our Life at Work collection here. If you'd like to be our next Life at Work columnist, drop us a line. Thanks for the memories, Maude.
Posted by Beachwood Reporter at 1:26 AM | Permalink
May 12, 2007
The Weekend Desk Report
The Weekend Desk got a little lost on the way to Vegas last week. Thank goodness we made it back in time to keep tabs on the really massive stories unfolding before us.
Market Update
There was a massive shake-up in the Baseless Suburban Panic index this week as blue-chip earners including Immigration and Racial Diversity saw their earnings siphoned off by innovative newcomer Sidewalks. While the impressive opening had investors itching to buy in, analysts predict Childhood Obesity will emerge as the long-term winner.
Smoke and Mirrors
Despite appearing together at a number of public events, President Bush and the Queen of England were unable to convince several expert observers that they are not the same person. Leading skeptics cite each head of state's legendary ability to stay the course at exactly the wrong time, as well as the unusually high rate of attrition amongst each leader's underlings. Most experts, however, point to the distinct lack of Queenisms as hard proof they are in fact separate entities.
Change or Die
We like to keep ourselves bitter and cynical here at the Weekend Desk, but even we've got to tip our hats to the innovative spirit of Merck Pharmaceuticals. When no one wants to pump your expensive new vaccine into their prepubescent children, find yourself a whole new market!
Sushisamba Real
The Sun-Times this week exposed a wide-ranging fraud in the world of big-city sushi. Oh, Sun-Times. It could be so much worse. We hear soon the fish will be coming pre-cooked.
Joyless Division
In other news, duh.
*
Catch up on the week's Papers and the Weekend Desk archive here. Send messages of love and hate here.

Posted by Natasha Julius at 8:25 AM | Permalink
May 11, 2007
The [Friday] Papers
Lots to catch up with today, from the indictment of Fast Eddie Vrdolyak to the total humiliation of possibly the nation's worst governor (ours) to why the Brewers are better than the Cubs. And of course, this column wouldn't be complete without another Olympic lie told by the mayor and, truly, most important of all, his continued evasion of questions about police torture he appears to have known about all along.
1. The Tribune lays it out quite nicely on its front page.
"Edward R. Vrdolyak was given the name 'Fast Eddie' for his wheeling and dealing in politics and real estate, but it also described his ability to stay ahead of the packs of investigators and regulators who so frequently poked their noses into his business.
"On Thursday, the U.S. attorney announced that the former City Hall powerhouse now shared a distinction with other legendary Chicago politicians: a federal indictment.
"Though long and legally complicated, the indictment ultimately describes a simple local act - Vrdolyak allegedly got a contract where the fix was in, agreeing to kick back a taste to the connected official who steered the deal his way."
I'm not sure it could be said any better.

2. "Fast Eddie has been on the edge for so long that I figured he'd take up space in the trunk of a car before he'd ever take up space in federal court," John Kass writes in the day's must-read commentary. "I always thought he was too smart to get caught, too quick, too fast. But it looks like they finally got him."
3. The governor lost a vote on his signature gross receipts tax proposal yesterday 107-0. I didn't see it in any of the reports I saw this morning, but has that ever happened before? A complete shutout?
Seeing the disaster coming, the governor actually asked legislators to vote against his plan so, you know, discussion of the proposal could continue. Don't pass it just yet, I'm not done talking!
Of course, that was the governor's pathetic attempt to spin resounding defeat into political victory.
Worst governor in the country?
3. Seven House members voted present. So the governor is right when he says it could have been worse.
4. The Christian Right might determine the next American Idol.
5. "This week, Paula called Blake a 'contemporary rebel' for the way he beatboxed to Bee Gees songs in fasletto," the Sun-Times's Doug Elfman goes on to say. "That would have made him a rebel in 1983, maybe. Also a dork."
6. "I don't like the locker-room culture, don't respect it," Sun-Times sportswriter Greg Couch wrote this week. "In pro sports, you see 25-, 30-, 35-year-olds still leading their lives as the cool kids in high school.
"It's anti-woman, anti-nerd, anti-IQ. I was in the White Sox' clubhouse last year when Sergio Garcia was on TV in a yellow golf outfit, and the players watching were joking about his masculinity. In the words of Beavis and Butt-head, 'Heh, heh. Heh, heh.'"
7. "Former New York Mets manager Steve Phillips told Dan Patrick on ESPN Radio that he remembered players drinking after games to help themselves come down off the amphetamine high," Couch writes.
The Trib's Phil Rogers wrote recently that some athletes smoke pot after games to help them sleep.
Not to get all Breakfast Club on you, but maybe jocks have more in common with the burnouts than is typically recognized. Not to give burnouts a bad name . . . and lay off my pals Beavis and Butt-head, Couch! I love those guys.
8. The Sun-Times's Chris DeLuca notes that ballplayers no longer stick around after the game for a few beers and baseball talk. That's what was so great about guys like Mark Grace and Rod Beck. It was an indication that they loved being at the ballpark; it wasn't just a job. And camraderie was valued.
Same thing in the newspaper world, as has been lamented for years. You loved your job so much you didn't want to be anywhere else. Now it's a rush to the Metra.
Why?
Is it just changing attitudes toward alcohol? Or something more - corporatization, big money, lifestyle changes?
I agree that alcohol in a clubhouse can be a problem, and there's nothing romantic about drunken sots editing your copy, but I'd also like to live in a world where ballplayers - and newspaper reporters - talk shop after work over a few beers. And preferably not at the god-awful Billy Goat. A real newspaper bar has real people in it, not pretenders and tourists, not to mention a kick-ass jukebox. I think you know what I'm getting at.
9. Why did Luis Gutierrez endorse Mayor Daley? In exchange for a promise Daley didn't keep, Ben Joravsky reports.
10. "Many users see the plans to bring the Olympics to Washington Park as a proxy for a larger strategy: pack 'em up and move 'em out," Joravsky reports in this week's Reader.
Oh come on! That sort of thing doesn't happen around here - and before everyone's eyes.
11. When the cicadas come, don't reach for the bug spray. It won't do any good.
12. Why aren't these questions published on the front page of the Chicago dailies every single day? The same questions. Over and over. Unless or until the mayor responds. That's newspapering.
13. "While our fuel standards haven't moved from 27.5 miles per gallon in two decades, China and Japan have surpassed us, with Japanese cars now getting an average of 45 miles to the gallon," Barack Obama said in a speech this week to the U.S. auto industry.
"I'm not sure where he got that figure," a Toyota spokesman told the Tribune's Jim Mateja. "No carmaker gets 45 mpg. Ours is closer to 30 mpg."
Writes Mateja: "If elected president, perhaps Obama's first appointment should be a fact-checker."
Well, it's not like it's a pattern or anything.
14. I'm not impressed with the ability of Conrad Black's lawyer to show that David Radler is a liar with a poor memory. First, any defenses that relies on the theory that the star witness is lying in exchange for a plea deal is relying on a theory of last resort that almost never works. Second, while succeeding in making Radler (and Jim Thompson) look like idiots, a jury is more likely to conclude they were all in it together, rather than concluding that incompetent colleagues are to blame for the defendant's actions.
15. Couch again (hey, he's good):
"[The Brewers] built a team using something the Cubs have never had: A plan.
"This is a homegrown team. Turns out, you can draft players, develop them and have them succeed in the majors. Who knew?"
16. "Red Line Trains To Reroute."
Will become Pink Line. Pink Line will become Blue, Blue Line will become Brown. Orange Line will run in reverse.
The Beachwood Tip Line: Stay for a beer.
Posted by Beachwood Reporter at 9:16 AM | Permalink
PressNotes: Blood, Ink & Dictionaries
News from Chicago's academic presses.
1. UNIVERSITY OF CHICAGO
Off the Presses
* Black on the Block: The Politics of Race and Class in the City: Mary Pattillo
* When the Press Fails: Political Power and the News Media from Iraq to Katrina: W. Lance Bennett, Regina G. Lawrence, and Steven Livingston
* Real American Ethics: Taking Responsibility for Our Country: Albert Borgmann
* Chicago Architecture: Charles Waldheim
* Sprawl: Robert Bruegmann
See/Do
* Exhibit: Cosmophilia: Islamic Art from the David Collection, Copenhagen
Through: 5/20/2007, from 10:00 AM - 4:00 PM
At: Smart Museum of Art, 5550 S. Greenwood Ave
* Exhibit: The Meaning of Dictionaries
Through: 7/6/2007, from 8:30 AM - 4:45 PM
At: Special Collections Research Center, Regenstein Library, 1100 E. 57th Street
* Lecture: "Unseasonable Thoughts on Imperial Dispositions: Beyond Learned Ignorance and Bad Faith." A Chicago Center for Contemporary Theory Lecture by Ann Stoler, New School for Social Research:
On: 5/17/2007, at 2:00
At: Social Sciences 122, 126 East 59th Street
2. NORTHWESTERN
Off the Presses

* Waiting for Gautreaux: A Story of Segregation, Housing, and the Black Ghetto: Alexander Polikoff
* The Yellow Journalism: The Press and America's Emergence as a World Power: David R. Spencer
* Bridges of Memory Volume 2: Chicago's Second Generation of Black Migration: Timuel D. Black
See/Do
* Film: Terra Incognita: the Promise and Peril of Stem Cell Research
On: May 16, 200, at 7:00 pm
At: The Ryan Family Auditorium, Technological Institute, 2145 Sheridan Road, Evanston
* Lecture: "After Hegemony?" By Perry Anderson, Professor of History at UCLA.
On: May 15, 2007 at 5:00
At: The Lower Level Conference Room, Chambers Hall, corner of Foster and Sheridan, Evanston
* Lecture: "Information Transparency: Materiality and Mimicry in the Journalistic Field and Beyond." By Pablo Boczkowski, Professor of Communications at Northwestern.
On: May 18, 2007, noon
At: University Hall, Room 201, 1897 Sheridan, Evanston
3. DePAUL
See/Do
* Exhibit: "Blood and Ink: Disasters of War from Goya to the Chapman Brothers"
Through: June 15, 2007
At: De Paul Art Museum, 2350 N. Kenmore
* Theater: "Good Worker," written by Isaac Holter
Through: May 20, 2007, Wed-Sat at 7:30, Sun at 2
At: Athenaeum Studio Three, 2936 N. Southport
4. LOYOLA
See/Do
* Lecture: "Surrounded by Terror: Life and Death in Occupied Poland During World War II." By Mark Suszko, Professor of History, Loyola.
On: May 22, 2007,at 6:00
At: Simpson Lecture Hall, 820 N. Michigan
Posted by Beachwood Reporter at 8:05 AM | Permalink
What I Watched Last Night
If America Ferrera wasn't such a magnetic rock holding Ugly Betty together, this show would run the real risk of Will-and-Gracing itself with a wicked cast of supporting actors that outshines the leads. Marc (Michael Urie) and Amanda (Becki Newton) steal every scene they're in.
*
Memo to Ask.com's ad agency: Is it really necessary to have the father-son conversation about search engine algorithms happen while the oh-so-smug daddy sits in the tub? At least they didn't throw Jeeves into the mix too.
*
Funtivities and chicken heads! It's Beach Day at The Office everyone! Thinking he's up for promotion, Michael uses an office outing to "scenic Lake Scranton" to choose his successor, complete with Survivor-esque egg races, a hot dog eating contest, and walking on hot coals. Wrap your mind around your feet.
(Note to self: Don't watch while eating Cocoa Puffs for dinner. It's too hard to hear the dialogue over the crunching.)

Highlights from tonight's episode:
- Dwight hoping the funtivities include "office parables."
- Andy and Dwight dressed in samurai fat suits, bouncing off each other in the ring.
- Pam: "There's nothing better than a beautiful day at the beach filled with sun, surf, and , uh, diligent note taking."
- Andy wearing his fat suit, falling into the lake, and gently floating away.
- Kelly comparing Bob Hope to Amanda Bynes.
Like all great episodes of The Office (and this season has been chock full of them), amidst the sharp wit and hilarious gags, they've surprised us with yet another heartfelt moment, catching us off guard along with the rest of the Dunder Mifflin staff and endearing us to these characters all the more. How great has it been to watch Pam gain the courage that Michael wished for her in last week's episode. Pam, you go girl!
*
Filling the long absent role of caustic ER chief, Stanley Tucci joins the staff, pissing off colleagues and alarming patients with his charming bedside manner in less time than it takes to say "rapid response team." I looking forward to watching him shake things up. His first job should be kicking John Stamos to the curb. Maybe there's a Full House reality show reunion script waiting for him where he stages an intervention for the Olsen twins.
-
Catch up with the What I Watched Last Night archives.
Posted by Beachwood Reporter at 7:42 AM | Permalink
RockNotes: Bowzer vs. The Replacements
1. If you met Bowzer from Sha Na Na, would you be "star-struck"? Moreover, would you do his political bidding? Apparently bowled over by the who-knew star power of the 1970s doo-wopper, that's what legislators in 10 states have done, according to the Associated Press, which reports that Tennessee, the birthplace of rock 'n' roll, has passed Bowzer's Law (my name for it), which makes it illegal to pass yourself off as an original 1950s vocal group.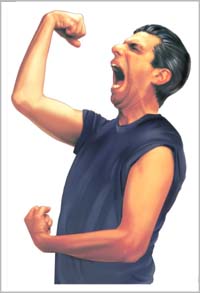 The report says Bowzer celebrated the Tennessee Legislature's unanimous passage of the new law by performing the single most famous doo-wop riff, the bass part of the Marcels' 1961 hit cover of "Blue Moon," before "star-struck" state officials. You'd think that with all the music industry icons tripping over themselves around Nashville, it would take more than an appearance by a nearly-60-year-old faux greaser to get the girls at the Capitol to throw underwear. But then, maybe Kenny Chesney and his posse don't work their way up the hill very often.
Bowzer is in charge of an effort by the Vocal Group Hall of Fame Foundation to make sure that original doo-wop outfits like the Platters, the Drifters and the Del Vikings don't get ripped off by the seeming legions of imposters out there that go around exploiting the good names of the original artists. I guess I didn't know the county fair circuits were still in the market for doo-wop groups - apparently so much so that the army of cheap knock-offs it has spawned requires special laws to keep them in check. The Great Pretenders, indeed.
I suppose I agree that these early R&R pioneers need all the help they can get - they were basically robbed blind by unscrupulous producers, record labels and venue managers from one end of the boardwalk to the other, and it would be nice if the survivors were able to scratch out some coin without their names being cheapened by yet more skullduggery. I guess it's just the idea that it's up to someone from Sha Na Na, which launched the tradition of imitating these artists in the first place, to protect them. The irony is as thick as the grease in Bowzer's hair.
2. While Bowzer is fighting for them in the political trenches, ancient pop stars like the doo-wop era people are also seeing a bit more money thanks to the coming of the digital age. iTunes and Rhapsody are proving instrumental to introducing '50s and '60s rock and pop to new audiences thanks to the fact that consumers can buy singles again, just like the original fans of the Chiffons and the Drifters did. Albums killed the doo-wop stars, after all. Their medium was the 45 rpm buck-a-copy single. Now it's back at a buck-a-download.
The Los Angeles Times says online sales of "deep catalog" songs jumped more than 100 percent between 2005 and 2006. Maybe that's proof that the tight playlists on corporate-owned so-called oldies stations are doing a huge disservice to younger listeners, depriving them of a chance to really find out about their musical and cultural roots. The Times says this phenomenon is helping to once again line the pockets of some all-but forgotten pop stars like Frankie Avalon and members of The Archies. It probably isn't helping the likes of the original mostly black doo-wop groups, who lost the rights to their performances long, long ago.
My hope is that the Internet will eventually break the depressing, self-fulfilling cycle of ever-shrinking, ever-worsening music choices being offered by the half-dozen multinationals that are conspiring with lawmakers to control everything we hear and see. I hope The Man can hear me: Don't cut us off from our Archies heritage, or The People will rise up!
3. As some of you may know, I cut my music geek teeth in 1980s Minneapolis, where as a grad student at the University of Minnesota (and especially at its student newspaper, The Minnesota Daily), I roamed the byways and highways of the city searching out and eagerly devouring anything that smacked of punk rock. In that way I was able to take part in something pretty magical - something that felt very strongly of being almost historic, in its own scruffy, homespun kind of way. It was indeed Seattle before there was a Seattle.
Anyway, a little later on in the '90s, pretty much after the hype had passed, there came a Minneapolis band called Lifter Puller that really caught my fancy, almost totally because of its singer, Craig Finn. He had a unique, dangerous sounding kind of talk-singing that was so strange and powerful that I knew right off it marked Lifter Puller as a fine successor in the long line of local punk bands that included the Replacements and Husker Du. And now it's official: Finn's current band, the Hold Steady, has been anointed "this year's buzz band" by The Guardian. And to celebrate, Finn has penned perhaps one of the best tributes to my so-beloved '80s Minneapolis scene that I have ever read, as a guest column for the British daily. It's an emotional account of how those now-infamous local bands inspired him as an early teenager to break free of the ennui and mediocrity of his wealthy but soulless suburb and find his (truly weird but wonderful) voice through rock 'n' roll.
You can read the whole piece here, but here are a few of excerpts that I most identified with: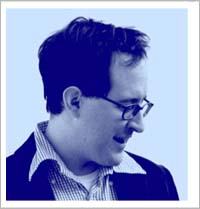 "Early in the summer before the eighth grade, a friend had hipped me to a band called the Replacements. Apparently his older sister knew the bass player, Tommy Stinson, who was just a few years older than us. He told me the band lived in nearby south Minneapolis, and was 'sort of like the Ramones.' I picked up their Hootenanny album. It was sloppy and fun rock 'n' roll, with wild lead guitars and a great sense of humour. The second song on the record, 'Run It,' advised recklessness in the form of running red lights, naming south Minneapolis streets: 'Lyndale, Garfield, Run It!' It was a revelation that such excitement lived so close to me, just a few miles east, an easy bicycle or bus ride. I picked up their remaining records as quickly as I could. It took a 45-minute bus ride to south Minneapolis, to a shambling record store called Oar FolkJokeOpus (diagonally opposite from the CC Club, where the Replacements supposedly drank). But the journeys into the city were part of the excitement, and part of the folklore that existed around the band, both for real and in my head.
"October 1984 brought a change to my life, and also to Minneapolis. It was around this time that I started noticing the graffiti of the local street gangs the Gangster Disciples and the Vice Lords, our local chapters of the national Crips and Blood gangs. Within a year, they had murdered a high school girl in Martin Luther King park, and many years and many murders later, The New York Times dubbed my hometown 'Murderapolis.' Our city's biggest celeb, Prince, had finally become a megastar with Purple Rain. And the Replacements released Let It Be, which still stands as my favourite ever record.
"Like most records, it arrived on a Tuesday, but I wasn't able to get to the store until Saturday. The anticipation was killing me. I didn't even know what the cover looked like. I convinced my father to drive me to the store, and he did me one better by buying the record for me. Even he could tell this one was 'important.' The cover art was a thing of beauty, the coolest known band in the universe just sitting on a roof, looking disheveled and uninterested. I scanned the song titles: 'I Will Dare,' 'Favorite Thing,' 'We're Coming Out.' My father raised his eyebrows at the title 'Gary's Got a Boner' but still shelled out. The record store clerk was kind enough to turn down the volume and point to each of us: 'Cool dad. Cool kid,' he said. I am sure my father doesn't remember that, but I always will."
Thanks for the memories, Craig.
*
Comments? Send them to Don Jacobson at don@beachwoodreporter.com.

Posted by Don Jacobson at 2:40 AM | Permalink
May 10, 2007
The [Thursday] Papers
Last night the news broke on NBC that a group of congressional Republicans had confronted President Bush about the war in an extraordinary White House meeting.
BRIAN WILLIAMS: Tonight we're also able to report new and exclusive details on the politics of the war in Iraq, specifically involving President Bush and members of his own party. For that we are joined by our Washington Bureau Chief Tim Russert. What do we know?
TIM RUSSERT: Brian, all eyes on the Republican Party. How long will they support the president's position on the Iraq war? Yesterday may have been a defining pivotal moment. At 2:30 in the afternoon in the private quarters of the White House, the Salarium room, 11 Republican congressmen had a private meeting with the President, the Secretary of Defense, the Secretary of State, the chief political adviser Karl Rove and the White House Press Secretary Tony Snow and others. It was headed by Mark Kirk of Illinois and Charlie Dent of Pennsylvania.
It was, in the words of one of the parties, the "most unvarnished conversation they've ever had with the president." Another member said he has met with three presidents and never has been so candid. They told the president, and one said, "My district is prepared for defeat. We need candor, we need honesty, Mr. President." The president responded, "I don't want to pass this off to another president. I don't want to pass this off, particularly, to a Democratic president," underscoring he understood how serious the situation was. Brian, the Republican congressman then went on to say, "The word about the war and its progress cannot come from the White House or even you, Mr. President. There is no longer any credibility. It has to come from Gen. Petraeus."
The meeting lasted an hour and 15 minutes and was, in the words of one, "remarkable for the bluntness and no-holds-barred honesty in the message delivered by all these Republican congressmen."

-
Wow. This is the stuff of history.
The Tribune, quite appropriately, played the story atop its front page today, though the print reports all the way around were more sedate.
Illinois's Ray LaHood also attended the meeting, and told the Tribune after that "I've been to a lot of meetings at the White House. I've been to a lot of meetings with the president about the war. This was one of the toughest, frankest, no-holds-barred meetings in terms of the members who were there giving their assessment of where they think things are in their district and their country."
That assessment, according to the chatter on MSNBC last night, was that in increasingly large number of voters in Republican districts are willing to admit defeat and bring the troops home.
"House Republican moderates, in a remarkably blunt White House meeting, warned President Bush this week that his pursuit of the war in Iraq is risking the future of the Republican Party and that he cannot count on GOP support for many more months," the Washington Post reported.
"It was a very remarkable, candid conversation," Rep. Thomas M. Davis III of Virginia told the Post. "People are always saying President Bush is in a bubble. Well, this was our chance, and we took it."
"Others warned Bush that his personal credibility on the war is all but gone," the Post said, echoing the Russert report.
"One told Mr. Bush that voters back home favored a withdrawal even if it meant the war was judged a loss," The New York Times said. "Davis told Mr. Bush that the president's approval rating was at 5 percent in one section of his northern Virginia district."
Meanwhile, Dick Cheney said Wednesday "We've got a long way to go."
*
I could not find the story anywhere in the Sun-Times.
*
Council Closure
The mayor has called a "sneaky" session that will return the current city council to its chambers one more time, but on Wednesday the last regularly scheduled meeting was held before newly elected members take their seats.
Burt Natarus was in fine form.
"I ought to punch you in the nose," Natarus yelled at a cab driver attending the meeting, the Tribune reports.
The cabbie yelled back and was escorted out by a police officer.
Natarus explained to the Trib afterwards that "he had goaded the driver by falsely claiming responsibility for the loss of his city taxi license."
Nice.
"I did that to entertain myself," Natarus said.
*
Like many other reporters in the city, I have a Burt Natarus story. Several years ago I wrote a story while at Chicago magazine called "The Mayor's To-Do List" or something like that. It was basically a look at the possibilities of the mayor's agenda after it was clear he had taken complete control of the city.
One of the items mentioned one of many examples of negligence toward a historic building, one that was in Natarus's ward. It was maybe a sentence or two in a much broader, wide-ranging think piece.
My phone rang one day and a voice said "Alderman Natarus would like to see you."
"Um, okay," I said. "Should I schedule an appointment?"
"No, he wants to see you right now."
Well, I was kind of busy right then, but I did go see him a few days later and he complained about how I had characterized the handling of the building in question and my failure to call him for comment. Well, it wasn't really that kind of story, but in my further questioning he talked himself around to agreeing that what I had written was dead-on. We ended up talking about Wisconsin and beer, and he gave me one of his bobbleheads, which right now is sitting atop my TV. His head shakes every time the El goes by.
A short while later I was working on a story about Block 37, in Natarus's downtown ward, so I naturally called him.
"Why should I talk to you?!" he bellowed. "All Chicago magazine does is make fun of me!"
Wha???
"Look," I said, "a few months ago you called me to your office and complained that I hadn't called you about a story. Now you're complaining that I have! I don't care one way or another, but just for future reference, do you want me to call you or not?!"
He spoke to me, non-linearly of course, and I never had reason to call him again.
*
Natarus went a full year not speaking to Cate Plys when she was writing a Sun-Times column that most often was about the council. Cate writes about that in her sendoff to Burt today in Open Letter.
*
Burt Natarus's Exit Interview with the Beachwood.
*
In What I Watched Last Night, I note that Dorothy Tillman claimed she was leaving office with her record "unblemished" - a statement unchallenged by a media more fascinated with her hats (enough, already!) than her blemishes.
Shirley Coleman yelled "I'm free!" though she ran for re-election and therefore didn't seem to hold her job under duress.
*
Columnists John Kass and Mark Brown were also at the meeting. Kass notes in his piece today how Ted Matlak pathetically tried to get in a last word with the mayor while his family was in tow and was rebuffed. Brown writes through the prism of Quiet Ted Thomas.
The Beachwood Tip Line: Our own special session.
Posted by Beachwood Reporter at 9:04 AM | Permalink
What I Watched Last Night
I don't care what anyone says, TV brings you the world. It's not always pretty; in fact, rarely so. But there's hardly a better medium to capture the culture right now than a day and night of television, from Rosie O'Donnell on The View and the multiple layers of The Price Is Right (Bob Barker's longevity, the gaming of household consumerism, the total melding of editorial and advertising) to the voyeurism and moral judgements of Judge Judy and Dr. Phil to the latest news out of Iraq bumping up against reruns of M*A*S*H.
And that was just yesterday.

Actually, I didn't watch The View yesterday, but I'm one of those who came to start watching because of Rosie O'Donnell. She's a talented broadcaster. I was also strung along by the hope that any morning could be the one in which she would make Elisabeth Hasselbeck (born Elisabeth Grace Filarski) cry.
Here's what I did watch.
*
Looked up from my laptop when I heard an articulate, strong, fun, and insightful voice making sense about sports and discovered Jemele Hill, on what I thought was Cold Pizza but what I guess is now called ESPN First Take.
While discussing Barry Bonds, I heard Hill say something like "Great records happen to bad people" and I was hooked.
*
A real corker on Dr. Phil!
On addiction, of course. Those are the ones I love best. And let me tell you, Dr. Phil took it to the house!
To the mother who smoked pot with her son when he was something like 14, Dr. Phil said "You know how I can tell when you're lying? It's your lips. They move."
*
Saw someone from Americans United for Separation of Church and State on CNN saying we need less religion in our politics, not more. Sent me to my pile of news clippings for a front page story from the Tribune on Sunday I meant to comment on, "Democrats Find Religion On Campaign Trail." My comment: Please don't. It only makes you look weak and pandering. Be the party that stands up for the right principles and values, not the party of hypocritical televangelists posing as public officials.
*
Last city council meeting for a handful of ousted incumbents. Saw some vide on Chicago Tonight.
- Dorothy Tillman is proud of a 24-year-record without any blemishes. Without any blemishes! And invoking Dr. King in every sentence is the worst kind of unseemly exploitation of a dead hero who wouldn't like you much. I didn't know Dr. King, but I'm pretty sure he would have voted against you.
- Shirley Coleman yelled, "I'm free!" Didn't know you were being kept in the council against your will. Maybe you ought to refund all those contributions to your re-election campaign. Or maybe it was your contributors who enslaved you.
_ Burt Natarus looked back on 36 years in the council and came up with this insight: "I remember the old seats, they didn't fall apart. Now we have the new seats." He also said the horse diapers he's inextricably linked with proposing was actually all Jane Byrne.
Chicago Tonight then moved on to rising gas prices and I was outta there.
*
Alice reruns, Channel 38, Ion TV. Episode: Alice by Moonlight. "Alice's moonlighting job as a nightclub singer is taking its toll on her waitress job."
*
How 'bout Dream Plan Kill?
*
Twins-Sox.
Hawk Harrelson is quite possibly the worst announcer in the history of humankind. My general rule on those rare occasions when I try to watch a White Sox game is that once he says "duck snort" I'm gone.
Announcers should not be hired the teams they cover, of course. Harrelson is a White Sox employee, and another good reason to hate the White Sox. It's just childish.
"2-0 good guys!"
Please.
"Duck snort" came at 7:24:44.
I couldn't hang in there, even to watch my Twins.
*
Buffy of Family Affair has died of "a massive drug overdose."
Didn't that happen a long time ago?
Yes. Thirty-one years ago.
This is The O'Reilly Factor, so not always right on the news.
Apparently the hook is Britney Spears and Lindsay Lohan and the kooky kid stars of today.
Though the fates of Buffy and Jody, who was a crackhead for seven years, seems to indicate that child star problems are nothing new. But this is O'Reilly. Logic is heathen. (Though one thing many of his critics miss, like with Rush Limbaugh, is that he is truly a broadcasting talent. He may use that talent for evil, but still, that's why he's successful.)
"So it was wreckage across the board for the little children," O'Reilly says to his guest, Kathy Garver, who played older sister Cissy.
Garver now runs Genesis Creations Entertainment. CORRECTION: Garver can be reached through the Genesis Creations agency; she does not run it.
Garver suggested "pre-hab" to keep celebrity children and teen stars out of trouble. The rest of us already have pre-hab - it's called high school.
*
Why are investors jumping to Scottrade?
I'm not sure, but it's not because of their annoying commercials.
*
It's so funny that when Cubs fans notice the WGN cameras are on them, their first reaction is to raise their beer cups and go "Look! I'm drunk!"
I mean funny sad. Not the drunk part, just advertising it like a buffoon.
*
Lately I've come to watching really bad TV as a way to relieve stress and clear my mind of any sort of actual thinking. Kind of like yoga. Usually that means a few minutes here and there with Entertainment Tonight or Access Hollywood. It also means occasional tracking of American Idol.
At first, like many others, I just enjoyed watching the opening rounds to see how horrible the contestants were. Once the show was treated like a serious singing competition, I would bail.
But a couple of times I've hung in there for a whole season, and I've pretty much hung in there on this one. If Melinda Doolittle doesn't win, a grave injustice will be done. But more than that, I really want to express here and now how much I hate that frickin' Blake. He's a one-trick pony. And it's not a great trick. Beat boxing, please. There are better beat boxers in any park in Chicago. With those preppy sweaters and look-at-me arrangements. Gaaawwwd!
Please vote him off, America.
*
Inside Brookhaven Obesity Clinic is one of those sad shows that is one part freak show, one part educational documentary, one part something else we haven't quite identified yet.
I watch a lot of these sorts of shows. You actually can learn a lot about human behavior and what drives it.
*
It was "Yankee Doodle Doctor" on M*A*S*H. Some things never change.
*
Check out the What I Watched Last Night collection.
Posted by Beachwood Reporter at 5:54 AM | Permalink
Open Letter
Thank you for not speaking to me for an entire year when I was writing a column for the Sun-Times, often centering on the Chicago City Council. Truthfully, I can't remember exactly what I wrote to prompt such an uncharacteristic response from you. But I do know there were many at City Hall who wished they knew my secret.
I do recall the first time you yelled at me, back in 1998. You came over to the press box and screamed that you were going to report me to the Jewish Defense League for anti-Semitic writing, and I believe there was some talk of a possible JDL lawsuit.
This was because I mentioned, at the end of a column, your announcement to the Council that you and Ald. Berny Stone would soon visit Israel and the Western Wall.
"It is a custom to go in front of the Wall and wish certain wishes," you declared. "If any of you would like to put that wish on a piece of paper and seal it and give it to Ald. Stone, who is more religious than I am, we will be glad to place these pieces of paper in the Wall."
Now, this is what got you: An alderman standing near me muttered his wish - "Yes, that Ald. Natarus would quiet down a bit."
That was it. That was all it took. The odd thing about you, Ald. Natarus, was that you never shouted at me for the substantive critical things I wrote, only the throw-away lines.
For instance, after Ald. Lorraine Dixon died, I wrote a column about how impressive she was as president pro tempore. Dixon presided over Council meetings whenever Mayor Daley was out of the room, which usually included unpleasant debates. Nothing ruffled her. The only time I heard her sound alarmed, I noted, was when you said you were going to tell an Ebonics joke.
Rather than yelling at me personally, you went to the Sun-Times Building, found editorial page editor Steve Huntley, and yelled at him instead, insisting you never said anything about an Ebonics joke. It isn't often in this world that we are given the gift of being able to make one person completely, utterly happy. You gave me this gift. I'll never forget Steve's reaction when I told him I had it on tape. Later, you came back to the Sun-Times to hear Steve play the tape, and apologized for the fuss. Good times.
Now, your recent defeat in seeking a tenth term representing the 42nd ward is not quite on the same level as America throwing out Ford for Carter, Carter for Reagan, or even Bush I for Bill Clinton. Still, after 36 years, you've talked your way into the story of Chicago. Naturally you must wonder: How will history treat Burton Natarus?
Why wait. Let's get started right now.
I believe that future public assessments of you will, at least in part, be radically different from current common wisdom. This will not necessarily reach the level of Harry Truman's post-presidential transformation from small-time huckster to beloved common man. For one thing, it would be impossible to title any book by or about you Plain Speaking.
Throughout your public career, you have been vilified in two major ways: First, as a willing tool of out-of-control greedy developers, which has made you the enemy of preservationists; and second, as a buffoon endlessly fulminating about the petty grievances of urban life, which has made you the alderman most likely to say "poop" or its synonym on the Council floor.
On the first count, history is not likely to vindicate you. North Michigan Avenue is an architectural travesty, even if it features more tulips right now than Holland and Holland, Michigan, combined. It is only the most glaring example of your lack of architectural stewardship. If we think of you as a shepherd watching over a flock of historically significant buildings, you would be the boy who never cried "Wolf!". Even when the wolf was careening toward the herd in a bulldozer, with John Buck riding shotgun. I guess it's hard to yell when you're practically choking on $22, 864 in campaign contributions from real estate interests.*
However, I think people will someday come to laud your prescience in crucial matters like horse shit, dog
shit, overzealous street performers, and insane roller bladers. Am I the only person in town who has been nauseated by horse droppings, stepped in dog excrement, deafened by people beating on plastic buckets, and nearly killed by an errant roller blader? Of course, that didn't all happen to me in one day. But it could have.
Not long ago, I wrote about the person who let their dog defecate at the corner of 58th and Kimbark, thus ruining my ten-year-old daughter's favorite shoes. My idea then was to establish a city-wide DNA database of dogs, so negligent owners could be ID'd by the DNA in their dog's shit. I suppose some people would not treat that as a serious public policy proposal, but I think you would understand. Unfortunately, now it's too late.
You were right about driving and cell phones, too. It's ridiculous that the ordinance had to be watered down to allow people to talk on headsets, but hey - you tried. I'm beginning to think cell phones should be banned anywhere outside the user's own home, I'm that sick of them.
Until September 11, 2001, Rudy Giuliani built his entire political career on this type of stuff, and New York City is infinitely better off for it. But I'm not going to suggest that you should run for mayor now. That could still get you in trouble.
I sincerely hope you'll thrive in retirement. Spend time with your beloved dogs. Go whitewater rafting more often - you used to love bringing photos from your rafting trips over to the press box. You may miss the occasional yelling, because I think you enjoyed that part too. If so, give me a call anytime.
Sincerely,
Cate Plys
* Developing Government Accountability to the People (DGAP), a citywide coalition of community groups, issued "Report Card for Chicago 2006" detailing campaign contributions to aldermen. Contributions from "Real Estate Construction Development and Management" totaled $1,758,760. Yours was the largest take from that pot, Ald. Natarus, at 13 percent.
-
Open Letter is open to letters. Send comments to cateplys@sbcglobal.net. And catch up with the classics in our Open Letter catalog.
Posted by Beachwood Reporter at 12:36 AM | Permalink
May 9, 2007
The [Wednesday] Papers
"Investigators of steroid use in baseball are seeking medical records from at least two of the game's premier sluggers over the past dozen years, Sammy Sosa and Rafael Palmeiro, along with records from dozens of other players suspected of using performance-enhancing drugs, a baseball official with direct knowledge of the request said," The New York Times reports.
"I don't want to talk about that thing," Sosa said when asked about the investigation before last night's game against the Yankees. "No comment."
Olympic Spirit
* Glasgow 2014 Committee Releases Bid Book Online.
* Vancouver 2010 Committee Releases Balanced Budget.
* Chicago 2016 Committee Won't Release Revenue Forecast.

Insuring Secrecy
Chicago 2016 Committee Chairman Patrick Ryan won't even say which insurance company has promised to provide a $500 million policy.
Hmm, let's see. Who does the mayor know who is in the insurance business?
KidNews Put To Bed
Once a free-standing section, then a weekly back page, now the Trib's KidNews is the latest to succumb to budget-cutting that somehow presumes that giving readers less is a winning strategy toward increasing . . . readership.
On the other hand, while the Trib's Eric Zorn asks readers what they think is the best way to get kids to read the paper, maybe the question ought to be what the best way is to get kids to read a newspaper's website. Just musing.
Hole In The Story
I wanted to say that the rendering for this building looks pretty cool, but the Trib didn't put that part online. Too bad; even kids would have enjoyed looking at it.
Diet Fad
Are diets a waste of time? This fascinating article pretty much says yes.
Rahm's House Organ
"Naftali Bendavid, the Tribune's deputy Washington bureau chief, was given 'insider access' to Emanuel's operation, expecting to write a newspaper article. When the Democrats triumphed, he expanded it into The Thumpin': How Rahm Emanuel and the Democrats Learned to Be Ruthless and Ended the Republican Revolution. It's a 218-page celebration of Rahm," Salon reports.
Just what we need - unsupported assertions stretched to book length.
Threadcount
Aides billed a recent speech Emanuel gave at the Brookings Institution as "a broad and far-reaching indictment of the GOP and the Bush administration that seeks to find a common thread in all the GOP scandals from the Attorney Purge to the Katrina failure to the mendacity that brought us the Iraq war," TPM Cafe reported.
He asked Mayor Daley for help constructing a common thread of corruption flow chart.
The Divider
Barack Obama celebrated Cinco de Mayor in part by calling it "a day for all of us to commit to comprehensive immigration reform, so we can secure our borders while offering the twelve million who are here illegally the chance to step out of the shadows."
I didn't see any of the coverage mention Obama's vote in favor of George W. Bush's 700-mile fence on the Mexican border.
Dining Dope
"Coffee, tea and sodas, for example, typically cost restaurants 15 to 20 cents per serving, and pasta, which costs pennies, can be dressed up with more expensive fare and sold for $25 a dish or more. At a fine-dining restaurant, the average cost of food is 38 to 42% of the menu price, says Kevin Moll, CEO and president of National Food Service Advisors. In other words, most restaurants are making roughly 60% on anything they serve," reports SmartMoney in "Ten Things Restaurants Won't Tell You."
At the same time, however, profit margins for most restaurants, as I understand it, are razor-slim. Just sayin'.
Strategic Thinking
Yet another example of what drives me crazy about modern political reporting, which instead presents itself as a conversation between strategists and journalists about how best to manipulate voters, who are presumably out of the room. This one is about what Republican presidential candidates should say about President Bush.
"Mr. McCain's advisers said their candidate, who spent the day at his condominium in Coronado, expected - and welcomed - an opportunity to expand on his differences with the White House," Adam Nagourney of The New York Times writes.
"[B]ut it is a risky strategy, as even Mr. McCain's advisers acknowledged, and it is one that has been explicitly rejected by aides to Mr. Giuliani and Mr. Romney over the last few days as they have assessed Mr. McCain's decision. Advisers to both Mr. Romney and Mr. Giuliani said that it was foolhardy to attack a president who remains so popular among Republican primary voters, and that Mr. McCain, whose position with this group was already shaky, was making a mistake by moving in effect to a general-election strategy before he had won a primary."
So once again a journalist is assessing various strategies for misleading voters for electoral gain, rather than measuring candidates' strategies against their professed values, beliefs, and policy positions.
An alternate way to write the story is to say that the Republican candidates for president are making strategic decisions about whether to hide their true feelings about the president, based on how they think they can best deceive voters.
Blame Game
Larry McCarthy, director of training, Community Investment Corp., wrote to the Sun-Times recently:
"In the April 24 story, ''Broken homes, broken promises,' Antoin 'Tony' Rezko associate Daniel Mahru was quoted as saying that their buildings with low-income tenants failed because '[T]here's no money in affordable housing . . . there's no money to clean it up or fix it up.'
"I strongly disagree. Often, buildings in housing labeled 'affordable' fail because they are poorly managed and/or undercapitalized. Blaming the tenants is neither appropriate nor necessary. Community Investment Corporation and other agencies provide training for landlords that is widely available at low cost. And we have many dozens of our borrowers who will refute the claim that there's no money in affordable housing. Perhaps Mahru and his partner just couldn't cut it in a business that requires a professional approach."
Global Hysterics
* "Migratory Whales, Birds Confused By Warming: U.N."
Maybe they were watching this.
- Tim Willette
Daily Obamathon
* "'What's stopped us is the failure of leadership, the smallness of our politics - the ease with which we're distracted by the petty and trivial, our chronic avoidance of tough decisions,' Obama said in his announcement speech. But a closer look at the presidential candidate's record in the Illinois Legislature reveals something seemingly contradictory: a number of occasions when Obama avoided making hard choices," The Rothenberg Political Report says.
* "Obama spent more (taxpayer) money on trips than any other first-term senator," CBS2 says.
* A little while back on Week in Review, just catching up.
Channel 7 political reporter Andy Shaw: [Obama] is testy For someone who has benefited from the most hype driven rise to the top of anyone I've seen in years . . . he's gonna have to show a much tougher hide . . . he's prickly and oversensitive . . . coddled by the media for so long.
Air Wars
Airfare deals too good to be true. Or not.
The Beachwood Tip Line: Probably on your side.
Posted by Beachwood Reporter at 9:17 AM | Permalink
Cab #5514*
Date Taken: 5/9/07
From: Wicker Park
To: Loop
The Cab: A controlled environment. Aside from a discarded Sun-Times in the back seat, both clean as a whistle and neat as a pin. But so much more. What with the fruity aroma and vibrant Vivaldi. it was like Ravinia in there - without the insufferables. (For some reason I wanted it to be Vivaldi, but I really have no idea.) Add the light use of air conditioning and plump seating and I felt like I was traveling in a bubble. That would not last.

The Driver: A mysterious, curly-haired youngish man with shades. He said not a word. He created an environment in that cab, he wasn't going to ruin it.
The Driving: We started out stuck in congestion on North Avenue; nothing was moving. Driver #5514* remained calm and patient. His only show of emotion came with a slightly curious look at a bunch of guys trying to transport a disassembled grill in a grocery cart. He didn't smile, but I saw his head turn slightly as he took a look. Driver #5514* made what I thought was a dubious decision to take the Expressway (destination: 33 East Congress). And I was uncomfortable with the way he stopped at the entrance ramp's red light when there was clearly no reason to. But boy did he make the right call. I felt like I was aboard Street Sense, coming from behind to make up for lost time and passing every car in front of us one by one, with the crowd cheering us on. And a ride so smooth at one point I thought, "What shocks!"
Unfortunately, the perfect ride ended badly. First, coming off the Expressway onto Congress at Wells, Driver #5514* uncharacteristically made a nausea-inducing lurchy stop. Then I noticed how hot it had become in my perfect bubble. The rest of the way my driver drove agitated. What happened? Did he see me taking notes? Had some glitch switched in his head?
I finally arrived at my destination, paid my fare, got out of the cab, and realized I suddenly no longer had my little notebook with me. Somewhere in the transfer of receipt (kept neatly in a pouch on his visor), cash, change, and holding on to my cell phone , pen, and New York Times, I must've dropped the notebook in the cab.
I'm pretty sure my phone number was on the inside cover, but I nobody has called. If you told me something important recently that I wrote down in that notebook, please let me know.
In the meantime, a lesson learned for the billionth time: Nothing good, even a cab ride, lasts. That's just not the world we live in.
Overall rating: 3.5 extended arms.
- Steve Rhodes
* To the best of my recollection, given my lost notebook.
-
There are more than 6,000 cabs in the city of Chicago. We intend to review every one of them.
Posted by Beachwood Reporter at 8:01 AM | Permalink
What I Watched Last Night
Tuned into the Cubs game last night in the bottom of the 7th inning to find that REO Speedwagon frontman Kevin Cronin was in the booth with Len & Bob. Whoa! Are you telling me I missed Kevin Cronin singing the national anthem?
Or, as Cronin would do it, sing-ging the na-shun-a-ela an-a-them-a . . .
You have to understand that it's the considered opinion of a few of us that REO's "You Get What You Play For" is the greatest live album of all time, no matter what sins the band went on to commit.
Of course, while the whole band is on fire on "Get What You Play For" and Cronin's vocal phrasing is out-of-hand wild madness, what really makes that album move is the scorching guitar playing of the now-estranged Gary Richrath. So much so that a couple of us Beachwood regulars began a "What Would Richrath Do?" movement a few years ago. Almost always, the answer is "Rock!"
So while Len Kasper threw "questions" to Cronin in the WGN booth last night like, "A lot of your song titles could apply to the Cubs - 'Roll With the Changes,' 'Riding' the Storm Out' . . . " (to which Cronin admirably replied, "When you've written so many songs, you can find enough to apply to anything . . . "), I got Tim Willette on the phone and we came up with the questions we would ask Cronin if we were Len & Bob.
1. So, talk to Richrath lately?
2. He really rocked.
3. What's Richrath up to?
4. Do you think Richrath would put on the bunt here?
5. So, remember when you played with Richrath?
6. If it was Richrath versus the Pirates, who would win?
7. Even mini-Richrath?
8. Does Richrath know you're here?
9. When you threw out the first pitch, were you thinking of Richrath?
10. Are you going over to Richrath's after this?
*
Kasper: You got to roll with the changes.
Cronin: Sure. You got-ta.
*
Cronin: Love to see that aggressive baserunning by the Cubs! Man, that's exciting! That's good baseball.
Shortly after a Cubs player was picked off first base.
*
The Trib's Teddy Greenstein assessed Len & Bob on Tuesday.
"They're a pleasant listen. But they could be better," Greenstein wrote (second item). "Brenly strikes me as overly reluctant to offer opinions, and Kasper doesn't do enough to draw them out."
That's about right, I think. Kasper, in fact, is probably the smoothest play-by-play guy the team has had - infinitely better than the cloying Chip Caray. But, as Greenstein notes, Brenly's problem is that he holds back. We know he knows more than he's telling us, but his instincts are to protect the players and manager.
That's why it was so refreshing at the end of Dusty Baker's reign to see Brenly start to unload.
Brenly interviewed for the Cubs managing job and clearly had a different philosophy than Jim Hendry; Brenly wanted to rebuild the organization from the ground-up and grow from within, rather than buying a bunch of journeymen every year hoping to get lucky with patchwork lineups.
That's the Brenly it would be nice to hear from in the booth. Again, as Greenstein points out, Steve Stone's candor is what made him such a success. He is missed. But Brenly can get there if he really wants to. If he's just waiting for his next manager's job, though, we're out of luck.
*
TV Note: Fans of our regular TV writer Scott Buckner should know he's still with us, just not watching the tube every frickin' night like he was for awhile there. Look forward to more of his crack TV criticism. And if you'd like to contribute to What I Watched Last Night or elsewhere on our TV page, drop us a line.
*
See what else we've been watching in the What I Watched Last Night collection.
Posted by Beachwood Reporter at 7:24 AM | Permalink
RockNotes: Sammy Hagar vs. Les Paul
1. Thursday's Velvet Revolver show at the Riviera is sold out. Why? Maybe it's because no less an expert than Sammy Hagar says they're "the best rock 'n' roll band left on the planet." That kind of endorsement I'm sure sent the fans a'running to their nearest Ticketmaster outlet. It assumes there were only a finite number of rock 'n' roll bands to begin with. Perhaps Sammy thinks they stopped making them after Scott Weiland's Stone Temple Pilots broke up. Now Weiland's got fellow hard rock dinosaurs Slash and Duff with him in Velvet Revolver, so everybody else who believes there hasn't been any good rock since Axl jumped the shark can rejoice this week. Oh, and keep in mind Sammy also endorsed the Bush-Cheney campaign. I guess that means they're the best ol' leaders left on the planet.
2. The controller for the new video game Rock Band will be shaped like a Fender Stratocaster. Players will score game-winning points by smashing it to bits just as they finish up the "Stairway to Heaven" solo. Then they pay about $500 for a new one in order to start the next game. The makers say Rock Band allows you "deeply interact" with the music. Really? Can't you also do that by, say, turning up the stereo really loud, wiggling your hands and jumping around like an idiot - for free?
3. Meanwhile, the man who invented a real guitar, Les Paul, is playing a gig this week in his hometown, Waukesha, Wis. They're honoring him up there on the occasion of the release of a documentary about the man, Chasing Sound: Les Paul at 90. Here's the description of the film provided by its producers:
"The legendary Les Paul, father of the solid-body electric guitar, inventor of overdubbing and multi-track recording, king of the '50s pop charts, rock 'n' roll pioneer, tells his own rags-to-riches story in a performance-documentary by filmmakers John Paulson and James Arnts - with a wall-to-wall soundtrack of the greatest hits from 'Hold That Tiger' to 'My Generation.'
"An artful blend of interviews, vintage film and television clips, recordings, radio show excerpts, still photographs, advertising art, personal memorabilia and a rich variety of location B-roll illustrate Mr. Paul's narrative and examine his accomplishments in the distinctive in-depth style of American Masters.
"Les Paul has been 'chasing the perfect sound' since his boyhood in Waukesha, Wisconsin, when he punched new chords into his mother's piano roll and turned his bedsprings into a radio antenna which would pull in the raucous jazz broadcasts from Chicago and the lonesome harmonica from the Grand Old Opry.
"Irascible, egotistical, indefatigable, an inveterate tinkerer and practical joker, he's the last of that self-educated, brilliantly innovative generation of musicians and media pioneers who revolutionized popular music and re-invented the global culture."
Wow. A bedspring antenna powerful enough to pull in WGN back in the '20s. Now that's an accomplishment that has to be right up there with that whole solid-body thing.
Comments? Contact Don Jacobson at don@beachwoodreporter.com.
*
1. From Scott Buckner:
I was reading today's BR Music article - did Les Paul really invent the solid-body guitar? The Smithsonian may want to disagree. Check out the Rickenbacker Electro Hawaiian (the Frying Pan) from 1931, made out of a solid piece of wood. So would this then be considered the first commercially-produced solid-body electric guitar?
The R&R Hall of Fame says Les didn't build his first guitar until 1941; the Gibson Les Paul didn't come out until 1952.
No big deal - just sayin'.

Posted by Don Jacobson at 1:31 AM | Permalink
May 8, 2007
The [Tuesday] Papers
There will be no column today, I'm swamped with things that need getting done, but if you want a new treat, check out the Mount Lou Alert graphic whipped up by our very own Bethany Lankin at the bottom of The Cubs Factor. We'll be using this every week to alert you to conditions during the volcano season.
And take this opportunity to check out the rest of the site, as always, and all that good yummy stuff in our archives.
*
The [Monday] Papers
Monday monologue.
***
The Civic Federation of Chicago is calling for a hike in corporate and personal income taxes to solve the state's budget problems. If that doesn't work, the Federation suggestions a pay-to-play tax.
***
One budget strategy gaining popularity is for the state let Exelon generate political power while the state would merely distribute it. Without a tax hike, the state could then claim, Illinois would wither away and die.
***
Only in Chicago is it news when thousands of city workers actually show up for work on Election Day rather than attend to the mayor's political needs on the taxpayers' dime.

***
Barack Obama says there is no such thing as MySpace and YourSpace in America, only OurSpace. And he's in charge of it.
***
Hey, what do you expect from a rock star?
***
After screwing his MySpace volunteer, Obama had to run to the bank to deposit another check from Exelon - no wonder they had to raise your electric rates.
***
Obama ran into Emil Jones at the bank and they had a good laugh.
***
"Senate Bill 1381, now in the Rules Committee of the House, would pave the way for even more no-bid contracts in Illinois. It would allow the state to circumvent the bidding process and hire computer technology firms or other minority businesses just as long as - get this - those companies had previously had contracts with other units of government or community colleges."
Guess who runs a minority-owned computer technology firm with government and community college contracts?
***
"The recent screeching outrage over Bears tight end Greg Olsen's obscene rap music back when he was a freshman in college, for instance, was so over-the-top and hyperventilated that it could only have come from those who have never been teenaged boys or never had teenaged sons," the Sun-Times's Rick Telander writes (low in column), without acknowledging that the screeching is mainly emanating from Telander's own paper, which plastered the story on its front page in an effort to exploit the Don Imus cultural moment to boost sagging newspaper sales, then actually asked its music critic to review Olsen's rapping, and then on Sunday put Olsen's photo front and center on its Controversy cover under the headline "Poster Boy For a Ghetto Nation."
In that article, by the way, Deborah Douglas places every pop culture figure she doesn't like in the Ghetto Nation, including Donald Trump, Rosie O'Donnell, and Alberto Gonzales.
Boy, they don't make ghettos like they used to.
***
Does that make the Sun-Times the Newspaper of Ghetto Nation?
***
The Dalai Lama calls for compassion in a speech at Millennium Park. The Daley Lama says there's no room left in the budget for that.
***
"In a survey of U.S. troops in combat in Iraq, less than half of Marines and a little more than half of Army soldiers said they would report a member of their unit for killing or wounding an innocent civilian," the AP reports.
Chicago police chief Phil Cline said he was so impressed he would try to find out the military's secret.
***
"Dumping close to a thousand teachers in one fell swoop sounds like bad news to me," Monroe Anderson writes. "How did CPS hire so many incompetent employees in less than five years?"
One word: Outsourcing.
***
The White House got a lesson in protocol in advance of the Queen's visit, The New York Times reports.
For example, the paper reports that "One does not shake the queen's hand unless the queen offers hers first. And after Her Majesty finishes her meal, everyone's meal is finished."
And if you walk into the bathroom and find her there unexpectedly, you are not supposed to snort a line unless asked to do so.
***
And no, she can't spare a square.
***
The Tribune's Michael Tackett is upset with what he calls the Media Echo Chamber Caucus, which apparently is declaring Obama's candidacy dead.
"I thought we all agreed Obama was Abe Lincoln the Rock Star," Tackett laments. "How can the caucus expect me to echo their punditry if it keeps changing?"
***
The Tribune's Steve Chapman says racial profiling is a myth. Cops don't like white people either.
***
"A change in Hollinger's corporate constitution required at least one member of the audit committee to be a financial expert," the Trib reports. "[Jim] Thompson, the committee's chairman, kept holding meetings even though no one on the committee met the new requirement."
Thompson explained that he believes in original intent.
***
Trib media writer Phil Rosenthal wonders if Chicago journalism is really better off without Rupert Murdoch.
You know things are bad when you're pining for Rupert Murdoch . . .
***
See the commercial where the toughest questioner at a pol's press conference is from RedEye?
If only Rupert Murdoch was still around . . .
***
St. Louis Cardinals manager Tony LaRussa says that removing beer from the clubhouse in the wake of pitcher Josh Hancock's DUI death "was largely a symbolic move since players don't drink much in the clubhouse anyway," AP reports.
Apparently they drink in their cars on the way home instead.
***
Rudy Giuliani indicated during the Republican debate last week that he is a strict constructionist when it comes to the Constitution. For example, when he was mayor of New York City he treated blacks as three-fifths of a person.
***
***
Like John Kass, Kathleen Parker, and Matt Drudge, Sun-Times columnist Jack Higgins doesn't think Hillary Clinton has any business reading hymns written by black people.
"What's next?" Higgins says. "Blacks and whites attending the same prom?"
***
How the Cubs are like the Harlem Globetrotters.
***
Excessive Teen Showering Solved.
Finally.
***
The Beachwood Tip Line: Distributing power.
Posted by Beachwood Reporter at 9:34 AM | Permalink
What I Watched Last Night
St. Elmo's Fire was on last night and I hate that movie on about 50 different levels. First, the movie was an obvious attempt to craft an 80s-based version of The Big Chill. You know what? The Big Chill people were a lot cooler. Second, there's not a single likable character - and I like plenty of unlikable characters, but you like them because they are unlikable. These characters are just loathsome.
I mean, the rebel is a guy who can't break away from his frat house! God, I hated the 80s.
The Brat Pack casting is just demoralizing.
Judd Nelson is the ruthless yuppie with political ambitions who wears suits and suspenders; Andrew McCarthy is the writerly type who smokes a lot of cigarettes and eventually publishes a column about the meaning of life, I mean, gawwwwd! He wears shades and bangs bongos for some, um, writer cred. Demi Moore is the materialistic coke fiend. Emilio Estevez is a waiter at the gang's hangout. Ally Sheedy is Judd Nelson's yuppie girlfriend who strays one night with McCarthy. McCarthy thinks he's in love but Sheedy has to break it to him that, hey, it was just sex. Mare Winningham is the shy, repressed rich girl. She works in social services. And Rob Lowe is Billy Hicks, the free spirit who plays sax and won't grow up.
Question: Why in the world are these people hanging out together? What makes movies like The Big Chill and Diner successful in part is that the bonds between the characters are believable. That and dynamite writing, which is also missing from St. Elmo's Fire.
Yes, it's not a movie worth getting worked up about, except that it stands as a cultural document of the time, and a horror of one at that. Plus, it had that awful John Parr song.
Bad times.
*
On Sunday night I saw the episode of The Andy Griffith Show where Andy meets Helen Crump and decides to court her. (Hey, whatever happened to Andy and Ellie, the lady druggist? Didn't they have a thing going?) I kept trying to picture Andy trying to get into Helen's pants, er, well, women didn't wear pants in Mayberry, but you know what I mean. The show has a complete lack of sexuality even when it comes to dating, although I seem to remember one scene in one episode where Andy was trying to basically make-out with Helen, or at least get a little kiss, in his car. (And isn't it funny how he used his squad car for personal matters?)
I love The Andy Griffith Show, though. The performances are wonderful, and the writing is sharp. You just kinda wish it was real, Andy picking the git with the boys and being all wise running the town and keeping the other folks sane. Don Knotts obviously gave a knockout performance as Barney Fife, one that is still underrated in many quarters, I suspect. It's just a sweet show and Griffith is so believable as Andy Taylor it's hard and disturbing to picture him as a real person in real life.
*
I spun through a bunch of other shows on Sunday night. I've long been a diehard Simpsons fan, but I don't have the patience for it anymore. It's time.
On the other hand, Family Guy is still the best thing around. One of the show's devices is to go beyond the initial punch line and drive a joke further and further, uncomfortably so, like a pregnant pause that is filled up with a joke repeating itself endlessly. On Sunday night we were treated to that once again in the Best Chicken Fight Ever Shown On Television And Possibly Anywhere.
I've come to appreciate American Dad, which follows in the Fox Sunday night lineup, as an underappreciated gem. Oh sure, it can be hit-and-miss, but still. Roger the Alien is the show's Stewie - and guess what? Both are voiced by Seth MacFarlane.
Obviously animated series' have been on the rise on television, and what's fascinating to me about it is how they can be so much more deft than traditional sitcoms, without being overly cartoony. I mean, we suspend disbelief these days equally with the two forms. It also strikes me that there is some sort of parallel between the way The Daily Show and The Onion deliver more truth than the real news and the way animated series' deliver better storytelling and humor (and truth) than sitcoms and most dramas. Just sayin'.
*
I also checked in with Celebrity Fit Club (hey, I was moping on the couch; I'm allowed) and I can report that Dustin Diamond is still a giant friggin' ass. And I don't completely understand The Tube Music Network, but I like it, though their catalog seems a bit thin. Heavy on live performances (good) and 80s videos (mixed).
*
Check out the What I Watched Last Night collection.
Posted by Beachwood Reporter at 7:56 AM | Permalink
The Periodical Table
Filling in for Shipley on the magazine beat.
Wicker Fair
The June issue of Vanity Fair calls Wicker Park-Bucktown "the latest burgeoning pocket" of Chicago - umpteen years after Billboard magazine featured the area on its cover and hundreds of stories after the one-time coolness of Wicker Park has been chipped and glossed into Lincoln Park West. "Over the past few years, this run-down area has blossomed into a square-mile pulsing with sassy boutiques . . . and heavenly restaurants," writes Punch Hutton.
Well, more like 16 years after a landmark district was first proposed for the neighborhood, which once featured anti-sassy boutiques and anti-heavenly restaurants.
Hutton praises the neighborhood's upscale "novelty and furniture stores" without any hint of knowledge about the affordable novelty and furniture stores they have replaced, making the area safe for Vanity Fair readers.
In a final coup de grace, Punch recommends relaxing at day's end at "one of two old-fashioned bars," the Northside or Piece, which are about as old-fashioned as the BMWs and Hummers parked outside them.
As Keith Olbermann would say, Punch Hutton, you are this week's Worst Person in the World.
Time Warp
The rest of this month's Vanity Fair is in a time warp too: James Wolcott discovers YouTube is being used in political campaigns, Christopher Hitchens discovers unrest in London's Muslim suburbs, and Peter Biskind discovers that Bruce Willis gets along with former wife Demi Moore and her new man, Ashton Kutcher. Strikingly, Willis, whom we assumed had retired to Vanilla Ice Island, is on the cover.
Most fitting, then, are the excerpts edited by Douglas Brinkley of Ronald Reagan's presidential diary, presented as earnest and heroic even as they further reveal a simpleton living in a fantasy world.
The best part of this issue is the Postscript about Liesel Pritzker. the Chicago Hyatt Hotel heiress who sued her father five years ago for $6 billion for allegedly looting her trust funds.
In 2005, Liesel and her brother, Matthew, now 23 and 25, settled for $500 million and today, the magazine reports, the Pritzker empire is breaking up and cousins and sibilings aren't speaking to each other.
Hey, it's tough all over.
Print Fair
I'm a huge fan of Print magazine in part because reading it is such a great tactile experience - page through one and you'll see what I mean - and in part because it is a constant reminder how far behind the world of newspaper design is in an era when combining form and function really does make terrific business sense - hello iPod and YouTube.
Print is also one of those rare magazines where looking at the ads is almost as enjoyable as reading (and looking at) the articles. Finally, just like the Web, Print teaches us that print mediums are also visual mediums - always have been, always will, and thank God for it.
As for the content of the May/June issue, well, I bet you didn't know that Everything Belgian is New Again. Or that "governments are giving new funding and support to European video games." Or that "British politicians, designers, and consumers grapple with that bane of the grocery store: over-packaging."
I didn't either. But now I do. Thanks, Print.
Money Honeys
Also in Print: Did you know that in many countries paper currency is larger in size for larger denominations? And that "among the 180 nations that use paper currency, America is unusual in not producing money that is easily recognizable by the blind in some tactile way"?
A federal judge has now ordered the Treasury Department to rectify that.
Indies Rocked
In the new Punk Planet, columnist Josh Hooten briefly chronicles the rise and fall of independent publishing by noting that getting onto the shelves of major booksellers and record stores wasn't such a good deal.
"Barnes and Noble sold a few magazines, but never as much as we wanted," Hooten writes. "Same with Borders and Tower. The downward trend in magazine sales, industry wide, continued. Indy Press eventually started slipping in payments. We went through four reps in three years. All the while those big corporate bookstores making money off us indie publications didn't seem concerned enough to offer better payment terms to help us, even when we started wobbling and falling over. Jason from Clamor and I joked once that we were basically paying Barnes and Noble to throw magazines away for us and why didn't we save the shipping costs and walk them out to the dumpster ourselves."
Also, a Bloodshot ad announces a new release, Tied and True, by the Detroit Cobras, one of the best bands on the planet. "Soul lives below the belt," Bloodshot says, "and whether you're looking to be grinding it slow or shaking it up good, the Cobras bring it tough and tender, savage and sweet, foxy and fun. Tied and true."
Tru dat.
Rudy G
The May 5th Economist begins a series of profiles of American presidential candidates with a look at Rudy Giuliani that has a few good lines, even if you don't believe them. For starters, the Economist takes a swipe at our hometown hero by saying that "[U]nlike Mr. Obama, Mr. Giuliani is famous for substantial achievements."
You also have to admire at least the punch of this: "Successive Democratic mayors had rewarded dysfunction, showering bureaucrats and welfare claimants with cash but requiring neither group to work (much or at all, respectively)."
And this: "As a presidential candidate, Mr. Giuliani has two weak spots: his policies and his personality."
George T
In an article about the new book from former CIA director George Tenet, the Economist uses the word "whingethon."
The piece also notes that "the agency is in perhaps the worst funk in its history. Requests by agents to publish books are running at 100 a month."
That hardly seems possible - 100 a month! - but we can only hope.
Posted by Beachwood Reporter at 6:20 AM | Permalink
May 7, 2007
The [Monday] Papers
Monday monologue.
***
The Civic Federation of Chicago is calling for a hike in corporate and personal income taxes to solve the state's budget problems. If that doesn't work, the Federation suggestions a pay-to-play tax.
***
One budget strategy gaining popularity is for the state let Exelon generate political power while the state would merely distribute it. Without a tax hike, the state could then claim, Illinois would wither away and die.
***
Only in Chicago is it news when thousands of city workers actually show up for work on Election Day rather than attend to the mayor's political needs on the taxpayers' dime.

***
Barack Obama says there is no such thing as MySpace and YourSpace in America, only OurSpace. And he's in charge of it.
***
Hey, what do you expect from a rock star?
***
After screwing his MySpace volunteer, Obama had to run to the bank to deposit another check from Exelon - no wonder they had to raise your electric rates.
***
Obama ran into Emil Jones at the bank and they had a good laugh.
***
"Senate Bill 1381, now in the Rules Committee of the House, would pave the way for even more no-bid contracts in Illinois. It would allow the state to circumvent the bidding process and hire computer technology firms or other minority businesses just as long as - get this - those companies had previously had contracts with other units of government or community colleges."
Guess who runs a minority-owned computer technology firm with government and community college contracts?
***
"The recent screeching outrage over Bears tight end Greg Olsen's obscene rap music back when he was a freshman in college, for instance, was so over-the-top and hyperventilated that it could only have come from those who have never been teenaged boys or never had teenaged sons," the Sun-Times's Rick Telander writes (low in column), without acknowledging that the screeching is mainly emanating from Telander's own paper, which plastered the story on its front page in an effort to exploit the Don Imus cultural moment to boost sagging newspaper sales, then actually asked its music critic to review Olsen's rapping, and then on Sunday put Olsen's photo front and center on its Controversy cover under the headline "Poster Boy For a Ghetto Nation."
In that article, by the way, Deborah Douglas places every pop culture figure she doesn't like in the Ghetto Nation, including Donald Trump, Rosie O'Donnell, and Alberto Gonzales.
Boy, they don't make ghettos like they used to.
***
Does that make the Sun-Times the Newspaper of Ghetto Nation?
***
The Dalai Lama calls for compassion in a speech at Millennium Park. The Daley Lama says there's no room left in the budget for that.
***
"In a survey of U.S. troops in combat in Iraq, less than half of Marines and a little more than half of Army soldiers said they would report a member of their unit for killing or wounding an innocent civilian," the AP reports.
Chicago police chief Phil Cline said he was so impressed he would try to find out the military's secret.
***
"Dumping close to a thousand teachers in one fell swoop sounds like bad news to me," Monroe Anderson writes. "How did CPS hire so many incompetent employees in less than five years?"
One word: Outsourcing.
***
The White House got a lesson in protocol in advance of the Queen's visit, The New York Times reports.
For example, the paper reports that "One does not shake the queen's hand unless the queen offers hers first. And after Her Majesty finishes her meal, everyone's meal is finished."
And if you walk into the bathroom and find her there unexpectedly, you are not supposed to snort a line unless asked to do so.
***
And no, she can't spare a square.
***
The Tribune's Michael Tackett is upset with what he calls the Media Echo Chamber Caucus, which apparently is declaring Obama's candidacy dead.
"I thought we all agreed Obama was Abe Lincoln the Rock Star," Tackett laments. "How can the caucus expect me to echo their punditry if it keeps changing?"
***
The Tribune's Steve Chapman says racial profiling is a myth. Cops don't like white people either.
***
"A change in Hollinger's corporate constitution required at least one member of the audit committee to be a financial expert," the Trib reports. "[Jim] Thompson, the committee's chairman, kept holding meetings even though no one on the committee met the new requirement."
Thompson explained that he believes in original intent.
***
Trib media writer Phil Rosenthal wonders if Chicago journalism is really better off without Rupert Murdoch.
You know things are bad when you're pining for Rupert Murdoch . . .
***
See the commercial where the toughest questioner at a pol's press conference is from RedEye?
If only Rupert Murdoch was still around . . .
***
St. Louis Cardinals manager Tony LaRussa says that removing beer from the clubhouse in the wake of pitcher Josh Hancock's DUI death "was largely a symbolic move since players don't drink much in the clubhouse anyway," AP reports.
Apparently they drink in their cars on the way home instead.
***
Rudy Giuliani indicated during the Republican debate last week that he is a strict constructionist when it comes to the Constitution. For example, when he was mayor of New York City he treated blacks as three-fifths of a person.
***
***
Like John Kass, Kathleen Parker, and Matt Drudge, Sun-Times columnist Jack Higgins doesn't think Hillary Clinton has any business reading hymns written by black people.
"What's next?" Higgins says. "Blacks and whites attending the same prom?"
***
How the Cubs are like the Harlem Globetrotters.
***
Excessive Teen Showering Solved.
Finally.
***
The Beachwood Tip Line: Distributing power.
Posted by Beachwood Reporter at 9:02 AM | Permalink
The Cub Factor
If the Cubs could only play the Pittsburgh Pirates and Washington Generals, er, Nationals, every week they would make their $300 million off-season investment stand up. These teams suck. And the worst team in the league last year - the Cubs - just beat them silly. Well, beat them ugly, in some cases, but beat them just the same, five of six games in all. The Cubs may be on a roll, relatively speaking, but you almost have to feel sorry for their poor, pathetic victims.
The Pirates, after all, have a proud tradition - think Clemente and Stargell - and a cool-ass ballpark. The Nationals consistently put good teams on the field when they were the Montreal Expos, despite one of the worst management situations in pro sports. Now they're just fodder to jump-start the false hopes of Cubs fans.
The Washington Generals comparison is apt - these are teams built to lose. The real question is whether the Cubs come anywhere close to comparing with the Globetrotters. Let's take a look.
Globetrotters: Mostly tall.
Cubs: Thirteen players on their 25-man roster are 6'2" or taller.
Globetrotters: Sweet Lou Dunbar.
Cubs: Sweet Lou Piniella.
Globetrotters: Lineup not constructed to play real basketball games.
Cubs: Lineup not constructed to play real baseball games.
Globetrotters: Players sometimes bounce ball off heads.
Cubs: Ball sometimes bounces off players' heads.
Globetrotters: Players dribble the basketball in a circle.
Cubs: Players circle under baseball.
Globetrotters: Unaffected by cold weather.
Cubs: Affected by cold weather.
Globetrotters: Attracts a loyal fan base more interested in entertainment than the actual game at-hand.
Cubs: Attracts a loyal fan base more interested in entertainment than the actual game at-hand.
*
Week in Review: The Cubs went 5-1 this week, taking two of three from the Pirates and sweeping the Nationals. And they should of won the game they lost - a 3-2 heartbreaker in Pittsburgh. The Cubs are on a five-game winning streak and has won eight of nine. Wins are wins but beating the Pirates and Nats is like beating eggs with a wisk - it takes a little energy but you expect to have breakfast.
Week in Preview: Three more against the Pirates at home and then the start of a seven-game East Coast road trip with a three-game set against a struggling but talented Philadelphia Phillies team. The week looks good on paper, but the game is played on a grass/dirt combination.
Second Basemen Report: The Cub Factor would like to welcome Alfonso Soriano to his natural position. Soriano played second on Sunday in the 10th inning against the Nationals when Uncle Lou ran out of players at the two positions that are most overstocked: outfielders and second basemen. Ryan Theriot was at short, Mark DeRosa was pulled from right field in a double-switch, Ronnie Cedeno was on a bus to Iowa, Diamond Daryle Ward had to find someone's mitt to play left field, right fielder Jacque Jones started in center, shifted to right with Felix Pie in center, and then back to center as Pie came out and left fielder Matt Murton played right. Also, Jason Marquis was used as a pinch runner for Cliff Floyd, and Henry Blanco as a pinch hitter for Ryan Dempster.
In former second baseman news, former Cub Mickey Morandini played his final game on October 1, 2000 for the Toronto Blue Jays. He makes his home in Valparaiso, Indiana, where he runs a stationery shop with his wife, Peg. He is missed.
Sweet and Sour Lou: 54% sweet and 46% sour. Lou is up 5 points on the Sweet-O-Meter this week. Beating really bad teams makes any manager happy.
Beachwood Sabermetrics: A complex algorithm performed by the The Cub Factor staff using all historical data made available by Major League Baseball has determined that the Cubs will not win as many games when the schedule gets tougher.
Over/Under: Number of demotions for Felix Pie this week: +/- .5
The Cub Factor: Catch up with them all.
Mount Lou: Magma has cooled. But continual shifting of outfielders and two-hole hitters will eventually disrupt Lou's tectonic plates and internal pressure will build. Next eruption likely in Philadelphia.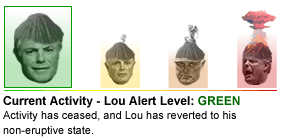 Posted by Beachwood Reporter at 7:17 AM | Permalink
The 42nd Ward's New Demolition Man
Managing new development may have been the key issue of the recent aldermanic elections, but residents of the 42nd Ward are wondering these days if their new alderman, Brendan Reilly, already touted in some quarters as the new Prince of Downtown, has gotten the message. He hasn't even been inaugurated yet and he's already sanctioned a controversial new development in the very style of his outgoing predecessor, Burt Natarus.

A notice dated April 27, 2007, was sent to residents in buildings located near the Lake Shore Athletic Club, 850 North Lake Shore Drive, that it's full speed ahead for Fifield Companies (go here and look up Fifield) - Kenilworth resident Steven Fifield - to demolish the 1924 Jarvis Hunt-designed Lake Shore Athletic Club, a building on the most endangered lists of both Preservation Chicago and Landmarks Illinois. The Lake Shore Club is currently owned by Evanston-based Northwestern University, tax-exempt since 1851.
Reilly campaigned for transparency in the development process and sensible development. "I would argue that the alderman has lost touch with the real priorities of residents," Reilly said during the campaign. "Voters are concerned that many development decisions are being made in a vacuum; people feel that their opinions are not solicited in a proactive manner."
That was then, this is now.
Reilly is going to begin his term by tearing down a fortress of a building with no apparent discussion. Aside from the preservation disaster, thousands of area high-rise dwellers will be audio participants in the multi-year high-decibel demolition and construction to follow. (In Chicago, you can demolish and construct from 8 a.m. to 9 p.m.) Taxpayers will be routed for years around the construction site like a herd of cattle through shabby, poorly lit construction barricades while a new building is built by the reviled Lucien Lagrange, most recently assailed by Blair Kamin for his work on the Farwell building ("Lagrange's own elevation drawings make the redeveloped Farwell look like a pathetic footstool").
Nevermind that a competitive offer was made to Northwestern to convert the building into a boutique hotel, thus saving the structure that is touted by preservationists, and sparing area residents three years of construction siege.
So the first act of our new alderman - I mean the new Prince of Downtown - is to advocate for a developer and campaign contributor from Kenilworth (which ironically wants to save its historic structures and ban demolitions) and an Evanston-based tax-exempt university, ignoring the sentiments of his tax-paying constituents and two non-profit preservation groups that seldom advocate for the preservation of the same structure.
Thus begins the Brendan Reilly chapter for the next edition of David Garrard Lowe's Lost Chicago.
-
* Who wishes to remain anonymous to avoid reprisals from unfriendly political sorts.
-
REMINDER: As always on this site, you must supply a real name to be considered for publication, or a good reason why you cannot.
*
1. From Rich Miller, Capitol Fax:
Well, not directly from Rich, but a bit of a tempest has broken out. Rich talked to Reilly. Here is his take and our response.
2. From Our Correspondent in the 42nd Ward:
The letter sent to neighbors of the endangered Lake Shore Athletic Club, followed by a comment.
April 27, 2007
Re: 850 Lake Shore Drive
Dear Sir or Madam
Fifield Realty Corp. is the contract purchaser of the property at 850 Lake Shore Drive from Northwestern University. Earlier this week, legal notices were sent to your residents that were required by the Lakefront Protection Ordinance, generally describing the project we are proposing, which will involve replacing the existing structure with a new, very high quality residential building. This new building will be designed by and constructed completely within the parameters of the Planned Development that governs the zoning on the site, therefore we will not request any changes to the existing zoning.
In meeting with Alderman-elect Reilly, he asked that we meet with not only the community organizations but also the condominium associations to explain our proposed project and get input from the neighborhood residents.
We would appreciate it if you can contact your residents and ascertain whether there is interest in meeting with us, as well as with Northwestern, the current owner and our proposed architect, Lucien Lagrange. If so, we would appreciate a few dates that will work for your residents so that we can try to coordinate schedules. Please contact me at 312-424-6228 or aschactman@fifieldco.com.
Thank you,
Sincerely,
Alan Schachtman
Senior Vice President
cc:
Ron Nayler, Northwestern University
Brendan Reilly, Alderman-elect
WRITER'S COMMENT: So the neighborhood gets a message from a developer seeking input on a condo project? Hold it, that's right, we didn't elect a developer. Shouldn't the messenger be the alderman if he's so sincere and has not committed one way or another? What's he thinking?
I'm not saying Reilly is a liar. But things happen here in more of a connect the dots way, not with ribbon-cutting ceremonies. Today's exercise was about connecting the dots.
3. From Steve Rhodes, editor:
If you checked out the thread linked to above over at Rich Miller's Capital Fax Blog, you'll see that in his last comment Miller calls us "bush league." My reply never got posted. What I think is bush league is Miller taking a sudden interest in our posts when one of his friends - Reilly - is criticized, then going off half-cocked like this is the Pentagon Papers. What's more, Rich spoke to Reilly - more access, my writer points out, than concerned residents have gotten - and he isn't telling you everything Reilly told you. I urge him to do so; he refuses. Draw your own conclusions.
To respond further to Miller's complaint, I think it's pretty clear that this is not a straight news story. We didn't go to every party involved and get their comments. We didn't go to any party! The writer is long involved in the ward and closely observing the proceedings. It was frustration with lack of transparency and the subsequent demolition permit issuance and developer's notice at the alderman's behest that led to this story - what, our writer is going to call Reilly and ask for a response while explaining that the writer can't identify him/herself because of political considerations but wants to know why Reilly is allowing this to go forward but won't talk about it? C'mon! Miller wants us to reveal "sources." What?! The writer is the source! Reilly met with the developer, instructed them to meet with the community (instead of doing so himself), and the notice went out. If Rich Miller wants to act as Reilly's press agent, that's his business, but (no pun intended) it's really rich for him to accuse us of some ethical misconduct because we didn't get a no comment or denial from Reilly. We've laid out what we know. If Reilly is indeed against the demolition of the Lake Shore Athletic Club and is simply, oh, I don't know, humoring the developer (and we would like nothing more than to learn that he is), he is free to clarify his position with us, rather than using his friend as a conduit. It's just a bit unseemly, don't you think? Some might call it bush league.

Posted by Beachwood Reporter at 6:26 AM | Permalink
Excessive Teen Showering Solved
Hello Mr. Steve Rhodes:
The following press release about the Shower Manager, a new product that cuts back excessive showering and saves water and energy, may be of interest to your audience. Any editorial comment or mention that you may give this press release would be greatly appreciated.
NEW PRODUCT CUTS EXCESSIVE SHOWERING BY TEENS: SAVES WATER AND ENERGY! AUTOMATED DEVICE ELIMINATES FAMILY HASSLES!

Dateline: April 17, 2007 . . . Denver, CO
Contact: Don Brunkhardt
Phone: (303) 809-3758
E-Mail: don@showermanager.com
Web Address: www.ShowerManager.com
DENVER, CO - April 17, 2007 - For many parents, frequent and excessive showering by their teens results in being late for school, soccer practice, the dinner table, not to mention the cold water shower if you are last in line. It hasn't been easy up to now. But a new patented high-tech device, the Shower Manager, is now available which lets the Head-of-Household take control of shower times, eliminating unnecessary over use.
"The Shower Manager can stop family feuding over excessive shower times, by automatically reducing the flow at set times, locked in by a security key," says Don Brunkhardt, president of Global Network Solutions, creator and marketer of the device. Studies show that an average family of four can save enough on water and energy costs to pay for the Shower Manager within 12 months. Depending on the settings chosen, significant additional savings can be realized.
"An added benefit is the inherent water conservation features. In areas of low producing wells or areas where drought is an ongoing concern, the Shower Manger plays an important role in the contribution each family can make toward conserving this precious commodity," says Brunkhardt.
The Shower Manager installs easily and simply in between the shower neck and the existing shower head. This two-phase microprocessor device permits full flow for a preprogrammed time of 5, 8, or 11 minutes. As the device nears the end of the chosen high flow cycle, a beeper sounds alerting the bather. At the end of the chosen cycle, the flow is automatically cut by 2/3. This greatly reduced flow is sufficient for rinsing. A reset interval prevents overriding. The Head-of-Household can adjust the full flow time frame to meet the needs of the family.
The Shower Manager is available only through direct purchase from the manufacturer. Orders can be taken on-line at: www.ShowerManager.com
The Shower Manager is protected by U. S. Patents 6,016,836, 6,899,133 & patent pending.
Posted by Beachwood Reporter at 5:26 AM | Permalink
May 5, 2007
The Weekend Desk Report
Filling in for Weekend Desk Chief Natasha Julius, who is rolling the bones in Las Vegas this weekend on behalf of The Beachwood Media Company's pension fund.
Auditism
Big Skim Thompson has been named audit committee chairman of The Beachwood Media Company's pension fund.
Pimps 'n Ho's
The Weekend Desk will be closely watching developments over the next 48 hours of HoGate, the latest sex scandal to emerge from the repressed, pathological wilds of Washington, D.C., where "thousands of officials from international and national agencies" including the World Bank, the International Monetary Fund, and NASA reportedly used an escort service to live out their fantasies of being on the other side of doing anything for a buck.
French Stench
France goes to the polls this weekend to wreak revenge on the United States by electing its own version of George W. Bush in the ultimate existential comedy.
Paris Pokey
Paris Hilton told the court in her probation violation trial that she never read a license suspension notice sent to her because "I have people do that for me."
She also didn't read her plea agreement, saying, "I just sign what people tell me to sign," she said.
She also acknowledged that she is still a virgin because "I have people do that for me too. Ick."
Royal Plan
Negotiations between Dick Cheney and the Queen of England for the return of the monarchy to America continue over the weekend.
404 Not Found
Microsoft is in negotiations with Yahoo over plans to conduct an unprecedented search for a business strategy.
Derby Dash
Trainers for Kentucky Derby favorite Curlin are reviewing years of quotes from Cubs players and management for the best way to use bad weather as an excuse for not winning.
Bulls Eye
The Pistons have been installed as the favorite in their playoff series against the Bulls. Which is fine with Lou Piniella, who is recruiting Ben Wallace for the outfield.
From Beachwood HQ
* The Sci Fi Spectacular promises to be more fun than the frickin' Kentucky Derby.
* Watch for a new Cub Factor on Monday morning.
* Catch up with last week's Papers.
* Contact the Beachwood, if you'd like.

Posted by Beachwood Reporter at 8:27 AM | Permalink
May 4, 2007
The [Friday] Papers
1. "A stretch of Milwaukee Avenue in the Near Northwest Side neighborhood of Wicker Park was granted preliminary landmark designation Thursday by the Commission on Chicago Landmarks 16 years after advocates first proposed the distinction," the Tribune reports.
The commission wanted to wait until Milwaukee Avenue brimmed with condos, boutiques, and valet parking before calling it a landmark.
2. It will be called the Greater Historic Condo District.
3. A gentrification museum is planned too.
4. Ever get the feeling the fix is in?
5. State senate president Emil Jones accused reporters of fabricating stories about his family and their state jobs and contracts, even as, behind closed doors, he referenced Richard J. Daley's famous defenses of efforts to help his own family with jobs and contracts.
6. Barack Obama is right: His biggest enemy is cynicism.
7. Republican presidential candidates squared off at the Ronald Reagan library last night beneath a huge frickin' airplane to argue about who had bigger balls. Emil Jones won.
8. "Patti Blagojevich, who owns a realty firm, picked up a new job as an "employee" of Appraisal Research Counselors," the Daily Herald reports. "The Chicago-based firm is owned by Eugene Stunard, who's given $3,538 to Blagojevich's campaign fund since 2002. Employees of the firm gave another $3,000 to Blagojevich's fund. The firm has gotten $17,700 in state work since 2003 from the Departments of Natural Resources and Revenue.
"A government watchdog group said Patti Blagojevich's new job raises eyebrows after three years of similar stories.
"What's amazing to me is the fact that at least how it's been reported, all of her commissions have come from businesses and individuals who are campaign donors or have state business," said Jay Stewart, executive director of the Better Government Association. "You can call it a coincidence if you like, but when you see it year in and year out, it seems to become more than a coincidence."
9. Dear Paul McCartney: Stop it. Please.
10. "After three grueling days in federal court, former Illinois Gov. James Thompson stepped off the witness stand Thursday with his competence as a Hollinger International director in serious doubt but without wavering from his story that he was duped," the Tribune reports.
"Thompson also seemed to equivocate between statements he made on the stand and past statements made to law enforcement agents and others."
Yes. Quite.
11. The Tribune corrects a recent story about its own executives. Turns out chief executive Dennis FitzSimons is only in line for $38.3 million if he leaves after Sam Zell takes over. Also, the Tribune regrets erroneously referring to FitzSimons as "an incompetent greedhead without a journalistic bone in his body with absolutely no concern for the public interest, democracy, or the city's civic health." The paper clarifies that it meant FitzSimons is both "incompetent" and a "greedhead," but is very much a "competent greedhead," if you want to read it that way.
12. John Kass is back on his "Southern-fried Hillary" kick, but my God, she lived in Arkansas for 17 years and has a husband with a drawl. It's nonsense. I find Obama slipping into church cadence and talking about Cousin Pookie a bit more suspect.
13. If you're not reading The Cub Factor, you ought to be. Updated every Monday.
14. "We've also been working to install lightbulbs that last longer and save energy. And that's something that I'm trying to teach my daughters, 8-year-old Malia and 5-year-old Sasha."
Does anyone really believe Obama is having conversations with his five-year-old about longer lasting lightbulbs?
15. Tribune public editor Tim McNulty mulls over the possiblity of the paper publishing an electronic afternoon edition without mentioning that the Sun-Times is now doing exactly that.
16. Illinois Entertainer media columnist Cara Jepsen muses (in print, not yet online) on the ramifications of the Tribune Company's sale of the Cubs and, maybe, its broadcast units:
"That possibly means one day the Cubs will no longer be seen on WGN-TV or heard on WGN radio - or play at Wrigley Field.
"It boggles the mind.
"It would be like State Street without Marshall Field's.
"Like Steve without Garry.
"Like Mancow without a Chicago morning show."
17. Also noted by Jepsen:
"The Tribune will also sell its 25 percent stake in local sports cable channel Comcast SportsNet Chicago, which means that other outlets may be able to carry the local 24-hour news channel, CLTV News.
"It's currently carried exclusively on Comcast because of the Tribune Company's part ownership in Comcast Sports Net.
"So most Chicagoans - those who subscribe to a competing cable company (or have no cable at all) - have not been able to get the station.
"And who says consolidation hasn't benefited the consumer?"
18. Speaking of media consolidation, who knew it could be so funny?
19. Ebertfest reviews worth your while.
20. When I wrote earlier this week that perhaps a CTA 2016 Committee was in order, I didn't realize the Reader's Whet Moser was already on the case.
The Beachwood Tip Line: Consolidated.

Posted by Beachwood Reporter at 9:32 AM | Permalink
Sci-Fi High
Need some tiding over between annual installments of the beloved, 24-hour Music Box Massacre? This weekend, the Music Box and Massacre organizer Rusty Nails are inaugurating what should become the Massacre's less grueling but equally captivating and deranged little sibling: The 14-hour Sci-Fi Spectacular, running from noon Saturday to 2 a.m. Sunday. Those who show up early at 11:15 a.m. can catch an episode from an old Flash Gordon serial. Here's what you'll see:
12:10 p.m: Metropolis (1927)
A formidable, two-hour start to this long day and night, the recently restored Metropolis remains an eerie, gorgeous experience. It's not so much Fritz Lang's vision of utopian struggle; it's the way he turned the limitations of the day's production values into an otherworldly universe.
2:15 p.m.: A Trip To The Moon (1902); Haredevil Hare (1948)
The further back you go, the more fanciful the imagined future seems, as these animated shorts prove. A Trip To The Moon captures Jules Verne's vision; Haredevil Hare puts Bugs Bunny in space (what more do you need?).

2:30 p.m.: Forbidden Planet (1956)
Brawny, bulky '50s sci-fi, with plenty of melodramatic talk like: "In times long past, this planet was the home of a mighty, noble race of beings who called themselves the Krell. Ethically and technologically they were a million years ahead of humankind . . . "
4:30 p.m.: Serenity (2005)
Say what you will about Buffy nerds, that show was damned entertaining. Because Joss Whedon, who wrote and directed Serenity, is a fast-paced, sleek, and funny entertainer.
6:30 p.m.: Duck Dodgers In The 24 1/2 Century (1953); The Day The Earth Stood Still (1951)
The Day The Earth Stood Still star Patricia Neal will be on hand for the screening of yet another urgent-toned '50s classic, and will speak and sign autographs afterward.
9:15 p.m.: THX 1138 Electronic 4EB (1971)
A student film from George Lucas. Possibly more arousing to nerds than Stan Lee's sweaty socks.
9:30 p.m.: Mad Max (1979)
From the Music Box's description: "We see the final days of normality of a man who had everything to live for, and his slip into the abyss of madness." And then saw it again on the evening news.
11 p.m.: 10-minute break
Pussies!
11:15 p.m.: La Jetee (1962)
A short film that reputedly inspired 12 Monkeys.
11:45 p.m.: Terminator (1984)
You think you can snub it, film snobs, but you don't have the strength.
1:34 a.m.: Starship Troopers (1997)
Any film based on a Robert Heinlein novel is bound to be a little crazy, but Starship Troopers is truly a brutal, psychotic fit of a film, and an amazing one at that. The perfect batshit-crazy end to a perfect batshit-crazy outing.

Posted by Beachwood Reporter at 8:42 AM | Permalink
Mystery Debate Theater 2007
Welcome to the second installment of our presidential debate series. Beachwood commentators on-hand: Steve Rhodes, Andrew Kingsford, Tim Willette. Debaters on-hand: 10 Republicans filled with latent homosexuality gathered at the Ronald Reagan Library in Simi Valley. There were no black people in attendance.
Unlike the Democratic debate last week, I prepared the Beachwood HQ viewing room for this one by purchasing a box of Dwight Yoakam's Chicken Lickin's - seeing as how they may not be available in Wicker Park much longer - and was seduced by the 2-for-$5 special on Walgreens premium ice cream. Once I figured out which of the Walgreens offerings were "premium," I bought big round cartons of Strawberry Cheesecake and Chocolate Chip Cookie Dough. We ended up ordering Chinese instead. Andrew brought the beer. I broke out my Bureau of Alcohol, Tobacco and Firearms coffee mug. Oh wait, Republicans hate the ATF. Or do they love it? I can't keep track.

Pre-Debate Punditry
Our panel opened with speculation about questions most likely to be asked in a Republican debate circa 2007.
Q. This question is for all the candidates: If elected, at what point will you attempt to consolidate power in a unitary executive and declare martial law?
Q. If elected, would you place the King James or the New Revised Standard version of the Bible in our nation's classrooms?
Q. How many affairs are you currently having?
Q. This question is for all the candidates: Who likes guillotines?
Q. Gov. Romney, please finish the line: 'The blues got pregnant, and they named the baby . . .
A. The Rhythm Method?
*
Musing on bad loans by the financing arm of General Motors accounting in large part for profits falling 90 percent at the automaker, combined with rising home foreclosures, Andrew forecast looming economic disaster.
Tim: And what if you have an RV? Then you're really fucked.
Andrew: Maybe Coleman Tents will start doing financing.
*
MSNBC's countdown clock finally reaches 0:00:00 and . . . Y2K has been averted. But it's time for the debate to begin.
SR: Why is there a big fucking plane there?
Tim: It's the Reagan library. It's probably Air Force One.
SR: Is the body of Reagan entombed in there or something?
Andrew: You know, Nancy Reagan had a reputation in Hollywood for giving a mean blowjob. And that's mean as in good! She was a blowjob queen. She could suck some dick, that girl! Mean as catshit.
SR: Rudy Giuliani is carrying a sidearm.
Tim: [reacting to an MSNBC graphic showing the candidates names and photos]: Hey, there's a Hunter right above a Thompson!
Andrew: Oh, look at that fucking plane!
SR: Welcome to the TV, Andrew!
Andrew: This is way cooler than the Democrats . . .
Tim: It's the Reagan library; what're they gonna put in there, books?
Andrew: Brezhnev is interred in there as well.
Andrew: Is everyone in the audience getting frequent flyer miles?
Tim: Which of the candidates is going to fly the plane onto the stage?
Andrew: It would be cool if the moderator sat in the cockpit.
*
The candidates mill around, greeting each other.
Andrew: Check out the Masonic handshake . . . Did you type that? I don't see typing, Steve.
Tim: Maybe he's saying, "Hi, I'm Rudy Giuliani. And you are?"
Chris Matthews opens the show.
Andrew: Okay everybody, hearing aids up, pacemakers down! I've never seen so many jowels in my life. It's waddle heaven!
Matthews notes they are located in Simi Valley.
Andrew: Why didn't they get Imus to moderate then?
Cameras show Nancy Reagan.
SR: This debate was scheduled after Nancy consulted her astrological charts . . .
Tim: They can't use cellphones because it would interfere with the plane.
*
Matthews asks how we get back to Ronald Reagan's Morning in America.
Andrew: Well, you take I-95 . . .
Tim: That's a loaded question. It assumes under Reagan there was such a thing. On the other hand, it says Bush has done nothing in six years to get us there.
*
Matthews asks John McCain what we need to do to win the war in Iraq.
Andrew: Another $3 trillion, to start with . . .
*
McCain calls our armed forces "the best of America."
Andrew: The best of lower-class America . . ..
McCain says he thinks the war is on the right track.
*
Matthews asks Tommy Thompson what he as president would need to win the war.
Thompson: First, you have to support the troops.
Steve, Tim, Andrew: [groan]
Thompson goes on to give a remarkably lucid answer; giving the Al-Maliki government the chance to vote if they even want America there; electing governors in each of the country's terrritories; and splitting the oil reserves not just between the warring interests, but giving a cut to each Iraqi citizen.
We're relatively impressed with Thompson's answer.
*
Questioner John Harris says polls show that the majority of American people don't think victory in Iraq is possible. Why not elect a president, he asks, who will listen to the people?
Mitt Romney: We don't need a president who follows polls . . .
Tim: If you wanted a president who did what the people wanted, we wouldn't bother stealing elections!
*
SR: They should let us vote candidates off the stage every 20 minutes.
*
Matthews posits a scenario wherein the candidate as president gets a call from the Israeli prime minister saying he is about to strike Iran's nuclear sites and wants our help. What would you do?
Tom Tancredo: Blah blah blah.
Rudy Giuliani: It really depends on what our intelligence says.
SR: Oooh, good answer!
*
Viewer question to Giuliani: Does he regret his dealings with African-Americans as mayor of New York?
Giuliani: There's a great deal I regret . . . we moved hundreds of thousands of people off welfare . . .
Andrew: And into jail.
*
Romney is asked what he most dislikes about America.
Andrew: Democrats!
Steve: Discourtesy at the grocery store.
Romney: Blah blah blah.
*
Tom Tancredo is asked how he would solve a shortage of organs available for donation.
Andrew: Two words: Chinese jails.
*
Duncan Hunter is asked by a viewer from Highland Park if he's a compassionate conservative. He answers yes, then launches into a spiel about Iran.
Tim: Yes, and I'm going to ignore this question from Highland Park to talk about how I'm going to kill! That was nasty. I'm not voting for him now. Which one is he?
*
Matthews states that every cab driver in America knew what Ronald Reagan stood for.
Andrew: Crush unions! Crush! Crush!
*
Tommy Thompson says he would leave it up to "individual businesses" to decide if they wanted to fire workers for being gay.
SR: Whoa! Fumble!
Tim: That's not a fumble in a Republican primary.
NOTE: A news report this morning says: "Thompson notified the media after the debate that he misunderstood the question about gays in the workplace and said he wanted to make clear that employers should not be permitted to discriminate against employees based on sexual orientation."
From the transcript:
MR. HARRIS: Governor Thompson, same theme. If a private employer finds homosexuality immoral, should he be allowed to fire a gay worker?
MR. THOMPSON: I think that is left up to the individual business. I really sincerely believe that that is an issue that business people have to got to make their own determination as to whether or not they should be.
MR. VANDEHEI: Okay. So the answer's yes.
MR. THOMPSON: Yes.
As Tim points out, hard to see what he could have misunderstood about the question.
*
SR: It's so funny, the topics at a Republican debate are war and religion.
Andrew: And homosexuality.
*
On corrupt politicians, Sam Brownback says "They should go to jail and they would go to jail in my administration.
Andrew: But not for long.
*
McCain is asked what programs he would cut out of the federal budget. He says he would clean up defense acquisitions.
Andrew: Too many contracts are going to small companies!
*
Mike Huckabee is asked to grade Bush's handling of the Iraq war.
Huckabee: It's too early, we're still in the middle of the exam.
SR: And Bush can make the exam last as long as he wants.
*
Giuliani says adoptions went up 65 percent in New York City when he was mayor.
SR: If you count his wives . . .
Andrew: And the bullshit meter went through the roof.
SR: You know that's gonna turn out not be true when they fact-check tomorrow.
*
Asked how a president can help solve racism, Tom Tancredo says "The great thing about Ronald Reagan was that he was a uniter."
Andrew: Yeah, black people loved him!
*
SR: I shouldn't have eaten that whole thing.
Tim: We'll be hungry for another debate in an hour.
*
Duncan Hunter says he didn't see An Inconvenient Truth.
Andrew: But I loved Spidey!
*
Jim Gilmore is asked what would he would do about mothers in prison, and the children they leave behind?
Andrew: Make jails for children!
*
Mitt Romney tries to explain away his abortion flip-flops by recalling something about embryo farms in Massachusetts. Or maybe the question was about stem cells. Or both.
SR: Who will speak for the family embryo farmer?
Andrew: Mellencamp.
Tommy Thompson: Nobody can answer that right now because there's so much research going on . . .
SR: He's good!
Tim: He's using a lot of big words. Pluripotent! I'm not even sure what it is, but I want to be near him.
SR: We could pay farmers not to grow embryos.
*
The discussion turns to health care. After hearing a few responses, Tim proposes the next question be "What do you think of the New Deal?"
*
SR: They should go down the line and ask if they regret taking money from Tony Rezko.
Tim: You'd see five hands go up.
*
One of the candidates says something about tax cuts for those with middle-class incomes.
Andrew: Middle-class incomes up to $5 million!
*
Thompson says the biggest problem in American is the alternative minimum tax. The biggest?!
*
Three hands go up when the candidates are asked if they believe in evolution.
*
McCain says he believes in evolution, but gets scared by his own answer and notes that he also believes in God because of the beautiful sunsets at the Grand Canyon. And the deaths of hikers who get lost there.
*
Giuliani is asked about the difference is betweeen Sunni and Shia. He actually knows the answer.
SR: How many of the others up there are saying, thank God I didn't get that question? But what does it say that it even has to be asked at this point?
*
Giuliani is asked to identify his biggest weakness.
Andrew: I'm a bit rusty on my 12th-century chivalry.
*
Sam Brownback is asked what he thinks of Giuliani.
Andrew: For a cross-dressing gay, he's OK.
*
We notice that Thompson is gesture-free. He stands with his hands at his side and his body does not move when he speaks. We like it.
*
Giuliani: Everyone who comes into this country from a foreign country should be identified in some way.
SR: Maybe with a yellow star.
*
The debate comes to a close.
SR: The next debate will be held at the Nixon library.
*
Post-Debate Punditry
The debate went surprisingly well. Matthews was on shockingly well-behaved and though there were a couple of clunkers, the questions were mostly pretty decent, not like the Democratic debate which seemed full of gotcha bullshit. And that Brian Williams is so frickin' arrogant!
SR: Despite a couple gaffes, Thompson impressed me the most. Here's a guy who said he thinks employers should be able to fire gay employees and I still think he won. The punditocracy won't say so, but I will. He exuded calm leadership with a depth of policy knowledge and firmness of beliefs that make for a good candidate. He's an uglier Fred Thompson with a stronger track record. We agree that in the least he helped himself in the veep sweepstakes.
The front-runners, Giuliani and McCain, had the most to lose, and they lost it. McCain seemed old, tired, out of touch, uncomfortable, just not all there. Giuliani seemed like the quick-tempered, stubborn guy without any sort of diplomatic touch that he is, and out of his depth in presidential waters.
Romney would be a shoo-in if he believed in anything. He looks like he rolled off the Acme Presidential Candidate Doll assembly line.
Huckabee, whom I've always forecast as my dark horse in this race, didn't break out the way I thought he might, but he didn't hurt himself too much either. A push, but not real engaging.
It was hard to tell the difference between the others, though Tim notes that Gilmore sounded at times like a conservative Democrat and certainly more capable than the Hunters and Tancredos of the pack.
Note: We tried to add "at a presidential debate" to the end of our fortune cookie fortunes, but it just wasn't funny.
*
Previously in our Mystery Debate Theater series:
* Episode 1: The Democrats in South Carolina.
Posted by Beachwood Reporter at 7:42 AM | Permalink
May 3, 2007
The [Thursday] Papers
The regulars at the Beachwood Inn - the bar at Beach and Wood that inspired this site - don't much like change, but I'm pleased to report that the 'Wood is now serving Leinenkugel's, the pride of Chippewa Falls. In fact, Leinie's is now the Thursday night special - $2.50 a pop. Just say, "I'll have a Leinie's please!" and tip your bartender well.
*
Recent jukebox additions of note: "The Millennium Sampler," produced by Bob Beachwood with no apparent theme in mind, and "The Essential Kenny Loggins." Apparently there is such a thing. I played "This Is It" last night. Don't stray too much further from that one or we might have to bar you out.
UPDATE: It's a real album: "The Best of Various Artists," ha ha. (Tim Willette)
And now, on to the news.
Jonesy
Tony Rezko's name came up in the first presidential Democratic debate last week, and local bookmakers are now setting odds on how much longer until Emil Jones's name surfaces in the campaign. The Over/Under is one week.
Why?
Consider:
* The Sun-Times reports in a front-page investigation that "Illinois Senate President Emil Jones' stepson, John Sterling, just got a $45 million no-bid contract from City Colleges of Chicago. Jones' wife and another son work for the state too. But that's just the half of it. Sterling's firm also is employed by the parent company of ComEd - the utility Jones has backed in its fight against lower electricity rates."
* The Tribune reports today on Obama's tenure in the General Assembly, including his tutelage at the feet of . . . Emil Jones. Aside from a fascinating review of Obama's not-so-noble time in Springfield, which I hope as always to address more fully in Obamathon, the Trib recounts the way Jones put Obama in front of legislation favorable to his driving political ambitions, culminating with the conversation in which Obama told Jones that Jones had the power to make him a United States senator.
The article ends with Jones recalling how hard it was get legislators Obama had alienated, such as Ricky Hendon and Donne Trotter, onboard the Obama train. But Jones did get Hendon and Trotter to go along.
"[Obama] asked Jones how he pulled it off," the Trib account says.
"I made them an offer," Jones recalled telling Obama. "And you don't want to know."
Oh, do tell. Tell us how you bought off their support for your guy. I'm sure it's a fascinating story.
Ad Preview
"Barack Obama says he has two political godfathers. One is Tony Rezko, a Chicago Machine insider indicted on charges of pay-to-play politics. The other is Emil Jones, a Chicago Machine insider and Illinois legislator known for how many of his relatives have state jobs and contracts. This is a 'new kind of politics' America doesn't need."
Paid for by the Republican National Committee.
Jay Master Jay
Today was a field day for Jay Stewart, executive director of the Better Government Association.
While the Sun-Times reports that "Jones vehemently denied ever helping his stepson get government work, Stewart says "It's amazing how well those who are related to the powerful do with government contracts."
Stewart isn't quoted on the Cook County Board's hiring of Todd Stroger's cousin, Donna Dunnings, as chief financial officer, but the local papers could probably improve their efficiency by inviting Stewart to their daily news meetings to issue quotes on all their pieces.
("Asked what she would tell naysayers who have raised concerns about nepotism," the Tribune reports, "Dunnings said, 'Off the cuff, get a life.'" Well played, Donna. Well played.)
In a story about Ald. Ed Burke's "37 law clients that did business with the city or other local government agencies" last year, Stewart says, "It's the annual Ed Burke story . . . A lot of the companies he represents get payments from the city. He's representing them on one hand and chairman of the very committee that approves these expenditures on the other hand."
Burke follows the ethics guidelines that cleverly require disclosure of conflicts of interest rather than banning conflicts of interest. Kind of like Big Jim Thompson's practice as governor to accept all the gifts he wanted; he just kept a "Gift Book" which disclosed who was trying to curry favor, and how. Transparency without ethics, what a concept.
Big Skim Thompson
Funny how all these items fit together. The Tribune played the second day of Thompson's testimony in the Conrad Black trial - not unreasonably - atop its front page today.
While the evidence presented thus far in the trial had been nothing but bad news for Black, the defense has scored big with Thompson, showing that at least some of the alleged financial improprieties involved - huge management and non-compete fees in complicated sales that went to Black and deputy David Radler instead of the company - were seemingly approved by the board of directors if only out of sheer laziness in the back-slapping bonhomie of a board that included such pillars of integrity as Richard Perle and Hank Kissinger.
That doesn't let Black off the hook, but rather increases the culpability of Thompson, chairman of the audit committee, and his board pals.
Defense lawyer Ronald Safer put it this way: "Without having a single piece of paper of support, without consulting a single outside expert, you approved $216.7 million in management fees?"
Thompson has said, in effect, that he presumed Black and Radler were acting on the company's behalf so stridently that the audit committee need not audit - though I don't recall him therefore proposing the committee to be disbanded. He had to get paid for something, after all, even if it was just for playing the role of audit committee chairman (though I think in that case Fred Thompson would have been a better casting choice).
"[Defense lawyer Edward] Greenspan walked Thompson through 11 various deal disclosures, leaving Thompson to testify again and again that he only skimmed the documents and missed the relevant passages," the Tribune reports.
"Hollinger International didn't pay you $60,000 a year to go to board meetings and skim transaction documents?" Greenspan asked.
"No, they paid me for other things," Thompson replied.
Huh? What other things? A paper route?
You don't have to be a conspiracy theorist to believe it's an insider's game, where mutual backs are washed among amoral players with no regard for the public interest. Jim Thompson, David Radler, Emil Jones, Ed Burke, even the diminutive Todd Stroger - all are cut from the same cloth. And while Barack Obama's rhetoric chastises the cynicism that this insider's game has spun, it comes from the mouth of an insider himself, one content to use the system to propel his ambitions rather than challenge the system by deed and example. Then, even as he endorses Machine candidate after Machine candidate and raises money from the Rezkos of the world even as he pretends otherwise, he blames citizens for feeling disgusted about their government - and the civic leaders who enable them. I just can't wait for Big Jim's first big fundraiser for Barack. That'll be a hoot.
Epilogue
* Thompson also revealed that he only "skimmed" the Sun-Times while he was on its board of directors.
* From Los Angeles: "Top Cop Regrets Tactics At Rally." He'll reget them next time, and the time after that, too.
* "Personally," Stella Foster writes today, "I challenge poets (that's what hip-hop mogul Russell Simmons called the gangsta rappers) to use substitute words such as 'party girl' in place of 'ho,' Negro for 'niggaz,' and 'switches' insetad of b----hs. Yeah, I said it!"
Can the lawyers please ask Thompson today where he was when Foster's compensation package was approved?
Yeah, I said it!
The Beachwood Tip Line: Party girls welcome.
Posted by Beachwood Reporter at 10:08 AM | Permalink
The Periodical Table
Catching up with the magazines laying around Beachwood HQ.
Katrina Myth
You know how crime has gone up in Houston because of all the Katrina evacuees who have ended up there? It's not so.
An analysis of the data by Houston television station KHOU, retold in the March/April journal of Investigative Reporters & Editors, found that a recent spike in the crime rate - murders, in particular - cannot be blamed on Katrina victims despite what police officials have been telling the public.
"Our analysis would eventually cast doubt on claims that Houston's growing problem with violent crime could be blamed solely on the evacuees," reporter Mark Greenblat writes. "In fact, we saw strong evidence to the contrary."
(Tonight, by the way, KHOU examines whether Houston police are fudging crime stats.)
Also in the March/April issue: "Fatal Freedom: Data Shows Rollback Of Motorcycle Helmet Laws Increases Fatalities."
Light the Match
I haven't had time to dig into the new Punk Planet, which arrived yesterday, but it looks fabulous as always. Their big story on student activism includes the cover line "Is Your Campus Set To Explode?", and I can only hope the answer is yes. The magazine says that a rebirth of Students for a Democratic Society is "leading the charge."
Other stories that look promising include "Doll Power: Just how feminist can corporate-sponsored girl videogamers get?" and "Gutting Schools: Is No Child Left Behind doing any good for schools or students?"
Artist interviews include Electrelane and CocoRosie.
Also: Punk Planet is now selling pre-2007 back issues for just a dollar each, plus shipping.
America's Tragedy
That's the cover story of the April 21st-27th issue of The Economist, which I've been getting on a free, trial basis until I write "CANCEL" on the bill and smile at the lengths I will go to in order to keep this shoestring operation alive.
America's Tragedy refers to, of course, the Virginia Tech shootings. The cover art is an American flag in the shape of a handgun on a white background.
The Economist is the world's sharpest newsweekly, and coming from England it offers a particularly fascinating - and usually spot-on - view of America.
It's also too expensive to subscribe to - which means poor people like me miss out on conservative overseas insight that nonetheless often finds American domestic policy barbarian. Like when the magazine writes that "The Democrats have been the most disappointing, because until recently they have been the party of gun control."
Also in this issue, in "Still Separate After All These Years," the magazine says "Five decades after the Supreme Court struck down school segregation, black and white children continue to learn in different worlds. And it could get worse . . . In the coming weeks the court will announce its decision on a pair of cases it heard in December, involving the Jefferson County [Kentucky] school district and another in Seattle. Both districts act aggressively to maintain racial balance in their schools, but may not be able to continue."
The magazine notes that "Segregation no longer has the force of law, but it is still a fact of life in most cities. Many districts are actually going backwards."
Napping New Yorker
Meanwhile, the slumping New Yorker puts out two clunkers in the world. I cannot recommend a single article in the April 30 issue.
In the May 7 issue, Larissa MacFarquhar is overly impressed with Barack Obama's knowledge of ethanol policy (Hello?! He's a senator from Illinois campaigning in Iowa . . . ) and to ignorant of Obama's record as opposed to his image to produce anything but another mesmerized piece about the man's revolutionary way of thinking, which in the end amounts to a Clintonian desire to avoid conflict and embrace compromise so as to not rock the boat too much. At least they called the piece "The Conciliator."
I hope to find time to deconstruct this piece in Obamathon, as well as a recent New York Times Sunday Magazine piece about Obama (and Daley) media manager David Axelrod, called "Obama's Narrator."
And while I'm normally a fan of Jeffrey Toobin's work, is piece on the impact of CSI on the expectations of juries sounds all too familiar.
Geez, you'd think it was summer or something.
Posted by Beachwood Reporter at 6:46 AM | Permalink
What Captain Ron Didn't Say
* This missive came in over the transom from a faithful reader with good reason to remain anonymous, in response to yesterday's Papers column item about the CTA.
So that's the plan to save the CTA? Mystery shoppers harassing the agency's customer service types? Making people prove to their loyalty to the new boss? And how is the media reporting - without questioning - that its wrong for the CTA board chairman's position to be in danger, just because she can't get along with the executive director? In a true director/board relationship, it's the executive director who has to please the board president. But we know the score there . . .
I wish for the day we could get a true visionary as CTA executive director. Not a bean counter, or a loyalist, or a hatchet man. I am living in fantasyland, but how nice would it be if someone took the mic and said something like this:

"The Chicago Transit Authority - for far too long - has been seen as transportation of the last resort. The people you've entrusted to run this agency treat it that way. You know that already. And as new executive director, I will fix those issues. But today, I want to focus on the civic leaders and downtown business interests. This powerful combination will have no trouble asking you to give up public land and the public purse to fund Olympics, pay for football stadiums or finance sculptures and fountains at Millennium Park, all in the name of making Chicago a 'first-class city.' Yet on the issue of good public transportation, the one thing that, if done correctly, makes for a truly great city, these leaders have been silent. Why? A population the size of Boston rides public transportation into downtown each workday. Public transportation is a service many of their employees enjoy - and many more would enjoy, if the system was clean, safe, efficient. The downtown business leaders are silent because they have not been called into battle. That changes now.
"The General Assembly used my unpopular predecessor Frank Kruesi as an excuse not to do their job and fund mass transit. But here is a new day. As of now, the mayor, the CTA chairman, the CTA board and I will be meeting with the city's business and civic leaders - the people who say they believe in Chicago and have flourished under this administration in terms of access and contracts - and we will impress upon them the need to join us in lobbying the General Assembly and federal government for the transit dollars to expand and run this system. Their access and influence in Springfield and Washington will be put to use in order to finally rebuild this transit agency. We will go toe-to-toe with the highway lobby - with the powerful 'concrete industrial complex' that seems destined to cover every acre of northeast Illinois with wider roads and new highways. And their success comes at a cost. We will spend $1 billion repairing the overused Dan Ryan Expressway and billions more fixing the other area expressways . . . and before your newborn gets her driver's license, we'll have to do it again, and possibly again.
"Public transportation is the efficient, affordable antidote to this. And the mayor, the CTA, and the city's business leaders will fight for this message and win some of those billions for public transportation. We will work with professional urban planners and transit planners to develop a system that truly serves Chicago. More buses, more rail, more service.
"It's customary, whenever a new person takes over a public agency, to promise a round of cost-cutting and belt-tightening. And some of that must take place here. But make no mistake, we can't economize our way out of this problem. We can't slash our way to victory. There is no quick fix. What's needed here is the transformation of a moribund and beleagued transit system; a civic embarrassment which must now be a refashioned into a national model of urban public transportation. Chicago depends on it."
*
Comments? Send them along and include a real name to be considered for publication or a good reason why you must remain anonymous.
*
Previous Beachwood CTA coverage:
* Ode to the Brown Line.
* No Hugs On The CTA.
* Slow Ride: The CTA Is Stuck In Reverse.
* Off The Rails: A Recent History Of CTA Screw-Ups.
Posted by Beachwood Reporter at 4:10 AM | Permalink
May 2, 2007
The [Wednesday] Papers
It's good to see we finally have some innovative thinking at the CTA. New transit president Ron Huberman is promising "a leaner, more efficiently run and customer-focused CTA," the Tribune reports.
Finally, someone who gets it! No incoming CTA boss has ever promised more efficiency and better customer service before!
"We will be doing a lot of slashing," Huberman told the Trib.
Maybe just get rid of the trains and buses and keep the rest. Then things would really run smooth and lean.

The Trib reports that Mayor Daley made it clear to Huberman over lunch recently that his top priorities ought to be consistent service, cleanliness, and courtesy. And he should fire as many CTA employees as it takes to reach those goals.
Of course, as the Trib points out, the mantra of outgoing Frank Kruesi was "on time, clean, safe and friendly" service.
I notice that Daley and Huberman have already trimmed "safe" out of the equation, so maybe that's where they plan to save some money.
"Huberman said his lack of familiarity with the CTA are positives that will allow him him to come in with a fresh perspective and introduce a dramatic overhaul without flinching, changes he expects will be applauded in Springfield," the Tribune account says.
And then Huberman asked where he could buy a CTA map, and which train went to Springfield.
Maybe Huberman should start out as a conductor and work his way to the top. Isn't there a deputy somewhere in the agency groomed and ready to go? Did we not have time to conduct a national search and find the best and brightest transit guru available? Can Huberman even name a bus line?
And where, Mr. Mayor, is the vision, really? Look how quickly you pulled together an Olympic bid. Perhaps a CTA 2016 Committee is in order as well.
For years there's been talk of Circle Lines and Midtown Expresses and Red and Blue Line extensions into the further reaches of the suburbs and all we get are three-track operations, bunched-up buses, and burning trains.
Isn't it time for the city to step up with a larger financial commitment (a CTA TIF?) and a regional transportation vision? Can we turn the CTA over to Metra?
This is just theater, and we've all seen this play too many times before.
Retail Politics
Huberman says he will use "mystery shoppers" posing as commuters to measure customer satisfaction and problem-solving.
Memo to Huberman: You already have mystery shoppers. They are called riders.
Butt of Joke
The Sun-Times's self-promotional prostate screening extravaganza is not only shameless, it's medically reckless. You're a newspaper, not a hospital.
Olympic Mirage
"Do I think the Olympic Village is going to look anything like the concept?" Valerie Jarrett, vice chair of Chicago 2016, tells the Sun-Times. "No, I don't."
And neither will the bill.
Rip Van Sneed
When Sneed writes today that "now comes word" that First Ward Ald. Manny Flores is considering running for Congress, do you think she got that from reading the Reporter yesterday, or do you think she just woke up and thought it was 2005?
Maybe Ron Huberman should go over to the Sun-Times and instill some accountability there.
Chicondo
"'Mega project' set for Tower: Eight-Story Mixed-Use Condo Would Replace Three Historic Buildings."
Blowing Barack
Mike Flannery genuflects before our hero.
Note the apologetic and sympathetic tone of his questioning, like when he says "you want to nuance things, but the media says you can't do that at this level . . . " without noting that he is the media!
Also: Why not ask Obama why he dodged Tim Novak and Carol Marin for five weeks? Or why he always endorses Machine candidates?
Instead, the closest we get is "I wouldn't have thought a few months ago that Mr. Rezko's name would come up in a presidential debate. How do you deal with that, how do you put that to rest?"
First, if Flannery ever thought for a moment that Rezko's name wouldn't come up in a debate, it's time for him to give it up and go sell insurance. Then, he doesn't ask about Obama's dealings with Rezko - Senator, you have portrayed yourself as a champion of low-income housing but you weren't aware that a major donor of yours who was the target of city lawsuits for deals you and your law firm worked on had dilapidated buildings without heat in your district? - it's about how he deals with the pesky media. (Answer: bob and weave.)
And Flannery lets him get away with saying "If I weren't a presidential candidate, this wouldn't be an issue. You guys wouldn't be writing about it at all."
I beg to differ. As a U.S. Senator, I certainly think we would be writing about this. Even as a state senator. After all, Rezko's ties to county government are being given a good workout too. Obama's answer, if sincere, shows an appalling lack of judgement in itself.
Finally, watch Obama rewrite history as he says his answer in the South Carolina debate about how he would alter the country's military stance should two U.S. cities have been bombed was about the emergency response to the bombings, not about reviewing emergency response a la Hurricane Katrina, as he actually answered.
Blowback
"I'm going to be speaking in sound bites soon enough," Obama assures.
Best. Reporting. Ever.
"Today, a dump truck rolled over and all the dirt came out. The truck rolled onto more dirt. It was hard to tell all the dirt apart. There were no injuries."
No longer available online here. But it was there yesterday, and it was priceless.
- Bethany Lankin
Big Bad Jim Thompson
"Testifying at the fraud trial of Conrad Black, former Gov. James R. Thompson said Tuesday that as audit committee chairman for Hollinger International, he wasn't told about more than $31 million in payments to Black, other company executives and a Canadian company Black controlled," the Sun-Times reports. "Thompson is the third former member of the media company's audit committee to say he was kept in the dark about non-competes paid to Black and others."
It's hard to tell if Thompson and his pals really didn't know about the payments or really didn't want to know about the payments. Either way, Thompson & Co. are guilty of gross negligence, don't you think?
"Thompson did approve $26.4 million in non-compete payments to Black, [David] Radler and others in 2000 in relation to the sale of Hollinger's Canadian papers," the Sun-Times account says.
"Thompson said that when the issue first came up, he told Radler that he head never heard of executives being paid personally to sign agreements not to compete with the buyer. Thompson asked for industry precedent.
"But Radler never gave Thompson the 'comparables' he sought. Instead, the committee was told that the Canadian payments were much smaller as a percentage of the sale than non-competes paid in U.S. Holinger sales.
"Given that fact, Thompson thought the non-competes in the Canadian deal were "reasonable."
Wow. That was easy.
If that account is true, Thompson had no business being on anybody's audit committee.
"In 2002 and 2003, Thompson said he signed financial disclosure statements that said individual directors had approved of $15.6 million in non-compete payments to Hollinger executives from U.S. sales.
"Why did you sign the document if it's not true?" prosecutor Eric Sussman asked Thompson.
"'Because I didn't see the paragraph,' Thompson said, noting that he had 'skimmed' the documents."
Oops.
He was not using the word "skimmed" ironically, by the way.
The Beachwood Tip Line: Be reasonable.
Posted by Beachwood Reporter at 9:24 AM | Permalink
What I Watched Last Night
My name is Steve Rhodes, and I'm a binge TV viewer. I know it's killing me, and I hate myself when I do it, but I don't want to stop, either. It makes me feel good.
Like yesterday, when Dr. Phil morphed into a particularly good Celebrity Fit Club, which slid easily into Bad Girls Club, and then its male counterpart, the Cubs. Can you feel the high?
Oh yes, there were bouts of self-loathing amidst the rushes of seeing Dr. Phil smack down the 19-year-old doofus planning to marry his sneaky 30-year-old girlfriend after just two weeks of dating, and watching the rerun of new roommates arriving to cold, skeletal shoulders on Bad Girls Club, but this was also a journey of self-discovery. I discovered, for example, a new high/low in laziness, which I reported to my friends with glee. Like John Bender said in The Breakfast Club, being bad feels awfully good.
*
I like Dr. Phil. Actually, I kind of love him. That may come as a surprise to many of my longtime readers, but I beg of you, don't live in the darkness like I did for so long. Come to the light.
For years, I loathed Dr. Phil out of general principle for what he seemed to represent in the culture - a Jerry Springer Lite creation of Oprah, a family-friendly Dr. Laura. I was wrong, and I bury my head in shame.
Phil McGraw is a damn good psychologist. What his show really is, at its best, is a therapy session open to public viewing. Having just a smattering of knowledge about a few particular psychological theories and principles, mainly in the areas of addiction, depression, and the impact of those things on relationships, I find Dr. Phil not only spot-on, but insightful and revealing as hell - if you're paying attention.
Sure, the Dr. Phil House and some of the show's other gimmicks are pure voyeurism, and he's always hawking his books and the products of his sponsors, but if you can accept the fact that it's a TV show and settle in, I guarantee you'll learn something.
Yesterday's show, "Call It Off!", was a barn-burner. The topic: Couples who should not get married. Or couples planning to get married with families trying to stop the proceedings. In each of the two cases presented, the families were right.
The first case featured two recovering addicts whom, we learned, had used drugs much more recently than previously thought. Turned out they weren't as recovering as claimed. The dynamic between the couple and between the woman and her family was both fascinating and depressingly familiar. The couple met at a meth house and, from the looks of it, the creepy weird guy provided the beautiful lonely girl with the emotional comfort she wasn't getting from her parents. It went on from there.
The second case was the aforementioned 19-year-old nerd being roped into marriage to a graceless and geeky 30-year-old woman with two children. (When Dr. Phil asked the boy if the relationship was sexual, he stammered, "Uh, yes, uh, but, um, not physically.")
Dr. Phil was kind and open to the couple and seemed to hurt for the boy even as he embarrassed himself with an incredible lack of self-awareness or smarts, and in the end put the hammer down on the woman - the one who should know better - by finally chastising her for seeking a marriage license to a teenager who didn't yet have his driver's license.
That may be where Dr. Phil delivers the entertainment value, but if you watch long enough you will recognize psychological dynamics - even if in melodramatic cases - that surely exist in your life and the lives of people you know. The genius of Dr. Phil is that he basically offers Therapy 101 with real live case studies in an entertaining, if often cheesy, package. It truly is educational TV, even if it sometimes gets schlocky and embarrassing. Those are the days you simply change the channel.
*
I have no interested in Celebrity Fit Club, but they teased me into the show with clips of Dustin "Screech" Diamond getting ripped on by his colleagues, so I tuned in to confirm what I suspected: Diamond is so desperate to revive his "career" (remember the sex tape?) that he's gone on Fit Club with the express motive of being the bad guy to get screen time.
Memo to Diamond: You are not Puck.
Diamond's gambit is that he can lose weight on a junk food diet. Without exercising. Just by eating less. Junk food. And he does lose weight in the opening round (I think nine pounds), but the judges accuse him of keeping a fraudulent food journal.
At the same time, Diamond provokes and alienates virtually every other cast member, and not in a cute Screech-like way (actually, Screech was never cute). The tables turn on Diamond and he leaves the show - though the tease makes us wonder if he's really leaving.
So Diamond accomplished his goal: he made the show about him. Unfortunately, his persona is so unlikable and lacking even in some of, say, Puck's charisma, that it's hard to imagine anything but a pornographic future for the Screechster.
Programming note: Marcia Brady is also on this edition of Celebrity Fit Club. So is Da Brat.
*
I recently discovered Bad Girls Club (hey, I work at home, and all the time, and even I can't subsist on The Situation Room, Baseball Tonight, Animal Planet, M*A*S*H reruns, and Family Guy alone) on a Saturday afternoon and tore through a whole mini-marathon to get as caught up as I wished to be on this not very good reality series. But I'm a sucker for these kinds of shows - for the first dozen seasons or so I watched every episode of The Real World, if only to loathe every one of its cast members except the comic book skateboard chick in Miami who wore that old Cubs t-shirt.
Bad Girls Club is a bad show not worth getting addicted to, but I can't help but watch in amazement at humans of the type whose existence I am all too painfully aware of, yet still somehow shocks and surprises me. You know, idiots.
And in this case, stereotypical spoiled blonde clubbing idiots who can't hold their alcohol and have a world of emotional trouble under their makeup-caked facades. (I might add, there is the black-haired Aimee who plays it tough and brash but in the end is as "blonde" and bitchy as the rest, or more, possibly angry about her unblonde appearance and lack of emotional range.)
There's not much else to say about the episodes I watched except that as much as the girls in the house they are stuck in all hate each other, their bond was threatened by two new roommates who arrived, so they froze them out. It was like seeing a fascist army congeal against the new recruits - or like blonde blood cells fortifying a defense against red ones.
Oh, and one of the girls in the house had an embarrassing runway modeling gig on behalf of a local boutique - embarrassing because of the discovery that she's not anorexic enough to really make modeling a career. Aimee advises she stop eating so much ice cream.
This show, of course, is a disservice to women, but also to men; the notion that these are the kinds of women whom men go for is offensive to our gender. I know men and women like this exist in nature, but they don't reflect even the most mainstream people I know. Never forget - they are the freaks. And not in the good Freak Nation kind of way, but in the "go away, you're ruining it for everyone else" kind of way.
*
From there the Cubs game came on and provided its usual laughs - like how the Pirates bunted the bases full in the first inning, among other follies. More importantly, during the Cubs games I discovered a new high/low in how lazy I can be. I was laying on the couch when my land line phone rang. The phone was at the other side of the table in front of my couch, so answering it would have required movement on my part. So I just let it ring.
But that phone is also basically my business phone - as opposed to my cell - and the possibilities were gnawing at me. Maybe, for example, Bill Maher had seen the site and wanted to give me a lot of money. Or perhaps it was Dunkin' Donuts inquiring about advertising on The Beachwood Reporter.
As I considered just what it would take to get me to move, I spotted my cell phone within reach. That's when it hit me. I could use my cell phone to call in and get my messages from my land line - which was sitting about two feet away. I was so proud of myself I called my friend Tim instead to tell him about the plan.
Then I fell asleep.
*
When I awoke, the Cubs game was curiously still on. In a way. There had been a rain delay (the game would eventually be suspended), so it was like I had barely missed anything at all. Now that's good TV.
*
See the What I Watched Last night collection.
Posted by Beachwood Reporter at 6:03 AM | Permalink
Ode to the Brown Line
You gave my seat to your luggage.
Your children pulled my hair.
You tossed your umbrella into my lap.
It was wet but you didn't care.
Your latte burnt my shoulder.
It spilled from your lid-less cup.
I give up.
I watched you as you clipped your nails.
Small crescent moons flew in the air.
Your keratin and dead skin cells -
they landed on my shirt and hair.
Then you screamed into your phone
about your date last night with Lou.
I hate you.
You spread your legs apart and take two spaces for yourself.
It reminds me of a joke my ribald uncle use to tell.
Shifting his weight in his chair he'd say,
"These pants are like a cheap hotel,"
and then yell, "There's no ballroom!" And we'd laugh.
But your quest for testicular lebensraum hurts my thigh
so you should die.
Your generous backpack crushed my spine.
It chiseled my flesh like a pickaxe.
You're just one of many Quasimodos
whose bags have disfigured my thorax.
Bags go on the floor between your feet
or neatly on your lap if you can sit
you stupid twit.
Each time the train stopped at a station
we experienced "a slight delay."
You stood like a statue in front of the door
and refused to move out of the way.
I'm tired of being patient but always late instead.
So you and the bulk of this line's clientele
can rot in hell.
Now I get to spend much more time,
thanks to three-track operation,
with the boorish, rude, and selfish
through delays for renovation.
Your self-important attitudes
and Lilliputian brains
drive me insane.
In exchange for longer wait times
and severely crowded trains,
for patience during station closings,
What will riders gain?
New eight-car trains that run less often?
Security cameras instead of police?
We've been fleeced.
The CTA is our New Colossus
But this mighty woman is not the same.
Our tired, our poor, our huddled masses
have been given a torch with no flame.
Where did the life saving heat lamps go?
We got toadstool benches instead.
I wish you were dead.
So thank you fellow riders
and thank you CTA.
You've made this kind and gentle soul
become what she is today.
I'm tired and I'm angry and I can't take any more.
I guess we'll suffer through gridlock.
Perhaps we'll walk.

Posted by Beachwood Reporter at 5:06 AM | Permalink
The Case For Barry Bonds
Barry Bonds is innocent.
No, I don't like him either. No one likes him, except maybe his mom and a couple of amped-up geeks kayaking around McCovey Cove with fishing nets. But Bonds is on the precipice of becoming baseball's all-time home run king, and not only does nobody care, most fans seem to wish he never happened.
Forget banned substances for a moment. No, let's focus on banned substances: Let's assume Barry was on something from 2000 to 2004, like everyone else in the Needles and Creams Era, right down to the kid selling the anemic chowder at Fenway. During those five years, Bonds had 248 homers, 544 RBI, 615 runs, and batted .339. Juice or no juice, that's amazing, considering the fact that the pitchers - who walked him 872 times rather than risk giving up another embarrassing dinger - were also juiced. Bonds, already one of the greatest ever, was the undisputed heavyweight champ of the era. He was so dominant during those five years that he won the MVP award four times. The other time, he finished second to his teammate Jeff Kent, which was a joke - even to Kent.
Diehard fans want to discount those numbers, because they "taint" the history of baseball. People: baseball was born tainted. Its history has is filled with a lot more pine tar, cork, Vaseline, emery boards, thumbtacks, and sharpened spikes than sportsmanship. John McGraw reportedly hid balls in the outfield and Whitey Ford doctored his pitches so well he said it was as though he had his own tool bench on the mound with him. The '51 Giants, one of the game's all-time feel-good stories, used telescopes to steal opponents' signs. I mean, Christ, there's an entire family of groundskeepers that has been altering fields to the home team's advantage for more than 80 years. That's baseball.
Should we throw out the numbers from McGraw's and Ford's eras, too?
Purists would scoff at such an idea, because it would be an admission that their national pastime has always been dirty and the Hall of Fame is packed with cheaters and assholes.
Fans are now skeptical. That's good. They're finally awake to the notion that their precious game is populated with men who will do whatever it takes to get an edge. But we shouldn't be so naive to think that it hasn't always been that way. Barry Bonds may be about as popular as Bin Laden these days,
but he is not a symbol of society's deteriorating values. He is simply the best at the newest kind of cheating, and I say more power to him.
*
Comments? You must provide a real name to be considered for publication.
Posted by Beachwood Reporter at 4:29 AM | Permalink
Open Letter
Please, just stop.
I'm considering putting my children into foster care and devoting my life to a relentless study of quantum physics for the single purpose of developing a time machine, so I can travel back to 1982 and deliver this message before you record "Ebony and Ivory."
We must, however, face a cataclysmic possibility: I may not succeed. So I beg you, begin the damage control which is now sadly necessary to preserve your musical reputation for future generations
Memory Almost Full, your new CD with its insipid, loathsome single "Ever Present Past," is slated for release June 5, a day that could live in infamy if you don't act now. (As my husband said after hearing it on the radio: "Lennon's gotta be laughing at that.") The CDs may be already pressed, crated and rumbling on trucks toward innocent fans. But take heart.
Your 2005 record, Chaos and Creation in the Backyard, has sold only a little over 500,000 copies in the U.S. So Starbucks, your new label, will likely keep initial numbers of this latest abomination to a reasonable level. To be conservative, though, let's say Starbucks has produced one million units of "Memory Almost Full." At $15 per, you could buy the entire inventory for $15 million. This is doable. The Sunday Times' annual Rich List, released last week, says you're worth $1.4 billion - and that's after divorce costs. Kill two birds with one stone: Save your musical legacy (or at least reduce its tarnish), and shoot to the top of the charts.
If you doubt me, remember there are two current songs claiming you as an inspiration, and neither is a good thing. The Scissor Sisters' latest CD, Ta-Da, features "Paul McCartney." Here, you're supposed to be a positive influence. Jake Shears says he dreamed about you, woke up and wrote the song. His colleague Babydaddy, speaking to Bullz-Eye.com, says, "We got really into the Paul McCartney catalog while making this album."
Here's the thing: Scissor Sisters are often referred to as "glam-pop," and that's a pretty accurate description. I enjoy them, but they're either a guilty pleasure, or an embarrassing pleasure. Sadly, "Paul McCartney" definitely falls under "embarrassing," due to its mawkishly disco style. And if Scissor Sisters were listening to anything you did in the past twenty years, that makes sense.
Then there's Cinemechanica, an Athens, Georgia band usually called "math-rock" or "punk." I'm no rock critic, so I'll just quote from a review with which I heartily agree, posted by Sam on .3hive.com: "Twitchy time signatures, fiercely intricate drum patterns, dualing guitars, and speak/shouting about things not quite right in the world . . . I don't want to say they're a breath of fresh air . . . more like a swift punch to the gut that knocks the wind out of you . . . " In short, they kick ass. Unfortunately, this is the band you inspired to write "I'm Tired of Paul McCartney."
Much as I enjoyed listening to "I'm Tired of Paul McCartney" repeatedly on my iPod, attempting to decipher the lyrics, I was ultimately unsuccessful. So I e-mailed Bryant Williamson, one of Cinemechanica's guitarist/singers.
"The lyrics of the song don't actually discuss how annoying Paul McCartney is . . . only the title," Williamson wrote back. "But then again, the song's lyrics are similarly about global problems that need to end or be given up on (Paul also should end his career)."
Your interview currently featured on the Rolling Stone website convinces me of the righteousness of my message. You're asked, "What would you like people to remember of the work you've done?" On the audio clip, you answer: "For people to understand what I did. There's a lot of it, y'know, and it's still comin', there's an awful lot of it." Talk about cold fear. When I heard that, in your own Liverpool accent, it was like seeing Psycho for the first time.
If you must compose new music, if you just can't stop yourself, do it in a hermetically sealed room located at the bottom of a steel ladder approximately one mile below your Peasmarsh estate. Like an Egyptian pharoah's tomb, the workers who build this musical bunker should be killed afterward, as humanely as possible, to guard the terrible secret of their final labors. Their sacrifice will be honored by rock fans for eons.
You shall be the only living person with knowledge of the bunker's entrance. Don't make it too obvious, like behind a picture or something. Remember The Great Escape, where the prisoners put the tunnel entrance under a shower drain? Something like that. You have imagination - I know you'll think of something. In addition, anyone crossing the bunker's threshold who is not Paul McCartney will be instantly obliterated by that new heat ray recently tested by the U.S. military. Set it up so you're identified by a retina scan; I believe that method is still foolproof.
By the way, if I haven't been sufficiently fawning in my admiration of your accomplishments, it's because I assume your exalted place in the pantheon of music is a given. I don't bother heaping accolades on Beethoven or Shakespeare either. Any young punks who dismiss your contribution to rock are just that, young punks.
The fact that your best work is behind you is nothing to be ashamed of - not when "behind" means being one quarter of The Beatles. There is much for you to savor in your '70s music, too. Why is it so hard for us to accept that a person can create amazing work, but at some point, even most great artists are tapped out?

Most of us tend to hold ourselves to higher standards than we expect for others, and you are likely no different. So consider the careers of two literary giants. The towering achievements of Harper Lee and Joseph Heller are diminished not one inch because each produced just one single book that deserves to be included in an infinite, universal Top Ten of literature. Lee never published another book after To Kill A Mockingbird. Heller, you may argue, wrote inferior novels after Catch-22. True, but books like Something Happened and Good As Gold aren't vast pages of inky drivel. I keep them on my bookshelf without shame. Not so your post-70's work, which is unsafe in any respectable CD rack.
On a lower rung of popular culture, the puzzling thing to me about the Michael Richards controversy was the constant assumption in all accounts and analysis that Richards' hecklers were right - that Richards is a loser because he hasn't had any commercial success since Seinfeld. Richards' subsequent rant was ridiculous and indefensible, and perhaps his stand-up act was as well. But excuse me: if an actor who creates one of the most hilarious characters in the history of comedy on one of the most popular television shows of all time is a professional loser, then give me a generous helping of failure.
Many artists have been saved from your fate, Paul, by meeting an untimely death. I hate to think what Jim Morrison might be up to these days, for instance, if he was still with us. Perhaps hosting Deal or No Deal. Yet death is not the only way make a graceful exit. (Not that these deaths are, themselves, usually graceful. Think Elvis - or rather, try not to think of him, a bloated addict sitting on a toilet. And, of course, it's unfortunate his overdose couldn't have come before he ever bought a white jumpsuit.)
Paul Newman and Robert Redford spring to mind as two people who, rather than making movies like Grumpy Old Butch And The Sundance Kid II, have channeled their energies into other worthwhile enterprises. You've already begun that chapter of your life, with your work on animal rights, mine fields (sorry to remind you of Heather), and your many charity concerts. You just need to drop the new records. Relax. You've earned it. With your new spare time, go get that Cinemechanica CD; it's called The Martial Arts.
Your fan,
Cate Plys
*
Maybe I'm an ingrate, but I'd rather remember what the man did before he would have ever contemplated recording with Michael Jackson. Does that make you want to ram something down my throat? Open Letter is open to letters: cateplys@sbcglobal.net.
*
And catch up here with such Open Letter classics as "Dear Macy's" and "Dear New Skin Cancer Specialist."
Posted by Beachwood Reporter at 1:47 AM | Permalink
May 1, 2007
Alt Clear Channel
Much as I loooove to hate them, I have to admit that I could be detecting a tiny glimmer of mercy in the steely eyes of Clear Channel Radio. Could they finally be thinking of, gulp, music fans? Are they wising up in the face of stupendous competition from satellite radio and the Internet and devising an alt-slash-southern-slash-outlaw country format that might, just might, be worth listening to? I know, it's crazy, right?
Commercial radio, which so many real music lovers rightly tossed into the same relevancy trashcan as MTV years ago, has a long way to go in my estimation before I can ever again give myself over to the god-awful playlists and Republican-enabled corporate gigantism it represents nowadays. And Clear Channel, of course, is the worst of the offenders. Valued at $20 billion by the private equity firm now trying to buy it, Clear Channel has done more to wring the creativity out of commercial radio than anyone else, mainly by buying up hundreds of stations and imposing identical, by-the-numbers musical crapfests 24/7.
But now, in a small, small way, Clear Channel seems to be getting some kind of message that the actual music counts just a bit, it least when it comes to roots rock. Down in Dallas, it has introduced a new format it calls Lone Star 92.5, and I've taken a listen on its Web simulcast, which can be found here. Now, I'm not going to lie and say it's a complete commercial format breakthrough - it still has a lot of George Thorogood chestnuts and the Eagles mixed in to make the dope-smokin' Classic Rock fans comfy.
But there's also quite a bit of semi-obscure outlaw country, albeit from the usual suspects like Willie Nelson and Waylon Jennings. For instance, with Willie, instead of just the "Georgia On My Mind" and "On the Road Again" that you'd hear on many a format, Lone Star also will play "Bloody Mary Morning" and "Ten With a Two." Willie seems to be pretty heavily involved with the station, cutting several promos that are prominently played. Of course, because it is commercial radio, and perhaps because 92.5 (KZPS-FM) was a long-time dinosaur classic rock station, you have to wade though a lot of what I'd call "classic southern rock" - Lynyrd Skynyrd, Charlie Daniels, Creedence. But at least they seem to play a fair amount of deeper tracks from these guys. For instance, from Skynyrd I heard "Whiskey Rock-a-Roller," not one of the top five tracks that gets played to death. The John Mellencamp they play will more likely be "Lonely Ol' Night" instead of "Small Town." It's subtle, but the emphasis here is just off the mainest of the mainstream. It's a slight nod to taste.
But what makes this format actually promising is that it plays quite a few bands that I would certainly classify as nothing but alt-country. The Old 97s are on a heavy rotation, along with groups such as the Drams, Whiskeytown, the Jayhawks, Drive-By Truckers, Uncle Tupelo, Cross Canadian Ragweed and Billy Joe Shaver. I've got to say that's pretty impressive for Clear Channel.
Clear Channel is also trying something else a bit different with this station. It's going with an advertising format in which only one sponsor per product is taken on - for instance, only one beer sponsor, one car sponsor, etc. - and will not have traditional, annoying and way too numerous "spots." The DJs will work the ads in throughout the hour by reading them live - like old times. It's the stated goal of Clear Channel Radio CEO John Hogan that he's out to rid his stations of "spots" - and that's half of my problem with commercial radio out the door right there.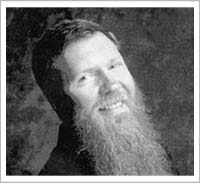 The driving creative force behind this roots rock experiment is a guy named Redbeard. A longtime Dallas disc jockey also known as Duane Doherty, he was well-known for his idealistic love of early 70s free-form FM radio and for many a year dealt reluctantly with the awful commodification of the music airwaves, finally giving up on it when the Dallas classic rock station he was working at dropped the format in 1998. Redbeard then migrated to XM Satellite Radio, where he was one of the founding programmers of XM's Deep Tracks channel - a true rock lover's feast of tasty obscurities. Now he's been lured back to terrestrial radio, something he thought he would never do again, mainly because he was impressed by Clear Channel's willingness to take a chance on a one-of-a-kind format that he says could become a model for a change at the evil empire.
Redbeard tells the Texas Observer:
"Everything before this was the same ol' radio. Nothing about it was significant. The last thing that was bold and revolutionary was when we started XM. That was bold. But when . . . J.D. Freeman [Dallas market manager for Clear Channel] contacted me, they wanted to do a unique Texas format that's never been done before anywhere in the country. And not only was the musical format unique, but so was the presentation and the way that this commercial radio station wanted to monetize itself. It had never, ever been done by a commercial station in history, and when they laid that out, I said, 'Guys, this is not only unique to terrestrial broadcasting, you're not only gonna make news in the world of broadcasting, you'll make news in The Wall Street Journal. This is bold and innovative. Where do I sign?'"
He also told the Observer that Clear Channel is going to give the format a chance:
"John Hogan loves the music and the sponsorship model, and he's given us a hall pass. He realizes it will take time, as far as ratings and revenue, and he's so committed he has not given us a deadline."
Lone Star does sound a bit like XM does now, or like FM radio sounded in 1971, before the greedheads got it. It's also significant to note the Lone Star format was first introduced on an HD Digital Radio side-channel in Dallas. Hogan has said he's going to use the new HD channels to develop niche formats such as alt-country, specifically as an answer to the challenge posed by satellite radio. This seems to be the only example of a Clear Channel HD-format being flipped onto a full-time FM signal. The company has devised 80 HD formats already, with 50 more planned, for everything from a workout music channel to a gay pride station. Clear Channel calls it, rather frighteningly, the Format Lab.
It would be the ultimate irony that a corporate behemoth like Clear Channel was forced to reintroduce exactly the kind of radio sound it destroyed because a people's revolt against its values forced it to reconsider. It also shows what a smart, ethical corporation could and should do: Instead of trying to destroy competition that listeners desperately want (for instance, by trying to drive Internet webcasters out of business), they actually compete by trying to be better and giving consumers what they're clamoring for.
You know, old-fashioned American entreprenuerial integrity. It still works if you give it chance. We'll see if Clear Channel really does give this a chance as it struggles to find ways to rehabilitate its image and win back people like me who are disgusted by what corporate gigantism has done to radio.
*
Contact Don Jacobson at don@beachwoodreporter.com.
Posted by Don Jacobson at 7:56 PM | Permalink
The [Tuesday] Papers
1. Now stocked in my neighborhood Walgreens freezer case: Dwight Yoakam's Chicken Lickin's. Chicken Rings Afire.
2. That's the same Walgreens that Ald. Manny Flores (1st) wants to turn into a humongous condo development, despite his ostensible concern for affordable housing. Maybe we should send Flores to Congress, which he is rumored to be shooting for, to get him out of Wicker Park.
NOTE: The Booster newspaper link has the wrong address for the Walgreens in question. It is at 1372 N. Milwaukee Ave., not 1732.
3. The truth is that Flores is just a smoother and prettier Jesse Granato.
4. Too much money kills the golden goose.

5. "Barack Obama (D-Ill.) has failed to raise money for the Congressional Black Caucus (CBC) even though it has been a year since he was asked to, and his main rival for the Democratic presidential nomination has done so, CBC members say," The Hill reports.
6. Seven ways car dealers bend you over and [stick it to you.].
7. Lou Piniella uses more lineups than the Chicago Police.
8. "Did Humans Breed With Neanderthals?"
A) That would explain a lot.
B) Some of them still do.
C) What happens in Bedrock stays in Bedrock.
9. How ironic that the new CEO of the Sun-Times Media Group let the terrorists win.
10. Anderson Cooper recently broadcast a special report called "Stop Snitchin'" on 60 Minutes about the code of silence among Chicago police officials with knowledge of torture and abuse in the department, as well as a segment on the likes of former Daley patronage chief Robert Sorich, convicted of running a massively fraudulent City Hall hiring scheme. The coup de grace was when Cooper confronted Daley about his refusal to reveal who hired Angelo Torres.
Oh wait. That wasn't what the show was about at all. It was about poor black people in the 'hood who don't like to cooperate with the police.
11. As if white people don't degrade their women too.
12. "In Mr. Obama's case, Citibank, many of whose employees have donated to his campaign, manages the bulk of his contributions. Shorebank, a small, Chicago-based bank, and Bank of America hold some assets as well and have issued credit cards to the campaign," Financial Week reports. "Multiple calls to Obama for America headquarters were not returned and key staff members declined to comment."
13. Sun-Times business editor Dan Miller (natch) defended ComEd's rate hikes on Week in Review last Friday by citing the rate freeze the utility has been operating under. "How would you like to have your salary frozen for nine years?!" he bellowed.
"It has been!" Sun-Times reporter Abdon Pallasch replied.
14. Miller also defended the mayor's appointment of loyalist Ron Huberman to head the CTA despite having no transportation experience whatsoever because Huberman is a good manager.
So Miller would have no problem reporting to Huberman if he was named the next editor-in-chief despite a total lack of newspaper experience.
15. Public agencies like the CTA will never solve their problems as long as they remain fiefdoms of the mayor, ruled by mini-governors sent to quiet the populace. There are plenty of good managers out there who have also devoted their lives to public transportation who would kill to get their hands on the CTA - in their field it's the equivalent of managing the Cubs; who wouldn't want to be the one to turn it around?
16. Draft day trades the Bears should have made, including, curiously, one involving the CTA.

17. Even I know from reading The Wall Street Journal, among other sources, that merging and downsizing are the two strategies least likely to produce results in the corporate world. It's not Pollyanish thinking - it's a business fact.
"Instead of rising sharply, the stock of companies that trim their workforces is likely to fall. A recent meta-study that surveyed research from several countries covering thousands of layoff announcements, concluded that, on average, markets had a 'a significantly negative' reaction to job cuts," writes James Surowiecki in the New Yorker, a magazine I'm fairly certain Tribune Company execs don't read.
On the other hand, mergers and layoffs often have nothing to do with the good of the company. The corporate suite makes out like bandits in these deals, and that's the real point. It's not like Dennis FitzSimons, say, has the interests of the Tribune Company at heart. If he did, he would do the job for maybe, oh, a mil a year. He has his own interests at heart.
"[I]nvestors seem to understand that fewer people doesn't always mean more profits," Surowiecki continues. "Downsizing may make companies temporarily more productive, but the gains quickly erode, in part because of the predictably negative effect on morale. And numerous studies suggest that, despite the lower payroll costs, layoffs do not make firms more profitable; Wayne Cascio, a management professor at the University of Colorado at Denver, looked at more than three hundred firms that downsized in the nineteen-eighties and found that three years after the layoffs the companies' returns on assets, costs, and profit margins had not improved. It's possible that these companies would have done even worse had they not downsized, but for theaverage company the effect of layoffs on the bottom line aprpeas to be negligible . . .
"[D]ownsizing has become less a response to disaster than a default buisines strategy, part of an inexorable drive to cut costs . . . the problem is that too many companies today define workers solely in terms of howmuch they cost, rather than how much value they create."
18. The Cubs: Worst $300 million spent in sports history?
19. An overlooked aspect of the Virginia Tech tragedy is that two women previously stalked by Cho failed to press charges. Maybe we should begin a "Start Snitchin'" campaign. It's our civic duty.
20. Ebertfest.
21. It was pointed out to me last week, in the wake of my column about local war cheerleading, that the suburban Daily Herald got it right.
From an Aug. 6, 2002 DH editorial:
"What little the public knows about the administration's thinking on Iraq comes not from the White House at all. It comes from stories leaked by Pentagon sources. Defense Secretary Donald Rumsfeld is angry about the leaks. If newspapers were reporting information that would compromise a future mission and the lives of U.S. soldiers, the anger would be justifiable. But that doesn't seem to be the case. What the stories outline are possible attack scenarios.
"Few Americans disagree with President Bush's long-held assessment that the United States, the Iraqi people and the entire Mideast would be better off if Saddam Hussein were not in power. Depending on what weapons Hussein has at his disposal and what his plans are, allowing him to remain in power could be a mistake of dreadful proportions.
"But details about his weapons inventory and his motives remains hazy at best. What role, if any, he has played in promoting terrorism is not altogether clear, and aggressive U.S. containment has limited his capacity to do mischief to his neighbors. Moreover, the complications and implications accompanying a U.S. attack are immense.
21. A couple of Daily Herald columnists also got it right.
On Sept. 1, 2002, the late Jack Mabley wrote in part:
"Vice President Dick Cheney warns the American people that 'we must not give in to wishful thinking and willful blindness' that Iraq will not attack the United States.
"He's right. Wishful thinking and willful blindness should never substitute for reason and logic.
"Let's apply Cheney's sensible advice to the Bush team's plan to invade Iraq.
"It is wishful thinking and willful blindness to think our forces can attack Baghdad, capture or kill Saddam Hussein, and install a stable regime in Iraq in a month, or a year, or maybe ever.
"It is wishful thinking and willful blindness to believe that Hussein will not unleash chemical and germ warfare against American troops.
"It is wishful thinking and willful blindness to think an invasion will cost fewer than 10,000 American lives plus the lives of as many as 100,000 Iraq civilians we are trying to save from Hussein."
Mabley also recognized the media's failure to do its job.
"What Cheney and President Bush don't say is as revealing as what they do say. They have one of the most formidable public relations machines in history.
"Cheney gives his war speech, and every network repeats and repeats his words, and every newspaper in the country carries it on Page 1.
"This publicity machine does not offer negative or opposing views."
*
On Feb. 6, 2003, Burt Constable wrote in part:
"Using clandestine tape recordings, satellite photos and strong words, Colin Powell nailed every point in his speech Wednesday before the U.N. Security Council. The presentation, titled "Iraq: Failing to Disarm - denial and deception," provided compelling evidence that Iraq is failing to disarm, can't be believed and is being deceitful.
"But those of us expecting to hear a speech titled "Why The World Must Go To War Against Iraq" may have been disappointed.
"As thoughtful and convincing as he was, our esteemed secretary of state gave no evidence that a U.S.-led invasion of Iraq would make the world a safer place.
"Powell testified that Iraq has tons of chemical and biological weaponry that remains unaccounted for and probably is hidden from U.N. weapons inspectors. But he gave no evidence that Iraq is about to use those weapons to harm the American people or our allies. Furthermore, Powell didn't say how an attack on Iraq would prevent those weapons from being used."
The Beachwood Tip Line: A slam dunk.
Posted by Beachwood Reporter at 7:51 AM | Permalink
What I Watched Last Night
Has the grown-up life you envisioned when you were in high school turned to shit? Can't get a job because you're a convicted felon? Is every single boss you work for an insufferable asshole who's keeping you down? Don't despair, buckaroo - the fugitive recovery industry has a place for pretty much any loser who still somehow maintains some initiative, some brains, or a clue about how not to jolt yourself with a taser.
Back in the day, the only experience law-abiding folk had to bounty hunters was Robert De Niro's Jack Walsh and John Ashton's Marvin Dorfler in the 1988 movie Midnight Run. (Tagline: "Robert De Niro has to get the FBI off his case, the mob off his trail, and Charles Grodin off his back!") Back then, you had to be a disgraced cop to be a bounty hunter. But that was before Duane "Dog" Chapman and A&E's Dog The Bounty Hunter came along a few years ago. Duane's an everyday hero in the sense that when life tries to fuck you nine ways to Sunday (or you spend a lot of time pretty much doing it to yourself), some people with even average intelligence are still able to find a respectable way around it.
Now there's a new entry in TV bounty hunter field: Wife, Mom, Bounty Hunter on We TV. This program premiered a little more than a week ago, and I saw a few episodes this past weekend. This program follows Sandra Scott, a woman with a past more checkered than a Stacy Adams zoot suit. There's little in the world that surprises me these days, yet even I can't figure this show out. Not to mention how people like this get their own show in the first place. In this case, a Phoenix housewife with more aliases than your garden variety street perp (and isn't even using her real name now) finds her career as a professional wrestler, lesbian, and porn star over, so she becomes a licensed professional bounty hunter. Heck, anything beats ending up as a greeter at the local Wal-Mart, I imagine.
For all intents and purposes, Dog and Mom cover the same ground in the same fashion. Which one of the two is better in terms of compelling bounty hunting is a coin flip, because there's nothing especially heart-pounding about either program. Fugitive collection seems to involve rounding up people who are too frail, too stupid, or just too plain sick to put up much of a fight. Make no mistake - bounty hunting is a highly dangerous job that can get you killed. (In one episode Saturday, Sandra sees a machete lying on the floor of an apartment shared by scary-looking tweaker bail jumper Victoria and her weathered boyfriend.) But by and large, the derelicts Duane and Sandra round up are meth and crack casualties who couldn't win a fight with a stiff breeze. So Cops is still the undisputed king of the hill when it comes to portraying what the citizenry is capable of when it gets backed into a corner with drugs down its pants or more alcohol than any liver should be expected to process.
Like Duane Chapman, Sandra Scott has a soft spot for the bail jumpers who end up in the back seat of her bounty hunter minivan. Moms and kids get parting hugs, and tweakers get probably the best meal they've had in a month so they don't starve to death while waiting to get processed at the county jail. But since Sandra doesn't have Jesus riding point on every bust and apparently doesn't smoke like Duane, her charges don't get The Salvation Talk or a cigarette on the way to the lockup. Yet a good amount of conversation does go on on the way to jail, and if we didn't know any better, you'd think the whole bunch were just carpooling to work in the morning. By the looks of Mom and Dog, you'd think all crackheads and sociopaths were plain friendly folk.
Mom tries to take things a step further than Dog by focusing a major portion of its time on Sandra's home life. Unlike the often dysfunctional reality of funny car racer John Force of A&E's Driving Force, Sandra and her family are pretty much plain people living a plain life in a plain suburb. And therein lies the viewing drawback: just because someone puts your family on TV doesn't automatically make your family interesting. Nor is it any guarantee that the viewing public gives a rat's ass that your sorta-slacker husband or your two daughters have personal issues that cut into your workday as a bounty hunter. It's law and order time in America; we want to see some perps getting dragged by their hair out of their hidey-holes. We want to see doors getting kicked in. We want vigilante justice! What we end up with is a lot of concern over who's going to care for the perps' pets while they're figuring out who has enough disposable cash to bail them out of the county jail.
Maybe Sandra Scott should have taken that Wal-Mart greeters job after all; at least we'd get to see some guns.
Posted by Beachwood Reporter at 5:13 AM | Permalink