Search The Beachwood Reporter
Subscribe to the Newsletter
The Cub Factor has learned that - with all due respect to Lou Piniella's ailing mother - the Cubs skipper called it a career early for a host of other reasons:
* Got a better offer from the Shady Oaks Retirement Home's softball team in Tampa.
* He's finally going into labor.
* He can't believe Jim Hendry still has his job either.
* Coma patients who awaken often make rash decisions.
* Better offer from AARP softball team.
* New Ricketts early retirement plan includes all the bison burgers you can eat.
* Beer league back home needs an advance scout.
* Must study major league rosters if he's going to do well for Fox in the playoffs.
* Activated for service in Afghanistan.
* Told Soriano the team wasn't big enough for the both of them.
* Lost a bet to Sam Fuld.
* Ricketts pulled his parking privileges.
* He was upset that he was put on waivers and no one claimed him.
* His wife finally realized he wasn't at the store getting cigarettes.
* Wanted to give Mike Quade his big shot.
* He just couldn't take it anymore.
Week in Review: The Padres came into Wrigley and swept a four-game set, followed by the Braves winning two of three for a 1-6 homestand. Meet your 2011 Cubs.
Week in Preview: The Mike Quade Era begins with three in Washington against former Cubs manager Jim Riggleman and three in Cincinnati against former Cubs manager Dusty Baker. Riggleman's Nats are in last place in the NL East but still have a better record than the Cubs and, from the looks of it, a brighter future. Baker's Reds are in first place and looking to re-sign the skipper unless he takes a better offer from the Dodgers. Quade's employment as Cubs interim manager is a nice going-away gift when the team releases him and Alan Trammel to greener pastures elsewhere.
The Second Basemen Report: The fact that backup second baseman Jeff Baker started Lou Piniella's last game in right field just about says it all. It was his second start there last week. Meanwhile, Blake DeWitt got five starts at second and minor league shortstop Darwin Barney got two. Just like Jim Hendry drew it up.
In former second basemen news, Ryan Theriot is hitting .288 with the Dodgers and batting second. Mike Fontenot is hitting .300 since joining the Giants and platooning with Freddy Sanchez. All-Star utility man Omar Infante, who was briefly a Cub, went 4-for-6 with two home runs, four RBI and four runs scored at Wrigley on Sunday. He is missed.
The Zam Bomb: Like Bart Simpson and a substitute teacher, we expect Carlos Zambrano to test Mike Quade this week.

-
Lost in Translation: Domo ariWHAT? is Japanese for Get me the hell out of this madhouse.
Endorsement No-Brainer: Lou Piniella for Planned Parenthood. It's not the best way to go, but pulling out early at least gives you a chance to avoid a life-long legacy you really don't want.
Sweet and Sour Lou: 50% sweet, 50% sour. It was a wild ride but it had to end, and you have to wonder if it really should have ever begun. And just like your real crazy drunk uncle, you have to wonder if the plant should have hired that young guy a few years ago who they seem to be so hot for now. Would've saved everyone a lot of time, stress and money. And he knows how to work the new equipment.
Ameritrade Stock Pick of the Week: Goat commodities are making a strange comeback; hop on that gravy train.
Over/Under: The number of rookies playing now who will make the team next spring: +/- 3.
Beachwood Sabermetrics: A complex algorithm performed by the The Cub Factor staff using all historical data made available by Major League Baseball has determined that Jim Hendry is the goat.
Agony & Ivy: It's a way of life.
The Cub Factor: Unlike Soriano, you can catch 'em all!
The White Sox Report: Now with a weekly Cubs Snub.
The Mount Lou Alert System: In honor of the North Side's crazy drunk uncle, the U.S. Department of Homeland Security has declared Wrigleyville a natural disaster area and asks citizens to remain on highest alert for the remainder of the season.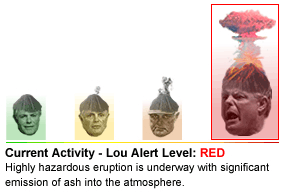 -
More from Beachwood Sports »
Breaking Beachwood Sports Feed!