Search The Beachwood Reporter
Subscribe to the Newsletter
Sources tell The Cub Factor:
Jim Hendry: Jim took some time to try and get his TIVO in working order. But he was trying to record too many shows in the same time slot and it just didn't work out the way he wanted.
Carlos Zambrano: Carlos got to the part in his recovery where he has to apologize to everyone his "affliction" has effected. As of the posting of this column, he was on the Ds in the Chicago phone book.
Lou Piniella: Lou finally got the kegerator fired up down in his man cave. He's thinking he might have some time on his hands in the next couple weeks.
Carlos Marmol: Carlos went sightseeing with his family. It was nice, but his mother complained that her feet hurt from too much walking.
Geovany Soto: The last thing Geovany remembers is popping in the Family Guy episode where Quahog legalizes pot; he woke up three days later with Cheetohs smeared on his face.
Carlos Silva: Carlos Spent a lot of time at OCB (Old Country Buffett) to stay in game shape.
Derrek Lee: Slept.
Alfonso Soriano: Alfonso experimented with his laundry; first hot, then cold, then hot, then cold . . .
Tom Ricketts: Tommy Boy checked with his accountant on the tax consequences of depreciating assets.
-

Week in Review: The Cubs came out of the All-Star break on fire, taking three of four from the Phillies at the worst possible time for Cub fans. Hope kills, people. This team needs to be blown up.
Week in Preview: The Cubs stay home for six more games with three each against the Astros and Cards. With any luck, a 3-3 record here will begin the fire sale, or at least some sort of sale. 'Cuz I mean, things need to be for sale.
The Second Basemen Report: All four games this week at the keystone sack were started by Ryan Theriot. Another week of this and we will have to resort to the Right Fielder Report, just like Jim Hendry drew that up too.
In former second baseman news . . . okay, this guy wasn't a second baseman but the news is too good not to share. Matt Murton is kicking ass in Japan and is missed.
The Zam Bomb: Big Z is going to start pitching again which means he will again be angry, so he is getting angry.

-
Lost in Translation: Mattio Murton-san is Japanese for flaming red phoenix from the West.
Endorsement No-Brainer: The Cubs offense for David Blaine's next illusion.
Sweet and Sour Lou: 38% sweet, 62% sour. Lou is up three points on the Sweet-O-Meter due to getting back to baseball. And just like your real crazy drunk uncle, Lou may not like how things have been going for a while now over at the plant but it beats listening to the old lady rag on him to mow the lawn and how he didn't weed whack around the begonias correctly. He's glad to be back, this is what he does, even if he's not very good at it anymore.
Ameritrade Stock Pick of the Week: Liberty Bells traded poorly this week.
Over/Under: How many more days we must endure fantasies of the Cubs getting back in the race until reality sets in: +/- through the end of this homestand.
Beachwood Sabermetrics: A complex algorithm performed by the The Cub Factor staff using all historical data made available by Major League Baseball has determined that four games is not a season.
Agony & Ivy: It's a way of life.
The Cub Factor: Unlike Soriano, you can catch 'em all!
The White Sox Report: Now with a weekly Cubs Snub.
The Mount Lou Alert System: The surface of Mount Lou these days is so peaceful and serene that some villagers want to get married up there. This can't end well.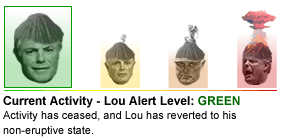 -
-
1. From Paul Clark via Facebook:
Were caught swearing on a Blago trial tape?
Stood in line for America's Got Talent auditions?
All tried to get demoted to various farm teams so they could hang with Greg Maddux and Ryne Sandberg?
Tried to convince Cubs management to let them get paid in coins from "Gold Line"?
More from Beachwood Sports »
Will Bob Baffert ever go away? Churchill Downs Inc.: It's just what they do. Dickie D. dead. Cliches can shape your biorhythms. Double-teaming justice. You look just like. We asked one person, me.
Continue reading "TrackNotes: Back To The Future" »
Posted on Jan 28, 2022

Electric, indefatigable and, finally, undenied.
Continue reading "Minnie Miñoso Was Very, Very Good To Us" »
Posted on Dec 9, 2021