Search The Beachwood Reporter
Subscribe to the Newsletter
The big news this week, of course, was Lou Piniella announcing that he is going to retire at the end of the season. It kinda sucks because now you can't fire him.
The next issue is trying to figure out what kind of manager you want next. A veteran who has been there before? Okay, but how could you get better than Uncle Lou or (un)Trusty Dusty?
Your star Triple-A manager? Hello, Bruce Kimm!
A college of coaches? Been there.
The Cubs have tried it all.
So let's not hope we get a players' manager or a disciplinarian or a veteran or a young comer or someone with ties to the Cubs, let's just hope we get someone good for the fans, for once: Someone who is entertaining, someone who will launch into verbal tirades at the drop of a batting helmet, someone who likes getting thrown out of games, someone who is a quote machine constantly providing reporters with witty repartee.
Someone who will knock down sausages with bats (hey, he's a former Cub just like Ryno!) and wear disguises in the dugout (is this an endorsement for Bobby Valentine? Perhaps!). Because the X's and O's of baseball all work themselves out.
I mean, do we really want to spend the next four years arguing over the next guy's weird lineups? That got old during the Don Baylor era.
This really isn't rocket science. And almost all managers eventually get fired anyway. They're all long gone while we're still here. So let's make the next guy bring more to the table. Let's make him have to entertain.
Week in Review: The Cubs went 3-3 for the week, losing a series to the Astros and winning a series with the Cardinals. It'd be nice to say that the Cubs are playing better but it's too late for that. Both for saying they are playing better and for them to be playing better.
Week in Preview: The Cubs hit the road for three each in Houston and Colorado. And there is that trade deadline this week and hopefully there will be fewer Cubs to talk about next week.
The Second Basemen Report: Jeff Baker found his way into the lineup for one game this week; Ryan Theriot got the nod for the rest. Mike Fontenot is in the witness-protection program. We can only hope the trading deadline somehow lands the Cubs another second sacker. You know, just like Jim Hendry drew it up.
In former second basemen news, Ryne Sandberg is apparently in the running for the Cubs managerial vacancy. But does anyone think he's going to be entertaining? Humor will be missed.
The Zam Bomb: Big Z is coming back to the dugout. And the dugout gets Big Z angry.

-
Lost in Translation: Louieo Pinellaio-san is Japanese for old man who lost fire in belly and replaced with cheeseburgers.
Endorsement No-Brainer: Lou Pinella for quitting your job.
Sweet and Sour Lou: 48% sweet, 52% sour. Lou is up 10 points on the Sweet-O-Meter this week due to announcing his retirement. And just like your real crazy drunk uncle, after Lou told his boss at the plant that he is taking early retirement his breaks got a little longer, his lunches started to include an after-meal shot, and his coffee breaks turned into Irish coffee breaks. You just aren't getting much these days.
Ameritrade Stock Pick of the Week: Shares of Lame Duck traded higher this week.
Over/Under: The number of games Carlos Silva will win the rest of the season: +/- 2.5
Beachwood Sabermetrics: A complex algorithm performed by the The Cub Factor staff using all historical data made available by Major League Baseball has determined that if the season started today, the Cubs would still be in it. But it didn't, so they aren't.
Agony & Ivy: It's a way of life.
The Cub Factor: Unlike Soriano, you can catch 'em all!
The White Sox Report: Now with a weekly Cubs Snub.
The Mount Lou Alert System: It's so green on Mount Lou that Ed Begley Jr. wants to build a house there.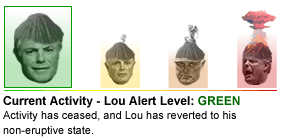 -
More from Beachwood Sports »
Will Bob Baffert ever go away? Churchill Downs Inc.: It's just what they do. Dickie D. dead. Cliches can shape your biorhythms. Double-teaming justice. You look just like. We asked one person, me.
Continue reading "TrackNotes: Back To The Future" »
Posted on Jan 28, 2022

Electric, indefatigable and, finally, undenied.
Continue reading "Minnie Miñoso Was Very, Very Good To Us" »
Posted on Dec 9, 2021