Search The Beachwood Reporter
Subscribe to the Newsletter
It's been a good week in my book. It really has.
Sure, the Cubs did nothing more than tread a little water in the standings, but still, a pretty good week.
Why?
Because the Cubs proved they are bad enough to force a change in direction. If some of the swirling trade rumors are true, then management has finally realized what most Cub fans have been saying for two years now: This team sucks.
And they've finally sucked enough for something to be done about it.
Thank God for their suckiness.
If this team showed any kind of life or showed any kind of spark to maybe hint at the possibility of getting back into the race, then we'd be sitting here just like we were all last season, knowing that this team could not get back into it yet having to watch them carry on like they were "this close" to putting it all together.
Instead, they've finally crossed the line into the "No way this team is going to win" mode.
And it's a really rare place to be for the Cubs.
They almost never say they are out of it.
Of course, there is a chance that someone still pulls the "Hey, look at what the Rockies did that one year" card (or, worse, "look at the White Sox!"), but it seems like that is not going to happen this year. It just seems like management knows in its heart that this team sucks and they're about ready to admit it.
And as a fan, that's all I ask: Just admit it. We don't ask for much as fans anymore, so please do us this favor.
Pull the trigger. We know you're almost there.
Week in Review: The Cubs swept the D-backs in Arizona for three and then lost three of four to the Dodgers in LA. Sweeping the D-backs is like sweeping your kitchen floor. It needs to be done no matter who you are because no one wants bugs in their kitchen - or the baseball equivalent to that, whatever it is.
Week in Preview: Cub fans get a few days off from the Debacle of 2010 with the All-Star break and then the Cubs unfortunately have to play the rest of the schedule.
The Second Basemen Report: Ryan Theriot started all seven games this week. Mike Fontenot started one game at shortstop. When the season started, Theriot was the starting shortstop and Fontenot was the second baseman. So just like Jim Hendry drew it up.
In former second basemen news, remember when Mark Bellhorn won the World Series as the second baseman for the Boston Red Sox? According to Wikipedia, Mark is a free agent, and he is missed.
The Zam Bomb: We think that Big Z's therapist is probably digging "a little too deep" right now, which is making Carlos angry. So he is getting angry.

-
Lost in Translation: Tedio Lilly-san is Japanese for Quite possibly the only Cub with trade value and even has become a stretch.
Endorsement No-Brainer: Jim Hendry for the return of the game show classic Let's Make a Deal. Maybe other GMs will take on whatever contract is behind door number three.
Sweet and Sour Lou: 35% sweet, 65% sour. Lou is up five points this week on the Sweet-O-Meter due to the All-Star break. And just like your real crazy drunk uncle, you can't get Lou down right now. He's heading up to Michigan with a fishing pole in one hand and he's pulling a cooler full of Falstaffs in the other.
Ameritrade Stock Pick of the Week: Diamond Back boots' retail stocks were way down this week. No one thought they could reach these low levels.
Over/Under: The number of players moved by the trading deadline: +/- 2.5. But they should move everyone besides Castro, Colvin, and a few kids in the pen.
Beachwood Sabermetrics: A complex algorithm performed by the The Cub Factor staff using all historical data made available by Major League Baseball has determined that there is not a lot of trade value on this team.
Agony & Ivy: It's a way of life.
The Cub Factor: Unlike Soriano, you can catch 'em all!
The White Sox Report: Now with a weekly Cubs Snub.
The Mount Lou Alert System: There was a slight tremor felt on the surface of Mount Lou but villagers need not be alarmed, it was only an accidental tremor.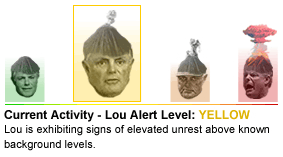 -
More from Beachwood Sports »
Will Bob Baffert ever go away? Churchill Downs Inc.: It's just what they do. Dickie D. dead. Cliches can shape your biorhythms. Double-teaming justice. You look just like. We asked one person, me.
Continue reading "TrackNotes: Back To The Future" »
Posted on Jan 28, 2022

Electric, indefatigable and, finally, undenied.
Continue reading "Minnie Miñoso Was Very, Very Good To Us" »
Posted on Dec 9, 2021