Search The Beachwood Reporter
Subscribe to the Newsletter
How in the world are you still watching?
You should have better things to do.
But if you insist, we here at the Cub Factor would like to give you a little something for the effort.
If you do watch these guys, we suggest drinking - heavily. And if you do drink, why not make a game out of it? If the Cubs aren't going to make a game out of it, at least you should.
Here, then, are some suggestions for the 2010 Chicago Cubs Spiral Toward Last Place drinking game:
* Take one drink every time you say out loud, "Who the hell is this guy?" when another no-name reliever comes into the game for the Cubs. If anyone can prove they know who that guy is, they get to give two drinks.
* Take a drink any time a Cub reliever enters the game with an ERA under 4.00. Then take a drink every time that reliever leaves the game with an ERA over 4.00.
* Take a drink for every Jeff Baker or Xavier Nady at-bat the rest of the way.
* Take a drink for every Kosuke Fukudome at-bat in which he makes contact against a left handed pitcher. If he corkscrews himself into the ground, drink twice.
* Take drink for any game in which Lou Piniella is actually in the dugout. If you can make a case that he is actually managing, give three drinks.
* Take a drink for every Starlin Castro play that makes you say "Whoa!"
* Take a drink for every Starlin Castro play that makes you say "Yikes!"
* Take a drink every time you wonder why D-Lee is getting any at-bats at all at this point. Then take another drink every time D-Lee strikes out with runners in scoring position - and then spit it out in disgust.
* Take a drink every time Len & Bob mention Ryne Sandberg as the next Cubs manager. Also take a drink every time Len & Bob mention Joe Girardi, as the next Cubs manager. Give three drinks if either of them ever consider that Bob wants to be the next Cubs manager and says on the air, "Awkward!"
* Take a drink for every game closer to last place the Cubs go.
* Take a drink every time you wonder how Jim Hendry still has a job. No, that's too much drinking even for us.
-
Week in Review: The Cubs keep the train a rollin', going 1-5 at home. And by rollin' I kind of mean tumbling sideways over a cliff and exploding in a heap of twisted metal.
Week in Preview: The Cubs stay in San Fran for three more and then head in to St Louis for three against the Redbirds. The season just can't end soon enough; I need a drink.
The Second Basemen Report: The Blake DeWitt Era has begun and it has really taken the city by storm. Okay, he might be the best second baseman they've had in a long while, but he also could be double-switched by the end of the season. You just don't know, and neither does Jim Hendry, just like he drew it up.
In former second baseman news, Ryan Theriot is batting .258 for the Dodgers with 2 RBIs in eight games. So he is kind of the same and is missed.
The Zam Bomb: Big Z seems to be apologetic but we think deep down he's still getting angry - so he's kind of in between.


-
Lost in Translation: Tomieo Ricketts-san is Japanese for asleep at the wheel.
Endorsement No-Brainer: Tom Ricketts for Ambien.
Sweet and Sour Lou: 48% sweet, 52% sour. Lou stands pat this week due to his mother being sick. And just like your real crazy drunk uncle, Lou knew he didn't have any vacation days left but he is quitting and the guys at the plant aren't going to be dicks, so they didn't dock him anything.
Ameritrade Stock Pick of the Week: Analysts urge investors to sell all their stock in toothpicks now as their value will never be higher and will most certainly go down.
Over/Under: How many games the rest of the way that someone other than D-Lee starts at first: +/- Not enough.
Beachwood Sabermetrics: A complex algorithm performed by the The Cub Factor staff using all historical data made available by Major League Baseball has determined that Dusty Baker will screw this up.
Agony & Ivy: It's a way of life.
The Cub Factor: Unlike Soriano, you can catch 'em all!
The White Sox Report: Now with a weekly Cubs Snub.
The Mount Lou Alert System: Mount Lou Is still green and his mom is sick. So yeah, I'm not going to touch that one either.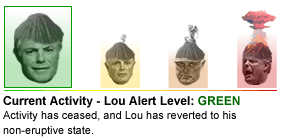 -
More from Beachwood Sports »

Given all the factors, if the Sox don't land Machado, they simply just don't have the glamour and pizzazz to attract a player of his caliber.
Continue reading "Get Manny!" »
Posted on Jan 14, 2019
Breaking Beachwood Sports Feed!