Search The Beachwood Reporter
Subscribe to the Newsletter
The Cubs woke up Christmas morning to find a new right fielder under the Christmas tree with a funny name. It was just what they asked Santa for, a Fukudome. Which is pronounced, FUCK YOU - DO - ME. Well actually, that is probably not how it's pronounced but it's the only way I can sound it out in my head, and it makes me laugh. What also makes me laugh is thinking about Old Uncle Lou saying his name. There's no way he doesn't screw it up somehow. Anyway, during the off-season I'm sure a lot of you are wondering what some of the beloved North Siders have been doing with their time off the diamond. We here at the Cub Factor would like to speculate on what's been going on and what these guys have been doing.
Uncle Lou: Lou's been sitting in his lawn chair drinking Falstaff and kind of rocking back and forth. His old lady swears she's heard him mumbling, "too many second baseman, too many right fielders, too many second baseman who play right field."

Ryan Theriot and Mike Fontenot: They've been touring the country together in a small van looking for anyone playing baseball. Then they get in the game and out-hustle everyone.

Mark DeRosa: Word is DeRosa has been taking jobs as a paramedic, janitor, and car salesman in the off-season just to make sure he's ready to do anything they ask him to do in 2008.
Daryle Ward: Has been eating. A lot.

Sam Fuld: Has been hunting "wabbits" with his Uncle Elmer.

Eric Patterson: Has been talking to his brother Corey on how to make yourself even more expendable to the Cubs.

Alfonso Soriano: Has been really hitting the clubs in the Dominican Republic looking for the ladies. He's pretty successful, but still strikes out a lot.

Aramis Ramirez: Went boating in the off-season and ran his rig into some rocks. He would of drowned but Derrek Lee bailed him out.
Kerry Wood: Went in a hot tub and didn't hurt himself. Didn't press his luck by trying to do it again.

Carlos Zambano: Talked a lot to God. Apparently it was a heated conversation about how god is "busy" and "has a lot on his plate" and can't help Carlos every game.

Last Few Weeks in Review: The Cubs got rid of Jacque Jones and Mark Prior and brought on Japanese outfielder Kosuke Fukudome. In a stunning development, it turns out the English translation of Kosuke Fukudome is "Not enough."

Next Few Weeks in Preview: Expect the Cubs to say things like, "We're ready" and "Our team is good" but don't expect them to say things like, "Soriano looks like a decent player but really doesn't help the team win that much." One of these statements is true and the others are not.
The Second Basemen Report: The Cubs are still interested in Baltimore second-sacker Brian Roberts. Okay, on one hand it's funny how the Cubs love second basemen but seriously, what the heck? They really need a centerfielder and there are still six guys on the roster who can play second base. So, they must have a plan but I just can't see it. Yeah, that must be it. Just like Jim Hendry drew it up, the invisible plan.
In former second basemen news, Johnny Evers is still missed.

The Zam Bomb: Big Z is still "getting angry" and has probably thrown the controller at the wall a few times while playing Halo 3 with his cousin in the Dominican.



Sweet and Sour Lou: 72% sweet, 28% sour. Without stupid media questions and goofy Cub fans bothering Lou, he has been in a pretty good mood. But just like your real crazy drunk Uncle, this isn't going to last. Lou's glad you got him a tie for Christmas but he really needed a brand new suit.

Beachwood Sabermetrics: A complex algorithm performed by the The Cub Factor staff using all historical data made available by Major League Baseball has determined that it takes more than a high payroll to win a World Series.

Over/Under: The amount of Cub fans who will convince themselves that this is the year: +/- all of them.

Mount Lou: Off-season snow drifts form on the exterior of Mount Lou, making all seem peaceful. But deep within its core Mount Lou's anger magma continues to churn. There are only a few seasons left until the fire goes out on Mount Lou and the natives know it.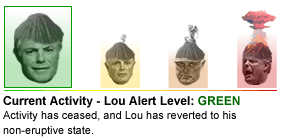 More from Beachwood Sports »

They set the table.
Continue reading "Hail To The Placeholders" »
Posted on Sep 21, 2020