Search The Beachwood Reporter
Subscribe to the Newsletter
The big news this week was the Billy Williams statue being unveiled in front of Wrigley Field. Although that isn't really that big of news to anyone under, like, 60. The more interesting news is that there are going to be more statues coming. And, well, it makes one wonder, who is actually going to be next? The Cubs really haven't won very often so I mean, what statues are they going to make? With this in mind we here at The Cub Factor would like to speculate on what statues might be coming.
* The Brant Brown "Nooo" statue.
* The Milton Bradley throwing the ball into the stands with two outs statue.
* The Ron Santo standing in the on deck circle with a black cat statue.
* The Rod Beck swinging arm statue - okay this would be cool.
* The Alfonso Soriano hopping statue (with ball falling in and out of his glove).
* The Ryne Sandberg statue of him missing a ground ball because he didn't dive.
* The Kerry Wood getting out of the hot tub statue.
* The Make Prior towel drill statue.
* The Dusty Baker on the mound bringing in Dave Veres statue.
So yeah, I guess they have a bunch of them that they could do.
Week in Review: The Cubs went 3-3 for the week losing two of three to the Brewers and winning two of three against the Astros. Who'da thunk that without their big boppers like Lee and Ramirez this team could go .500 for a week? Yeah, well maybe they are better off without them.
Week in Preview: The surging Giants and fading Cardinals each come in for three as Mike Quade's audition continues against two more franchises who do it much better than the Cubs do.
The Second Basemen Report: Blake DeWitt started all six games this week at second base. He also had one hit after Monday for the week, which makes you think that he still might not be the answer come next season. But we like that at The Cub Factor and so must Jim Hendry, just like he drew it up.
In former second basemen news, Mike Fontenot is batting .294 for the Giants, which is better than what the Cubs are getting from Blake DeWitt. But who's counting. He is missed.
The Zam Bomb: Okay, so was it Lou Piniella who made Big Z go crazy? It's kinda looking like that, right? Big Z is remains apologetic while kicking butt.

-
Lost in Translation: Laffy laffy bozo-man is Japanese for what the rest of the league thinks of Jim Hendry.
Endorsement No-Brainer: Jim Hendry and his fake book for Oprah's fake book club.
Sweet and Sour Quade: 70% sweet, 30% sour. Mike Quade stands pat on the Sweet-O-Meter because of meeting expectations. And just like your smart, well-adjusted uncle, Mike knows that you aren't that great a speller so when you finished 8th in your third-grade spelling bee he patted you on the back and made you feel good about it. I mean, he's hoping you want to get better and won't tune out to learning by putting on too much pressure.
Ameritrade Stock Pick of the Week: Shares of mustache wax traded higher this week.
Over/Under: The chances Tom Ricketts will figure out Jim Hendry doesn't know what he is doing: +/- 20%
Beachwood Sabermetrics: A complex algorithm performed by the The Cub Factor staff using all historical data made available by Major League Baseball has determined that the Cubs look like a joke to other teams too.
Agony & Ivy: It's a way of life.
The Cub Factor: Unlike Soriano, you can catch 'em all!
The White Sox Report: Now with a weekly Cubs Snub.
The Mount Lou Alert System: The Wrigleyville area is still considered a disaster area despite the empty seats. Perhaps FEMA can come in to help clean up in the aftermath of the mess made.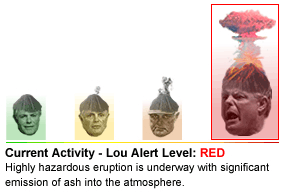 -
-
1. From Alex Parker via Twitter:
No Sneezing Sammy statue? Fan on a cell phone waving on WGN? Gatorade-smashing Zambrano? Michael Barrett vs. AJ?
More from Beachwood Sports »