Search The Beachwood Reporter
Subscribe to the Newsletter
Seeing Joe Girardi in the New York Yankees dugout chasing his second straight world championship is a reminder that Cubs general manager Jim Hendry has not only saddled his franchise with some of the worst contracts in baseball history, but that his choices for manager have been as bad as his choices for players to invest in.
If Hendry had hired Girardi four years ago, he'd likely still be in the Cubs dugout. Instead, Hendry went after a manager who let it be known that he would be working on his last contract, ensuring continuing instability instead of finally growing a real baseball organization.
Sure, Lou won a couple division titles. Would Girardi have fared any worse? After all, Girardi was named NL Manager of the Year after his first campaign - and has now won just as many World Series' as Piniella. Isn't the fact that Girardi is high on Hendry's wish list confirmation that he should have been hired when the Cubs had the chance? After all, if the guy you're trying to hire could have been here by now, you blew it.
Season in Review: The Cubs finished 18 games out of last place, one game out of fourth (to the surging Houston Astros, who are possibly next year's Reds). They tied with Seattle for the worst home record in the majors (35-46). They did go 24-13 under Mike Quade to finish the season - which goes to show just how bad they were playing in Sweet Lou's last season.
Off-Season in Preview: Winter meetings will be held Dec. 6 - 9 in Lake Buena Vista, Florida. We'll be at the Courtyard.
The Second Basemen Report: Blake DeWitt, Darwin Barney, Jeff Baker . . . it never ends.
In former second basemen news, Mike Fontenot is a hero in San Francisco. He is missed.
The Zam Bomb: Fool us a million times, shame on Jim Hendry. Trade him.

-
Lost in Translation: Visio manana-san, Rodan is Japanese for See ya' later, alligator.
Endorsement No-Brainer: Tom Ricketts for the stimulus bill because neither of them are working.
Ameritrade Stock Pick of the Week: Corked bats are trading slightly higher.
Over/Under: Early O/U betting line for Cubs wins next year: 80.
Beachwood Sabermetrics: A complex algorithm performed by the The Cub Factor staff using all historical data made available by Major League Baseball has determined that Tom Ricketts has been buffalo burgered.
Agony & Ivy: It's a way of life.
The Cub Factor: Unlike Soriano, you can catch 'em all!
The White Sox Report: Now with a weekly Cubs Snub.
The Mount Lou Alert System: Officially being retired. You've been good to us, MLAS. You will be missed.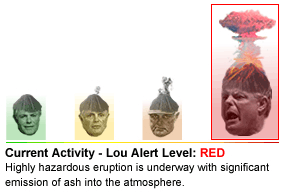 -
More from Beachwood Sports »
Breaking Beachwood Sports Feed!