Search The Beachwood Reporter
Subscribe to the Newsletter
Editor's Note: Cub Factor columnist Marty Gangler slipped in the hot tub and is limited to towel drills this week, so I'm filling in.
The big news this week was Carlos Zambrano's move to the bullpen. The Cub Factor has learned that Lou Piniella is considering other dramatic changes. Such as:

* Alfonso Soriano to the American League.
* John Grabow to Kerry Wood's old hot tub.
* Aramis Ramirez to the team shrink.
* Marlon Byrd to the cloning factory.
* Jim Hendry to Siberia.
* Tom Ricketts to the bank with a withdrawal slip.
* Bob Brenly to the dart store.
* Lou Piniella to early retirement.
Week in Review: The Cubs lost three of four to the Mets and their season looked like it was in disarray before even getting to May before going into Milwaukee and sweeping a three-game set with the Brewers by a combined score of 25-4, even though this team still seems to lack both a leadoff hitter and someone to bat clean-up. Is Uncle Lou's mad scientist act working again?
Week in Preview: The Cubs come home for three against Jim Riggleman's improved Nats and four against the Diamondbacks.
The Second Basemen Report: Midweek e-mail from Marty: "Which mediocre second baseman should I play today? The answer is: Both of them!"
And that's pretty much how it went. Jeff Baker got four starts at second and one at third this week, while Mike Fontenot got three starts at second and one at shortstop. All the while, the team's real second baseman, Ryan Theriot, continued to see time at short while former second baseman Alfonso Soriano continued to show why he should only be a designated hitter.
In former second basemen news, Mickey Morandini is coaching the Valpo Vikings; third baseman Mark DeRosa played both left field and second base in the same game for the Giants this week; and nobody's heard from Bobby Hill in awhile. They all are missed.
The Zam Bomb: After his debut relief appearance, Big Z stiffed the media. Oh, he's ready to blow alright.

-
Lost in Translation: Kosuke Fool-io is Japanese for what was I thinking signing a contract with this franchise?
Endorsement No-Brainer: Carlos Zambrano for Nike: Did you learn anything?
Sweet and Sour Lou: 49% sweet, 51% sour. Lou was at wit's end before he got to Milwaukee and remembered how good life could be. Because just like your real crazy drunk uncle, Lou likes to dip into the suds every once in awhile and nobody's gonna tell him he can't take another brewery tour if he damn well pleases. You want to put him the grave already? Fine. But he's taking his damn beer with him.
Ameritrade Stock Pick of the Week: Klonopin is rated a must-buy as shares of the panic disorder drug are expected to soar in the Midwest.
Over/Under: The number of games this week featuring Soriano and Zambrano on the field at the same time: +/- 1. If it's the eighth inning and Zambrano is called upon, Soriano has most likely already been removed for a defensive replacement.
Beachwood Sabermetrics: A complex algorithm performed by the The Cub Factor staff using all historical data made available by Major League Baseball has determined that Jim Hendry's rosters defy mathematical analysis as well as the laws of physics.
A & I Labs: To break out of his slump, Aramis Ramirez should . . .?
The Cub Factor: Unlike Soriano, you can catch 'em all!
The White Sox Report: Now with a weekly Cubs Snub.
Fantasy Fix: Is Matt Garza this year's Zack Greinke?
The Mount Lou Alert System: After moving to Orange and flirting with Red this week, Mount Lou has receded back to Yellow. Erratic tectonic activity along an East Coast fault line was cooled by underground Midwestern springs carrying frosty malted beverages. North Side seismologists, however, are reluctant to sound the all-clear until more data is in.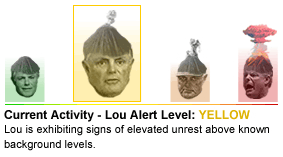 -
More from Beachwood Sports »
Breaking Beachwood Sports Feed!