Search The Beachwood Reporter
Subscribe to the Newsletter
By Marty Gangler
As just about everything that could possibly be said has already been said about Milton Bradley and how he (almost) single-handedly cost the Cubs their season and maybe Jim Hendry his job, we here at The Cub Factor would like to talk about other things. Like what Milton is going to do while he's suspended.
* Return himself to the jerk store.
* Hang out with Kanye West and discuss how "misunderstood" they are.
* Get the MLB package on cable and practice "out counting."
* Take a job as a Chicago meter maid so he can relax in a less abusive environment.
* Cash in his frequent therapy points.
* Try to sell Jim Hendry some magazine subscriptions.
* Scope out the housing market in Cincinnati, Baltimore, and Japan.
* Invest in Tyler Colvin rookie cards. After all, this kids must be awesome if he replaced the great Milton Bradley.
* Introduce himself to his teammates, now that he doesn't have to spend so much time preparing for games.
* Join Blago's defense team.
* Finish his memoir, There Is No "I' In Bradley, But There Is One In Milton.
* Volunteer to work in a soup kitchen to take advantage of the free soup.
-
Week in Review: The Cubs split a four-game series with the Brewers and lost two of three to theCardinals. Oh, and they suspended Milton Bradley for the season. Best week in a while.
Week in Preview: Three more with the Brew Crew and four with the Giants as MLB officials refuse to let the Cubs stop playing this season - as much as they already have.
The Second Basemen Report: You would think that with the September call-ups and the season being over the Cubs would be trotting out the heir apparent second baseman for 2010 and beyond. But next year's second baseman hasn't been cut by some other team yet; he'll be picked up by mid-season next year. In the meantime, Jeff Baker got four starts and Mike Fontenot got three. And second baseman Bobby Scales got a start in left field while prospective starting left fielder Jake Fox sat on the bench. Just like Jim Hendry and Lou Piniella drew it up.
In former second Basemen news, Mark DeRosa is having a lot of fun on a playoff-bound Cardinals team, even though a wrist injury has limited production this season. He hit two home runs in Monday night's game in Houston, compared to the zero Milton Bradley hit from his couch in Crazyville. Ronnie Cedeno probably has fun occasionally for the Pirates. They are missed.
The Zam Bomb: Is scared shitless because you can apparently be suspended for being an a-hole, but we don't have a "scared shitless" icon so he remains Furious.


-
Lost in Translation: "Milton-san mental-san" is Japanese for "That dude is cuckoo-san."
Endorsement No-Brainer: Jim Hendry for goose cooking. Because he cooked his goose this season.
Milton Bradley Game of the Week: Invention Suspension.
Sweet and Sour Lou: 60% sweet, 40% sour. Lou goes up a tremendous 10 points on the Sweet-O-Meter due to ditching Milton Bradley. And like your real crazy drunk uncle, Lou was really dreading having to get out in that yard and clean up all of the dog piles that Patches had left. Imagine his surprise when Patches figured out a way to clean up his own poop.
Don't Hassle the Hoff: Getting some PT right now is cool, but still not knowing exactly what you have in the Hoff is a hassle, so stop it.
Over/Under: The amount of contract the Cub will have to eat to move Milton Bradley: +/- who cares.
Beachwood Sabermetrics: A complex algorithm performed by the The Cub Factor staff using all historical data made available by Major League Baseball has determined that people don't change and you knew what to expect with Bradley.
The Cub Factor: Unlike Soriano, you can catch 'em all!
The White Sox Report: Now with a weekly Cubs Snub.
The Mount Lou Alert System: Is still as green as green can get these days but deep down in the core of mount Lou there was a flicker of good riddance fire.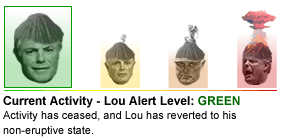 -
More from Beachwood Sports »
Will Bob Baffert ever go away? Churchill Downs Inc.: It's just what they do. Dickie D. dead. Cliches can shape your biorhythms. Double-teaming justice. You look just like. We asked one person, me.
Continue reading "TrackNotes: Back To The Future" »
Posted on Jan 28, 2022

Electric, indefatigable and, finally, undenied.
Continue reading "Minnie Miñoso Was Very, Very Good To Us" »
Posted on Dec 9, 2021