Search The Beachwood Reporter
Subscribe to the Newsletter
By Marty Gangler
Maybe the Cubs just took a cue from the weather this season. Yeah, it was the weather's fault. Summer in Chicago wasn't really summer this year - it was like summer pretended to be spring, and even sometimes fall. But summer just wasn't summer. Just like the Cubs. They are really just a .500 team that was pretending to be the two-time defending Central Division champions. They did a pretty good job of pretending, though. They kept the charade up all the way until now. Now the mask is finally off for good and they can't even try to pretend. With this in mind, we here at The Cub Factor would like to talk about a few individual players and who they pretended to be this season.
Alfonso Soriano: Pretended to be the franchise bat in a potent lineup but was actually vying for Comeback Player of the Year 2010.
Milton Bradley: Pretended to be the answer from the left side of the plate but was actually an escaped mental patient.
Geo Soto: Pretended to be the reigning NL Rookie of the Year but was actually Jeff Spiccoli with a lifetime supply of burgers from All-American burger.
Derrek Lee: Pretended to be over the hill and just warming up a spot for The Hoff but was actually one of the only pros on the team.
Carlos Zambrano: Pretended to be the somewhat erratic ace on a solid pitching staff but was actually a tantrum-frenzied three-year-old incapable of being potty-trained.
Mike Fontenot: Pretended to be the second baseman the team was looking for but was actually more exposed than that time Britney Spears got out of that car. Yeah, that time.
Lou Pinella: Pretended to be the grizzled, fiery veteran manager ready to take his team over the hump but was actually Wilfred Brimley after a big meal - sleepy, tired, and old.
-
Week In Review: The Cubs went 3-4, winning and losing to a bunch of bad teams going nowhere just like themselves. It's weird how "nowhere" isn't a real destination yet the Cubs reside there.
Week in Preview: This was supposed to be the time where the Cub put up their Herculean Colorado Rockies-like march toward the playoffs because they play really shitty teams like the Pirates and Reds this week - but the Pirates and Reds are saying the same thing about the Cubs.
The Second Basemen Report: Jeff Baker got six starts this week; Fontenot just one. And with the end of the season looming, the end of the Mike Fontenot Era is upon us. And just like Mike, it was short and uneventful. Which is just like Jim Hendry drew it up.
In former second basemen news, Mark DeRosa would have the second-most RBIs on the Cubs right now and Ronny Cedeno would have the 10th-most. Both are missed.
The Zam Bomb: Only seven wins for the season so far should make Big Z furious. Even 14 wins should make him furious, for such a highly-paid ace. So he's furious.


-
Lost in Translation: "Pleasio Endy Quicky-quick" is Japanese for "Kosuke wants to go home now."
Endorsement No-Brainer: Reed Johnson for Milk Cartons. Where is that guy?
Milton Bradley Game of the Week: Spot the Mistakes. (Hint: There's one in right field.)
Sweet and Sour Lou: 45% sweet, 55% sour. Lou stands pat once again this week, due to the season being over. And just like your real crazy drunk uncle, Lou knows exactly how many more jars of molasses he has to tighten before he can retire from the molasses plant he works at. He also knows how many cold frosty Falstaffs are waiting for him. And that's all he really cares about.
Don't Hassle the Hoff: Back on the roster is not a hassle, but not playing everyday is, so stop it.
Over/Under: The amount of games left in the season: +/- too many.
Beachwood Sabermetrics: A complex algorithm performed by the The Cub Factor staff using all historical data made available by Major League Baseball has determined that this Ricketts guy can't do any worse.
The Cub Factor: Unlike Soriano, you can catch 'em all!
The White Sox Report: Now with a weekly Cubs Snub.
The Mount Lou Alert System: Siesmologists have now officially classified Mount Lou a doormat volcano. And no, that's not a typo.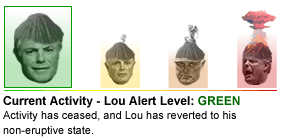 -
More from Beachwood Sports »
Will Bob Baffert ever go away? Churchill Downs Inc.: It's just what they do. Dickie D. dead. Cliches can shape your biorhythms. Double-teaming justice. You look just like. We asked one person, me.
Continue reading "TrackNotes: Back To The Future" »
Posted on Jan 28, 2022

Electric, indefatigable and, finally, undenied.
Continue reading "Minnie Miñoso Was Very, Very Good To Us" »
Posted on Dec 9, 2021