Search The Beachwood Reporter
Subscribe to the Newsletter
By Marty Gangler
If you've been any kind of Cub fan for any kind of time period you know that there comes a point in almost every season where you "tune out."
This occurs when you decide that the Cubs don't really deserve as much time as you have allotted them.
Quite a bit of the time this happens around June.
Sometimes in September and even some years in April, but it happens quite a few more seasons than it doesn't.
This "tuning out" typically goes down in three-inning increments. If you usually watch every inning of every game, you'll start to watch six innings. If you watched around six innings, you will start to watch just three - be it the first three or the last three.
If you typically watched three innings, you'll start simply switching over from a Seinfeld rerun to catch the score.
If you were already switching over from Seinfeld to catch the score, you'll downgrade to just checking the scroll while watching SportsCenter
And if you just checked the scroll on SportsCenter, you'll continue doing that but you won't wait nearly as long for the Cubs game to come along before bailing.
So yeah, this week marked the "tune out" phase for a lot of Cubs fans.
And who can blame them? There are a lot of other things to do these days.
I mean, you do have a family and you should spend more time with them. And if you don't have a family, well, you should start putting in some time to make one. Do to someone else what the Cubs have been doing to you.
Tuning out doesn't make you any less of a fan. It makes you a saner one.
*
Beer Line: How is Wrigley Field security just like the Cubs? Neither can throw the right guy out.
*
Week in Review: The Cubs lost their last game in Colorado and came home to get swept by the Phillies before taking two from the poor Pirates. The Pirates are so poor they can't pay attention.
Week in Preview: A West Coast trip with late games all week in San Diego and L.A. - a perfect way to ease in your tuning out. Plus if you go to bed at a decent hour you won't have to watch Carlos Marmol or Kevin Gregg pitch. The schedule is really paying off right now.
The Second Basemen Report: Jeff Baker started six games this week and knocked the crap out of the ball. So naturally Baker was sent to the bench in favor of Mike Fontenot before Sunday's game got rained out. Just like Jim Hendry drew it up.
In former second basemen news, Mark DeRosa had a couple of 2-hit games for the first-place Cards this week while Ronny Cedeno - who is otherwise hitting .313 and has "dazzled" with his defense - went 0-7 for the Pirates at Wrigley Field. Kind of like last season. Meanwhile, the Twins released Mark Grudzielanek and boy is he pissed. They are missed.
The Zam Bomb: We don't have an icon for Lazy, so we'll keep him at Furious.


-
Lost in Translation: Tossio many-many yen brewskiee is Japanese for "that beer costs way too much to waste."
Endorsement No-Brainer: - Shane Victorino for beer shampoo. (Too soon?)
Milton Bradley Game of the Week: - Sorry, because he really thought he won the game with a homer in the 11th inning against the Phillies on Tuesday. And generally everyone is Sorry he's here.
Sweet and Sour Lou: 45% sweet, 55% sour. Lou stands pat on the Sweet-O-Meter this week because he doesn't seem to care and has been pointing out the obvious. And just like your real crazy drunk uncle, you know you screwed up when you dropped Uncle Lou's beer on the sidewalk after you tripped over the neighbor's dog Trixie in the driveway. But if your uncle is going to yell "Be more careful!" at you, he can get his own Falstaff next time.
Don't Hassle the Hoff: Is losing without the Hoff on the team a coincidence or a hassle? I think it's a hassle, so stop it.
Over/Under: Uncle Lou ejections the rest of the season: +/- .5 (you need to care to get angry)
Beachwood Sabermetrics: A complex algorithm performed by the The Cub Factor staff using all historical data made available by Major League Baseball has determined that you can still be a fan and care less at this point.
The Cub Factor: Unlike Soriano, you can catch 'em all!
The White Sox Report: Now with a weekly Cubs Snub.
Fantasy Fix: Should Alex Rios be in your future?
The Mount Lou Alert System: Recedes to Green as the once volatile surface of Mount Lou with its streams of anger lava have completely cooled to form masses of solid complacency.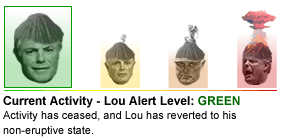 -
More from Beachwood Sports »