Search The Beachwood Reporter
Subscribe to the Newsletter
By Marty Gangler
It's about time Uncle Lou finally decided to manage this team again instead of slipping into early retirement right before our eyes. But what finally pushed him over the edge? We've got some ideas.
* He took a look at his tanking 401(k) and realized he really needs that Manager of the Year bonus money to buy his dream boat and stock it with Falstaff.
* His old lady gave him what-for after he failed to phone home right away upon arriving in Pittsburgh last week, so he took it out on Alfonso Soriano.
* The clubhouse guy was really giving it to Lou after having to re-size Lou's jersey once again for his ever expanding gut, so he took it out on Alfonso Soriano.
* He just awoke from a bad dream in which his starting outfield was Alfonso Soriano, Kosuke Fukudome, and Milton Bradley.
* The University of Illinois called and demanded that Sam Fuld be admitted to the lineup.

* First-base coach Matt Sinatro drank all the beer out of Lou's secret clubhouse cooler.
* Seeing all those red hats over the weekend triggered a bad childhood memory, so he took it out on Alfonso Soriano.
* He looked up the words "baseball" and "manager" in the dictionary and found that the definition was different than "babysitter."
-
Week in Review: The Cubs took two of three from the Pirates and three of four from the Brewers to go 5-2 for the week. Yup, they are not going to fall out of this division, so welcome to the second half, Cub fans. Where you'll still have to pay attention.
Week in Preview: The Braves come to town for three, followed by a four-game tilt with the Cardinals at Wrigley over the weekend. The men in blue will also welcome back Aramis Ramirez and Reed Johnson from minor-league rehabs, which means a couple of Cubs will have to be be sent down or put on the DL with newly discovered injuries. Maybe Soriano has been playing with a pulled muscle . . . and Milton Bradley has been playing with a pulled head.
The Second Basemen Report: Mike Fontenot wrestled the starting job back from Andy White (Andres Blanco) this week with five starts. The real news, though, was that the Cubs signed Jeff Baker and he can play second base. And to think we thought this report might not be pertinent this season . . .
In former second basemen news, Mark DeRosa is back in the division with the Cardinals but is hurt. But we might see him this weekend when he'll come over to your BBQ and bring some ice. Because he's just that great a guy. Ronnie Cedeno will not be at your BBQ but they are both missed.
The Zam Bomb: Big Z has worn out his welcome, and that makes him angry.


-
Lost in Translation: Theodorio Lilly-san is Japanese for Major League baseball requires every team have at least one All-Star.
Endorsement No-Brainer: Aramis Ramirez for cookie-dough. Because you don't have to wait for things to be done.
Milton Bradley Game of the Week: Cosmic Catch. Because maybe in outer space this guy can catch something.
Sweet and Sour Lou: 53% sweet, 47% sour. Lou is up 23 points on the Sweet-O-Meter due to winning baseball and being himself. And just like your real crazy drunk uncle, Lou was trying a new safer strategy at the track but he wasn't getting results, so he went back to picking horses with his gut.
Don't Hassle The Hoff: Don't look now but the Hoff is batting just .245, and that's a hassle.
Over/Under: Number of games Soriano will not bat leadoff until Lou loses his nerve: +/- 7.
Beachwood Sabermetrics: A complex algorithm performed by the The Cub Factor staff using all historical data made available by Major League Baseball has determined that rushing players back from injuries leads to worse injuries.
The Cub Factor: Unlike Soriano, you can catch 'em all!
The White Sox Report: Now with a weekly Cubs Snub.
Fantasy Fix: Who ruled June?
Mount Lou: Lou moves to Green as the eruption last week really cleaned out his lava pipes, if you know what I mean. But expect Mount Lou to become more volatile in the weeks to come as he is back in his natural rhythms.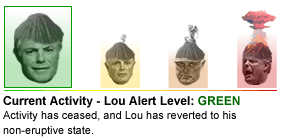 -
More from Beachwood Sports »

A future grandpa tells his future grandkid what the season that ruined everything was really like.
Continue reading "Remembering Baseball's Historic 2020 Season" »
Posted on Aug 2, 2020