Search The Beachwood Reporter
Subscribe to the Newsletter
Editor's Note: On the occasion of this summer's final Crosstown Classic series, The Cub Factor's Marty Gangler and The White Sox Report's Andrew Reilly switched places.
By Andrew Reilly
Once upon a time, the Chicago Cubs were supposed to run away with the National League Central and across Chicagoland we all just kind of assumed that would happen. Ten game leads and twelve-ounce heroics! Superstar trades and ticker tape parades!
Remember those days, Cubs fans? Weren't they neat? Weren't they magical?
So you can imagine the outsider's view when the Small Bears, this time even armed with a bonus bat, stroll into historic Cellphone Stadium only to head back to Lakeview with nothing to show for their efforts beyond a lone token win against a crummy Sox team that pretty much everybody notches a win against. This mega-bankrolled non-juggernaut shows up, gets in a fight with itself, and its self-appointed Cy Young winner of an ace extracts his revenge on the world by taking a shot at quite possibly the worst outfielder in the history of baseball.
This is what a contender looks like?
Now, perhaps my view of the Cubs' condition is not as fully-formed as most people's. Perhaps there are things I don't know. Perhaps in the National League, a leadoff hitter with a .300 on-base percentage is a good thing. Perhaps Kosuke Fukudome's .260 average really is a major improvement over last year. Perhaps Ted Lilly was actually a great pitcher all along, even while he more closely resembled a terrible pitcher all those years.
But it's hard not to look at the Cubs and ask how anybody in their right mind ever saw this year's team as having a shot (this writer included). Logic suggested they had a powerhouse carrying over from last year that didn't get that much worse, but reality has countered with the idea they were looking for some combination of fluke seasons and career high points to channel all that Wrigley Field magic and repeat themselves.
On the streets of Chicago, you can actually see quite a few of the Cubbie faithful out there, all wondering aloud about their team's fate, but to those wondering souls I say wonder no more, for I have it on good authority the Cubs will finish out this season the way they finished the one before it and the one before that: on a low note as another year goes on the books with nothing to show for it. This weekend, if you think about it, wasn't just another series; this weekend was your beloved franchise in a nutshell.
But hey, don't ask me. I'm just a White Sox fan.
Week In Review: The Small Bears continue their woeful ways handing Atlanta a retroactive win, laying down for a trouncing at the hands of Tigers, and dropping two of three to the Sox to round out a 1-6 week. Today, fourth place and perpetual failure; tomorrow, the world!
Week In Preview: Three in Pittsburgh followed by four at home against the Brewers. Seven winless days are not out of the question.
The Second Basemen Report: Andres Blanco currently ranks 18th in batting average among NL second basemen, a neat fact considering only 16 teams play in the NL. It's as though the Cubs are, in some respects, worse than clubs that don't even exist.
In former second basemen news, Hall of Famer Ryne Sandberg took a righteous stand against teammate Sammy Sosa's future chances at immortality in the wake of his formal outing as a juicer. The Cub Factor invites Sosa to share his performance-enhancing drugs with current second baseman Andres Blanco.
Zam Bomb: Everyone knows that was an intentional shot at Dewayne Wise and, in the name of every bobbled fly ball turned into a standing double, every strikeout with runners in scoring position and every weak grounder to short, the White Sox faithful say "Thank you, Zam Bomb, for going off in such hilarious fashion."
Seriously, if Zambrano being Zambrano means an epic shelling, tantrums directed at entirely insignificant and widely derided bench players, and an eventual White Sox winner, we might have to actually start rooting for the guy.


-
Lost In Translation: Aramis-san Ramirez is Japanese for "Your team is still going nowhere, but at least they'll hit more home runs."
Endorsement No-Brainer: The U.S. Cellular Field visitors' clubhouse for Depends adult diapers: look at all the **** this thing holds!
Milton Bradley Game of the Week: Boggle, as in what the mind does when contemplating the Cubs ever acquiring that man.
Sweet and Sour Lou: 30% sweet and 70% sour. The Lou Piniella I know would have ripped Milton Bradley's heart out of his chest and held it up as a trophy in the post-game press conference for all the world to see. Have age and experience mellowed Sweet Lou - or have road trips with Geovany Soto mellowed Sweet Lou?
Don't Hassle the Hoff: Jose Contreras held Micah Hoffpauir to an 0-for-4 Friday. And that's a wonderful hassle, indeed.
Beachwood Sabermetrics: A complex algorithm performed by the The Cub Factor staff using all historical data made available by Major League Baseball has determined closed-door sobfests are still a pretty weak manner of coping with a rough day at work.
Over/Under: Number of people on hand for Tuesday's game: +/- 15,000. The only thing worse than going to Pittsburgh is going to Pittsburgh to watch a battle for the basement.
The Cub Factor: Unlike Soriano, you can catch 'em all!
The White Sox Report: Now with a weekly Cubs Snub.
Fantasy Fix: Are you ready for some football?

Mount Lou: Mount Lou moves to orange. Hitting batters? Smashing coolers? Relentless losing? Mount Lou has seen these things before and demands fresh sacrifice, lest the village below meet to its fiery end.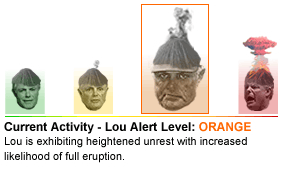 -
-
Andrew Reilly is the managing editor of The 35th Street Review and a contributor to many fine publications.
More from Beachwood Sports »
Will Bob Baffert ever go away? Churchill Downs Inc.: It's just what they do. Dickie D. dead. Cliches can shape your biorhythms. Double-teaming justice. You look just like. We asked one person, me.
Continue reading "TrackNotes: Back To The Future" »
Posted on Jan 28, 2022

Electric, indefatigable and, finally, undenied.
Continue reading "Minnie Miñoso Was Very, Very Good To Us" »
Posted on Dec 9, 2021