Search The Beachwood Reporter
Subscribe to the Newsletter
By Marty Gangler
As the Chicago Cubs begin another season I'd like to ask all fans a question. How's your mouth? Do you still have that bad taste in it? And as you probably do, does it still have that really sour milk tang to it? It took me a good 3 months before I could even talk about the '08 playoffs but even now I still can't get that really bad "way too long after the expiration date" tongue funk out of my mouth. And you know what? It's not going to go away until October. The Cubs embark on the most meaningless regular season in the history of the franchise. Because they could win 116 regular games and it wouldn't matter because you mouth will still be polluted. Sure they tried to help your dirty mouth with the acqusitions of Kevin Gregg and Milton Bradley but they're weak breath mints in a pewtrid stanking mouth filled with rotting bits of hot dog and broken dreams.
I'm not saying that this season won't be fun. Bradley, Big Z and Uncle Lou should provide plenty-o-fun at the old ballpark. Let's not forget these guys are nuts. As well as seeing how Little Mike Fontenot does at second base and what happens with newly christened Cub savior Micah Hoffpauir. Plus there's the whole thing about how Soriano can't field and Fukudome can't hit. That's fun. So there will be some things to talk about but it all doesn't mean a hill a beans a difference until October gets close. So let's enjoy these guys until it's time to see if they learned anything since last year, we have six months until it matters.
*
Last Few Weeks In Review: The biggest news is that Kevin Gregg was named the closer and Cub Nation is calling for Micah Hoffpauir to supplant Derrick Lee.
Week In Preview: The season opens with the Cubs on the road for three in Houston and then three in Milwaukee. This week the Cubs should really show their dominance in the division, except baseball is a real long season so that really isn't the case this week.
The Second Basemen Report: Expect Mike Fontenot to play almost every day at second base until the other teams figure out to never throw him a fastball. Then it may get interesting. You know, just like Jim Hendry drew it up.
In former second baseman news, Mark DeRosa is still a Cleveland Indian and starts in Texas this week. And Ronnie Cedeno is a Mariner and plays in Minnesota this week. They will be missed.
The Zam Bomb: Big Z is apologetic as he toes the rubber for Opening Day. But this will probably be the last time he's not angry about something. So let's enjoy this quiet time.


-
Endorsement No-Brainer: Reed Johnson for Ace Hardware because he's getting screwed.
Lost In Translation: u-noget returnio is Japanese for all sales were final on Fukudome gear last season.
Milton Bradley Game Of The Week: Stratego. Right now Milton thinks he's a 1 but he's more like a 6. Which he'll have to reveal once he's attacked. If you remember how to play Stratego that would make sense, if not you should be able to get the number correlation.
Sweet and Sour Lou: 60% sweet, 40% sour. Lou starts the season more on the sweet side because he's a baseball guy and baseball guys like it when it's baseball season. And like your real crazy drunk uncle, Lou knows that he's got a long haul in front of him but he's just glad to be away from his old lady and out with the boys again and cracking open that first cold frosty Falstaff.
Don't Hassle the Hoff: Micah Hoffpauir, Cub Nation's favorite hero, starts the year as a backup first baseman on the active roster. And like in most cities across America, the back-up quarterback is the most liked person on the team. Except he's the back-up first baseman.
Beachwood Sabermetrics: A complex algorithm performed by the The Cub Factor staff using all historical data made available by Major League Baseball has determined that you still have to play games and the division is not going to be handed to anyone.
Over/Under: The number of fans who will miss Jason Marquis +/- 8.
Mount Lou: Despite being baked in the hot sun of Arizona for the past few months, the crust of Mount Lou is cool and shows no trace of volcanic activity. But wait for the first blow save and the natives will rekindle the fire below. We predict Thursday.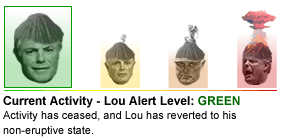 -
More from Beachwood Sports »
Breaking Beachwood Sports Feed!