Search The Beachwood Reporter
Subscribe to the Newsletter
Marty Gangler was on assignment in Wisconsin this weekend, leaving this week's report to his staff.
While the Cubs actually lost a game to the Pirates at home, perhaps experiencing a Miller Park hangover from all the partying they did in what cheeseheads are calling the Milwaukee Massacre, there now seems to be very few ways the Cubs could actually lose the division, much less fail to make the playoffs.
We've come up with those ways.
* Sam Zell decides the team can do more with less and reduces the 25-man major league roster to 15.
* In one final bid for immortality, Jim Hendry re-acquires Nomar Garciappara and LaTroy Hawkins.
* Lou Piniella starts pinch-hitting himself every time he runs out of players late in the game.
* Bench coach Alan Trammel is added to the second basemen rotation.
* Alfonso Soriano will not only leadoff but close.
* Derrek Lee out for the season after Wrigley Field rat bites off a foot.
* Team forfeits season when it is revealed that Mark DeRosa has three clones after Lou accidentally pencils two of them into the same starting lineup.
* Kosuke Fukudome accidentally poisons team with homemade sushi by misreading the English press and adding a dash of E coli.
* Bob Brenly sends several Cubs to the hospital by throwing darts into the dugout to test his theory.
* Mark Cuban secretly has Schlitz Dark shipped to Wrigley instead of Old Style to reduce value of the team.
* Kerry Wood's blister turns out to be contagious.
* Team refuses to go on road trips when United starts charging for extra gloves.
* Carlos Zambrano leaves team to participate in Dancing With the Stars.
* A goat is refused admission . . .
-
Week in Review: The Cubs didn't just sweep the Brewers up in Milwaukee, they pummeled them by a combined score of 31-11. They came home to drop a game to the Pirates, but came back to win the next two.
Week in Preview: The Cubs continue their homestand with three against the Astros and three against the Cardinals. The Cardinals game on Saturday afternoon will be featured on Fox, while the Sunday night game will be on ESPN. It's possible the Cubs could issue a death blow to the Redbirds - or let them back into the race.
The Second Basemen Report: The Cubs' first game against Milwaukee was what this category is all about, and things only let up slightly the rest of the week. In that glorious series opener, Ronnie Cedeno started at second with Mark DeRosa in right. Daryle Ward pinch-hit for Cedeno and DeRosa moved to second while Fukudome took over in right. Mighty Mike Fontenot pinch-hit for centerfielder Reed Johnson, and Fukudome moved to center while DeRosa returned to rigt field as Fontenot took over second base.
In game two, Fontenot started at second and DeRosa in right. In game three, DeRosa started at second and Cedeno pinch-hit. In game four, DeRosa started at second, Fontenot came in in a double-switch and and Cedeno took over at third.
Fontenot started at second in the opener against the Pirates while Cedeno started at short. DeRosa made a pinch-hit appearance. In game two, DeRosa started in right and Cedeno at second. Fukudome pinch-hit and took over in right while DeRosa moved to second. In game three, DeRosa played second.
In former second basemen news, Mickey Morandini is the head baseball coach at Valparaiso High School and still runs a stationery store with his wife, Peg, He is missed.
The Zam Bomb: Big Z's next probable start is Saturday against the Cardinals, and he's due for a major meltdown. It won't be hard for Tony LaRussa to get inside Z's head as the Cards try to make a statement. Z is already getting angry.


Lost in Translation: "Sushi-san pot pan" is Japanese for "dandy little glove man."
Sweet and Sour Lou: 60% sweet, 40% sour. Lou holds steady on the Sweet-O-Meter as victory in the series finale against the Pirates staves off a bitter taste to big week. But just like your real crazy drunk uncle, Lou doesn't want you getting too big for your britches just because you impressed the girls by scoring some brewski and bringing it over to the Emporium. He'd rather you kept some change in your pocket. Now go get him a Falstaff.
Center Stage: The Reed Johnson-Jim Edmonds platoon looks to produce more on both offense and defense than Ken Griffey Jr. and Brian Anderson - especially considering that Edmonds and Griffey have about the same injury rate, except that Edmonds' injuries tend to be nagging while Griffeys are major fiascos.
Against the Brewers and Pirates, Johnson and Edmonds each got three starts in center and Fukudome got one.
The Cub Factor: Catch up with them all.
Beachwood Sabermetrics: A complex algorithm performed by the The Cub Factor staff using all historical data made available by Major League Baseball has determined that it's more likely that the White Sox won't hold up their end of the bargain this year than the Cubs.
Over/Under: 6: The chances out of 10 that back spasms keep Kerry Wood out of the playoffs.
Mount Lou: We're also looking at Saturday's game for a volcanic eruption, possibly tied to whatever incident Big Z gets involved in at the instigation of LaRussa. Therefore we're moving to yellow alert for now, possibly shifting to orange by game time.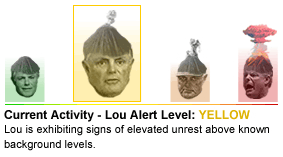 -
More from Beachwood Sports »