Search The Beachwood Reporter
Subscribe to the Newsletter
When we compared this year's edition of the Cubs to the classic characters from Happy Days a couple of weeks ago, we didn't anticipate the addition of a new cast member to shore up the ratings. But will Rich Harden turn out to be a savvy selection like Frasier Crane who makes everyone around him better or will he turn out to be a clubhouse jinx like Cousin Oliver? We think he'll likely turn out more like one of these additions to M*A*S*H.
* Charles Emerson Winchester: He's great at what he does but accumulates such high pitch-counts that he has to turn to speed to make it through the year.
* B.J. Hunnicut. Nice guy, consummate professional, doesn't provide too many laughs and ultimately winds up back on the West Coast.
* Sherman T. Potter. On the tail end of his career and prone to tendinitis.
* The new version of Margaret Houlihan. Less hot, less strident, and in not quite as good shape.
* The new version of Klinger. He's no Radar O'Maddux, but he eventually adjusts to his new assignment and loses the dresses.
* That Swedish nurse that one episode. A dream come true. And then he's gone.
-
Week in Review: The Cubs went 4-2 for another nice homestand before the All-Star break.
Week in Preview: A few too many Cubs go to the All-Star game this week before the Cubs head to Houston over the weekend.
The Second Basemen Report: Of the six games this week, Mighty Mike Fontenot started five with Mark DeRosa starting the other one. DeRosa also got starts in left and right field. Just like jim Hendry drew it up.
In former second basemen news, Mark Grudzielanek picked up his 2,000th major league hit with the Royals this week. He is missed.
The Zam Bomb: Pending All-Star game appearance makes big Z apologetic.


Lost in Translation: Excessivo Cubsino is Japanese for "All-Star Game."
Sweet and Sour Lou: - 70% sweet, 30% sour. Lou is up five points on the Sweet-O-Meter due to winning baseball. And just like your real crazy drunk uncle, Lou really loves home cookin', he just can't understand why he can't get the same quality of food when he eats out.
Center Stage: Jim Edmonds got five starts in center and Reed Johnson got one. Jim Edmonds is the Cubs starting center fielder. It still hasn't sunk in.
The Cub Factor: Catch up with them all.
Beachwood Sabermetrics: A complex algorithm performed by the The Cub Factor staff using all historical data made available by Major League Baseball has determined that Carlos Marmol shouldn't be in a Class A All-Star game right now.
Over/Under: Amount of time the average baseball fan should spend watching the Home Run Derby: +/- 2 minutes.
Mount Lou: The All-Star break cools the surface of Mount Lou and even a layer or two of the inner core. But this volcano is still very much alive.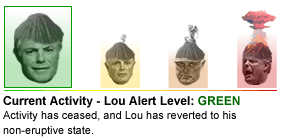 -
More from Beachwood Sports »
Breaking Beachwood Sports Feed!