Search The Beachwood Reporter
Subscribe to the Newsletter
Remember when the Cubs were building a team around Corey Patterson, Bobby Hill, and Hee-Seop Choi? It wasn't long ago that these were the saviors of the franchise. But when it comes to the Cubs, the word "prospect" has just as often meant "pipe dream." Where have you gone, Brooks Kieschnick? A lonely Cubs Nation turns its eyes to you.
That's what makes the budding stardom of Ryan Theriot so fascinating. He's an un-hyped, un-heralded, un-hoped for, un-Cub described this week as "Almost Left For Dead." He's the best position player to come out of the Cubs organization in a long time. And yet, even after hitting .328 in 53 games last season, Cubs scouts didn't believe. Now Lou Piniella has to move heaven, three outfielders, and two infielders to get Theriot into the lineup every day.
Leave it to the Cubs to screw up in reverse. If the Cubs farm system were really an actual functioning farm, they'd be milking chickens, looking for eggs from cows and, of course, beating dead horses.

*
Week in Review: The Cubs went 2-4 last week, losing 2 of 3 to both the Pirates at home and the Phillies on the road. So much for that warm fuzzy feeling we all got from beating up on the Nationals. Game time temperatures for the four losses were 69, 76, 82, 76 - an average of 75.75 degrees. Apparently still not warm enough for the Cubs to start winning. We look forward to July.
Week in Preview: A four-game set on the road against the 23-13 Mets and then three at home against the White Sox. Like too many housewives with not enough Oprah tickets, this could get ugly.
Second Basemen Report: DeRosa started 4 of 6 with Theriot starting the other 2 - same as last week. Looks like Uncle Lou has settled into a "platooney" situation at second, regardless of who's pitching for the other team. Like a real uncle, Lou is playing favorites. Theriot may deserve as good a birthday gift as DeRosa but Uncle Lou's been losing at the track and Theriot's birthday party just came at the wrong time. Sorry kid.
In former second basemen news, "Fast" Freddie Bynum has appeared in 16 games for the Orioles and is hitting .188 without a stolen base attempt. He is missed.
Sweet and Sour Lou: 50% sweet and 50% sour. Lou is down 4 points this week on the Sweet-O-Meter. Lou is still not sure what kind of team he has. We are.
Beachwood Sabermetrics: A complex algorithm performed by the The Cub Factor staff using all historical data made available by Major League Baseball has determined that the Cubs will be eliminated from playoff contention by June 1st.
Over/Under: Fights this weekend at Wrigley +/- 82.
The Cub Factor: Catch up with them all.
Mount Lou: The Cubs/Sox media tornado will hit the unsuspecting shore of Mount Lou causing anger lava to burst through the surface. Expect lava flow down Sheffield Avenue on Saturday afternoon. Rooftops may be the only refuge.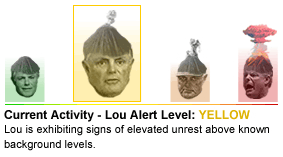 -
Marty Gangler is our man on the Cub. He welcomes your comments.

More from Beachwood Sports »
Breaking Beachwood Sports Feed!