Search The Beachwood Reporter
Subscribe to the Newsletter
The big issue this week is Alfonso Soriano's injury and him being out six weeks. Oh, and the Cubs went 5-1 for the week and are currently 20 games over .500 - yeah, that's not a typo, 20 games over .500. For anyone who thinks the Cubs are in trouble because of the Fonz going down for awhile, let me tell you this: Stop it. They will be fine. And Uncle Lou likes getting his hands dirty with line-up changes, so he might even prefer this.
Sure, when Soriano is super-hot he can carry a team, but this team doesn't even need that now. They'll probably be better off changing things up. I mean, being 20 games over .500 is probably boring. Winning all the time has to be kind of bland after awhile. Imagine going to the park and having no idea what position and/or spot in the batting order you will have. That's got to be pretty fun, right? At least it's not boring and honestly Soriano was the most boring player in the line-up.
Okay, he wasn't boring at the plate, and yeah, it was always a crap-shoot in the field on any fly ball so that wasn't boring, but he was boring in the sense that he always has to bat first. What a snoozefest at the lead-off position. And really, as a Cub fan we really need some excitement. Honestly, have you ever watched a Cub team that you knew would score like this team? It's like, when Reed Johnson hits a three-run homer in Toronto instead of going crazy I just go "Hey, I wonder if that means he's going to play center more once Soriano's back." And then I wonder what will happen if Edmonds keeps hitting. Even a tremendous outing by Jason Marquis seems like old hat now. We Cub fans need some excitement, and lineup changes might just be what the doctor ordered. I for one am really looking forward to it.
-
Week in Review: The Cubs went 5-1 this week, sweeping three at home against a Brave team short a few native Americans and taking two of three from the Blue Jays in Canada. Apparently the strip clubs in Toronto were not much of a distraction and the Cubs kept rolling.
Week in Preview: The Cubs play in the Hall of Fame exhibition game in Cooperstown today, and then travel to Tampa to play a surprising Devil Ray team (they are still the Devil Rays to me even if they've officially dropped the Devil part from their name; after all, a deal with the Devil is forever). Then it's home for thre against the White Sox. So the team will start the week playing a game that doesn't count and end the week with games that will count too much.
The Second Basemen Report: Mark DeRosa started five of six at second base this week with Mike Fontenot getting the other start. But second base fans be ready: Eric Patterson is back, and while he's apparently here to play some left field, well, that's just where Uncle Lou sticks guys when they aren't playing second base. You know, just like Hendry drew it up.
In former second baseman news, Ryne Sandberg is the coach for the Cubs single-A team the Peoria Chiefs, who will play at Wrigley on July 29th. And for the record, a Peoria Chief is like a fire chief and not a Native American. Just sayin'. Native Americans are missed.
Zam Bomb: Big Z is furious. Order new water coolers now.


Lost in translation: -Soriano-san injurio is Japanese for Alfonso who?
Sweet and Sour Lou: 75% sweet, 25% sour. Lou is up four points on the Sweet-O-Meter due to winning a series on the road and going back to Tampa this week where he used to manage. And like your real crazy drunk uncle, Lou likes visiting his old stomping grounds. He knows where to get Falstaff on sale.
Center Stage: Jim Edmonds started five of six games this week in center, with Reed Johnson getting the other start. But we see Ronnie Cedeno and Eric Patterson in the mix this week, because you can never have too many second basemen in your lineup.
The Cub Factor: Catch up with them all.
Beachwood Sabermetrics: A complex algorithm performed by the The Cub Factor staff using all historical data made available by Major League Baseball has determined that even the players are tired of pretending the Cubs-Sox series means anything.
Over/Under: The number of games Soriano's absence will cost the Cubs: +/- 0.
Mount Lou: Lou moves to status green due to actually winning on the road and not having to deal with defensive issues in the outfield. The outer crust of Mount Lou still looks the same but deep within his core bad defense anger magma will become very cool for the next five weeks. Don't expect any eruptions this week.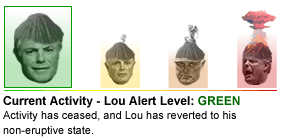 -
More from Beachwood Sports »
Breaking Beachwood Sports Feed!