Search The Beachwood Reporter
Subscribe to the Newsletter
As a fan of the Chicago National League ball club over the years, I have seen my fair share of things.
Things like losing, hopes that are crushed, and more losing.
But this season I am seeing something that I just don't understand. The Cubs are patient. The Cubs make pitchers work and get into other teams bullpen where the really bad pitchers are. This is no secret this year and people have been talking about it so I'm not breaking new ground here. But seriously, how did this happen so quickly? Did someone pick up each player and move a little switch in their backs from the "swings at everything" position to the "I like walks" position? Is baseball really that mental of a game that things can change that easily?
Apparently the answer is Kosuke Fukodome. He can instill the virtues of patience at the plate by just showing up. And he doesn't even speak English.
And what I mean by that is that it's not like he had a big sit down with everyone on the team over a few cases of Old Style tallboys and instilled the wisdom of being patient at the plate. I don't think that happened. First off, he doesn't seem like that type of guy, and second he can't really speak English!

But apparently the Aura of Kosuke has made the team much better offensively. And I think it's great. But while he's at it there are a few other things that his Aura should help with. I mean, why the hell not. I know it's a lot to ask of an Aura but hey, we've spent a lot of blood, sweat, beers, and tears rooting for this team over the years and we want a winner. So if it's not too much trouble, Aura, go spend some time in Alfonso Soriano's head. Or at least around his glove. Also, make Carlos Zambrano not so angry but instilled with the virtues of meditation and wisdom - those are Eastern philosophies, right? And with what little free time you have left, Aura, please check in with Kerry Wood whenever he's facing his first batter - if only for the sake of that batter's health and career.
*
Week in Review: The Cubs lost two of three in Houston and two of three in Pittsburgh before coming home to beat the Dodgers in a Memorial Day tilt. Losing on the road to division foes is an ominous trend.
Week in Preview: Two more against the Dodgers and then the surprisingly sucky Rockies come in for four. The Cubs are in a stretch of 17 games in 17 days; they don't have a day off until July 9, so if injuries down on the farm to Sean Marshall and Rich Hill don't heal quickly, you could see a lot of Jon Lieber in the next couple of weeks.
The Second Basemen Report: Mark DeRosa got five starts at second this week and one in right field, while Ronnie Cedeno got one start at second. Mike Fontenot also got in there for a jot. And Alfonso Soriano continued to play like the crappy ex-second basemen he is in left field. Just like Jim Hendry drew it up - except that he was counting on Soriano to play center.
In former second basemen news, Cubs rookie second baseman, Ken Hubbs earned Rookie of the Year and Gold Glove honors in 1962. He was killed two years later when the plane he was flying crashed into an icy lake in Utah. He is missed.

The Zam Bomb: Big Z remains furious for reasons we can't quite comprehend. Watch for him to go boom on the next West Coast road trip.


Lost in Translation: Alfonsaka is Japanese for "iron glove." Sorianaka is Japanese for "iron head."
Sweet and Sour Lou: 70% sweet, 30% sour. Lou is one percent less sweet this week because he likes even numbers. He thinks even numbers are "real nice." And like your real crazy drunk uncle, Lou expects you to be quiet while you do your homework because he'd like to watch porn and drink Falstaff in peace.
Center Stage: Reed Johnson is the man. Just like Hendry drew it up.
The Cub Factor: Catch up with them all.
Beachwood Sabermetrics: A complex algorithm performed by the The Cub Factor staff using all historical data made available by Major League Baseball has determined that Kerry Wood will hit more batters over the course of the season than any Cubs starter.
Over/Under: Number of batters Wood will hit this season: +/- 9.
Mount Lou: Mount Lou remains at warning level yellow. Geologists say surging lava has stabilized but warn of a shifting tectonic plates in California that could break loose in early June.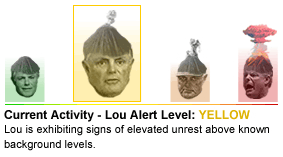 -
More from Beachwood Sports »
Will Bob Baffert ever go away? Churchill Downs Inc.: It's just what they do. Dickie D. dead. Cliches can shape your biorhythms. Double-teaming justice. You look just like. We asked one person, me.
Continue reading "TrackNotes: Back To The Future" »
Posted on Jan 28, 2022

Electric, indefatigable and, finally, undenied.
Continue reading "Minnie Miñoso Was Very, Very Good To Us" »
Posted on Dec 9, 2021