Search The Beachwood Reporter
Subscribe to the Newsletter
As Chicago was getting pummeled with wave after wave of unending rain, we here at The Cub Factor wondered how players waiting out rain delays occupied their time in the clubhouse. It can't all be card games and exchanging hot investment tips. Here's our best guess:
* After helping the groundskeepers with the tarp, Mark DeRosa goes inside to collect towels for the dryer, start a couple pots of coffee, change everyone's dinner reservations, and then heads up to the WGN booth to help Len and Bob kill time.
* Cliff Floyd regales the youngsters Ryan Theriot and Mike Fontenot about his favorite stints on the DL. Then he gets hurt getting out of the rocking chair.
* Jacque Jones plays cards with Lou Piniella, but Lou only lets him in the pot when he has a good hand. Lou sits in a lawn chair while he plays and drinks Falstaff.
* Kerry Wood hangs out in the trainer's room. That's where his locker is now.
* Carlos Zambrano heads to the team chapel.
* Daryle Ward goes back to the players' buffet for seconds. And thirds. And fourths.
* DeRosa, Fontenot, Theriot and Alfonso Soriano reminisce about playing second base this year. Ronnie Cedeno and Cesar Izturis join in my conference call.
* Ryan Dempster does a long comedy routine including his infamous Harry Caray impression that goes on and on - you know, because he has trouble finishing sometimes.
-
Week in Review: The (now in) first place Chicago Cubs went 3-3. As a friend of mine says, the Cubs "Meatloafed" the Giants and then were Meatloafed by the Diamondbacks. And just like Meatloaf, this Cubs team doesn't look that good a lot of the time but they put on a good show and sell tickets.
Week in Preview: The Cubs come home to start a 10-game home stand against the Brewers and Astros. This could be the Brewers' season. If the Cubs sweep or "Meatloaf" the Brewers, it could be the end for them. If the Brewers were a baseball robot, the robot would have a lot of firepower but no arms. And it would be shaped like an Italian Sausage.
Second Basemen Report: Mark DeRosa started four at second with Mike Fontenot starting the other three last week. At first glance, this still looks to be an issue of having too many second basemen. A closer look, however, reveals the fact that the Cubs just don't have a good enough outfielders to let DeRosa sit a day or two a week to get Fontenot a couple games at second. And then the Cubs go and get Craig Monroe, who is another outfielder who isn't as good as DeRosa. You know, just like Jim Hendry drew it up.
In former second basemen news, the mostly third-base playing but this is the Cubs second baseman Bill Mueller is now the hitting coach for the Los Angeles Dodgers. He is missed.
Sweet and Sour Lou: 78% sweet and 22% sour. Lou is up 3 points on the Sweet-O-Meter this week due to late inning heroics, good pitching, and the failure of the Brewers to capitalize on a Cubs squad that is really just a .500 team - and playing like it. And just like your real crazy drunk uncle, Lou appreciates it when you kids get another glass-blown cow paperweight for Aunt Millie's collection. He just wishes you guys didn't wait until the last minute to get the gift because you were lucky the store was still open.
Beachwood Sabermetrics: A complex algorithm performed by the The Cub Factor staff using all historical data made available by Major League Baseball has determined that the success of the Brewers pitching staff is not affected by the results of that day's sausage race. Weirdly, correlations show, however, that the success of the Cubs pitching staff may be. Further study is warranted.
Under/Over: The number of Brewers fans who come to Wrigley this week and remain sober: +/- 6.
Cubs Fans Theme Song: "Please Stop Believin'"
The Cubs Answer Men: #3 is in the building.
The Cub Factor: Catch up with them all.
Mount Lou: The Alert System remains at yellow due to offensive frustration lava that continues to brew right under Lou's surface. Expect a minor eruption as changes in the "playoff atmosphere" raise the barometric pressure, increasing the chances of ignition.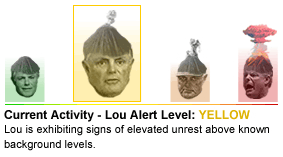 More from Beachwood Sports »
Will Bob Baffert ever go away? Churchill Downs Inc.: It's just what they do. Dickie D. dead. Cliches can shape your biorhythms. Double-teaming justice. You look just like. We asked one person, me.
Continue reading "TrackNotes: Back To The Future" »
Posted on Jan 28, 2022

Electric, indefatigable and, finally, undenied.
Continue reading "Minnie Miñoso Was Very, Very Good To Us" »
Posted on Dec 9, 2021