Search The Beachwood Reporter
Subscribe to the Newsletter
The Cubs are in a dog fight (and I mean that in the fighter pilot way not the Michael Vick way) for supremacy in the National League Central division. This oughta be fun, right? So why am I nostalgic for the days when Carlos Zambrano was introducing Michael Barrett to his fists and Derrek Lee was punching air like a girl and Lou Piniella was one passed ball away from a major cardiac event? Sure it was fun when the team started to win, but now that they've settled into an incredibly mediocre pennant race, it's just getting frustrating. Here are few scenarios we'd like to see in the upcoming weeks to spice things up.
* Kerry Wood falls out of another hot tub but this time after he falls out he falls into a well.
* Mark DeRosa starts helping out in the bullpen too.
* The subprime lending market crisis claims Wrigley Field. They can continue playing there, but only if they become the Chase Bank Cubs.
* Jim Hendry keeps claiming "the surge" is working even though it's clear the roster is depleted.
* Jacque Jones changes his name to Jack.
* Powderpuff football game between every Cubs catcher this season and every Cubs second baseman.
* Mark Prior falls in well.
* Ryan Dempster's Harry Caray impersonation gets so good that he retires to join Steve Stone as new Cubs announcers.
* Cubs marketing department adds Fourth Inning Stretch.
Week in Review: The Cubs were swept in Houston and split four games in Colorado. The bandwagon has a flat tire, the engine is overheating, and the AC is on the fritz. Time to get off?
Week in Preview: The Cubs get a much needed day off today and then start a seven-game homestand against the Reds and the Cardinals. Hey, I can see the Reds team bus and they have some fix-a-flat, a new thermostat, and a couple cans of freon. How 'bout that.
The Second Basemen Report: Mike Fontenot started six of the last seven at second. Old favorite Ronnie Cedeno got the other start. The Cub Factor would like to welcome Eric Patterson to The Second Basemen Report. Patterson has been used out of position in the outfield so far, but it won't be long, trust us.
In former second basemen news, the whereabouts of Enrique Wilson are unknown.
Sweet and Sour Lou: 74% sweet and 26% sour. Lou is down five points on the Sweet-O-Meter due to lack of offensive production, bad pitching, and losing. Like your real crazy drunk uncle, Lou isn't happy when the kids don't behave. But he's not flying off the handle right away, no. Lou is going to get his favorite lawn chair out, sit in the garage, and throw down way too many Falstaffs. What happens after that is anyone's guess.
Beachwood Sabermetrics: A complex algorithm performed by the The Cub Factor staff using all historical data made available by Major League Baseball has determined that the Brewers only need to be one game less worse in the standings than the Cubs to win the division.
Over/Under: Number of experts who said that the Cubs would win the division two weeks ago who will doomsay this week: +/- all of them.
Cubs Fans Theme Song: "Please Stop Believin'"
The Cub Factor: Catch up with them all.
Mount Lou: For the first time in weeks Lou moves to Yellow. Mount Lou has shown little activity on the surface, but deep down in his core there is anger magma beginning to stir. Expect disappointment lava to slowly leak to the surface first; that will be the sign. Keep your eyes on the Alert System when the Cardinals get to town for further developments.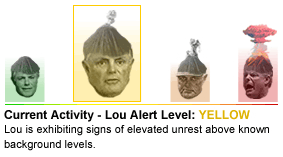 More from Beachwood Sports »
Will Bob Baffert ever go away? Churchill Downs Inc.: It's just what they do. Dickie D. dead. Cliches can shape your biorhythms. Double-teaming justice. You look just like. We asked one person, me.
Continue reading "TrackNotes: Back To The Future" »
Posted on Jan 28, 2022

Electric, indefatigable and, finally, undenied.
Continue reading "Minnie Miñoso Was Very, Very Good To Us" »
Posted on Dec 9, 2021