Search The Beachwood Reporter
Subscribe to the Newsletter
I'd like to tell you that this Cub team is going to blow it but I can't. I'd like to explain how this team is not equipped to play winning baseball in the National League but I can't. I'd like to , though.
Because even a cynical "fan" can see that this incarnation of the Cubs has transformed from pretender to contender. Sure, it's not the same as transforming a semi-truck into a robot, but it will still be interesting summer viewing. Lou Pinella has this roster and team under control and the Cubs will overtake the (still in) first place Milwaukee Brewers by the end of August. Yeah, I said it, so what?
Yes, they have some shortcomings, sure, but at this point you have to believe that they'll try to shore those up before the trading deadline. This roster has been shaken more than a crying baby at Applebees, and it still hasn't stopped crying. And yes, they've actually lost two in a row - which suddenly seems shocking. But this team is like the roast beef sandwich at IHOP: on a roll.
With all of this in mind, we here at The Cub Factor would like to tell the cynical Cub fan to really believe again in this team. And while we're at it, here are some other things you should start believing in again.

* Santa
* The President
* The Tooth Fairy
* Weapons of Mass Destruction in Iraq
* Women's rights
* Al Gore
* Equality
* The Easter Bunny
* Leprechauns
* The children as our future
* BioFuels
* The power of prayer
* Democracy
* God
* Magic
* Love
* Jacque Jones
* Jason Vorhees
* Global Warming
* Yeti
* Pop Rocks and Coca-Cola
So, don't stop believing Chicago Cub fans. Wait, wrong team . . .
-
Week in Review: The Cubs took three of four from the Giants and lost two of three to the D-Backs. It wasn't the greatest week ever but not that bad considering Derrek Lee was out for five games serving his suspension for throwing a punch at Padres pitcher Chris Young. So the Cubs have cooled off a little, sure, but like a library book, they were due.

Week in Preview: The Cubs travel to St. Louis and Cincinnati for three games apiece against the Cardnials and Reds. The Cubs have a lot of games left this season against the Reds, and the Reds are not very good. Things are looking pretty good for the Cubs. I'm hoping if I keep saying things like "Things are looking pretty good for the Cubs," it will become easier to believe. I'm not quite there yet.
The Second Basemen Report: This is beginning to get boring. Mike Fontenot is really really throwing a wrench into this feature. Fontenot started six of the last seven at the keystone base. Mark DeRosa got the other start. This should get more interesting once Derrek Lee is off of suspension and DeRosa isn't needed to cover first, but Fontenot and DeRosa seem to be the only guys left, with Ryan Theriot inspiring enough confidence to spark the Cesar Izturis trade. I have to say, Lou Piniella is not helping The Second Basemen Report by actually bringing stability to the position. It's getting less and less fun to rip on the Cubs. On another note, the Cubs have used six catchers this season. I'm sure that's the way Jim Hendry drew it up.
In former second baseman news, Jose Hernandez is batting .237 with 8 HRs, 31 RBI, and 55 SOs for the the Pittsburgh Pirates' Triple-A affiliate, the Indianapolis Indians. He is missed.
Sweet and Sour Lou: 76% sweet and 24% sour. Lou is up another two points on the Sweet-O-Meter this week. Just like your real crazy old drunk uncle, you thought Lou was nuts when he threw a bunch of lemons, rotten apples, and an old shoe into the simmering pot. But goddamn does his chili taste good.
Beachwood Sabermetrics: A complex algorithm performed by the The Cub Factor staff using all historical data made available by Major League Baseball has determined that Lou Piniella knows what he's doing at least part of the time.
Over/Under: Games it will take for fans to sour on Jason Kendall: +/- 6.
The Cub Factor: Catch up with them all.
Mount Lou: Lou (still) continues to stay at green. At this point, Mount Lou has gone completely dormant. What was once a Lava Boiling Hot Bubbling Magma Spitting Volcano is now kind of a nice little hill. Expect more of the same until playoff pressure may require a show of force.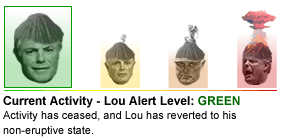 More from Beachwood Sports »

Bill Veeck was right - again.
Continue reading "Good For Harold" »
Posted on Dec 10, 2018
Breaking Beachwood Sports Feed!