Search The Beachwood Reporter
Subscribe to the Newsletter
Let's get one thing straight right off the bat: The Cubs are on a roll. They are hot. They are on fire. They are on a roll that got hot and is now on fire. Sure, they are still 6 1/2 back of the (still in) first place Milwaukee Brewers, and they are only now a .500 team, but the Cub Chill Factor qualifies that as "hot" and "on fire." It means they are "in it."
So we here at The Cub Factor would like to help some of you out. While it's well-known that the Cubs have quite a loyal following, it is also well-known that more than a few Cub fans don't know a damn thing about the actual team, like, for example, the fact that Sammy Sosa no longer plays for it. So as the Cub bandwagon begins to gather momentum this season, here are some things you can say at the water cooler at work or at that 4th of July barbeque to prove you know what you are talking about and have been on board since day one of the season. Let's call it the Cub Factor Bandwagon Starter Kit.
* You never liked Michael Barrett.
* You never liked Dusty Baker.
* Mike Fontenot and Ryan Theriot played together at LSU - and you've been following them ever since.

* Use this analogy: If the Cubs were a car engine Ryan Theriot, Mike Fontenot, Felix Pie, and Angel Pagan would be the spark plugs. Jacques Jones would be that extra cup holder that you don't use.
* "Koyie's my boy-ee!"
* The Cubs' closer-of-the-future used to be Angel Guzman. Now it's Carlos Marmol. Next year it will be Ryan Dempster.
* Talking point: Sweet Lou sure pounds Jim Hendry's square peg of a roster into the round hole of a starting lineup every day.
* "Big Z!"
* Steve Stone no longer broadcasts the team's games with a relative of Harry Caray. The new announcers are Len Kasper and Bob Brenly.
* You were there the day Ditka sang the seventh-inning stretch.
* When you throw garbage onto the field from the bleachers, you can almost reach second base.
* Segue: You can name all five Cubs who have played second base this season (write their names on the inside of your forearm).
* Kerry Wood might be back before the end of the season. Awesome!
* Yes, you read The Cub Factor in The Beachwood Reporter. It's funny, but way too negative.
-
Week in Review: The Cubs went 5-1, sweeping the Colorado Rockies and taking two of three from the (still in) first place Milwaukee Brewers. They are now at .500 and made up only one game on the Brewers. So the old man driving the bandwagon to first place is finally driving in the right direction, but there's a much faster bandwagon already a couple mile-markers ahead. This could take a while.
Week in Preview: The Cubs go on the road for seven games in what might be the easiest road trip in the history of human existence. Four games in Washington against the horrendous Nationals and three in Pittsburgh against a not-so-good Pirate team. Looks like a chance to gain ground on the Brew Crew - except that the Brewers have their own seven-game road trip on tap: They go to Pittsburgh to play four against a not-so-good Pirate team and then go to Washington to play three against the horrendous Nationals.
The Second Basemen Report: Last week we thought The Second Basemen Report might become a moot point as the season progressed as Mike Fontenot started the entire week at second. But fear not good readers. Fontenot split time with Mark DeRosa this week, each playing three games at second. See, it's kind of like a platoon except who's pitching doesn't really matter that much, so it's not really a platoon in classic baseball vernacular but in military speak it is a platoon because a platoon is a bunch of guys that are trying to all get the same thing done which in this case is play second base. So yeah, it's platoonish.
In former second basemen news, Rey Sanchez last played second base for the Cubs in 1997. Since then Rey played seasons or parts of seasons with the Yankees, Giants, Royals, Braves, Red Sox, Mets, Mariners, Devil Rays, and then back with the Yankees where he last played in the majors in 2005. That's a lot of jerseys for Rey Sanchez fans to collect. He is missed.
Sweet and Sour Lou: 71% sweet and 29% sour. Lou is up 8 points this week on the Sweet-O-Meter due to solid play, improbable comebacks, and no media criticism. Like your real crazy drunk uncle, Lou likes it when the beer is cold, his lawn is green, and his old lady isn't giving him guff about taking his heart medication. But even Lou knows this can't last forever so it's even sweeter when the good times roll.
Beachwood Sabermetrics: A complex algorithm performed by the The Cub Factor staff using all historical data made available by Major League Baseball has determined that no team 6.5 games out of first place is in first place.
Over/Under: The amount of experts who think the Cubs can make the playoffs: +/- all of them.
The Cub Factor: Catch up with them all.
Mount Lou: Lou continues to stay at green as winning baseball has completely cooled Lou's inner core. Siesmologists expect no significant boiling in the upcoming week to churn inner anger lava. Even stupid questions will not affect Mount Lou magma at this point. But be wary, the eruption season is not over.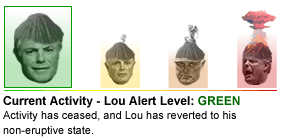 More from Beachwood Sports »

The ultimate homer directs a lovefest as ridiculous and far from the truth as his broadcasts.
Continue reading "Hawk Harrelson Goes Out As Awfully As He Broadcasted" »
Posted on Sep 17, 2018
Breaking Beachwood Sports Feed!