Search The Beachwood Reporter
Subscribe to the Newsletter
When it comes to Cub fans and the play of the Chicago Cubs, there is always a certain disconnect. We here at The Cub Factor would like to ask why. Haven't we learned our lesson? Why can't people take this team at face value? How many times has this team let us down? Yet we cling to the hope that they are always just one winning streak - or one more journeyman, whichever comes first - from turning this whole thing around. We like to call this the Cub Chill Factor. It's the difference between the real temperature of this team and what it "feels like" to Cubs fans.
For example, when the Cubs go, say, .500 over a period of 10 games, it "feels like" they've won seven of 10. When the Cubs win one of six but a couple of losses are close, it "feels like" they've gone 3-3. When the Cubs win two in a row - or sweep the White Sox - it "feels like" they are a contender. And when the Cubs are closer to last place than first but are within a half-dozen games of .500, it "feels like" they are making a run for it.
The Cub Chill Factor kicks into effect in a variety of other situations, as well.
*
Real temperature: The Cubs bring up some promising young kids from the minors who should have been playing all along.
Cub Chill Factor: They're really revamping the roster nicely!
*
Real temperature: The Cubs trade Michael Bonehead Barrett at his lowest possible market value.
Cub Chill Factor: Rob Bowen could really blossom!
*
Real temperature: The Cubs put together three (barely) winning weeks of baseball and they've still lost ground to the first place Brewers.
Cub Chill Factor: The Cubs are in it!
*
Real temperature: The Cubs sweep the White Sox the same week that they lose two of three to the Rangers, arguably the worst team in baseball.
Cub Chill Factor: Call 911, this team's on fire!
-

Week in Review: The Cubs lost two of three to a horrendous Texas Ranger team and swept an even more horrendous White Sox team. City bragging right aside (and tell me again why this matters), this was a brutal week. Losing a series to the Rangers is like losing your keys in a one bedroom studio apartment - there really shouldn't be enough room to lose them yet it happened and you feel really, really stupid about it.
Week in Preview: A Cub team on a 3-game winning streak takes on the Colorado Rockies for three and the (still comfortably in first place) Milwaukee Brewers for three, all at home. Let's get real, the Cubs need to at least take two of three from the Rockies and sweep the Brewers to get back into this thing. The problem is that they left their broom on the South Side and won't be able to get there and back on the Red Line in time to use it again.
The Second Basemen Report: For the first week all season, one player started every game at second base: Mike Fontenot. Boy, if this keeps happening there really won't be much to talk about in The Second Basemen Report, but fear not. With Aramis Ramirez back off the disabled list, Mark DeRosa will move from third base and will have to play somewhere. So expect a fair amount of juggling at second base in the weeks to come. It seems odd to say, but Ramirez on the DL is the event that really solidified the line-up. It's too bad he's back, this is certainly going to put a wrench in the plan that Jim Henrdy drew up.
In former second basemen news, Augie Ojeda is batting .429 with 1 HR and 3 RBI in six games for the Diamondbacks. He is missed.
On a side note, we here at The Cub Factor would like to thank Rod Beck for his years of service to the Cubs and to baseball. Beck died on Saturday at the age of 38. He was a great Cub to root for and a great character for baseball in general. So sometime this week, let your right arm hang down on your side the way Rod did, hunch over a little to let it swing back and forth, then toss back a cold one and think of Rod Beck. We'll miss you, Shooter.
Sweet and Sour Lou: 63% sweet and 37% sour. Lou is up five points this week on the Sweet-O-Meter due to a three-game winning streak but more importantly because he no longer has Michael Barrett to kick around. Like your real drunk uncle, Lou knows he lost money on the sale of Great Aunt Martha's house but he doesn't care. The realtor was pissing him off and Lou wanted this guy out of his life forever.
Beachwood Sabermetrics: A complex algorithm performed by the The Cub Factor staff using all historical data made available by Major League Baseball has determined that without the team in first place losing it is impossible to make up ground.
Over/Under: The amount of people who don't care if the Cubs make the postseason and are just happy that the Cubs beat the Sox: +/- Too many.
The Cub Factor: Catch up with them all.
Mount Lou: Lou moves back to green as roster changes have cooled Lou's anger magma to solid igneous rock. Recent events have alleviated pressure on Mount Lou and it may even be safe to ask stupid questions without an eruption. But be warned, as first place creeps further away, anger lava creeps closer to the surface.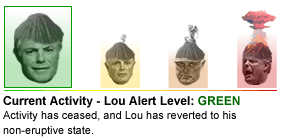 More from Beachwood Sports »
Like a twisted stage mother whose tarted-up six-year-old daughter was DQ'd from the Little Miss Pageant down at the Holiday Inn for traces of amphetamines, owner Gary West took his Maximum Security for extended pouting exile at Monmouth, over by Springsteen's Shore . . .
Continue reading "TrackNotes: A War Of Wills" »
Posted on May 19, 2019
Breaking Beachwood Sports Feed!