Search The Beachwood Reporter
Subscribe to the Newsletter
During one particularly memorable practice at Winnemac Park earlier this season, I stopped just before throwing a pitch as one of the kids yelled "Look at that!" Soon enough another voice shouted "It's coming in from the outfield!" and I turned in time to see a blur we would later identify as Peter "Hustle" Cottontail racing onto the infield dirt. He had apparently made his way down the right field line after being flushed out of one of the lush gardens that partially ring the little diamonds at the unusual little park where we practice.
The rabbit went through the infield toward the backstop like a base-runner who would not be denied - if that base-runner had for some reason decided to run around the bases the wrong way. It went ahead and passed right between me and the kid who was taking batting practice before reaching a patch of grass beyond the third-base line that was not at that point occupied (Safe!). The kids all seemed to sense that the thing to do at that point was to leave the poor animal alone. After all, there are rules for this sort of situation . . . I vaguely recall something along the lines of . . . Remember kids, if city animals are appropriately afraid of you, you're not allowed to scream at or chase them, unless of course they are pigeons. If they do not seem afraid, they probably have rabies and if you go near them you'll probably have to get shots in your stomach.


And we were in the middle of batting practice after all, which might have been slightly boring for the kids out there shagging balls but which was certainly the highlight of the afternoon for the kid who was closest to the animal - the batter. As he turned back toward me, the rabbit seemed to catch its breath for a couple moments while most of the rest of us turned away. When I looked back it was gone. Oh, by the way, is it just me or are there a lot more little bunnies around and about these days than there were back when I was growing up in Lincoln Park? Or maybe it's the neighborhood, St. Ben's, I now call home. And could it possibly have something to do with the church's policy on birth control? Hmmm.
That little scene played out on the same day my eight-year-old son's and my Dodgers also had a strange little visit from a fellow human, a guy best described as, what, a vagabond? That's not overly pejorative is it? He strolled right up to the infield, again while I was focused on pitching, and stood there for a moment before belting out "This infield . . . I think it's sweet Alabama mud!" When I asked what was up, the fellow resumed walking without further explanation. He soon passed through centerfield and was gone. Maybe he got together with Peter Hustle out there in the great beyond.
That second episode was a perfect "only in the city" type story. And here we are wrapping up another urban summer season that may not have been filled with vignettes but did contain several other happenings of note.
Early on we had to move a scheduled T-Ball/coach-pitch get-together at one of the small fields at Winnemac to an adjoining varsity baseball diamond (Amundsen High School is nearby) because a Chicago Public League softball playoff game was being contested where we usually practice. Was it one of the local schools, say the aforementioned Amundsen or Von Steuben or Roosevelt taking on a squad from some far flung corner of the city? No, it was Payton versus Morgan Park.
Ah, the mysterious Chicago Public League. Only in the CPL would this game have been anywhere near our little park. Not only was the "home" team, Payton, more than a half-dozen miles from its campus, it was more than a half-dozen miles from a campus that prominently features a softball diamond (you can check it out some time as you ride by on the Ravenswood line - the school and field are over there on the east side of the tracks between Division Street and the Chicago Avenue stop). But for some reason that diamond wasn't playable and these two lost teams ended up on our modest little diamond. When one of my assistants asked when the game might be over, one of the coaches said something to the effect of "when they finish slaughtering us," i.e. activating a 10-run rule that could have brought the matter to a close a few innings early. But instead of waiting around we found the other field.
The varsity field was nice but it had one problem in particular. I would have been happy to practice around a mound in the middle of a diamond just this one time (our junior division fields are flat) but at Amundsen the field started sloping up toward a peak a good four or five feet outside of the pitching circle. So just about any ground ball that wasn't down the first or third-base lines had a great chance to take a crazy hop halfway to one of our infielders.
Being the sensitive coach that I am, I didn't want to traumatize infielders who are already nervous enough about bad hops on our usual diamonds (Speaking of which, I remember when I was a kid fielding ground balls at Piotrowski Park on the South Side and . . . oh, no, not your tired old stories again old-timer! Don't you remember what coach Ditka said? That the past is for cowards and losers? It is time to move on . . . ) Back in the current season, we set up a makeshift field out in the infield and the outfield and ran some drills until some folks from an adult softball league said they had dibs. Fortunately by that time, Payton and Morgan Park were long gone. And what a fun drive home to Beverly that must have been for the girls from the visiting squad . . .Several congested miles just to get to the expressway . . . the lovely reverse commute into downtown and then some quality time on the Ryan. I hope they got back before school started the next day.
During another memorable practice at Winnemac, about a half hour after we had started, first we could hear some drums, then a flute and some other woodwinds and soon the concert really began. We were being serenaded by some sort of New Age musical collection gathered on a sidewalk out beyond right field, and it went on for a good hour. In fact, it seemed like it was a single song, if that is the correct term for this sort of amalgamation of atonality, which lasted that entire time. All I know is, I'll bet that sort of thing doesn't happen out in Northbrook.
A parent always wonders if his sports-loving kid might be better off competing in the suburbs. You hope for more diversity in the city, but seven-eighths of this year's Dodgers turned out to be quite pale. And you hope your kid develops some street smarts thanks to growing up in these parts, but I'll have to become a great deal less over-protective if my son is to ever going to benefit from any of that.
At least we've got a few anecdotes. And we wrapped up the regular season with a victory over the Yankees last weekend (thanks in largest part to an eight-run rally right off the bat followed by a one-two-three bottom half - it was literally our best inning off the season) to break even overall (7-7-1) heading into the playoffs. We later put the game away with some aggressive base-running in the final few frames - that Cottontail character would have been proud.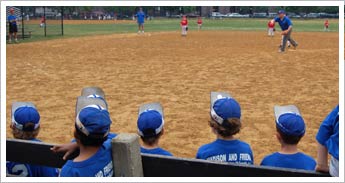 *
Jim Coffman's daughter is in her first season of T-Ball. Her older brother is in his last year in the Junior Division. Coffman is chronicling his travails as coach of his son's team and observer of his daughter's initial foray into this slice of Americana. (That's Coach Jim in the mug shot at the top of the story, and Coach Jim on the mound while his team wears rally caps in the photo above.)
More from Beachwood Sports »
Will Bob Baffert ever go away? Churchill Downs Inc.: It's just what they do. Dickie D. dead. Cliches can shape your biorhythms. Double-teaming justice. You look just like. We asked one person, me.
Continue reading "TrackNotes: Back To The Future" »
Posted on Jan 28, 2022

Electric, indefatigable and, finally, undenied.
Continue reading "Minnie Miñoso Was Very, Very Good To Us" »
Posted on Dec 9, 2021