Search The Beachwood Reporter
Subscribe to the Newsletter
As another week goes into the books on the 2010 season and the Cubs do nothing to distinguish themselves as a good team, it's hard as a Chicago sports fan not to focus completely on the Blackhawks and their Stanley Cup run.
It got me thinking about how the Cubs and Blackhawks are similar and thinking even more about how they are well, un-similar. Sort of like this Beachwood post. Let's take it a step further.
Hawks: Had quite a few down years that eventually found them picking up young talent to make a Cup run.
Cubs: Had quite a few down years that eventually found them picking up old talent to not make a Series run.
*
Hawks: They rotate their forwards from line to line throughout the game and the year, leading to more team chemistry.
Cubs: They rotate their players through second base throughout games and the year, leading to no team chemistry.
*
Hawks: Coach has a killer mustache that demands respect.
Cubs: Manager doesn't shave for weeks at a time and looks like he's gonna hand out a cup and ask you for spare change.
*
Hawks: A recent management change has completely turned the team around.
Cubs: A recent management change has completely not turned the team around.
*
Hawks: Rally towels.
Cubs: Sobbing hankies.
*
Hawks: A young nucleus with long-term contracts that should make them a contender for years to come.
Cubs: An old nucleus with long-term contracts that should make them a doormat for years to come.
*
Hawks: The mullet.
Cubs: The gullet.
*
Week in Review: The Cubs went 3-4 for the week (and a day) to once again tread water and prove they are just not ready to make the jump from lousy to mediocre.
Week in Preview: The Cubs stay in Pittsburgh to finish out a three-game series with the Buckos and then travel to Houston to help another bad team feel better about themselves.
The Second Basemen Report: Ryan Theriot started all seven games at second last week and appears to have already lost the job. Welcome back, Mr. Fontenot! Just like Jim Hendry re-drew it up.
In former second basemen news, Ryan Theriot is now the Cubs' utility infielder. He will be missed.
The Zam Bomb: Big Z is getting ready for his return to the rotation this week. He should be getting angry because if we've learned nothing this year, we've learned that an unangry Big Z is even worse than a content Big Z.

-
Lost in Translation: Bestio Cubbee easy-easilee is Japanese for Carlos Silva.
Endorsement No-Brainer: Andrew Cashner and John Grabow for Cash for Clunkers.
Sweet and Sour Lou: 31% sweet, 69% sour. Lou is up one measly point on the Sweet-O-Meter this week because he's old and isn't going to get that much more angry. And just like your real crazy drunk uncle, Lou could get liquor'd up again and chase down that crazy group of wild teenagers who did donuts on his lawn but he doesn't think it'll do any good. He'll just plant some seed and hope for the best.
Ameritrade Stock Pick of the Week: Shares of mustache wax traded higher this week, while combs and razors tumbled.
Over/Under: The number of people who will jump back off the Hawks bandwagon after the NHL season and get back on board with the Cubs: +/- fewer than you think.
Beachwood Sabermetrics: A complex algorithm performed by the The Cub Factor staff using all historical data made available by Major League Baseball has determined that this Carlos Silva thing is getting to be unbelievable. The guy f'n rulz!
Agony & Ivy: It's a way of life.
The Cub Factor: Unlike Soriano, you can catch 'em all!
The White Sox Report: Now with a weekly Cubs Snub.
Fantasy Fix: Will the real Cy Young please stand up?
The Mount Lou Alert System: Seismologists maintain status Yellow despite the failure of a Top Kill strategy that never made much sense to begin with.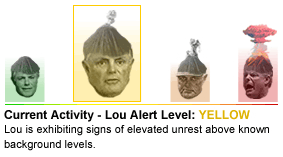 -
More from Beachwood Sports »
Breaking Beachwood Sports Feed!