Search The Beachwood Reporter
Subscribe to the Newsletter
Are the Cubs really underperforming this season?
I seem to recall an offseason lacking in excitement and a tacit acknowledgement that this year's squad would not be as good as last year's. The hope, it seemed, was that they would still manage to get themselves into the playoffs and then, somehow, exceed their previous recent appearances because . . . Tyler Colvin was left-handed?
This Cubs team is right where it ought to be - in a mess.
That's not to say they can't put together a run. And as long as Jim Hendry is the general manager, you can expect nothing but the additions of more mediocre journeymen with somewhat recognizable names whose best days are behind them.
But it's time to burn this thing to the ground. A good core will still be left.
The demotion this week of Kosuke Fukudome seals Hendry's legacy: Putting together the worst contracted outfield (Alfonso Soriano, Fukudome and Milton Bradley) in the history of the game. Hendry must go.
Colvin and Marlon Byrd remain, as does Starlin Castro and, for better and worse, Geovany Soto. Send the rest of the position players packing.
That includes Soriano, Ramirez and Derrek Lee, the three players Hendry counted on as if he was playing fantasy ball and looking to rack up numbers instead of playing real ball and looking for winners who don't disappear for large stretches at a time.
The Cubs do have an abundance of starting pitching, and even the godawful bullpen has some potential. But it's time to pull the plug and move on. Goodbye, Jim. Goodbye, Lou. Anyone got John McDonough's number?
-
Week in Review: Astronomical. The Cubs lost two of three in Houston and salvaged a two-game split with archnemesis Pittsburgh by winning Monday's make-up game behind some wunderkind named Carlos Silva.
Week in Preview: It's local rivalry week as the Cubs start a three-game series in Milwaukee tonight and then come home for three against the White Sox. Can the Blackhawks stretch their series beyond seven?
The Second Basemen Report: Former starting shortstop Ryan Theriot, returned to his former second baseman's job after the arrival of Starlin Castro despite a .300-plus average, was benched by Lou Piniella after Lou realized his leadoff hitter had walked only once in the month of May. In true Lou in Wonderland fashion, this meant Theriot started three of the last five games, including leading off twice and batting in the two-hole once. We should all be so demoted. Meanwhile, Mike Fontenot, the former starting second baseman and backup shortstop and third baseman who lost his job after the arrival of Starlin Castro despite a .300-plus average, started two games at second, though he didn't lead off. Jeff Baker, who competed in spring for the starting second baseman job, started two games at third. The Cubs have three starting second basemen, which under Mike Ditka's formulation for starting quarterbacks, means they have none. Just like Jim Hendry drew it up.
In former second basemen news, all former Cubs second basemen are missed.
The Zam Bomb: Big Z returns to the starting rotation and boy is he pissed.

-
Lost in Translation: Hari kari is Japanese for What was I thinking signing with the Cubs as well as is my contract binding?
Endorsement No-Brainer: Jim Hendry for BP: He knows what it's like to not be able to contain a spreading disaster.
Sweet and Sour Lou: 31% sweet and 69% sour. Lou is holding steady on the Sweet-O-Meter because last week was kind of a wash and this is the week it's time to impress the neighbors. And Uncle Lou doesn't care if you don't stick around for the whole picnic, but don't wear those jeans with the holes in 'em or he'll take your fake ID away from you - after you run down to the store and get him a case of Falstaff.
Ameritrade Stock Pick of the Week: Shares of Beer are up this week in anticipation of celebration or mourning in the quite possibly last meaningful series' of the season.
Over/Under: Number of Cubs traded by the July deadline: +/- 3.
Beachwood Sabermetrics: A complex algorithm performed by the The Cub Factor staff using all historical data made available by Major League Baseball has determined that Lou Piniella has ADD.
Agony & Ivy: It's a way of life.
The Cub Factor: Unlike Soriano, you can catch 'em all!
The White Sox Report: Now with a weekly Cubs Snub.
The Mount Lou Alert System: Despite historical trends calling for an eruption sometime this weekend, seismologists have determined that Mount Lou may instead slip into hibernation. Forever.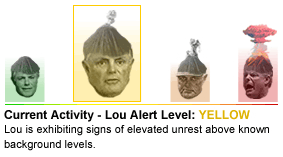 -
More from Beachwood Sports »

Given all the factors, if the Sox don't land Machado, they simply just don't have the glamour and pizzazz to attract a player of his caliber.
Continue reading "Get Manny!" »
Posted on Jan 14, 2019
Breaking Beachwood Sports Feed!