Search The Beachwood Reporter
Subscribe to the Newsletter
As the Cubs continue to suck, we here at The Cub Factor can only wonder why Uncle Lou hasn't been canned yet. How many more embarrassing losses do fans have to suffer through before someone is shown the accountability door?
Sure, firing the manager isn't going to solve anything, but it will make at least us feel better. And we are the customers. Making us feel better is worth something.
But no; the Ricketts' are sitting on their hands. We theorize as to why:
* Lou's salary now being paid by federal stimulus money.
* Lou actually is Ricketts' uncle.
* Lou is Russian sleeper spy whose firing would cause an international incident.
* Ricketts' have August 1 in Lou firing office pool.
* Lou extorting Ricketts' with embarrassing photos from last year's Ameritrade holiday party, including Tom in a compromising position with a Toyota executive.
* Ricketts' not yet tired of Lou's hilarious Rob Dibble stories.
* Strange provision with Seattle would return Milton Bradley to the Cubs upon any managerial change.
* Ricketts' close to sponsorship deal that would place Falstaff beer logo on Lou's jersey.
* Severance package would let Lou take Toyota sign home with him.
* Looking for soft landing for Jim Hendry first.
Week in Review: Ridding the clubhouse of its latest cancer didn't seem to stop the metastasizing disease known as Cubs baseball from spreading far and wide, as the North Siders not only went 2-5 but did so in embarrassing fashion. They did win on Monday but let's just focus on their pathetic-ness right now.
Week in Preview: The Cubs are out west for three with the D-backs, a bad team that is still winning far more per payroll dollar than the Cubs and yet has already pulled the trigger on cleaning house, and four with the Dodgers. Marlon Byrd will then head to the All-Star game while the rest of the team will take three days to think about how else they can make us suffer when the season resumes.
The Second Basemen Report: Ryan Theriot got four starts, Mike Fontenot got two, and Jeff Baker got one. No wonder Starlin Castro's relays to first are a little wild sometimes; he has to throw around the revolving door out there. Just like Jim Hendry drew it up.
In former second baseman news, there should be at least one more former second baseman come the trade deadline. Let's hope so, you know, so they can be missed.
The Zam Bomb: - Big Z is reportedly apologetic these days, but we don't buy it.

-
Lost in Translation: Marlon-san Birdey birdey is Japanese for questionable All-Star.
Endorsement No-Brainer: Marlon Byrd for that rule that there needs to be an All-Star from each team no matter what.
Sweet and Sour Lou: 30% sweet, 70% sour. Lou stands pat this week due to just not caring anymore; even questionable calls can't wake him up and move him off his little park bench these days. And just like your real crazy drunk uncle, Lou just flips you the keys to his mint 1969 Dodge Dart without a second thought even though your grades aren't good and he knows you've been sneakin' beers out of the beer fridge in the garage. He's old and he's given up.
Ameritrade Stock Pick of the Week: Shares of toothpicks traded very high this week.
Over/Under: The number of 10-game winning streaks this team has in it to get back into the race: +/- .5.
Beachwood Sabermetrics: A complex algorithm performed by the The Cub Factor staff using all historical data made available by Major League Baseball has determined that getting rid of clubhouse cancers hasn't made a whit of difference.
Agony & Ivy: It's a way of life.
The Cub Factor: Unlike Soriano, you can catch 'em all!
The White Sox Report: Now with a weekly Cubs Snub.
The Mount Lou Alert System: This once mighty volcano is once again looking like a peaceful prairie these days. No one is in fear of Mount Lou anymore.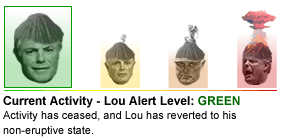 -
More from Beachwood Sports »
Will Bob Baffert ever go away? Churchill Downs Inc.: It's just what they do. Dickie D. dead. Cliches can shape your biorhythms. Double-teaming justice. You look just like. We asked one person, me.
Continue reading "TrackNotes: Back To The Future" »
Posted on Jan 28, 2022

Electric, indefatigable and, finally, undenied.
Continue reading "Minnie Miñoso Was Very, Very Good To Us" »
Posted on Dec 9, 2021