Search The Beachwood Reporter
Subscribe to the Newsletter
Doesn't it feel good to come clean?
To finally admit it?
To stop the charade?
The Cubs finally admitted it to themselves, to their fans and, well, to anyone else who is paying attention: They suck.
They aren't lighting candles in church or rubbing their "lucky bat" to go on a big winning streak; they have finally told you "Look, we aren't going to win this year. We tried to pretend for a long time but even we couldn't keep up this level of pretending - and as you may know, that is saying something because we have been pretending to you for your entire life. We pretend to have a chance every season, we pretend that this next prospect is going to be the savior, we pretend to care about you, but most of all we pretend that we know what we are doing. We are done pretending this season, we f'd up and really have to look at ourselves in the mirror."
Yep, they finally told you that they are out of it. And I couldn't be happier.
Sure the rest of the season they will probably not win many more games, but it'll finally be something worth watching. A tryout for next season with the next group of guys doing most of the heavy lifting. I couldn't be happier as a fan of this team. This has been the best week of the season. It just would have been nicer if they moved a few more of their bigger issues. Because we can't pretend them away. Not for that much money.

Week in Review: The Cubs went 1-5 for the week losing two of three to the Astros and getting swept by the Rockies. It was still the best week of the season. No one can believe now.
Week in Preview: The Cubs come home for three against both the Brewers and Reds. Let the Blake DeWitt era begin. He instantly becomes the most likable Cub now that Ryan Theriot is gone, D-Lee hosed the team, and Ryan Dempster has had enough.
The Second Basemen Report: The Cub Factor would like to welcome Blake Dewitt to The Second Basemen Report. Blake, no one had any idea you would be the third guy the Cubs will try to start at second base every day this season. Even Jim Hendry had no idea, which is just like he drew it up.
In former second basemen news, Ryan Theriot is now a Dodger. The Riot became a fan favorite here because he tried really hard and wasn't very good. The fans in LA will figure this out soon enough if they haven't already. He will be missed.
The Zam Bomb: Big Z is back, baby. And he may be in a better mood, but the time off didn't fix his pitching any. So he is getting angry.

-
Lost in Translation: Carlieoo Silvanee-san is Japanese for Cinderella at 12:01 a.m.
Endorsement No-Brainer: Blake DeWitt for the new face of the Chicago Cubs. Good luck, Blake.
Sweet and Sour Lou: 48% sweet, 52% sour. Lou stands pat this week due to attending his uncle's funeral. And just like your real crazy drunk uncle, when old uncle Dave died Lou knew he didn't have any vacation days left but he is quitting soon and the guys at the plant aren't going to be dicks, so they didn't dock him anything.
Ameritrade Stock Pick of the Week: Riot gear traded higher this week in Chicago. Then lower.
Over/Under: The number of games D-Lee should start the rest of the season: +/- 3.5.
Beachwood Sabermetrics: A complex algorithm performed by the The Cub Factor staff using all historical data made available by Major League Baseball has determined that the Cubs know they are still f'd for a while.
Agony & Ivy: It's a way of life.
The Cub Factor: Unlike Soriano, you can catch 'em all!
The White Sox Report: Now with a weekly Cubs Snub.
The Mount Lou Alert System: Is still green and his uncle died. So yeah, I'm not going to touch that.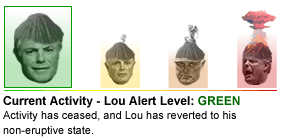 -
More from Beachwood Sports »
Breaking Beachwood Sports Feed!