Search The Beachwood Reporter
Subscribe to the Newsletter
Dear Jim Hendry,
So, you have this first baseman.
Yes, I agree that he used to be good. Heck, he won a batting title and knocked in a bunch of runs a bunch of times, but aren't his best years behind him?
And doesn't his contract, like, expire at the end of the season?
And didn't you try to trade him and he decided that he didn't want to help you get ready for next season and he vetoed the trade?
Plus he's hurt now.
So why is he still getting at-bats?
Because maybe you have another guy who could be a decent player.
No, I'm not talking about Xavier Nady. I'm talking about the Hoff.
Sure, the Hoff is 30 now - a bit old to be considered a prospect - and maybe he's a classic Four-A guy; too good for Triple-A but not good enough for the majors. But who knows. He's hot and he's still with the organization and he's never really had a good shot with the big club. Maybe he'll catch someone else's eye as a throw-in. Maybe Cub management's famous skills for talent evaluation are just a bit off on this one.
So do the kid a favor - and us - a favor: Stop Hassling The Hoff.
You have nothing to lose - apparently not even your job anymore.
Sincerely,
The Cub Factor
-

Week in Review: Because Major League Baseball forces them to keep playing, the Cubs lost three of four to the Giants and won two of three from the Cards. Maybe that made you feel good, but they started this week with a heartbreaking loss to the Padres on Monday night. You are allowed to stop watching now.
Week in Preview: The Cubs stay home for three more against San Diego and then Atlanta comes to town for three. Once again Cub management will fail to take notes on how the best teams in the league do it. But D-Lee will get his starts.
The Second Basemen Report: The Cub Factor would like to throw its arms around Darwin Barney, the newest Cubs second baseman. He doesn't look like much but he has the cutest name on the team, and a this point isn't that what it's all about? Which is just like Jim Hendry drew it up.
In former second basemen news, Mark DeRosa hasn't played for the Giants since May because of a bad wrist. But don't let that fool you, he is still missed.
The Zam Bomb: Big Z is saying all the right things - for now. So he is apologetic - for now. Okay, we really can't stress the "for now" enough.

Lost in Translation: No-e no silverio liningee is Japanese for There is nothing good about this season.
Endorsement No-Brainer: James Russell for Supercuts. He got a haircut.
Sweet and Sour Lou: 48% sweet, 52% sour. Lou stands pat again this week due to attending his, um, didn't he attend something this week? And just like your real crazy drunk uncle, according to his time card Uncle Lou punched in this week but no one saw him on the forklift moving any freight. I guess he'll still get paid.
Ameritrade Stock Pick of the Week: Shares of the company that the Cubs buy letters from for jerseys have continued to climb all season as demand remains brisk.
Over/Under: The amount of innings a good Cub fan should watch the rest of the season: +/- 8.5
Beachwood Sabermetrics: A complex algorithm performed by the The Cub Factor staff using all historical data made available by Major League Baseball has determined that it's too bad that either LaRussa or Baker is going to win.
Agony & Ivy: It's a way of life.
The Cub Factor: Unlike Soriano, you can catch 'em all!
The White Sox Report: Now with a weekly Cubs Snub.
The Mount Lou Alert System: Still green and nothing is going to change this except the discovery of a clause in his contract that forces him to return for another year.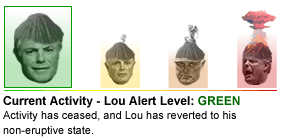 -
More from Beachwood Sports »
Breaking Beachwood Sports Feed!