« May 2006 | Main | July 2006 »
June 30, 2006
The [Friday] Papers
In a federal courtroom downtown, Chicago's patronage system is on trial. In the County Building a few blocks away, Cook County's patronage system flourishes before our very eyes.
There ought be no mistaking the fact that the planned elevation of Ald. Todd Stroger to the presidency of the Cook County Board is part and parcel of the same job-rigging ethos that has Mayor Richard Daley's former patronage chief and three other aides in the dock.
Both are about the hijacking of your government by privately run but publicly funded political machines - The Cook County Democratic Party and The Richard M. Daley Party - which use your tax dollars to further their own interests - and only their own interests. Your interests are secondary, at best, and only considered to the extent that they need to be manipulated to keep the Party going.
The hallmarks of democracy that America purports to herald and promote around the world - free, competitive elections, separation of powers between branches of government, accountability through transparency - do not exist here. I am only the billionth person to compare the Cook County Democratic Party to the old Soviet Central Committee, not because it's so facile but because it is so perfectly apt.
Apologists like Paul Green ask silly questions like, "Who does it better than Chicago?"
A better question, if we're talking about governance, and we are, is, "Who doesn't?"
"Chicago and Cook County are prime examples of how not to run local government," Jay Stewart, the executive director of the Better Government Association, told Time magazine this week. "It's a cautionary tale that shows what happens when there is no transparency or accountability."
Time is just the latest national outlet to gaze in wonder at the feudal political outpost that is Chicago and Cook County; The New York Times, The Washington Post, The Christian Science Monitor . . . each has found the political culture here perverse enough to file reports as if from overseas correspondents on foreign soil. Which is fitting.
"If you took out the [geographic] facts, it looks like we're talking about a Third World dictatorship," Stewart told Time.
Dick Simpson, the former alderman who has carved out a second career as a City Hall-watching University of Illinois-Chicago political scientist, told Time that local politicians are "breaking faith with the democratic process."
That faith was broken a long time ago, but Simpson's point remains. Todd Stroger has not earned a promotion to one of the most powerful jobs in the state, and the clumsy attempt to put him in charge of a $3 billion budget. (As Stewart said, "Todd Stroger has never been any kind of major player in the city council. It is essentially feudal law. The primogeniture system is alive and well here.")
In fact, Todd Stroger's career is built upon the same principles at play in the City Hall hiring trial, namely that jobs and promotions, including appointments to ostensibly elected national offices, are doled out to strictly serve the personal and power interests of political bosses; not on merit, and certainly not as rewards for fine public service.
This is the root of public corruption; jobs, money (yours) in the form of contracts for friends, power, ego, greed. It's called feeding at the public trough for a reason; those who go along with the system are pigs.
And yet some, like Green and his City Club pals, prefer this system because they prefer the bullying dispensation of power to "get things done" (without you getting in the way) to the values of honesty, integrity, thoughtfulness, and accountability. Do you?
Maybe we've reached a point where finally destroying the Machine for good is more important than any immediate policy goals, particularly because those goals can never really be met with the Machine in place.
Certainly Tony Peraica hopes we've had enough. Peraica is a rare Cook County Republican; chances are you don't agree with much of what he has to say. But it's hard to imagine anyone but a non-voting county board president controlled by Bill Beavers and John Daley who is not trusted enough to have his own seat as a commissioner doing a worse job than what we've had up to now. (See the The [Stroger] Papers for the latest on how the proposed arrangements would work.)
And should we really suffer the indignity of having Bill Beavers' daughter foisted on us as his replacement on the city council, while the mayor chooses Todd Stroger's replacement?
Mark Brown is wrong. We don't have to just sit back and take it. The papers could move their outrage to the front page. Citizens could flood these jokers with e-mails simply saying in the subject line, We've Had Enough. We could give up dogging Dusty Baker and use our best heckles at neighborhood ward offices, aldermanic chambers, and county offices. Bury the mayor in angry letters and phone calls. Go on strike. Boycott Millennium Park and city parking garages and Taste of Chicago and support even the craziest candidate for city and county offices as long as they aren't from the Party. Whatever you can think of, do it and tell two friends. If you want change, you have to demand it.
Patronage Peeps
And yet, some folks haven't seen enough.
Earlier this week on WBEZ's 848, Ben Calhoun filed a report on patronage that touched on both the naive and the cynical rationalizations for governing by fraud.
Northwestern business school professor Keith Murnighan got the ball rolling by stating that "favoritism has its place in private business."
Forgetting for the moment that public governance isn't private business, I'm not sure there is a single thing more corrosive to organizational culture in the workplace than office politics that rewards "favorites" instead of rewarding results. It only takes a couple days in a newsroom to see that.
Murnighan went on to point out that "past behavior is the best predictor of future behavior."
People who do political work are willing to volunteer, put in extra hours, and work for the interests of the organization, he says.
Which is exactly right. They just shouldn't be doing those things on the job when they should be inspecting buildings and filling potholes.
Bill Beavers, a vice chairman of the Cook County Democratic Party, was up next, and though he's 71, you have to wonder if he's ever left his ward.
"Patronage system is the best system, that's all I can tell you, alright," Beavers said.
Um, go on.
"Because you have to have people around you that you can trust, you have to have people around you you can depend on and do the things you want done. That's the most important thing about patronage. You dance with the one that brung you. No matter how you look at it, that's the way it's supposed to be. If you don't know anybody, you're not going to get a job. Alright? How'd you get your job? Did somebody recommend you to public radio? That's right. Is that patronage?"
I don't know how Calhoun got his job, but it's only patronage if he got his job despite being a drunk with no experience whose focus is now on advancing Steve Edwards's political career. I don't know Ben, but I doubt that's the case.
Ironically, the system Beavers so passionately believes in is also the system that to this day warps the playing field against minorities. How many African-American friends do you think Tribune Editor Ann Marie Lipinski has brought into her newsroom? One of the main arguments in favor of affirmative action and diversity programs, for example, is to counter the exact dynamic Beavers is talking about, not to mention a host of other legal standards established for both the workplace and the political arena.
"You can't just hire who you want wherever you want," Jay Stewart said. "Bill Beavers can wish for it all day long. I can wish I'm a millionaire, that's not going to make that happen tomorrow either.
"Civil service rules, the Shakman decree, the Rutan decree, the First Amendment, and 30 years of Supreme Court jurisprudence pretty clearly, unambiguously, says that we have made a determination as a society that we're not for patronage."
"I don't understand how you can plausibly [defend patronage]. Why do you have to be loyal to Mayor Daley to pick up the garbage? I don't understand how being loyal to the Democratic Machine makes you a better social worker. And what about the guy who didn't get the promotion, who maybe can't send his kid to the school he wants to send him to, or he can't get medical care for his parents because he was counting on a raise but he didn't get it because the committeeman's son got the job. Those are real consquences. Real people suffer."
Despite his many years in Illinois politics, Mike Lawrence, the director of the Paul Simon Public Policy Institute at Southern Illinois University, isn't so sure.
"Patronage is a bad word, and yet networking is generally viewed as a positive word," Lawrence said. "To me, patronage is a form of networking."
Not according to Merriam-Webster, which defines networking as "The exchange of information or services among individuals, groups, or institutions," and patronage as "the power to make appointments to government jobs, especially for political advantage."
I think we all know the difference.
Lawrence says he doesn't support what is alleged in the current City Hall job-rigging trial, but he does believe that political hiring makes public officials more responsible.
I don't know how he separates and squares those two notions, but this is the example he gave:
"If someone goes into a drivers license station to get a license renewed and is treated rudely, the Secretary of State is held responsible. The Secretary of State's picture is on the wall, and yet, the Secretary of State is very limited in who he or she can hire for that position and also very limited in disciplining and ultimately replacing that clerk."
So how does that clerk do a better job when their promotion and raise doesn't depend on how well they serve customers but on how many lawn signs they plant for the Secretary of State?
Lawrence has lost me.
"There's no hiring system that's gonna guarantee that you have the best people possible in those jobs," Lawrence said.
No. But patronage is a system that guarantees you won't.
Posted by Beachwood Reporter at 8:27 AM | Permalink
June 29, 2006
The [Thursday] Papers
Bill Beavers is a real piece of work. Todd Stroger isn't. See The [Stroger] Papers for our round-up and commentary.
1. Ald. Toni Preckwinkle (4th) shows she is savvier than some reporters and editors in town. "Unfortunately, there've been a number of deliberate media diversions to get public attention away from what's going on in federal court," she tells John Kass.
2. At least they're paying attention to Steve Stone in Pittsburgh.
3. The Sun-Times trumpets one group's findings that "Chicago has more green roof space than any other city in North America."
But shouldn't the measurement be a percentage of all roof space, rather than raw square footage?
I mean, I'm looking at this chart and thinking it sure must not be hard to edge out other cities in the top 10 such as Suitland, Maryland and Ashburn, Virginia.
4. Presidential signing statements.
5. "Twice a year, Michael Hasco visits McDonald's restaurants to observe how workers squirt ketchup onto hamburgers. He thinks there might be a better way to do it."
6. Bob Dylan is now in the Baseball Hall of Fame. This is how he got there.
7. "Can a Psychiatrist Really Tell What's Wrong With You?"
8. The pregnancy blog rolls along. Can't anyone make her stop?
9. The 10 most censored countries.
10. Suspended Cubs catcher Michael Barrett charted the game Wednesday from the press box. The Tribune was there.
"Barrett notes that Brewers pitcher Dave Bush has thrown eight first-pitch stirkes to the first eight hitters, all fastballs away.
"'Up here it's easy to see and I know the coaching staff knows,' he says, 'but when I'm playing the game, I wouldn't have a clue about that.'"
Isn't it his job to know? And more to the point, isn't it the coaching staff's job to make sure he knows?
11. I don't know how many Chicago Headline Club members showed up to have drinks with Jason Leopold last night, but I find the invitation the organization send out last week puzzling. Leopold is peddling a book, so I suppose it makes sense that he "offered" to have drinks with local journalists, but what's the Headline Club's interest, and is it really true, as Headline Club President Jason Jedlinski writes in the invitation, printed below, that "unlike Jayson Blair, the stories Leopold wrote were true"?
Does that include Leopold's now infamous report on the indictment of Karl Rove?
Salon isn't so sure, and various other media outlets have stopped doing business with Leopold. But for some reason, not the Chicago Headline Club.
This was the invite:
"Dear Colleague:
"The Headline Club often holds programs and workshops about the 'right' way to gather and report the news, following SPJ's famous Code of Ethics. But next week, you have the rare opportunity to hear from someone who strayed far from that path: stealing from an employer, lying to get information and burning his sources for a good scoop.
"Jason Leopold broke key stories about Enron and the energy crisis for Dow Jones Newswires, winning their Journalist of the Year Award. He is also a past president of the Los Angeles chapter of the Society of Professional Journalists. But for most of his career, he was high on heroin, hiding a felony conviction and the fact that he dropped out of NYU.
"Leopold's memoir, NEWS JUNKIE, 'shows how a man once fueled by self-destructive impulses transforms his life, regenerated by love, sobriety and a new, harmonious career with the independent media,' according to the publisher. I was hooked by the first six pages, in which he details his betrayal of former California Gov. Gray Davis' press secretary.
"Next Wednesday, June 28, at 7:00 p.m., Leopold will speak at Transitions Bookplace, 1000 W. North Ave., Chicago. (It's easily accessible by public transit, notably the CTA Red Line, which stops two blocks east, at North and Clybourn.) After the event, Leopold has offered to go have drinks with Headline Club members and other interested journalists. We'll likely walk over to Weed's, 1555 N. Dayton St., which is a half-block south of the el.
"Unlike Jayson Blair, the stories Leopold wrote were true. It was the stories he told his family, editors, sources and competitors that were embellished and fabricated. You'll be surprised how long he got away with it!
"I hope to see you next Wednesday, and don't forget to check our website, http://www.headlineclub.org, for other upcoming events. Early registration for SPJ's national convention, August 24-27 at the Hyatt Regency, closes next month.
"Best Regards,
"Jason Jedlinski, President, Chicago Headline Club"
The Beachwood Tip Line: Send secret indictments here.
Posted by Beachwood Reporter at 10:08 AM | Permalink
The [Stroger] Papers
Bill Beavers is a real piece of work.
"Todd Stroger is a man," Beavers insisted in today's Sun-Times. "He might not have as much bass in his voice as I got, but he's a strong man. For the first time he'll be his own man."
But he won't be allowed to vote. Or to actually become a Cook County commissioner himself. He'll just be "president."
If Todd Stroger were a man, wouldn't he be feeling humiliated just about now?
Dream Candidate
"Our prayers have been answered."
No, that's not Democratic committemen rejoicing at the prospect of a puppet presidency in which they pull the strings, but Republican challenger and sitting county board commissioner Tony Peraica. And I believe him. After all, if you were Tony Peraica, wouldn't Todd Stroger be your dream candidate? Who among the possibilities better symbolizes a corrupt Machine furthering itself at the expense of your tax money?
"We're absolutely thrilled and excited to face him," Peraica said. "His father has an intimate working knowledge of county government. He's a master politician. But I'm not aware of anything - anything - his son has done as an alderman or state legislator. And I don't think he'd have had those jobs or be the nominee if his last name were Jones or Smith."
Possible campaign slogan: I'll Have A Vote.
Brake For Children
Peraica's slogan is actually "Have You Had Enough?"
Maybe he could massage the line used by prosecutor Philip Guentert in the City Hall hiring trial, when he told jurors that they were "the brakes" who could stop the runaway Machine.
"Brake The Machine"?
It would be a clever way to tie City Hall corruption into the campaign.
It's also a viable response to the stance of Democrats like Mark Brown, who think they have no choice but to vote for the candidate chosen by the bosses. Is it too obvious to make another reference to the Soviet Central Committee? We need a new metaphor.
Maybe, in the big picture, breaking the Machine is the only real way to move forward. President Peraica has a nice ring to it. Haven't you had enough?
The Bosses
The ward committeemen.
The township committemen.
Be the brakes.
Pip Squeak
"When I campaign, if I am selected, my record and my plans for the county will show themselves to be worthy of being the president of the County Board," Todd Stroger said.
Did someone say something?
Oh, it's you.
What, now?
Steele Breeze
Cook County Commissioner Bobbie Steele is pissed.
In an interview with Steve Edwards on WBEZ's 848 on Wednesday, she couldn't even bring herself to utter Todd Stroger's name, instead referring to him as "the candidate" and "the potential candidate."
Steele was relatively impressive.
"Cook County government is not a sport," Steele told Edwards.
Steele pointed out that the Cook County board is full of experienced commissioners who ought to be considered as natural successors to John Stroger. It's so obvious as to be shocking. Why bring in a congressman (Danny Davis) or a toy alderman (Todd Stroger) or a chief judge (Tim Evans) when there are still 16 commissioners who could step in to replace their ailing leader?
"I'm just appalled that with all the experience that's on that board and all the leadership that has been provided, that the policy would be to look outside that board for leadership," Steele said.
Steele then played the gender card - not that there's anything wrong with it. (She was backed up by Mary Mitchell in today's Sun-Times.)
"The Democratic party could reinvent itself on this issue and go into the future being a party of inclusion, a party that considers the voice of women, a party that considers the voices of all of the people, all of the comitteemen in Cook County, not a select few," Steele said. "I think they should look at who can bring this party together.'
Edwards asked Steele if she thought she was that person.
"I'm sure I'm that person," she said. "It's proven. It's my record."
Of Todd Stroger, she said, "There is no record. And while I respect Alderman Beavers and I respect the potential candidate, I just think county government at this point in time has such crucial issues that need to be addressed that it needs someone with experience."
What Lisa Wrought
"It doesn't bother me at all," Peoples' Ald. Ed Smith (28th), a Democratic committeeman, told Crain's. "[Todd Stroger] has gone to school. He's taken care of his kids. He's been elected."
To a different office, but why nitpick? Then again, he wasn't really "elected" to the City Council. The mayor appointed him to the post in 2001, and he was only re-elected since through the protection that affords.
Smith added that Todd Stroger would do the same "wonderful" job that Lisa Madigan, the daughter of Illinois House Speaker Michael Madigan, has done as Illinois Attorney General.
Well, she's certainly a role model.
Coming To Terms
"When asked if his father was in good enough shape to finish his term when he's not well enough to run in the election," the Tribune reported, "Todd Stroger said, 'I don't know the answer to that question. I think that if he can finish his term, then so be it.'"
So he'll be in the office on Monday?
Daley Double
"It is unclear who would take Todd Stroger's place as 8th ward alderman," the Defender reports, "but Stroger said it will be someone who knows city government and who the people can trust."
But he stopped short of revealing whose kid it will be.
Beavers Bluff?
The Tribune report also says that Beavers told reporters "there's enough votes" lined up among the Democratic committeemen for Todd Stroger. "But when asked if he had the votes already lined up for Todd Stroger, Beavers said, 'We're working on that right now, OK?'"
Posted by Beachwood Reporter at 8:28 AM | Permalink
June 28, 2006
The [Wednesday] Papers
The latest scheme to emerge from the John Stroger fiasco is so rich you almost have to admire it. Let's take it one scoundrel at a time.
* Ald. Bill Beavers would leave the city council to take over Stroger's seat as Cook County commissioner from the fourth district - but not the board's presidency. "Beavers, 71, has long made known his desire to retire," the Sun-Times reports. And the Cook County board is apparently a good place to retire to.
* Mayor Richard M. Daley would then appoint Beavers's daughter, Darcel, to Beavers's 7th Ward aldermanic seat.
* Ald. Todd Stroger, John's son, would then become the Democratic nominee and frontrunner to replace his father as Cook County Board president. Apparently the law doesn't require that the board president actually be a sitting board member. Without a board seat, however, Todd Stroger would not have a vote. So he'd kind of be in retirement too.
* Mayor Richard M. Daley would then appoint - is there another Stroger? - a replacement for Todd Stroger on the city council. Which could come pretty close to Daley achieving his goal of appointing the entire city council. By statute, all wards would then merge into one and martial law would be declared.
* John Daley, the mayor's brother, would see his influence grow as chairman of the county board's finance committee, given the vacuum created by a Todd Stroger figurehead presidency.
One ward boss told the Sun-Times that "Everyone knows Todd is weak, but out of deference to John they'll go along with it." Another source who is one of the Democratic committeeman who will vote on the plan said that "People are willing to let [Todd] come on the job and learn because of John."
So presiding over the $3 billion budget of the 19th largest government in the United States is both a retirement and training center. You might call it cradle-to-grave service.
Family Guy
"Madigan anointed his daughter. Tom Hynes anointed his son. Bill Lipinski anointed his son. So why can't John Stroger anoint his son?" asks Ald. Anthony Beale.
I'm just gonna come out and say it: It's unfair, but some earnest people hoped that as victims of the white man's injustice, minority politicians would lead the way as reformers guided by the principles of fairness instead of using the same tools that oppressed them to further pervert democracy. But I suppose it's a milestone of achievement that minorities are now in a position to be as corrupt as whitey and get their share. The larger lesson, though, is how cynicism, patronage, and corruption form self-perpetuating, self-justifying systems that turn government bodies and offices into personal playpens ill-equipped to use our hard-earned tax dollars to actually solve problems.
Have You Had Enough?
That's what Tony Peraica wants to know.
Afterschool Specials
So wait a minute, I could get state funding for this site by pretending it's an after-school program?
That would be a lot easier than waiting for you freeloaders to pony up some dough.
Did I just type that or just think it?
Target-Rich Environment
"What's more, the prosecutor suggested that the feds were far from done with prosecuting top officials in the Daley administration, acknowledging that other former city officials, not on trial, were responsible for setting up the hiring scheme," the Sun-Times reported in today's account of closing arguments in the City Hall hiring trial.
"For those responsible out there for this scheme, there is another day," prosecutor Philip Guentert said.
Later, John Kass reports, Guentert added that "City Hall is chock full of the schemers."
Carol Marin, on the other hand, finally gets one wrong.
"In this case, the orders, whether spoken or unspoken, are in direct violation of a decades-old federal court decree, expressly forbidding political hiring. But does this rise to the level of a federal crime worthy of prison time?"
She thinks not, but I think she answered her question in the set-up. Perhaps most egregious in this case isn't just the alleged fraud - which among other things endangers people's lives by employing teenage building inspectors - and the business-as-usual political practices which are nonetheless illegal if all too familiar, but the flouting of that federal decree Marin mentions, a federal decree overseen by a federal judge. That may not be the exact basis of the charges in this case, but it's the context in which this prosecution is taking place.
In addition, this case is but one on an upwardly moving chain that could very well knit together a legally defined "criminal enterprise" (as George Ryan's secretary of state's office was declared) known up to now simply as "the mayor's office."
So yeah, I think it's a worthy investigation.
But even if the investigation ended here, with "garden variety fraud," as Michael Shakman has put it, how is that not deserving of prosecution and, if convictions are returned, prison time for those involved, given the massive extent of the allegations? Is the argument that this should have been handled by local prosecutors, such as the mayor's pal, Dick Devine? If only.
This case is not as different from the Ryan case as Marin thinks. Both are about the use of government workers for political ends. In the Ryan case, prosecutors joined hiring patronage with the pinstripe patronage of contracting scandals to present a portrait of a state for sale. In the City Hall investigation, we've only begun to see the hiring patronage part of mayor's machine. A bigger picture may yet emerge.
Ghosts In The Machine
"Mayoral aides insisted no Olympic Village proposal was presented at Friday's meeting with U.S. Olympic officials," the Tribune reports. "Dr. Enrique Beckmann, CEO of Michael Reese [Hospital] said it was news to him to read a published report Tuesday that his hospital's property had been selected.
"No city officials have contacted him, and he has not been privy to any discussions, he said."
See how it works? Mayoral aides, city officials and "City Hall sources" are like a holy trinity - one and three at the same time. In the ghostly form of "City Hall sources," they seek out willing acolytes with megaphones who will spread the good news about the mayor. Which is never to be confused with the truth.
Tubular Trib
Tribune Company's stock buyback fell short of the company's goal, but the ramifications of that aren't yet clear. The dissident Chandler family, acquired as part of TribCo's ill-fated $8.3 billion Times-Mirror acquisition, will apparently come out of the whole thing as the company's largest shareholder. Woe is Dennis FitzSimons.
Meanwhile, Tribune, aside from further gutting its newsrooms, appears to be banking on its stake in the new CW network, a combination of the old WB and UPN networks.
"The Chandlers have complained that management has been dragging its heels on a [broadcast unit] spin-off out of a 'desire to see how the new CW network performs' when it launches this fall. But despite those objections, several analysts and other investors said waiting probably makes sense at this point, given that it's unclear how the CW will do," the Tribune reports.
"'Everyone is imagining the CW as being a glamorous brand new network, and quite frankly, I think it will be more like UPN and the WB put together,' said Tucson-based radio and TV broker Fred Kalil of Kalil & Co.
The Beachwood Tip Line: Anointed and appointed.
Posted by Beachwood Reporter at 9:02 AM | Permalink
June 27, 2006
Stumbling To The Finish Line: Chicago Schools Slip Into Summer
The school year just ended for the Chicago public schools, and everyone who's not doing summer school seems pretty relieved to have gotten out alive.
It was a mess of a year - full of turmoil and difficulty and tremendous amounts of uncertainty. By most accounts, there's more turmoil to come.
Looking back at the past nine months, the only things CPS hasn't had are a patronage scandal or high-level embezzlement. But the way things have been going it seems like either one could come along any day now.
Known in previous years as a place of educational innovation, Chicago now just as often follows what's happening in New York City - or gets used as a cautionary tale for mayors in other cities who want control over the school system.
The governor's Meeks-inspired education plan wouldn't have solved Chicago's funding problems for long - and already seems dead in the water.
The mayor's vaunted Renaissance 2010 initiative now gets more heat for the schools it closes than the ones it opens up.
Local school councils, once a centerpiece of community involvement and control, have withered from inattention.
Now five years old, the Arne Duncan era seems to be slowly falling apart with the departures of school board president Michael Scott and chief operations officer David Vitale, and the demotion of chief educational officer Barbara Eason Watkins.
There are some bright spots, of course.
There's been no big ethics scandal (like in Philly).
At most schools on most days, teachers and parents and principals cooperated enough that the kids probably get some learning done.Though problematic (and on the rise in some places), school violence seems like it's much less of a problem than in some other big cities. And the state and city have made tremendous progress on early childhood education.
The school district has gotten much better at finding and hiring new teachers - and has grand plans to do better at keeping them.The percentage of families who send their children to public school continues to rise - even as the overall population of school-age children in the city continues to fall.
At many of the small new schools popping up around the city there is tremendous energy and hope to go along with the deep-seeded challenges. And nearly 100 high-performing schools have been given new autonomy to do things as they best see fit.
Of course, the final verdict - this spring's test scores - won't be out for a few weeks. But they probably won't make much of a difference.
In part, that's because they're using a new test this year - not the Iowa test that's been used for decades - and so it won't be easy to compare results to previous years. Even more so, the test scores just don't stand much chance of eclipsing all of the mishaps and twists and turns of the previous school year.
Alexander Russo is the proprietor of the District 299 Chicago public schools blog. For further reading, he recommends "How We Compare: Education" (Chicago magazine) and "Special Report: What's Better and What's Not" (Catalyst Chicago).
Posted by Beachwood Reporter at 4:32 PM | Permalink
Millennium's Second Coming
A recent story in the Los Angeles Times caught my eye; it said that according to various polls, 40 percent of Americans believe that events leading to the Biblical end times are already under way. These are the end times from the Book of Revelation which will culminate with Jesus roaring down from Heaven to end the reign of the Antichrist at the Battle of Armageddon, in which Satan's armies will be defeated, Judgment Day will be upon us and all of Jesus' true followers will finally get their reward for having to endure the endless "persecution" they're now suffering at the hands of Godless liberals like the editors of the L.A. Times.
That 40 percent of all Americans believe with varying levels of certainty that this is going to happen - even after the disappointment of the millennium coming and going without so much as a single heavenly trumpet - is impressive. It got me to thinking about the religio-scientific dread that the approaching millennium inspired in the late 1990s, when "Y2K" and not "9/11" was the shorthand that inspired widespread fear.
The millennium was feared - yes "feared" is the right word - by people across the social spectrum, from the religious believers who were looking for a big, blazing "end times" message, to survivalists who fled to the woods after stocking up on canned goods and overpriced gas-powered generators, to nervous Wall Street types who demanded that companies spend millions and spell out their Y2K preparations in minutest detail.
Yeah, it all seems pretty silly now. What was there to fear, as it turned out, but our own fevered dreams of supernatural wrath raining down from above? But of course faith is faith, and as such is impervious to such things as reason and history, so nearly half of us still think the gears are turning that will shortly lead to our two-o'clock with the Messiah. It made me realize that the love of religious mysticism is so very deep in "modern" America that it's time to reassess the ignoble place to which Chris Carter's Millennium, which ran three seasons on Fox from 1996 to 1999, has been assigned in TV history. Just because it turned out the millennium itself was a bust is no good reason to diss this show's memory. In fact, with all the people out there still feeling the kind of religious dread in which this show specialized, it might actually be wise for Carter to follow through on his stated desire to finally bring closure to this underrated show in the form of a feature film, sort of a Serenity to Fox's Firefly.
Twentieth Century Fox released the third and final season of Millennium on DVD last September, so now it's possible to take a leisurely look back on the whole series arc. What you see is a series that had all of the formidable writing, acting and movie-quality production values of The X-Files, but, unfortunately, none of the consistency. Because Carter was stretched so thin with the X-Files movie and other TV series' he was working on, Millennium switched directions pretty drastically from season to season as he handed off show responsibilities to different producers in the later years.
So it suffered from not really knowing where it was going. But there was one thing that remained consistent: Lance Henriksen's portrayal of serial killer profiler Frank Black. Black was a great character, no two ways about it. He was a combination of an FBI cop, a psychic, a New Age family man, an action hero and a political liberal who fought for victims of the system as well as victims of the killers. His talent was being able to "see" the crimes through the eyes of the perps in these kind of quick-cut, glimpse-of-nastiness flashbacks accompanied by horrific sound effects. But it also drained him because, let's face it, it's tough to stomach what a killer feels while he's going at it. Henriksen made Black all hang-doggy and world-weary, very craggy, often brooding silently under the pressure of the awful burdens he has taken on to protect as all from evil.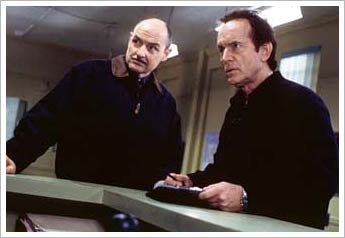 And it worked - it was pretty creepy.
In Millennium's first season, Carter himself was at the helm. In his original vision, Black's biggest concern was holding his family together (wife Megan Gallagher and daughter Brittany Tiplady as he tried to cope with his return from a mental breakdown his abilities had caused him earlier while working with the FBI. On leave from the cop shop, he worked as a "consultant" for the Millennium Group, a mysterious cadre of former FBI agents who worked together in a secretive fashion to solve the weirdest and most heinous crimes - it was based on an actual organization called the Academy Group. His contact with the group was Peter Watts (played by Terry O'Quinn, since gone on to massive fame on Lost), who had a habit of paging Black (pre-cellphone
days) with some new horror just when he was on the verge of making some emotionally healing breakthrough with the help of his family.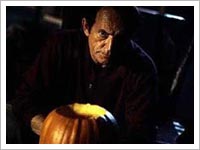 In that first year, it was mostly about Black tracking down killers; kind of straightforward - but in a strange Chris Carter kind of way. The major storyline was that an unseen killer was stalking Black's wife and child, sending him Polaroids of them going about their business. Mrs. Black ends up being kidnapped and tortured in a season-ending cliffhanger. She's rescued to kick off the second season, but it leads to the Blacks' separation - and it signaled Carter's separation from the series as its show producer.
It was in Millennium's second season, I believe, that it reached its peak, as James Wong and Glen Morgan from The X-Files took over. That's when the real connection to the millennium's religious aspects took over, and the Millennium Group morphed into something that resembled an ancient, worldwide cult that traced its roots back to 1000 A.D. They greeted each other with the cryptic phrase, "This is who we are."
Wong and Morgan spent much of the season giving tantalizing clues as to whether the Millennium Group was trying to hurry or hinder a Christian apocalypse, what role Peter Watts played and chronicling Frank Black's wavering opinion of the Group as they considered him for membership.
That 1997-98 season should secure Millennium's place as a brilliant look at the dark heart of American apocalyptic religious fervor. One episode dealt with a bloody struggle over a chunk of the true cross of the crucifixion ,which believers thought they'd need to have in their possession in order to win the Battle of Armageddon. Another had him meeting the devil himself, in the form of a reclusive neighbor from his own childhood, after reading the Bible on Halloween. A teenage girl is persecuted for channeling Mary Magdalene. Two women's prison escapees - lesbian lovers - think one's pregnancy is an immaculate conception. The season wraps with a deadly, Biblical plague sweeping the Northwest, one that might have been engineered by the Millennium Group.
In its final year, with Morgan and Wong departing, Millennium again changed, de-emphasizing the religious dread but building the Millennium Group into a more secular threat that, unfortunately, began to resemble more and more the alien-human conspiracy in The X-Files. Frank Black, with his wife killed in the plague, took on a perky young female FBI agent as a partner (Klea Scott).
I'm not saying these final episodes weren't also well-written and superbly acted (including a hilarious one that guest starred KISS), strangely enough, not a jump-the-shark moment). But the singular thing that made Millennium great - the Book of Revelation obsession - was now being downplayed. The show petered out in Spring 1999 - only six months short of the actual millennium - due to chronically poor ratings in a Friday night time slot that has never been the launching pad for successful shows.
The fact that this country remains so convinced that Armageddon is only a rebuilt Temple away from happening is, to me, some pretty scary stuff in and of itself. And the genius of Millennium was not so much its depiction of a world of religio-scientific goings-ons happening unnoticed, but the much more frightening fact that these beliefs were becoming mainstream thought - and that we'd need some brooding hero like Frank Black to save us from them.
Don Jacobson last wrote on our TV page about the boneheaded cancellation of Invasion. He also writes frequently with grace and wit in Alt-Country Corner and Chicago In Song.
Posted by Beachwood Reporter at 11:16 AM | Permalink
The [Tuesday] Papers
"Pathetic wannabes seems a more apt description for this group than homegrown terrorists," a Miami Herald editorial says today of the motley crew from South Florida accused of aspiring to somehow attack the Sears Tower.
Still, the Herald, like other weak-kneed editorialists we know, concludes that "in a post-Sept. 11 era when the tripwire for being hauled in as a potential terror threat is hypersensitive, the men may have done enough to warrant being indicted and arrested."
May have done enough? Now we're not even sure their behavior reached the threshold of arrest?
At a fundraiser here for Republican congressional candidate David McSweeney, Vice President Dick Cheney called the Miami group "a very real threat."
But it's quickly becoming clear that a Caffe Mocha Breve Grande from the Starbucks there was more of a threat to the health of Sears Tower workers than these seven dwarves.
"Even the ideology of the suspects, if a mishmash of religious fervor and zealotry can be called that, seems unfocused," the Herald says. "These alleged terrorists were so destitute that they relied on the government informant, whom they believed was one of them, to supply them with cameras to take pictures of potential targets and even boots for their militaristic training.
"The government informant also supplied both the cash and phony al-Qaeda connection to the alleged terrorists."
It increasingly sounds like the government informant was the one with the aspirations. Without him whipping these guys up, the Herald seems to be saying, there would have been very little to fear and no basis for arrests.
The Herald is also reporting that "The severity of the charges compared with the seemingly amateurish nature of the seven defendants raised concerns among civil libertarians.
"'We're as puzzled as everyone else,' said Howard Simon, the director of the Florida chapter of the American Civil Liberties Union."
You can read the astonishingly brief and bare indictment here to see why.
Decaf Tall Terrorist
The judge in the case of Chicagoan Jose Padilla says the indictment is "very light on facts."
Durkin Dunked
Closing arguments in the City Hall job-rigging trial began on Monday. Prosecutor Julie Ruder accused the four defendants, including Mayor Richard M. Daley's former patronage chief, Robert Sorich, of participating in a "corrupt clout machine."
Defense attorney Thomas Anthony Durkin called the prosecution's case "odd and stupid."
The verdict from the press gallery?
Advantage, Ruder.
John Kass says Durkin has been "valiant and colorful and interesting . . . but for all the charm and passion, it was only rhetoric, because he didn't have more."
Eric Zorn, likewise, says Durkin was all style and no substance. "I left the courtroom feeling certain: He's got nothing," Zorn writes.
Ruder was effective - by my reading of press accounts - in rebutting Durkin's arguments about the lack of money changing hands and what a swell guy his client was.
"It was about who you knew and whose palm you were greasing,'" Ruder said, according to the Sun-Times account. "Not with money, she said, but with a currency more valuable: 'bodies.' Ruder said jobs went to those who donated their labor to poltical groups by ringing doorbells, distributing flyers and making calls for candidates backed by the mayor."
The paper also reported that "Durkin tried to portray Sorich as a trusted, well-liked city employee who helped people, including one city worker who agreed Sorich literally helped get him out of working in a hole, with a promotion.
"Ruder, though, asked about all the other workers in low-level, back-breaking jobs, who didn't do political work.
"'Mr. Sorich didn't get them out,' Ruder said, her voice ringing with outrage. Unless a person did political work, Ruder said, 'you were stuck in that hole for good.'"
Green Bean
Political pundit Paul Green, who is immune to the kind of outrage expressed by Rudin, thinks Daley has it down just right.
"It's a tough city to govern," Green said on Chicago Tonight last night. "This is a city that needs a strong mayor."
Oh, baloney. The only thing that makes Chicago a tougher city to govern than any others is its corruption! Green has it exactly backwards. And if an honest mayor can't also be a strong mayor, we may as well pack up our democracy and ask for King George back.
"You don't need corruption to make a city work," Cindy Canary, director of the Illinois Campaign for Political Reform, shot back at Green.
"The city that works - who does the city work for?" asked Bob Crawford, the former political director of WBBM-AM and a longtime City Hall observer.
"That's terrible, Bob," Green responded. "Name a mayor in history where the city has worked better for more people!"
Crawford didn't get a chance to, but I'll take a shot: Harold Washington?
"Name a city that does it better," Green said.
Well, I'm not sure what "it" is, but, um, okay. New York City? Minneapolis? San Francisco? I was pretty impressed with Denver when I was there a few years ago. Portland? Seattle? Toronto? Madison, Wisconsin?
There's a whole world out there that somehow manages to trudge through each day without a Daley as their mayor or a corruption machine governing their lives.
Schoolboy
Daley wants to use a property tax increase to help fund a $1 billion school construction program. He doesn't want you to worry about the details. Just trust him.
Daley's secret plan would build 24 new schools; it is part of a $5.3 billion budget under consideration by the Board of Education.
Some pretty smart people think the mayor ought to show us his homework.
"In a 65-page critique, Civic Federation President Laurence Msall blasted the budget's 'lack of transparency' and its failure to address 'ballooning' pension and personnel costs despite four years of declining enrollment," the Sun-Times reports. "Most egregious, Msall said, was the board's failure to flesh out details of the six-year, $1 billion school construction plan that Daley unveiled earlier this month.
"The first installment of of funding toward 'Modern Schools Across America' is in the budget. But taxpayers have no idea how the 24 schools were chosen or who picked them because the Board of Education hasn't produced a capital improvement plan after three years of promises, Msall said."
Daley's response?
"Now that the city has stepped up and made an investment in schools, we can start planning in the long range again."
So, spend first, plan later?
Olympian Effort
City Hall sources issued a press release on the Sun-Times's Metro page today.
Net Nonsense
The Tribune came out against "net neutrality" on Monday in an editorial called "Hands Off The Internet." Just so there is no confusion about where the paper stands, "Hands Off The Internet" is also the name of a lobbying campaign against "net neutraility" backed by the telecom industry.
Hands Off ComEd
Adjacent to the Tribune's net neutrality editorial was a letter from the executive director of the Citizens Utility Board that said, in part, "Where we disagree is with the Tribune's continued insistence that nothing can be done to protect consumers from rate shock next year."
So yeah, the Tribune is firing on all cylinders when it comes to looking out for your interests. Next they'll ask for an increase in gas prices, just because.
Sanitation Maintenance Engineer
On Sunday the Sun-Times presented a "computer-assisted analysis" of the City Hall clout list revealed at the Sorich trial. The paper studied favors requested and favors granted to determine the success rates of the city's "clout All-Stars."
Isn't that more like a calculator-assisted analysis?
Onion or Tribune?
"High Court Turns Away Disney In Pooh Appeal."
The [Monday] Papers
There wasn't one. Sorry. I'm still not sure whether the Sunday and Monday columns should be combined, or should remain separate with each posted Monday. I'm trying to avoid having to write a column on Sunday when I'm usually busy not only reading through the papers but preparing other parts of the site for the week. Suggestions welcome.
The Beachwood Tip Line: Part of the Modern Beachwoods Across Chicago program
Posted by Beachwood Reporter at 6:37 AM | Permalink
June 26, 2006
The [Sunday] Papers
The editorial pages of the Tribune and Sun-Times on Sunday both strain to assure readers that they should take the alleged plot to blow up the Sears Tower seriously, arguing that those exhibiting a little bit of skepticism - and apparently there are enough of us who do that each paper felt obliged to write editorials - do so at their own peril, and the peril of the nation.
I take the alleged plot with a measured bit of seriousness, but I find the stance of our local editorial boards to be far more perilous than the mopes in South Florida who probably couldn't blow up a balloon, much less our most fortified, security-laden landmark.
Both editorials see a parallel between the Miami gang who couldn't terrorize straight and Oklahoma City bomber Timothy McVeigh in that both are "homegrown," as if that's enough to put them in the same class.
Both editorials also scold skeptics of repeating what they see as the grand mistake of 9/11 - a failure of imagination (they do this without irony, for those of you who may have noticed that the papers commit failures of the imagination on a daily basis). And this is what, at this late date, is most astonishing.
"Before 9/11, we never imagined planes flying into the World Trade Center or the Pentagon; we once never dreamed the Murrah Federal Building in Oklahoma City would be blown up with bombs made with fertilizer," the Sun-Times says in "Latest Alleged Plot Shows Security Is Still A Tall Order."
"[Three words] stand out from all the others in the 9/11 commission's final verdict: Public officials succumbed to a 'failure of imagination' that spanned multiple government agencies and two presidential administrations," the Tribune says in "When To Take Plotters Seriously." (Note the neat trick of avoiding holding the twice Tribune-endorsed George W. Bush accountable all by his lonesome.)
I don't know if the editorial boards just haven't been keeping up or are willfully ignorant, but the failure of imagination argument has been debunked six ways from Sunday. I would speculate that perhaps only they and Condi Rice haven't gotten the memo, but it turns out that Rice did get the memo, despite her infamous statements to the contrary.
This ground has been tilled over and over and over, for anyone paying attention. The evidence is voluminous that the U.S. government had exactly imagined terrorists not just flying planes into buildings, but specifically flying planes into the World Trade Center and the Pentagon. The evidence is so thick, in fact, that it's tiring to go back and pick out just which examples to use to show that the editorial boards haven't been doing their homework. I've pulled three somewhat disparate examples to show just how discredited this notion is, from NORAD training exercises to French intelligence to the findings of the 9/11 commission as exasperatingly recounted by a 9/11 widow.
* "In the two years before the Sept. 11 attacks, the North American Aerospace Defense Command conducted exercises simulating what the White House says was unimaginable at the time: hijacked airliners used as weapons to crash into targets and cause mass casualties," USA Today reported in April 2004. "One of the imagined targets was the World Trade Center."
* "The president of Egypt and the deputy prime minister of Italy say that Osama bin Laden's network of Islamic terrorists threatened to kill President Bush and other leaders of the industrialized world when they met at a summit meeting in Genoa last July," The New York Times reported in September 2001.
"In an interview on French television on Monday, President Hosni Mubarak of Egypt spoke in specific terms about the threat, saying that 'on June 13 of this year, we learned of a communique from bin Laden saying he wanted to assassinate George W. Bush and other G8 heads of state during their summit in Italy.'
"It was a well-known piece of information," Mr. Mubarak added in the interview broadcast by the network France 3.
Separately, he told Le Figaro, a major French daily newspaper, that Egyptian intelligence services had told the United States about the threat and that the warning included a reference to "an airplane stuffed with explosives."
"Several days before Mr. Mubarak's interview, in an appearance on Italian television, Gianfranco Fini, the Italian deputy prime minister, discussed parallels between the attacks on the World Trade Center and the Pentagon, and warnings his government had received before the Genoa meeting in July.
"'Many people joked about the Italian Intelligence Force,' Mr. Fini said, 'but actually they had information that in Genoa there was the hypothesis of an attack on the American president with the use of an airplane. That is why we closed the airspace above Genoa and installed antiaircraft missiles. Those who joked should now reflect.'"
* "Either [Rice] flat out lied or she's incompetent, because the historical record is replete with instances of planes being used as missiles," Kristen Breitweiser, one of the 9/11 widows whom Ann Coulter accused of being a harpie enjoying the death of her husband, said in 2004.
"I can hold up the joint inquiry report," Breitweiser said. "You see all the post-its on here, indicating instances of planes being used as missiles, of al-Qaeda being interested in using plane as missiles of attacks in the homeland."
On and on it goes. This is settled history to everyone but the most obstinate, partisan players whose interests lie in places other than our nation's security - and to clueless editorial boards unwilling to accept the fact that the Bush Administration is responsible for one of the biggest failures not of imagination but of competence in this nation's history - besides the Iraq war, of course. And that's 9/11.
Further, the comparison to the Oklahoma City bombing would be amusing if it wasn't so sad. The use of fertilizer in a bomb was hardly new (perhaps previously most famously used by the Irish Republican Army in the 1970s). And the Tribune's later statement that McVeigh went from aspirational to operational in two days is beyond comprehension.
Even this simplified timeline shows McVeigh began his actual plotting to blow up the Oklahoma City federal building at least six months before actually doing so, and multiple histories of McVeigh show that his aspirations to do damage to the United States government arose long before that.
I don't know anybody who doesn't think the Miami group shouldn't have been arrested and that those arrests weren't newsworthy. But when FBI director Robert Mueller says that "homegrown terrorists may prove to be as dangerous as al-Qaeda, if not more so," he is guilty of hyperbole that belittles the scope of the al-Qaeda threat. And when the media falls for the hype, our security is diminished by the increased skepticism that inevitably follows when the truth comes out. The applicable fable involves a little boy and a wolf.
A better assessment of the situation came this weekend from Maureen Dowd. "These guys were so lame they asked an informant for boots, radios, binoculars, uniforms, and cash, believing he was al-Qaeda - and that jihadists need uniforms," Dowd wrote.
(It wasn't the uniforms that caught my eye; it was the boots. Why would these guys need boots? Because their "cell" had plans to conduct a "ground war" against America. So, you know, let's just say their Observation Decks don't go to the top floor.)
Franklin Delano Roosevelt is famous for saying "The only thing we have to fear is fear itself." The full statement is "The only thing we have to fear is fear itself - nameless, unreasoning, unjustified terror which paralyzes needed efforts to convert retreat into advance. In every dark hour of our national life a leadership of frankness and vigor has met with that understanding, and support of the people themselves, which is essential to victory."
The Bush Administration has turned that wisdom on its head, and frightened and witless abetters in the media have gone right along with them, taking us over a cliff instead of leading us with courage and confidence.
The only failure of imagination America is guilty of is failing to imagine a president squandering a historic opportunity, in the aftermath of unspeakable tragedy, to unite a sympathetic world behind the best of America's values, and to instead lie us into a war whose disastrous ramifications will haunt us for decades to come; a war which has not only damaged our security and made us more vulnerable to terrorist attack, but has corroded our civil liberties and infected us with a viral strain of neuroses that have set our heads spinning. It's as if Osama bin Laden is, um, winning.
So let's please stop peddling old talking points and come clean about how we got into this mess - not just the war, but the environment of fear and insecurity that is dogging us. Otherwise we'll never be able to get out of it.
The Beachwood Tip Line: Actively imagining plots all the time.
Posted by Beachwood Reporter at 7:25 AM | Permalink
June 25, 2006
When People Mix
This nation's battle with racial and ethnic tension has been well documented through political measures, from the Emancipation Proclamation to the Civil Rights Act to the Naturalization and Immigration Act. While most of us have observed and interpreted this history as a struggle, a series of tumultuous circumstances, and have seen race as a dividing force, others have explored beyond their own identity and managed to interact with people outside their own races. In fact, some even managed to marry and have children as results of their interactions. However, despite the increasing complexity of our society, we have not thought of a good way to recognize those people who do not necessarily fit into conventional categories of race.

For a long time, if a person had 1/16 of blood that was black, that person was considered black. Even today, Halle Berry was labeled as the first black actress to win the Best Actress in Oscars though her mother is white. We routinely consider Sen. Barack Obama as black though he is a product of a white mother and a black father. Prior to 2000, even the United States Census Bureau couldn't figure out how to adequately deal with people who did not fall neatly into existing categories. The decennial census in 2000 was the first time people were allowed to identify themselves with more than one racial category.

As a result of this change, the 2000 Census captured nearly 7.3 million people, or 2.3 percent of the total U.S. population, who belong to more than two racial categories. A significant proportion of these (32 percent) indicated that they are white and "other." Considering that 97 percent of the people in this category are Latinos, one can fairly speculate that they are the products of non-Hispanic white and Hispanic lineage. In addition, Asian-white combinations (862,032) are slightly higher than black-white combinations (791,801).

In Illinois, 79 percent of 249,431 multi-racial people live in the Chicago metropolitan nine-county area. Surprisingly, there is a higher multi-racial population in the suburbs (109,255) than in the City of Chicago (87,381), and with the rapid increase in Latinos and Asians in the suburbs, these numbers could have risen considerably since the last decennial census. While there are more black-whites (32,963) in the state than Asian-whites (30,009), there are more Asian-whites in the Chicago (8,001) than black-whites (6,637).

If the presence of a multi-racial population is any indicator on a city's level of diversity, Chicago falls far behind its peers. In Chicago, 30.2 out of every 1,000 people were multi-racial in 2000. While this is higher than the national rate of 25.8, it is far below New York (50.2) and Los Angeles (51.8). Other cities showing significantly higher multi-racial rates than Chicago include Miami (50.7), San Diego (49.8), Seattle (48.2), Boston (46.9), Minneapolis (46.5), Oklahoma City (45.4), San Francisco (45.5), Portland (45.2), Las Vegas (43.5), Denver (38.5), and Phoenix (33.8). As one would expect, 149.7 for every 1,000 Honolulu residents were known to have parents from at least two different racial backgrounds. In fact, 40.3 out of 1,000 people in Honolulu belonged to three or more racial groups.

A number of factors contribute to the number of Asian-whites through the past six decades or so, including the substantial number of Asian women brought into the United States as brides upon the return of American soldiers from Japan, Korea, Vietnam, and the Philippines; and an economic and educational status of Asian immigrants and their subsequent generations that put them in close proximity to middle and upper-middle class whites.

By contrast, one could argue that the lower number of biracial black-whites, particularly in Chicago, reflects the history of severe segregation that prevented a degree of interaction between the two groups. Black Hawk Hancock, a sociologist at DePaul University, suggests that the ways in which Asian-Americans interact with whites is "normalized" due to their socioeconomic status and proximity, as opposed to blacks who are still marginalized due to stereotypes and stigma.

Historical events and changes from slavery to immigration have impacted the demographic composition of our country, although the ways in which we tabulate people have not. And that is perhaps why these census figures of multi-racial people today are admittedly underestimated. Most Americans still tend to think of race in terms of one simple category, as well. But the multi-racial segment of the population will undoubtedly continue to grow, not only because of increasing levels of interaction across different racial groups, but also increased awareness that will likely cause those who have not thought of themselves as multi-racial to reconsider.

Kiljoong Kim is Research Director with the Egan Urban Center and a lecturer of sociology at DePaul University.

Posted by Beachwood Reporter at 8:46 PM | Permalink
Gin Blossoms 'Jam' Zoo: 'Not Actively Bad'
"If you just walked in and you don't know what the heck is goin' on, we're the Gin Blossoms," lead singer Robin Wilson announces early in the band's set at Lincoln Park Zoo. This may actually help some people in the audience.
A couple people have already stopped to ask me who's playing tonight, at this first installment of Lincoln Park Zoo's "Jammin' At The Zoo" summer music series; it's the Blossoms and Chicago singer-songwriter Carey Ott. Many of these people have come to be at an outdoor concert, in a spacious field bordered by a food court, ape houses, zebras, antelopes and flamingos. A couple of off-duty zoo employees tell me that many here tonight are zoo members or season-ticket holders who buy Jammin' passes before they even know who will be playing. It makes for an odd jumble that straddles the working-, middle- and upper- classes, and all their children. "I've been here six years and I've always gotten that vibe," one of them says.
Just like any proper rock show, this one involves a lot of waiting, but there's plenty to do. In fact, it levels the economic and social playing fields a little, because nobody knows what to do first - but everyone's determined, by God, to get a little of everything. Browse the free copies of Chicago magazine and Coldwell Banker Residential Brokerage Previews. Mill about the chaotic food court, which has a vaguely Balkan feel that Americans can truly experience only in their tourist attractions and public schools. Buy yourself a frosty cup of Sam Adams (Jammin's official beer), and hoist one with the sturdy patriot himself - cardboard cutouts of him stand near most of the six beer-and-wine tables.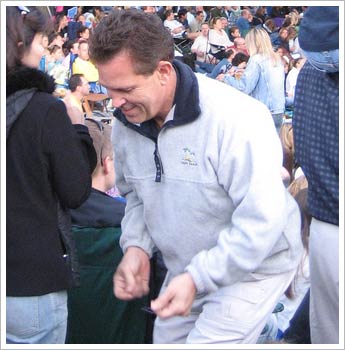 A man in his early 20s gets on his phone and starts planning a weekend golf game - a scramble, to be precise. A few couples negotiate their folding-table privileges with security guards on the concrete plaza between the food court and the lawn. A couple of little boys climb up a nearby sculpture; a man wearing a shirt that proclaims Kid Rock "AN AMERICAN PIMP" leans against it.
The crowd gets thicker and slower - turns out it's a sold-out show, the Blossoms' second at this venue (the first was in 2002; the zoo worker quoted above told me the Blossoms played a less successful show there six or seven years ago). The zoo's lawn is really a logical place to have a small outdoor concert. It's just like any other stretch of public parkland close to the shore, not a mere afterthought in the middle of a larger attraction. This is not the crummy amphitheater of Spinal Tap's puppet show/jazz odyssey disaster.
During the wait, an announcer comes onstage to announce the upcoming artists in the series - Collective Soul in July, They Might Be Giants in August. These names elicit only a few scattered claps - odd considering one's cult following and the other's basic similarities to tonight's main band. He also notes that TMBG's zoo show will not be one of their kid-friendly shows. "You can bring your kids, but neither the zoo, nor the band, are responsible for what they might hear," he chuckles in the manner of a permissive Ned Flanders. That sums up the tone of the gathering - everyone's here to have fun, but there's an enforced mildness about it.
Soon enough, Ott mounts the stage alone, with an acoustic guitar, and starts into a gloomy waltz. At first I think this is not going to work for a breezy summer evening, but he gets a little looser and more interesting with each song. He will take a wry, seventh-chordy turn just where you'd expect the average working singer-songwriter to start moaning some limp melody. This short clip of his song "Lucid Dream" is the perfect example. When I heard the gentle organ and plaintive arpeggios, I thought I was in for something mopey - but then the music slid into a totally different structure. It's no masterpiece, but it at least does something that you wouldn't necessarily expect.
I discover the perfect way to enjoy Ott: Wander over to the little amphitheater behind the sea-lion pool and let his ballads waft over to me. After a few minutes of this, though, I hear his backing band plug in, and, thinking that the Gin Blossoms are coming on, become the first person to achieve light-jog speed here this evening.
Near the end of his set, Ott plays a cover of Frank Black's "Headache." Again, this earns him points. Everyone's seen that opening act that has loads of original songs, and whether they're good or not, I tend to want to see what else the artist can do. A well-placed cover shows us that the artist has at least a little taste, versatility, and humility.
If I don't like all of Ott's songs, it's purely a matter of preference, not one of induced revulsion. What's the difference between those two? It's that Ott does his thing without trying to bludgeon his audience into gloomy submission. He is not one of the James Blunts of the world, who are always grabbing listeners by the leg hairs and yanking them into pitiful moods. A singer like Blunt will deliver his lyrics ("You're beautiful, it's true/And I don't know what to do/'Cause I'll never be with you . . . ") with epic import. Ott has more of an Aimee Mann effect: He can set a serious emotional tone, but is always a little smart-assed and understated, just in case you're not hell-bent on touching his wounds this very moment. He's broadly likeable. So I'm optimistic that, with the right marketing, he can knock Blunt out of the VH1 rotation sometime soon. The only thing I don't get about Ott is why he breaks into the national anthem as a coda to one of his minor-key songs, trailing off with a wistful "Were so gallantly streaming . . . were so gallantly streaming . . . "
After Ott, we've got a good half-hour to mill about before the main attraction. I go back over to the sea-lion pool and browse some real estate. Again, this is another excuse for everybody to try indiscriminately to take in everything open tonight - the sea lions and the tiger, mostly.
A scruffy man in a black-and-orange striped jacket scurries through a relatively less dense bit of the audience to the backstage gate. One man standing nearby seems to notice with a curious grin, but nobody in the audience runs up to greet him on his way. It's Gin Blossom Robin Wilson, whom gamers might also recognize from his column in PlayStation magazine.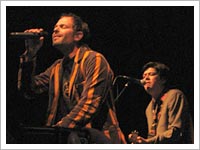 Pretty much every Gin Blossoms song drips with melancholy, but the performance matches Ott's in its emotional restraint. The only obnoxious thing Wilson does is occasionally grab a cell phone from a fan near the stage and sing to all the pals who can't be here tonight. If anyone's overdoing it here, it's the audience.
Perhaps it's just the lack of normal, well-adjusted fans, but tonight it's impossible not to notice all the grown men and women who show up to concerts with a childish ache to be involved, especially as I get near the stage. A good 30-foot radius of people have gathered around, standing, waving their arms, and/or singing along. During the Blossoms' first song, an amp starts leaking some nasty feedback. The stage manager runs out to fix it. A cluster of 35-and-older males all try to help him out with completely useless hand signals. "The bad sound seems to be originating there!" is the basic meaning of this code. A fellow about my age, wearing sandals and a baby-blue polo, tries to stick his face in my notepad with a gleaming, shit-eating grin.
A few songs later, I start easing my way out, and I come face-to-face with a squat, 30ish woman. She swizzles herself down into some kind of dancing attitude, boogles out her eyes at me, and yells, "Heeeeey Jealousy!" - the title of a hit single that the band won't be playing for another 45 minutes. And she intones it as if it's some kind of coy, private joke between us. Of course, what she's really trying to say is that I must not be having enough fun, or else I'd be making random, drunken proclamations of my own.
My favorite, though, is the guy who starts yelling and pumping his finger at guitarist Scott Johnson as Johnson noodles a blues riff between songs. "Talk to me!" he bellows. "Talk to me, man! TALK TO ME!" Johnson nods politely and otherwise ignores him.
Overall, it's a well-played set that passes without incident. It includes a few songs from the band's upcoming album, which sound just like their songs from 1992's New Miserable Experience and 1996's Congratulations, I'm Sorry. Yes, folks, there is a Gin Blossoms sound, and if you should tire of it, just remember that it really is different from the "later Goo Goo Dolls sound" and be grateful. There are valid reasons not to like the Gin Blossoms, depending on what you're into, but it's hard to argue that they're actively bad. The worst I can think of them is that they provide a good way to listen to some mopey music once in a while without plowing over one's standards of taste.
Meantime, in the "great cats" house, a Siberian tiger is pacing back and forth in its cage. Another upper-middle-class-yet-surly fellow approaches the exhibit, and, seeing the tiger go off to an unseen part of the habitat, boasts, "He saw me coming! He knows who the king of the jungle is!" One must preserve male bravado in the face of all this vulnerability.
Scott Gordon will file reports from the zoo all summer, and we predict they will not be actively bad.
Posted by Beachwood Reporter at 4:33 PM | Permalink
Another Skokie Theatre Story
You can't be a serious film geek without accumulating along with your ticket stubs and memorabilia a raft of stories about your movie-related experiences. Some of the stories are impressive. For instance, I can boast of having a three-hour dinner at a film festival with Sam Elliott, as well as winning a vintage program from the 1961 King of Kings by naming three actresses known for playing flappers in the silent era (Clara Bow, Gloria Swanson, and Colleen Moore) at Roger Ebert's Overlooked Film Festival.
Then there are my endurance anecdotes, like standing for 45 minutes in Arctic-like cold to attend opening night of The Exorcist at the Gateway Theatre; nearly bursting a kidney by refusing to miss one second of Edward Yang's 4-hour A Brighter Summer Day; and sitting through not one or two, but eight film breaks to see Jean Renoir's French Cancan at the Music Box.
And every film buff has a theatre that fills her or his imagination in some way. Some theatres, like the Elgin in New York City ("The Radio City Music Hall of Midnight Movies"), are the stuff of legend. Others are uncomfortable, even deplorably shabby, but still beloved for presenting those cherished or rare films we live for. And then there's the Skokie Theatre.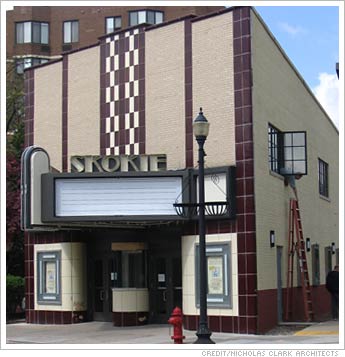 Since 1915, this narrow rectangle of a theatre has been located near the heart of the near-north suburban town from which it takes its name. In its early and middling days, the Skokie functioned like many of the one-horse theatres in small towns across America did - presenting features, newsreels, serials, and cartoons for the locals. In the 1950s, suburban sprawl started to spring up around Skokie. Kids like me from neighboring towns started invading the tiny Skokie Theatre, literally gumming up its seats and floors and then abandoning it for large 60s-style movie palaces, like the Old Orchard and the Golf Mill. Those and other grand suburban theatres died to make way for other uses, but the Skokie endured, a cramped island of entertainment nobody cared enough about to close.

When I moved into downtown Skokie in 2000, the theatre was a $1.75 second-run house. For a while, it had two showings nightly and several on the weekend. Then a change in ownership brought an international line-up to the already international neighborhood. Indian films predominated, though second-run Hollywood films were also shown for the gringos. Under this management regime, the theatre might be open, or it might not. I went to an advertised 9 p.m. showing of The Center of the World, only to be turned away. "Nobody wants to see that movie," the owner/ticket seller said. "I do!" I protested. "It's not a very good movie," he countered as he slid a wooden board in front of the money hole and prepared to go home for the night. I never did get to see it.

The theatre closed. Then it opened, and the fun family movie Holes played for the entire 2003 summer. The theatre closed again. It was re-opened by a couple of starry-eyed film geeks whose dream died quickly. After that, I could only watch and wonder if I'd soon see a wrecking ball and more stripes on blacktop for the convenience of SUVs everywhere.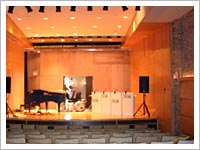 Which leads me to another Skokie Theatre story. The Cavalcade of Music Foundation, a nonprofit dedicated to teaching musicians the business of music, announced that it was buying the theatre and renovating it as a performing arts center. I was delighted that our condo-threatened downtown area was keeping at least one entertainment venue for the pleasure of locals, the attraction of near neighbors, and the enrichment of several fine, but underutilized restaurants.
There was the inevitable gnashing of teeth by the theatre preservationists. At Cinema Treasures, there was much moaning about the new marquee and gutting of the interior. Frankly, the Skokie was never a beauty, and the interior was a porn theatre without the porn. Nonetheless, a good deal of what was unique about the Skokie seems to be alive in the building. Architect Ann Clark, who took on the redesign, has her own Skokie Theatre story: "One of the workers was talking to the general contractor and said about a detail, 'It's the same, but different.' We stopped, looked at each other, and starting laughing. It became a big joke, but in the end, he was right about the whole place: it's the same, but different."
I walked over to the Skokie one Friday evening to enjoy, in resplendent comfort, a live jazz concert by The Diane Delin Quartet. My new Skokie Theatre story is how the band and the audience spent 5 minutes discussing the word "defenestration" as it related to Delin's song "Through the Window." Yes, indeed, it's the same, but different.
Posted by Beachwood Reporter at 9:35 AM | Permalink
June 23, 2006
The Weekend Desk Report
Market Update
Dazed by a string of unfortunate public statements, United States President and CEO George W. Bush floated the idea of a one-time citizen buy-back, saying the low cost of human life did not reflect the company's core values. However, analysts warn the move did little to mollify investors who are displeased with the company's fundamental business practices.
World Cup Suckers
After a devastating attack on U.S. interests overseas, Ghana has officially been decertified as a friend in the war on terror. In fact, at the time of this writing, we hear the United Kingdom is busily sexing-up a dossier on Ghana's yellowcake distribution habits.
Fear of the Unknown
Vice President Dick Cheney this week downplayed the threat of North Korea testing a long-range missile, saying their capabilities are "fairly rudimentary." This attitude is a natural extension of the United States' established Wizard of Oz policy concerning weapons of mass destruction; once we know what's behind the curtain, it's really not that scary anymore. In keeping with this branch of diplomacy, it's only a matter of time before we relax about that whole Iran thing.
Operation Click-Off
Cheney also asserted this week that America must not withdraw troops from Iraq, as this would further destabilize the region and create a safe haven for terrorists. His comments came as the Senate overwhelmingly rejected two proposals aimed at troop reductions. However, senators did broadly approve a measure to distribute magical remote controls to every American so they can fast-forward through every bloody, god-awful minute of the conflict.
Jail Bait, Eh
Canada's parliament has introduced legislation to raise the legal age of sexual consent from 14 to 16 in a bid to deter pedophiles. Because we all know once something is made illegal, nobody ever does it again.
Tout Sheet: Warming To Warming
Finally, if you're headed to the Theory Races this weekend, the odds on Global Warming have shortened from 5/1 to 2/3. Warming now stands as a co-favorite with Evolution and Heliocentrism. If you're looking to back a long-shot, we recommend Trepanation at 50/1.
Posted by Natasha Julius at 8:22 AM | Permalink
The [Friday] Papers
1. Both papers put the alleged plot to attack the Sears Tower across the top of their front pages this morning. The Sun-Times's headline "Sears Tower Terror Plot" appeared in red. The Tribune's "FBI: Sears Tower Targeted" appeared in traditional Tribune black, but somehow appeared more ominous than usual. The Tribune has a special way of doing that.
But there sure seems like there's less than meets the eye here. "[A] source said the alleged cell was not close to carrying out any attack," the Sun-Times reported. "Another source . . . said the suspects had only devised a plot on paper."
Hey, look, I don't want to underestimate the motivations of those arrested, but I have friends who have devised plots on paper, possibly even involving the Sears Tower.
The Sun-Times article concludes with a Sears Tower executive saying that "despite new information, law enforcement continues to tell us that they have never found evidence of a credible terrorism threat against Sears Tower that has gone beyond criminal discussions."
Likewise, the Tribune, which gave the top half of its front page to the story by including a large photo of three armed FBI agents standing around doing nothing, says in its second paragaph that "The suspects had 'aspirations' but 'no means' to attack the Sears Tower or other buildings, a senior federal law-enforcement source said."
And then, a few paragraphs later: "'There was no threat at all,' the senior federal law-enforcement source said, referring to the Sears Tower."
Then why am I reading about this on the front page?
Still, the Tribune found it useful to work up an "Inside America's Tallest Building" graphic to go with the story. (I guess "Inside America's Tallest Building Which Was Under No Plausible Threat" didn't fit in the allotted space.)
This is not an uninteresting or unworthy story. It's just not as worthy - yet, anyway - as Chicago's newspaper editors seem to think. The story originated out of Miami. The Miami Herald headline? "Terrorism Raid Targets A Warehouse In Miami." (You can see how it looks via the Herald link on the left rail of NewsDesigner.com.)
In the meantime, the Tribune says, "Chicago police said the city is not on increased alert despite the news."
Chicago's newspapers are, though. Despite the news.
2. "There's no excuse for his choice of words," White Sox chairman Jerry Reinsdorf said in a radio interview Thursday about manager Ozzie Guillen calling Sun-Times columnist Jay Mariotti "a piece of shit" and "a fucking fag."
"You have to separate that from the issue of the person he is talking about because that person is, indeed, a piece of garbage," Reinsdorf added, according to a Sun-Times account, which curiously lacked responses from the paper's sports editor Stu Courtney and editor-in-chief John Barron.
3. Meanwhile, Ozzie continues to alienate heterosexuals too . . .
4. This photo of the righteous Joliet Jackhammer (Jack Hammer?) is great reminder to check out our just-updated, as it is weekly, Minor League Report.
5. "Hundreds of chemical weapons found in Iraq were produced before the 1991 Gulf War and probably are so old they couldn't be used as designed, intelligence officials said Thursday."
. . .
"Asked about the danger to U.S. troops, Defense Secretary Donald H. Rumsfeld said: 'They are weapons of mass destruction. They are harmful to human beings. And they have been found.'"
Former chief U.S. weapons inspector David Kay agreed. To a point. "[They are] less toxic than most things that Americans have under their kitchen sink at this point," Kay said.
In other news, the Administration announced plans for warrantless searches of American kitchens.
6. Onion or Sun-Times? "1 Out Of 4 Americans Has No One To Confide In."
7. "When we do things in Chicago, we do them right," Mayor Richard M. Daley said of the city's plan to include a temporary, collapsible stadium in its Olympic bid because the city spent $600 million on a new Soldier Field that is not large enough to host major events.
8. "Nearly 80 percent of Cook County residents want Chicago to host the 2016 Summer Olympic Games, according to a new poll the Sun-Times takes at face value that was conveniently released on the eve of a presentation before the U.S. Olympic Committee."

9. Connecting the dots.
* "Almost half of Bucktown residents have lived in the neighborhood for between two and five years. Twenty-five percent have lived there for 120 or more months, while 26 percent have lived there for seven to 24 months."
* "Sterilizing Bucktown, One Building At A Time."
* "Where Did They Go? The Decline of Middle-Class Neighborhoods In Metropolitan America."
9. "I think [Todd Stroger is] a fine young man, but he's not up to his father's job. He's been on the public payroll since post-college. And now he's on the City Council. But we're talking about real life here."
- Tony Peraica, the Cook County Boad Commissioner running for board president, from the Defender
10. An awful lot of breast-feeding in the news lately. This might clear things up.
11. Just once I'd like to see them put a newspaper reporter in charge of a TV station.
12. As has been observed by many before me, I'm only surprised it doesn't happen more often.
13. "There is a government in Cuba that imprisons people for years without charge or trial. Unfortunately, it's ours."

- from a full-page Amnesty International ad in The New York Times on Wednesday
14. FireAndyMacPhail.com. Find out why here.
15. "This year, a record 18,000 candidates are vying for 2,000 (Chicago teaching) jobs. 'No one else has that in the country,' Daley said to a wholly believing Sun-Times."
16. The Cubs don't need Mark Cuban, they need Mike Veeck.
17. "The woman who claimed Michael Jackson molested her son, leading to the sensational trial a year ago at which the singer was acquitted, was ordered Wednesday to stand trial on a charge of welfare fraud."
But here's the interesting part. Her name, by marriage, is Janet Jackson.
18. "Rove War Record: Cut And Ran" (second item)
19. Martin Luther King III told the Defender this week that the family made a mistake by not allowing Harry Belafonte to speak at Coretta Scott King's funeral.
20. The World Cup is bigger than the Olympics.
21. A raft of new offerings for all sections to be posted through the weekend and early next week, delayed the last few days only by the distracting annoyance of me having to sell advertising. Make a big buy yourself - sponsorships and naming-rights packages also available - or at least donate to the cause or buy a gift membership for that special loved one. For a small handling fee, we'll deliver it personally.
The Beachwood Tip Line: Go Socceroos!

Posted by Beachwood Reporter at 7:50 AM | Permalink
June 22, 2006
The [Thursday] Papers
You know, we here at Beachwood HQ are uncomfortable with self-promotion, but we've learned quickly that a little bit of it is necessary if we want to stay in business.
So let us once again call attention to our ongoing feature, The Dusty & Ozzie Show, which we describe thusly:
"Why The Dusty & Ozzie Show? Because one's a bullshit artist and the other just spews bullshit. We'll keep track and at the end of the season - if they both make it that far - declare which is the most unbearable."
Now, those of you who foolishly trustied Dusty - like second marriages, the triumph of hope over experience - thought maybe we were being a bit harsh about such a cool dude as the toothpick-chewin', incense-burnin', curse-breakin' Rev. Johnnie B. Baker.
And those of you who blindly love Ozzie - winning apparently is everything, and absolves individuals of responsibility for their homophobic, bigoted, anger management issues, despite what we teach our kids - maybe thought we were being a bit harsh about the call 'em as he sees 'em, take no prisoners, crazy train Blizzard of Oz.
But who's sorry now?
The Tribune's Mike Downey this morning isn't sure Ozzie will last through July, given his (my words, not Downey's) almost pathological need to make an ass of himself.
(ESPN is conducting a 10-question click poll on Guillen, including how long he will remain as White Sox manager.)
More importantly, the open sewer that is Ozzie Guillen's mouth has spewed out far worse than we will ever know, thanks to a compliant press.
"Guillen has a gentleman's agreement with a lot of reporters," Downey writes. "Some of his more colorful banter is off the record, even if he doesn't express that request."
Maybe that's why it took a Pittsburgh columnist to notice that "Ozzie Guillen has become the biggest creep in baseball" before the Chicago press finally perked up. (Greg Couch of the Sun-Times admirably weighed in earlier this week in a column titled "Guillen Crosses Line With Latest Slur." Note that "latest slur" indicates a pattern.)
Granted, the speed with which Guillen's mouth moves makes him hard to pin down. We're still not done digesting his beanball wars and now we have to deal with him calling Sun-Times columnist Jay Mariotti a fag.
(Question to Tribune: What is the difference between referring to "a derogatory term for homosexuals" and just printing the word fag, which we all know is the word we're talking about? I mean, really? It's okay, in this context, to print the word. It really is. Trust me.)
We can debate the merits of Jay Mariotti all day long, and I'm sure there are plenty of sportswriters in this town - if not almost all of them - who agree with Guillen's criticisms of the controversial columnist, if not the exact words the White Sox manager used to express himself.
"According to Guillen, his problem is that Mariotti never has come to the clubhouse to speak to Guillen, but 'he steals quotes from all the writers and makes money, and he's not accountable,'" a Sun-Times account says.
Guillen's complaints are not new.
But then, neither is Mariotti's complaint that this town is filled with too many "house men" doing the bidding of the local franchises and letting the hometown heroes off the hook.
Mariotti has, unfairly in my view, targeted the rival Tribune the most, but he does not spare his own paper for what we might call reverse discrimination.
"'We're a rival of the Chicago Tribune and it's fair to rip both teams,' Mariotti said during an interview with Sun-Times colleagues Brian Hanley and Mike Mulligan on WSCR-AM 670," the Tribune's Teddy Greenstein reported this morning. "'But when it's the Sox, suddenly we have little meetings at the paper and suddenly there are issues and suddenly there's a column pulled here or there during the World Series, interestingly enough. That's where I have a problem with the Sun-Times.'"
Greenstein didn't report whether Hanley and Mulligan agreed. But Mariotti later added: "I wouldn't be forthright and honest if I didn't tell you I have my doubts about my paper and its relationship with the White Sox. We've had discussions about it, so I'm not speaking out of school."
Now, just because Jay Mariotti says it doesn't make it true.
But Sun-Times sports editor Stu Courtney did himself no favors by declining to comment to Greenstein. (And where is Sun-Times editor-in-chief John Barron in all this?)
Meanwhile, Guillen shows no real understanding of why he continues to offend people. Instead, he just digs himself a deeper hole by saying he wasn't referring to "those people" and trying to prove his gay-friendliness by claiming to have attended WNBA games and Madonna concerts.
The White Sox are reportedly "working with" Guillen to teach him how to choose his words more carefully, but the point isn't to censor his thoughts or expression, but to teach him why he should reconsider his views about gays, Venezuelans, violence, emotional outbursts, beanball wars, and all those chips on his shoulder.
Until then, though, we'll have plenty of material for The Dusty & Ozzie Show. It's a real race to the finish.
Playing Defense
The defense in the City Hall corruption trial rested Wednesday after calling just two minor witnesses.
"'It's always been my practice, when I don't think the government has met their burden, not to waste the jurors' time and put on evidence," Durkin said outside of court,' the Tribune reported. "He expressed confidence that Sorich would be acquitted because the prosecution failed to prove its case over six weeks of testimony."
This is reminiscent of George Ryan lawyer Dan Webb not putting his client on the stand after months of posturing that he would because he didn't think the government had proven its case. As we now know, it wasn't even close. The case, as confirmed by the jury's quick conviction on all counts, was a slam dunk.
I think this one is too.
Durkin's defense, in fact, barely disputed the allegations of job-rigging, and instead often acknowledged the alleged patronage scheme existed but argued that his client, Robert Sorich, was just a pawn in a larger game being played by the mayor's office.
We held out hope we might hear from some of those bigger fish, but it wasn't to be.
"Throughout the trial, Durkin suggested that he might call top city officials, including the mayor," the Tribune account says. "But Wednesday, he told [U.S. District Court Judge David] Coar he had decided against that strategy.
"'I grant you I did not call Mayor Daley for a variety of reasons, not the least of which I did not want to turn this trial into a circus,' he said."
Well, there isn't a defense attorney alive who isn't up for a circus. But whatever.
"Earlier in the trial," the Sun-Times noted in its report, "Durkin told the judge he was having trouble getting witnesses to testify because they feared prosecution if they took the stand." (Link unavailable.)
Why would they fear prosecution?
Because they were involved in the same scheme Sorich (and three others) is now on trial for. You never know what a jury will decide, but regardless, there is really no question that Sorich and his pals are guilty.
The larger question now is how much further up the ladder the prosecution can take this investigation.
Onion or Metromix?
"Former Village People 'Cop' Wants Rehab"
The Beachwood Tip Line: Fag friendly.
Posted by Beachwood Reporter at 8:00 AM | Permalink
June 21, 2006
Jock Rot
The Stanley Cup was finally awarded Monday night after a spectacular championship series that took the full complement of seven games. The finals featured salty veterans, unlikely heroes, the first-ever short-handed overtime goal, and one team's stirring rally from a key injury. And guess what? Nobody watched.
That's because the National Hockey League has gone out of its way to make itself unlovable. From the lemonade of a growing nationwide fan base, they have extracted the lemons of a rancorous labor dispute and a canceled season. It's not just the NHL, though. There seems to be a gene in the DNA of the sports world that triggers self-inflicted injury to reputation among some of our most prominent leagues, franchises, and athletes. Here is our list of the 13 most impressive jock implosions.
The NHL. Obviously, canceling an entire season is not a great way to win fans and influence people, but when you combine that with annoying your TV sponsor, fundamentally changing the rules of the game, and coming back in an Olympic year that guarantees your playoffs will be overshadowed by the NBA and freaking grand slam tennis you've hit on the long-sought formula for reverse alchemy. Sadly, the problem started 11 years ago, with a lockout-shortened season and a collective bargaining agreement that perfectly reflected the financial imprudence of the dot-com era.
The Chicago Blackhawks. Even in the context of the disaster above, the Hawks deserve a separate call-out. Chicago owner Bill Wirtz has managed to hack open the ribcage of a once-proud and storied franchise, pluck out its heart, and slowly eat it while wiping his mouth with the money of his five remaining loyal fans. The TV blackouts. The acrimonious dumpings of beloved players. Ticket prices among the league's top five most expensive. The revolving coaching door. Take your pick and begin your embittered rant here.
Rafael Palmiero - See Raffi sign nice contract. See Raffi testify before Congress. See Raffi wag finger in face of Congress. See Raffi fail piss test.
CART. A bitter personality feud caused Indianapolis Motor Speedway president Tony George to start his own damn racing league, taking America's signature open-wheel race - the Indy 500 - with him. But even that wasn't enough to kill the Champ Car series. Instead, it took a steady stream of mismanagement including rapid and unnecessary overseas expansion, alienation of the major engine and chassis manufacturers, and the favorite strategy of suicidal sporting organizations, pissing off the TV sponsor.
Ryan Leaf. Is it possible to asshole your way out of a professional sporting league? Yes.
Ron Artest - In an industry littered with overblown egos and marginal personalities, this particular lunatic madman still manages to stand out as a complete screw-up. Oh, and his album flopped.
Larry Brown.You won a championship with Detroit. Now you're locked in a continuous pissing contest with Stephon Marbury. Oops.
Los Angeles football fans. Sure, it's not entirely their fault that Ram and Raider ownership decided to relocate, but let's face it - if they didn't all spend so much time going to the beach, hiking in the hills, and otherwise taking their fill of the riches nature has granted their hometown, the NFL might be more inclined to take a chance on them.
John Daly. The walking embodiment of excess. Claims to have conquered his alcoholism because he no longer drinks whiskey. Really doesn't seem to understand the causal link between years of personal physical abuse and declining professional performance.
Sammy Sosa. A master of public relations, the hypercranial Sosa managed to escape a corked bat controversy, an alleged spousal battery, and growing evidence of steroid abuse with minimal damage to his saintly reputation. It seems somewhat fitting, then, that the ultimate Teflon player undid himself by slipping out of a game early. Ironically enough, the hookie-playing Wrigley Field fandom couldn't abide such a poor work ethic, and before you could say "I don't speak English" Sammy was off to Baltimore for a cup of coffee before resettling in oblivion.
O.J. Simpson. The trial mestastisized into a farce they likes of which TV audiences have never seen, and frankly it sort of made us ashamed to watch it. But whether you agree with the verdict or not, O.J.'s inexorable slide from respected football legend to cultural circus sideshow freak began with that slow, endless Bronco ride across the concrete Hades that is the L.A. highway system. Nothing, not even an acquittal, could bring him back from that.
Ricky Williams. No one should like pot that much.
Ben Roethlisberger. Literally crashing right at the peak of his popularity, Big Ben miraculously survived taking a header into an oncoming car while riding his motorcycle. However, the bulk of the facial injuries he sustained could've been avoided easily by doing something he does for his job anyway - wearing a helmet. The jury is still out on how Pittsburgh fans will react to him, but he's certainly not going to make anymore eligible bachelor lists with his jaw wired shut.
Posted by Natasha Julius at 9:26 AM | Permalink
The [Wednesday] Papers
The prosecution in the ongoing City Hall corruption trial rested its case on Tuesday. More importantly, a Tribune report this morning sheds further light on the mayor's political operation and the way it enmeshed city workers in a spoils system that left the city council cowering on the sidelines.
"Even as aldermen and committeemen remain the public faces of political power in Chicago, the true clout belonged to obscure city officials who could marshal their workers to campaign for Daley, judging by a hiring list allegedly kept in the mayor's office," the Tribune says.
The Tribune cross-referenced the Daley hiring list with a map it obtained of ward coordinators from the mayor's 1995 re-election campaign, illustrating the way the mayor effected a major shift in the way political power is leveraged in the city.
In short, Daley appointed his own ward coordinators from his own operation - including the Hispanic Democratic Organization that he created - to run his political and campaign operations, squeezing out the traditional roles of aldermen, ward committeemen, and the precinct captains of old.
It was an ingenious - and even devious - way to consolidate power. Daley rewrote the rules. One alderman, astonishingly, described the result to the Tribune.
"[T]he enduring power of patronage was crucial to Daley's dominance of local politics the past 17 years," the paper says. "The mayor's political armies solidified his control over the City Council, said Ald. Thomas Murphy (18th).
"The new pro-Daley groups recruited members from city departments, Murphy said. That led aldermen to fear that the groups would be deployed against their re-election bids if they crossed Daley, he said.
"'[Daley] gutted the ward organizations and built his own organization,' Murphy said. 'The mayor's groups took people away from the ward organizations, because the workers saw that the way to get ahead was with these new groups.'"
It may also have been illegal, dependent as it was on an exchange of political favors for city employment. That's what the current trial is about. Defense attorney Thomas Anthony Durkin is right about one thing: Robert Sorich was just a cog in a machine. Daley's machine. That doesn't make him any less guilty of fraud. It means the investigation doesn't stop with him.
Tribune Tips: You can download a PDF of the Daley hiring list from the Tribune website here. You can send your own "clout tips" to the paper here.
Movin' Out
If Chicago is so great, why are so many people leaving?
The city has lost 18,000 people in the last year alone, and 53,000 since 2000, according to the Tribune. (If I read the Tribune's story right, more than 500,000 residents have left the city in the last six years; 53,000 represents the net loss after taking new arrivals into consideration. Also, I'd like to provide a link but I can't find the story online. )
You might think this would be cause for alarm, but, as the Tribune's sub-head shorthand puts it, "Population dip is no problem, experts say."
"[U]rban planning experts, economists and demographers say the gentle decline in Chicago's population is no cause for alarm - at least, not yet."
Okay, when?
To be sure, Chicago, like most of the nation's largest cities, has been losing people since the 1950s - buoyed only by an influx of Hispanic immigrants who were responsible for the city's slight growth in the 90s.
That's the big picture. We know the why; namely, the appeal of the suburbs, awful schools, crime, and white flight.
But does this still hold? Maybe this is one of those rare times when we ought to look at the little, more immediate picture, rather than get lost in long-term trends.
Between 2000 and 2004 alone, for example, the city has seen net decreases of 35,000 whites and 42,000 blacks, according to Loyola demographer Kenneth Johnson.
"Families are leaving the city and young adults are moving in," Johnson says. The Tribune adds,"That coincides with a recent surge in the number of jobs for attorneys, accountants, and architects."
In other words, the city, as is only partially and grudgingly acknowledged by the media and those in thrall to the gritty byways of Chicago past, is no longer a blue-collar, working-class town. It is a yuppie paradise.
"In fact, [the experts] say it is a natural evolution with some potential benefits. What may come of it is a city with less-dense neighborhoods, smaller families and more young professionals and empty-nesters living in newly built condos and townhouses, they say."
Yuk.
Now, I suspect these experts would be praising growth in population as a good thing too, if that's what was occurring. They're handy like that. But I find it odd that they - or reporters - would look only for the "potential benefits" without explaining the other side.
For example, do we really want less-dense neighborhoods? This goes against the central tenets of New Urbanism, for one thing, of which the mayor is supposedly at least a partial adherent, and one of the very characteristics that has made Chicago neighborhoods so unique. The value of density has become so recognized that suburbs are trying to duplicate it in their communities.
And do we really want to become a city of more young professionals and empty-nesters living in newly built condos and townhouses?
The housing stock in Chicago is far more thrillingly unique and beautiful than anywhere else I've seen, and to see it destroyed in favor of poorly-made, out-of-the-box condos that are genericizing not only individual neighborhoods, but the city as a whole, is soul-crushing.
Finally, isn't this confirmation that the city is no longer affordable to large chunks of people? What are the ramifications of this? Is this really the kind of city we want to live in?
As I've written before, this transformation of the city's neighborhoods is one of the most significant aspects of Chicago life in the last 15 years, but the press has yet to get its head around it, or even try very hard. This goes far beyond the oh-well, shoulder-shrugging, first-level gentrification stories that get trotted out every year, naive and shallow stories story framed on false premises and lacking an understanding of the wholly unnatural forces of development.
Something else has been afoot, and the starting place for finding out what is City Hall.
Dusty FitzSimons
For a couple years now, Tribune Company CEO Dennis FitzSimons has insisted that Wall Street has undervalued his company's stock. He did so again Tuesday, when he presented his case at the Newspaper Association of America's Mid-Year Media Review in New York City.
"We strongly believe that Tribune's stock price does not reflect the underlying value of the company or the potential we have for creating shareholder value," FitzSimons said - again.
Maybe FitzSimons just wants to see what he can do once he gets his company back.
Land of Oz
Thank you, Greg Couch, for calling out homophobic headhunter Ozzie Guillen. Ditto to Phil Arvia. For a season long compilation of Ozzie's idiocy (and Dusty's), see The Dusty & Ozzie Show.
Caroling
"Writing stories about the Shaw brothers is a lot like eating potato chips. You can never stop at just one."
Reading Carol Marin columns is a lot like that too.
Midway Mishap
Heartbreaking.
Blago Bucks
The governor, who once chastised the General Assembly for spending money like drunken sailors, rocks the system.
Onion or Wall Street Journal?
"Lego announced plans to outsource toy-brick production to electronics company Flextronics."
Beachwood Tip Line: Building a new machine, one brick at a time.
Posted by Beachwood Reporter at 7:24 AM | Permalink
June 20, 2006
The [Tuesday] Papers
The big news this morning is Chicago's Fortunate 5,000, as revealed in a City Hall clout list introduced in federal court on Monday.
The list is of the sort we've become accustomed to around here - an accounting of job candidates for government jobs, their influential patron, and sometimes helfpul commentary, such as a note for one candidate describing him as arrogant, as if that would be an impediment with this administration. Oh, and a column recording when a candidate got their city job.
While this may seem like business-as-usual, don't forget: The city has been regularly attesting to a federal judge that it has been following a decree prohibiting political hiring. The city defying a federal judge is not a pretty scenario.
"Although city officials insisted for years that they did not engage in patronage hiring, secretary [in the Mayor's office] Patricia Molloy said aides in the mayor's office kept track of job seekers and their political sponsors, beginning shortly after [Mayor Richard M.] Daley's election in 1989, and during much of his 17-year tenure," the Tribune reports in "They've Got Clout."
It's becoming more implausible by the day that the mayor himself isn't culpable, isn't it?
"Prosecutors say the fraud scheme benefited the mayor's political organization and was intended to get around the federal court decree restricting patronage hiring," the Tribune account says.
Not only that, but the evidence suggests what we've always suspected: While taxpayers were distracted by plastic cows and flower-filled medians, the mayor and his family were running city government as a private club for the benefit of themselves and their pals.
"Three Daley brothers, Cook County Commissioner John Daley, former U.S. Commerce Secretary William Daley, and Michael Daley are on the list as making a few recommendations for job seekers," the Sun-Times says in its account.
(Remember - this is in addition to the separate matter of the Daley family's friends getting all those juicy contracts we've been reading about for years. Just to complete the picture.)
"A secretary of Mayor Daley's offered names for job candidates," the Sun-Times continues, "and one of his bodyguards, Sam Roti, tried to get his wife a city post too . . . Daley's political base, the 11th Ward, came up more than 450 times as the sponsoring ward for job candidates."
Daley's political guru, David Axelrod, is also on the list for sponsoring a guy he met playing basketball at a YMCA for a bricklaying job.
"[Paul] Woods, who was a toll collector on the Chicago Skyway, volunteered to work on campaigns," the Tribune reports.
Axelrod, who wrote a pro-patronage commentary for the Tribune last August arguing that "political debts contribute to better city services," told the paper he didn't care about Woods's campaign offer.
Right.
A $38.25-an-hour city hoisting engineer, Paul Ready, was sponsored by John Daley, who, in addition to serving as the Cook County Board's finance chairman and running a prosperous insurance business also heads the 11th Ward Democratic Organization.
The Tribune asked Ready if he knew how his name got on the clout list. "I do, but it's none of your business," Ready replied.
Ah, but it is our business. Ready's wages come from our taxes and his job exists for our benefit. He works for us.
See, this is one of the problems with patronage. People forget who they are working for, and where their loyalties should lie. It is also corrosive. Patronage is a costly, self-fulfilling system in which responsibility and accountability are diminished and, when it comes to positions such as building inspectors - or maybe even hoisting engineers - the public is put at risk in order to further the political careers of a bunch of mopes.
We can't forget that we are the victims. We already know who the biggest beneficiaries are.
Cross-Clout: To find out who's really got clout, an enterprising reporter ought to merge the Daley clout list with the infamous favors list kept by Scott Fawell, who was the right-hand man of convicted former governor George Ryan, and the current governor's clout list. Then we'll see who's really got juice in this town.
Vacation Lampoon: Ald. Isaac Carothers, whose name appears on the Daley clout list more than that of any other alderman, told the Sun-Times: "I don't have any comment on anything related to the trial," he said. "I'm getting ready to leave on vacation. A man just pulled up to get me. I have to leave right now."
But Ike, they just wanted to ask you about that aldermanic pay raise proposal!
JudgeSpeak
"If released, there is a distinct possibility he will attempt to deprive the prosecution of as many living witnesses as he can."
- U.S. District Court Judge James Zagel, in a written decision denying bond to reputed Outfit hit man Frank Calabrese Sr.
Tribulent Times
* Newsweek says Tribune Company is headed for a break-up.
* The New York Times says Tribune Company's synergy dreams have failed.
* The Los Angeles Times profiles Dennis FitzSimons.
* The Washington Post says publicly-owned corporate newspaper companies may return to private hands.
* Tribune Company reports earnings up slightly in May. Here's the important part, I thought: "Classified advertising revenues rose 6.6 percent. Real estate and help wanted rose 37 percent and 1 percent, respectively. Automotive classified declined 13 percent. Interactive revenues, which are primarily included in classified, were $18 million, up 29 percent, due to strength in all categories."
(Remember, this isn't about Tribune Company not making money. They are making gobs of it. Hundred-dollar bills are practically bulging out of Tribune Tower and falling to the ground. While Tribune is in a mess primarily because of its ill-conceived acquisition of Times-Mirror, the larger problem is an insatiable Wall Street for whom newspaper profit margins are never obscenely fat enough, and never will be.)
* The Tribune says the Chicago Flower & Garden show has been cancelled. Under a TribCo budget squeeze, sponsor WGN Radio pulled out. Wall Street hates flowers.
* Crain's Chicago Business says . . . nothing much at all.
- The Sun-Times says . . . nothing.
- Hell, even the Reader says . . . nothing.
The mighty Tribune Company - whose properties reach 80 percent of American households - could cease to exist. The Chicago Tribune could come under new ownership. Regardless of Dennis FitzSimons' wishes, the company could lose the Cubs. You'd think the local media outside of the Tribune itself would be, um, interested.
Jack Black
Let's not forget how corrupt the Sun-Times was for years. Conrad Black's return to the news is a reminder. So yeah, integrity and competence are hallmarks of our local media empires.
Onion or Sun-Times?
"Toga Party Loses Control At Eatery Owned By Animal House Actor"
Marion Pickett
Robert Feder on Marion Brooks's pregnancy blog.
Funny what Brooks thinks is appropriate for public airing. Here is what the Columbia Journalism Review wrote recently: "The recent trial of former mayor Bill Campbell on federal corruption charges raised embarrassingly belated questions about news practices at WSB-TV when a key witness named Marion Brooks described first-class trips and high-end gifts she got from the big-spending mayor during their four-year affair in the 1990s. During some of that time, Brooks was a reporter and anchor for WSB, where, according to accounts in the Atlanta Journal-Constitution, the relationship was common knowledge in the newsroom - though not deemed appropriate, evidently, for public airing."
Meek Meeks
"Nobody is discussing the education reform plan," Meeks said, sighing, when asked what most surprised him about the reaction. "Everybody is discussing the funding source."
Feel like a chump yet, Reverend?
The Beachwood Tip Line: Funding sources is all we talk about too.

Posted by Beachwood Reporter at 8:08 AM | Permalink
June 19, 2006
The [Sunday] Papers
NOTE TO READERS: The [Monday] Papers have been delayed so long - due to unforeseen circumstances including a flat tire, some sort of yummy quesadilla and thai curry salad that came into my orbit and distracted me, and a series of slightly urgent phone calls - that I'll just roll what I've got into The [Tuesday] papers tomorrow. I must attend to the Beachwood's finance and marketing divisions this afternoon. Apologies, and we'll see you tomorrow.
1. A map of The New Yorker's Cartoon Caption Contest winners. (via emdashes)
2. K-Tel Classics shut down.
3. So much for the Cuban Cubs. "Dallas Mavericks owner Mark Cuban has told associates that he has been unable to open any kind of dialogue with the Pirates' owners about possibly buying the club. Meanwhile, a baseball ownership source says Commissioner Bud Selig, a conservative sort, is likely to dissuade any team from trying to sell to Cuban, the flamboyant Mount Lebanon native." (via Hardball Times)
4. Among the Sun-Times letter-writers responding to Jay Mariotti's column about Ozzie Guillen lambasting rookie pitcher Sean Tracey for failing to bean a batter: William Julius Wilson, the Harvard University sociology scholar formerly of the University of Chicago. What Wilson said: "I found Ozzie Guillen's behavior sickening, to say the least."
5. Where have all the UFOs gone?
6. "Your columns and blogs are good stuff, though I often disagree with them. But the 'Zorn to Schmich, Schmich to Zorn' stuff is too cutesy for me. That is best left to the Sun-Times for A Very Special 'Sneed to Ryan, Ryan to Sneed' column after our former governor is sent to the pokey." Posted by: Tom | Jun 15, 2006 10:34:08 PM
- from Eric Zorn's Change of Subject, in a thread inviting readers to hold him in contempt
7. Zorn also has the scoop on the latest developments on local radio personalities Tom Roeser, Ed Schwartz, and Nancy Skinner.
8. "Seems to me the 'best band in the universe' shouldn't put you to sleep, leave you with the sense that you've heard everything in its latest grooves before (and done better) or give you four satisfying tunes out of a dozen this long into a much-vaunted career."
- Jim DeRogatis reviewing the new Sonic Youth record, Rather Ripped
9. Catching up with another piece of puffery from MarketWatch's Jon Friedman that is too flawed to even bother with - this time on RedEye. Who is this guy?
10. People who work at Motorola are called Motorolans. The rest of us are Non-Motorolans.
11. Among corporate bloggers, Boeing has received good marks. But I stil prefer The Slowskys.
12. Roger Ebert captures the psychologically dislocating brilliance of The Shining.
13. Onion or New York Times? "Here at Mexico's own southern edge, Guatemalans cross legally and illegally to do jobs that Mexicans departing for the north no longer want."
14. Onion or New York Times? "In the woods with the Klingons, Brad Graper, 52, finished detailing a pair of Nerf guns painted gray, with sections of chrome tailpipe added to them as gun barrels. Mr. Graper sat at a cluster of picnic tables in this lush 1,814-acre park. Klingon re-enactors from Virginia, Maryland, and Pennsylvania played extras."
15. Onion or New York Times? "Dozens of members of the Bush Administration's domestic security team, assembled after the 2001 terrorist attacks, are now collecting bigger paychecks in different roles: working on behalf of companies that sell domestic security products, many directly to the federal agencies the officials once helped run."
16. Where John Madigan, architect of the Tribune Company's possibly-fatal takeover of Times-Mirror, is now.
17. "Throughout the summer of 2003, [retired Air Force colonel Sam] Gardiner documented incidents that he saw as information-warfare campaigns directed both at targeted foreign populations and the American public. By the fall, he had collected his analysis into a lengthy treatise, called Truth from These Podia, which concluded that 'the war was handled like a political campaign,' in which the emphasis was not on the truth but on the message.
"As his paper circulated among government and military officials that fall, Gardiner says he received a call at home one night from a spokesman for the chairman of the Joint Chiefs of Staff. He told Gardiner that his conclusions were on target. 'But I want you to know,' the spokesman added, 'that it was civilians who did this.'"
- from "Mind Games," an extraordinary piece in the May/June issue of Columbia Journalism Review
18. "It's no longer amnesty, it's shamnesty!"
- Lou Dobbs recently
19. Why not open borders?
20. A partial transcript of a discussion of Tribune Company's woes on CNN's In The Money on Sunday between Andy Serwer of Fortune and CNN correspondent Jennifer Westhoven.
WESTHOVEN: Well, that's maybe because a stock buy-back doesn't do anything. It rearranges the numbers. It doesn't mean that you're changing your business. You're not affecting real change here, you're just doing a simple mathematical equation. So you're really saying business as usual, and that's a separate argument whether or not that's OK.
SERWER: And I think what CEOs are starting to learn here is that you put all these businesses together, you put together TV networks, TV stations, the Internet, the Chicago Cubs and what do you get? You get kind of a big mess. And the sum of the parts is not worth more than the parts themselves.
I think that's what we're learning. You're seeing all these big companies that get put together during bull markets. Time Warner, our parent company, no exception. Viacom. And now, when times are a little bit tougher, you take them apart to get the real value.
WESTHOVEN: So you're saying they really haven't been able to do that cross platform stuff that they talked about?
SERWER: And there's even a worse word, Jen. Synergy.
WESTHOVEN: Oh, yes.
SERWER: So, you know, I think that this is a story that's going to continue for these media companies. We're going to see them broken apart and when the next big bull market comes, well, maybe they'll put them back together again.
The Beachwood Tip Line: Fully synergized for your protection.
Posted by Beachwood Reporter at 6:42 AM | Permalink
June 18, 2006
Books Most Commonly Owned But Not Read
A list.
1. The Bible/Unknown. Have you read it? And which version? And the sequels? The Greatest Story Ever Told, but not The Greatest Story Ever Read.
2. Moby Dick/Herman Melville. Call me Ishmael. Maybe I'll do my laundry now.
3. Encyclopedia Brittanica M-Z/Various. Hey, if you got this far you've really accomplished something.
4. A Brief History of Time/Stephen Hawking. You wanted to get it. You really did. This was supposed to be for laymen. But if watches run faster in space, isn't that just the function of the watches logging artificial time and not real time actually running faster? It just hurts too much to think about. Turn on the baseball game.
5. Dreams From My Father/Barack Obama. Because it's so unreadable. But you don't dare admit that to anybody. You just mouth platitudes.

6. The Rise and Fall of the Third Reich/William Shirer. It came with the bookshelves your parents gave you.
7. The History of the Decline and Fall of the Roman Empire/Edward Gibbon. Ditto. And shouldn't it be the Rise and Fall? Because Decline and Fall is kind of redundant, isn't it?
8. Ulysses/James Joyce. Questioning central precepts of art theory by brilliantly testing our patience.
9. Infinite Jest/David Foster Wallace. A book taking place in the Year of the Depend Adult Undergarment is either astonishingly obvious in its targets and humor or an attack on us readers ourselves. Or both.
10. The Red Badge of Courage/Stephen Crane. You know it's good for you, but you just can't force it down.
See also Hipster 101 (Books) and Hipster 101 (Music).
Posted by Beachwood Reporter at 5:57 PM | Permalink
Yonder Mountain String Band Way
Jamgrass.
That's the kind of band Yonder Mountain String Band has been accused of being. Like the jam bands of a more rock 'n' roll persuasion, they've been known largely for wild live performances that go on forever, reaching groovitude after a few songs and sustaining the high for as long as humanly possible as the smell of that other kind of jamgrass wafts far and wide. As the glow sticks bounce in rhythm, instead of electric guitars and plugged-in keyboards, bluegrass jammers pound away on the acoustic tools of their trade, thus combining two essential elements: The community-building qualities of the rock jam band ethos and the undeniable authenticity of the countrified mandolin plucker and acoustic flat-picker.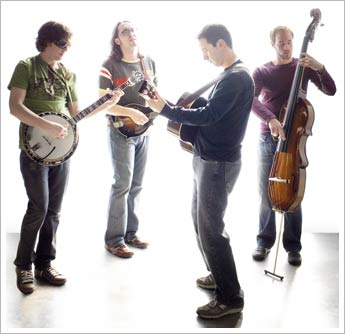 After 10 years together, countless live shows and some indie label studio albums, Yonder Mountain has earned a cult following and an assured place on the acoustic festival and jam band circuits. It must feel great making a living playing places like the Telluride Bluegrass Festival, the Lake Superior Big Top Chautauqua, the RockyGrass Festival in Colorado, Summerfest in Milwaukee . . . opening for people like Dave Matthews and the Allman Brothers when not headlining yourselves. Digging the beautiful hippie people and the country music freaks spittin' moonshine under the stars on a clear summer night in the mountains. It's enough to make a city boy like me head out in a VW bus.
Yeah, tomorrow morning that's just what I'm gonna do. I'll get up bright and early and roll out the van. I'll set off on a search for something real, like bluegrass. The only things I'll bring with me are my dog and Yonder Mountain's new self-titled CD. Yep, I'll . . . hey, wait a minute. That new CD is on a major label, Vanguard Records. And what's this? Now that I listen to it, I hear a drum kit. Oh my God, I think I hear some electric gwee-tars, too. And who is this producer? Tom Rothrock? Wait a minute, isn't he an indie rock producer? Yeah, he did Beck's Odelay and some Elliot Smith records. Okay, now I'm getting worried.
With Yonder Mountain came an assumption that your jamgrass would be unadulterated by modern technology like amps and tape loops. Now here they are cutting a major label record with a rock producer. In fact, the first sound on the album, on "Sidewalk Stars," is a sustained feedback thing and some plucked notes on an electric guitar, building, building, into . . . what? A Van Halen blowout? Actually, it segues into an acoustic jam featuring some furious picking by Jeff Austin on mandolin, Dave Johnston on banjo and Adam Aijala on acoustic. That's when I see how it works. Rothrock is building off of what was always there - a rock sensibility undercurrent in a bluegrass band that wore its acoustic authenticity rather loosely to begin with. And isn't that where jamgrass really points a listener to anyway? To a land where it's okay to imagine Doc Watson taking Jerry Garcia up on a wager that he couldn't do that on an electric guitar?
So it's true that on "Yonder Mountain String Band," the strings are sometimes attached to an amp. And is that so wrong? On some songs, it works to perfection. I especially liked "Angel," which sounds like the Bad Livers if they were forced to really dance for their supper. Featuring breakneck bass lines from Ben Kaufmann and a reverb-drenched guest fiddle solo by Darol Anger, it's probably as close to rock 'n' roll as bluegrass can get and still call itself bluegrass.
Electric noise supplied by Rothrock can also be found on songs like "Fastball," an acoustic ride on the crazy train, and "East Nashville Easter." The drum kit, played by Pete Thomas, of Elvis Costello's Attractions , comes alive on "Classic Situation," which is actually a bluegrass pop song! Now that's how to stretch a genre. And it's a good thing.
After several listenings, the VW is still fired up and ready to go. I've successfully overcome my fear of electric jamgrass. Now if I could only find that damn glow stick . . .
The Yonder Mountain String Band is scheduled to open for Glen Campbell at the Chicago Country Music Festival on Saturday, July 1, in Grant Park.
Posted by Beachwood Reporter at 2:34 PM | Permalink
June 17, 2006
May The Porkins Be With You
Star Wars was one of the first movies I ever saw in a theater, and afterward my parents took me to the TG&Y department store and bought me my first action figure. I picked Princess Leia in her evening gown, white cape, and mesmerizing side buns. The purchase would mark the first of many childhood collections - G.I. Joe, He-Man, Transformers - but none would surpass my legion of Star Wars figures. My rebel alliance alone was some 50 men strong at one point.
I watched the movie recently for the first time in maybe 10 years and was a little rusty on the plot, but I could easily identify each character by whether they had an action figure and if I had owned it. That's how I came to notice Porkins.
Luke blows up the Death Star at the end of the movie, but the rebel army suffers a few casualties. One of them is Red Six, aka Jek Porkins, a guy who looks about two space cheeseburgers away from not being able to fit in an X-wing fighter. You would never know the guy's name was Porkins if you missed a short line from pilot Biggs Darklight: "I'm going in. Cover me, Porkins." Whaa? Did he just call that guy Porkins?
Turning to the Internet, as I am wont to do in such situations, I discovered there is, of course, enough information on Porkins to fill a hollowed out Tauntaun.
Google lists about 70,000 pages that mention Porkins, and the tribute site Porkins: The Man, the Myth, the Slamdancer has more than 54,000 hits. Another site markets T-shirts and hats that read: Porkins is My Co-Pilot. But I was certain that there was no Porkins action figure. I would have owned it and never given it up. Again, the Internet proved me wrong. Despite the fact that he had only about four lines in the whole movie, Hasbro created a Porkins figure around 2000. Here is the dialogue from his death scene:
Porkins: I've got a problem here.
Biggs: Eject.
Porkins: I can hold it.
Biggs: Pull up!
Porkins: No, I'm all right. I'm alr - argh!
That's it. I'm pretty sure Porkins didn't even have a first name until he got his own action figure.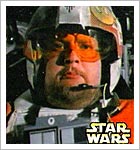 Director George Lucas has been accused of turning to the Dark Side for everything from digitally editing the original three Star Wars films to marketing a storm trooper doll with his own likeness. But selling a Porkins action figure really reached a new low in mass marketing - even for Star Wars. Geeks, however, seem to love Porkins just the same. The action figure probably appeals to children because even the smallest kid knows it's funny to call a fat guy Porkins. It just is. And, I think, Star Wars geeks love him because he represents the Everyman: pudgy and under-appreciated, not exactly Jedi material. Hell, Porkins would probably still be living with his mom and playing video games all day if there wasn't an Empire to fight.
"Godspeed and stay on target," read a comment from a tribute Web page in late 2005, shortly after Porkins actor William Hootkins died of pancreatic cancer. Another anonymous comment read: "I can't believe he's gone. I really wish I had bought the limited edition Porkins action figure now. I've used the name Porkins in every Star Wars game I've played since Rogue Squadron. You will be missed Mr. Porkins."
The price of a Porkins figure in its original box does seem to be gaining value. I bought a new Porkins for twelve bucks at an action figure collector's store in Chicago recently. It cost more than the opened and slightly damaged Princess Leia figure I bought to keep Porkins company. I thought a Biggs Darklight might round out my mini-collection quite nicely, but decided that it's probably the end of my nostalgic action figure collecting for a while. My girlfriend will be pleased. But the next time it comes up in conversation, I'm saying Porkins was my favorite character.
Posted by Beachwood Reporter at 5:38 PM | Permalink
June 16, 2006
Playing The Potbelly Circuit
You would think Chicago has enough music venues for every act worth listening to - and you would be right. Even those on the lower end of the acoustic folkie food chain have a variety of welcome stages from which to ply their wares, courtesy of the hometown Potbelly Sandwich Works chain. Anyone who frequents Potbelly for cheap lunches has felt the awkward presence of one of the city's surplus guitar-slingers, often immersed in a lunchtime-inappropriate Three Doors Down cover, or worse. I scouted numerous locations for talent, often having to digest delicious toasted sandwiches under oppressive sonic conditions, and found that not all Potbelly singers suck equally. While one I encountered had a decent feel for her audience, the others either lacked confidence or seemed to think they were performing at a wake, instead of the home of Big Jack's PB & J. Who are these sandwich shop vagabonds playing for next to nothing before indifferent crowds for free milkshakes? And are they any good?
Location: 190 N. State St.
The Scene: An unassuming young man in jeans and a blue polo hunched over in a loft above a roaring lunch crowd. Without a microphone, he's pretty hard to hear over all the chatter.
Song Choices: Third Eye Blind's "Jumper" - he's technically about 10 feet above the floor himself, bringing a stunning realism to what used to be a cheesy anti-suicide message tune; Weezer's "Island In The Sun," complete with a timid "hep-hep" between verses.
Stage Presence: Between songs, he taps nervously on his guitar body while deciding what to play next. While he plays, he seems to get immersed in the songs, gently wagging his head or raising his eyes to the ceiling.
Musicianship: Guitar-wise, a competent beginner. He doesn't sing very loudly, but manages to carry the tunes without becoming too melodramatic.
Reactions: He isn't irritating, but he also doesn't add much to the atmosphere. Frankly, nobody seems to notice him, and he doesn't really try to get anyone's attention. It's like watching a guy practicing alone in his room.
Prospects/Predictions: Wooing loose women with intimate top-40 serenades.
Location: 1625 N. Damen Ave.
The Scene: A young woman wearing camouflage pants and a tank top who actually seems to have a good feel for the acoustics of the place.
Song Choices: Madonna's "Open Your Heart"; David Grey's "Babylon"; Sarah McLachlan's "Building A Mystery."
Stage Presence: Confident and a little detached, which in this case is appropriate. An emotional barrage is the last thing customers want when they're trying to enjoy those toasty, affordable sandwiches. "I definitely try to blend in as much as possible," she says.
Musicianship: She combines a slight vocal twang with gentle strums and arpeggios. She doesn't plonk away on the lower strings, so the sound is mostly pleasant and unobtrusive.
Reactions: The workers behind the sandwich counter clap for her - voluntarily! If people must play at Potbelly, they might as well do it like this. She sounds almost like a live version of a good pop station - familiar but with some taste.
Prospects/Predictions: Short-term, she'll at least rise to the top of the local sandwich-shop circuit.
Location: 55 E. Jackson Blvd.
The Scene: A skinny pale boy noodling at his cream-colored Telecaster, which is apparently plugged into the world's quietest amp, because it's harder to hear than most acoustic guitars. Maybe he's nervous, or maybe he's just in need of a delicious cream soda from Potbelly, because his baritone voice is stuck in his throat. Later, a second nice young man joins him, taking over on lead guitar while No. 1 strums an acoustic, also inaudibly.
Song Choices: A bunch of songs that are unidentifiable because they're too damn quiet; a minute-long cover of Mariah Carey's "Fantasy." Let's just say you've got to have a Mariah Carey figure to get away with playing Mariah Carey songs.
Stage Presence: No. 2 looks relaxed, even bored. No. 1 bobs awkwardly up and down on the weird antique couch he's sitting on.
Musicianship: Listening closely, one can make out a competent, if slightly bland, blend of funk, jazz and blues. No. 2 squeezes off a decent solo or two, but when he tries to wail on a high note, the weak ampage spoils the effect.
Reactions: Perhaps I was still feeling a little irritated from John Mayer's recent performance of Robert Johnson's "Sweet Home Chicago" on Late Night With Conan O'Brien, but if this is a sign, white-people blues is in serious decline. The duo has some skill, but they sound like Jamiroquai getting drunk and having an asthma attack at an open-mic.
Prospects/Predictions: A cynical, burned-out blues-band manager will convince the two to tour state fairs as "Jackson and Wabash" (in memory of the intersection they're playing at now), yet even those audiences will begin to suspect they aren't "real Chicago bluesmen."
Location: 1459 W. Taylor St.
The Scene: A skinny black-haired girl in a Doors T-shirt crooning sadly on a stage in the rear corner of the restaurant. She's hooked into the restaurant's speaker system, making customers vaguely uncomfortable in both the dining room and the bathroom.
Song Choices: Many shapeless love dirges with plodding strum patterns; The Red Hot Chili Peppers' "Dosed"; and, in a burst of painful appropriateness, a cover of The Cure's "Love Song," reduced to an un-catchy, grating version of its former self.
Stage Presence: She has to crane her neck down a little to get to the microphone, and the position looks uncomfortable. She seems to be glaring at her audience when she's not staring at the ground.
Musicianship: Meh. She enunciates her vocals and has mastered the basics of tragic she-balladry singing: moaning, vibrato and brief falsetto gasps in place of hooks.
Reactions: The only thing to lift me from this pit of despair is a delicious Potbelly oatmeal-chocolate-chip cookie. The lady needs one too, preferably laced with a powerful dose of Xanax.
Prospects/Predictions: Frequent appearances on the as-yet-uninvented cable-access show "Shoegazin' Sam's Bittersweet Heartbreak Dungeon Hour."
Beachwood contributor Scott Gordon originally published this story in the local print-only version of The Onion A.V. Club, which graciously gave us permission to post it here, though we refused to kick in a few dollars for Scott's meatball sandwiches. We ponied up some Xanax instead.
Posted by Beachwood Reporter at 10:10 AM | Permalink
Cab #2590
Date: 6/11/06
From: Lincoln Square
To: Roscoe Village
The Cab: Seats padded like Double-Stuf Oreos; it seemed like too much of a good thing at first, but that extra layer of fluff made me wonder how I'd ever gotten by without it.
The Driver: Cheerful and pleasant. Had a magical accent that made the phrase "street festival" sound like "straight vegetable," momentarily confusing me. But oh how we laughed once we'd figured out the miscommunication.
The Driving: Sometimes safe, speedy and direct is all you need.
Overall rating:4 extended arms
- Natasha Julius
Posted by Natasha Julius at 9:39 AM | Permalink
Cab #6399
Date: 6/10/06
From: Roscoe Village
To: Lincoln Square
The Cab: Reasonably clean and noise-free. Seatbelts functioning as they should. A fairly unremarkable physical specimen.
The Driver: Overly talkative in an unctuous, vaguely-flirtatious manner. Extremely open in discussing his plans for the evening and repeatedly asserting that your reviewer would be his last fare. Repeated the target crossroads as though they were a dinner-party joke that everyone but him had laughed at. When presented with the relatively minor obstacle of a block-long road closure, seemed perfectly content to shrug his shoulders and dump your reviewer more than a mile short of her requested destination. Continually debated alternate routes.
The Driving: Bewildering. While the driver seemed to have mastered the notion that the shortest path between two points is a straight line, he failed to extrapolate the vital corollary that the shortest path to a straight line is also a straight line. This lead to an unnecessary back-roads tour of the neighborhood that failed to impress.
Overall rating: 2 extended arms
- Natasha Julius
Posted by Natasha Julius at 9:37 AM | Permalink
Cab #199
Date: 6/10/06
From: Lakeview
To: River North
The Cab: A fine example of the growing and welcome tradition of exceedingly clean Chicago cabs, the lone item of clutter being the charming lucky penny just behind the driver's seat. Classical music was kept to a barely-audible hum, clearly played solely for the driver's personal enjoyment. Not a cell phone in sight.
The Driver: Polite and resourceful, although perhaps a tad nervous. To be fair, however, this may have had more to do with your intrepid reviewer's need to pull off a quick-change in the back seat. Did manage to recover his composure enough to make polite and engaging conversation.
The Driving: The speedometer never crept above 30 miles per hour despite copious amounts of open pavement. While this unfaltering respect for Johnny Law was heartwarming, a little lead in the foot might've spared your reviewer the need to drop trou.
Overall rating: 4.5 extended arms
- Natasha Julius
Posted by Natasha Julius at 9:34 AM | Permalink
The Weekend Desk Report
We'll be locked away by ourselves as usual this weekend, bent over our computer keyboards and squinting at the screen. So just remember, if there's a tie on the door it means we're working.
Market Update
On the American Quality of Life Index, Public Land Use has seen its credit rating junked after a leadership upheaval earlier this year. In spite of this, strong growth in the second quarter has seen share prices soar. However, many analysts suspect that key investors might be driving up prices to maximize sell-offs and profit-taking.
Calling All Players
With the Fantasy Dictator League season winding to a close, this weekend sees the opening of The Beachwood Reporter's Fantasy Corruption League. To help you get your draft sheets ready, here are the latest scouting reports:
John Stroger - Allegedly Alert
Richard Daley - Allegedly Not Alert
Scooter Libby - Indicted
William Jefferson - Any Day Now
Karl Rove - What the Hell?
World Cup Shock and Awe
After last week's successful deployment of Mexican troops, the United States prepares to expand its policy of waging war on any country that dares to start with the letter "I", regardless of its domestic energy policy or status vis-a-vis the war on terror. Sadly, we predict a thinly-spread Yankee offense won't have enough fire power to take on the last of the evil-I doers.
Your Tax Dollars at Work
After a day of impassioned argument, the U.S. Senate voted overwhelmingly to shelve a proposal to frame a debate aimed at possibly resolving a long-standing issue. Next week, senators plan to introduce legislation which would move toward formalizing bipartisan agreement to disagree.
Diverted Diversions
The Weekend Desk staff is boycotting movies this week. Fight the power, people! Fight!
Posted by Natasha Julius at 9:10 AM | Permalink
The [Friday] Papers
I was going to write this morning about how White Sox manager Ozzie Guillen's latest tempest seemed to pass by without critical press scrutiny.
I guess I was just being impatient. Newspapers - the print versions - still need a day to report and write, and a night to send it to the printer, and a morning to get it delivered to your home.
So this morning, Ozzie Guillen's unhinged rip job of rookie pitcher Sean Tracey for failing to bean Texas Ranger veteran Hank Blalock in retaliation for White Sox bad boy A.J. Pierzynksi getting hit the previous inning, burst into full view.
The Sun-Times got the best of it, turning out columns by Jay Mariotti and Greg Couch, and follow-up stories by Joe Cowley.
It was Mariotti who nailed it.
"Using a baseball as a weapon is dangerous," Mariotti wrote. "Watching Ozzie Guillen order a kid pitcher to retaliate with a weapon is frightening. And when that kid pitcher fails to be a goon-on-demand, prompting Guillen to rip into a humiliated Sean Tracey, I am left to ponder three disturbing thoughts about the Blizzard of Oz.
"Has he officially lost his mind?
"Are his priorities in sufficient order to manage the White Sox to an encore title?
"And is he involved in so many rants and raves and headline-grabbing incidents, about two a week these days, that he's burning all of us out - including his players?"
I suspect the answers are yes, remains to be seen, and no.
To nice effect, the Sun-Times published a photo of Tony Conigliaro, whose career was famously cut short when he took a fastball to his cheekbone. His sight was never the same.
The Guillen story deserves a follow-up examining the age-old unwritten rules of baseball condoning retaliatory acts that off-the-field would be considered violent assaults worthy of arrest. And I suppose such a piece could be broadened to the culture at-large, and its unwritten rules that inevitably favor the cynical, the powerful, and the criminal.
I just hope we don't have to bear the kind of mawkish follow-up the Tribune is wont to put on its front page on Sunday.
To my way of thinking, the foremost focus ought to be on Guillen, a ticking time bomb whose outbursts and pattern of advocating violence will someday come to an ugly end.
Soaking In It
"Though musically the concert was hit and miss, in part because it was so heavily weighted with songs from her latest album, Confessions on a Dancefloor, she was never less than watchable," Tribune rock critic Greg Kot wrote in his review of Madonna's show here. "Though Madonna's voice still isn't anything special . . . "
That sounds about right. When it comes to Madonna, the music is an afterthought.
Madonna is also a royal phony.
"Madonna scripted her stage patter to include several eruptions of anger at non-boogieing fans," Sun-Times rock critic Jim DeRogatis reveals. "(Everything about the show is the same night from night to night.) She referred to paying customers in the nastiest of cuss words no fewer than three times. Listen, Maddy, for $350 a ticket plus service fees, you should really leave our moms out of it!"
Somehow, though, inexplicably, these guys like her.
But history, I suspect, will not treat her kindly - at least when it comes to assessing her songwriting, singing, and (lack of) musical vision. But yeah, she's a spectacle.
This Just In
Debra Pickett is pregnant!
This Just In
Debra Pickett is pregnant!
It Depends on the Meaning of Covert
"Fitzgerald doesn't even claim that Valerie Plame was a covert agent."
- Sun-Times editorial today (second item)
"But special prosecutor Patrick Fitzgerald found that Plame had indeed done 'covert work overseas' on counterproliferation matters in the past five years, and the CIA 'was making specific efforts to conceal' her identity, according to newly released portions of a judge's opinion."
- Newsweek, February
Tower of Babble
The Street.com says Tribune Company's fumbling makes its moves the third dumbest thing on Wall Steet this week (the first two are Vonage's premature announcment that a Federal Trade Commission investigation had been closed; the second is more delays for Airbus's huge double-decker airliner).
"The tenderhearted folks at Tribune are under attack," The Street says.
"'Tribune's strategic missteps are now reflected in a market-valuation multiple that is well below its peers,' a Chandler filing says, noting the stock's 47% decline over two years leading up to the self-tender announcement. 'Management's self-tender is simply a financial device that increases the company's risk profile and undercuts the financial flexibility for necessary fundamental challenges. We believe that this sequencing - financial structure in advance of strategy - is backwards.'
"The Chandlers aren't alone in that view," The Street says. "Moody's became the latest agency to downgrade Tribune debt to junk Thursday, citing the buyback's balance sheet impact.
"Tribune continues to stand by its plan, but some of its remarks smack of typical boardroom buck-passing.
"After receiving recommendations from management and the board's outside financial and legal advisors," lead independent director William Osborn said in a statement late Wednesday, "all the directors except those representing the Chandler Trusts approved the tender offer as being in the best interest of all shareholders."
"Yes, only sound advice could have led to such a fine decision.
"Dumb-o-Meter score: 85. 'In a changing media environment, our commitment to quality journalism and service to our communities will continue to be a top priority,' FitzSimons adds, deftly changing the subject."
The Beachwood Tip Line: Shooting for an 86.
Posted by Beachwood Reporter at 8:29 AM | Permalink
June 15, 2006
Cobras Busy Livin'
- The Detroit Cobras will incongruously perform an in-store at the Virgin Records Store on the Magnificent Mile this Wednesday night. The Cobras are neither virgins nor magnificent, at least in the North Michigan Avenue sense of the word. They are, however, quite possibly the smokin'est band going, and this chance to see a free in-store should not be missed. The show is scheduled to go off at 7 p.m. See if the Virgin cops cramp Rachel Nagy's style.
- The Waco Brothers' longtime drummer, Joe Camarillo, was injured a car crash earlier this year. It was pretty serious, but word on the music blogosphere is that he's feeling better. But, as is so often the case with musicians, he has no health insurance, and the bills are mounting. Bloodshot Records is holding the second of two local benefit concerts for Camarillo on June 23 at FitzGerald's.
- Backyard Tire Fire reports heat, boredom, beer, and van problems on their summer road trip, which is taking them to 15 states across 10,000 miles of country for 40-some shows. The Tire Fires began their trek at Martyrs' in May opening for Alejandro Escovedo. Kansas has proven to be particularly adventuresome, including an enounter with an 8,000-pound prairie dog. At a steamy Wakarusa Music Festival in Lawrence, the Tire Fires shared the stage with bands such as the Flaming Lips and Cracker. And then they shared a local Firestone garage with a handful of other mopes for a couple hours waiting to get their vehicles fixed. Wracked with angst and dwindling patience, the band reports it was forced to turn to the bottle for relief.
- Will Oldham has teamed up with Dawn McCarthy of the Faun Fables and Bjork producer Valgeir Sigurdsson on a record titled Then The Letting Go, recorded in Iceland. A single is due in July, with the full album scheduled for release in September. Oh, Oldham is pretending he's Bonnie Prince Billy on this one.
- Bob Dylan's new album, Modern Times, is set for a late August release. The record is the third in the trilogy we never knew was that apparently includes Time Out of Mind and Love and Theft. Or maybe that's just a load of crap from Columbia Records Chairman Steve Barnett. Then again, it does sound like yet another dreaded meditation on mortality, with song titles like "When The Deal Goes Down," "Thunder on the Mountain," and "Spirit on the Water."
Posted by Beachwood Reporter at 8:13 PM | Permalink
Cab #6312
Date: June 2, 2006
From: Lakeview
To: River North
The Cab: Essentially clean, save for a deeply-perplexing stain on the ceiling. Closer inspection yielded the general consensus that it was a smudged boot print, leading the backseat occupants to contemplate what exactly had been done to, with or in this cab to cause such a disfigurement. Aside from this grubby enigma, the seat belts were functional, and the generously opened windows provided plenty of ventilation.
The Driver: Deployed the cloying phrase, "Where to, ladies?" with such genuine warmth and concern that it brought up misty memories of the legendary and oft-invoked good old days when gents still held the door and everyone wore hats in public. Refreshingly cell phone-free, and yet scrupulously non-invasive with regard to passenger conversation.
The Driving: Executed not one, but three velvety-smooth U-turns to facilitate faster service. Knew the quickest route instinctively and, aside from the aforementioned stylistic flourishes, delivered us to our destination efficiently and within the bounds of the law.
Overall rating: 4 extended arms
- Natasha Julius
Posted by Natasha Julius at 9:31 AM | Permalink
The [Thursday] Papers
1. Wow, Tribune Company is really in trouble.
2. Not a good day for Mara Georges, who as corporation counsel is the city's top lawyer. Georges is also a Mayor Daley loyalist who has been on the stand for a couple days in the ongoing City Hall job-rigging corruption trial. On Wednesday, defense lawyer Thomas Anthony Durkin questioned her about the city's hiring of Andy Ryan, a 19-year-old son of a union official, as a building inspector.
"During cross-examination on Wednesday, Georges did not directly respond when Durkin asked whether she knew if Intergovernmental Affairs played a role in Ryan's hiring," the Tribune 's account reports.
"'It would depend on what you mean by 'played a role,' she said."
Georges has frustrated reporters for years with this kind of slipperiness in service of her see-no-evil routine.
Now it's on display in a federal courtroom.
"Also Wednesday," the Sun-Times reported, "Georges finished testimony but revised a critical element under defense questioning.
"On Tuesday, Georges said she was unaware of allegations of irregularities in city hiring until the FBI raided IGA offices last year.
"But she grudgingly acknowledged she was aware of possible irregularities in the 2004 hiring of [Ryan].
"'Perhaps I was aware there was an allegation, yes,' she said."
3. The Schaumburg Space Needle.
4. "Ever had the hinged top of a ketchup bottle snap off in your hand? The inappropriate use of polymers results in early failure, which can be frustrating to manufacturers and consumers alike."
Avoiding the Stigma of Cheap and Broken Products
Presented By:
Crispin Hales PhD, CEng.
Hales & Gooch Ltd.
Mtrl/Wrkshp/Chcg
Materialization
June 22-23
Institute of Design - IIT
5. The latest installment in our "Is Our Mayor A Child?" series:
"If the suburban area can have them, why can't the city have 'em? That's the thing I don't understand . . . why is it OK in the suburban area, OK in Indiana, OK in Michigan, OK all in Cook County, all in Lake County, Will County? But, when it comes to Chicago, it is very controversial."
And just what has the mayor so mystified about the ways of the world? Wal-Mart.
"Daley also said he is puzzled by the unions' opposition," the Sun-Times reports. "The unions build these [stores] . . . Why would they build 'em if they were so bad?"
Richard M. Daley, Smartest Boy on Earth.
6. Or is he? The law firm of Daley's brother Michael represented Wal-Mart on its successful West Side zoning change.
7. The latest installment in our "Is Our Mayor A Child? Series:
"John Stroger is president of the County Board today whether you like it or not."
8. Ellie says that when sex is a problem, it's usually a symptom of what really needs to be talked about.
9. The name change of Bronco Billy Park to Broncho Billy Park qualifies as news at the Sun-Times.
10. The Sun-Times once again vainly trying to compete with the Tribune.
11. This believer's selling all his Left Behind books on Craigslist. Does he know something we don't?
Left Behind Series
Reply to: sale-171452954@craigslist.org
Date: 2006-06-14, 10:59AM CDT
I have the following Left Behind Series books for sale:
Paperback
Tribulation Force - $3
Soul Harvest - $3
Soul Harvest - $3
Left Behind - $3
The Indwelling - $3
Left Behind - $3
Left Behind - $3
Left Behind - $3
Hardcover
Tribulation Force - $4
Assassins - $4
Apollyon - $4
Nicolae - $4
Glorious Appearing - $4
Soul Harvest - $4
All of the books are in very good condition.
Serious replies only. Pick up in Des Plaines.

- Tim Willette
12. If you guys don't donate more money to The Beachwood Reporter, I may have to take this job with The Jerry Springer Show. (Spotted by Dan Dorfman)
13. My landlord has a letter-to-the-editor in today's Sun-Times and it's not about me or my loud music. Its the second letter, following this one. Both are about important under-reported stories.
14. I still wanna drive the Zamboni. Yes, I do.
15. The former chief education officer of the Chicago Public Schools, Cozette Buckney, is in hot water in Philadelphia, where she has been working for former Chicago schools chief Paul Vallas, while maintaining her home here.
16. The executive editor of Kankakee's Daily Journal blogs.
Found via this Wisch List post about the Daily Journal accidentally publishing this joke caption: "Some random clownbag pitcher with stupid-looking hair prepares to hurl meat during a game between some team I can't identify and another team called the 'Cats. I also have no idea when this game was played."
17. You never ask me what's on the flip side.
18. The sharks are circling in L.A.
19. This is our money they're talking about.
20. The Sun-Times front-page headline, "Ex-Cub Rick Monday Still Fighting For Flag," pre-supposes that outlawing flag burning is a more patriotic act than defending the values the flag stands for.
21. The Paper.
Posted by Beachwood Reporter at 8:37 AM | Permalink
June 14, 2006
The [Wednesday] Papers
Is the Chicago Tribune better than it has ever been?
I don't think so either. In fact, it's not even close.
But that's the line editor Ann Marie Lipinski is peddling.
Lipinski made the improbable claim last week in a puff-ball interview with MarketWatch's Jon Friedman.
Here is what the paper has lost since Lipinski became editor in 2001:
* An editorial cartoonist of its own. The paper has never replaced three-time Pulitzer Prize winner Jeff MacNelly, who died six years ago.
* A Tempo columnist. Bob Greene stunk, and the paper was right to boot him, but he hasn't been replaced.
* The Inc. gossip column. Killed and not replaced.
* A political columnist. The paper never replaced Thomas Hardy, whose job was also once held by David Axelrod.
* David Greising's business column, which may have been the best newspaper business column in the country. Management killed it after studying a shaky batch of market research.
* Steve Rosenbloom's snarky sports column. Along the way, the paper "solved" its longstanding sports columnist problems by bringing in the bland and predictable Mike Downey. This is the sports section that once featured Bernie Lincicome and Bob Verdi.
* The Tempo section replaced retiring theater critic Richard Christiansen, who was an institution, with Michael Phillips three years ago. Phillips just moved to the movie beat replacing Michael Wilmington, who followed Dave Kehr and Gene Siskel. Better?
* Amy Dickinson was hired to replace Ann Landers.
* Tempo on the whole has regressed into a random collection of detritus.
* Ditto for the Metro section, which is as dull and directionless as I've ever seen it. In fact, is there a section of the Tribune today that can honestly be described as excellent?
* The Incredibly Shrinking Book Review is incredibly shrinking, and sucking wind. (And for better or worse, KidNews has shrunk from a weekly section of its own to a single back-page, and WomanNews is no longer its own section but a few pages stuffed inside Tempo.)
* The Sun-Times owns the Hired Truck scandal, just as it owned the licenses-for-bribes scandal and the Pat Huels scandal. The Tribune's Andy Martin, with Laurie Cohen, did terrific investigative work on Millennium Park and O'Hare airport. Now Martin is in the Washington, D.C., bureau covering the agriculture department, and no one has stepped up to replace him here.
* Pulitzers. I don't put much stock in awards, but the newsroom has only one Pulitzer under Lipinski's editorship, and that was for last year's painfully overwritten three-part series by Julia Keller on the tornado that struck downstate Utica. (Cornelia Grumman won a 2003 Pulitzer for editorial writing.)
What has the Tribune gained under Lipinski?
* Q.
*RedEye.
Amazingly, Lipinski told Friedman that "We think of ourselves as being a fairly innovative institution. It's in our DNA."
I'd like to see the market research on that. The Tribune is reputed to be a great many things, but "innovative" is not one of them. (This coming from an editor who once alienated her sports section by insisting only one column could be placed on the section front, down the left-hand side only, with no jumps, explaining that a column literally meant a column of type. Thankfully, that policy has since been rescinded.)
Lipinski's foolish boast about how great her paper is was not her only misstep in the Friedman interview.
Her response to the recent incident in which Cubs President Andy MacPhail called the paper's beat writer, Paul Sullivan, on the carpet?
"'Nobody called me about it,'Lipinski said."
But it happened! It doesn't take a phone call to the editor to make it true.
"[S]ome of the people in the Cubs hierarchy kind of think that we're just another subsidiary of theirs and we're supposed to kind of be like their house organ," Sullivan told The Score's Mike North.
If Lipinski has any concern about that, she hasn't shown it.
Sullivan also alleged that MacPhail's attacks were personal, and the Sun-Times said MacPhail lobbied to get Sullivan off the beat.
The real question for Lipinski is why she didn't call up MacPhail and read him the riot act.
Instead, Lipinski told Friedman that complaints like this were "par for the course."
What, complaints from MacPhail? Or complaints about the paper's coverage of the Cubs?
In either case, her cavalier attitude is distressing.
Lipinski also says she has no patience for "parochial" media-beat writers. "I don't edit the paper for you," she says of them. "Every one shouldn't look like The New York Times. Newspapers need to be more distinct, look different than one another and take more risks."
I'm not sure just which media writers she is referring to, but the Tribune newsroom is far more parochial - and their editors obssessed with The New York Times - than media writers who live outside the bubble and have perhaps a larger worldview.
"Lipinski particularly loathes the media critics who go "flying into Des Moines, Los Angeles and Miami, bringing their own perception of what a newspaper ought to be," Friedman writes.
Again, I can't imagine just who these critics are - from American Journalism Review? - but if they exist, what they do is no different than reporters on other beats flying into other cities to assess and report on newsworthy institutions and events. Just like reporters from Lipinski's own staff.
And it's just within the realm of possibility that local media critics may have something to offer as well.
Finally, Lipinski says of her ascendancy to the editorship, "I never did aspire to this." Newsroom veterans certainly don't believe that - and there wouldn't be anything wrong with it if she did. But few things are as disheartening as newspaper editors spinning like the particular kind of PR people and pols we try to separate ourselves from.
Madigan's Mess
I wonder what former Tribune CEO John Madigan is thinking these days. Madigan, who retired in 2003, engineered the acquisition of Times-Mirror that may yet go down as the deal that undid the company.
"Buying Times Mirror was predicated on synergies flowing from newly created TV-newspaper duopolies in markets such as Los Angeles and extracting extra juice from advertisers with its new national footprint," BusinessWeek said last week. "In 2001, then-CEO John Madigan told BusinessWeek he expected Tribune Media Net - a unit created to sell cross-platform and cross-property ad packages - to lure an incremental $200 million in national advertising in 2005. In 2004 the company netted an incremental $85 million from such sales - and has since stopped quantifying Tribune Media Net's performance, says a spokesman."
Suitors
Is Ernie Banks going to buy the Cubs?
Mark Cuban?
Oprah?
No.
Though Oprah has possiblities: After the Game sessions in the bleachers where fans and players can talk through their angst, and free books under everyone's seats.
The Cubs are not a core asset, but being forced to sell one of sports' dearest franchises would be an ego blow just short of losing the entire company for Trib execs.
Then again, I suppose it may come to that. But I don't think we're there yet.
Shareholder Revolution
On the other hand, it wouldn't be a total surprise if the company sold off its entire broadcast unit, except WGN. Which prompts one Beachwood reader to write:
"The notion that they will give up on the TV/Newspaper thing is interesting; sometimes the financial markets can deliver victories that media reformers can't."
The Dr. Phil Please Rescue Ann Coulter Campaign
This copy of an e-mail sent to the Dr. Phil show in response to my Ann Coulter item yesterday came in over the Tip Line. Feel free to use it yourself:
"I read in The Beachwood Reporter an idea that you should have Ann Coulter on the show to work through her myriad emotional problems, and I think that's a fantastic idea, both for the nation and for your television program. If she would agree, it would be a win-win-win proposition for Dr. Phil, for Ann, and for all of us who live in a nation polluted by her writings. Please consider it."
The Beachwood Tip Line: Better than it's ever been.
Posted by Beachwood Reporter at 7:33 AM | Permalink
June 13, 2006
Newspaper Directory*
Horoscope Writer: Krystal Ball
Puzzle Editor: Anna Gramm
Foreign Affairs Editor: Warren Peace
Handyman's Corner Columnist: Jerry Riggs
Obituary Writer: Doug Graves
Book Reviewer: Paige Turner
Travel Editor: Skip Towne
Weather Page Editor: April Raines
High School Sports Reporter: Jim Shorts
Gardening Columnist: Rose Busch
* As revealed in the crossword puzzle of that name in The New York Times on Sunday.
Employees not included:
Personal Finance Columnist: Bill Fold
Transportation Beat Reporter: Jack Knife
Legal Affairs Correspondent: Sue Mi

Posted by Beachwood Reporter at 12:21 PM | Permalink
The [Tuesday] Papers
From CSI: City Hall to As The Cook County Board Presidency Turns, it's John Daley Day in the papers this morning, a proclamation of sorts about the role the mayoral brother plays in local politics on your dime.
It is not a day that John Daley is celebrating. There will be no parade.
In the ongoing job-rigging trial of Mayor Richard M. Daley's former patronage chief, Robert Sorich, and three other aides, a former Buildings Department official testified Monday that the FBI questioned him three times about John Daley, leading Sorich defense attorney Thomas Anthony Durkin to conclude that prosecutors "want to try to indict Mayor Daley and his brother John."
Even worse, Durkin called John Daley "a mooch."
Why?
John Daley is apparently that guy who always happens to be leaving work when you are and asks if you are going "straight home," which is his way of asking if he can have a ride.
Here's some advice: Don't do it.
Robert Sorich used to give John Daley rides, and now he's on trial. Soon he'll need his own ride to the federal pokey.
Former city buildings official Christopher Kozicki used to give Daley rides too. On Monday, he found himself in the uncomfortable position of being called to testify by the prosecution and declared a hostile witness. Prosecutors say he backed down on the stand last week from statements given previously to investigators about who was responsible for hiring the 19-year-old son of a union official as a building inspector.
And then there were those questions posed to Kozicki about John Daley.
Now, the Sun-Times reports that "a source with knowledge of Kozicki's government interviews said their questions about John Daley were innocuous."
But I'm not sure the feds ask innocuous questions. I suspect the source is one friendly to the Daleys. But that's just me.
Be that as it may, the most important piece of testimony might have been this nuggert, which appeared at the end of the Tribune's story: "[A] former city computer technician testified that he removed a program from Sorich's laptop computer in 2002. The program tracked city job seekers by their race and political affiliation, according to witness Ben Campney.
"He said he created the program after Daley was elected mayor in 1989 at the request of top Daley political aide Timothy Degnan. Campney said that during a 2002 meeting in Sorich's office, he deleted the program and its files.
"'Robert joked that after this was over, we would throw the hard drives in Lake Michigan,' Campney said."
The larger significance of Campney's testimony is that it links a list of job-seekers kinky enough that Sorich wanted to keep it from federal investigators to the very beginning of the Daley Administration, and to Degnan, a man often referred to as "the mayor's brain."
That's not good for the mayor.
The Sun-Times account of the proceedings focuses on the allegation that a Daley press aide told Kozicki to lie to the media about the circumstances surrouding the hiring of the teenage building inspector.
In an alleged damage control meeting, a handful of top Daley aides, including his chief of staff and press secretary, decided to tell the media that the city didn't know who the teenager's father was. (The press aide named by Kozicki denies the allegation.)
The mayor's aides apparently thought the city would look better if the public thought it was routine business for the city to hire 19-year-old building inspectors, rather than admit what the public already knows: That clout exists in Chicago politics.
Sometimes it's not that the cover-up is worse than the crime, it's that the cover-up is stupider.
The prosecution also put on the stand a man passed over for one of those $50,000-a-year building inspector jobs, despite his 17 years of experience in the building trades.
To all the patronage apologists out there, consider the words of that man, Jeffrey Harness, whom the Tribune quotes as saying he was "a little angry" for being passed over in favor of a teenager.
"At that age, you're not really qualified to be in a position where people's lives are at stake," Harness told reporters.
But back to John Daley. At the same time his name was being bandied about a federal courtrooom as a possible indictment target, he stepped forward to say he would consider accepting the Cook County Board presidency on an interim basis while the family of current but ailing president John Stroger and the Democratic ward committeemen decided who their nominee for the job would be in the fall.
John Daley said he would not be that nominee "under any circumstance." And while those kind of statements have a way of proving malleable in the political world, I believe him. John Daley is in his comfort zone out of the spotlight, managing his little political fiefdom in peace and leveraging a lucrative insurance business from his seat as head of county board's finance committee. The last thing he needs is for people to start paying attention to him.
Still, the news tossed another weird twist into the incredibly ridiculous saga of an elected office being held hostage by the political interests of a power-hungry cabal.
If John Stroger is as lucid as his supporters say he is, his performance during this soap opera proves him unworthy of retaining his position. If he is as sick as the media seems to think he is, those who are secretly colluding to take his job while publicly propping Stroger up are unworthy of the position.
Ald. Bill Beavers has quickly ascended to the top of that list. There is no reason to think a County Board President Beavers would be any more respectful of the media and the citizenry and any more honest a leader than he is being right now. In fact, once in power, we should expect even less from Beavers.
Shortly after Beavers assured us all that Stroger was walking, talking, and giving him secret hand signals about how to run the government, Stroger was readmitted to the hospital last Thursday.
Beavers has not seen him since, despite stepping over John Stroger's son, Todd, to become the family's new spokesman.
That hasn't stopped Beavers from speaking out of his ass. "'I just know he's doing well,' Beavers said, citing conversations with Stroger's family," the Tribune reports.
I'm not sure, but I think Beavers might have then given John Daley a ride home.
Cheering Section
Does everything the mayor says in public qualify as news, no matter how trivial?
Aunt Ann in the Attic
I wouldn't be the first to ask why Ann Coulter hates Americans, but I'll ask it anyway. Why, Ann? Why?
I don't believe for a second she writes and says the things she does just to sell books. That's an easy out for pundits who won't come to terms with who this woman is. She is neither a satirist, an astute cultural observer, nor a political analyst of any sort. She is nuts, and somehow she has finagled her way into the world of political punditry by snookering a bunch of old white male TV producers so desperate for heated commentary that they've turned to the last drunken mess in the bar at closing time.
She may sell a lot of books, but it looks like her time is up. One of the cable news shows the other day actually had a discussion titled "Is Ann Coulter Crazy?"
The answer is Yes. She's clearly acting out against some childhood or young adult trauma that remains unresolved, most likely involving a pattern of rejection, self-loathing, and body image issues. She ought to pay a visit to Dr. Phil. And I'm not even joking.
In fact, I'm going to send a note to Dr. Phil right now suggesting they ask her on for a full week to sort out her problems. Air it during sweeps. You should do the same.
And, by the way, it would be nice to see President 9/11 show some character and defend the honor of the 9/11 widows and denounce Coulter.
The Beachwood Tip Line: On a frequency your boss can't hear.
Posted by Beachwood Reporter at 9:01 AM | Permalink
June 12, 2006
The [Monday] Papers
Ald. Bernie Stone is angry because 600 city bureaucrats have annual salaries of more than $100,000. He's not angry because the salaries raise questions about the city's budget priorities in doling out taxpayer money so generously. No, he's angry because he and his fellow aldermen only make $98,125 a year.
It's just not fair.
"My colleagues and I all passed the salaries of these people," Stone is quoted as saying in the Sun-Times. "Why did we do it? Because we were asked to do it by the administration and we just followed along like little sheep. It's about time that we stop following like sheep and stood up like men."
To prove his manhood, Stone wants an aldermanic pay raise of $20,000 over four years.
As a reward for acting like sheep.
Except when it's time for aldermen to stand up like men. (And women, we presume.)
Like when the issue is lining their own pockets.
"If Stone's purpose was to infuriate and embolden aldermen, it was mission accomplished with Ald. Ed Smith (28th), chairman of the City Council's Black Caucus," the Sun-Times's Fran Spielman wrote. "He had no idea there were 600 bureaucrats earning more than he does."
"It's shocking," Smith said.
Ed Smith has been an alderman for 26 years. That means he's voted on approximately 26 budgets. He had no idea that 600 city workers earned more than $100,000 a year.
So, yes, it is shocking.
Not as shocking, though, as having aldermen who pay attention to the budget and put the concerns of the taxpayers who fund it above their own. That would be standing up like men.
Onion or Tribune?
In "Gene Ties Accountant To Warlord Genghis," Genghis Kahn descendant Tom Robinson says, "I do have a certain number of administrative skills," though adds, "I haven't done any conquering, per se."
The Zarqawi Code
Like many - if not most - media accounts of the killing of terrorist mastermind Abu Musab Al-Zarqawi, the Tribune's account, "How U.S. Hunted Down Al-Zarqawi," picked up the chase in the middle, not the beginning.
TV Without Pity
Tribune writer Allison Benedikt has been on fire since moving to the television beat; the latest example was her piece on Saturday that began this way:
"It's hard to pinpoint exactly when Entourage went south, but I'd guess it was around the time my mom first asked me to 'hug it out.' Yes, in the short period it took Jeremy Piven to go from actor to hunk to enough already, the HBO comedy has become a bloated caricature of its first-season self."
Alas, the Tribune newsroom seems to have as much a problem with talent evaluation, development, and retention as the Cubs. Benedikt has put in her notice. She and her husband, John Cook, a former Tribune writer who had already quit the paper, are returning to New York City.
Notes From Beachwood HQ
Catch up with the Weekend Desk Report and see why you should make it a regular part of your reading routine.
The Michael McDonald Alert System (Beta) is open for business.
You can now make The Beachwood Reporter your home page. Go to "Preferences" in your browser and try it out!
The Beachwood Tip Line: Stand up like a man. Rat out the sheep.

Posted by Beachwood Reporter at 7:26 AM | Permalink
June 11, 2006
Air Sound & Screen
MUSICAL GUESTS ON The Late Show With David Letterman THIS WEEK
(non-musical guest in parentheses)
Monday: Not Sonic Youth as your TV guide may indicate (Paris Hilton)
Tuesday: Cat Power (Tim Russert)
Wednesday: Neko Case (Stephen Colbert, Mark Cuban)
Thursday: Widespread Panic (Sandra Bullock)
Friday: Sonic Youth (Robert Duvall)
DULUTH DOES DYLAN
1. Blowin' In The Wind/Low
2. A Hard Rain's Gonna Fall/Both
3. Quit Your Low Down Ways/Giljunko
4. Sad Eyed Lady of the Lowlands/Jamie Ness
5. Knocking On Heavens Door/Crazy Betty
6. It Ain't Me Babe/Mayfly
7. Don't Think Twice, It's All Right/Gild
8. All Along The Watchtower/Dames
9. Tombstone Blues/Black Eyed Snakes
10. Country Pie/American Hip
11. Girl From The North Country/Father Hennepin
12. If You Gotta Go, Go Now/Accidental Porn
13. Rainy Day Women #12 & 35/Black Labels
14. Father Of Night/First Ladies
15. When I Paint My Masterpiece/Ballyhoo
NO DEPRESSION: WHAT IT SOUNDS LIKE, VOL. 2
1. Station To Station/Jay Farrar
2. Sounds of Loneliness/Patty Loveless
3. Words So Full/The Resentments
4. Will You Miss Me/Kieran Kane
5. I Am Here/Paul Burch & The WPA Ballclub
6. Outfit/Drive-By Truckers
7. Blood Is Thicker Than Water/Shaver
8. The Battle/Caitlin Cary and Ryan Adams
9. The One I Love Is Gone/Hazel Dickens & Alice Gerrard
10. I Can't Cry Hard Enough/Julie Miller
11. September When It Comes/Rosanne Cash
12. Far Side Banks Of Jordan/June Carter Cash & Johnny Cash
13. Hello Stranger/The Flatlanders
THE MOVIE SOUNDTRACK FOR A Prairie Home Companion
1. Tishomingo Blues/ Garrison Keillor
2. Gold Watch and Chain/Garrison Keillor and Meryl Streep
3. Mudslide/The Guys All-Star Shoe Band
4. Let Your Light Shine On Me/Garrison Keillor, Robin and Linda Williams, Prudence Johnson
5. Coffee Jingle/Garrison Keillor and Jearlyn Steele
6. Summit Avenue Rag
7. Guy's Shoes
8. Whoop-I-Ti-Yi-Yo/Woody Harrelson and John C. Reilly
Coming Down From Red Lodge
10. You Have Been A Friend To Me/L.Q. Jones
11. Old Plank Road/Robin and Linda Williams
12. My Minnesota Home/Meryl Streep and Lily Tomlin
13. A Bunch Of Guys
14. Slow Days Of Summer/Garrison Keillor
15. Frankie and Johnny/Lindsay Lohan
16. Waitin' For You
17. Jens Jensen's Herring/Garrison Keillor and Tim Russell
18. Red River Valley/Garrison Keillor and Jearlyn Steele
19. Strappin' the Strings
20. Goodbye To My Mama/Meryl Streep and Lily Tomlin
21. Bad Jokes/Woody Harrelson and John C. Reilly
22. The Day Is Short/Jearlyn Steele
23. Atlanta Twilight
24. Red River Valley . . . In The Sweet By And By/Cast
25. Guy Noir
Posted by Beachwood Reporter at 4:17 PM | Permalink
June 10, 2006
His Girl Friday to Friday the 13th: The Declining Quality Of The AMC Channel
Since it really began to thrive as a basic-cable channel in 1988, the American Movie Classics channel has become more American Movie than Classics. AMC recently managed to outpace even my affection for amusing trash with Tremors 3: Back to Perfection, in which the mutant earthworms of Tremors and Tremors II: Aftershocks evolve into flying death machines that propel themselves by shooting flames from their asses.
I suppose that flames shooting from mutant asses make it a classic in a certain sense, and one certainly can't portray American movie culture without a nod to cheesy horror movies. (I, for one, thoroughly enjoyed the straight-to-video horror-comic shitfest Santa's Slay, starring former professional wrestler Bill Goldberg.)
But Tremors 3?
A Beachwood statistical analysis confirms our suspicions. I randomly sampled 10 movies on AMC's weeknight prime-time schedule from 1988 and 2006 and found that the average IMDB user scores for each season fell by 1.26 points. In addition, a look at four interim years reveals that the decline has been steady and consistent.
To wit:
1988
The Big Steal (1949)
All About Eve (1950)
Call of the Wild (1935)
Daisy Kenyon (1947)
His Girl Friday (1940)
Roadblock (1951)
The Snake Pit (1948)
Everybody Does It (1949)
The Last Wagon (1956)
Mr. Belvedere Rings the Bell (1956)
Average: 7.21
1992
My Little Chickadee (1940)
Life Begins at Eight-Thirty (1942)
We're Not Married (1952)
The Set-Up (1949)
There Goes My Girl (1937)
The Glen Miller Story (1953)
State of the Union (1948)
I Walk Alone (1948)
Horse Feathers (1932)
Royal Wedding (1951)
Average: 7.1

1995
Smoke Signal (1955)
The Grapes of Wrath (1940)
Never Steal Anything Small (1959)
Three Days of the Condor (1975)
Murder, Inc. (1960)
Desiree (1954)
Imitation of Life (1959)
City Beneath the Sea (1953)
There's No Business Like Show Business (1954)
My Cousin Rachel (1952)
Average: 6.6
2000
Seven Days' Leave (1942)
The Saint in London (1939)
Daisy Miller (1974)
The Greatest Show on Earth (1952)
Joe Palooka (1934)
The Candidate (1972)
Hombre (1967)
Son of Paleface (1952)
The Return of Frank James (1940)
Purlie Victorious aka Gone Are the Days (1963)
Average: 6.48
2003
Tora! Tora! Tora! (1970)
Pretty in Pink (1986)
The Bounty (1984)
Dragon: The Bruce Lee Story (1993)
The Eiger Sanction (1975)
Moon Over Parador (1988)
The Long Hot Summer (1958)
King Creole (1958)
Earthquake (1974)
The Hindenburg (1975)
Average: 6.38
2006
Never Say Never Again (1983)
Working Girl (1988)
The Dead Pool (1988)
Colors (1988)
First Blood (1982)
The River Wild (1994)
Friday the 13th Part VI: Jason Lives (1986)
White Men Can't Jump (1992)
The Great Outdoors (1988)
Chain Reaction (1996)
Average: 5.95
Conclusion: While future study is needed, and many variables were not controlled for, such as the presence of Hustle, AMC's completely un-engaging crime drama, the trend is nonetheless clear: AMC is exponentially less about classics as it is about movies that are "not brand new." Which isn't entirely bad; NBNC (The Not Brand New Channel) has a certain ring to it. Then again, isn't that what TNT is for?
Posted by Beachwood Reporter at 9:03 AM | Permalink
What I Watched Last Night
Music Choice Classic Country Channel (703)
Thursday , June 8
1. Do You Love As Good As You Look/Bellamy Brothers
"Honey, do you love as good as you look?
Can you satisfy your man the way your body says you can?
Judging by the cover, I'd love to read the book
Honey, do you love as good as you look?"
2. She's Single Again/Janie Fricke
"She's single again
Hold on to your men"
"Is this number four? Number five?
Tell me how many men has she buried alive?"
3. Southern Rains/Mel Tillis
Music Choice Trivia: Mel Tillis enjoys gardening, cooking, fishing, and painting.
4. You and I/Eddie Rabbit and Crystal Gayle
This is the Classic Country station, right? Not Today's Country?
This song is from Eddie Rabbit's Greatest Hits. I suppose the term "greatest" is relative.
5. Kiss An Angel Good Mornin'/Charley Pride
Finally, some real country!
"You've got to kiss an angel good mornin'
and let her know you think about her when your gone
You've got to kiss an angel good mornin'
and love her like the devil when you get back home"
6. El Paso/Marty Robbins
"I saddled up and away I did go
Riding alone in the dark
Maybe tomorrow a bullet may find me
Tonight nothing's worse than this pain in my heart."
7. Never Be You/Rosanne Cash
She can write songs - see Seven Year Ache - but the 80s-ish sheen is just too much.
8. I Tell It Like It Used To Be/T. Graham Brown
Can a song like this from 1985 by T. Graham Brown really be a classic?
Let's see what's on Today's Country. Maybe the channels got switched.
9. Something's Gotta Give/LeAnn Rimes
"Thought by now she'd have a man
Two car seats and a minivan"
Ugh. Suburban country. Isn't that an oxymoron?
She does have a great voice, though.
Let's try the Bluegrass Channel.
10. Tragic Love/The Stanley Brothers
"Come pretty young girls give me your attention
To these few lines I've tried to write
About a man who I won't mention
Who courted of his charming bride
"And when her parents came to know him
They tried so hard both day and night
To separate here and her own true lover
Her and her own true heart's delight
"She turned her back upon the city
She viewed the fields and meadows 'round
She came upon a broad river
And in the shade of a tree sat down
"Her true love being not far behind
He heard her make a mournful sound
And looking on her lifeless body
As she lay cold upon the ground
"He then took out his silver weapon
He pierced it through his tender heart
Sayin' let this be a dreadful warning
For all true lovers that have to part
11. I'm So Dog Gone Used To Lovin' You/The Reno Brothers
12. Lookee Here/Old School Freight Train
13. Livin' On The Mountain/Del McCoury
"Livin' on the moutain
Drinkin' from the fountain."
Gittar!
14. Blue Yodel #1 (T Is For Texas)/I think this is a Johnny Cash song that Jimmie Rodgers also did, but I'm not sure who's doing it right now.
"I'm gonna buy myself a shotgun, with a great long shiny barrel
I'm gonna buy myself a shotgun, with a great long shiny barrel
I'm gonna shoot me a rounder oh that stole away my gal
"I'd rather drink muddy water, and sleep in a hollow log
I'd rather drink muddy water, and sleep in a hollow log
Than to be in Atlanta treated like a dirty hog
"Well it's T for Texas, T for Tennessee
T for Texas, T for Tennessee
T for Thelma, the girl who made a wreck out of me"
15. The Blame/Wildfire
Music Choice Trivia: Wildfire's members record background music for the Home & Garden Channel.
And this, apparently, is some of it. Let's see what's happening on the R&B/Hip-Hop Channel.
16. One Wish/Ray J
"Damn baby
Just don't understand where we went wrong
I gave you my heart
I gave you my soul
I gave you . . . "
Uh, no.
On to Classic R&B.
17. Get Off/Foxy
It'll do. Sounds like Morris Day and the Time ripped these guys off.
18. The Love We Had (Stays On My Mind)/The Dells
19. Spring Affair/Donna Summer
And how is this Classic R&B and not Disco?
20. Turn Your Love Around/George Benson
"This time the girl became a woman."
I'm not sure what that means, but it's kind of creepy.
Hey, George Benson does this song? The "On Broadway" guy? I hate that song. I started not ever wanting to hear it again about 20 years ago.
- Steve Rhodes
Posted by Beachwood Reporter at 8:18 AM | Permalink
June 9, 2006
The Weekend Desk Report
Once again, the Weekend Desk will be fully staffed to monitor breaking events important to your life. And important events breaking your life. These developments are already on our weekend radar.
Market Update
Securities markets weren't sure how to react to the news that the U.S. military had liquidated a major insurgent holding. As other big corporations can tell you, investors don't always respond well to such volatility.
World Cup Sock 'Em
In the grand tradition of dealing with jobs Americans don't really want to do, the U.S. is apparently hoping a bunch of Mexicans will kick Iran's ass for us. No word yet on any need to clobber Angola or Portugal.
As The Uranium Churns
During our last session, the United States finally seemed to understand how desperate Iran was for affection when Iran threatened to withhold all its energy in the bedroom. It even seemed for a time that the US was willing to take Iran back and work on rebuilding their relationship. That trust was shattered, however, when Iran was caught sneaking around and proliferating on the side again. Tread lightly, Iran, for hell hath no fury like a global superpower scorned.
Repetition Is The Mother Of Invention
Apparently, those of us who thought a plurality of voices and experience was what bred innovation were wrong. According to Tom DeLay, the really great leaps forward come from sitting around with the same people, day in, day out, for years, having exactly the same debates. And hey, it burns calories too! If this approach to innovation catches on, we predict great things for every American industry.
Sonic Youth
We here at Weekend Desk have refrained from the sort of youth bashing our peers in print media seem to constantly engage in. But sometimes, even we have to wonder what is this world coming to?
Posted by Natasha Julius at 8:43 AM | Permalink
June 8, 2006
The [Thursday] Papers
NOTE TO READERS: I'll be tending to Beachwood Reporter-related business for the next couple of days. The Papers will return on Monday. And, of course, the acutely-observed news roundup of our very own Natasha Julius, The Weekend Report, will appear in this space in the interim.
But that doesn't mean you have to go now.
Please take this time to re-acquaint yourself with the rest of the site. We're working on some tweaks to eliminate - at least for now - some features that never got off the ground, and to re-evaluate and improve others. (Check out our new Michael McDonald Alert System; this is a preview of an upcoming change of concept in our much-neglected Forums. It's also long overdue recognition that it's Michael McDonald's world, we just somewhat-subliminally live in it.)
Also, while we have a great team of brilliant misfits whose genius will never properly be appreciated in the soul-crushing real world - you know, the kind of people who used to populate newsrooms before they were gentrified - we still need more help. We're looking for section editors to really take hold of some of these pages, and in particular drive our ongoing features, such as Taxi Cab Journal and the quite-unfortunately dormant What I Watched Last Night.
On the business side, you may have noticed that we have entered our ad sales phase. Selling ads for us is easy, exciting, and fun! We have a slightly unusual strategy just beginning to unwind and I know you want to be a part of it. Send me a note and we'll talk.
We could also use additional help in marketing, finance, tech, and design - we have plans for additional sites that just might have more revenue-generating potential than our beloved Reporter. Help us let them see the light of day. Or the dark of night, depending.
It's true that this is still an all-volunteer effort, but by helping us sustain the site while we move our business plan along, you can brag to your friends and apologize to your parents and precinct captains that you are in on the ground floor of The Beachwood Media Company. For now, the rewards are purely spiritual, but down the road great riches may materialize. (This, by the way, is a forward-looking statement subject to certain risks, trends, and uncertainties beyond the Company's control.) As Gov. Rod Blagojevich once said, we're gonna rock the system. The key difference being that we really mean rock it - and that we really mean it.
(And with the Tribune Company crumbling under the weight of its own ego, greed, and arrogance, the tables have turned. Maybe we'll buy them. After all, my credit rating is better than theirs, I'm debt-free, and my readership is growing at a far-faster pace. Does anyone have the Chandlers' phone number? I think I can offer them a fairly good tax position.)
In the meantime, as you look around the site, don't forget that we keep The Papers and The Weekend Desk Report archived for your back-dated reading pleasure. In case you haven't gotten enough of great finds like this yet. Because obviously I haven't.
Posted by Beachwood Reporter at 7:08 AM | Permalink
June 7, 2006
The [Wednesday] Papers
The mayor's brother, John, the Cook County Board commissioner who got his public, taxpayer-supported job because he is a Daley and who in turn has leveraged both his family name and his chairmanship of the board's finance committee into an insurance business that has made him a wealthy man, said Tuesday that a call for a hearing about the condition of ailing board president John Stroger was "a goddamn disgrace."
Then he leaned back in his cushy leather chair with the defiant-but-slightly-emotionally-injured look of someone speaking out in vain against a great injustice - the injustice of insisting that one of the central precepts of democracy is knowing just who is running the government and how.
The arrogance is breathtaking, isn't it?
Whether the proposal in question put forth Tony Peraica, fellow board member and Republican challenger for Stroger's position as board president, was the right way to go is debatable.
But it would have been nice to see Daley debate it. Apparently, though, we don't pay him to thoughtfully consider proposals and debate the issues and act in the best interests of the public as opposed to the private club that is the Daley Party of Cook County. We pay him to sit there and try not to be too much of an embarrassment.
The same must go for Commissioner Joseph Moreno, the president pro tempore, who called Peraica's proposal "very embarrassing and disrespectful" - as opposed to the circus that took place outside chambers when Ald. Bill Beavers became the next contestant in the race set themselves up to replace Stroger while castigating those pointing out that Stroger needs replacing.
(Perhaps John Daley should have thrown Beavers out of the County Building, the way his mayor-brother threw Peraica out of City Hall for an alleged turf infringement.)
The emergence of Beavers was a surprise given accounts that commissioner Bobbie Steele seemed set as Stroger's replacement. But then, Beavers is an operator, Todd Stroger, who I admit I had my early money on, has already flamed out, and I'm not sure Danny Davis's phone is ringing off the hook.
So, for now, Beavers is the point man on all-things Stroger, having wrested the position of spokesman for the Stroger family without bothering to consult with Todd, the previous family spokesman, who was conspicuously absent from both the latest turn of events and today's news coverage.
Beavers said he had talked with Todd's mom about his new role, so it looks like Todd can't even line up votes from within his own family.
And if what Beavers and Stroger chief of staff James Whigham say about the substantiveness of their conversations with John Stroger is true, it's inconceivable that Stroger himself didn't bless pushing aside his son.
(What does Todd think about your new role, Bill? "I'll ask him when I see him," Beavers told the media. Nice.)
Then again, it's not at all clear that what Beavers and Whigham say is exactly true.
Just for starters, if Stroger really is as aware of the controversy surrounding his ability to return as board president, and thinking and speaking as clearly as Beavers says he is, then why doesn't Stroger himself speak to the public? Even in a video? Hell, what about a written statement?
Whigham says he met with Stroger for two hours on Friday and, according to the Tribune's report, Whigham says "they discussed county business, including ongoing union negotiations and personnel vacancies."
Really? Could you fill us in on the details, Mr. Whigham?
At one point, Beavers said Stroger was able to walk, but later acknowledged Stroger wasn't walking at all, and rather is confined to a wheelchair.
Beavers also said that Stroger told him he had been watching the battle over his job on TV - meaning what, he watches the news? - and that he told him, "Beavers, we'll talk."
"And he used that old hand signal that he always uses," Beavers said.
So Stroger will make his wishes known through Beavers?
Yes, Beavers told reporters.
Kind of reminds me of the phony letters from the phony president that the character Ford Lincoln Mercury used to read to his followers in The Postman.
"P.S.," one went, "Ford knows what to do."
The Tribune ended its report today with this nugget: "Asked why the press couldn't see Stroger, Beavers said, 'Maybe he don't want to see you, OK? That's simple enough.'"
Sure is.
And like everything else surrounding this squalid affair, it's embarrassing and disrespectful.
Some might call it a goddamn disgrace.
Brew Crew
Rep. Danny Davis has made it known that he'd like Stroger's job, but he was away in Washington, D.C., yesterday on important business. The Beachwood's C-Span Affairs Editor Tim Willette submits this report:
GOVERNMENTAL REFORM COMMITTEE
(live, wrapped about 11:00 ET)
Highlights:
* commemorating the great American tradition of craft
brewing
* congratulating 2005 NL-MVP Albert Pujols (an
inspiration both on & off the field)
* asking the President to proclaim September National
Passport Month
Players:
Danny Davis (D-IL)
Russ Carnahan (D-MO)
Darrell Issa (R-CA)
Mirror on Trib's Wall
The Tribune Company's gargantuan purchase of Times-Mirror in 2000 is at the root of much of the company's current mess, and now it could hamper its plan to get out of it.
The Wall Street Journal today reports dissension on the company's 11-member board coming from the three-member Chandler family bloc, which came to Tribune via Times-Mirror. The bloc voted against TribCo management's latest gambit to repurchase stock and sell off assets.
"A full breakup of Tribune is another option," the Journal reports. "The company already has signaled that it is willing to divest certain assets, particularly some of its smaller television stations. A more drastic approach would be to separate the newspaper and the broadcasting assets entirely, potentially via a broadcasting spinoff. Last week, a person familiar with the company's plans said that was a possibility, but cautioned the company hadn't made up its mind."
Made Right
It looks like the worst thing that has happened to the mayor in the Sorich trial isn't the prosecution but the defense. Sorich lawyer Thomas Anthony Durkin reiterated again Tuesday that his client was just a cog in a machine that had been in place since Richard M. Daley took office - a machine that was operated by the mayor's inner circle.
Any notion of combating the fallout of a probable conviction of Sorich and his pals by labeling them "bad apples" seems to be diminishing by the day.
The defense also seems to be laying out a roadmap of where prosecutors will go next. Or perhaps already have.
The Tribune has a nice roundup of where things stand, including former Water Department deputy Donald Tomczak's characterization of becoming a full-fledged member of the Daley Machine as "being made."
Who says organized crime in Chicago is dead?
Answer: Heroin
From the Tip Line, responding to yesterday's question about conflicting accounts of drug intake on The Sopranos: "Chris and his GF were smoking H as both used in the past hence the NA meetings . . . at one point they talked about smoking and not injecting their drug of choice."
School Drool
School reform is going well.
Power Basis
Carol Marin delves into the public service philosophies of Michael Madigan and Alexi Giannoulias today.
NOTE TO READERS: We appear to have solved the technical issues that bedeviled us yesterday. You can catch up with The [Tuesday] Papers here. It's almost all still fresh. (There was no Monday Papers column.)
The Beachwood Tip Line: Honoring craft brewers daily.
Posted by Beachwood Reporter at 9:19 AM | Permalink
June 6, 2006
The [Tuesday] Papers
Well, it's been a glitchy few days here in The Papers division of The Beachwood Reporter, culminating with this column going blank this morning, but we think we've got everything fixed. The rumor that we were testing out a Beachwood Select model requiring payment for access to the daily column is not true, though it does give us an excuse to once again ask for a donation through our Beachwood Membership program. Perhaps we can dedicate some funds to our Technical Glitch account.
Also, I'll be appearing on a panel on Thursday about "Emerging Online News Outlets" as part of the Community Media Workshop's annual Making Media Connections conference. I will be joined by Naz Hamid of Gapers Block and Brian Sobolak of Chicago Bloggers. Kristina Findlay of Kathy Schaeffer and Associates will moderate. The panel is scheduled for 1:45 p.m. at Columbia College, 1104 South Wabash Avenue.
And now, let's get caught up.
1. If you don't get just a little verklempt reading Mary Mitchell' s column about the friendship between her African-American father and the Jewish son of the man he worked for, then you've got a hole in your soul.
3. What did the mayor know, and when did he know it? I'm not referring to the ongoing City Hall corruption trial in federal court laying bare the political machinery that has perverted your local government in the Daley years, but the hopefully-soon-to-be-released Burge report.
4. Would the death of 17-year-old Nicole Alaniz be less tragic if she wasn't an honor student and therefore not, by some people's definition, "promising"? The Tribune thinks so.
5. So it turns out that George W. Bush isn't even a very good guy to have a beer with. In fact, he's a prick. Why did it take so long for Elisabeth Bumiller at The New York Times (or anyone else) to tell us that? Perhaps Bumiller was frightened.
6. From Popular Science (via CNN): "Mysterious Red Cells Might Be Aliens."
KEY EXCERPT: "[Godfrey] Louis's theory holds special appeal for [Chandra] Wickramasinghe. A quarter of a century ago, he co-authored the modern theory of panspermia, which posits that bacteria-riddled space rocks seeded life on Earth.
"If it's true that life was introduced by comets four billion years ago," the astronomer says, "one would expect that microorganisms are still injected into our environment from time to time. This could be one of those events."
Does that explain Taylor Hicks?
Popular Science also explores whether wearing tinfoil hats can actually prevent the government from reading your thoughts, and whether it's possible to blow up Mars.
7. Best use of the Beachwood Tip Line yet:
"Below is the result of your feedback form. It was submitted by (methorcrack@crackpipe.com) on Monday, June 05, 2006 at 16:57:16
"Name: methorcrack
"Message: The Sun Times TV review of the season finale of The Sopranos has Chris smoking crack with his new squeeze. Meanwhile, the Tribune has them smoking meth. To be sure, I wasn't sure what they were up to either (leaning toward crack), but someone needs to find out what's what here."
Readers?
8. As with their Washington Mutual pimping, it's almost worse if the Sun-Times legitimately thinks this is actually a worthy story rather than it being an attempt to suck up to Quizno's and its ad budget.
9. The Sun-Times once again decided the best use of its precious space was to publish a press release from an elected officeholder - in the midst of a campaign - who might not otherwise be heard, because he's only the governor. Maybe have your reporters request in interview instead?
10. Give the paper credit, though. The next day the paper published a rebuttal from the Judy Baar Topinka campaign . . . by former Gov. Jim Edgar. Like Edgar, Topinka is apparently still deciding whether she wants to be in this race.
11. Edgar: "I sometimes worry that this administration's quest to sell off state assets will lead to selling the Governor's Mansion or turning it into a bed and breakfast."
Didn't Jim Thompson already do that?
12. "1 in 5 at Cornell, Princeton Practices Cutting." I didn't know there were that many emo fans in the Ivy Leagues.
13. "My wife will tell you that by nature I'm not somebody who gets real worked up about things. When I see Ann Coulter or Sean Hannity baying across the television screen, I find it hard to take them seriously; I assume that they must be saying what they do primarily to make money, although I do wonder who would spend their precious evenings with such sourpusses."
- Barack Obama, in an excerpt from his upcoming book, The Audacity of Hope
14. Is it possible to overdose on caffeine?
"It would take more than 10 grams of caffeine, or roughly 100 cups of coffee in a row, to kill you."
- Men's Journal, July
15. Tribune deputy managing editor/features Jim Warren describing his paper recently in the Washington Monthly:
"It needs more juice in its financial and on certain feature pages. A homogeneity in section design can leave some snoozy, though there's been a sharp improvement on Sunday. Its beat structure, like that at many papers, needs significant rethinking, and important areas of life, such as religion and education, are largely covered only when there's conflict to detail."
Oh, wait. He's describing The New York Times. My mistake.
16. So Madonna is really just a Boy Toy after all.
17. "'The idea is that you come to these parties - they put women in a subservient role, to say the least - dressed as some fantasy, right?' says [Duke University women's center director Donna] Lisker, who points out that this is not just a phenomenon at Duke but a fairly common experience at campuses across the country. 'I want to say to them, "Why are you going?"' The problem is, women don't always recognize it as demeaning or subservient. Anna, for example, sees it as powerful. 'It's kind of like domination through sex,' she says.
"But Lisker maintains it's exactly the opposite. 'They've gotten this message from the media and other places that part of being a modern woman is sort of playing with your sexuality. But you get in this situation where they think at this party that they're exercising control. They think that they're showing these boys how it's done by pouring grain alcohol down their throats, by dressing in a sexy way. What they don't necessarily get,' she adds, 'is that you put on that Playboy-bunny outfit and you're stepping into a history of objectification.'"
- Sex & Scandal at Duke, Rolling Stone
18. "Chicago is home to the Network Access Point (NAP) - the world's largest Internet exchange point by volume - [which] is located in the central business district . . . Indeed, more data moves through Chicago's internet infrastructure than anywhere else on Earth: 10 terabytes per day.
"The city is also home to the Science, Technology, and Research Transit Access Point (STAR TAP). This is the only facility in the world that allows for a cooperative interconnection point among numerous international advanced networks."
- From the city's request for Wi-Fi proposals
19. "Because the aldermen did anything the mayor said . . . Now when we think for ourselves you castigate us!"
- Ald. Bernie Stone on Chicago Tonight explaining why he and his colleagues deserve a pay raise in a performance that showed why they don't.
20. The city is putting body bags (Disposable Disaster Pouches) out to bid. For those interested, scroll down to "Spec #44492."
The Beachwood Tip Line: A little verklempt.
Posted by Natasha Julius at 9:36 AM | Permalink
Dirty Men With Dollar Bills
The girls smile because they have to, even as their bodies get thinner each day and their souls melt away. They smile because they have to - they are here to sell themselves to strangers every night. These particular girls are in Athens, but there are girls like them all over the world, girls locked in rooms all day, forced into the streets at night, beaten with bats and worse if they don't bring back enough money. The voices that accompany the blows occupy their thoughts. "Not all the girls are as pretty as you," one of the girls here was told. "They may not have customers, but for you there are always customers!"
And yet, freedom terrified her. She told an aid worker that if she tried to escape, her insides would expand and suffocate her. Or so the voodoo priest had said. Her family would suffer, too. So freedom terrified her. Besides, she took a vow. Of silence. Of obedience. Of shame.
The girls smile because they have to, but they smile without hope. They smile only for the dirty men with dollar bills.
The girls are the product in the $9.5 billion human trafficking industry, the crucial commodity in a global enterprise that now matches illegal arms dealing as the second largest criminal trade in the world, behind trafficking in drugs. And the human trafficking trade is growing faster than its narcotics counterpart.
An estimated 600,000 to 800,000 people are trafficked across international borders each year, according to the U.S. State Department 2006 Trafficking In Persons Report released Monday. When the trafficking of forced labor and prostitution within borders is included, the figures rise to as many as 27 million victims. About 80 percent of those trafficked are women or girls; nearly half are minors. Of those trafficked each year, 87 percent are bought and sold for the purpose of sexual exploitation, according to the United Nations.
This epidemic is as evident in Greece, where I visited last year, as it is throughout the world, as thousands of women are smuggled into Western Europe each year from Eastern Europe and Africa.
They respond to newspaper ads that guarantee an escape from poverty, promising jobs as waitresses, models and maids. All housing supplied, all expenses paid, all dreams of a new life destroyed and replaced with rape, abuse, and degradation.
These girls are taken from their homes, many times given away by their own families, and locked like prisoners into brothels and squalid apartments. They are broken-in like trained animals and then thrown to the streets, where they are forced to service up to a dozen men a night. Even girls who are willingly recruited have no clue what they're getting themselves into. By the time they realize their awful predicament, it's far too late. They cannot run because they are illegal citizens in the countries they have been transported to, or because they fear threats upon their lives and the lives of their families if they speak out or escape.
The International Criminal Police Organization, better known as Interpol, estimates that each exploited woman can bring in $25,000 to $75,000 a year. Pimps make back their meager investments in less than a week. If the pimp is smart, he will give the girls a small disposible income to entice them to continue their work, but never enough for the girls to pay their way out of the debts they owe to their traffickers and/or pimps, arising from transportation fees to their new country and living costs once they get there.
"Nobody treats them like a person," says Jennifer Roemhildt, who for eight years has led a Christian-based ministry in Athens focusing on prostitution (which is legal in Greece) and human trafficking. Her ministry, Lost Coin, is affiliated with the Elgin-based missionary organization International Teams and provides support, guidance and friendship to hundreds of girls in the city. "We give the girls hugs and kisses. Just the contact is important to help them break the cycle. These girls' worlds will get smaller and smaller and smaller, where the only people they know are other women who are in prostitution, their pimps or partners or traffickers, and the customers who use them. For them to meet somebody who is outside of this circle of abuse and segregation is the first hopeful step towards them being able to break this cycle."
In preparation for the 2004 Olympics in Greece and the accompanying influx of sex workers finding an attractive market for their services, the then-ruling socialist government in Greece, Pasok, promoted awareness of the horrors of human trafficking and worked witih non-governmental organizations through funding shelters, hotlines, and other measures designed to protect battered and enslaved women.
In March 2004, Pasok was ousted by the center-right New Democracy party. According to Roemhildt, the federal government's interest in trafficking in a post-Olympics, New Democracy-world appears to be that "There is no problem."
A few months into their government, just after the Olympics, New Democracy cut funding for shelters and legal aid, Roemhildt says.
"The police know very well what's going on," says Roemhildt, "but they're not doing anything, except harass our girls."
Even so, the U.S. State Department moved Greece from a Tier 3 rating (the lowest possible grade of a country's efforts against trafficking) to a Tier 2 rating (the middle grade), while still noting a "failure to show evidence of increasing efforts to combat trafficking" and despite the State Department's recognition of "trafficking-related complicity by government officials."
Now human rights organizations are turning their attention to Germany, where prostitution is legal, and the thousands of illegally-trafficked sex workers expected to show up for the World Cup. Like in Greece two years ago, a government crackdown is underway, but it's not clear it will last.
"Trafficking is a trap, and an event like the World Cup - or the Olympics - is the bait," Roemhildt told the U.S. House Subcommittee on Africa, Global Human Rights and International Operations last month. "Pushed by poverty, pulled by hopeful dreams of life in the West, and exploited by opportunists, women suspend disbelief and their better judgment and gamble on a better life. Most gamblers lose."
Posted by Beachwood Reporter at 5:47 AM | Permalink
June 5, 2006
The [Sunday] Papers
The Tribune continued this weekend to be the most aggressive outlet in town on the biggest business story around these parts - the state of the Tribune Company.
Kind of creepy, isn't it?
The company announced last week that it would cut costs by $200 million, which means a significant number of jobs will be eliminated; sell up to $500 million of assets, which means a handful of TV stations across America will have new owners soon; and repurchase up to 25 percent of its own stock - at a cost that could top $2 billion. The move is intended to mollify investors and keep Wall Street - and possibly takeover sharks - at bay. The company will be assuming such a heavy debt load that its credit rating will be downgraded to junk.
This is a big deal, bigger than many folks in Chicago may realize, because the Tribune Company is no longer just the pathetic hometown owner of the Cubs and the Tribune and good ol' WGN, but a national power whose media properties, company officials boast, reach 80 percent of U.S. households.
With two articles leading the paper's Sunday business section, the Tribune has now published five pieces on the company's latest gamble, including two analyses by business media columnist Phil Rosenthal. The Sun-Times, on the other hand, has been oddly AWOL, relying on wire stories from AP and Bloomberg to break the news and then pretty much giving up. Even Crain's, which predicted the company's sale of assets last October, settled for a couple non-consequential Web-only stories last week. There is no Tribune news in this week's new edition.
It's a sad state of affairs when the only local reporters covering the Tribune Company are from the Tribune Company.
At any rate, the great parlor game is now underway: Just what will TribCo sell?
Not the Cubs, nor Tribune Tower, says CEO Dennis FitzSimons.
So that takes most of the fun off the table from the start, but there is still business to be done. Will TribCo go so far as to totally unravel its disastrous $8.3 billion purchase of Times-Mirror in 2000? Is the company staving off a potential takeover attempt that could somehow land the Cubs and Trib Tower and the Chicago Tribune in the hands of outsiders and evildoers?
Will a leaner TribCo be a meaner TribCo? Will FitzSimons take the company private? All grist for the newsmill.
One thing seems clear: If you work at a Tribune-owned TV station that isn't in New York City, Chicago or Los Angeles, there's a decent chance you will soon work for a new company. And if you work for a Tribune-owned TV station that isn't in New York City, Chicago, Los Angeles or a market where the Tribune doesn't own a second TV station and/or a newspaper, chances are even better that you will soon have a new owner.
So long, WEWB-TV in Albany!
The Tribune Company owns 26 TV stations in all. If I ran WPMT in Harrisburg or WXMI in Grand Rapids, I'd be pricing new stationery, though those are among six Tribune stations carrying Fox programming, which, as mentioned in a conference call with analysts in April, are really cleaning up these days, in large part due to American Idol. The other four Fox stations are in Hartford (unlikely to be sold because the company owns a second TV station there as well as the The Hartford Courant, though maybe the whole kit-and-kaboodle could go); Indianapolis (also part of a broadcast duopoly); Seattle (ditto); and Sacramento (nice knowing you, KTXL!)
The irony, then, if the company retains some stations and doesn't just dump the whole division, as it has already done with its radio holdings outside of WGN-AM, is that the stations carrying the WB, which the Tribune has a 22 percent stake in, could be the ones to go. That means stations in Philadelphia, Boston, Dallas, Atlanta, Houston, Denver, St. Louis, Portland, and San Diego are good candidates for the chopping block. WBDC in Washington may go unless the company believes there are still synergies to be found with the nearby Baltimore Sun, or just wants a presence in the nation's capital, just as WBZL in Miami might be safe because of the company's ownership of the South Florida Sun-Sentinel, based in Fort Lauderdale. The company also owns two stations in New Orleans. Normally the advantages of a duopoly would protect those stations, but let's face it: TribCo would probably rather just pull out of an unstable New Orleans right now. It's the Tribune Company. It has no heart.
[MONDAY UPDATE: Tribune announced the sale of WATL in Atlanta.]
In fact, it's hard to see how the Tribune's stake in the WB is a core asset, though a new partnership is slated for fall that would combine the best, so to speak, of WB and UPN programming in a new network called the CW (apparently standing for Countrywide, not Conventional Wisdom). In April FitzSimons told analysts that the company foresaw ratings increases of up to 30 percent for shows such as Smallville, Gilmore Girls, and Everybody Hates Chris in the new set-up. Nonetheless, perhaps the company will buck the CW and unload its position in the WB. It may as well ditch its Tribune Entertainment division too. Get out of Hollywood. Not your style.
The company's 31 percent stake in the Food Network isn't a core asset either, but FitzSimons has said the channel's cash flow is so good that he would sell only if an absolutely huge offer lands on his desk. It just might.
There hasn't been much talk of selling newspapers, but I'd be a little nervous (or hopeful) if I worked at The Morning Call in Allentown, Pa., or even the longtime Tribune-owned Daily Press in Newport News, Virginia.
I bet some execs down deep would like to unload the headache that is Newsday, but the company's (failing) strategy demands a presence in New York City, and the Long Island-based paper is the best they can do.
Which brings us to that strategy. It sucks. The idea of owning newspapers and TV stations in New York City, Chicago, and Los Angeles in order to synergize locally and sell advertising across a national platform of affluent metropolitan markets may have sounded good when the company made its big move six years ago and swallowed Times-Mirror, but corporate strategies built on imagined synergies have a stinky history of failure. Like the Cubs, they are built on fantasies about all of the great things that might happen should a bunch of other things fall into place, with no regard for the true vagaries of both the known unknowns and the unknown unknowns, as former Tribune Company director Don Rumsfeld would put it.
Instead, mergers of giants introduce that which is the enemy of business: Instability. Much less a reckless disregard of how customers, clients and markets really behave, nor proper respect or understanding of both the impediments and benefits of varying organizational cultures forced to mesh into an artificial whole. Inevitably, the impediments win out, and the benefits are crushed.
Not only that, but if FitzSimons were a visionary he would acknowledge the company lost the gamble and move on. Betting the company could beat a tax rap inherited from Times-Mirror that looks to cost it $1 billion is not sound corporate decision-making, nor is overconfidence in friendly FCC rulings. The Tribune Company got ahead of itself.
So what should Tribune do?
FitzSimons was asked by an analyst in April if he planned to take the company private. FitzSimons didn't directly answer the question, seemingly leaving the option on the table. Here's one better. Put the company under the non-profit aegis of the McCormick Tribune Foundation - following the model established by the Poynter Institute and St. Petersburg Times.
Be a hero. Make Tribune Company about civic leadership and stewardship, not ego and greed. That would be visionary, and if the Tribune Company did it, the rest of the industry just might be inclined to follow.
Trib Notes: If the credit of the Tribune Company is downgraded to junk, does that mean they are finally mismanaging the rest of the company the way they do the Cubs?
I know there's a better Cubs joke vis a vis junk in there, I just couldn't find it.
* Jim "Mad Money" Cramer isn't impressed. "Something doesn't add up with this Tribune self-tender," he wrote last week on RealMoney.com. "It just makes no sense. The company, which has declining fundamentals and no hope for a turn, save Career Builder - which is really second-rate versus Monster - suddenly decides to lever up?
"To me, this is just blatant entrenchment. It reminds me of when Dayton Hudson was trying to fend off takeover bids in the 1980s, and it went out and did the wrong thing, buying some dog of a retailer to keep the pirates away. I look at this move and I think: Hold up here; Tribune's been cutting costs for years. If it hadn't, its cash flow would be downright ugly - and now it is borrowing cash to buy stock? Does the company really feel its stock is undervalued? Does anyone think its stock is undervalued?
"We buy stocks for growth, not for self-tenders and not for cost cuts. There's no growth here. I'd tender pronto."
* "[F]itzSimons on Friday staged a 'town hall' meeting for the benefit of the company's 20,000 or so staffers, answering questions about the strategy and its ramifications. But he announced at the start that what he and his top lieutenants said therein would be off the record, a curious move for the head of a company that - for now at least - owns 11 daily newspapers, 26 television stations, a radio station, several Internet sites and various other media entities all dedicated to communicating with the public at large."
- Phil Rosenthal, Tribune
Most reporters put off-the-record in one fell swoop ever?
* The strategy of borrowing heavily and selling assets sounds familiar. Since when did Gov. Rod Blagojevich start running Tribune?
* FitzSimons says he is committed to Tribune remaining independent. That's a relief. Think about how weird it would feel if, say, the Chicago Tribune were owned by a company based in, I don't know, Los Angeles. Independence is in the eye of the owner.
The Beachwood Tip Line: I'll keep your town hall meeting reports off the record too.
Posted by Beachwood Reporter at 9:49 AM | Permalink
June 3, 2006
15 Things Australians Say
1. Don't be a girl's dress.
2. Put your two-bob in.
3. He's a yancee man.
4. If you're looking to get a leg over . . .
5. To knock on a girl.
6. She's got a sticky beak.
7. I've got shagger's back.
8. It's time to give the ferret a run.
9. In a pig's ass.
10. Don't chuck a spaz.
11. There are a lot of moisties there.
12. He's a pooh job.
13. Did you punch him in the faghole?
14. If you want to stick your boot in . . .
15. He's a ponce.
Posted by Beachwood Reporter at 11:08 AM | Permalink
June 2, 2006
The Weekend Desk Report
We were hoping we'd be tracking the firing of Dusty Baker, the retiring of Jennifer Aniston, and the impeaching of George W. Bush by now - because hey, in a way, the Weekend Desk is all about dreaming - but instead we're left with horror metal and another Homeland Security department screw-up, which, come to think of it, are kind of the same thing. Except that one is trying to frighten us. The other does it by accident. Here are the stories we've deployed our Weekend Desk staff to monitor in order to determine whether you should go back to your job on Monday or move your family into an underground shelter.
Market Update
It was a short week on the U.S. Foreign Reputation floor as investors sought to cash in on substantial gains before the market closed early in observance of shame.
The Little Apple
We were shocked to learn this week that U.S. Department of Homeland Security doesn't think there are any landmarks in New York City. What, they dismantled this too while they were tinkering with the Constitution? And surely this is still there, right? It sure seems like Homeland Security isn't on the ball when it comes to threats in midtown Manhattan. This terroristic suicide campaign was allowed to continue for days unabated until these Navy SEALS extricated the suspect and rescued a public held hostage in a daring raid. And this woman's 15-year reign of terror on our senses only came to an end when local authorities agreed to a sweetheart deal resulting in a mere 30 minutes of community service nightly. It's getting harder and harder these days to figure out who the real enemy is.
Kiss Off
After Finnish heavy metal band Lordi captured the 2006 Eurovision Song Content last weekend, a magazine in their native country has come under fire for publishing a picture of the band's lead singer without his signature fright mask.
Sales Pitch
Here we go again. We're going to give it a shot. Not that we know that we need to or want to, but we're committed. Of course, the $22 million doesn't hurt.
Posted by Natasha Julius at 12:30 PM | Permalink
The [Friday] Papers
The funny thing about the unmistakably looming presence of Mayor Richard M. Daley in the City Hall corruption trial taking place in federal court is that it is the defense - representing four former Daley aides, including Robert Sorich, once the mayor's patronage chief - not the prosecution that keeps bringing his name up.
So much so that, at one point in the trial, lead prosecutor Patrick Collins complained to Judge David Coar - out of the presence of the jury - about the defense's frequent references to Daley, arguing that the jury might get confused about who is really on trial here.
(That seems inexplicable to me, but perhaps it is Collins's belief that the defense wants to make the jury jump the hurdle of Daley's popularity by lumping a conviction of Sorich and the others with the belief that the mayor has also done wrong.)
Coar in turn demanded that defense lawyer Thomas Anthony Durkin explain the relevance of the mayor to the case. In the sidebar discussion that followed, Durkin opened the door to calling on Daley to testify.
That may seem backwards on the surface. You might think that the refusal of Sorich & Co. to roll over on the Administration and cut deals for themselves in the face of a very strong case by the prosecution would mean they were lined up four-square with the mayor.
Instead, one of Durkin's many defense theories (some of which have been called " beyond far-fetched" by Coar) seems to be that the boys were only following orders. Daley's boys.
With former Streets and San operative Daniel Katalinic still on the stand Thursday, Durkin went back to the well.
"Katalinic agreed with Durkin that it was 'preposterous' to say that Sorich controlled City Hall hiring, since he reported to higher-ups at the IGA," the Sun-Times reports.
"'They are the heads of the Mayor's Office of Intergovernmental Affairs?' Durkin asked.
"'Yes,' Katalinic said.
"Durkin suggested that power went even higher, asking if the mayor didn't run his own office.
"'I would think so,' Katalinic said. 'It's called the mayor's office.'"
Bald Attempts
Meanwhile, the media goes apeshit about some stupid offhand remark Daley makes about a bald reporter. (The Swede in The Situation Room with Wolf Blitzer, for God's sake!) The Tribune ran a click poll about it yesterday and published an editorial today.
I've got news for you, folks. It's really not that funny.
Now, I can't begrudge John Kass getting two columns out of the silliness; after all, The Swede is Kass's legman, and Kass has by far beat the drum about Daley's corrupt administration more than any other journalist in town. If he wants to have some fun with it, he's entitled. But don't the rest of us have better things to do?
Like maybe run a click poll about whether the mayor should apologize to the media for accusing it of wishing John Stroger dead and to the Stroger family for inappropriate remarks made while the man actually seems to be dying?
And let's not forget what spurred the bald brouhaha: Insistent questions by the City Hall press corps about whether the mayor ordered more toll collectors on the Skyway to ease traffic to and from his weekend home in Michigan.
Even if the allegation is true, which I think is extremely unlikely, it's hardly worth getting exercised about compared to the things we already know this mayor has said and done. The media chooses to gang up on the mayor about this?
Topinka Trash
Among the reckless and ridiculous things an unhinged Judy Baar Topinka spouted in her first gubernatorial debate with Gov. Rod Blagojevich was that the fact alone that the FBI had interviewed the governor meant he was "in hot water."
Would Topinka care to speculate about what kind of hot water the mayor must be in? The FBI interviewed Daley last August.
Cab Clash
- "Cabbies Shun Roof Ads" (Sun-Times, May 12)
- "Ads Appeal To Taxi Firms" (Tribune, June 2)
Morning Sickness
Here's an idea: Sun-Times Select. Pay a little extra to have Debra Pickett's column removed from your paper before it is delivered to your home every morning. At least until she gives birth. Or better yet, for the next 18 years, when we will inevitably read a column like this.
Bubble Trouble
Bubble Wrap is a federally registered trademark.
Getting Gibson
Defender editor Roland S. Martin got the scoop on Thursday when new ABC evening news anchor Charles Gibson called in to Martin's radio show on WVON to dispute the way his comments about traveling to Africa were recently characterized in New York magazine.

Keeping Tabs
Here's a name you should know: Kenon White. He's the man behind the sharply designed front covers at the Defender. Day-in and day-out, he's besting the designers of the other tabloid formats in town. See for yourself.
1. Defender.
2. Sun-Times. (Choose from left rail.)
3. RedEye.

Katie Kerfluffle
Did NBC deviously design Katie Couric's send-off to be as sickening as it was in order to devalue her worth as the incoming CBS news anchor? That's the only conclusion I can draw. If there ever was a real argument about whether Couric is a real journalist - and there wasn't; she isn't - this nonsense pretty much sealed it.
UPDATE: This photo just in.
And this one - Oh Lord, please put it down!
Oh my God, it gets worse!
The Beachwood Tip Line: Silly. Like a fox.

Posted by Beachwood Reporter at 8:58 AM | Permalink
Cubs Conflict: Team Blue About Tribune Coverage
Ever since the Tribune Company bought the Chicago Cubs in 1981, the company's newspaper subsidiary, the Chicago Tribune, has lived under a huge shadow of suspicion about its coverage of the team amidst a conflict-of-interest (and arguably a violation of the company's and paper's own ethics policies) as big as Sammy Sosa's ego in its prime.
I've written many times that I've never seen or heard evidence of the Tribune sports section favoring the Cubs because the players and sportswriters work for the same company. But I've also argued - as have Tribune writers themselves - that the paper will never overcome the perception that its Cubs coverage is biased. Nor, as unfair as it seems, should they be allowed to, because readers can never know for sure what goes on behind the curtain.
That curtain lifted briefly last week when The Score's Mike North interviewed the Tribune's Cubs beat writer Paul Sullivan about a recent meeting he had with team officials about his coverage. North's interview was prompted by an item in Chicago Sun-Times gossip writer Michael Sneed's column last Thursday that said "top Chicago Cubs executives Andy McPhail and Jim Hendry berated Chicago Tribune sports editor Dan McGrath and Cubs beat writer Paul Sullivan over what they felt was the paper's unfairly critical coverage of the team. The expletive-laced tongue-lashing supposedly took place last week at Wrigley Field, according to a source."
On Friday morning, Sullivan told North on the air that the Cubs seems to believe the Tribune should be the team's "house organ" - and that positive Cubs coverage in the Sun-Times is "part of the problem."
Here is a transcript of the interview - which can be heard on The Score's Website - edited for clarity.
Mike North: What happened?
Paul Sullivan: Number one, it wasn't last week, it was like three weeks ago. And no, it wasn't all four of us together. They were, I guess you would call them, separate tongue-lashings. And none of them were expletive-laced.
North: Who gave you the tongue-lashing, was it MacPhail or was it Hendry?
Sullivan: Hendry and I had it out about a story I wrote, it wasn't about my coverage in particular. We settled it, and he's cool with us. MacPhail, you'd have to talk to him, he got a little personal, so, we've had some problems with him, but I don't know if I want to talk about them on The Score, to tell you the truth. I'll talk to you off-the-air about it if you want. I thought it was a private conversation and I'm really kind of shocked it was in the Sun-Times. I mean, they're part of the problem themselves, because their coverage is so opposite of ours that I think it makes the Tribune look like its against the Cubs sometimes, like [the Sun-Times is] pro-Cub, which is bizarre.
North: I believe it has to do with you being very, very honest and maybe some other people, maybe not - I don't know if honest is the right word - how about puppets on a string. How about that. Would puppet be a good word?
Sullivan: No, I don't want to characterize another paper's work.
North: Why? I never mentioned anybody.
Sullivan: I like a lot of people at the Sun-Times and I think they do a pretty good job. I just think that, uh, I've been out there for years doing this beat and I think I'm pretty objective and I never really consider the fact that the Tribune owns the team. I write what happens and sometimes bad things happen and I have to report it, and I think some of the people in the Cubs hierarchy kind of think that we're just another subsidiary of theirs and we're supposed to kind of be like their house organ, and obviously that's not the truth.
North: Let me ask you this, this has happened to me, Paul. I'll go down into the locker room and I'll go up to a certain ballplayer and he'll say, Hey I heard you said this about me or you said that about me, and I'll go, What are you talking about? Well another so-called reporter said this. I'll go, Who? They'll tell me. I'll go, I never said that. But apparently somebody is out there poisoning the well for whatever reason. Has that been a problem where somebody else goes to tell MacPhail or Hendry or somebody from the Cubs that, Hey, did you see what Sullivan wrote, or, Sullivan said this or Sullivan said that?
Sullivan: No, I don't think so. I mean, like I said, I've always got along with Hendry, and I thought I got along with MacPhail, until this recent episode.
North: Well, what did you write that upset them?
Sullivan: In general they thought that I was too harsh on Jacque Jones, basically. And some of their criticism is probably right. But I like Jacque Jones, and I talked to Jacque Jones after this whole thing, and, I mean, I've never had a problem with him either.
[Editor's Note: Sullivan may be referring to this story and/or this one; the Sun-Times followed with this.]
North: And I'm sure Jacque Jones would tell you that there are things he could've been doing better at that time.
Sullivan: Yeah, Jacque Jones is not the kind of guy who's going to go hide. I think he's a good guy, he's very honest with himself, and just like [Juan] Pierre, I mean Pierre stunk it up and he said he stunk it up. That's the difference with this team, and I tried to say that in the paper today when I was writing the letter to Gonzo, I mean, these guys are really stand-up guys, and they know that it's going bad, and no one's hiding from it, and in the past I think some of the Cub teams, some of the players, prominent players, like Sammy, maybe Moises, would, if not hide, they would kind of make themselves unavailable in the trainer's room for a long time.
North: Unless they knew you were on their side.
Sullivan: And they knew I wasn't on their side [laughs]. It is a weird beat, I'll say that.
North: Is it the weirdest beat you've been on?
Sullivan: Oh yeah. Just working there, covering it and being on the Tribune, you're always going to get people saying you're part of the house organ, or you're too against the Cubs. It doesn't seem like you can write anything that people don't think one way or the other.
North: Did MacPhail do this in person or over the phone?
Sullivan: It was a private meeting with him and my boss and me, and I thought it would remain private. I think it should be private.
North: Was it done at the ballpark, in his office?
Sullivan: Yeah.
North: Did you have any idea what you were going up there for?
Sullivan: I knew that he probably wasn't happy, but I didn't know that he was that unhappy, let me put it that way. I didn't know he was unhappy over my career, I thought he was unhappy over one story. But I guess it was the cumulative effect . . .
North: If he's unhappy about your career I hate to hear what he has to say about mine.

Sullivan: I'm sure they don't like you, or anyone on your station, including George Ofman.
North: I'm unhappy about George's career.
Sullivan: It's terrible that your station pulled him off the Cubs beat, he did a good job. I don't know what your station is thinking, he was the only honest radio guy down there. What was the reason they took him off? Was he too hard on Dusty? Too hard on the players?
North: I don't know.
Cross-talk about Ofman possibly being pulled from the beat for reporting on a trade that didn't happen.
Sullivan: [in disbelieving tone] Please. Please.
Following the interview, a Tribune online sports editor posted an explanation on the paper's ChicagoSports.com site explaining that these sorts of meetings happen all the time with sports execs around town.
That may be, but ironically the Tribune/Cubs ownership situation ought to preclude Cubs management from saying anything to the paper's reporters about their coverage. Sullivan and his colleagues are already in an impossible situation.
Consider the fact that Sullivan considered his meeting with MacPhail private. I can understand that, but I also might consider that meeting news - which it has obviously become.
This latest hullabaloo - not only with Sullivan, but Ofman - raises questions once again as well about what really went on behind-the-scenes that led to the departure of the enormously popular and enormously talented TV analyst Steve Stone, whose honest yet understated criticisms of a very bad team rankled a whiny clubhouse.
Truth be told, the Cubs have so much goodwill as lovable losers who have much of the city's affection despite the Tribune Company's horrendous mismanagement of the team that the corporate suite doesn't realize how good they have it. I find press coverage of the team not nearly critical enough, particularly when it comes to holding team president Andy MacPhail responsible for a complete failure to build an organization with a competent farm system and a coherent philosophy, and for the media in general catching on way too late to Dusty Baker's sorry act.
But the attitude not only of Cubs management but Tribune Company management appears to have changed little since the day the company bought the team.
"Being a corporate sibling of the famous baseball franchise became a nightmare," former Tribune editor James Squires wrote in Read All About It! The Corporate Takeover of America's Newspapers. "[It was] a constant source of tension within the sports staff, a political liability in the newspaper's relationship with the public and a regular cause of corporate bickering."
Ironically, Tribune Company honchos have always seemed to prefer the Sun-Times's coverage of the team.
Squires wrote that "Hardly a week passed without some complaint from the twenty-fourth floor about the 'tone' of Cubs coverage. Anything other than totally complimentary stories which portrayed the company as a paragon of both success and virtue had problems of 'tone.' These usually brought me a call or visit from one of the three executives who outranked me.
"Ironically, considering their fear of reporters not in their employ, they were most often accompanied by a clipping or a transcript of a more flattering account from competing media. Typical was one from [then-publisher Stanton] Cook after the Sun-Times published a much longer story on Tribune Company's annual stockholder meeting than the Tribune did. 'Looks like they gave us a lot better coverage than we gave ourselves.' Another from [John] Madigan on the appointment of his successor as president of the Cubs, 'Their coverage was much better than ours.'"
Amidst recent rumors of a shake-up of the Tribune empire in order to jolt the company's flagging stock, CEO Dennis FitzSimons has insisted the Cubs are not for sale.
And from his point-of-view, why should they be? As long as the Cubs make gobs of money for the company, they will keep the team, no matter how attractive a short-term infusion of cash may seem.
But the elephant in the room remains. The outstanding question isn't what the Tribune Company or the Cubs will do about their relationship with the Chicago Tribune; it's what, if anything, the Chicago Tribune will do. It's incumbent on the paper not only to hold the line, but react the way they would to a similar ethical incursion by City Hall or any other powerful local institution. An editorial castigating Cubs management would be one place to start. Deeper coverage of the executive suites of both the team and the company - which, again, doesn't seem forthcoming from the seemingly uninterested Sun-Times - would be another.
Otherwise we're in for more of the same. But then, to do nothing in the face of misguided and mediocre management would be very Cubs- (and ultimately Tribune)-like.
Posted by Beachwood Reporter at 8:43 AM | Permalink
Invasion Snatched
UPDATE JUNE 2: The Save Invasion fan campaign continues unabated. Links abound. Here are five.
* The official Save Invasion site.
* Sign the petition.
* Vote for the official Save Invasion campaign logo.
* Fund a plane with a banner to fly over ABC HQ.
* The Last (?) Wave Goodbye.
And now, on to our story, originally posted on May 22.
Of course, this happens every year, because it's network TV. Yet it still brings a fresh sense of outrage each May, as deserving shows that managed to struggle through the season with mediocre-to-poor ratings, perhaps hanging on only because some network suit personally likes them, bites the dust. This spring I'm directing my frustration primarily at ABC, the Mickey Mouse network, for giving the ax not only to the best comedy on all of TV, but to the best drama as well, in one awful bloodletting.
The comedy was Sons and Daughters, the subtle, hilarious, laugh track-free offering from Lorne Michaels and Fred Goss, which I gushed about in March. I fully expected Sons and Daughters to be canceled, however, right from the get-go. First, as a mid-season replacement, it was born on the ropes. Second, it relied on dry humor and intelligence. This is network TV, remember? Such hubris will always be punished with crushing indifference.
But what really, really hurt was the cancellation by ABC of Invasion. This stung on two levels because it was a top quality show - a terrifying and vivid document of modern paranoia - and also because it had a chance to make it. Following Lost, one of the most popular shows around, Invasion had a huge lead-in audience but couldn't hold them. My theory is this is because the show was essentially a 20-part, slowly unfolding story, and didn't tip too much of its hand at the start of its run. Short attention-span viewers got turned off because there wasn't an immediate denouement.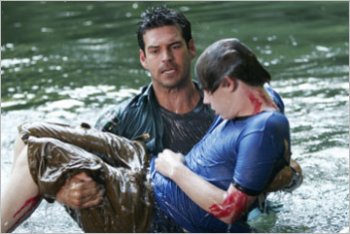 What they missed was only a masterpiece from producer Shaun Cassidy (yep, the "Da Do Run Run"-covering, Hardy Boy-playing, 1970s teen heartthrob), who, between this show and an earlier work from the 1990s, American Gothic, has proven himself to be the equal of The X-Files's Chris Carter as the best creepshow maker on Earth. But the genius of Invasion was the fact that the fear didn't just come from malevolent extra-terrestrials raining down in South Florida under the cover of hurricanes - it also came from the much more familiar fear of all-too-human families breaking apart under the strain of modern American life.
How Cassidy married these two fears into a show that continually pulsated with low-key menace, broken only occasionally by bits of the ol' ultraviolence (thereby making them that much more effective), was nothing short of enthralling.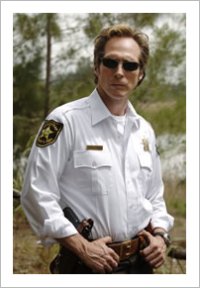 It would be useless now to go into all of the details of who was who, which characters were played by which actors (although special mention goes to William Fichtner as the conflicted, possibly alien-possessed sheriff, and Tyler Labine as a the slacker brother-in-law who's the first to discover the invasion), but I will say that in the show, the water-based invaders "replace" the townsfolk one-by-one, somewhat akin to Invasion of the Body Snatchers.
One of the show's many thought-provoking themes was how members of already tattered mixed- and step-families reacted when dads, moms and siblings suddenly seemed different after the devastating hurricane, and began spouting dogma about how they're answering a higher calling - presumably to take over the world and kill everyone else. The hard-to-miss subtext was a comment on the rise of fundamentalist Christianity and how it can be seen as a worrisome reaction to the stress of modern life and the breakdown of the traditional family unit.
That was just one of many, many themes and allusions Cassidy used in Invasion that tapped a rogue's gallery of fears and longings we experience in our everyday lives and twisted them oh-so-cleverly into a storyline that was Sci-Fi Lite - blessedly short on special effects and long on the kind of sludgy suspense that can only be so beautifully maintained over an extended period (kind of like Crock Pot cooking).
So raise a glass to this year's best shows that never got watched. Next May I'm sure I'll be right back here bemoaning another blockhead move by TV execs, a grand tradition that can be traced at least back to May 1968, when Spock, Jim and Bones were put into network drydock.
Posted by Beachwood Reporter at 8:42 AM | Permalink
June 1, 2006
The Total Living Drink
What It Is: "Arguably the World's Greatest Supplement!"
Description: A rock-solid foundation of nutrition built upon a whole-food super-food formula.
Quote: "Probiotics devour yeast in the intestine!"
Shills: Joe Costello, a sturdy-looking old fellow with silvery, thinning hair; Two women in their late 40s or so who look like aging Realtors, one wearing some kind of huge medallion on a choker.
Set and Costume: Joe and Friends plug their nutritious catch-all in the kitchen of what appears to be a model luxury home they are borrowing for the weekend. Later they will host an open house. Their outfits are bright and business-casual. Joe wears some kind of turtleneck with a zipper that starts halfway up the chest.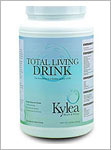 Cost: 2.52 lbs. for $99.00. Apparently 2.53 lbs. would push the price into three figures.
Gimmick: Demonstrating how little nutrition you'd get if you tried to juice broccoli yourself.
Bonus Gimmick: Enraptured use of the word "probiotics" every five minutes or so.
Extra Bonus Gimmick: The Kylea Chronicles, an in-house Web rag that combines the worst of arcane news design with the worst of 1995-era Web design. [UPDATE July 17, 2006: Link has died. Has the Chronicles?]
Evaluation: The Living Drink crew makes an earnest effort to avoid the kitsch that marks many infomercials, but as a result leaves their pitch stranded in upper middle-class nutrition purgatory, devoid of charm or even a hint of irony. The lack of discussion about what the Living Drink actually tastes like is disturbing. And the spot doesn't even begin to try to prove that people who drink all this shit at once don't get murderous diarrhea.
Rating: 1.5
- Scott Gordon
Posted by Beachwood Reporter at 4:39 PM | Permalink
The [Thursday] Papers
When I first saw that Mayor Richard M. Daley used the word "silly" an estimated 20 times in response to a question at a press conference on Wednesday, I thought he might be referring to the behavior of reporters who cover him and the rest of City Hall.
I was wrong. But he might as well have been.
While Daley's latest Rain Man routine got the press's attention, the really outrageous thing he said yesterday got buried. And it was about the press.
I've said it before and I'll say it again: Why do reporters just sit there and take it from this guy?

We all know the situation surrounding ill Cook County Board President John Stroger is a farce. As the mayor himself would say, to use one of his favorite expressions, everybody knows that.
But because Chicago is the last outpost of the otherwise fallen Soviet Central Committee, the mayor plays along with the rest of the Democratic party (Contact Cook County Democratic Party Chairman Thomas G. Lyons with your views at 312-263-0575) in an embarrassing charade that makes a mockery out of the man they claim they are protecting. John Stroger may be a hack, but he played the game the way the party asked him to - played by the rules of old-time Chicago - and he organized a mighty machine. Who is doing him more disrespect, those of us who think the public has a right to know of his condition, or his party colleagues, including the mayor, who are more concerned with how Stroger's ills affect their own political fortunes than with a sick and possibly dying old man whom they are making a joke of?
The mayor's contempt for the public - as exhibited through his contempt for the press - is beyond silly. It's palpable. In response to a question about Stroger yesterday, the mayor said this:
"First of all, you tried to kill him during the election. You all did. You were against him 100 percent. Now, you want to bury him after the election."
Did any reporter stand up and object? Is the mayor saying he believes the press wished John Stroger dead?
"First of all, you tried to kill him during the election."
What? Just what do you mean by that, Mr. Mayor?
"You all did. You were against him 100 percent."
We were? Did you run some sort of secret poll? And where were you, Mr. Mayor? For him 100 percent? If so, can you please explain your thinking? Your former chief of staff, Forrest Claypool, depicted Stroger as a corrupt ward boss wasting taxpayer money and badly mismanaging the entire enterprise of county government for years. Are you saying that Claypool was wrong? Are you against good government? Are you against the corruption that has been uncovered in county government? Did you support Stroger because you thought he'd be the best person to clean up county government? Or do you believe it doesn't need cleaning up?
And can you see, Mr. Mayor, how some folks may think a fraud was perpetrated on the public by keeping Mr. Stroger's condition a secret while an election was underway - people who wish Stroger no harm?
Mr. Mayor, do you go back into your office after press conferences and snicker about how you once again dodged and weaved without actually engaging the press in a mature discussion?
"Now, you want to bury him after the election."
What do you mean by that, Mr. Mayor? Are you saying you believe the press wants Mr. Stroger dead? Do you believe citizens have a right to know who has been running county government and spending their money in Mr. Stroger's absence? Or is it okay to run government in secret? And do you understand that the election isn't over, just the primary? And does the same criticism apply to Todd Stroger, Bill Beavers, and Danny Davis for their behind-the-scenes scramble to claim John Stroger's job?
I guess the whole thing really is silly. It's silly to expect this mayor to act like an adult and answer questions in a serious manner. And it's silly to expect the press to ask them.
Daley's Guys
Daniel Katalinic, a former macher in Streets and San, implicated Daley's former campaign manager yesterday in the Robert Sorich trial, saying they all worked together to deploy a political army that was part and parcel of the patronage machine built by the Daley Administration.
Federal prosecutors have now laid out a compelling case behind their charge that City Hall engaged in a "massive fraud" by illegally rigging jobs according to political work and favors on behalf of the mayor and his pals.
As Chicago Tonight correspondent Elizabeth Brackett said last night, no witness has tied the mayor personally to the hiring scheme, but knowledge of how hiring worked - that tests, interviews, and evaluations were completely disregarded in favor of approved names coming out of the mayor's intergovernmental affairs office - was so widespread that it seems inconceivable that everyone in city government could have known how things worked except the man at the top.
Katalinic also testified that he not only supplied city workers to help out with U.S. Rep. Rahm Emanuel's first run for Congress in 2002, but he met with Sorich at Emanuel's campaign office. Not good for Rahmbo.
Blago's Bad Odds
Democratic Speaker of the House Michael Madigan has a long list of questions about the governor's idea (with so little known about how it would work, it's not quite a "proposal" yet) to sell or lease the state lottery to fund a host of education initiatives. House Republican leader Tom Cross and Senate Republican leader Frank Watson have questions of their own. Answers are in short supply.
There's a long way to go on this. Or a short way. As I said on Eight Forty-Eight last week, a year from now this whole thing could very well be dead, buried, and forgotten - or remembered only as folly, and for getting James Meeks out of the race.
And what will Meeks think when the whole thing falls apart?
If Meeks had been serious about running for governor, he wouldn't have settled for what is still a pipe dream conjured up just in time to satisfy him. And if he was serious about running for governor and bought into this thing, then he certainly wasn't savvy enough to be governor. But then, look at who we have now.
Meanwhile, state lawmakers have just hired a consultant to see what the tollway could fetch were it privatized. Perhaps the governor should proceed along the same, sober path when it comes to the state lottery, instead of making a big campaign splash only to see the whole thing whither under scrutiny.
Rush Job
A full-page ad in the Tribune today sponsored by the Video Access Alliance thanks U.S. Rep. Bobby Rush "For Fighting For My Family."
Rush, it seems, "took a stand in support of hard-working families by voting for TV Freedom."
The Video Access Alliance is funded in part by telephone companies, at least one of which has been very generous to Rush. Rush denies this is why he felt compelled to break ranks with his party to become the only Democratic co-sponsor on an industry-backed bill telecom bill.
So it's no surprise that the Video Access Alliance, turns out to be an astroturf lobbying group set up by a strategic communications consultant passing herself and her organization off as something they are not. The real grassroots is in no mood to thank Rush on behalf of their hard-working families.
Daley's Design
Using a design reminiscent of the much-reviled Soldier Field, developers have won approval from City Hall to desecrate the historic steel-framed New York Life building on South LaSalle Street.
Treasury Notes
Tribune columnist and editorial board member Steve Chapman mitigates the slipshod stance his paper took on new Treasury Secretary nominee Henry Paulson Jr., by explaining with aplomb what is really going on with the White House economic team.
Dick Kay's Last Ride
Last Friday, John Calloway interviewed the retiring Dick Kay on WTTW's Friday Night. But the real gold was in correspondent Rich Samuels' set-up piece, an affectionate and striking profile that was a total revelation for people like me who didn't grow up in Chicago (I moved here 14 years ago) and were unaware of the entirety of Dick Kay's career. Samuels used quite a bit of footage from two Kay classics, The Johnson City Pool Hustlers and The Demise of the Wabash Cannonball. Wow. I had no idea.
The Beachwood Tip Line: Only a shadow of the Wabash Cannonball line.
Posted by Beachwood Reporter at 8:12 AM | Permalink