Pie-Eyed And Blue
One of America's most underrated mascots is dead, and hardly anyone, it seems, is mourning this tremendous loss.
Well, I am. Let this be a tribute then, a tribute to a man I took for granted. A guy I thought would always be there for me, always there with my fix, my jump, my edge.
Farewell, Hostess Pie Magician.
You graced the waxy packaging of Hostess fruit pies for as long as I can remember, reporting to work in top hat and tux, blessing each pie with your special pixie wand.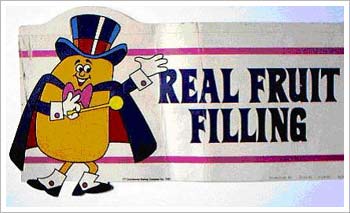 And now you've been replaced by a small bushel of fruit.

I miss you already.

The Pie Magician was my friend, even if I just learned his real name, "Fruit Pie the Magician." Which is kind of like introducing David Copperfield as "Human the Magician." Just one more indignity.

The Pie Magician is one of a long line of endearing Hostess characters, including King Ding Dong and Happy Ho Ho.

In case you don't remember, King Ding Dong is a Ding Dong with a crown and scepter, and Happy Ho Ho is a Ho Ho dressed like Robin Hood. Somehow that's what passed for a happy Ho Ho in the early days of Hostess marketing.

They also once created a crocodile wearing a pink hat pimping Chocodiles, and a leopard hawking a Twinkie with chocolate spots called Leopards. There was even the headdress-wearing Chief Big Wheel pushing Big Wheels.

It might just seem like Hostess is just doing away with character-driven snack cake marketing, but for some reason Captain Cupcake and Twinkie the Kid are still getting work. What kind of clout keeps them on store shelves and not the Pie Magician?

C'mon, Hostess, did you really give him a fair shake? Did you give him a chance to grow? Maybe make him life-size and put him on commercials and in parades? Pie Magician was an untapped marketing juggernaut.

So just know, Pie Magician, that some of us appreciated your hard work. Oh, I may still go for the cherry/apple pie combo at the two-for-a-dollar display at my local Citgo, but eating those sweet little pies won't be nearly as sweet without you.

-

-

1. From James "Rafe" Gegenheimer:

He will be missed, but at least he has his own Wikipedia page. There is also an attempt to save the Magician.

Also, apparently Captain Cupcake is also now gone and replaced by a character named Curly.





Posted on May 1, 2006