Corruption and Comedy
The Comedy of Power (La Comèdie du Pouvoir) is the latest film by veteran New Wave director Claude Chabrol, and watching him perform a perfect balancing act between a drama of corruption and a comedy veering on slapstick shows just what a miracle the creators of the French New Wave really were.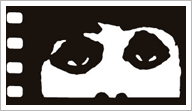 The first comedic moment comes right at the start, with an explanatory title in bold lettering that contains the boilerplate disclaimer that usually appears at the end of all feature films - that the movie is a work of fiction and any resemblance between the characters and real persons is strictly coincidental. In fact, any French viewer would recognize this story as "L'affaire Elf," a real-life scandal in which politicians and business leaders enriched themselves through kickback schemes with corrupt African governments and businesses. But you don't have to be French to get the inference. We Chicagoans - Americans in general - have been wading through our own political and financial scandals for decades. This movie's theme strikes an all-too-familiar note.
Chabrol sets up the adversarial sides with economical visual gags. We meet the first corrupt businessman, CEO Michel Humeau (Francois Berlèand), as he prepares in his office for a weekend trip. He speaks on two cellphones at once as a flurry of assistants buzz around him. When the phone that has his wife on the other end cuts off, he shakes it and then uses it to - what - shave? No, he has a skin condition, and he's always scratching at his face. Outside of his office building, he is accosted by a complement of gendarmes and arrested. Amid protests of "Do you know who I am?!" Humeau is forced to strip at the prison - a literal dressing-down.
We get an inkling of what's ahead when two of his associates, hearing of his misfortune, say that a magistrate named Jeanne Charmant-Killman (Isabelle Huppert) is the investigator. She is known as "The Piranha." Cut to a shot of some enormous goldfish sitting at the bottom of a small fish tank - a hilarious and perfect metaphor that is rounded out when the camera pans down and we observe The Piranha in action, eating sushi with a man who is involved in the scheme but who thinks he has her where he wants her.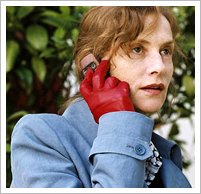 Of course, no man in this film is a match for Charmant-Killman. Huppert gives her a spine of steel wrapped in a painfully thin form of pure energy fueled by nicotine. She has a short, sarcastic laugh ready for any of the dubious, ridiculous statements made by the buffoonish conspirators she interviews one by one. Descarts (Jacques Boudet), a rubberfaced politician who is fond, as all the conspirators are, of enormous cigars, decides to contain Charmant-Killman by coopting her and setting her in competition with another woman. He has her promoted, moved to a spacious office, and gives her a very sharp assistant, Erika (Marilyne Canto). Instead of ending The Piranha's crusade, they only double their trouble. The only person they manage to corrupt is a man.

This film would have been a farce in other hands, and probably a good one. Chabrol, particularly by casting Huppert, adds the necessary gravity to the story. This really is how the world works. Greedy, stupid, condescending men are lining their pockets with taxpayer money in countries all over the world. Dedicated prosecutors like Charmant-Killman keep putting their thumbs in the dike, but the pressure is too great to hold out for long. In one particularly tragic case, anti-Mafia fighters Giovanni Falcone and Paolo Borsellino were made Excellent Cadavers, and in the film, Charmant-Killman eventually comes under 24-hour police protection.

The only misstep is the depiction of Jeanne's rich husband Philippe (Robin Renucci), lonely and depressed as his wife develops tunnel vision for her quarry. He makes a desperate choice near the end of the film that seems to reach her, and hints are that she may have a change of heart toward her work. This character transformation, if genuine, is unnecessary. Chabrol should have trusted Huppert more. Her performance is so vibrant that it is impossible to see Jeanne Charmant-Killman as one of the caricatures that surround her. I hope to see The Piranha hunt another day.

There is one more showing of The Comedy of Power on Sunday, October 8, at 4 p.m., at Landmark's Century Centre Cinema, 2828 N. Clark.

See also "Better Than Fiction," Marilyn Ferdinand's introduction to the Chicago International Film Festival.




Posted on October 7, 2006





MUSIC - Chief Keef Changed The Industry.

TV - Vizio's Best Product Is You.

POLITICS - UIC: Soda Taxes Work.

SPORTS - More McCaskey Malpractice.

BOOKS - All About Poop.

PEOPLE PLACES & THINGS - Don't Let Your Pet OD.

---




Search The Beachwood Reporter




---

Subscribe To Our Newsletter

---