Collect Them All: The Greatest Movie Posters Ever
Editor's Note: Not to be trendy, but Quentin Tarantino and Robert Rodriguez just picked their favorite movie posters of all time for Entertainment Weekly, and Premiere recently came up with their own list, so we asked Ferdy on Films proprietor and Beachwood contributor Marilyn Ferdinand to come up with her own take on the best movie posters ever. She filed this report.
Picking the best posters of all time is a hard job. More than 100 years of movies, marketed with alternate versions and foreign-language posters in most of the countries on this planet - well, you see the challenge. I'm sure there are some objective criteria based on good design practices that could be applied to this exercise, but eventually it comes down to taste and the test of time. When I considered how I would go about this task, I took a look at some other "best" lists for inspiration, and then decided to take a decade approach to encompass the entire history of cinema. I wanted to stick to one poster per decade, but you know how that goes . . . Anyway, here are my unscientific picks for the best posters from 1900 to the present.
1900s

A Trip to the Moon (1902)

The inspiration for this poster of this delightful short by film pioneer Georges Méliès is the film's climax - a fantastic animation of the moon being hit in the eye by a rocket ship. The poster captures the style of the times, particularly reminding me of the gorgeous whimsy of artist Winsor McCay.








1910s

An Unselfish Love (1910)

This one-reeler made by the Edison Company basically was propaganda to get people to settle Western Canada. A Soviet flak touting the advantages of collective farming and the idyllic life of the proletariat couldn't have done better.




1920s
Metropolis (1927)

This groundbreaking film by Fritz Lang may have inspired more superb posters than any other film. This excellent example of the Art Deco/Bauhaus styles of the 1920s best grasps the story of a modern metropolis built on the sweat of oppressed workers living underground.







1930s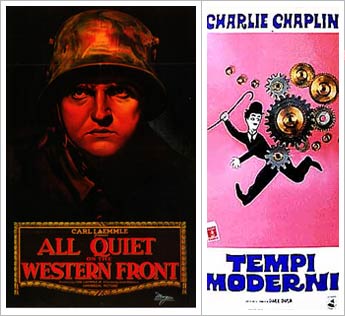 All Quiet on the Western Front (1930)
This poster for Carl Laemmle's classic antiwar film makes a lie of the movie's title, with its grim, blood-red soldier boldly communicating the power of this work.
Modern Times (1936)
This Italian poster for Charlie Chaplin's comedy about Man vs. Machine blends collage with a fluid illustration style that is still quite popular in Italy. This poster captures the mood of the film perfectly and capitalizes on the already cartoonlike quality of the Little Tramp character.


1940s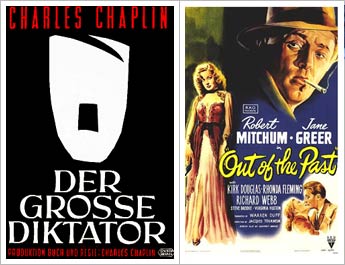 The Great Dictator (1940)
This poster telegraphs its subject simply and powerfully with the two most famous patches of hair of the 20th century. Placing Chaplin's name above the illustration and the name of the film below joins two of the world's most famous men at the moustache, and prepares audiences for both a light and a very dark film.
Out of the Past (1947)
A classic noir deserves a classic poster, and this is one in spades. Perfect placement of the main characters signals the love triangle that will pit good girl Fleming against femme fatale Greer, with the king of cool, Robert Mitchum, making icons out of a fedora and a lit cigarette. Extra points for the assured blending of type styles and primary colors.

1950s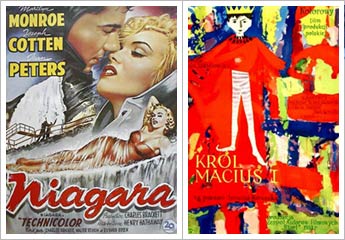 Niagara (1953)
Passion is the theme of this film, and this poster is (ahem) dripping with it. You can practically kiss Marilyn's luscious lips. For the coup de grace, put her in an elegant version of a wet t-shirt and pour Niagara Falls over her body. Breathtaking.
Krol Macius I (King Matthew I, 1958)
This film is based on a very famous character from Polish children's literature - Matthew I, the boy king. A sophisticated painting with a childlike quality and the red cloak that would be familiar to any fans of the book make this poster simply amazing.
1960s

Lolita (1962)

This famous image sums up not only the object of a middle-aged pervert's obsession, but also the zeitgeist of the youth-oriented, love generation of the 60s. Director Stanley Kubrick took as much care with the marketing of all his films as he did with their creation, and it shows in this iconic poster.





1970s

Chinatown (1974)

There's that fedora and lit cigarette again, telling us we're in noirland. Beyond that - inscrutable mystery in an opium-like haze. This is a poster that compels you to see what it's all about.






1980s

My Neighbor Totoro (1988)

Hayao Miyazaki is the foremost anime director in Japan, and this poster for his superb and whimsical feature illustrates why. If you don't want to ride the bus with this little girl and her furry, giant friend Totoro, there's something broken in you.




Showgirls (1995)

I'm decidedly in the minority for being a fan of this film, but there's no controversy about how great this poster is. Was there ever a better representation of Erica Jong's zipless fuck?

See also:

* The American Film Institute's Top 100 Posters.

* The Independent Critics' 100 Greatest Movie Posters of All Time.




Posted on April 13, 2007